Short on time? Our top choice for the best thing gloves for extreme cold are Cevapro -30℉ Winter Gloves.
Winter has got to be my favorite season. I love everything about it – well, except for cold hands.
I always hated wearing bulky winter gloves, as they render me useless. I can barely use my fingers, so I have to take them off when using my phone, opening car doors or even tying shoelaces.
It wasn't until a few years ago that I found out there's such a thing as thin gloves for extreme weather! And since you're here, you've probably recently discovered that too. And just by checking different websites, I'm sure you're confused about which ones to get.
After thorough research and testing, I've narrowed it down to the best models on the market:
Best Thin Gloves for Extreme Cold: Our Top Picks
Cevapro -30℉ Winter Gloves
Temperature Rating (F): -30 | Touch Screen Compatible: Yes | Water Resistant: Yes | Fabric: PU Leather
Here's a pair of gloves that will keep you warm even in Antarctica. Well, at least around the coastal area. But with a temperature rating of -30 degrees Fahrenheit, these gloves will keep you warm throughout the winter.
These gloves feature a water-resistant outer shell and a waterproof TPU membrane to ensure your hands stay dry. As for the inner layer, it's made of thick fleece, which is breathable and moisture wicking. That way, your hands will stay warm but not sweaty.
The palm is covered with anti-slip polyurethane leather which increases friction while protecting from abrasion. And thanks to sensitive fingers, you can use your phone or other gadgets without having to remove gloves and expose skin to cold temperatures.
But all that would be futile without a proper cuff. These gloves feature a double shirred elastic cuff that keeps them closed around your wrists and prevents cold air from getting in.
Also, these gloves come in four sizes, so you can surely find ones that fit you perfectly. What's more, they're quite affordable. So if you're going somewhere really cold, you should definitely consider getting them.
Pros:
A temperature rating of -30 degrees Fahrenheit makes these gloves suitable for the coldest parts of the country
The moisture-wicking inner layer and waterproof outer layer keep your hands warm and dry
Have a coated touchcreen tip on the index finger to operate your devices
A double shirred elastic cuff keeps the gloves closed and prevents air from getting in
A leather palm cover increase friction and grip
Cons:
A bit bulky compared to other models on the list
Best for: snow activities like skiing and snowboarding
The North Face Etip Recycled Gloves
Temperature Rating (F): Not stated | Touch Screen Compatible: Yes | Water Resistant: No | Fabric: 93% recycled polyester, 7% elastane double-knit fleece
The market is swarmed with winter gloves for different outdoor activities. But some of us simply want to find warm gloves that allow us to do standard, everyday activities without sacrificing warmth.
This model is designed for all of us that want to be able to scroll our phones at any time, whether it's snowing or not. Thanks to the Etip™ technology, you can use all five fingers on your touch screen to text or play games.
As you probably know, the North Face is set on creating responsibly-sourced apparel. These gloves are made of 93% recycled polyester, which is a great way to reduce unnecessary waste and give new life to old materials.
The gloves come in both men and women versions, and you can get them in sizes ranging from XS to XL. They have a unique shape that mirrors the natural relaxed curve of the hand, so they're not only comfortable, but also improve blood flow to your fingers.
There's nothing more annoying than losing one glove. That's why I love that these gloves feature tiny buckles that allow you to attach them together.
Pros
All fingers feature the Etip™ technology that allows you to use touch screens
Made with mostly recycled materials, these gloves promote sustainable life and waste reduction
A tiny buckle allows you to attach them together when storing
4-way stretch fleece materials allows a full range of motion
Cons:
Not as warm as some other models on the list
Best for: people who use tech gadgets outdoors
Icebreaker 260 Tech Liner Gloves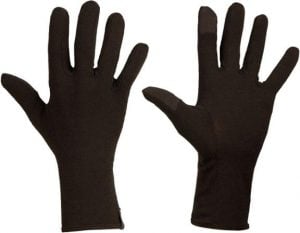 Temperature Rating (F): Not stated | Touch Screen Compatible: Yes | Water Resistant: No | Fabric: 95% merino wool/5% Lycra spandex
The Icebreaker 260 Tech Liner Gloves, are more than just a great liner. They are a full fledged glove that features natural and renewable merino wool fabric.
Featuring ZQ merino wool (renewable fibers) that will keep you warm, combined with a lycra spandex that will help with overall glove fit.
The Icebreakers are a unisex glove that comes in five different sizes.
What I love most about the glove is that you can use it as a glove with touch-screen compatible tips, or a liner in extreme temps.
Pros:
Made with ZQ merino wool for natural warmth and breathability
Features a touch-screen tip to be able to use phones and other devices
Comes in five sizes to find the best fit for your hand
Can be used as a liner or standalone glove
Cons:
A bit more on the expensive side due to using a non-synthetic fabric
Best for: those looking for a versatile, yet warm glove and liner.
SIMARI Winter Gloves
Temperature Rating (F): 40 | Touch Screen Compatible: Yes | Water Resistant: Yes | Fabric: 95% Polyester, 5% Spandex
It's no exaggeration to say that these gloves by Simari offer ultimate hand protection against extreme weather. In fact, I doubt you'll find gloves that are more comfortable and warm than these. At least I sure didn't.
They come in four sizes, so you can find the one that fits you the best. You can also choose between eight colors, from neutrals like black and gray to vivids like blue and green.
These gloves are a combo of 95% polyester and 5% spandex. And when you add soft fleece lining to the equation, you get a pair of gloves that provides warmth without sacrificing elasticity.
Both the palm and fingers feature silicone lines that increase your grip strength. In other words, they allow you to firmly grip any tool, whether it's a trekking pole, a torch or a phone.
In fact, the gloves also feature sensitive touchscreen finger features, so you can text or even play games while wearing them.
Finally, I need to mention tiny reflective lines on the back of the gloves that make you visible in low light conditions. You might think such tiny details aren't worth the hype. But I had a dollar for every time a reflective pattern has saved me from getting run over at night, I'd be rich.
Pros:
With four sizes available, you can find the one that fits you perfectly
Eight color options allow you to find the ones that match your outfit
Fleece lining keeps your hands warm, while polyester shell keeps them dry
Reflective details make you visible even in low light conditions
Cons:
They're water-resistant but not waterproof
Best for: Everyday activities in cold weather
Smartwool Merino 250 Gloves
Temperature Rating (F): Not stated | Touch Screen Compatible: Yes | Water Resistant: No | Fabric: Merino wool
Merino wool performs great in all temperatures. But it definitely excels during cold winter months, because it keeps you warm without adding too much bulk. And that's why these gloves are so great.
These gloves are designed for hikes and walks, and they'll feel like second skin during those activities. Since merino wool is naturally moisture-wicking and odor resistant, you don't have to worry about your palms getting sweaty.
Like most models on this list, these gloves also have touch screen-compatible fingertips on the thumb and the index finger. Because who wants to take them off to check on the GPS when it's freezing outside?
When it comes to color selection, these gloves only come in charcoal and woodsmoke, which is a dark brown shade. As for size, you can choose from XS to XL. So you can find a model that fits your hands perfectly.
I only wish they had wrist cuffs. But they're long enough that your jacket sleeves go over them, so you don't have to worry about heat escaping.
Pros:
Moisture-wicking and odor resistant material allows you to perform outdoor activities without getting sweaty palms
A large size range allows you to find the model that fits you the best
Can be worn underneath winter gloves for extra warmth
Two fingers feature touchscreen technology for using your phone in cold weather
Cons:
Not as water-repellent as other models on the list
Lack durability to be used as an everyday glove
Best for: those looking for stylish and warm winter gloves
Tough Outdoors Lightweight Cold Weather Thermal Gloves
Temperature Rating (F): 40 | Touch Screen Compatible: Yes | Water Resistant: Yes | Fabric: 90% Polyester, 10% Spandex
The most annoying thing about winter gloves has got to be the lack of flexibility. They're not much different from mittens, except for the fact that you can move your fingers individually. Luckily, thin gloves were invented, so this is a thing of the past.
These gloves by Tough Outdoors excel when it comes to flexibility. With four sizes available, you can find the ones suitable for your hand. They'll fit snugly so you can wear them while plucking eyebrows, if you will.
Made of 90% polyester and 10% spandex, these gloves are so thin that you can wear them underneath winter gloves. But then again, they're so warm so you won't have to. The material is moisture-wicking, which makes them perfect for working out.
And while thin, you can rest assured they're very durable. This combination of materials makes them abrasion-resistant, so you can wear them while performing all kinds of outdoor activities, whether it's snow shoveling or skiing.
Because of the fabric and silicone particles, these gloves have to be hand washed. Luckily, the dirt practically slides away, so maintenance shouldn't really be an issue.
Pros:
Made of polyester and spandex, these gloves wick moisture away from your hands
Four-way stretch fabric allows the gloves to keep their shape even after prolonged use
They can be worn alone or as liners for winter gloves
The polyester coating is simple to clean
Cons:
Not the warmest option available
Best for: those who aren't willing to sacrifice flexibility for warmth
Showers Pass Crosspoint Waterproof Knit Gloves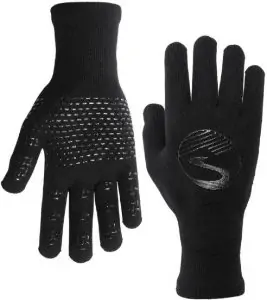 Temperature Rating (F): Not stated | Touch Screen Compatible: No | Water Resistant: Yes | Fabric: 78% Nylon, 15% Polyester, 7% Spandex
I'm sure these don't look like the most waterproof gloves to you. I thought the same thing. But they've proved me wrong.
They're mainly made of nylon (about 89%), but lycra, spandex and polyester are added to make these gloves flexible and well fitting.
What makes them waterproof are the three layers: a wear-resistant knit exterior, a waterproof and breathable membrane and a moisture-wicking knit lining. This makes them great for all kinds of activities, from running and hiking to fishing.
Even though they have three layers, these knit gloves are rather thin. A tight fit ensures you don't even feel them on your hands. You could probably knit and sew wearing them – they're that dexterous.
Both palms and fingers feature silicone prints, which helps you hold a grip on whatever is in your hands. These work even when gloves are wet, so you don't have to worry about dropping things on the ground.
Not going to lie, these aren't the best looking thin gloves out there. But they're so good that you can easily look past that. I mean, who cares about fashion when your fingers are stiff from the cold?
Pros:
Three layers make these gloves waterproof, while also moisture-wicking
Silicone prints help you with a firm grip even in wet conditions
Thanks to the combination of stretchy fabrics, these gloves are suitable for both men and women
Cons:
Not a lot of sizes available
Best for: those engaging in wet activities, like fishing
Terramar Adult Thermasilk Glove Liner
Temperature Rating (F): Not stated | Touch Screen Compatible: No | Water Resistant: No | Fabric: Silk
The thing I hate the most about cold weather is wearing bulky gloves. And even if they allow me to move my fingers in a variety of directions, just the feeling of wearing thick fabric on them is annoying.
If you're anything like me, you'll love these gloves. They're so thin, you won't feel them on your hands. In fact, they'll feel like your own skin.
What's the catch, you might ask? They're made of 100% silk! Yes, that sounds like an odd choice of fabric, but they're treated with Thermoregulation Comfort Technology to keep you warm during harsh weather.
They're not waterproof, but thanks to the Climasense treatment, they dry off rather fast. Plus, they also wick moisture away from your palms, so you can wear them while hiking or skiing.
These gloves are so thin because they're designed to be worn underneath bulky winter gloves. But there's absolutely no reason why you couldn't wear them on their own. They're so comfortable, you'll never want to take them off.
Pros:
With five sizes to choose from, you can find the model that suits you perfectly
Can be worn on their own or as liners
ClimaSense treatment neutralizes odors, keeps your hands warm and wick away any sweat
So smooth and lightweight, you won't feel them on your hands
Cons:
Best for: wearing as an additional layer during really low temperatures
What To Think About When Purchasing A Thin Glove For Extreme Cold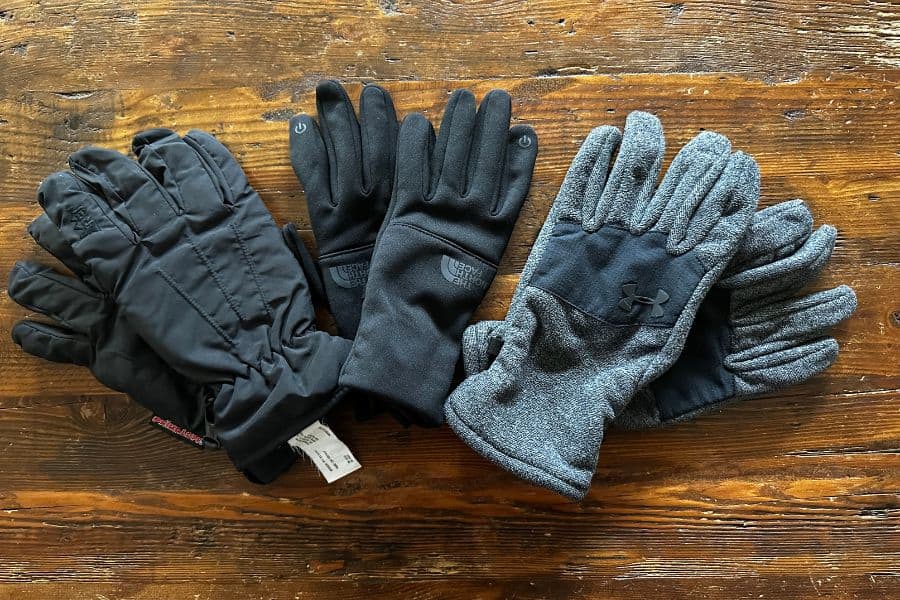 But what makes these models mentioned above stand out? There are different features you should pay attention to when buying thin gloves for extreme weather.
I know there's a lot to digest, so I'll go over everything you should know about them prior to making a decision.
Types of Gloves
There are three most common types of thin gloves:
Outdoor gloves – these are specially designed to be worn when participating in all kinds of outdoor activities, from skiing to shoveling snow. Ideally, they should have a waterproof but breathable outer shell and moisture-wicking inner layer.
Everyday use gloves – these gloves are made for everyday activities such as grocery shopping during harsh winter months. They're made of different materials, including spandex and fleece. Usually, they feature touchscreen fingers so that you may use your phone without taking them off.
Dress gloves – just because it's cold doesn't mean you have to forget about fashion. Dress gloves for cold temperatures are usually made of leather. They're not stretchy like other types of gloves, so finding the right size is a must.
What Kind Of Gloves Keep Your Hands The Warmest?
The answer to this question lies in a combination of factors.
First, and most important is insulation. If you remember middle school physics, then you know that air is a great insulator. Good winter gloves have to keep the heat from getting out and cold from getting in.
But to keep their insulating ability, gloves need a proper wrist cuff. Otherwise, the air will escape through the opening.
Finally, the main reason why gloves might not keep you warm is that they're not the right fit. Gloves that are too big have a significant amount of air inside, so your body needs more energy to warm up that space.
So to find the warmest gloves, you need to make sure that they fit correctly.
Why Do You Need Thin Gloves For Extreme Cold?
If you've ever been out without them in freezing temperatures, then you know how important gloves are. It only takes a minute or two to feel like they're going to fall off.
But standard winter gloves make you feel like you're wearing kitchen mittens. There's a short list of things you can do without having to take them off. And let's be real, what's the point of gloves if they render your hands useless?
Thin Glove Materials
Let's talk about the most important factor – the materials.
When it comes to warmth, nothing beats wool – especially merino. It's a great insulator but also breathable. This means it will keep your hands warm, but not sweaty.
Still, wool is not the most affordable option out there. If you want to pay a bit less for good winter gloves, then synthetics are your friend.
Synthetic gloves are warm, dry fast and provide insulation even when wet.
Polyester and fleece are highly breathable and flexible, so they can fit "like a glove."
Nylon is rather rigid, but that makes it the most durable option.
3M Thinsulate™ insulation is lightweight, non-toxic, and doesn't absorb moisute.
In most cases, you'll find gloves with combined materials. Usually, a low percentage of spandex is added to make them stretchy and better fitting. As for the inner layer, fleece is one of the most popular options, since it's extremely soft and warm.
Insulated vs. Lightweight
You don't have to be a scientist to know that more material means more warmth. But that also means more weight. You can't have both, but you can find the perfect balance, depending on your priorities.
Keep in mind that your body also produces heat. So if you're active, your hands will be much warmer.
For instance, if you're hiking or skiing, you might want to wear lighter gloves that feel more like skin. Since you're constantly on the move, your body will warm up your hands, so you won't need a thick layer of insulation.
Dexterity
Obviously, the reason we want thin warm gloves is that they fit well and allow us to use objects around us without any movement restriction.
Besides their form-fitting design, what also makes gloves dexterous are silicone particles on palms and fingertips. These patterns allow us to firmly grip objects, whether they're dry or wet. That way we can fish, use a shovel or hold our phones without dropping them.
Aside from providing dexterity, these silicone particles make the gloves more abrasion and puncture resistant. Depending on the pattern, they might even protect your palms from being cut by sharp objects.
Touch Screen Fingertips
If you're planning on using your phone and gloves at the same time, you'll want to look for gloves that have some sort of touch screen fingertips.
Each brand has its own term for the fingertip grip, such as The North Face's Etip™ technology, or Under Armour's "Tech Touch", The Smartwool Merino 250 Gloves also have them.
They don't always work exactly as expected, but you certainly won't be able to operate a phone or touch screen without the fingertip.
Water Resistance
If it was up to me, all gloves for extreme weather should be waterproof. After all, you're dealing with snow. And what's not if not frozen water?
But, most models are only water-resistant or water-repellent.
Water-resistant gloves have a low level of protection against water. They're able to resist water penetrating inside to a certain degree. So for instance, your hands won't get wet if it's snowing. But don't expect them to stay dry if you decide to bury them in snow or go camping in the rain.
Water-repellent gloves have decent protection against water. You can make a snowball without worrying you'll soak your gloves.
Finally, waterproof gloves are impenetrable by water. Now, this doesn't mean they're perfect. Most models are sacrificing breathability for waterproofness. Sure, no water gets in, but your sweat doesn't get out either, which is not great. These are probably best any trips where you are stuck hiking in the rain.
FAQs
What are the warmest thin gloves?
The warmest thin gloves are Cevapro -30℉ Winter Gloves. While we've never tested them in -30 degrees ,we know that they'll keep you warm even in very low temperatures.
The inner layer is made of thick fleece, which is breathable and moisture wicking. That way, your hands will stay warm but not sweaty.
What are thin gloves called?
Thin gloves are typically called glove liners.
They can either be used underneath another pair of gloves to add an additional layer of warmth, or they can be used standalone as a thin glove.
Are thin leather gloves warm?
Leather gloves aren't the best material for warmth. Leather gloves can become hard in lower temperatures, depending on the amount of water that has seeped into the natural material.
Nowadays, there are much better animal-friendly leather alternatives such as marino wool and synthetic fabrics such as fleece, polyester, and nylon.
Is Thinsulate warmer than wool?
While there are many variables at play, in general 3M's Thunsulate™ fabric is not as warm as wool.
But it will also depend on the type of wool and how the wool is spun into yarn. Marino wool for instance can be spun firmly into yarn, leaving less room for air to seep into the fabric.
The Bottom Line
It's time to leave mittens and classic winter gloves at home. Nowadays, you can find thin gloves that don't sacrifice warmth and comfiness for flexibility and dexterity.
Cevapro -30℉ Winter Gloves have proven to be some of the best on the market. The moisture-wicking inner layer and waterproof outer layer keep your hands warm and dry even in very cold temperatures.
Finally, they come in several sizes, so you can find the ones that fit your hands the best.