Pretty much anyone that knows a thing or two about rooftop tents has heard about Yakima, a leader and innovator in rooftop racks and cargo boxes.
Throughout the years, Yakima's line of rooftop tents really skyrocketed in popularity. All with good reason. The brand does a good job at updating and enhancing previous models to suit the needs of rooftop car campers around the world.
In this article, I'll talk about different models this brand offers, as well as how they compare to some of their competitors.
Read on!
Different Models of the Yakima SkyRise Tent
Today, there are three models available – the classic that comes in medium size, as well as the HD versions that are offered in either small (2 person) or medium (3 person).
In this section, I'll give you a brief info on each model, as well as how they compare against each other.
The Original SkyRise
The good old SkyRise tent is a 3-season tent. It's made of 210D nylon, which is the same material this brand uses for their backcountry tents. This fabric is lightweight yet waterproof and abrasion-resistant. It uses aluminum poles which are light and sturdy, so you don't have to worry about potential damage from high winds.
While they used to make this model in different sizes before, you can only find a medium, or 3-person version today. The main reason lies in the fact that the brand has started making new, improved versions of rooftop tents.
In fact, the Original version is very hard to find at the moment!
SkyRise HD (Small & Medium)
So what's the deal with the HD versions? In case you don't know, HD stands for heavy duty.
In the case of SkyRise rooftop tents, this means they're designed to be used in harsh weather conditions. In other words, HD models are 4-season tents.
This is apparent just by looking at the material the rainfly is made of. In the case of HD rooftop tent models, a 210D ripstop polyester is used.
While both fabrics are hydrophobic by nature (they resist water penetration and have a very low absorbency), polyester slightly wins the race. Nylon, in fact, does absorb some water and takes somewhat longer to dry, while that's not the case with polyester.
As if that's not enough, the rainfly in Heavy Duty models is also coated with a polyurethane coating so that it's completely waterproof. They have a 3000 mm waterproof rating, which indicates the pressure at which water is able to press through the material. In this case, the tent can sustain 3,000 mm of water on top of the fabric before it leaks.
This kind of rating is usually seen on tent bathtub floors, so that's a pretty good indicator of how waterproof these tents really are.
But that's not all. Both HD models also have a waterproof tent body! It's made of 600D Ripstop Polyester with applied 3000 mm waterproof polyurethane coating. That's the kind of material military gear and luggage is made of.
Now if that doesn't mean durable, I don't know what is.
Yakima SkyRise – Head to Head
| | | | |
| --- | --- | --- | --- |
| | SkyRise Medium | SkyRise HD 2 (Small) | SkyRise HD 3 (Medium) |
| Number of Campers | 3 campers | 2 campers | 3 campers |
| Rainfly | 210D Nylon | 210D Ripstop Polyester, 3000 mm PU waterproof coating | 210D Ripstop Polyester, 3000 mm PU waterproof coating |
| Tent Body | 210D Nylon | 600D Ripstop Polyester fabric with a 3000 mm waterproof PU coating | 600D Ripstop Polyester fabric with a 3000 mm waterproof PU coating |
| Weight | 115.00 pounds | 101.41 pounds | 114.64 pounds |
| Dimensions | 56 W x 96 L x 48 H inches | 48 W x 84 L x 42 H inches | 56 W x 96 L x 48 H inches |
| Price | Check Price/Availability at REI, Check Price/Availability at Backcountry | $1,799 at REI, $1,899 at Backcountry | $2,399 at Backcountry |
What is the difference between the older and newer SkyRise models?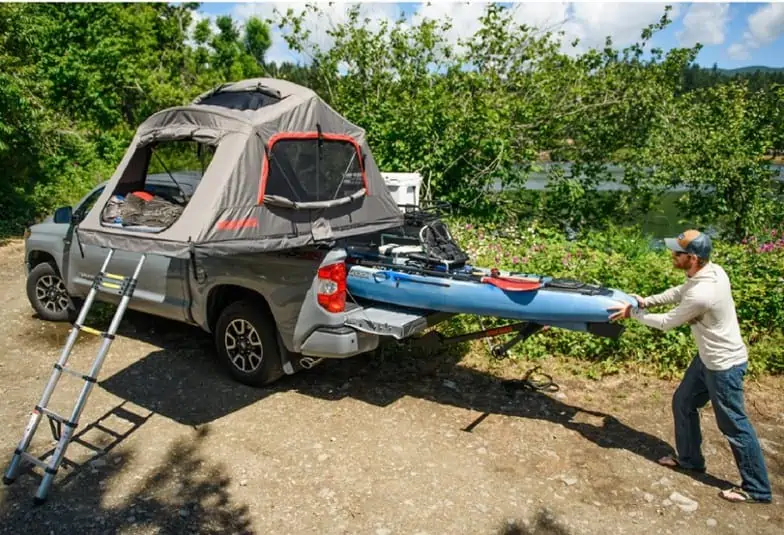 Some might say that HD versions are just the improved version of the original one. But I don't think that's the case here.
HD models are designed to keep you warm and dry throughout the year. But if you only plan on camping during warmer months, then there's no reason why you can't go for the older version.
Now, you'll probably notice I didn't specify the price of each model. That's mainly because the price varies depending on where it's sold and availability.
But what's certain is that the old model is way more affordable than the new ones (if you can get your hands on one).
Now, does that mean HD versions aren't worth it? Absolutely not!
If you're looking for a 4-season rooftop tent, I don't think you can find a better option out there.
Space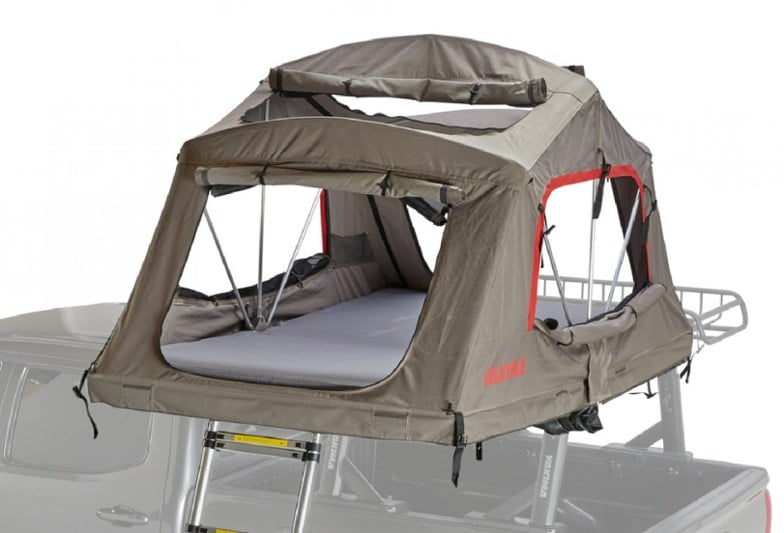 For 2 and 3-person tents, SkyRise models are rather spacy. They're about 10 inches wider and longer than standard models of that size. If you're tall, you're going to love these tents! Even the smaller version is 84 inches in len
gth, which is suitable for most people. Well, unless you're Yao Ming.
As for the height, the S model is 42 while the M models are 48 inches tall. That's roughly the standard height, so we can say that SkyRise tents are average in terms of headroom.
Now, these models feature large mesh windows on the sides as well as the roof. So If you're not using a rainfly, you'll have an amazing view of the stars. Basically, you won't feel like you're inside a tent at all.
What's more, even the rainfly has a clear window. This means that you'll have a view of the night sky even when it's raining. Sure, gray clouds are not a very amusing sight, but hey, any view is better than no view.
Durability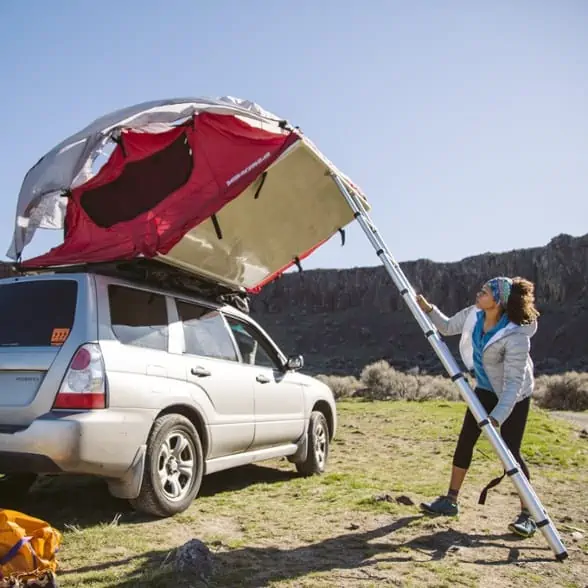 We've already discussed the materials these tents are made of and what that means in terms of weather protection. But how about durability?
The 210D nylon, a fabric used for making the classic version of SkyRise rooftop tents, is a rather sturdy material. It's used for all kinds of stuff, from sport to medical equipment. It's also commonly used for tents.
In terms of abrasion, nylon is one of the most abrasion resistant materials out there. This is somewhat related to its stretchiness. However, nylon is rather susceptible to UV damage. Like any lightweight fabric, it degrades faster when exposed to the sun for a long time.
The Heavy Duty models are made of 600D ripstop polyester. This is a military-quality fabric, and that alone speaks of its durability.
This material is also abrasion resistant. But compared to nylon, polyester is significantly more UV resistant. And considering your tent will (hopefully) spend a lot of time being used outdoors, it's going to be very exposed to sun rays. So it's always good to know that alone won't wear it down too much.
One thing I have to say is that SkyRise tents definitely show high-quality workmanship. Just by looking at the seams and edges, it's clear these tents are made to last.
Ease of Use

This is the whole why you are interested in a SkyRise. The ease of use! Getting the tent up on top of your roof rack, should only take 5 minutes or less.
But then the real magic comes when you arrive at the campsite. Setting up camp takes only 10-15 minutes TOTAL, versus traditional tent camping which can take a whole lot longer depending on your tent's specifications.
The Pros and Cons of SkyRise Rooftop Tents
Pros
The tents are rather spacious compared to standard sizes. Both 2-person and 3-person versions can easily accommodate that amount of people, while still leaving enough room for gear and such. These tents are also suitable for tall people.
The HD versions are practically bulletproof. Both tent bodies and rainflies are made of sturdy materials that are abrasion resistant, UV resistant and waterproof. The quality of marksmanship is visible on seams and edges, which also speaks volumes about the durability of these tents.
These tents don't require more than 15 minutes to set up. Compared to other rooftop models, this is a rather fast time to pitch a tent.
Once you remove the rainfly, you're left with tons of windows that allow you to enjoy the surrounding nature even when inside the tent.
Cons
These tents don't pack small. You'll need to find a proper moisture-free space for storing it when not in use.
They aren't affordable either. The HD versions are pretty expensive for anyone that isn't a hardcore camper.
Accessories Available
And now for the fun parts – accessories! Each of these models come with the most important ones: the ladder, wall-to-wall foam mattress and a removable cover, 4 clamps, 4 round bar adapters, as well as ladder and mounting hardware.
But there are other cool things you can buy separately.
SunBelt
This is a light strip that you can mount inside or outside your rooftop tent, allowing you to be seen at night. The strip features a fabric sleeve and adjustable straps that allow you to easily attach it wherever you want. It's charged via a USB cable that also comes with the purchase.
SkyRise Annex
This three-wall enclosure allows you to add an additional room to your tent. It attaches in such a way that the new room is right underneath the part of the tent that's sticking out of the car. It's made of 210D nylon, the same material the classic version of the SkyRise tent is made of.
The enclosure has a door and two windows, and it's great for storing gear or changing clothes. It comes with its own stakes to keep it in place even during harsh weather.
SideKick
This is a shoe bag that you can hang outside but is still in reach of your hand. Since storage is always an issue, this little feature is great to have in bad weather.
SkyLoft
This is a mesh hammock for all of your stuff. As floor room is limited, you don't want to leave all your stuff laying around. With SkyLoft, you can put them above the ground but still close to hand when needed.
SkyHooks
You can never have enough carabiners. This is a set of four, and each features a nylon strap that can support the weight of up to 50 pounds.
SkyRise Bed Sheets
Sure, the models come with a removable cover, but it's nowhere nice as these bed sheets. They're actually a set of fitted sheet, flat sheet, and 2 standard pillowcases. There are two sizes available to fit each model. These sets are made of cotton and come in gray color. I also love that they include a drawstring bag for easy storage.
Other Rooftop Tents to Consider
Finally, let's see how the SkyRise tents compare to their competitors.
There are tons of 2 and 3-person rooftop tents on the market, in addition to some other hatchback-style SUV tents, but let's take a look at those that most closely compete with the Yakima SkyRise:
Thule Tepui Explorer Kukenam 3
A rooftop tent doesn't have to cost a pretty penny. This model is a bit more gentle on your wallet than the SkyRise. It's made from the same material, so it's clear that it is durable and waterproof.
Of course, the low price also means it doesn't come with some cool features. My biggest issue is that it doesn't come with a mattress. So when you add two and two, it actually might end up being just as expensive as a SkyRise model with a mattress is.
If you find headspace really important, then this model is worth considering, as it gives you about 6 inches more than the SkyRise.
Roofnest Condor XL
I've got to say, this tent by Roofnest is way more expensive than SkyRise models.
But when we look at the floor area, it's clear that the SkyRise M version wins by a small amount.
On the other hand, the Condor XL has some cool features that make up for the high price, such as the ability to accommodate a solar panel and storage. It also comes with a Roofnest privacy tent, which always comes in handy.
iKamper X-Cover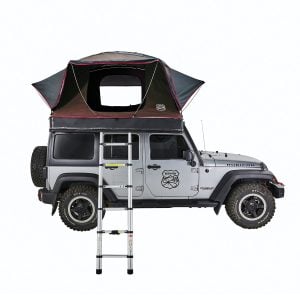 This is yet another very expensive rooftop tent. It's a hybrid of hardshell and softshell. What this means is that it combines the best of both worlds: it's lightweight, roomy, easy to set up and protected from even the harshest weather.
This model does come with a mattress. The thickness is the same as with SkyRise, and that also goes for the size. The difference in price between this model and the SkyRise HD version is not big, and given the fact that this is a hybrid, it's understandable. Ultimately, it comes down to what your priorities are.
Tuff Stuff Ranger 3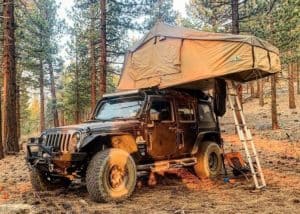 I love accessories, so this model by Tuff Stuff really grabbed my attention. It comes with an annex, a hammock for your stuff and even a storage bag for your boots. Considering these are all the things you need to buy separately in the case of SkyRise models, I find this to be a pretty good deal.
On the other hand, this tent is a bit smaller and made with slightly thinner materials. Now, unless you're winter camping, it's unlikely this will bother you. And given the fact that this is a rather affordable model, it's one worth considering.
In Conclusion
As you can see, SkyRise HD tents are spacious, comfortable, and priced correctly. Not only that, but it will last you a long time.
They might be a bit pricier, but you'll probably pass it down to your grandkids one day.