If you're in a rush, go for the Gear Aid Seam Grip Seam Sealer. In my opinion, it's the best tent seam sealer available today.
Getting a new tent is always a fun experience, but all it takes is 1 leaky seam for your camping experience to go downhill fast.
That's when you need a tent seam sealant. These magical tubes will prevent any moisture from getting in, like a burly bouncer at a club.
Of course, picking the right one is easier said than done. However, today I'll show you the ropes on how to choose the right tent seam sealer for you.
Let's get right into it. Here are the best tent seam sealers that we recommend:
Best Tent Seam Sealer: Our Top Recommendations
Gear Aid – Seam Grip Seam Sealer

Cure Time: 8 hrs | Size: 1 oz | Coverage: 12 ft | Primary Use: All Natural or Synthetic Tents & Gear
First up is one of the best seam sealers that you can find.
First of all, it's made by Gear Aid, so that's already a big plus. All of their products (from boot cleaner to reflective tape) are top-notch.
What I really like about this particular adhesive is the level of versatility that it brings to the table. It can bond permanently to a wide variety of fabrics, including vinyl, canvas, polyester, and nylon.
Over the years, I've used it to repair various camping paraphernalia. This includes my prized Lightspeed air mattress, among other things.
I've also used it to patch up various tents, awnings, and even tarps. Whether you're trying to seal a seam or just repair a hole, it's definitely up for the job.
It dries overnight and then forms a permanent, waterproof rubber seal that will flex with your tent fabric rather than peeling or cracking.
It's also quite cost-effective. A single tube of this adhesive will seal up to 12 feet of seams.
Overall, it's tough to beat this waterproof masterpiece from Gear Aid, and I'd highly recommend you try it out for yourself.
Pros:
Can repair virtually any camping item
Dries overnight
Comes with two applicator brushes
Doesn't peel or crack
12 feet of seam sealing per tube
Manufactured by Gear Aid, a seriously reputable brand
Cons:
It might be tricky to apply – make sure you read the instructions first, so you don't waste any precious sealant
Best for: campers who want top-of-the-line waterproofing that's suitable for various materials.
Gear Aid – Seam Grip Plus Silicone

Cure Time: 6 hrs | Size: 1.5 oz | Coverage: 24 ft | Primary Use: Silicon Tents
This sealer is another stellar product from Gear Aid.
This silicone sealant is a bit more affordable than other Gear Aid sealants, even though it's larger in volume. This makes it a smart option for those who need to seal a few seams on a tight budget.
This seam seal has a silicone element added to it. This means it not only provides a waterproof seal, but it'll also allow your gear to remain flexible, thanks to its superior elasticity. And, seeing as it's made by Gear Aid, you can be sure that it won't peel.
The main difference between this silicone sealant and other Gear Aid sealants is that this one is a bit lighter. So, it might be better for ultralight backpackers who want to save some ounces.
This silicone sealer is ideal to use on backpacks, rainwear, tarps, tents, or any shelters that are silicone-treated. I've used this particular seam seal on quite a few pieces of gear. I can definitely confirm that it's highly effective at keeping water out, even in stormy conditions.
On top of that, this sealant will endure even the hottest heat or the chilliest cold.
That being said, if you need to remove it, you can do so using mineral spirits (more commonly referred to as paint thinner). This allows you to remove your seam sealer so that you can re-apply a fresh coat.
Pros:
Elastic structure
Ideal for sealing silicone-treated items
Endures extreme weather
Easily removed with paint thinner
Doesn't peel or crack
Cons:
It only comes with one tube, so you might want to pick up another one for backup
Best for: campers trying to seal silicone-treated items or those who want a lightweight seal.
Coleman – Seam Sealer

Cure Time: 4 hrs | Size: 2 oz | Coverage: Unspecified | Primary Use: Tents & Gear
If you're not a fan of using chemicals, then you'll love this sealer from Coleman. It has a water-based formula that makes it more environmentally friendly.
Coleman has a reputation of offering more for less, and that reputation is upheld by this seam sealer. This product provides twice as much sealer as most others for the same low price.
One of the best things about this Coleman seam sealer is the fact that it dries in just 1 hour. That being said, it will still be a bit sticky after an hour, so it's best to leave it out for another 4 to 8 hours for good measure.
I recommend doing your seam sealing the night before, then leaving your tent out (open, in the garage) to dry properly.
The downside to this product is that it's not ideal for repairing gear. It's much better at waterproofing, rather than patching up holes. You can't really complain, though, since you're looking for a seam sealer, not a repair kit.
Another tip – be sure to read the manual of your tent before applying the sealer, to determine whether you should apply it to the outside or inside of the tent. Getting this information before applying the product is essential, so you don't waste any of it.
Which reminds me, here's a list of Coleman tents that will exceed your expectations.
Pros:
Comes with a foam applicator pad
Water-based
Definitely an affordable option
Double the volume
Dries in an hour
Simple application
Cons:
Not fit for repairs
Hard to apply in wet conditions
Best for: campers on a budget who want high-quality sealing.
Gear Aid – Fast Cure Seam Sealant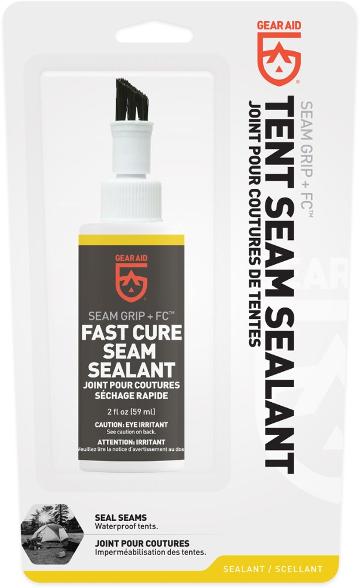 Cure Time: 2 hrs | Size: 2 oz | Coverage: 60 ft | Primary Use: Nylon Tents
You might think that I'm a Gear Aid shill at this point, seeing as I've included three of their products on this list. In reality, it's just because they're a top manufacturer in the sealer industry — so the extensive coverage is well deserved.
While the previous two sealers by Gear Aid that we've covered above are top-notch, sometimes you're in a rush and need something that will dry faster. That's where the Fast Cure Seam Sealant comes in.
At room temperature, this sealer will cure in around two hours. That may seem like a long time, but when you compare it to the drying times of most seam sealants, you'll realize that it's actually super speedy.
Also, note that manufacturers are often a little… optimistic with their claimed dry times. With this sealant, you don't have to worry. It'll be dry as a desert in a few hours.
A single bottle can seal up to 60 feet of seams, which is absolutely insane when compared to other options currently on the market. If you're trying to seal a large (3- to 4-person) tent, then this is definitely the right sealer for you.
Speaking of, I compiled a list of the best 4-person tents right here.
Pros:
Two-hour curing time
Built-in applicator brush, so you can fix your seams on the road
60-foot sealing capacity per bottle
Suitable for large tents
Doesn't peel or crack
Manufactured by Gear Aid (my obvious favorite)
Cons:
It might be tricky to apply since it doesn't have a separate applicator brush like the others
Best for: campers who want a seam sealer that'll be dry in a snap.
Coghlan's Seam Seal
Cure Time: 2 hrs | Size: 2 oz | Coverage: Unspecified | Primary Use: Synthetic Tents & Gear
Coghlan's is known for their budget camping supplies and gear. They've been around for a long, long time.
You know the stuff your uncle was using years ago, that they still sell today.
This water-based tent seam sealer is no different. It gets the job done, as it has for years.
Pros:
Fast acting cure in 2 hours
Comes in a 2 oz bottle that should cover an entire mid-sized tent
Specifically made for synthetic tents and gear
Super budget friendly
Cons:
Doesn't work as well as other sealers
Best for: those on a budget
Texsport – Polyurethane Waterproof Seam Sealer

Cure Time: 24 hrs | Size: 14 oz | Coverage: Unspecified | Primary Use: Synthetic Tents & Gear
This seam sealer is a bit pricier than the other options I've covered on this list. That being said, it does have some unique benefits.
Applying this seam sealant to your tent gives it a polyurethane coating, which is what a waterproof tent has when it comes out of the factory.
The main advantage of using Texsport's sealer is the fact that it's both colorless and odorless (once it dries), so it's like it isn't even there.
The subtlety of this product appeals to campers who want to use a seam sealer on their gear without ruining the aesthetic. This sealer also keeps your equipment safe from dirt, the sun, and water, making it as versatile as it is inconspicuous.
It's also washable and flexible, meaning that you can do whatever you want with your gear without having to worry about any cracking or peeling.
Sadly, there's no such thing as a perfect seam sealer. This sealer requires two coats, and each layer takes 24 hours to dry.
Obviously, campers who are working on a tight schedule will prefer the Gear Aid Fast Cure, which cures in 2 hours rather than 2 days. But, if you have the time and want a tight seal, then Texsport is definitely an excellent choice.
Pros:
Spray-on application
Colorless and odorless when dry
Protects from dirt, sun, and water
Washable
Flexible
Doesn't peel or crack
Cons:
Pricier than some
Takes two days to cure
Best for: campers looking for a high-end option who are willing to wait two days for the curing process.
Choosing The Right Tent Seam Sealer
There are quite a few things that you need to consider when selecting a tent seam sealer.
I know that it can be overwhelming to pick one while drowning in all the variables, especially for beginners.
So, I wrote this guide to help you out.
Fabric
The first thing to consider when picking out a seam sealer is what material your tent is made out of.
For most synthetic fabrics – such as nylon and polyester – you'll be able to use any of the products listed here without any trouble.
If it's made out of a silicone–coated fabric, then you should go for a silicone based seam sealer, like the Gear Aid Silnet Silicone Seam Sealer. 
If it's made out of Cuben Fiber — sometimes referred to as Dyneema — then you most likely won't need to seal it at all.
If you have a canvas tent, you'll need to use a product specifically designed for canvas.
This is why researching the material of your tent is made of is crucial before you spend your hard-earned money on a tent sealer.
Some tent manufacturers have tested their fabrics and know which sealant works best. Check your instruction manual to see if there are any recommendations.
Thickness
The thickness and viscosity of a sealer will vary from one product to the next. Different levels of thickness will have their own sets of pros and cons, so you should choose carefully based on your needs.
Thick sealers tend to be harder to apply, but they're more efficient at coating seams.
Likewise, thin sealers are more convenient to apply, but you'll end up wasting some product if it runs.
It's worth noting that the thickness of a sealer isn't fixed. If your sealer is too thick, then just thin it out using mineral spirits, and you're good to go.
Application
This might be self-explanatory, but as the name suggests, seam sealer should only be applied to the seams on a tent – or, in some cases, to an area where the tent has been damaged.
To get a waterproof coating on your entire tent, you'll want to use a tent waterproofing spray in combination with a seam sealer.
There are different ways to apply a seam sealer, but most of it comes down to preference.
The most common type is known as paint-on — which is precisely what it sounds like.
Spray cans are also available and tend to be quicker but may waste more product.
Some sealers (such as the Coleman) come with a foam applicator pad, which can make it a whole lot easier to apply everything to the seams evenly.
Make sure you apply the sealant evenly on ALL the seams, including those on the tent fly and tent floor.
Quantity
You should also take note of how much volume you'll need by measuring the size of your tent.
If you're gonna be camping in a small tent, then a single tube should be more than enough to seal all the seams.
Obviously, a larger tent will require more product.
Check to see how many feet of seams the seam sealer you select will cover, and use this information to determine how many tubes, cans or bottles you'll need for your tent.
Price
Of course, as with any camping gear, you should factor in the cost when you're picking out a specific product. You don't want to spend a ton of money on sealant, but you also don't want to go for a low-quality product that'll crack and peel once it's dry.
Buying online tends to be cheaper than going for brick-and-mortar shops, since online shops have less overhead. Just ensure that you always put product quality above price to get the best results.
FAQs
Does tent seam sealer work?
Yes they do, and when applied right, they can last for years if not decades!
Maintaining your tent with even just a little tent seam sealer in leaky spots can shore up your tent and keep rain and condensation out.
Do you put seam sealer on the inside or outside of a tent?
For best results, you should apply tent seam sealer on the inside of the tent. You'll want to apply directly to the stitching where you can plug the needle holes to prevent any leaking.
Of course, you can always apply seam sealer to the outside as well, but start with the inside first.
How do you apply seam sealer to a tent?
Start by setting up your tent in the garage or your backyard, then clean your tent and let it dry. Finally, apply your seam sealer to the inside of your tent or the outside wherever the seams are most prevalent. Let the seam sealer cure for 2 to 24 hours depending on the sealer's instructions.
What is tent seam sealer made of?
Tent seam sealers are made from a variety of different style epoxies each designed for unique applications. There are water-based, silicone-based, and urethane seam sealers.
How long does it take for tent seam sealer to dry?
Tent seam sealers take anywhere from 2 hours to 24 hours to cure.
How do I know what tent seam sealer to use for my tent?
Some tent manufacturers have tested their fabrics and know which sealant works best. Check your instruction manual to see if there are any recommendations.
Our Verdict
I hope that this guide has made it easier for you to make an informed decision on which tent seam sealant fits your needs best.
All of the options we've given you are top-notch. However, if you want my expert opinion, I'd have to recommend that you go for the Seam Grip Seam Sealer from Gear Aid. The versatility and level of waterproofing that this sealer provides are just leaps and bounds ahead of any other product.
Sure, it won't dry as fast as some of the other options on this list, but perfection is worth waiting for.
The flexible nature of the sealer ensures that it will roll with the punches rather than cracking at the first sign of motion.
It bonds to nylon, polyester, canvas, and vinyl, to name a few materials, so you won't have to worry about compatibility when using this seam sealer.
All of this makes it the best tent seam sealer you can find on the market today.
Just take note of the fact that one tube is suitable for 12 feet, so if your tent is rather large, then you may want to buy two or more.
Happy camping!