Camping is great, but camping with your family is even better.
Today, we're going to review family tents that'll make sure your next camping trip is a hit for the whole gang.
We understand there are tons of different families out there, so we tested and reviewed tents for families of varying sizes.
Note: All of the tents below fit at least two queen-sized beds. We figured most families wouldn't want anything smaller.
Without further ado, let's dive right in:
Best Tents for Families of 3:
Best Tents for Families of 4:
Best Tents for Families of 5:
Best Tents for Families of 6:
Best Tents for Families of 3
REI Co-op Wonderland 6 Tent (formerly Kingdom 6)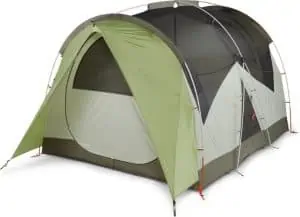 Size: 6 Person | Type: Tunnel | Seasons: 3-season | Weight: 22 lbs 15 oz | Inside Height: 75″ | Floor: 120 in x 100 in (83.3 sq ft) | Setup Time: 10 mins
The REI Wonderland 6 is a brand new tent launched in 2022, replacing REI's excellent Kingdom 6 tent.
REI is widely known as a great outdoor brand – and looking at this tent, it's easy to see why.
What surprised me the most is that even though the tent is pretty big, the setup is relatively simple and easy. With two people it takes less than 10 minutes to fully set it up, despite it being a fairly spacious tent.
Speaking of size – the Wonderland 6 features a peak height of 75 inches and vertical walls. That means that movement inside the tent is easy as pie (and it gives you a lot more space than a dome tent to boot).
This is especially critical with little ones running around. But the tent has just enough space for 3 people, and 4 if your kids are still small.
The biggest change to the Wonderland 6 is the addition of inverted v-shaped windows at the sleeping bag level. This helps with both ventilation as well as providing a viewing area for campers.
And secondly, the previously included vestibule is now only available for purchase as a mud room add-on. However, if you do this, you'll get an additional 56 square feet of storage space.
Read the full REI Co-op Wonderland 6 Review here.
Pros:
Comes with a divider that can create two rooms for extra privacy
2 doors allow for easy movement in and out of the tent
6'2'' peak height and vertical walls mean you get a lot of extra space
For such a big tent it's relatively easy to set up, even for one person
Aluminum poles are both durable and flexible enough to stay erect even during windy conditions
Cons:
Pricey – it's not for budget-conscious campers
Vestible/Mud Room has to be purchased as an add-on
Best for: people looking for the overall best 6 person camping tent on the market today.
Coleman Instant Cabin Tent
Size(s): 4, 6, 10 person | Type: Instant | Seasons: 3-season | Setup Time: 2 mins
For families, we love instant tents.
There's nothing worse than getting to the campsite and rushing to pitch a tent in the middle of a rainstorm, while little Timmy is crying. I thought camping is supposed to be relaxing?
Instant tents help turn your camping trip from troublesome to therapeutic. Instead of wasting your precious downtime pitching a tent, you can set up instant tents within minutes.
Among instant tents, our pick is the Coleman Instant Cabin. This tent sets up within one minute. Yes, one minute. That's less time than it takes to unravel your sleeping bag!
Pros:
The affordable price tag for a high-quality tent that'll last
6" center height means you can walk around inside without bumping your head
Polyguard double-thick outer fabric provides an excellent exterior you'll use for years
Relatively lightweight – 25 lbs, but not for backpacking
Coleman's WeatherTec system keeps you dry even in harsh rains
Cons:
Integrated rainfly is easy, but you might want to buy an external one for added rain protection
Best for: 4-person families that want the ease of an instant tent and the quality of a Coleman.
Check Price at Dick's Sporting Goods
Coleman Carlsbad 6-Person Tent
Size: 6 Person | Type: Dome | Seasons: 3-season | Weight: 22 lbs | Inside Height: 72″ | Floor: 15 x 12 ft (120 sq ft) | Setup Time: 15 mins
Last but not least for families of 3 is the Coleman Carlsbad tent. This is one of our favorite tents here.
It's an excellent combination of features that'll last, portability you can carry anywhere, and price that fits any budget.
Now, let's talk about the rooms. The first thing you'll notice about the Carlsbad is that it's got a screen room.
This provides you a nice little room that's protected from bugs and rain. You can store your gear here or simply use it as a porch to watch the sunset on.
Next is the main tent room. What's special about this room is that it's dark. Coleman uses a special DarkRoom technology to make this tent darker than any other tent on the market.
This means you can block out your neighbors' lights at night, then sleep late in the morning without being woken up by the sunrise.
And as with any Coleman tent, it comes with the WeatherTec system. That means your seams and floor provide high-grade water protection.
You'll note that this tent comes in 4 or 6 person configurations. We recommend the six-person since it'll give you enough space for four people plus their gear (or a dog). No matter who you bring, this tent still fits two queen-sized air beds.
As a matter of personal opinion, I like dome-style tents better than cabin tents. I prefer saving on weight and having more wind resistance.
Of course, this comes at a cost of center height, but I don't need to be running around inside my tent to enjoy myself. That's what the great outdoors are for, after all.
Pros:
Sets up within 7 minutes thanks to FastPitch instant-tent design (great for this size)
DarkRoom technology blocks 90% of sunlight and keeps you 11% cooler inside
Screen room gives added space outside for gear or canine campers
WeatherTec systems mean your inverted seams and integrated floor keep you dry
Excellent price for top-notch features
Cons:
6-person tent means it comfortably sleeps 4, be aware!
Best for: small families who plan on camping for years to come (and enjoy sleeping in)
Best Tents for Families of 4
CORE 9-Person Instant Cabin Tent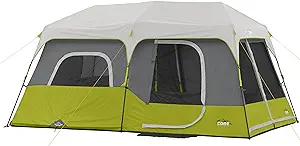 Type: Instant, Cabin | Size: 9 person | Seasons: 3-season | Weight: 27.62 lbs | Inside Height: 78 in | Floor: 14 x 9 ft (126 sq ft) | Setup Time: 2 mins
Our pick for the best family tent is the CORE Equipment 9-person instant cabin tent.
Look we know its a "9 person" tent, but let's face it, we are talking mere inches here. It's an 8-person tent and they know it.
But that aside, it's a great tent. It's an instant tent that can easily be setup in no time.
The telescoping poles make it easy to put up and take down, and ever since I started using CORE instant tents, I haven't looked back. PERIOD.
The 9-person model can fit two queen-sized mattresses and has a room divider for added privacy between the two.
You can fit in a few extra folks and easily get 4 adults and 2-3 kids in there if you really needed to.
To keep you cool at night, this tent has an adjustable ground vent along the edge of the floor. The fact that they're fully adjustable means you can close them up in the winter months to stay warm.
CORE also provides different configurations to suit everyone's needs. This tent is available in green and wine (burgundy) colors, and there's a 9 and 12-person model.
Although I recommend the 9-person tent, the 12-person is a great choice if you have an extra-large family that wants a tent with extra room and extra doors.
Another thing I love about this tent is the front door. Unlike other tents, this one uses a large T-style door that opens up on both sides. This allows you to inflate a queen-size air mattress outside the tent, and then conveniently move it inside.
Other features I like include the factory-sealed seams and velcro ports for electrical cord access.
Pros:
6'6" center height allows anyone to walk around inside
Large T-style front door means moving gear into the tent is no issue
Bottom air vents keep the whole group cool at night
Instant setup takes 60 seconds, giving you more time for rest & relaxation
Strong wind protection thanks to steel uprights
Reasonably priced – not too expensive, but doesn't skimp out on quality
Cons:
If using the room divider, the backroom doesn't have a door, which can make night-time bathroom breaks a challenge
Best for: large groups that want an easy-to-use tent with tons of space.
Coleman Montana 8-Person Tent
Size 8 Person | Type: Dome | Seasons: 3-season | Weight: 23.14 lbs | Inside Height: 74 in | Floor: 16 x 7 ft (112 sq ft) | Setup Time: 20 mins
An 8-person tent means you can fit up to 3 queen-sized air beds inside.
As a Coleman tent, this comes with its patented WeatherTec water protection system. This design gives you best-in-class water resistance thanks to inverted seams and an integrated floor.
Although not an instant tent, this tent sets up rapidly. It can be assembled within 15 minutes with no problems.
Design-wise, this tent has a few perks you'll enjoy. It comes with an extended awning over the door, so you can drop your shoes outside and keep them dry. It's also got a hinged door, so your kids can enter and exit quickly without having to zip and unzip the door.
Want to learn more? Read our detailed Coleman Montana 8 Person Tent review.
Pros:
The price for value is best in class. This is a large tent that's totally affordable, with the added bonus of Coleman quality
A hinged door is a major plus for easy in and out. This is usually only provided with more premium tents.
Lots of space. This tent can fit 3 queen-sized air beds but provides more comfort if you only bring 2
Cabin style tent means 6'2" center height – even Dad can walk around
Setup is not instant but can be completed by one person without any issues
Cons:
The tent is not 100% waterproof
For an 8-person tent, one door can get annoying if people are walking in and out all the time
Best for: families that where budget is the main priority or those who don't camp frequently enough to splurge on another tent.
Browning Big Horn Tent (Out of Stock)
Size: 8 Person | Type: Cabin, 2-Room | Seasons: 3-Season | Weight: 34.6 lbs | Inside Height: 87 in | Floor: 10 x 15 ft (150 sq ft) | Setup Time: 15 mins
To start off, let's talk about tents with multiple rooms.
When you're a family looking to go camping, you often think about how cool it would be to have a multi-room tent. You see these massive 6-room kingdoms on Instagram and think "wow, that'd be cool!"
Not so fast. The larger the tent, the more weight you have to schlep around, the more poles you have to set up. No one wants a heavy, complicated tent.
So, for multi-room tents, we recommend two-room tents. Specifically, the Browning Big Horn.
At first look, this might seem like a basic tent (its boring brown color scheme doesn't help). However, under the hood, this tent is a gem.
As a cabin-style tent, the Browning Big Horn provides a ton of space from the floor to the ceiling, thanks to its straight walls. At the top, it's got a height of 87," and on the side, steel uprights make sure your tent doesn't flop around during a windstorm.
When you've got a lot of people staying in one tent, inside heat can become an issue. Thankfully, this tent has top of the line ventilation. Between its six windows and mesh roof, this tent is big but breathable.
Pros:
Lots of space with cabin-style (straight) side walls – comfortably sleeps a queen size bed in each side or three/four sleeping bags
Two doors mean anyone can go to the bathroom in the middle of the night without waking the entire tent up
Steel upright poles provide extra strength, allowing this large tent to stand up straight with no problems
Excellent weather protection for its size. Comes with factory-sealed seams and floor rated to 2000mm HH
Easy setup (despite massive size). Should take less than 15 minutes.
Cons:
Like most large tents, this one is heavy. Make sure you're ready to carry all of its 35 lbs
Lots of ventilation, so bring a warm sleeping bag for winter camping
Best for: Families that want a larger tent that allows privacy and quiet time from the kids
Eureka Copper Canyon LX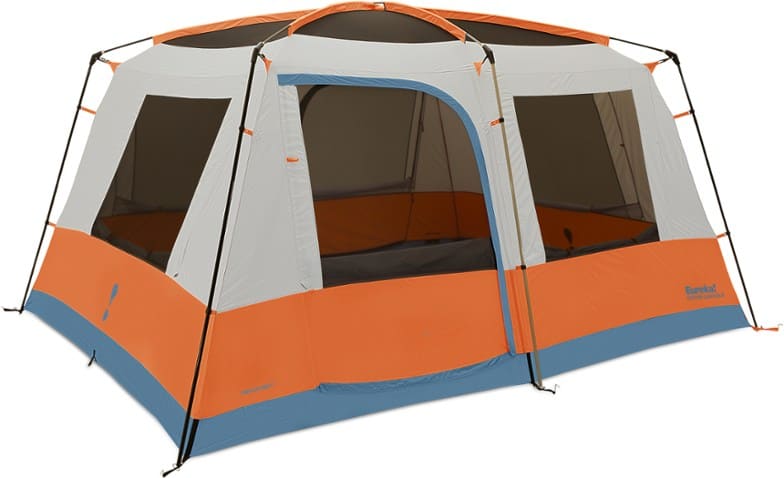 Size: 8 Person | Type: Cabin, 2-Room | Seasons: 3-season | Weight: 34 lbs 15 oz | Inside Height: 84 in | Floor: 156 x 120 in (130 sq ft) | Setup Time: 10 mins
This freestanding cabin tent from Eureka boasts a huge 130 sqft. space, with a peak height of 84 inches. Not quite as roomy as the Browning Big Horn, but pretty damn close.
If you'd rather have 2 smaller rooms, you can. This tent comes with a divider curtain that you can put up to divide the space however you like.
The walls are nearly vertical, which means the space inside is open, so you won't be feeling claustrophobic.
Aside from being spacious, this tent is also super tough. The entire tent is made of 75-denier 190T polyester taffeta, so you'll have nothing to worry about if a storm hits.
Large mesh windows provide great ventilation. Things can get stuffy with a lot of people sharing a tent. Not in the Copper Canyon LX, though.
Pros:
Very roomy, with 130 sqft. of floor space and an 84″ high ceiling
Divider curtain lets you create 2 smaller rooms
Near vertical walls mean you can walk around inside without hunching over
Great ventilation thanks to large mesh windows
Made of durable polyester taffeta, providing excellent water resistance
Cons:
Doesn't feature a vestibule
Best for: campers looking for a spacious family tent that will hold up well in the rain.
Best Tents for Families of 5
CORE 10-Person Cabin Tent
Size: 10 Person | Type: Cabin, 2-room | Seasons: 3-season | Weight: 31.61 lbs | Inside Height: 86 in | Floor: 14 x 10 ft (140 sq ft) | Setup Time: 20 mins
If being able to move around freely in your tent is important to you, you'll want to know about the CORE 10 person instant cabin tent.
This tent gives you an incredible 7'2'' of ceiling height. This means that even professional basketball players can walk around comfortably inside this tent. That's not all, though. This tent also boasts a whopping 140 square feet of floor space.
For those who value privacy, Core provides a room divider to make 2 rooms. Combine that with the two doors on both sides, and getting around in the tent is a piece of cake.
Sealed seams and water-resistant fabrics will ensure that not a single drop of water ends up in your tent, even during heavy rains.
Pros:
At 140 sq ft. it is incredibly spacious
7'2'' center height and straight sidewalls make it easy to walk around in the tent
Comes with a room divider for extra privacy
Adjustable ground vents and mesh ceiling provide great ventilation
Strong wind resistance – up to 30 mph
This is an instant cabin tent, which means you can set it up in less than 2 minutes
Cons:
The floor is not that durable, so it's wise to put a tarp beneath your tent
Best for: people who want a huge instant tent that can be up in less than 2 minutes.
The White Duck Avalon Bell Tent
Size: 10 Person | Type: Canvas, Bell | Seasons: 4-season | Weight: 166 lbs | Inside Height: 134 in | Floor: 20 ft diameter (314 sq ft) | Setup Time: 30 mins
This tent is made of Dynaduck fabric, which is a double-fill army duck canvas, treated with a water repellent, mold, mildew and UV resistant finish.
The canvas is heavy, but since this isn't a backpacking tent, that's okay.
Even though the canvas is thick, it is very breathable. It keeps you cool during the day, but still lets a decent amount of sunlight in. And, it traps heat in at night, keeping you warm.
And since it comes with a silicone-coated stove jack, you can stay extra warm inside even when it's chilly outside.
This bell-shaped tent has roof vents that allow the air to circulate even when the door and windows are closed.
To top it all off, there's a rain flap above the door that can double as a canopy when the weather is nice.
Pros:
It features galvanized steel poles that keep the tent steady during harsh wind
Heat-resistant silicone-coated stove jack allows you to cook inside
Roof vents along with mesh door and windows allow lots of airflow
The canvas is thick but it provides lots of natural light during the day
Rain flap above the door can also serve as a canopy
Cons:
The central pole that holds the tent might be annoying to avoid
Since it's made of canvas, this tent is very heavy
Best for: family camping and use on campgrounds.
Check Price on White Duck Outdoors
Ozark Trail 10-Person Instant Cabin Tent
Size: 10 Person | Type: Cabin, Instant, 2-room | Seasons: 3-season | Weight: 31.86 lbs | Inside Height: 78 in | Floor: 14 x 10 ft (140 sq ft) | Setup Time: 2 min
Ozark Trail makes an affordable quality family tent, and this 10-person instant cabin tent is no different.
With the large welcoming door you enter a huge 14′ x 10′ tent giving you 140 sq ft of living space. But even better, because you just pitched it in 2 minutes flat.
A center height of 78 inches makes this a great choice for taller people, as any good cabin tent should.
The pre-attached poles make this as hassle free and easy to use as anyone can ask for when you've got kids running around screaming.
Pros:
8 windows allowing for premium views from all angles and great ventilation
No assembly is needed – simply use the pre-attached poles and setup in under 2 minutes
140 sq ft of living room with 78 in ceilings make this a
It's the most affordable tent on this list at $149 as of our last update
Splits into 2-rooms, giving you even more privacy
Cons:
Not going to be the most weather resistant tent on this list
Best for: A budget friendly, family camping tent that goes up quick.
Best Tents for Families of 6
Core 12 Person Instant Cabin Tent
Size: 12 Person | Tent Type: Instant, 3-room | Weight: 47.8 lbs | Inside Height: 80 in | Floor: 18 x 10 ft (180 sq ft) | Setup Time: 2 mins
Most of the tents in this article are made for two queen-sized beds (one for you, one for the kids). For this category, we wanted to give you the option to use three queen-sized beds. No matter if you want to bring some of your kids' friends, or just have more room for your gear, these tents are sure to get the job done.
In that case, we recommend the Core 12-Person Instant Cabin Tent. Like the Big Horn, It's a cabin-style tent, which means you get plenty of height and space on the sides.
The downside to larger tents is that they take longer to set up. That's why we recommend the Core Instant Cabin.
As an instant tent, it comes with pre-attached poles. All you have to do is layout the tent, lift up the corners, extend the poles, and ta-da! Your tent is pitched within 2 minutes.
Since you'll have a lot of people with you, I bet at least one person will need to charge their phone.
Thankfully, this Core Instant Cabin (like all other Core tents) comes with a slot for electrical cord access, so you can charge all your devices easily. The opening has a strong patch of velcro so that you can still use the electrical cord without letting water in.
You can also check out more options for large tents in our 10-person tent and 12-person tent reviews.
Pros:
Instant tent means it sets up in 2 minutes or less, so you have more time to spend with the kids
Two walls give you privacy for changing and plenty of configuration options. The middle room can be used as a living room or third bedroom.
The velcro-constructed electric vent lets cords in but keeps the rain out
Adjustable air vents towards the floor allow customizable ventilation
The large size gives you and your family plenty of room for horsing around inside
Cons:
Teardown can be complicated since there's so much material to this tent
Best for: Larger families or camping groups of 6-12 that want extra elbow room.
Coleman 12-Person Skydome Tent XL
Size: 12 Person | Tent Type: Dome, 2-room | Weight: 33.6 lbs | Inside Height: 84 in | Floor: 20 x 9 ft (180 sq ft) | Setup Time: 5 mins
Coleman makes quality tents for budget-conscious campers, and this is one of the highest-rated Coleman tents around.
It is a quick pitch tent that you can get up in only 5 minutes with the pre-attached poles. Coleman's patented WeatherTec™ technology helps prevent water and wind from ruining your camping trip.
At 180 square feet (12′ x 9′) it's not the biggest tent in the 12-person category, but the extended dome style will prove to benefit if you face inclement weather.
However, Coleman did do a nice job of making the peak height at 7′ tall meaning that there is still plenty of headroom.
Pros:
Comes with room dividers so you can split it into two separate rooms
Quick Pitch tent that will go up in 5 minutes or less
Coleman's patented WeatherTec™ will keep you dry
High center height (84 inches) and fits three queen-size airbeds
Cons:
Be careful with the poles. Pre-installed poles mean that you don't want to drop it on your toes.
Best for: overall best family quick-pitch tent at an affordable price.
Ozark Trail 12-Person, 3-Room Instant Cabin

Size: 12 Person | Type: Cabin, Instant, 3-room | Seasons: 3-season | Weight: 55.2 lbs | Inside Height: in | Floor: 8 x 8 ft + 8 x 8 ft + 8 x 8 ft (192 sq ft) | Setup Time: 5 mins
This tent is great if you aren't a veteran camper and only want to have the occasional camping trip. With pre-attached poles in place, all you have to do is assemble – and it can be done a lot quicker than most tents out there.
The Ozark Trail 3-Room Instant Cabin Tent measures 16' x 16' and weighs in at just under 40 lbs when it's not set up. This one can be put up a lot quicker than a lot of other tents out there on the market.
Just be careful when setting up, because the poles have to "click" into place. If they aren't installed properly, you'll notice when the tent collapses in on itself – which is, I'll admit, more of a user error than a design problem.
Overall, this was great and contains room dividers if you'd like to split it into three rooms or less.
Pros:
Measures 16' x 16' on the inside and comes with a porch – massive footprint!
Seven windows, three rooms, and two doors make this less of a tent and more of a castle
The oversized ground vent allows you to hook up an air-conditioner directly to your tent
Pre-attached poles make setup and teardown easy (necessary for a large tent)
Ozark Trail tents are generally very affordable, and this is no exception
Large windows and multiple rooms allow ample ventilation and personal space, which means you'll keep cool all night
Cons:
Design is not strong against the wind (lots of surface area), so make sure you anchor it to the ground correctly
Best for: families or groups that want to use three rooms for better privacy or alone time.
How To Choose The Best Family Tent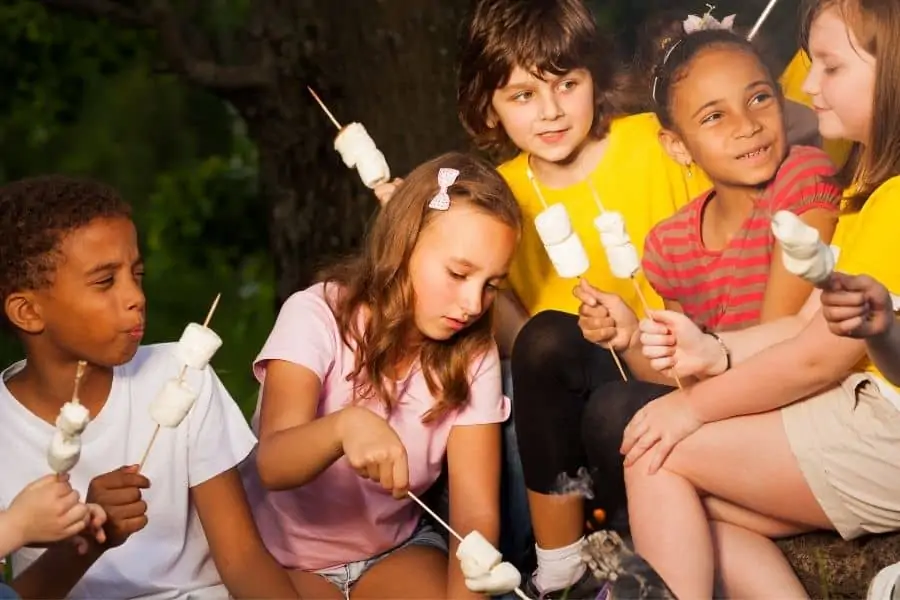 At this point, you might be wondering what we look for in tents.
Don't fret, we'll get to all of that in a second.
Here at Wilderness Times, we try to take a look from every angle to give you the best gear possible. We know there are hundreds (maybe thousands?) of tents out there, so we scour the internet and find gear we know you'll love.
Read on to find out the factors we use when reviewing tents.
Size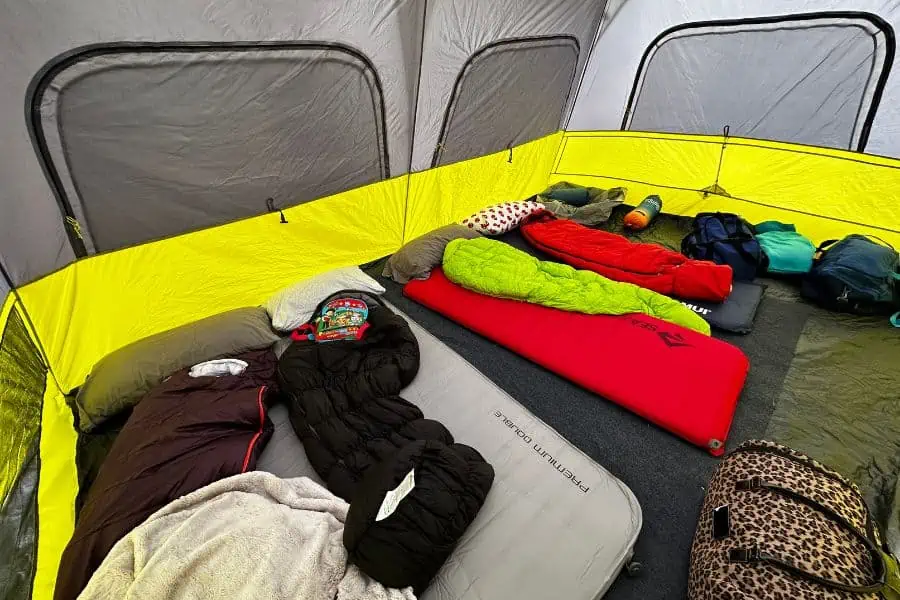 Most important to our search is the size.
Lots of tent manufacturers like to talk up their tent size.
For example, does a 6-person tent really sleep six people? Sure, if everyone cuddles the entire time. But, I'm pretty sure no one wants that.
For this article, we use a specific size metric to determine if a tent is suitable for a family: is it large enough to fit two queen-size mattresses?
In general, two queen-size mattresses should be enough for 4 people (two to a bed). In case your family is larger than 4 people, we also included some bigger tents in this article for up to 6.
However, none of the family tents we selected are smaller than two queen-size mattresses. That would lead to a lot of jam-packed families.
Design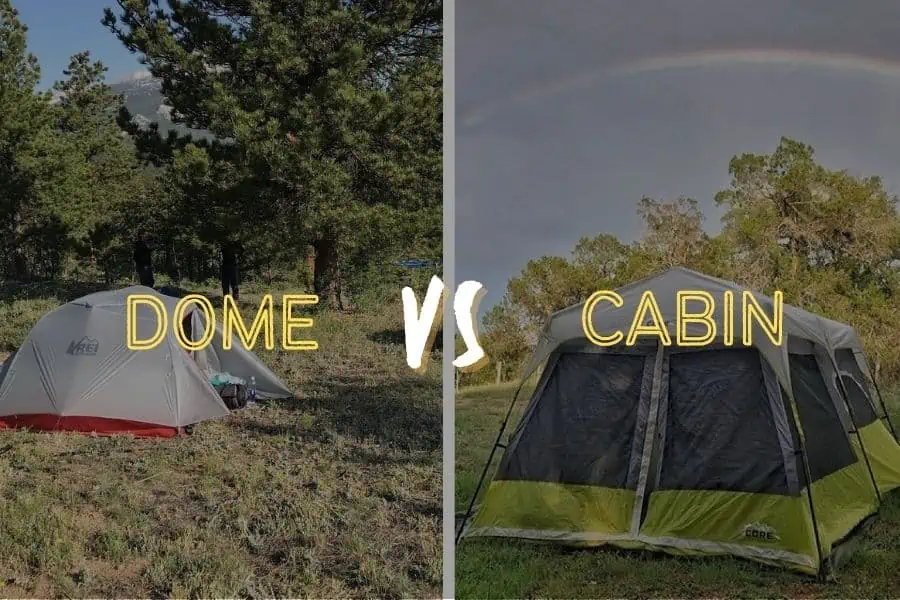 When it comes to family tents, it's easy to get impressed by all the fancy floor plans. Family tents are usually larger, so companies try and design tents that have "interesting" looks.
You know what I mean: tons of rooms, hallways, irregular shapes, screenhouse walls, etc.
Personally, I am not a fan of these super large tents with multiple rooms and hallways.
Construction is always a bit iffy since there is so much fabric in one tent, and so much surface area. They're not easy to set up. And, they're usually quite pricey.
Ultimately, you could buy one giant tent…or two smaller ones for the price of one.
So for this article, we recommended tents with traditional designs – domes and cabin tents only! We discuss the various advantages and disadvantages of each here.
Seasons You Plan on Camping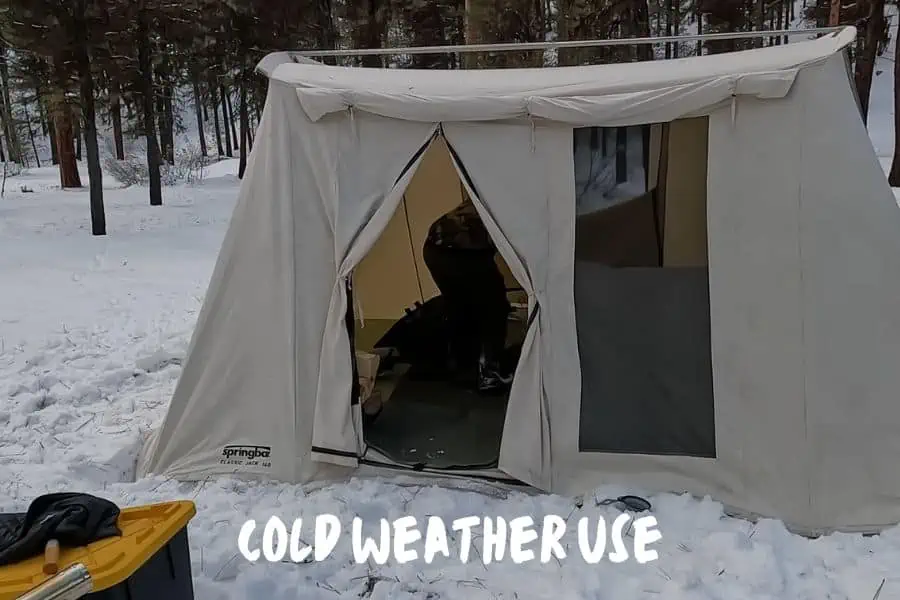 Most states experience all four seasons. In some cases, the difference between them can be quite drastic.
Take Texas for example, where winters can be freezing and summers piping hot.
Other states, like parts of California and Hawaii, only have two seasons – wet and dry.
The choice of your tent depends a lot on the climate you plan on camping in. Since you're camping with kids, you need to make extra sure they're not cold at any moment.
Make sure you're using a tent that's designed for the weather you'll experience out there. And I'm not talking about temperature, but also weather-proofness.
If there's even the slightest possibility of rain or snow, your tent needs to be able to withstand these conditions.
Also see: Best Time to Go Camping (For EVERY State)
Ease of Use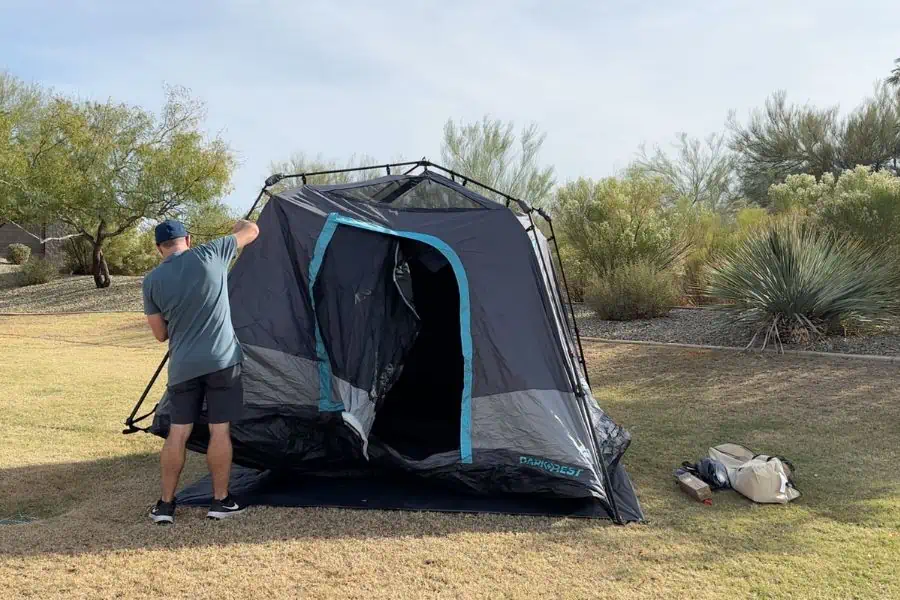 Some tents are designed with ease of setup in mind, while others require quite a bit of input from your side. And in most cases, it's those large, family tents that take more time to pitch.
Now, all parents know that setting a tent up with kids running around can be a challenge. You have guylines and stakes laying around with children playing tag and using scattered camping gear as hideout points… we can all easily see this scenario going wrong in so many ways.
I'm not saying that pop-up and instant tents are a must when camping with kids, but you might want to think twice about a geodesic tent, especially if there aren't any other adults to help you out with setting it up.
Here is a quick example of just how easy it is to set up this Core Equipment 12 Person Instant Cabin Tent:
Quality & Durability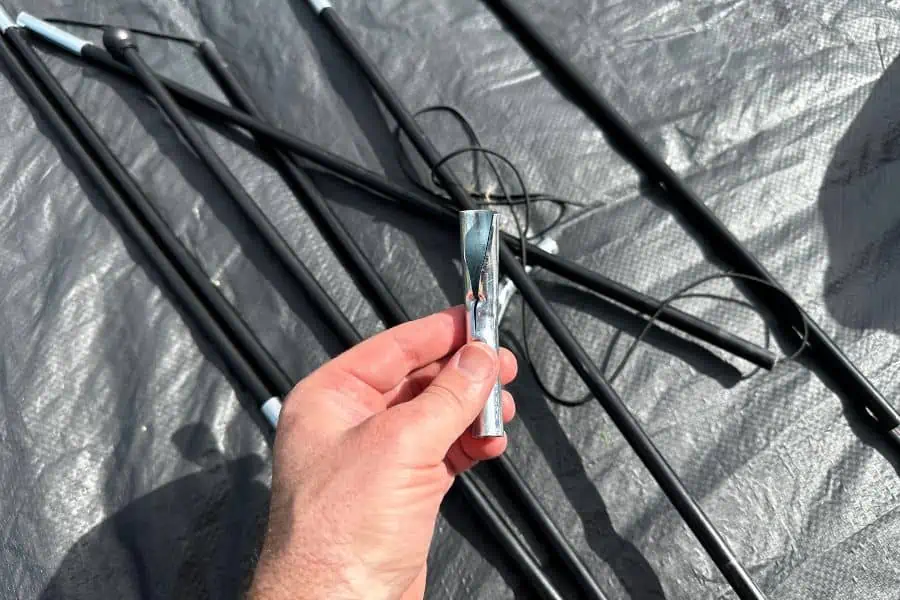 Quality and durability are especially important features when camping with kids.
Once you find the tent you like that suits your needs, you want it to last. And finicky features, like bad-quality zippers, can easily render your tent useless.
Kids being kids, we can't expect them to be extra careful when in or around the tent.
If nothing, you can at least expect one soccer ball to be launched in the tent's direction. And a tent with flimsy poles and weak fabrics could easily get taken down by the impact.
2 or 3 Room Dividers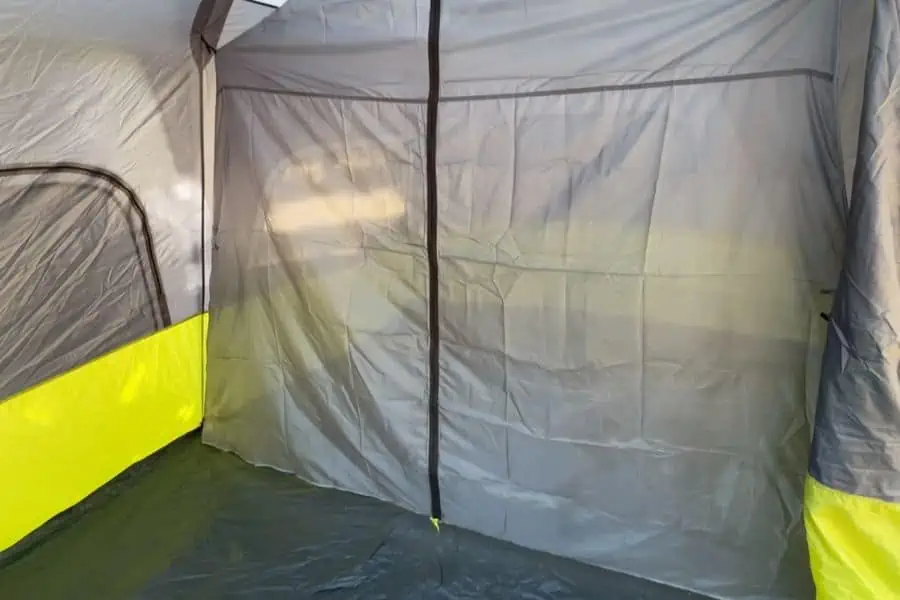 This feature is especially useful if your kids take a nap during the day.
A divider allows you to use the rest of the tent without letting light in to wake your little ones up. Of course, they also allow you to set up a changing station, so that every member has privacy while doing so.
Many family tents come with room dividers, but that's not always the case. So that's definitely something to keep an eye on when buying a large tent.
Features
The final features we look at in tents are the bells and whistles.
Not everybody needs these upgrades. Yet, we found that having a tent packed with higher-end features is a great way to guarantee you and your family camp more.
Bonus features could include weather protection, electrical outlets, or ventilation flaps. The tent could also come with easy-open doors, multiple windows, or a quick-pitch frame.
These ingredients might not be important to you, but they'll make your kids' camping experience more enjoyable for sure.
FAQ
How big of a tent do I need for a family of 4?
Ideally, you want to go with at least a 6-person tent. A tent of this size offers enough room for four sleeping bags as well as ample storage space. If your kids are still toddlers, you might be able to fit into a 4 or 5-person tent.
What is the best size tent to buy for a family of 6?
For a family of six, a 10-person tent provides ample area for a comfortable camping experience. There's enough room for six sleeping bags, gear storage, and free room around the bags for comfortably getting in and out of them.
But if you'd like even more space, then go with a 12-person tent.
What size tent should I get for a family of 5?
An 8 to 10-person tent will be suitable for a family of five, depending on the amount of your gear. If a tent offers ample storage space under the vestibule, you can definitely use an 8-person tent.
But again, if you really want as much space as possible, then go with a larger 12 person tent.
What is the easiest family tent to put up?
Many family tent models are easy to pitch. But among the models on this list, Coleman Instant Cabin Tent definitely wins as the easiest one.
Since it's an instant tent, you set it up in less than a minute without the help of another adult.
How much does a family tent cost?
Typically, the larger the tent, the most it costs.
If you have a large family, expect to spend quite a bit on a tent that's big enough for your needs.
Of course, the prices vary greatly, depending on the brand and the quality of the product.
What is the best quality family tent?
There are so many great family tents on the market today. We love the Browning Big Horn Tent, but others swear by Eureka tents. We also frequently use our CORE 9 Person Extended dome.
However, if you are looking for the absolute highest quality tent on the market for families today, you'll want to consider The White Duck Avalon Bell Tent. It's expensive, but with the extremely durable canvas fabric, you definitely get your money's worth.
Our Verdict
At the end of the day, any of the tents above will provide you a fun and stress-free camping experience for you and your loved ones.
Just decide what your priorities are (size, rooms, instant-pitch), choose from one of the tents above, and hit the road!
More Camping and Hiking with Kids: