In case you're low on time, the best air mattress for camping is the ALPS Mountaineering Velocity PVC-Free Air Bed.
For some, a sleeping bag is all that's needed for a good campout.
However, if you're like me and you enjoy taking long trips, then you should look into getting something comfier. A sleeping bag might be acceptable for the first night or two, but your back will be aching after a while.
Thankfully, air mattresses have come a long way and can provide great sleep for campers.
Air mattresses keep your body in tip-top shape regardless of how much time you spend in the great outdoors.
You might be thinking, "I can only afford a sleeping bag." What you might not know is that there are some bang-for-buck air mattress options out there just waiting to be bought. Your back will thank you!
Best Camping Air Mattress: Our Top Recommendations
Still confused? Compare them all by size, price, materials, and more!
ALPS Mountaineering Velocity PVC-Free Air Bed
Sizes: Twin, Queen | Pump Type: Rechargeable Air Pump | Weight: 3.75 to 5.5 lbs | Weight Limit: 250 to 500 lbs | Additional Features: Rechargeable Pump
The ALPS Mountaineering Velocity Air Bed is our top pick. Made with Polyester oxford fabric and a coil system, it makes it durable and comfortable at the same time.
But beyond that we also the love the rechargeable pump. Too many battery pumps fail, and who wants to be manually blowing up your air mattress if you don't have to?
Coming in two sizes, Twin or Queen, the ALPS Mountaineering Velocity Air Bed is not only lightweight, but can hold 250 and 500 lbs respectively. You really can't go wrong.
Pros:
Two options in Twin or Queen – both of which can hold 250 and 500 lbs respectively
Comes with a rechargeable air pump, so you don't have to buy one
Made with a PVC-free lightweight polyester oxford fabric
Includes stuff sack
Lightweight coming in at only 3.5-5 lbs
Cons:
Slightly mid-range pricing, compared to budget friendly options
Coleman Quickbed Airbed
Sizes: Twin, Full, Queen | Pump Type: Manual | Weight: 5.4 to 8.1 lbs | Weight Limit: 300 to 500 lbs | Additional Features: Antimicrobial plush top, double-lock valve
Coleman makes good camping products at an even better value.
The Coleman Quickbed is no different. Not only can it support up to 600 lbs, but only weights 8.1 lbs and folds up nicely.
It'll hold standard full-size sheets, though you'll need to get the pump separately.
As with any airbed, leaks are common, but as a budget friendly option, you know what you are getting into.
Pros:
Budget friendly
Fits full-size sheets
Compatible with various air bed pumps
Comes with a 1-year limited warranty in the event you get a lemon
Cons:
Pump sold separately
Workmanship isn't as good as other air mattresses and leaks are common
Best for: Those looking for a camping air mattress on a budget
Etekcity – Camping Air Mattress

Sizes: Queen | Pump Type: Electric air pump | Weight: 8.7 lbs | Weight Limit: 450 lbs | Additional Features: Multi-use valve, air pump
Although the ALPS Mountaineering air mattress is my favorite, Etekcity's comes in a close second. It's slightly less comfortable but is a bit more affordable.
The first flaw is that this air mattress is made out of PVC, not TPU. It's a durable material but makes this heavier than LightSpeed's mattress. It comes with a two-year warranty, giving a strong testament to its robustness.
The reason that I ranked this mattress so high is the fact that it's both leak-proof and almost silent.
Some other air mattresses tend to be rather noisy when you're moving around them, but you won't have that problem here. Regardless of how much I shift my body, I don't hear a peep from this mattress.
It also comes with a rechargeable electric pump to ensure that you don't run into any problems when trying to set it up.
Overall, this is a reliable choice if you're looking for a more affordable alternative to the Lightspeed Outdoors model.
Pros:
A two-year warranty lets you sleep well at night knowing your mattress is guaranteed.
Leak-proof – so you won't wake up to a deflated mattress.
Extremely silent even for restless sleepers like me.
Includes a rechargeable electric pump.
Priced well for such a firm mattress.
Cons:
Made out of PVC rather than TPU, making this one a bit heavier.
Best for: restless sleepers who don't want to keep their camping mates up with their nocturnal movement, and don't mind the extra weight.
Lightspeed Outdoors – 2 Person PVC-Free Air Bed

Lightspeed Outdoors is always one of my go-to manufacturers when I'm looking for new gear for an upcoming camping trip. I have pretty high standards, but their air mattresses always meet (and exceed) my expectations.
I've never been disappointed yet, and this model was no exception.
One of the things that makes this particular air mattress the best is that its dimensions will fit any queen-sized sheets. This cuts down on your expenditure since you won't have to buy new sheets just for the air mattress.
It also comes with a carrying bag for easy transport and a high-quality battery pump that will help you get the whole thing filled up in no time at all.
The fact that this package includes pretty much everything you need means you'll spend less in the long run.
Pros:
Any queen sheets fit the air mattress, allowing you to use the sheets you have at home.
It comes with a carry bag for packing convenience.
Folds up nice and small, which is crucial for camping.
A battery-powered pump is included in the package, so you don't have to buy one.
Made out of TPU (rather than PVC) which helps you cut down on weight.
Cons:
Costco sells a similar mattress at a much lower price. BUT, the Costco version is designed differently and is nowhere near as comfortable or durable.
Best for: any camper. This air mattress is the whole package!
SoundAsleep – Camping Series Eco-Friendly Air Mattress

Sizes: Twin, Queen | Pump Type: Electric air pump | Weight: 9 to 13.6 lbs | Weight Limit: 300 to 400 lbs | Additional Features: Air pump
This air mattress is on the pricier side of the spectrum, but it's well worth it. SoundAsleep is one of the top manufacturers today, and this mattress is no exception.
It comes in two sizes — queen and twin. The twin variant is actually quite affordable in comparison to the larger model, but you can get whichever one fits your needs best.
The twin saves on weight but might be too small for some big fellas (like me). The queen is good if you've got a plus one or have a larger group.
Much like the Etekcity air mattress, this model from SoundAsleep comes with a rechargeable electric pump. This ensures that inflation and deflation are a stress-free experience for all users.
It also comes with a carry bag for easy transport such as when you're hiking to your campsite.
Pros:
I-Beam air coils provide superior support, letting you
Two sizes allow you to choose a price based on your needs.
The rechargeable electric pump inflates the mattress in 3 minutes.
A 1-year warranty keeps you sleeping well through all seasons.
Extra thick Eco-Friendly PVC is rugged and resilient.
Carry bag makes it easy to transport this air mattress.
Cons:
The queen variant is pricier than other models on this list, but still high quality.
Best for: campers with a looser budget who want top-notch back support.
SoundAsleep – Dream Series Air Mattress

Sizes: Twin, Twin XL, Full, Queen, King | Pump Type: Built-in electric air pump | Weight: 12.3 to 23.2 lbs | Weight Limit: 300 to 500 lbs | Additional Features: Waterproof top, internal pump
SoundAsleep is a premium brand, and its Dream Series is the cream of the crop. I know I said that the previous option was pretty premium, but the SoundAsleep Dream Series takes the meaning of premium to a whole new level.
This series is available in four sizes from twin to king. This series is available in four sizes from twin to king. It's not very common to see king-size air mattresses for camping. But, I must admit that the element of luxury that it brings is undoubtedly enjoyable.
As you can imagine, this level of quality doesn't come cheap, but it's well worth the cost if you ask me.
SoundAsleep is committed to providing sound sleep, so they give you a full year warranty. But, I don't anticipate that you'll need to use it since this air mattress is absolutely reliable.
The one-click internal pump is definitely top-notch. It inflates and deflates the mattress without any hassle in minutes. It really doesn't get any easier than this.
Its raised, double-height construction means that you'll be higher off the ground and thus warmer. Some tents have pretty thin floors, which isn't a good idea. Getting a taller air mattress will ensure that the cold ground doesn't leech the warmth out of your body.
Pros:
Four sizes to choose from – all the way up to king-sized.
One-year warranty promises that this mattress will pull through.
The internal pump requires no annoying setup or hoses.
Double-height construction keeps you off the ground (warm & dry).
SureGrip material on the bottom reduces sliding more than any other air mattress.
Cons:
Not exactly affordable, but well worth the price
Bigger and more cumbersome, but much more comfortable than lighter mattresses.
Best for: campers who prioritize comfort and ease above price and weight.
REI Co-op Kingdom Insulated Air Bed – Queen
Sizes: Queen | Pump Type: Manual | Weight: 5.8 lbs | Weight Limit: N/A | Additional Features: Internal Insulation for Comfort up to 40 degrees, Includes Manual Pump
So far, we haven't looked at insulated air mattresses. The REI Co-op Kingdom Insulated Air Matress comes with an R-value rating of 2.6 meaning that it'll provide warmth for shoulder seasons when it isn't quite freezing, but close.
It is a manual pump option, but for a queen only weighs 5.8 lbs (not too shabby).
Pros:
Insulated R-value of 2.6 for added warmth and comfort up to 40 degrees
Comes with a stuff sack and included manual pump
Welded seams enhance durability
Cons:
You'll want to upgrade the manual pump
Best for: Campers who want some insulation, but don't want to pay winter insulation prices.
Therm-a-Rest – MondoKing 3D

Sizes: Twin, Twin XL | Pump Type: Self-inflating | Weight: 4.3 to 5.5 lbs | Weight Limit: N/A | Additional Features: Internal pump, 7.0 R-value Rating
If you'd prefer a self-inflating foam mattress as opposed to an air-filled one, you'll definitely enjoy the MondoKing by Therm-a-Rest. I personally lean towards air mattresses, but that doesn't stop this from being a high-quality product.
Although pricey, you will save on setup time. You don't need an air pump for this mattress. All you do is throw it out and let physics take over since it inflates it in seconds.
One thing that I really like about the MondoKing is the fact that you can use it at home just as quickly as you'd use it while camping. The versatility factor definitely helps justify the higher price of this product.
Pros:
Foam construction means you don't need to lug an air pump to the campground.
Lightweight – only 5 lbs.
R-value of 7.0 means the insulation is top notch for winter
Versatile usage – can be used while camping or when your in-laws come to visit.
High-quality construction that won't break or tear.
Its 80" length means that campers of any height can sleep comfortably without their feet hanging off the edge of the mattress.
Cons:
Definitely pricey; however, the back support might be worth it.
Foam doesn't circulate well, providing warmth. It might not be optimal for summer camping, but great for winter.
Best for: campers who want a premium self-inflating mattress that they can use on their next camping trip, or as a guest bed when relatives visit.
Buy Direct through Therm-a-rest
Best Air Mattresses for Camping – Compared
Choosing The Best Camping Air Mattress
As you might've realized by now, there is a certain level of intricacy when picking the right air mattress. To clear the air, I'll now walk you through a few of the things you should consider before making your decision.
Mattress Type
Not all air mattresses are created equal. There are different types of air mattresses that you can choose from, and each type comes with its own unique set of pros and cons.
Air pump mattresses are comfier, keep you higher off the ground, and are even better for children. However, you'll need to carry a pump along with you if you plan on using such a mattress which will add to the weight. Even the mattress in itself will likely be denser than most self-inflated mattresses.
Self-inflated mattresses, they too have their own advantages and drawbacks. The most significant benefit of using them is the fact that they're very light and easy to transport since you can simply roll them up at the end of your trip.
Every pro comes along with a con, though. Self-inflated foam generally provides less support than air mattresses that you pump up. You'll also be more vulnerable to creepy crawlies since these pads are closer to the ground.
Overall, the debate on pump-up vs. self-inflated will likely go on for years to come, so just pick whichever one suits you best.
Material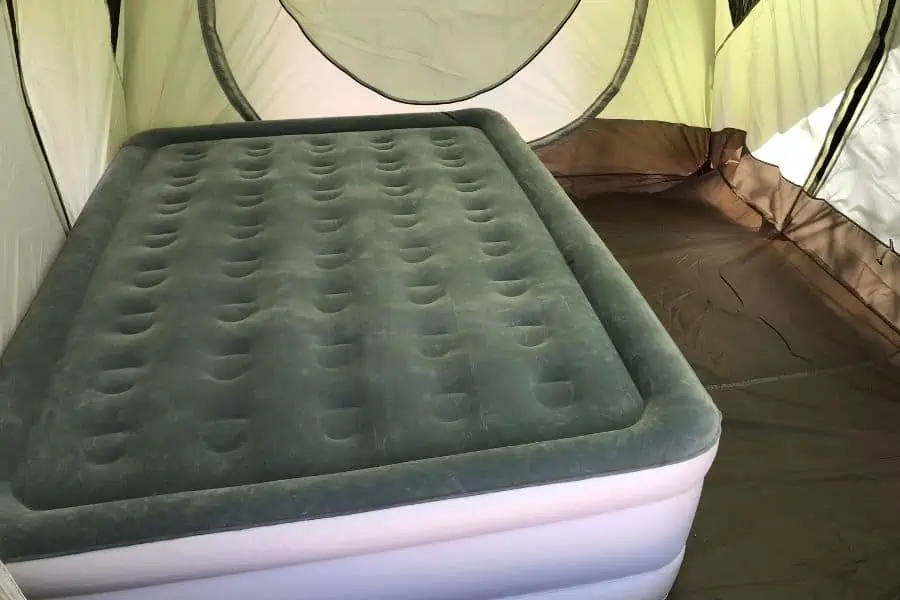 Whether you're choosing a tent, sleeping bag, or even an air mattress, pay close attention to the product's material.
For instance, one material may fare better than another in cold weather. Knowing that fact beforehand will help you make an informed decision.
Vinyl and PVC are the two most common materials for camping air mattresses. Some manufacturers incorporate other elements (like a laminated finish) to increase their durability. Self-inflated variants are usually made of polyester or nylon, which might be a more comfortable surface.
However, there has also been a trend of late to use PVC-free materials such as the top two air mattresses that we featured.
Some pad models have a coating applied to their bottom so that it can maintain a firm grip on the ground even under slippery or windy conditions. Whichever option you go with, just ensure that the product is made out of the right material for the job.
Insulation and R-Value
The R-value of a material is the resistance to heat flow through that material. The higher the number, the better the insulator.
Most camping air mattresses do not have any R-value rating. They do not provide insulation, and are therefore best for summer camping.
Self-inflating air mattresses and pads on the other hand usually have an R-value rating and here is how to judge its use:
Summer – R-value of 1.0 to 2.0
3-Season – R-value of 2.0 to 4.0
4-Season – R-value of 4.0 to 6.0
Extreme Cold – R-value of 6.0 and above
So as you can see, an R-value of 2.6, like the REI Co-op Kingdom Insulated Air Bed – Queen is going to be perfect for 3-season camping.
The Therm-a-Rest MondoKing 3D at a R-value of 7.0, is going to be perfect for winter camping.
Inflation Type
An air mattress pump is a device used to inflate air mattresses, air bumper, pool floaty, and other similar items.
The pump inflates the product by forcing air into it through an opening at one end. There are several different types:
Manual Pump – You are going to be the one doing all the work here, typically with a foot pump and hose that attaches into the port
Battery Powered Pump – This is a portable camping pump typically using D-type batteries, so that you can inflate the air mattress inside of the tent
Electric Pump – This type of pump will run only on electricity, and you will therefore need to fill the tent at your car or with a portable battery
Built-in Electric Pump – Similar to the electric pump, only this pump will live inside of the air mattress itself
Rechargeable Electric Pump – This is our favorite option. You charge it ahead of time, and then can inflate the air mattress inside of your tent
Self-Inflating – Also a great option, because no work is needed on your part. The mattress itself will self-inflate.
No matter what you pick, make sure that you are prepared. If you have a battery operated pump, make sure to bring extra batteries.
If you have an electric pump, make sure you have a proper power source at your car or the campsite (most campsites do not have electric readily available).
Size, Weight and Weight Limit
The good news is that you can get a camping air mattress in any size from Twin to King.
The bad news, is that they will all weigh differing amounts from 3.75 lbs to 23.2 lbs.
So if weight is a factor at all for you, you will want to double check the weight of the air mattress.
Lastly, you'll want to assess the weight limit. The average camping mattress starts off at 250 lbs and go all the way up to 600 lbs in weight capacity:
Twin – 250 to 300 lbs
Twin XL – 350 lbs
Full – 300 to 500 lbs
Queen – 450 to 600 lbs
King – 500 to 600 lbs
Just double check everything to make sure that you are good! Also see: best camping mattress for couples.
Accessories
Some people think that accessories are nothing more than a ploy by manufacturers to squeeze every bright green dollar out of your wallet. However, I contend that some are actually genuinely useful and could help you escape certain sticky situations.
For instance, having a repair kit with you on camping trips will make it easy to patch up any leaks that might develop in your air mattress. It's not at all uncommon for a tear to occur while you're on your way to the campsite, and you might not even notice it until you start pumping up the mattress.
There was this one trip where my boys and I were wondering why the mattress wouldn't inflate even though we were pumping for a solid 10 minutes. It turns out that a loose branch had punctured that mattress.
Thankfully, I had my repair kit with me and was able to seal the hole and set everything up as planned. Beyond repair kits, you'll also find that carry bags or spare pumps can be handy.
I'm not saying you should hoard accessories, but some things are "better to have and not need, than need and not have."
How to inflate an air mattress?
Like we talked about above. Inflating a camping air mattress will depend entirely on the inflation type.
Once you have your power source figured out it is a simple 5 step process:
Step 1 – Roll out the mattress in a clear area inside the tent
Step 2 – If there are multiple air valves, make sure all but ONE are closed
Step 3 – Place the pump with the correct connector into the air valve
Step 4 – Turn on the pump, or begin manual inflation
Step 5 – Once full, disconnect and quickly close and lock the air valve
That's it! You've now pumped up your air mattress.
And of course, deflation is as simple as opening the air valve release and giving the air mattress some time to deflate.
Air Mattress FAQs
Why do air mattresses deflate overnight?
Air contracts as it cools, and expands as it gets hot. And because temperatures drop at night, any air in your air mattress begins to contract and compress down as it gets colder.
Therefore, you get a mattress that deflates. Of course this could also be caused by a small leak, hole, or improper use, but most of the time it is being caused by the temperature change.
What are the disadvantages of sleeping on an air mattress?
One of the main disadvantages with sleeping on an air mattress is that they deflate a little throughout the night as the air gets colder.
Typically we have to top off our air mattress daily to get it back to the right comfort level.
Another big disadvantage of using an air mattress when camping is the lack of insulation. The air mattress does nothing to help keep you warm, and actually will do the opposite.
Are self-inflating air mattresses good?
Self-inflating mattresses are a great choice for camping because they inflate themselves in only an hour or two, and usually have better insulation and r-value than standard air mattresses.
Because most self-inflating mattresses are insulated and come with an r-value, they'll do a better job than a standard air mattress at keeping you warm throughout the night.
You can also choose the best r-value for your camping needs.
Why is sleeping on an air mattress so cold?
Air mattresses are usually made with just one piece of material (vinyl or plastic), which absorbs heat and cold from the surrounding environment.
Because there is no insulation, if the ground is cold, your air mattress will also be cold.
How do I keep my air mattress warm while camping?
The best thing you can do to keep your air mattress warm while camping is put an insulation layer (blankets, foam, mattress toppers) directly on top of the air mattress.
You can even use extra clothes or sheets. Anything that helps put a layer between you and the air mattress should keep you much warmer than sleeping directly on it in your sleeping bag.
How do I keep my air mattress inflated overnight?
We have never owned a standard air mattress that didn't deflate or change shape due to temperature changes throughout the night.
This is where getting self inflating mattress with insulation will help. Not only will it keep you warmer, but it won't deflate quite as much.
Our Verdict
I hope that you found this guide helpful. There's certainly a lot that goes into the decision of which air mattress to get. But, the information that I covered in this article should make it easier for you.
Personally, I have to say that the ALPS Mountaineering Velocity PVC-Free Air Bed is my top pick out of the five options that I covered here. There are a few things that led me to favor it over the other high picks.
For one, its PVC-free construction really takes the durability to a whole new level. The rechargeable pump that comes with it is also top-notch.
I'm gonna leave you here but be sure to stay tuned for my upcoming pieces and share this article with a friend or two if it helped you out. Happy camping!