If you're in a rush, the best backpacking quilt is the Therm-a-Rest Corus Down Backpacking and Camping Quilt.
Is a sleeping bag the only option for staying warm when camping? No way! While sleeping bags are the gold standard, there are a handful of other choices out there.
One that definitely comes to mind is a backpacking quilt.
Quilts can be just as useful as sleeping bags when camping or backpacking, especially since they are so versatile. If you're thinking about switching up your sleeping system with a quilt, I found the top 5 backpacking quilts for camping and backpacking in 2022. Here they are!
Best Backpacking Quilt: Our Top Recommendations
Therm-a-Rest – Corus Down Backpacking and Camping Quilt
The Therm-a-Rest Corus Down Backpacking and Camping Quilt is the quilt for keeping warm on cold nights.
This camping quilt has several insulating features for trapping body heat. The warm ThermaCapture seams and cozy insulated toe box keep you warm down to 32 degrees. That'll keep you comfortable on most nights, for sure.
Not to mention, this quilt is super lightweight and condenses down to a small, easy to pack size. That means you can combine it with other layers like sheets, sleeping pads, or sleeping bags for a snug, custom sleeping situation.
Pros:
Features like anchor points, pockets, and baffles help keep out drafts and ensure that this quilt won't slip out of place.
This quilt takes up very little space and is very lightweight, so it is easy to pack and carry when backpacking.
The included stuff sack and storage bag help make transport a breeze.
The perimeter snap loops allow you to snap the quilt to a sheet, sleeping bag, sleeping pad, and more so you can create a customized sleeping system.
This quilt comfortably fits people up to 6'2″ tall (measures 80 x 52 inches)
The 650-fill power Nikwax-treated Hydrophobic Goose Down traps in body heat like a champ. It's also water-resistant and dries three times faster than standard down.
Cons:
This backpacking quilt is sort of expensive but is well worth it.
Not optimal for solo use below 40 degrees (in my opinion). The wind chill will make you cold.
Best for: campers who want to take their warmth to the next level.
Paria Outdoor Products – Thermodown 15-Degree Down Sleeping Quilt

The Paria Outdoor Products Thermodown 15 Degree Down Sleeping Quilt is a stellar option for backpacking. It only weighs 2 pounds, so this quilt won't weigh down your pack. And, it compresses down to only a few inches large.
Not to mention, restless sleepers will find comfort in this sleeping quilt. It straps down to your sleeping pad so you can move around comfortably while staying warm instead of being confined to a sleeping bad. This is a huge bonus that makes sleeping that much cozier.
Lastly, Paria offers a reliable lifetime warranty to guarantee your purchase.
Pros:
For campers who move around in their sleep, this quilt provides a sleeping pad strap way that helps you stay warm no matter what.
This backpacking quilt dries very fast. Even if it gets wet or condensation builds up, you can leave it out, and it'll be dry in a few hours.
Weighing only 2 lbs. 3 oz, this quilt is perfect for backpacking as it won't weigh you down.
The included compression sack reduces the quilt down to 10 x 7 inches – perfect for packing.
This quilt comes with a lifetime warranty so you can rest assured that if anything ever happens to your camping quilt, it will be fixed or replaced.
Cons:
Not the most giant quilt on the market. Keep this in mind if you're above six feet tall.
Definitely pair this with a sleeping bag for temperatures below 35 degrees.
Best for: restless sleepers who want a quilt that won't get bunched up in the middle of the night.
Buy Direct from Paria Outdoor Products
ENO Spark Hammock Top Quilt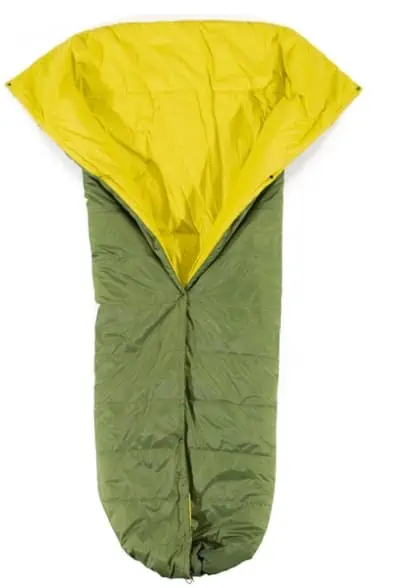 The Eagles Nest Outfitters (ENO) Spark Top Quilt is the perfect quilt for pairing with a sleeping bag. Its unique shape fits snugly inside the hammock, trapping your body heat in and wicking water away.
It even works great for backpacking since it only weighs 25 ounces. It also compresses down to a small size with the included nylon compression stuff sack for easy carrying.
Combined with its 6'6" length and ability to attach to any other sleep gear, this camping quilt is definitely a top pick.
Pros:
It's rated for 40-60 degrees, so this quilt will keep you sleeping warm.
The secure convertible foot box keeps your feet warm while also making entries and exits easy.
At only 25 ounces, this camping quilt is very lightweight.
The included nylon compression stuff sack makes for easy packing.
Measuring 6'6" x 4'5", this quilt is long enough to accommodate tall people who may not otherwise be able to find a camping quilt that fits.
This quilt can attach to other gear like a hammock, sleeping pad, sheets, and more.
Cons:
Might not be wide enough to wrap around king-sized people.
Not the best quilt for subzero temperatures.
Best for: campers who want to add a quilt to their favorite hammock or sleeping bag.
Big Agnes – Kings Canyon Ultra-Lite Quilt

The Big Agnes Kings Canyon Ultra-Lite Quilt is an all-around awesome camping quilt. While it is specifically recommended for indoor camping, this quilt can keep you nice and warm in almost any condition.
Unique webbing loops and the included shock cord create a cozy system to keep you warm and snug all night long. It is also great for backpacking, as it is ultralight and easy to pack without weighing you down.
This quilt is a bit pricier, but that's because it's so dang light (1 lb) and warm. I highly recommend this one.
Pros:
Works with sleeping pads of any shape that measure 80" x 60" inches or less.
The small pocket at the foot of this quilt allows you to slide your sleeping pad in so it stays in place, keeping the two items connected.
The webbing loops and the included shock cord allow you to lace the two sides of the quilt together and pull it snug across you.
This quilt is ultralight, so you can feel safe in packing it when you go backpacking.
The synthetic materials make it thin and easy to pack, yet warm and insulating for cold weather.
Cons:
The elastic band can get tangled easily, and takes some getting used to.
Definitely pricey, but well worth it.
Best for: campers who want a quilt they can keep in their back pocket for unexpected cold weather.
Eagles Nest Outfitters – Vesta TopQuilt

The Eagles Nest Outfitters Vesta TopQuilt is a versatile camping quilt that you can use in a variety of camping conditions. The water-resistant ripstop nylon shell keeps body heat in while the blocking water out.
The PrimaLoft Synergy insulation creates air pockets within the quilt that help you stay warm in temperatures as low as 35 degrees. Other features, like the shock-cord suspension rails, make this camping quilt comfortable. It's also easy to reposition when sleeping.
Pros:
I love the PrimaLoft Synergy insulation. It does a great job of keeping you warm.
The ripstop nylon shell of this quilt is durable and water repellant, so water will roll right off, keeping you dry all night long.
This camping quilt is easy to set up because it includes shock-cord suspension rails. These rails make repositioning yourself very easy.
Easy to compress and lightweight – suitable for backpacking.
Probably one of the softest quilts on this list.
Cons:
Not the warmest quilt, keep this in mind for winter excursions.
It could be on the high end of your budget.
Best for: camping in wet conditions, or when you want a quilt that'll shrink down fast.
Why Backpack With a Quilt Instead of a Sleeping Bag?
Sleeping bags may be the traditional way to camp, but camping with a quilt opens a whole new world of possibilities. In fact, many people choose to go backpacking with a quilt instead of a sleeping bag, ditching it altogether. That's because backpacking with a quilt has many unique traits
Warmth
You may be thinking that there is no way a quilt could be warmer than a sleeping bag, especially since sleeping bags wrap all the way around you. But, quilts can be just as warm (if not warmer) than a sleeping bag.
And if you are concerned about not being warm enough with just a quilt and a sleeping pad, make sure to layer up and consider using a hood to sleep.
You can also use a quilt in tandem with a sleeping bag. This is especially useful if you have a light sleeping bag that isn't rated for subzero temperatures.
One of the main benefits of this combo is that the quilt will stay around you better. In a sleeping bag, your bag leases a large area exposed to the cold if you turn over. With a quilt, this is not an issue. The down keeps you insulated no matter which way you turn.
Restless Sleepers
Speaking of, quilts are often preferred by those who move around in their sleep a lot.
Sleeping bags, especially mummy-style, keep your limbs close to your body and don't leave you much room to roll. On the other hand, a camping quilt gives you the ability to move around in your sleep, which will lead to a much more comfortable night.
Packing
Another significant benefit of choosing a camping quilt over a sleeping bag when backpacking is that quilts are lighter and take up less space. It doesn't take as many materials to create a quilt, and the elements that go into making it are super lightweight.
It also takes a lot less compression to make a camping quilt shrink down. That means not only does it make it easier and more convenient to pack, but it makes it more efficient for a quick set up at camp. Ordinary sleeping bags can take a while to re-loft after being compressed, but a camping quilt takes no time at all.
Our Verdict
Camping with a quilt instead of a sleeping bag could completely change the way you camp. So why not give it a try?
If you're ready to upgrade your sleep situation (or leave your sleeping bag behind), consider trying a backpacking quilt. My top choice is the Therm-a-Rest Corus Down Backpacking and Camping Quilt.
This camping quilt keeps you insulated in freezing temperatures gives you a comfortable sleep. Not to mention, this super warm quilt won't move around during the night and works for people up to 6 feet 2 inches tall.
Check it out, you won't be disappointed.