In a hurry? We found that the best all-around tent stakes are the MSR Groundhog Tent Stakes. 
Everyone can agree that standard tent stakes are not that high quality. After a few uses, most are hardly good at all. That's why many people go ahead and invest in a set of after-market tent stakes.
Today, we'll review the best tent stakes for any terrain.
If you need new camping stakes, or you want to avoid using the stakes that come with your tent completely, read on.
Best Tent Stakes: Our Top 10 Recommendations
MSR Groundhog Tent Stakes

These MSR Groundhog tent stakes are great for a variety of purposes.
From holding down tents and tarps, to even holding up hammocks, the Y-shaped design makes these stakes nice and sturdy on any terrain.
This Groundhog stake kit comes with six lightweight aluminum stakes. This kit is perfect for those backpacking with their tent equipment.
Also, the reflective cord makes this set useful for anyone setting up their campsite in low light.
Pros:
The bright and reflective cord makes it easy to find these stakes in the ground, even if the ground is covered in leaves
These aluminum stakes are lightweight, so they won't weigh you down
Their Y-shaped design allows these stakes to take hold on various types of terrain and stay sturdy
Their excellent durability helps keep your tent secure even in very windy conditions
The notch at the top allows you to attach guy lines stress-free
Cons:
These tent stakes might have issues on tough, frozen ground
Best for: campers looking for a solid set of stakes that will hold well on many different kinds of terrain.
MSR Cyclone Tent Stakes
If you're camping on sand, then classic tent stakes that come with the tent won't do. The soil is too loose and if there's even a slight breeze, your tent might end up flying.
But these Cyclone stakes from MSR are specially designed for these situations. They have a spiral shape, which makes them ideal for anchoring in sand.
To place these stakes, simply twist them into the ground.
The length of these stakes is 10 inches, which is 4 inches longer than standard stakes. This makes them stable even during windy conditions.
However, this also means they're a bit heavier than regular stakes. This isn't a big deal if you're. car camping, but it might be an issue for long-distance backpackers. 
These stakes might look thin, but they're made of 7000 grade aluminum alloy. This is one of the strongest aluminum alloys out there, used for making planes and cars. This means you don't have to worry about accidentally snapping these stakes in half.
Pros:
Thanks to the spiral design, these stakes provide great hold in loose soil like sand
Reflective pull loops help you locate the stakes in the dark
These stakes are 4 inches longer than standard stakes, which gives them an even better hold
They're made of 7000 grade aluminum alloy, which is usually used for airplane parts
No need to hammer them into the ground – instead, you can place them by twisting them into the soil
Cons:
Somewhat heavier than most other tent stakes
Best for: camping on beaches and sand dunes.
REI Co-op Aluminum Hook Tent Stake
If you're looking for an affordable yet durable shepherd's hook stake, then these REI aluminum stakes might be just what you need.
These tent stakes are made of 7075 aluminum alloy, which has an excellent strength-to-weight ratio.
But that's not all. They're heat-treated, which further improves the strength and corrosion resistance of the material.
With just under 1/4 inch in diameter, these stakes might seem slim, but they won't bend no matter how hard you hammer them down.
They're 7.25 inches long, which is suitable for different types of terrains.
These stakes will surely hold your tent in place, no matter how hard the wind blows. The only struggle you might experience is getting them out of the ground.
Pros:
These stakes are so sturdy, they're almost unbendable
They're longer than standard stakes by 1.25 inches, which makes them suitable for both hard and soft ground
Since they're sold separately, you can get precisely as many as you need
For the price they're sold at, these stakes are quite a bargain
Cons:
Best for: campers looking for affordable but sturdy classic stakes.
MSR Carbon Core Tent Stakes
These ultralight tent stakes are so light, you'll barely feel them in your hand. But just because they're featherweight doesn't mean they're weak.
They have a carbon fiber core, but their exterior is made of aluminum. That's what keeps them light but strong.
The stake heads are wide enough for you to apply more pressure to drive them deep into the ground. They feature holes where you can pull strings through. And since the heads are painted red, you can easily locate them when needed.
These stakes are 6 inches, which is a standard tent stake length.
They'll serve you great if you're camping on very hard soil, but don't expect them to work on sand. What's more, hammering them into a very rocky terrain might cause them to bend.
Pros:
Each stake weighs only 0.19 ounces, which makes them a great choice for long-distance backpacking
Stake heads are painted red, which helps you find them at all times
They're made of aluminum and carbon, which makes them sturdy enough for hard soil
Stake heads feature holes where you can pull the string through
The manufacturer provides a 3-year limited warranty
Cons:
Hammering them into rocky soil may cause them to bend
Best for: long-distance backpackers looking for ultralight stakes to take on the trail.
Nemo Equipment Inc. Airpin Stakes
Are you one of those people who are just plain bad at tying knots? You struggle to make one, and then you struggle even more to untie the mess you made. If this applies to you, then these stakes are worth checking out.
These tent stakes feature a 3-point locking system that allow you to pitch your tent in a matter of seconds.
The self-locking notch has tiny dots that guide you into wrapping the cord around it. The instructions are pretty clear, even a child can do it.
The stakes are made of the highest grade aluminum, so there's no worry they'll snap in half if you hammer them too hard.
They're of standard length and weight only 0.35 ounces.
Sharp tips allow you to push them into hard and rocky soil.
Pros:
A 3-point locking system allows you to tie your tent without using any knots
Tiny dots can serve as a guide on how to wrap the guy lines around the locking system
Since these stakes are made of the highest grade aluminum, they are great for different types of soil
Sharp tips allow you to hold the angle you put them in at
Fluorescent green color makes them highly visible
Cons:
Best for: campers who hate tying knots.
MSR Blizzard Tent Stakes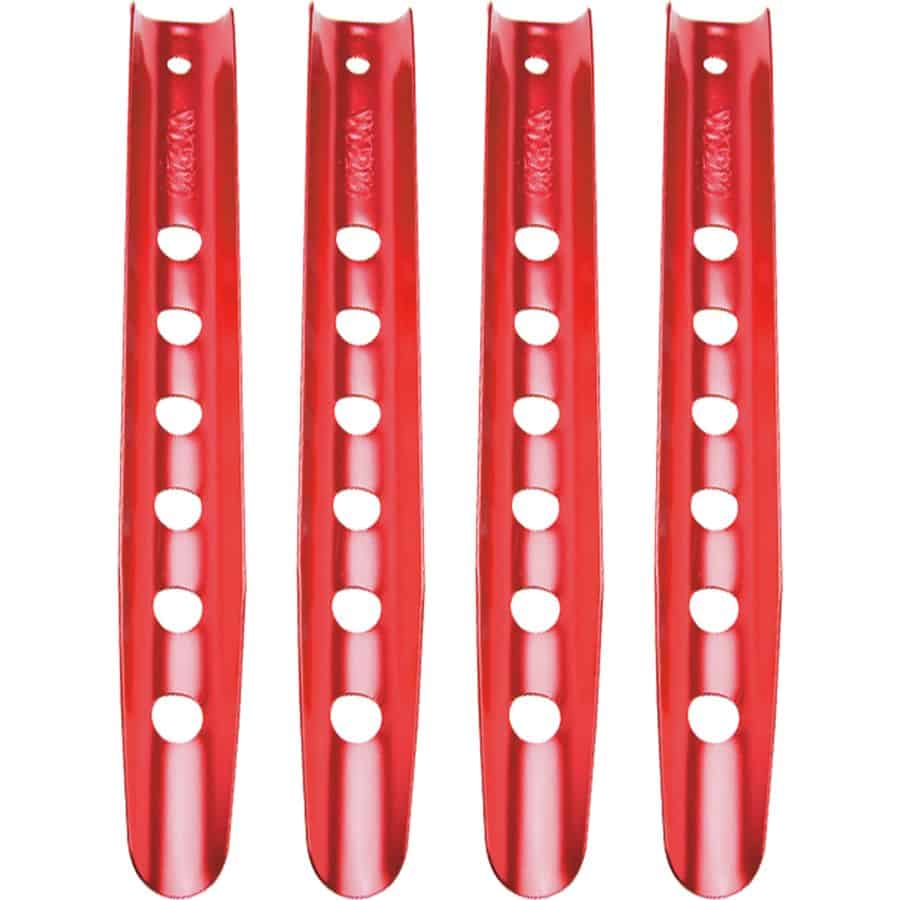 The MSR Blizzard tent stake set is great not only for snow but sand too.
Thanks to their concave design with several holes along their length, these stakes create sturdy anchors in even the softest of soils.
In case of firm snow, hammer the stakes vertically. On the other hand, they should be placed horizontally in soft snow in order to hold well.
The reason why this design holds so well in such conditions is because the snow goes in and around the holes and keeps them in place.
They're made of aluminum and weigh 0.74 ounces. They're a couple of inches longer than standard stakes, but that's necessary for better hold in soft ground.
Pros:
Concave shape and holes along the stakes' length keep them still in the ground
Since they're heavier and longer than regular stakes, they will hold well even in soft snow and sand
Red color helps you locate them easier in the ground
You can stack them one into another, which makes them take up less storage space
Like other MSR products, these stakes have a 3-year limited warranty
Cons:
Only intended for soft soil like sand or snow
Best for: camping on soft snow.
Vargo Titanium Tent Stakes
These titanium tent stakes from Vargo are shepherd's hook stakes that poke into the ground with ease. These are great stakes to have on hand since they're easy to drive into literally any terrain.
They can also withstand a variety of weather conditions – including high-speed winds.
This six-pack of stakes is made with a light, yet durable titanium that won't break. The titanium metal is also extremely lightweight, which makes it perfect for backpacking.
Pros:
The fluorescent orange coated heads make it easy to spot these stakes in the ground, even in the dark
Made with titanium, these stakes are super thin and super light and will not weigh your camping gear down
The shepherd's hook design allows these stakes to drive easily into the ground and reliably hold your tent or tarp in place
These stakes are very tall and thin, which makes it easy to drive them down into any kind of soil – even dense, rocky soil
Cons:
The fluorescent orange coating on the top of the stake might rub off over time
Best for: traditional camping, or those who want to cut down on pack weight.
TNH Outdoors – Aluminum Tri-Beam Tent Stakes

These TNH Outdoors aluminum stakes are a great option for replacement tent stakes. They are lightweight and only have one notch for the head, making them a super sturdy choice to hold your tent down.
Not to mention, they come in a carrying pouch with a bright, reflective paracord tie that's convenient for finding them when packing up. With eight in the pack, you will have plenty to keep for backup or use for other tents.
Pros:
Their red color and reflective paracord ties make these stakes highly visible when staked down on the forest floor
TNH included a very convenient carrying pouch, so you can keep them all together
The single notch design creates a stronger head on these stakes than on most stakes
These stakes are very light, allowing you to pack light and not get burdened down with heavy metal equipment
With a total of 8 stakes in this set, you will have extra stakes for emergencies or use on other items
Cons:
The shape of these stakes can make it hard to drive them into the ground by hand
Best for: light and organized packing, or those who want back-up stakes in their pocket.
The Orange Screw

The Orange Screw makes for a unique tent stake for a variety of reasons. The screw design of these large stakes makes them easy to use and very sturdy.
Additionally, the large screw heads are great for getting those last few turns when twisting them into any kind of terrain.
They also come with a removal tool that helps you drive them into the ground as much as possible, and get them back out again afterwards without any hassles.
Made from 100% recycled materials, these stakes are very lightweight, but rather large.
Pros:
Made from 100% recycled materials, these stakes are very eco-friendly
The head of the screw functions as a built-in handle so they're easier to turn and drive down into the soil
The screw design allows these stakes to easily pierce any type of soil and lock into place
These stakes come with a removal tool to aid in removing them from hard, dense soil
They're very lightweight, making them super easy to carry around
Cons:
They might not have the best performance in iced-over land
They're larger than most tent stakes – backpackers beware: they'll take up slightly more room in your pack than most stakes
Best for: environmentally conscious campers who want a unique stake that holds well in all kinds of terrain.
SE Heavy-Duty Metal Tent Pegs

These heavy-duty metal tent pegs from SE will hold your tent down sturdily on any terrain. Each tent peg glides easily through any kind of dirt with milled points leading the way.
Their large PVC heads serve as an aid when pulling them back out, as well as a place where you can easily attach guy lines.
They're also long, which helps them stay in the ground better and more securely during all types of weather conditions.
On top of that, the galvanized steel makes them resistant to corrosion.
Pros:
The milled points are great for easily driving these stakes into hard ground
Made out of galvanized steel, these stakes are sturdy and durable even in chaotic winds
The steel material makes them resistant to corrosion
The large PVC heads make it easy to attach guy lines
They're easy to drive into soft soil without a tool and just as easy to remove in any type of soil
These stakes are long, so they create a more secure hold when pushed into the ground
Cons:
With repeated use, the PVC head might wear down over time
Best for: campers who want a classic, steel stake that'll work on any land.
Types Of Tent Stakes
Tent stakes come in a variety of shapes and sizes, each of them designed for a specific occasion.
To know which kind is suitable for your needs, here's a quick breakdown of every type of tent stake and what they're designed for.
Shepherd's Hook Stakes
These are classic tent stakes.
They generally come included when you buy a tent, mostly because they're the cheapest to make.
They're all around decent and can work with different types of soil. With that being said, other tent stakes will do the job better.
V-Shaped Stakes
These stakes are strong and won't bend when in use.
They are great for hard soil or ground with rocks.
And thanks to their V-shape, you can stack them to take up less storage space.
Y-Shaped Stakes
Y-shaped stakes are even stronger than V-shaped stakes, and you can be sure they won't bend when in use.
These stakes are ideal for hard, rocky ground.
Since they're like an upgrade from V-shaped stakes, they are a bit heavier and pricier. But if you plan on camping on a heavy terrain, they are a worthy investment.
Nail Stakes
These look like long nails, which is probably why they're called nail stakes They're usually made of titanium or steel, which makes them a sturdy option.
They're great for hard soil or rocky terrain.
Most of them have a plastic head, which allows you to attach guy lines to them.
If you're looking for lightweight stakes for a 1 or 2-person tent, nail stakes are a great option. However, for larger tents you should go for Y-shaped stakes.
Screw Stakes
These stakes remind me of large corkscrews. They're ideal for soft, loose soils, like sand.
They're a bit heavier than other types of stakes, but that's a must for beaches and deserts. They can also work in snowy conditions.
Snow Stakes
Snow stakes have a wide U-shape and usually feature several holes around the middle. This design is supposed to keep the stakes in place in soft soil, like sand or snow.
They're usually made of aluminum, which makes them heavier than other stakes.
And thanks to their length, they have superior holding strength, which is a must for camping in snow.
What To Look For In Tent Stakes
Tent stakes seem pretty straightforward until you try to buy a set. There are a variety of tent stakes on the market, all in completely different designs, shapes, sizes, and colors. So, how do you know which set of tent stakes to get?
The kind of tent stake you want depends on several factors, but what's most important is when and where you are camping. Terrain and weather can affect your tent stakes more than you know.
So, to make sure you buy the right tent stakes, here's what to look for and what makes each set of tent stakes different:
Material: Different materials are better for different types of terrain. If you have a specific type of terrain that you do most of your camping on, you'll want to know what kind of material holds best. Stakes can be made out of steel, metal alloy, aluminum, titanium, plastic, and carbon.
Design: The design of a tent stake usually determines how it drives and stays in the ground. Not only that, but it could also influence how easy the stake is to use. Depending on your terrain, you may want to look for a specific design.
Size: Not all stakes are the same size and the size you want depends on whether you are packing light or packing for all kinds of weather. Large tent stakes aren't great for backpacking. However, long stakes anchor further into the ground making them ideal for rough weather. They do make long, thin tent stakes, but they're also easier to bend or break.
Weight: The weight of a stake isn't very important unless you are a backpacker. Since you'll want to pack as lightly as possible, lightweight tent stakes are the way to go. And while some people think that a heavier stake is more sturdy, this isn't always the case. Lightweight stakes can be very secure.
Visibility: This is something that doesn't often cross people's mind until they are having trouble seeing or finding their tent stakes. Or, even worse, until they stub their big toe on a tent stake while answering the call of nature late at night. A bright and/or reflective set will solve all of these issues.
How To Insert A Tent Stake (Properly)
You can have the best tent stakes around, but it won't do you any good unless you know how to properly insert a tent stake.
To get the most use out of your tent stakes, here is how you should properly drive them into the ground:
Drive the stake straight into the ground at a 90-degree angle. While many campers will claim that a 45-degree angle, facing away from the tent, is best – in reality, driving your stakes straight down has proven to be a much better option.
Use a mallet to slowly drive the stake down at this angle. Avoid using your foot, as this is more likely to bend and damage the stake.
If you are unable to drive it down right away, trying moving the location of the stake over by a few inches.
Our Verdict
When you are looking for the best tent stakes for any terrain, look no further than the MSR Groundhog tent stakes. This set of stakes is made from lightweight aluminum and has a unique Y-shaped design that keeps them locked into place.
Not to mention, the bright, reflective cord makes them easy to see in nearly any condition. These stakes are great for anyone who is backpacking in any kind of terrain.
Tent stakes are an essential piece of equipment in your camping arsenal of tools. They help keep you and your belongings secure and ensure that you are not caught off guard by any surprises.