In case you're running late, the best tent stove is the DANCHEL OUTDOOR Portable Titanium Stove.
Camping is great! Until…the sun goes down, and you're suddenly freezing your butt off. Your teeth start to chatter, and soon enough, your lips are chapped.
Thankfully, there's a tool to fight off winter's attacks – a tent stove. Tent stoves will help you stay warm, cook delicious meals, and even dry off your clothes.
If you frequently camp during the winter, I highly recommend you get one. Here are the best on the market today:
Best Tent Stoves – Our Top Picks
DANCHEL OUTDOOR Portable Titanium Tent Stove

Material: Titanium | Fuel Type: Wood | Weight: 6.63 lbs | Dimensions: 14.57 x 8.27 x 10.63 in | Stove Pipe Height: 7.2 ft
It might seem that all tent stoves are bulky and heavy – not the ideal choice for backpackers.
Lightweight tent stoves do exist – and this one from Danchel is a great choice for anybody who needs to pay attention to their gear weight (or really just anyone).
Weighing in at just 6.63 pounds, this small wood-burning stove is among the lightest we've reviewed. Combine its weight with its easy assembly and you can see why it's the top choice for backpackers and trekkers.
Don't let its small size fool you though. Since it's made out of titanium, its heat transfer efficiency is considerably higher than what you'd expect from a tent stove of this size.
You can checkout just how portable and easy to setup this stove is in the video below:
Now, it's not perfect by any means. The price is a bit high compared to some of the others listed here – but if you are really in the need of a good portable tent stove, you can't go wrong with this one.
Pros:
Extremely lightweight – only 6.63 lbs!
Easy setup and takedown – it can be assembled in less than 10 minutes
It's sturdy and durable due to the fact its made out of titanium
Comes with its own HQ carry bag for easy transportation
The fire-resistant glass allows you to check the fire without opening the door
Cons:
A bit pricey – not for budget-conscious
Best for: backpackers looking for a great portable wood stove for winter camping.
TMS – Portable Military Camping Wood Stove
Material: Alloy Steel | Fuel Type: Wood | Weight: 24.25 lbs | Dimensions: 18 x 10.25 x 11 in | Stove Pipe Height: 5.6 ft
If the previous model was still too pricey for your budget, then fear not. TMS is here with one of the most affordable (yet surprisingly high-performance) wood stoves that you'll ever find for camping.
The chimney isn't quite as high as the others (and the stove isn't as large), but you'll find that the other traits of this model more than make up for that.
One of my favorite things about this stove is the fact that you can use it with a canvas tent that features a vent. This makes indoor cooking a breeze. You'll come to appreciate this stove if things get too cold outside, but you still want to prepare a delicious meal.
You can even fold out the grates and use it as a drying rack for any wet gear that you might need to take care of. Overall, this model by TMS is a solid choice for anyone looking to camp out on a budget.
Pros:
About as affordable as it gets when looking at tent stoves of this quality.
Easily usable with any camping tent that features a stove pipe vent.
It comes with stove tools, removable legs, and 4 expandable pipe sections.
Drying racks fold out so you can cook or prepare food on the side.
The compact design makes for a low-stress haul.
Cons:
Smaller stove.
Great for the price, but not as durable as other stoves.
Best for: people who want a compact and affordable chimney that will let them cook rejuvenating meals without leaving their tent.
Guide Gear – Large Outdoor Wood Stove
Material: Galvanized Steel | Fuel Type: Wood | Weight: 70 lbs | Dimensions: 27 x 19 x 17 in | Stove Pipe Height: 6.46 ft
If the Camp Chef is a bit outside your price range, then you might want to check out this wood stove from Guide Gear. While it's not as versatile as the Camp Chef, it still performs well without costcamp cheing as much.
Thankfully, the Guide Gear has some features that make it shine above the Camp Chef. For example, its coiled handle makes it feel cool to the touch, no matter how hot it is.
Much like the Camp Chef, the chimney is quite tall, which will help keep your campsite free of any smoke.
Pros:
Top bang-for-the-buck – price and quality definitely match.
The coiled handle allows you to open the stove no matter how hot it is.
It fits inside itself and doesn't have many add-ons, so it's easy to transport.
A tall chimney pokes out of any tent or cabin.
It has a flat top platform that allows you to keep water, coffee, or food warm.
Superior construction that's so good, this stove might outlive you.
Cons:
Lacks adjustable legs, so it won't be the best for uneven terrain.
It doesn't have a drying rack or additional cooking space.
Best for: minimalist campers who want a reliable stove that burns long with easy setup.
Buy Direct on Sportsman's Guide
Winnerwell – Woodlander

Material: Stainless Steel | Fuel Type: Wood | Weight: 20 lbs | Dimensions: 22.44 x 20.71 x 94.49 in | Stove Pipe Height: 5.83 ft
If stainless steel is your thing, then you'll love the Woodlander (manufactured by Winnerwell). It's one of the larger models that I've included on this list, but you'll find that its grand size is actually more of a pro than a con.
I've had mine for quite some time and took it out in the harshest of weather conditions on multiple occasions. Rain, snow, you name it. After all that heavy use and roughing up, I can say without a doubt that it still looks brand new.
Furthermore, there are no signs of rusting anywhere on the stove, so it definitely lives up to the stainless steel name.
The size of this stove allows it to heat up larger tents while you cook your next meal. I've actually brought it along on most of my long winter trips for that very reason.
I'm the type of person to take along a large tent when I know that I'll be camping out for an extended period. Some other stoves struggle to heat up these bigger tents, but the Woodlander does it without breaking a sweat.
Pros:
Stainless steel that will never corrode or rust regardless of the weather conditions that you use this stove in.
The larger size makes it easy to heat up big tents.
A breeze to transport since the tripod legs fold up flat under the stove itself.
Its chic design brings a mix of 1950s appliances with futuristic sci-fi technology.
Cons:
Not very affordable due to its larger size and stainless steel construction.
Best for: campers with high budgets, long trips, and large tents that need to be heated up.
EcoZoom – Versa

Material: Ceramic | Fuel Type: Wood, Charcoal or Solid Biomass Fuel | Weight: 16 lbs | Dimensions: 11 x 11 x 12.5 in | Stove Pipe Height: No pipe
Upon first glance, you might think that this is a pressure cooker, but it's actually a full-blown wood stove that you can use for all your camping needs.
It's not the cheapest model out there, but it does definitely provide a solid bang for your buck. Despite its size, it's still more affordable than the Winnerwell stove. The chamber is fully insulated, which makes it more efficient since the flames are forced to mix with the gases.
The fact that it cooks food more efficiently means you won't have to use as many pieces of wood and thus reduces your negative impact on the environment. If you're trying to go green, then the Versa is likely the wood stove for you.
This also means you can cook and heat for longer with less wood, which is always lovely.
Beyond camping, it's also useful to have around the house so that you can still cook meals in case of an emergency. With a little firewood, you can get cooking no matter what's going on.
Many preppers actually keep this stove, since it's so efficient and you can use pretty much anything to fuel it.
Lastly, I found that both the interior and the exterior of this wood stove are straightforward to clean. You won't be spending hours removing stains after you get home from your latest camping trip.
Pros:
Very efficient due to the complete insulation of the interior chamber.
Can use wood, charcoal, and even biomass to cook your meals.
Extremely easy to clean after use.
Top-tier insulation means you can get more heat with less wood.
The Toyota Prius of tent stoves.
Cons:
Not as affordable as the TMS model listed above.
Best for: preppers, campers, environmentalists, or anyone else who wants efficient cooking.
Choosing The Best Tent Stove: A Comprehensive Guide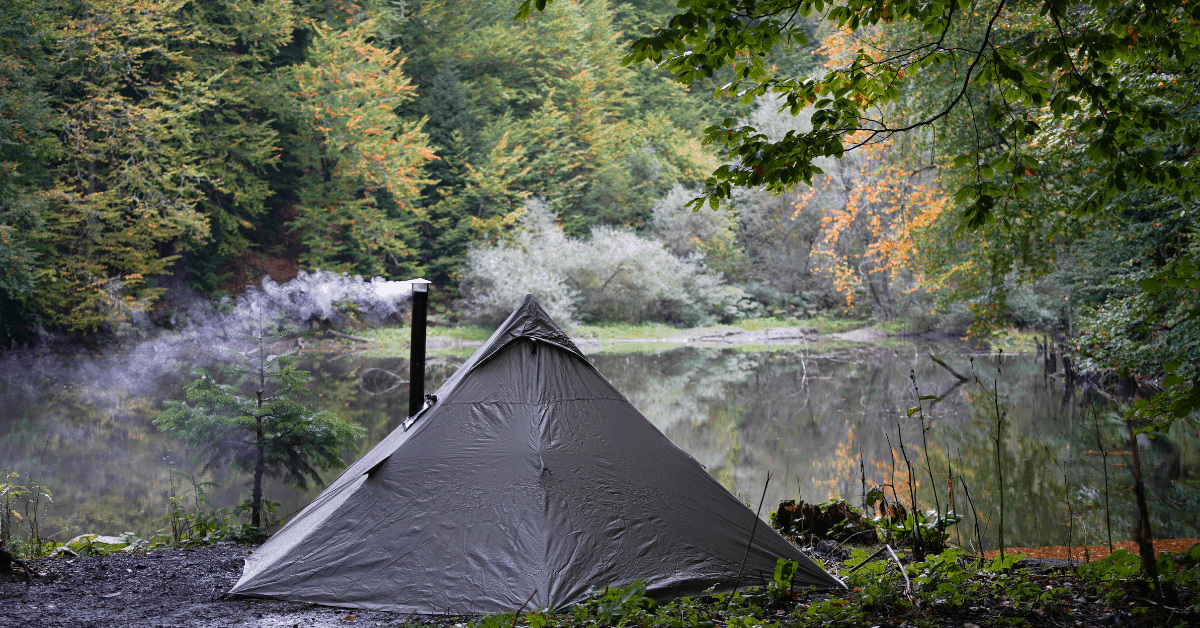 Picking a tent stove can be deceptively hard due to the variety of options available. It doesn't help that manufacturers try to convince you that their oven is the end-all-be-all.
That being the case, we're going to go over some of the critical things that you should consider before making your choice.
Types Of Tent Stoves
Now stoves can vary greatly in size, materials, fuel type, price, and so on – but generally, they can all be divided into the following four main categories:
Heavy steel tent wood stoves
Lightweight tent stoves
Collapsible tent stoves
Steel stoves are heavy, sturdy, and reliable. They have the capacity to warm even the largest of tents – but that comes with a price. In their case, it's their weight – they can weigh anywhere from 20 to almost 100 pounds, making them unsuitable for backpackers.
Lightweight stoves are a good compromise between durability and weight. They are not quite as sturdy as steel stoves, but they weigh a lot less (between 10 and 40 pounds). This makes them ideal for casual campers who are not camping in freezing conditions.
Collapsible stoves are similar to lightweight stoves – in fact, a lot of people group them together. This makes sense seeing that they weigh approximately the same and that they are made from the same materials. What's sets them apart is their ability to… well… collapse. They can then be more easily packed so you can free up your storage space.
Finally, there are the backpacking stoves. Weighing in at less than 10 pounds, they are ideal for anyone who is mindful of their packing weight. Unfortunately, since they are so small they don't have the capacity to heat up anything larger than a small tent (and only for a few hours as well). You should choose a backpacking stove if you're going solo camping in semi-warm weather (avoid freezing temperatures).
Fuel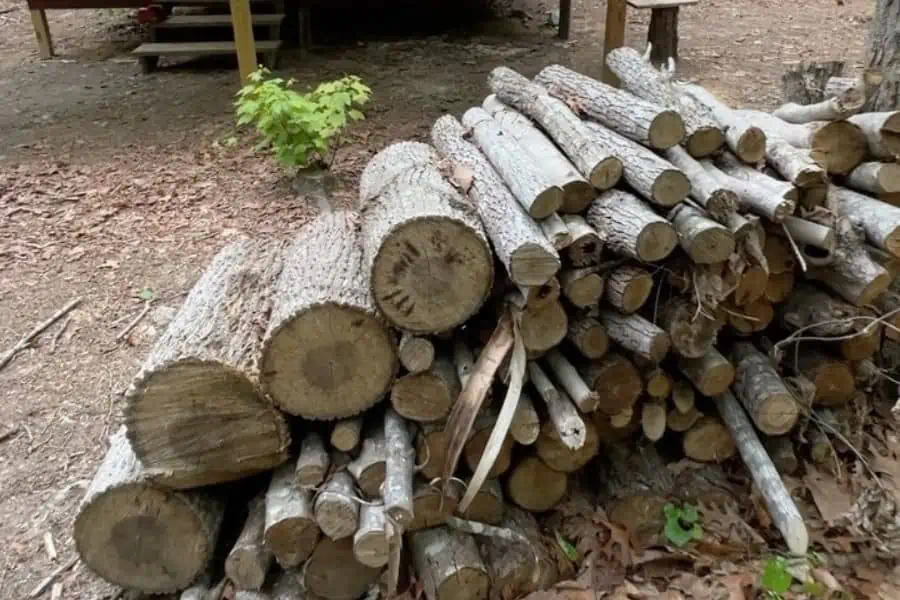 While propane stoves have been the norm in the camping industry for decades, I personally prefer wood burning stoves. There are a few different factors that define my position on this matter.
Even if you exclude the environmental effects of propane, you'll still find that using a wood stove is more practical even on a personal level. First of all, you won't have to lug a massive tank of propane across the forest until you reach your campsite.
This benefit is even more noticeable when you're camping at high altitudes. The lower air density makes everything feel twice as exhausting. No one wants to carry a giant propane tank when it's hard to breathe.
Weight
Speaking of weight, you should pay close attention to the mass of the stove itself. A particular model may look new and shiny, but that won't do you any good if it weighs more than your son.
This is especially true if you're using propane stoves rather than wood variants since you'll have to account for the weight of the fuel tanks as well.
I've found that wood burning stoves are generally lighter than those using propane. So if you're trying to cut down on weight, then you might want to go for the eco-friendly and renewable energy route.
Campsite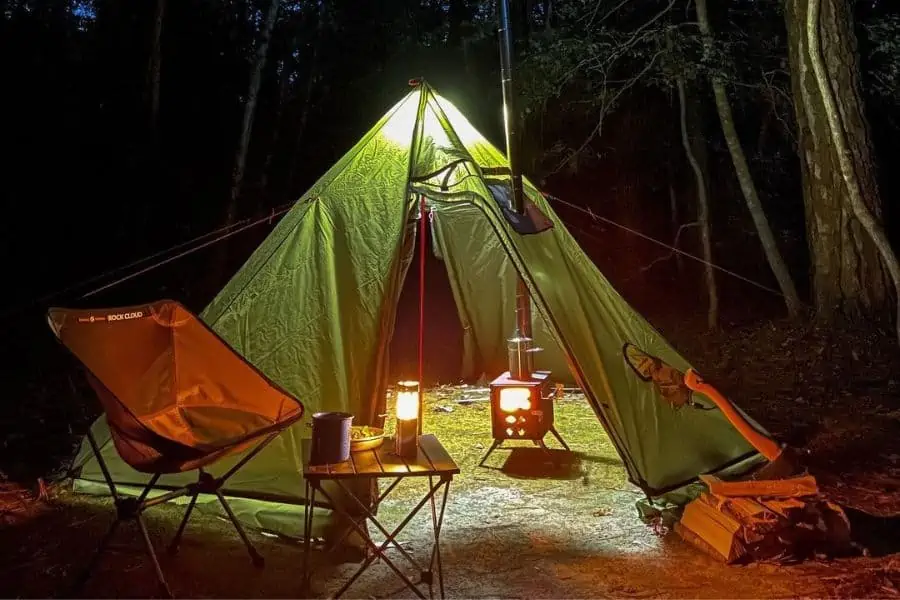 Another thing that you should factor in when making your choice on which camping stove to buy is where you'll actually be camping. If you're headed towards a snowy region, then you should pick a model that can handle low temperatures and still operate effectively.
Beyond temperature, you should also take a look at fuel sources when deciding which stove to bring along.
If you are camping in the desert, then a propane stove may actually be more appropriate than a wood stove. The Sahara isn't exactly known for its lush forests and lumber industry.
Furthermore, if you camp in breezy spots, then make sure your stove can operate in high-wind conditions without putting your tent at risk. After all, nothing spoils a trip more than a forest fire.
Duration
You should also think about how long your camping trip is going to last. For instance, if you bring along a full tank of propane on a weekend adventure, then you won't run into any issues.
However, if you want to spend weeks in nature, then wood stoves are clearly the better choice. You can always gather wood from the environment whenever you run out of fuel.
As a rule of thumb, always bring twice the amount of fuel than you think you'll need. Mother nature is unpredictable. Harsh weather may force you to extend the trip if it means making your return hike under safer conditions.
There was this one time when my boys and I were camping out for the weekend. On the last day, as we were about to pack up and head home, the clouds absolutely battered us with rain.
Fortunately, we had enough resources to wait out the weather for another day. We made it back peacefully the following afternoon.
Tent Stove Accessories
Most tent stoves come with a few accessories already.
I'm talking about things like:
Stove jack
Stove pipe
Wood grate
Spark arrester
However, if you want to make your winter camping trip a lot more enjoyable, you should look out for additional accessories.
Some of the more notable ones are:
Chimney Oven
The cooking surface of your camping stove is not good enough for you?
Do you wish you could bake pizzas, bread, rolls, and other pastries?
Then you really need to invest in a good chimney oven. They are the ultimate addition to your stove and every outdoor chef needs one. They are attached to your chimney pipe and turn that wasted smoke and heat into fuel for your baking goods.
Pipe Damper
Pipe dampers allow you to slow the flow of the air that goes through the chimney.
To put it simply: with them, you can make your fire burn slower and last longer. This is especially useful if you want the fire to last the entire night.
Hot Water Tank
A hot water tank is an ideal accessory for anyone who wants to have hot water available on demand (well, as long as the tent wood stove is burning wood at least).
They hang on the side of the stove and are ideal for making coffee or washing up.
Pellet Or Propane Burner Kit
Depends on where you are camping, but some places have pretty strict policies that forbid gathering firewood. In that case, you're going to have to resort to alternative fuels.
Some tent stoves can burn pellets, others are rigged to burn propane. Be sure to check your stove's specifications before your purchase.
Tent Stove Safety Tips
Finally (but most importantly) we need to talk about camp stove safety.
It's pretty simple – any stove that burns fuel produced carbon monoxide (and other dangerous gases). In high enough doses, these can be lethal – so taking proper precautions is a MUST.
These precautions include things like:
Set up your stove properly (and inspect it regularly)
Always have proper ventilation in place (no smoke should enter your tent – ever)
Keep any dry, combustible materials away from the stove
Follow these few simple safeguards you can enjoy the warmth of your stove without any unnecessary risk.
Top 3 Reasons To Get A Tent Stove
While there are many different reasons people buy these stoves, the three main ones are:
Heating
Cooking
Drying clothes
When it comes to heating, the answer is pretty obvious.
Fire = warmth. And while this might seem obvious, a wood-burning tent stove is a great source of dry heat.
Compared to a tent heater, it is a bit safer since the smoke leaves your tent through a chimney. This also means you can leave it burning all night (provided you take the necessary precautions!).
For those who love outdoor cooking as much as I do, tent stoves are indispensable.
Let's face it – trying to cook food outside in the middle of the winter is not fun at all. Well, with your trusty stove, you can avoid freezing to death and cook simple meals with ease. I call that an absolute win.
Finally, don't underestimate the usefulness of drying your wet clothes on your stove.
While winter camping is a lot of fun, having to wait for all your gear to dry out can be annoying. Having a tent stove greatly speeds up this process, so you don't have to wait for hours before you're ready to pack up your gear.
FAQs
Can You Put a Wood Stove in a Tent?
Yes. When you put a wood stove in a tent, it's called 'Hot Tenting.' And believe me, a good stove will make it very warm.
But keep in mind that a tent stove is not suitable for most tents.
In most cases, your tent needs to be canvas or polycotton, and it needs to have an opening for the flue pipe.
How To Keep A Wood Stove Burning All Night?
Control the amount of oxygen reaching the fire by closing the stove's air vents: this will help the fuel burn longer.
As soon as your wood-burning stove's embers turn orange, you can leave it for the night.
Can You Put a Wood Stove in a Tent?
Yes. When you put a wood stove in a tent, it's called 'Hot Tenting.' And believe me, a good stove will make it very warm.
But keep in mind that a tent stove is not suitable for most tents. In most cases, your tent needs to be canvas or polycotton, and it needs to have an opening for the flue pipe called a stove jack.
Are stoves in tents actually safe?
Yes, it is safe to use stoves in tents, but they should always be installed properly in well-ventilated shelters.
This means that the tent should have an opening for the flue pipe (a stove jack) that was pre-cut by the manufacturer.
What kind of tent can you put a stove in?
Stoves should only be used with tents with a stove jack.
Stove jacks prevent tent material from catching fire by using fireproof cloth made from glass fiber, aramid fiber and/or silicone.
However, even tents made for stoves can still catch fire. Be sure to use them according to the manufacturer's instructions.
Can you put a stove jack in any tent?
No. Do not put a stove jack in a tent that was not specifically made for hot tenting.
Normal tent fabrics are flammable, whereas stove jack fabrics are much more heat resistant.
Do tent stoves give off carbon monoxide?
Yes. Carbon monoxide is produced when any type of fuel is burned, even wood.
This is why it is so important to ensure adequate ventilation when you are using a tent stove.
Can I use a tent stove in a cabin?
While you can likely use a tent stove in a cabin, it wouldn't be recommended.
Tent stoves are designed for use in a tent and not intended for use in a permanent structure like a cabin.
How well do tent stoves work?
Tent stoves burn 10 to 20 times more efficiently than open fires because they concentrate air, fuel, heat, and waste so that they can be burned to produce more heat.
How do you keep a tent stove burning all night?
Control the amount of oxygen reaching the fire by closing the stove's air vents: this will help the fuel burn longer.
As soon as your wood burning stove's embers turn orange, you can leave it for the night.
How much wood do you need to keep a tent stove burning all night?
This will depend on several factors, including the size of the stove, the size of the tent, the outside temperature, and the amount of insulation in the tent.
It is best to plan on having more wood than you would think, to ensure that it will last for the entire night.
Our Verdict
Now that you've read this guide, you're equipped with the skills needed to choose a tent stove for your next camping trip.
If you ask me which of the top picks I'd call the best, it'd have to be the DANCHEL OUTDOOR Portable Titanium Stove.
It's lightweight, durable, and it comes with fire-safe glass to light your tent at night. If you're really into cold weather camping, I can't recommend it strongly enough.