This is our review of the White Duck Prota Deluxe Canvas Tent.
This White Duck Prota Deluxe Canvas Tent is designed to provide you with a comfortable and durable shelter that won't just last for years, but for DECADES.
Practically bomb-proof, the White Duck Prota Deluxe will take your camping to the next level.
It provides superior ventilation between the 6 total windows and the breathable and waterproof canvas fabric.
Made with high-quality craftsmanship and materials throughout, the Prota Deluxe is the type of tent that you can camp in with your kids and then hand down to them.
And what could be cooler than that? Read on for our full review!
White Duck Prota Deluxe: Key Features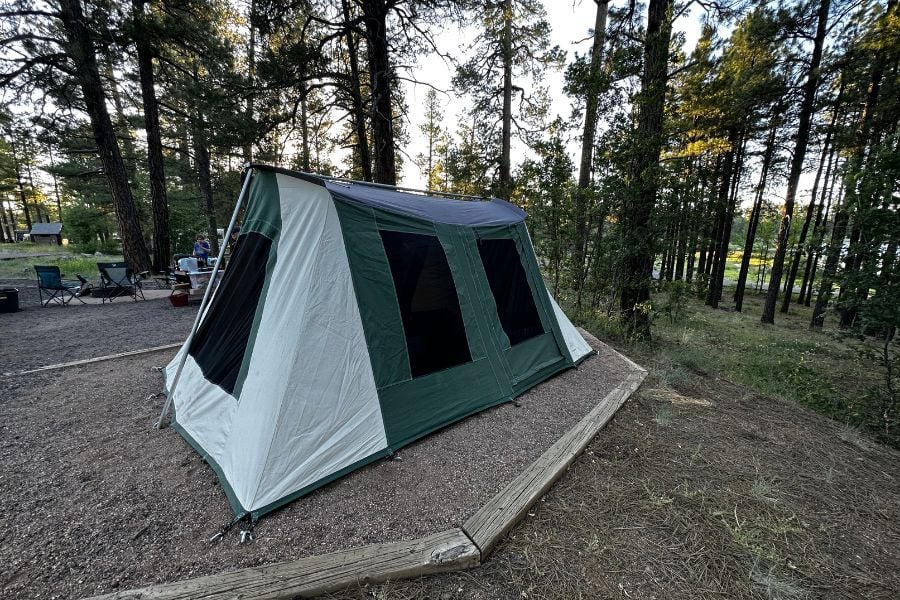 Tent Size: 8 person | Seasons: 4-season | Stove Jack: No | Weight: 94 lbs | Inside Height: 78 in | Floor: 10 x 14 (140 sq ft) | Setup Time: 20 mins
Space & Comfort
With its generous size of 140 square feet and its 6-foot 6-inch ceiling height, the White Duck Prota Deluxe offers ample space for you and your camping companions to sleep, relax, and store your gear.
The tent features four large windows allowing for excellent airflow, ventilation, and great views.
It also has two zippered doors with two more mesh windows, providing privacy and protection against bugs.
With its cabin structure, the ability to walk around throughout the tent is a huge selling point.
Obviously, there are other cabin tents with similar height and size options, but none have the same level of comfort as a canvas tent.
The 8-person tent size was room enough for my family of four, plus gear for each of us and room to spare.
Quality & Durability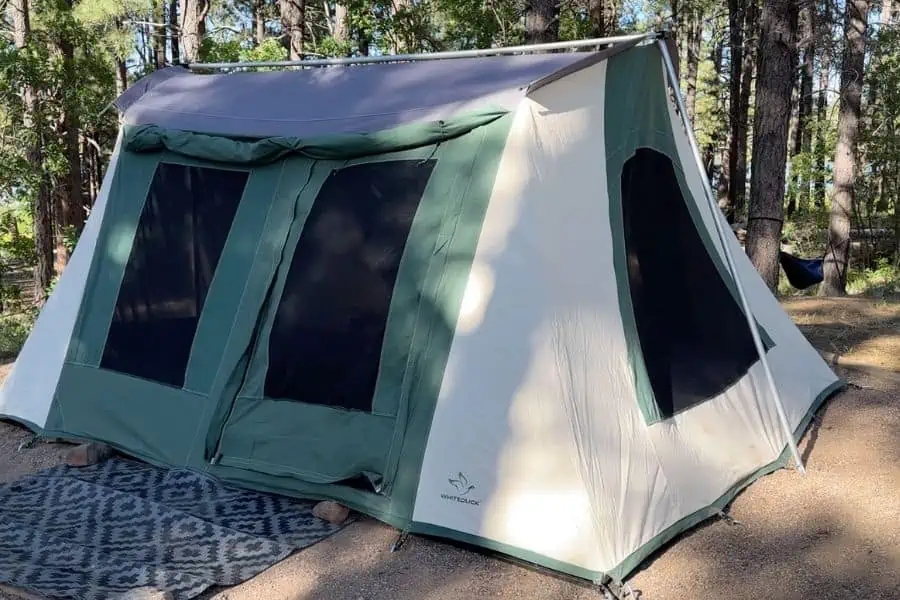 All White Duck tents are made with heavy-duty DYNADUCK 10.10 oz army duck cotton canvas fabric that is coated with a water-repellent, mold, and UV-resistant finish.
As soon as you unbox the tent you know you're getting a superior product.
From the outer canvas fabric carrying case to the high-quality military-grade YKK zippers, high-performance T6 grade aluminum poles, and galvanized steel stakes, this is by far and away one of the nicest tents that we've tested.
Surely it should be for the price, but White Duck backs up their high price point with quality throughout.
I was also really impressed with the stake, guyline, and mallet, carrying case. Everything was included that you'd need for the tent.
Value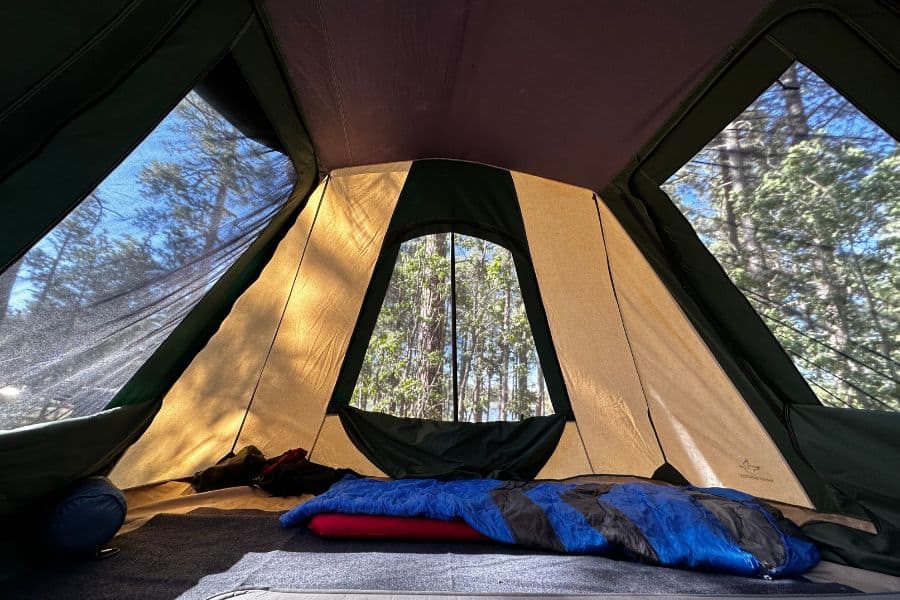 These tents are of such high quality that they have a lifespan that's years (if not decades) longer than polyester tents, and that is the major advantage of purchasing this tent.
It will be yours for years to come.
So while this is one of the more expensive tents on the market today, what you are getting is well worth it.
You won't need to purchase any more tents….EVER.
Weather Resistance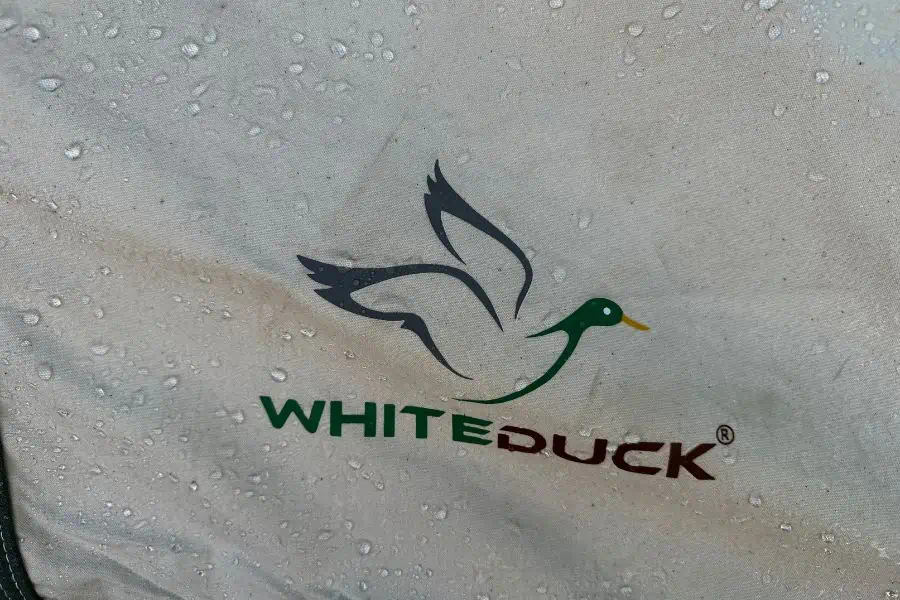 Crafted with high-quality materials, the Prota Deluxe is built to withstand any and all weather conditions.
The durable aluminum frame and heavy-duty galvanized steel stakes ensure stability and longevity, giving you peace of mind during camping trips.
And the Dynaduck canvas wicks away water as if it was nothing.
On our most recent camping trip, we endured wind gusts of up to 35 mph without any issues.
While I didn't bother to pitch the awning, the rest of the tent remained stable and performant throughout our trip.
The Prota Deluxe also offers excellent breathability, keeping you dry and comfortable inside even on hot days.
What you get with the Prota Deluxe is a great year-round tent that can handle sweltering summers to snowy winders.
Ease of Use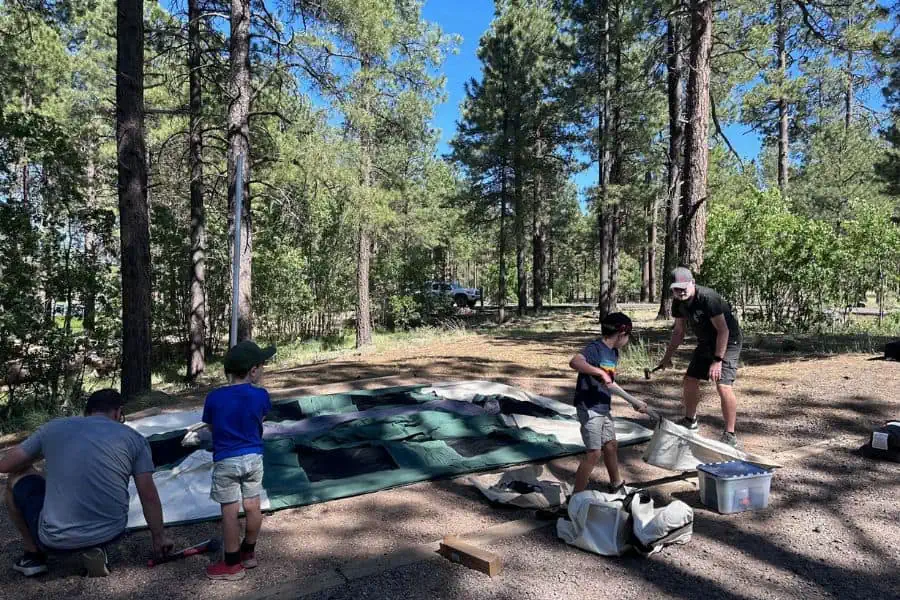 The biggest con to the Prota Deluxe or really any canvas tent is its weight and bulk.
It weighs 94 lbs and is quite bulky, taking up a large part of our SUV.
It's not the easiest tent for me to move around, and honestly, this is the biggest ding for the tent overall. It's a two-person job.
One person can set up and move the tent, but it's going to be exponentially easier with two.
Setting up the Prota Deluxe is a 20-minute job, but is relatively easy to do once you practice at home.
Even though the tent only has 3 main poles, it takes 32 stakes to fully stabilize the tent and ensure it can withstand the elements.
Because of the quantity of stakes, even though there isn't a rainfly this clearly isn't a pop-up tent with a quick setup. It's going to take some work to get it up.
Intangibles
When it comes to intangibles, the Prota Deluxe has a lot to give!
It comes with an entryway awning to provide shade and protection from the elements, military-grade YKK zippers, and a high-density 16 oz groundsheet tub-like floor – the thickest of any fabric we've ever seen on a tent.
There are two nice large storage pockets and various rings to hang lanterns or other gear off of, plus an electrical cable outlet.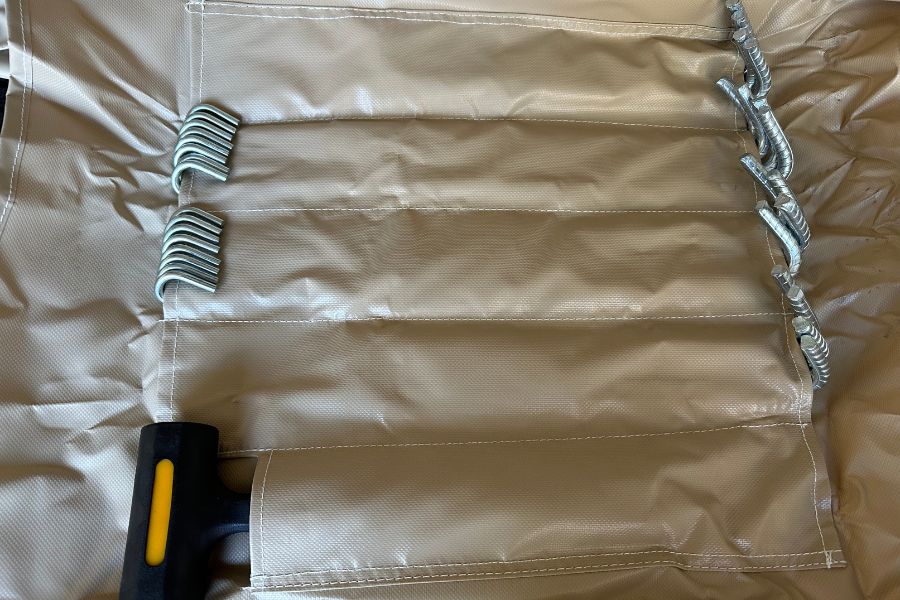 Warranty
All White Duck Tents come with a Lifetime Warranty.
Additional Sizes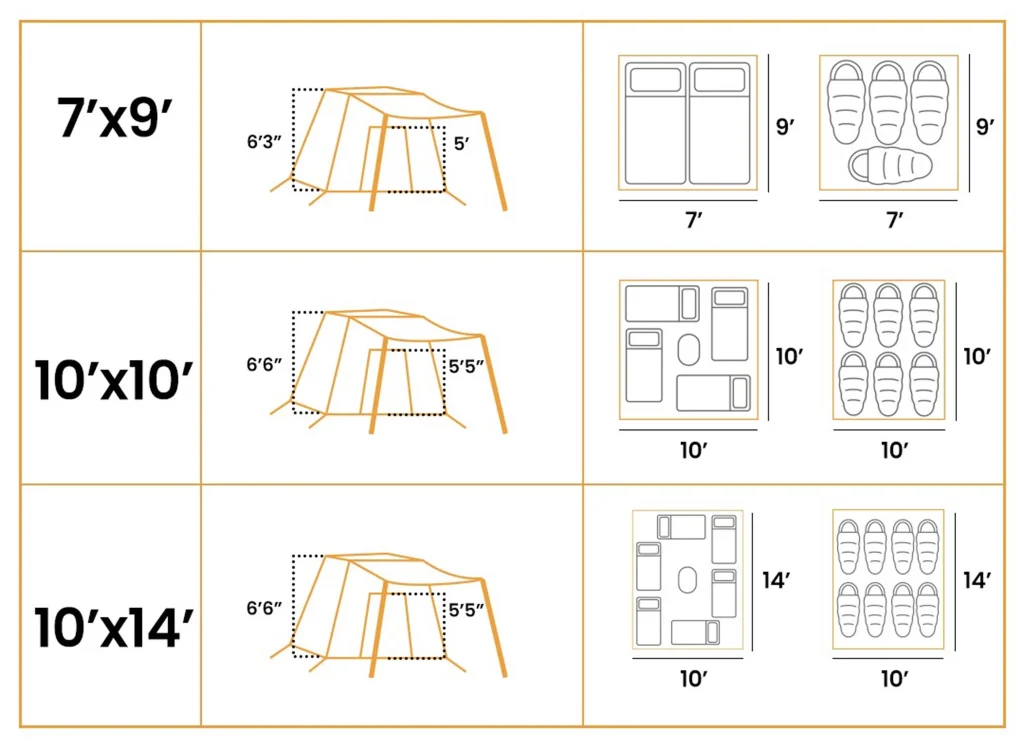 The White Duck Prota Deluxe also comes in a 7' x 9' 4-person size that is ideal for couples.
And a 10' x 10' 6-person size that is ideal for small families.
They all come in two colors, Desert Red or Forest Green.
Pros, Cons, & Best Uses
Pros:
Similar design to the standard canvas-style tents, with small differentiators
A high-quality canvas tent at a reasonable price that doesn't skimp
Windows on all four sides mean gives you improved ventilation and panorama views
The heavy-weight ceiling is coated with silver to protect you from UV rays and keep you cool
YKK zippers, 100% duck canvas, and a high-density groundsheet tub make sure this tent lasts
Cons:
Instructions aren't super clear, some users reported having trouble tearing down and packing up
It's expensive – not a budget tent
Best Uses:
Are White Duck Tents Worth It?
Absolutely! The quality and craftsmanship of the materials are bar-none. When you buy a White Duck canvas tent, you are purchasing a tent that will last for decades.
You're also getting a tent that is well-adapted to any and all seasons.
From hot summers where canvas provides superior ventilation, to snowy winters, White Duck tents can handle whatever you throw at them.
This particular White Duck tent is one of the best cabin tents, best tents with a porch, best 8-person tents, and one of the best 4-person tents.
Also See: 8 Best Canvas Tents That'll Last A Lifetime (Buyers Guide)
Are White Duck Tents Waterproof?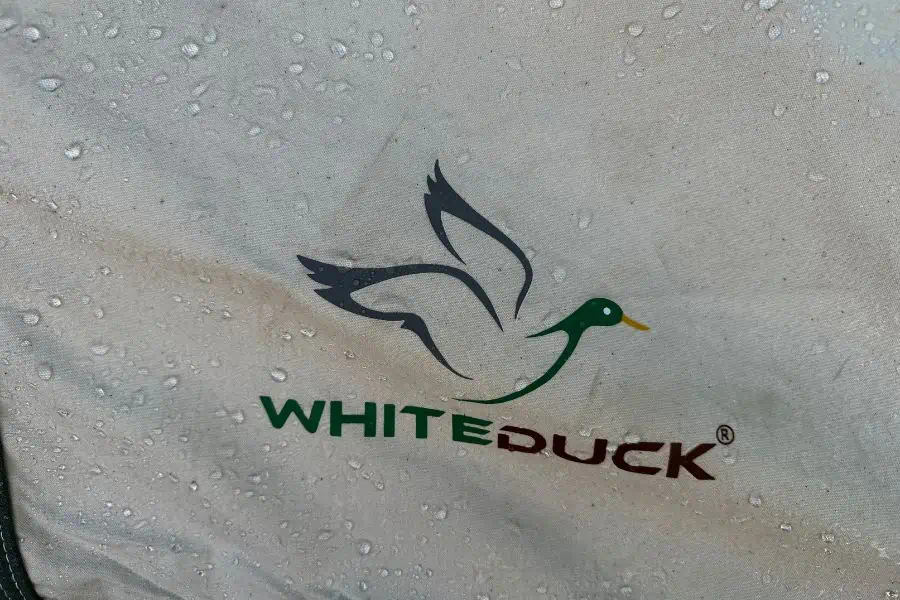 Yes, White Duck tents are for all practical purposes "waterproof."
White Duck treats their fabric with a weightless water-repellant treatment, making the cotton canvas not easily penetrated by water.
According to White Duck, "the cotton pores swell in humid and rain weather closing the gap and making the canvas highly waterproof and prevents micro-organisms."
From my own personal experience, I've sprayed the White Duck tent down first to season the tent, and secondly to ensure waterproofness, and have yet to see a drop of water make it inside the tent.
Also See: How To Waterproof A Canvas Tent
What Do I Need To Do To Maintain a White Duck Canvas Tent?
There are several things you need to do to properly maintain your White Duck Canvas Tent:
Make sure to properly season the tent before using it
Never store your tent when it's wet or damp
Before storing, clean your tent
Don't let snow or water accumulate on your tent for too long
Don't pitch your tent under direct sunlight for extended periods
Use a rainfly over your tent to ensure maximum protection
Read: How To Clean A Tent: Mastering the Art of Washing Your Tent
Frequently Asked Questions
What's the difference between the Prota Standard and Prota Deluxe models?
The only difference between the two tents is the Deluxe has side windows and the standard doesn't.
However, the side windows are worth it in my opinion as they provide additional view options and superior ventilation.
Where are White Duck products made?
White Duck is headquartered in the USA, but their tents are manufactured overseas.
How long do canvas tents last?
With the right care and maintenance, canvas tents can last decades.
We've heard from various readers who have had the same canvas tents for the last 40 years.
Does the White Duck Prota Deluxe have a stove jack?
No, the Prota Deluxe doesn't have a stove jack.
Do not attempt to put one in, as a special coating and treatment is needed.
If you're looking for a White Duck tent with a stove jack, you can check them out here.
Do you need a footprint with a White Duck Prota Deluxe tent?
Yes, we recommend tent footprints for all tents, including the Prota Deluxe.
While the Prota Deluxe has the thickest tub bottom we've seen, it's still always worth the extra layer of protection.
Do you need to season a White Duck Prota Deluxe tent?
Yes, prior to using it, you'll want to spray it down at home and then let it fully dry.
We set it up in our driveway and then sprayed it down watching as moisture wicked away.
Then I let it air dry for several hours before packing it back into its carrying case.
Our Verdict
The White Duck Prota Deluxe is a superior cabin tent.
If you're an avid car camper who enjoys camping in any season rain or shine, then White Duck Prota Deluxe is the tent for you.
With superior ventilation, 6 total windows, 2 doors, and an awning, this is a tent that truly has it all!