In a hurry? After extensive research, we found that the Skydome Tent is the best Coleman tent available today.
It's no secret that Coleman is one of the best camping tent brands out there. There are many reasons for that, including their affordability, wide variety of tents, and superior weather protection technology.
If you're a first-time camper, you can't go wrong by choosing almost any Coleman tent.
However, some tents do stand out after testing and reviewing over 20 Coleman tents. In our opinion, here are the best Coleman tents on the market today:
Best Coleman Tent: Our Top Choices
Coleman Skydome Tent
Size(s): 4, 6, 8, 10, 12 person | Tent Type: Dome, 2-room | Seasons: 3-season | Setup Time: 5 mins
Coleman makes quality tents for budget conscious campers, and this is one of the highest-rated Coleman tents around.
It is a quick pitch tent that you can get up in only 5 minutes with the pre-attached poles. Coleman's patented WeatherTec™ technology helps prevent water and wind from ruining your camping trip.
Coming in a variety of sizes from 4 to 12 person, this dome-style tent will prove to benefit if you face inclement weather.
However, Coleman also did a nice job of making the peak height at 7′ tall for the 12-person meaning that there is still plenty of headroom in the larger sizes.
Pros:
Bigger sizes Come with room dividers so you can split it into two separate rooms
Quick Pitch tent that will go up in 5 minutes or less
Coleman's patented WeatherTec™ will keep you dry
High center height (84 inches) and can fit up to three queen-size airbeds
Cons:
Be careful with the poles. Pre-installed poles mean that you don't want to drop it on your toes.
Best for: overall best family quick-pitch tent at an affordable price.
Coleman Carlsbad Tent with Screen Room
Size(s): 4, 6 person | Tent Type: Dome | Seasons: 3-season | Setup Time: 15 mins
The Coleman brand is famous for making quality tents at affordable prices, and their Carlsbad tent with a screen room is no exception.
This 6-person dome tent is pretty spacious, with a big screen room and enough space to accommodate two queen size air mattresses.
However, the main selling point of this tent is its Darkroom feature. That's Coleman's patented technology that blocks sunlight and reduces heat in the tent. This makes it a favorite of those campers who like to sleep late, instead of waking up covered in sweat at the brink of dawn.
Pros:
Darkroom technology reduces light in the tent allowing for deeper and longer sleep
Quick setup thanks to pre-attached poles
The screen room provides extra bug-free lounging space and ventilation
The screen area is also great for shoes and dogs so the inside of your tent stays clean
Made with high-quality materials that will ensure you remain dry even during thunderstorms
Cons:
The screen room is not protected by the rainfly
Weighs around 20 pounds so it's best used for festival and car camping
Best for: if you're not a morning person and you want to sleep in.
Coleman WeatherMaster Tent
Size(s): 6, 10 person | Tent Type: Cabin, Screen Room | Seasons: 3-season | Setup Time: 20 mins
Tired of hunching over every time you're inside your tent?
Meet your new favorite tent.
Unless you're in the NBA, this tent's center height of 6''8″ will be enough to allow you to move freely inside your tent.
The rest of the tent is roomy, too. The 6 person version has a footprint of 153 sq. ft. if you include the screen room.
Pros:
The tent comes with a hinged door offering easy access when entering and exiting the tent
Great ventilation – angled windows allow you to keep the rain out while letting fresh air in
Center height of 6'8'' means you won't have to walk around like a hunchback
Enjoy extra space for your camping gear with a big screen room
E-port allows you to effortlessly bring electricity to your tent
Cons:
Setup can be a little tricky, so you might want to practice in your backyard first
Best for: tall people and people who like big, roomy tents.
Coleman Sundome Tent
Size(s): 2, 3, 4, 6 person | Type: Dome | Seasons: 2-season | Setup Time: 10 mins
Next up we have the Coleman Sundome Tent.
It comes in a variety of sizes, from 2 person to 6 person.
Like all Coleman tents, it comes with its patented WeatherTec system to keep you warm and dry during rain and thunderstorms.
Its main advantage is its price – it's extremely affordable for a tent of its size.
Overall, this is a great introductory tent for people new to camping or hiking.
Plus, they also make it in a Dark Room version that we've tested and reviewed here.
Pros:
Affordable – great price for people new to camping
Super easy setup – the tent can be up in less than 10 minutes
Great ventilation thanks to windows and roof vents
Electrical Access Port allows you to run cables into the tent
Cons:
Doesn't come in larger sizes
Not suitable for winter camping
Best for: solo campers or couples who want an affordable tent that gets the job done.
Coleman Evanston Tent With Screen Room

Size(s): 6, 8 person | Type: Dome | Seasons: 3-season | Setup Time: 15 mins
Want something a little bit larger? Not a problem.
Enter the Coleman Evanston Tent.
It comes in 6 and 8 person size, with floor spaces of 140 and 180 sq. ft. depending on the model.
This tent's main draw is, of course, the screen room. It allows you to enjoy extra ventilation without letting the bugs in. It also provides extra space you can use for sleeping, as a storage area, or just as a place to sit and relax in a bug-free zone.
Despite the larger size and extra features, the setup is still pretty simple and the tent can be up in less than 15 minutes.
Pros:
Roomy – 140-180 sq. ft. (6 and 8 person sizes, respectively)
Screen tent provides great ventilation and can serve as a bug-free porch
Quick and easy 15-minute setup
Pretty affordable considering its size
Window awning design allows you to keep the windows open even during rain
Cons:
The porch area is not well protected, so you'll want to keep your stuff inside if it rains
Best for: couples and families who want a tent with a screen room for more space and better ventilation.
Coleman Instant Cabin Tent

Size(s): 4, 6, 10 person | Type: Instant | Seasons: 3-season | Setup Time: 2 mins
What's the one activity that every camper dreads?
That's right, it's setting up the tent.
Even the most amazing tent with tons of bells and whistles can lose its charm if it takes an hour to get it up.
Luckily, that's where instant tents shine.
Thanks to a pre-attached pole system, this Coleman instant tent can be pitched in less than a minute, and takedown is just as easy.
Due to its size and weight, it's best suited for car campers who want to enjoy the great outdoors in comfort and style.
Pros:
Fastest setup in the Coleman family – less than 1 minute to pitch it
It's a cabin-style tent – that means you'll get extra space due to straight sidewalls
Darkroom technology blocks 90% of sunlight and reduces heat in the tent, allowing you to sleep longer and more comfortably
Durable – people have reported getting through thunderstorms without the tent breaking
Four huge windows and a ceiling vent provide good airflow to the tent
Cons:
Due to its size and weight, it's not fit for backpacking
Best for: people looking for a cabin tent that sets up quickly and easily.
Coleman Red Canyon Tent
Size(s): 8 person | Type: Dome | Seasons: 3-season | Setup Time: 15 mins
Family camping in one tent can be a wonderful experience, or it can be a disaster waiting to happen.
One of the ways you can help avoid the latter is to choose the right tent. You want a tent with a spacious interior that's big enough for all of you but still provides enough privacy so people don't feel cramped and crowded.
That's where the Coleman Red Canyon tent excels.
Not only is it 170 sq. ft. in size, it also comes with dividers so you can easily create 3 separate rooms in your tent.
Pros:
You can create 3 rooms using a divider for extra privacy
Reasonable price for an 8 person tent
HUGE – 170 sq. ft. of space with a center height of 6 ft.
Quick and easy setup – it should take you less than 20 mins to pitch it
Bathtub floor means rain is less likely to build up underneath your tent
Cons:
Not as durable as some other Coleman tents
Best for: larger families who want a reasonably priced 3-room tent.
Coleman Hooligan Backpacking Tent
Size(s): 2, 3, 4 person | Type: Dome | Seasons: 3-season | Setup Time: 10 mins
There's a large possibility it'll rain cats and dogs this weekend, but you're set on camping anyway?
With this Hooligan tent from Coleman, you don't have to worry about a thing.
The rain fly on this tent goes all the way to the ground, completely protecting you from rainfall.
The inner tent is all-mesh, so its ventilation system is superb. During a dry, summer night, you can remove the rain fly and enjoy the starry sky.
This tent has an 8×7 foot layout, which is enough for two people to sleep comfortably.
There isn't a lot of room for your camping gear inside, but the large, fully covered vestibule provides more than enough space for all of your equipment.
This tent features a Coleman-patented pin-and-ring system. What this does is it keeps corner tent pole connections secure, even in windy conditions.
Pros:
A fully covered vestibule serves as a dry entryway and gear storage space
Mesh interior provides lots of airflow
A rain fly extends to the ground and keeps you safe from rain and wind
There are two mesh pockets where you can store small necessities
The manufacturer provides a limited 1-year warranty
Cons:
It weighs over 10 pounds, so it's not really a backpacking tent
Best for: campers looking for a really waterproof tent.
Coleman Octagon 98 8-Person Outdoor Tent
Size(s): 8 person | Type: Octagon | Seasons: 3-season | Setup Time: 15 mins
The Octagon 98 is a great tent for camping with friends or family.
It's an 8 person tent and you can fit two queen air mattresses or eight sleeping bags. And, unless you're Yao Ming, you can easily stand in it, since it has a 6'10'' center height.
Even though this tent is huge, the setup is a piece of cake.
All the poles are color-coded, so you can easily figure out which poles are for the roof and which are for the walls. Just slide them into their designated joint slots and that's it. You're done in no more than 15 minutes.
Although it's tall, this tent is designed to withstand winds of up to 35 mph. And thanks to the rain fly, it gives you decent protection against rainfall.
The ventilation in this tent is pretty good. It has large mesh windows and a mesh roof, which makes it a great choice for summer camping.
Pros:
With a 6'10'' center height, most people can comfortably stand inside
This 8 person tent can actually fit that many people without being cramped
It comes in a convenient carry bag with wheels
During dry, warm evenings, you can remove the rain fly to watch the night sky
Setup time is only 15 minutes
Cons:
Not as waterproof as some of the other tents on this list
Best for: tall campers searching for a tent they can stand up straight in.
Check Price at Dick's Sporting Goods
Coleman Tent Coastline 3 Plus
Size(s): 3, 4 person | Type: Tunnel | Seasons: 3-season | Setup Time: 15 mins
If you're looking for a compact tent with a large awning, then this is a great tent for you.
It has a sleeping area that can fit two campers comfortably. Plus, there's some extra space for your backpacks.
The living area features two doors, one on each side, so you don't need to repitch the tent every time the wind direction changes.
The front part opens up into an awning, providing you with an additional sheltered space. There's plenty of room to chill out in front of your tent while staying hidden from the elements.
The bedroom door is made of fine mesh that's non-see-through. It lets the air in while keeping the bugs out.
PVC windows allow plenty of natural light to enter, so you won't feel like you're inside a black hole.
Thanks to the riser groundsheet, cool air enters at the base of the tent while the warm air is pushed out through the ventilation panels.
Pros:
The porch is spacious enough for all of your equipment
Included guy lines increase stability during heavy wind
Thanks to the power cord vent, you can run an electricity cable inside the tent
Additional porch poles allow you to create a sheltered outdoor area
PVC windows allow plenty of natural light to come in
Cons:
Might leak during heavy rain
Best for: couples seeking a great tent with a large awning.
Coleman Pop-Up Tent
Size(s): 2, 4 person | Type: Octagon | Seasons: 3-season | Setup Time: 2 mins
When it comes to pop-up tents, you either love or you hate them. If you fall into the first category, you'll enjoy this Coleman 2 or 4 man tent.
Setting this tent up won't take you no more than 10 seconds.
Then, you can watch your friends struggle with those standard setup tents while you're enjoying your beer.
This lightweight tent is designed to withstand the elements, though we certainly recommend waterproofing it with tent waterproofing spray.
Thanks to guy-out triangles and poles, it won't budge even during heavy wind. And since it has inverted seams and a zipper cuff, the rain won't find its way in.
The tent comes with a removable rain fly. During warm nights, you can keep the top open and watch the night sky through the mesh roof.
Pros:
The 2 person tent actually has enough for two people to sleep comfortably
The rain fly, along with inverted seams, help with keeping the rain out
This 2 person version tent weighs only 6.4 pounds, so even a child can carry it
In case of wind, use guy-out triangles and poles to keep the tent in place
Side windows and roof allow for lots of airflow
Cons:
The fabric is thin and can easily rip
Best for: campers who hate spending a lot of time pitching a tent.
Coleman Tenaya Lake Cabin Tent
Size(s): 8 person | Type: Cabin | Seasons: 3-season | Setup Time: 10 mins
This spacious tent is like a portable cabin. It's designed to fit eight people, and each of them can sleep comfortably. If you love camping with friends or family, this tent is worth checking out.
Even though the tent is large, it won't take you more than 10 minutes to set it up. Once pitched, it's 6'8'' tall, so most of us can stand up straight without hitting the roof with our heads.
The built-in closet is the main highlight of this tent. Forget all about taking up floor space with your equipment. This tent has shelves and a hanger bar where you can keep all of your stuff organized.
It also features a rain fly that provides better protection from rain. With it on, you can crack your windows open during a rainstorm and still stay dry.
Pros:
Seven windows and a mesh rooftop provide great ventilation
You can easily fit two queen air mattresses and still have room left
The built-in closet allows you to keep your stuff organized
The tent is tall enough for most people to stand up straight
An included room divider provides added privacy
Cons:
It's water-resistant but not entirely waterproof
Best for: large families or groups of friends who enjoy camping together.
Coleman Skylodge 12 Person Tent
Size(s): 8, 10, 12 person | Tent Type: Cabin, Screen Room | Setup Time: 20 mins
Another great Coleman tent makes the list. The Skylodge 12 Person tent comes with a sizeable 5 x 10 ft screen room, combined with an additional 190 sq ft of living space.
Coleman's patented WeatherTec system utilizes a tub-like floor, welded corners and works to keep you dry.
The 7′ 4″ interior height makes this tent extremely roomy and comfortable from head to toe.
Pros:
50 sq ft of extra living space in the screen room
A relatively quick setup in only ten to twenty minutes to setup
Coleman's patented WeatherTec™ will keep you dry
High center height (88.8 inches) and fits up to four queen-size airbeds
19′ x 10′ interior is extremely spacious at 190 sq feet
Cons:
Not quite as waterproof as other tents on this list
Best for: families that want a tent with a screen room for extra gear storage
How To Choose The Best Coleman Tent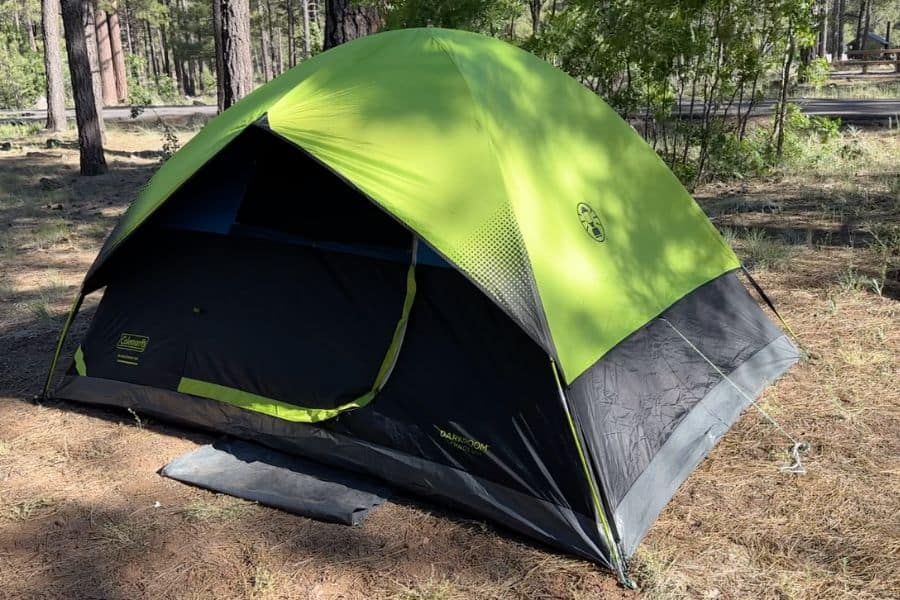 Coleman has a huge selection of tents for every possible occasion. Smaller tents, bigger tents, tents with a screen room, winter tents, etc… You name it, Coleman has it.
At this point, you might feel overwhelmed with choices and unsure of how to proceed.
If that's the case, don't worry – we have prepared the following guide for you.
Before we begin, however, we need to point out a few things all Coleman tents have in common.
These are:
Affordability
WeatherTec technology
First off, we'll be honest – Coleman is sold in Walmart and Target for a reason. Their low price point makes them a brand that is accessible to campers on a budget.
However, they are still really good tents for the majority of the population that goes camping a few times a year. In terms of getting the most bang for your buck, there is no brand better than them.
Secondly, every Coleman camping tent is made with their patented WeatherTec technology, which gives them extra weather protection.
This system includes things such as:
Protected seams
Waterproof floors & fabrics
Zipper protection
A wind-strong frame
When you invest in a Coleman tent, you know that you'll be safe in case of rainstorms and high winds.
You can see the extensive testing that goes into making their tents weatherproof:
Now, with all of that out of the way, let's look at some of the criteria you need to keep in mind when choosing your Coleman tent.
Tent Size
Probably the most important factor in choosing your tent is the number of people you're going to bring camping with you.
For example, if it's just you and your girlfriend, you'll probably want to choose a 4 person tent.
This will give you enough space for all of your gear, while still being light enough to carry in your backpack.
On the other hand, if you're bringing your kids and/or dogs with you, you'll probably want to look into buying a 6 or 8 person tent.
These tents will give you the extra space you so desperately need, plus a screen room that can serve as a storage space for your gear or a bedroom for your furry friends.
A good rule of thumb is to take the number of people that are going to sleep in the tent, and then buy a tent that is 1 or 2 sizes bigger. So if it's 2 people going camping, buy a 4 person tent. 4 people? 6 person tent. And so on – you get the gist.
Tent Design
Another thing to keep in mind is the style of the tent.
There are three main styles:
Cabin tents
Tunnel Tents
Dome Tents: As the name suggests, dome tents are in the shape of a dome. They provide better load stability and are easy to set up.
They are a great choice for backpackers and solo campers.
Cabin tents: On the other hand, are usually heavier and thus better suited for car camping families. They have straight sidewalls which make the ceiling higher, allowing you to walk around in the tent.
Some of them also come with room dividers, allowing you to create additional rooms in the tent and have more privacy.
Tunnel tents: These tents are hybrids between both a dome and a cabin tent, giving you more headroom than dome tents, but better weather performance than cabin tents.
Additional Reading: Dome Tent Vs Cabin Tent – The Ultimate Face-Off
Ease of Use
Now, of course, every Coleman tent is different, so the ease of use for each tent is going to be specific to that tent.
On top of standard tents with a traditional pole setup, Coleman also makes instant and pop up tents.
Instant Tents: These tents have pre-installed poles that extend up and out for easy and quick setups.
In fact instant tents, are our favorite tent option for summer and hot weather camping, or really any situation in which weather won't be a problem.
Pop up Tents: And then there are pop up tents, which spring up and "pop" together, in just seconds.
We don't love these tents as much as instant tents, but they have their purpose and are the easiest and quickest to set up and take down (once you get the hang of it).
Each tent has specific instructions as to how to set up, and with standard tents, if you know how to set up one type, you can figure out how to set most of them up.
However, we always recommend you read the specific instructions and test at home, before venturing out to the campsite.
Extra Features You May (Or May Not) Need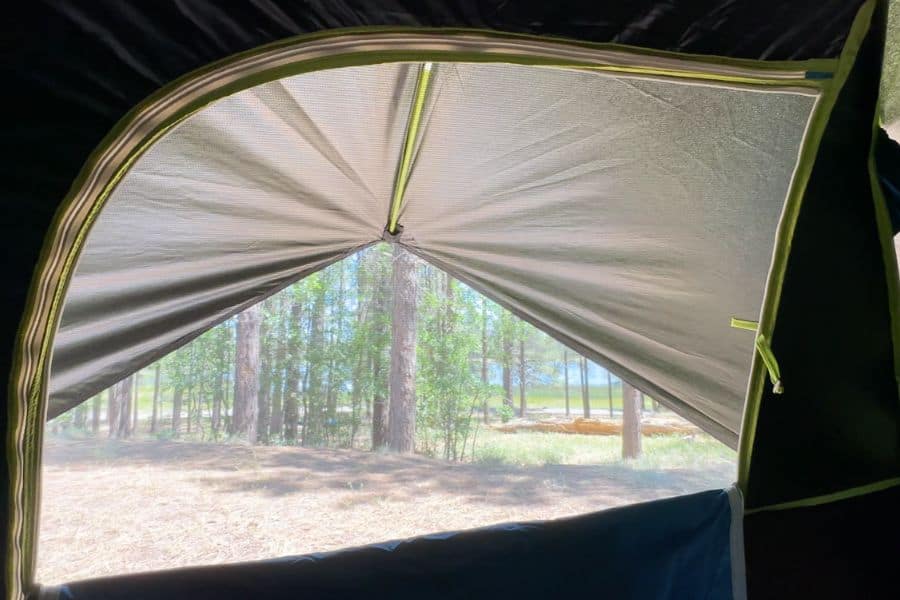 To be honest, this entire section could be an article on its own.
However, we'll try to be brief and give you the most important bits.
Screen room – Extra storage space? Check. Bug-free porch to lounge in? Check. Great sleeping area for your pets? Check. No matter how you look at it, having a screen room is a huge win.
Room dividers – As mentioned before, larger Coleman tents often come with room dividers that can turn a one-room tent into two or three-room castle. That extra privacy can be a godsend, especially on longer camping trips with your in-laws.
Storage pockets – If you have a lot of stuff you want to keep nearby, invest in a tent that has multiple storage pockets sewn into its walls, or a gear loft. That way, your phone, flashlight, or keys are always within reach.
Hinged doors – Let's be honest – nobody likes zippers. That's why hinged doors can be a good feature to have – just pull the door and hop on in the tent. Easy peasy!
E-ports – If you want to bring electrical power into the tent, you normally would have to cut the tent somewhere to put the cord in. Not anymore – with an E-port you can do it without destroying your tent and letting the rain come in.
Extra windows – The math is quite simple – the more windows you have, the better the ventilation is going to be. Not only that, but if you have windows on all four sides of the tent, you'll have a 360-degree view of the nature outside. That's pretty awesome.
Blackout fabric – Coleman's Dark Room fabric blocks out 90% of the sunlight, and makes a great option for those who enjoy sleeping in, or who want to put their kids to bed early.
FAQ
Coleman tents come in all sizes and shapes.
If you're set on buying a tent from this brand, but you're unsure how to pick the right one, here are some commonly asked questions that might help you make the choice.
Which Coleman tent is the best?
There's no right answer to this question.
No tent is the best – this is more a matter of personal preference and what it is you're looking for in a tent.
Coleman has a large range of tents that meet different requirements. There are tents for different seasons, terrains and number of campers, so pick the one that suits your needs the best.
That being said, after extensively reviewing many Coleman tents, the WeatherMaster tent came out on top for us.
Which Coleman tent is the largest?
The largest Coleman tent is The Red Canyon 8.
This tent has 170 square feet of floor space and a 6-foot center height.
Are Coleman tents 4-season tents?
Some models, like the Montana, Hooligan or Sundome have 4 season ratings.
The majority of Coleman tents, however, are 3-season tents.
Are Coleman tents waterproof?
In general, Coleman tents are waterproof. But, there are many degrees of tent waterproofing,
First, there's a waterproof rating expressed in millimeters. You should always aim for a waterproof rating of at least 1000mm, and most Coleman tents do fall under that category.
They also usually have taped seams, which hides the needle holes where water usually gets through. However, waterproofing ability wears down over time, so you will eventually need to apply a waterproofing spray.
What's more, some models are simply not made as well as others, and might leak regardless of their waterproof rating.
How do I set up a Coleman tent?
The answer to this question depends on the model you've bought. Every model has specific instructions, and some have them printed out on the inside of the carry bag.
One step that's the same with every model is to stake down the corners first using tent stakes.
The rest is different with each model.
In most cases you can do it yourself, but some tents require two people to set up.
How do I repair a Coleman tent?
Coleman tents are built to last. But, accidents happen, and you can't let them ruin your trip.
If you break a pole, you can easily fix it with a little bit of duct tape. That's just a temporary solution, but it will hold long enough for you to enjoy your camping trip.
Then once you get home, contact your retailer or Coleman directly and see if you can get a replacement.
Our Verdict
Choosing the best Coleman tent is difficult. Truth be told, the best tent depends on your specific needs.
Are you a backpacker or a car camper? Do you want a bigger tent or a smaller one? Is a screen room a necessity? And so on.
In our opinion, the best mix of price, size, and weight is the Coleman Skydome Tent.
It comes in a variety of sizes, is about as weatherproof as you can get, not to mention affordable.
All in all, if you're looking for a quality, large family tent, we strongly recommend the Coleman Skydome Tent.