If you're in a rush, look no further for your campfire cooking kit than the Stanley Adventure Even-Heat Camp Pro Cookset.
If all you're doing is roasting marshmallows over the campfire – you need to up your game.
With the right campfire cooking equipment, you can make just about anything.
Whether you want to put together a full on meal, or just whip up some quick snacks, it can all be done over the fire – as long as you come prepared.
In this article, we'll go over all the different campfire cooking kit and gear you can take on your next camping trip to cook up a storm.
Ready to get started? Let's go!
Best Campfire Cooking Kit
Need to compare side-by-side. Check out our Campfire Cooking Kit comparison table.
Stanley Adventure Even-Heat Camp Pro Cookset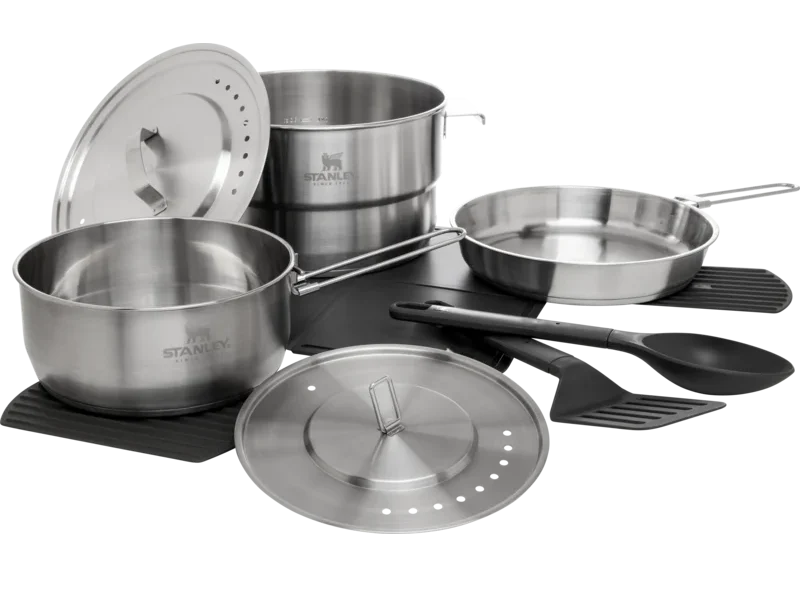 Weight (lbs): 8.2 | Includes: 18/8 Stainless steel stock pot 4.75Qt / 4.5L, 18/8 Stainless steel sauce pan 1.9Qt / 1.8L 2 Vented lids, Frying pan 8.5in/21.5cm diameter, Collapsible cutting board, Spatula with 2-piece handle, Spoon with 2-piece handle, Trivets, Locking bungee | Safe To (F): 1,697 Degrees | Materials: Stainless Steel
If you want the best campfire cooking kit, look no further.
Included a full 11 piece cooking kit, you'll get a full-size pot, pan and sauce pan.
But wait, there's more. This kit includes a cutting board, spatula, and trivets.
It also collapses up very nicely, with everything going into the stock pot and getting locked in with a locking bungee.
This saves room, and it weighs less than the cast iron sets on this list.
Read our full Stanley Adventure Even-Heat Camp Pro Cookset review here.
Pros:
Has everything but the heat source to start cooking
Standard size pots and pans to make cooking for a family, easy peasy
High quality 18/8 stainless steel
Safe to 1697 degrees (don't worry you won't get there)
Cons:
Pricier than some of the other lesser quality kits
Best for: Anyone looking for the best camping cooking kit around.
Bruntmor Pre-Seasoned 7 Piece Cooking Set
Weight (lbs): 37.9 | Includes: Pre-Seasoned 12″ Cast Iron Skillet, 4.5qt Dutch Oven Pot, 2.5qt Saucepot, 20″ x 9″ Heavy-duty Reversible Cast Iron Griddle. Also includes 8.6″ Trivet & Dutch Oven Lid Lifter | Safe To: 500 Degrees | Materials: Cast Iron
If you're looking for a heavy-duty camping set that you can pass down to your kids one day, then you'll love this kit by Bruntmor.
This 7-piece set contains a skillet, Dutch oven pot, saucepot, griddle, trivet and a lid lifter. It allows you to make practically anything you'd cook at home.
The set also features a wooden vintage carrying box for storing all the pieces. This bulky packaging weighs about 39 pounds, so it might not be suitable for backpacking, but it's definitely something every car camper needs.
All cookware is made of pre-seasoned cast iron, which is non-stick, scratch-resistant and extremely durable. It's easily washed, whether by hand or in a dishwasher.
Pros:
When properly maintained, this set can last you a lifetime
Non-stick pan requires oil and is easily cleaned
Cast iron cookware is scratch-resistant and heat safe
Can be washed in the dishwasher
Cons:
Best for: RV and car campers.
MSR Flex 4 Cooking System
Weight (lbs): 3.7 | Includes: 3.2L Nonstick hard-anodized aluminum pot, Dual-handle 5.3L hard-anodized aluminum pot, Aluminum Strainer lids, (4) DeepDish™ plates, (4) 10.2 oz. Insulated Mugs, Talon™ pot handle. | Safe To (F): 600 Degrees | Materials: Hard-anodized aluminum (pots), polypropylene (dishes)
I instantly fell in love with this camping cooking set by MSR. It has everything you might need for cooking in nature, and more! The set contains ten pieces, but they all pack compactly, into the largest pot. And the whole thing weighs only 3.7 pounds.
The kit contains two large non-stick and scratch resistant pots with lids. They're made of hard-anodized aluminum, which means they're lightweight, durable, corrosion and salt-resistant.
You also get four sets of plates and cups. Each set has a different color, so you can't accidentally mistake your friend's bad coffee for your black tea. The plates are made of polypropylene, which means they're very easy to clean.
I love that cups are insulated, meaning they'll keep your drink hot for a long time. They also come with lids that feature built-in sipping spouts.
MSR's Flex Cooking System also comes in sets for 2 and 3, so if you don't need one for four, its easy to swap out and you'll save money.
Pros:
Pots are made of aluminum, which makes them lightweight and easy to clean
Cup lids contain sprouts that allow spill-free drinking
With 3.7 pounds of weight, this set is extremely lightweight
A built-in strainer on a pot lid allows you to cook pasta and veggies
Cons:
Best for: families and groups of four.
Coleman Rugged Series 1-Person Aluminum Mess Kit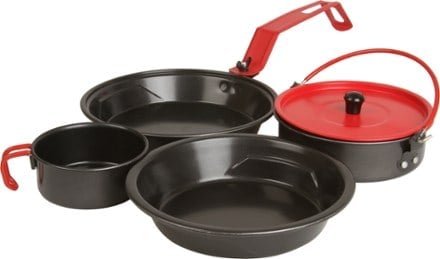 Weight (lbs): 0.65 | Includes: 7-in. frying pan, 16-oz. pot with lid, 6.5-in. deep-dish plate and 8-oz. cup | Safe To: 350 Degrees | Materials: Aluminum
A good campfire cooking kit doesn't have to cost a fortune. Take this one by Coleman for example. For the price it sells at, this is quite a steal!
This kit has everything you need to make a meal for a single person – a frypan, pot with lid, deep-dish plate and a cup. Each piece is made of aluminum, so you can rest assured it's dirty and easy to clean.
All pieces can be nested together and snap shut for storing. When packed, the kit is 3x9x8 inches in dimensions, meaning it can easily fit into a backpack. With a weight of 9 pounds, it's a bit heavy for backpacking, but this kit is wonderful for car camping.
Pros:
Extremely affordable
Made of aluminum, this set is rather durable and easy to clean
Large cookware allows you to cook for one to two people
All pieces can be held together by a collapsible handle
Cons:
The wide mug is a bit weird to drink from
Best for: campers on a budget.
CampMaid Grill And Smoker
Weight (lbs): 6.35 | Includes: Dutch oven lid lifter, flip grill, and charcoal/wood holder heat source | Safe To: 500 Degrees | Materials: Cast Iron
Here's a product for all the barbecue fanatics out there. This set allows you to grill, steam or smoke even when camping in the wilderness.
The set comes with a flip grill, charcoal holder and lid holder. The charcoal holder allows you to easily start the fire, thanks to its unique airflow design. You can clip it under the grill or place it directly onto the ground.
I love the lid holder this set comes with. It allows you to safely grab and hold your lid or use it as a serving stand to keep your food warm. What's more, by flipping the lid holder upside down, you can use the lid as a skillet. Speaking about versatility!
Pros:
This kit allows you to grill, steam and smoke your food
The lid holder handle doesn't get hot when used properly
It folds down and fits into a 14x11x14 inch carry bag
Rather lightweight for a grill
Cons:
Best for: BBQ aficionados.
Check Price at Sportsman's Warehouse
MSR PocketRocket Stove Kit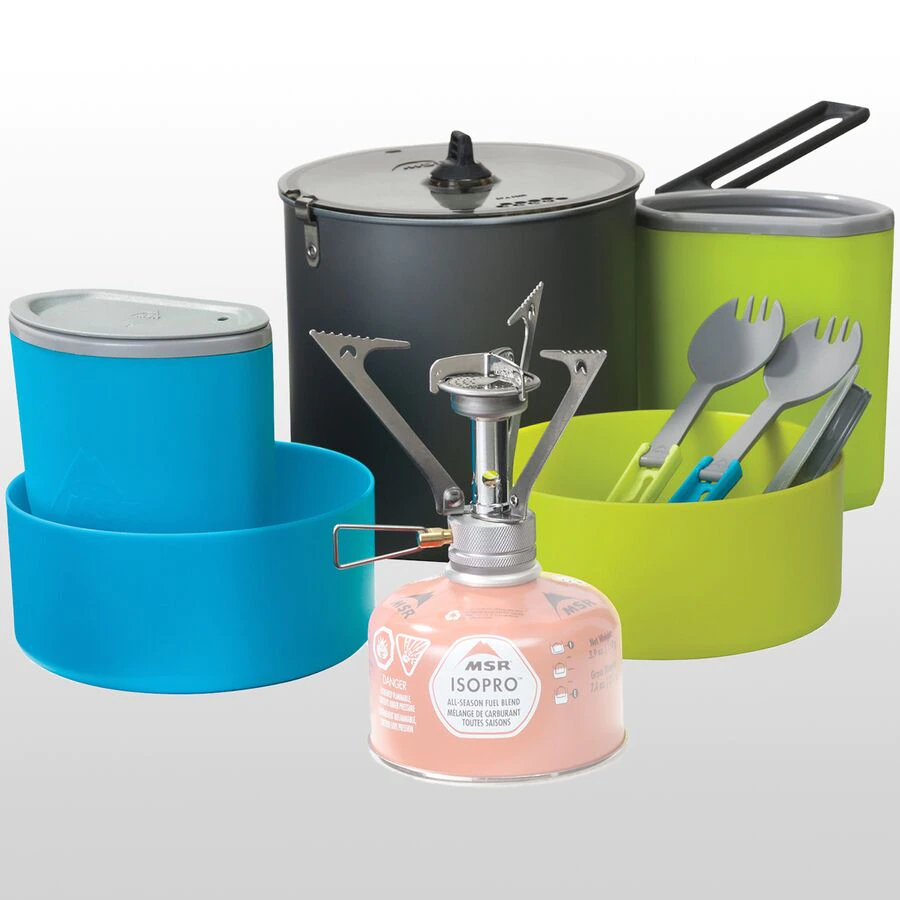 Weight (lbs): 1.6 | Includes: PocketRocket stove, 2L pot, 2x DeepDish bowls, 2x 12.5oz. double-wall insulated mugs, clear strainer lid, 2x folding sporks | Safe To: 600 Degrees | Materials: Hard anodized aluminum
I was really shocked to see how many pieces of cooking equipment can fit into a 2 quart cooking pot. Well, in the case of this kit by MSR, it holds everything you need to enjoy the best meals while on the trail.
The kit contains a stove, pot, strainer lid and two sets of bowls, mugs and sporks. But not only this kit packs small, it's also super light. With less than two pounds of weight, this is a perfect set for backpacking and thru-hiking.
The stove is rather fast – it boils a quart of water in about 3.5 minutes. Thanks to the WindClip™ windshield, it works just as well in breezy conditions. It's fueled by an 8 ounce canister, which has a burn time of approximately an hour.
Pros:
The set weighs less than two pounds and easily fits into any backpack
Two color-matching dish sets include mugs, bowls and folding sporks
Double-walled insulated mugs keep your drink warm for hours
Comes with a 3-year limited manufacturer warranty
Cons:
Sporks aren't strong enough for ingredient mixing
Best for: campers in need of a lightweight cooking set.
What Should You Know Before Buying a Campfire Cooking Kit?
Before you pick your favorite, there are a few things to keep in mind.
Usage
Where do you plan on using the kit? By this, I mean – will you be camping on a regulated campground or out in a dispersed area?
Nowadays, many regulated campgrounds have grilling and cooking stations, so you don't have to beat your head about what to bring.
However, when you're out in the wild, things are different.
Without a grill available, for instance, you'll need additional cooking components to be able to make all the food you plan on cooking.
This brings us to the next point.
Components
So, what will you cook? For soups and stews, you'll need a pot. For fried food, you'll need a pan.
And that's not all. Don't forget about the accessories, which are just as important.
These include plates, utensils and cutlery. At the very least, make sure to have enough forks, spoons and knives for everyone. Of course, sporks will do as well.
Another important component is tin foil. Basically, it allows you to cook on an open fire without burning your food.
It's an irreplaceable part of my cooking kit.
Finally, don't forget the cleaning accessories either.
You won't be able to make your next meal unless you clean the pot from the previous one, no?
Weight
If you're car camping, then you can bring your heavy cast iron cookware.
But if you're backpacking, that's out of the question.
It's important to consider weight when choosing the right kit.
Material is one factor that determines how heavy your cooking kit is, and we'll get into that in a bit.
But another factor is the number of pieces your kit contains.
If you're going on a short trip and plan on making one-pot meals, then there's really no need to bring five pots and pans with you, is there?
Materials
For cooking on open fire, three materials come out as the best options: aluminum, cast iron and stainless steel.
Of them, aluminum is the lightest option, so it's great for backpacking.
However, it tends to develop hot spots and it's not the most durable option out there.
Cast iron is simply enjoyable to cook with. Once hot, it stays hot, so you can rest assured your food will be properly cooked.
Plus, it's practically indestructible – this thing can last you forever!
On the other hand, it's quite heavy and not something you want to carry on your back, or you can't park close to your campsite.
And then we have stainless steel, the middle ground. It's tougher than aluminum and holds heat almost like cast iron.
But it's not as durable as cast iron and not as light as aluminum.
Number of People
It goes without saying that you need the right amount of plates and cutlery.
But as far as pots and pans go, it's also important to take into consideration the number of people you plan on cooking for.
With larger groups, you probably won't be able to make everything into your favorite camping pot.
For that reason, you should consider both the number of pots and pans you need, as well as how big they are.
On the other hand, you won't need most of that stuff when you're camping solo or with a partner.
In fact, in most cases, you can get by with a single pot or pan.
Benefits of a Fire Cooking Kit When Camping
If you think about it, this one is pretty clear. A fire cooking kit allows you to enjoy nice food even when you're out in the wilderness.
No reason to eat granola bars and old sandwiches when you can make anything from steak to ratatouille on the campfire!
Of course, that's not to say you "can't" cook without a fire cooking kit. Anyone that ever made food on a campfire wrapped in tin foil can prove that.
But a cooking kit makes cooking much safer for you, as you're not in direct contact with open fire. Plus, it makes it harder for you to burn your dish.
Best Ways To Use Your Fire Cooking Kit
Okay, so you got yourself a nice fire cooking kit. But there are a few things to keep in mind when cooking at the campsite.
First thing is – don't put your pots and pans right in the flame. Even though they're designated for use on a campfire, an open flame is not your cooking surface. First, it's too hot for your food. And second, it's also too hot for your cookware.
Instead, a grate makes a safe and stable surface for placing your pot. If you're using a pot oven, you can also use a tripod to hold it above the fire. By this, of course, I don't mean the one you'd use for a camera. Instead, a good ol' iron tripod designated for cooking over fire.
Also, when frying food, make sure that oil doesn't splash over the fire. I don't need to tell you how dangerous that can be. Use a lid whenever possible to prevent that from happening.
How To Clean Your Fire Cooking Kits Outdoors
Make sure to clean your cookware right after use. Well, right after it cools down.
And by clean, I mean both the interior and the exterior. Fire leaves soot which builds up if not removed.
Now, there's an easy trick. You can coat the exterior of your pot by soaking it in soapy water for 5 to 10 minutes.
Then, remove it and let it dry without cleaning. The soapy layer will help you remove the soot after cooking from the pot with nothing more than a dry cloth.
As for the interior, a bit of soap and a scrub pad will be enough. But if you're using cast iron, you don't want to clean it with that.
Instead, you should properly season it before each use. That way, you only need a paper towel to clean the residue.
Why Should You Own A Campfire Cooking Kit?
If you enjoy eating granola bars and sandwiches throughout the entire camping trip, then maybe you don't really need a campfire cooking kit. But if you want to enjoy good meals even on the campsite, then you need a kit that has everything you need to make your favorite dishes.
Sure, you can bring your pots and pans from home. But they're usually heavy and delicate – and unless you're RVing or car camping, bringing them is simply not worth it.
Campfire cooking kits are not only lightweight, but they can also be stack-packed, thus taking very little space in your storage. They're usually made of sturdy materials that can take some beating.
What Can You Cook On A Campfire?
The real answer is – anything you want, as long as you have the proper equipment.
So for instance, a griddle will allow you to make pancakes and eggs for breakfast.
A cast iron pan, on the other hand, can be used to make campfire pizza that tastes just as good as oven-style pizza does.
What Are Average Metal Melting Points?
You may be familiar with what happens to an aluminum beverage container if it gets tossed into a fireplace. It melts down and becomes nearly invisible. but leaves behind some remnants at its base and lid. Be careful, because campfires are extremely hot.
Here are some average melting points of various metals you may have around a campfire:
Aluminum: 1220°F (660°C)
Aluminum Alloy: 865-1240°F (463-671°C)
Cast Iron: 2060°F (1127°C)
Stainless Steel: 2750°F (1510°C)
A typical fire can be so intense that it melts aluminum cans, but won't be so hot as to damage tougher materials like cast iron or stainless steel which both have a higher melting point.
18 Campfire Accessories to add to your Campfire Cooking Kit
And let's not forget about campfire cooking accessories to bolster your campfire cooking kit.
Honestly, these are just as important as the cookware itself. The right accessories can make all the difference in your campfire cooking experience.
Let's take a look at what's out there.
Campfire Roasting Sticks
Let's start with the basics – campfire roasting sticks.
You'd be amazed at all the things you can make with these tools.
From roasted marshmallows, to waffles, and even popcorn – there's a roasting stick for every occasion.
Roasting Forks
Classic roasting forks are a must on any real camping trip.
But you can do a lot more with them than just roast marshmallows…
Dice up some meat and veggies and use them to make shish kabobs.
Stick a hot dog on the end and wrap some crescent roll dough around it for campfire pigs in a blanket.
You can even use them to roast Starburst candies.
That's right, Starburst.
If you haven't tried these gooey little pieces of candy heaven yet, do it!
Campfire Popcorn Popper
What if I told you there's a tool that lets you make quick and easy popcorn on the campfire?
With a campfire popcorn popper like the Great Northern Popcorn Stainless Steel Pit Popper, you're just a few shakes away from freshly popped popcorn to munch on while you relax by the fire.
All you have to do is throw in your corn and a bit of oil, close it up and shake it over the campfire until all the kernels have popped.
Add your favorite seasonings and give it another good shake, and enjoy!
Campfire Waffle Iron
But the fun doesn't stop at popcorn.
How about waffles?
If you love them as much as I do, a campfire waffle iron will be your new best friend.
Chocolate chip waffles, blueberry waffles, or just plain waffles with a pad of butter and some maple syrup. Sounds like the perfect camping breakfast, if you ask me.
But, again, these babies can be used to make a bunch of other tasty snacks, too.
Grilled cheese sandwiches, tater tot hash browns, cinnamon rolls and brownies are just a few of the awesome treats you can whip up in a waffle iron.
We love this NordicWare Cast Aluminum Stove
Pie Iron
These are another one that I highly recommend to any camper.
They're great for breakfast, lunch, dinner, dessert, a snack, a meal, you name it. They're pretty much a universal camp cooking tool.
You can use them to make sandwiches, quesadillas, and even calzones.
For calzones, just line the pie iron with pizza dough, fill it with pizza sauce and all your favorite toppings, squeeze it shut and roast it over the fire.
And presto, you've got a delicious campfire calzone in no time at all! Just pick up this square pie iron.
Corn Grilling Basket
Who doesn't love roast corn?
Slather some butter on there and a pinch of salt – drool!
Or, better yet… Elote!
OK, so I might get a little bit too excited about corn. But I don't care, I love the stuff.
If you get half as excited about corn as I do, you'll probably want to get a corn grilling basket. They make roasting corn over the campfire a piece of cake.
Mmmm… corn cake!
Pots & Pans
If you want to do some serious cooking over the campfire, you're going to need to equip yourself with some pots and pans.
Cast iron cookware is generally best when it comes to campfire cooking. It can withstand temperatures up to 1500°F, and it distributes heat evenly.
Stainless steel and aluminum can also work, but you have to be extra cautious and build the campfire a certain way. Otherwise, the temperatures could get so hot they melt your campfire cookware.
Dutch Oven
Cast iron dutch ovens are perfect for camping trips because they're great for one pot dinners.
After all, the last thing you want when you're camping is to be left with a towering pile of dirty dishes after dinner.
They're versatile, too. You can make all kinds of things in a dutch oven – even pizza! Just press some pizza dough down onto the base of the dutch oven, spread some pizza sauce onto it and throw on any toppings you like.
When making pizza, it's a good idea to line the dutch oven with a sheet of baking paper to prevent the dough from sticking.
We love the Uno Casa Cast Iron Camping Dutch Oven for campfire cooking.
Cast Iron Skillet
If you can't live without bacon, eggs, and pancakes in the morning, you'll want to make sure you've got a cast iron skillet.
These are perfect for frying up all your favorite breakfast foods, but they're great for lunch and dinner, too. From veggies and meat, to quesadillas, to sauces – there's a lot you can do with a skillet.
They can also come in handy if you've got a sweet tooth and you feel like making a skillet cake, pie or giant cookie for dessert.
There is no doubt that the Barebones 10″ All-in-one cast-iron skillet is the best all-around cast iron skillet for camping.
Cast Iron Baking Pan
Big on baking?
Get yourself a cast iron baking pan.
With one of these, whipping up anything from a pizza to a batch of cinnamon rolls is a breeze.
They're usually quite large, which can make them a bit difficult to pack. But, if you're camping with a large group, a nice, big baking pan will surely come in handy when it's time to cook for everyone.
Kettle
And, of course, if you're a fan of the kettle, you'll be thrilled to learn that you can use one on the campfire just like you would at home.
Camping kettles are available in a range of materials. We enjoy this high quality anodized aluminum kettle by REDCAMP.
Coffee Percolator
I don't know about you, but all I need to start my day off right is a nice, hot cup of coffee in the morning.
If the same goes for you, you should definitely think about getting a camping percolator. We use and recommend this Stanley Adventure All-in-One French Press.
Imagine waking up in the middle of the forest and brewing a fresh cup of joe over the fire.
Can you say bliss?
Cooking Grate
A good, cast iron campfire grill grate is elementary.
Not only does a cooking grate give you a nice, flat surface for your pots, pans, and other camping cookware – it can also serve as a grill that you can throw meat and veggies onto directly.
Campfire BBQ, anyone?
Our favorite camping grate has got to be this model by Amazon Basics.
Swivel Grill
Or, you can kick things up a notch and go for a swivel grill.
What's great about these is that they're adjustable, so they can easily fit over any campfire regardless of its shape or size.
You can have more than one grate attached to the pole, as well. That means you can have several things on the go at once, which is great when you're cooking for a large group of people.
This swivel grill by Texsport is perfect for camping.
Campfire Tripod
If you're not using any pans or skillets, and all your campfire cooking is going to take place in a pot or dutch oven, then you can get away with not having a grate. Instead, pick up a tripod that you can place over your fire.
Cooking up a feast in a pot hanging over a campfire always makes me feel like a witch brewing a magic potion in a cauldron.
I mean, what better way to make cooking dinner more fun than by throwing a little fantasy into the mix?
We love this durable campfire tripod by Lodge.
Cowboy Cooking Stand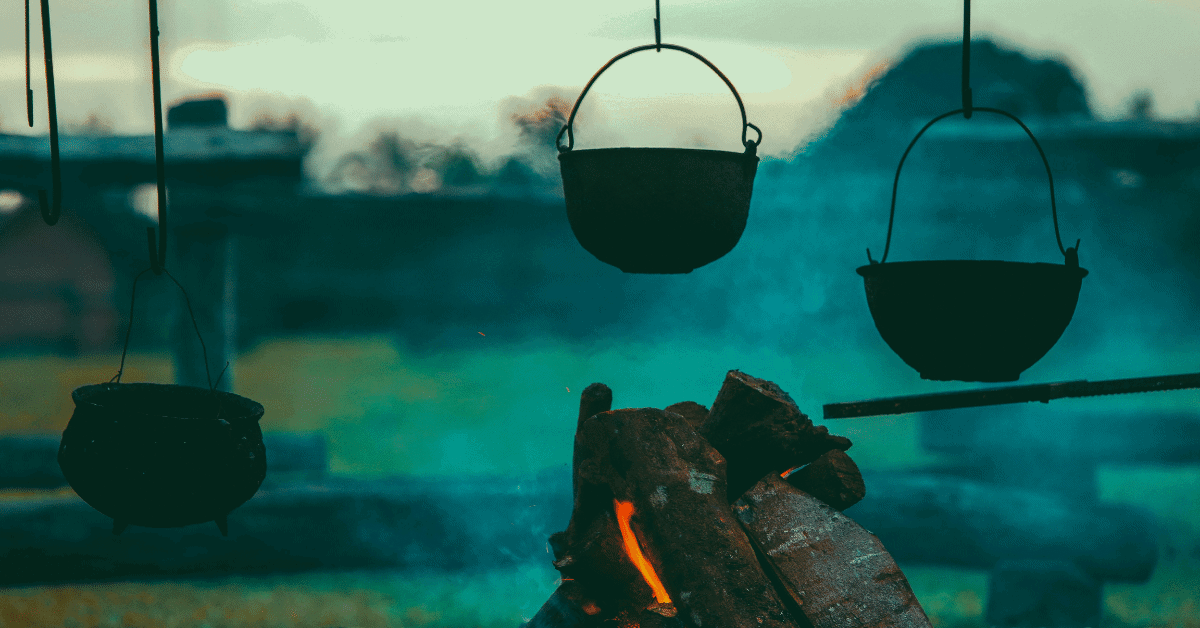 If you want to go all out, you can get a cowboy camping cooking stand.
A cowboy cooking stand is basically a long bar with legs that sits over the campfire. You can hang multiple hooks off of it, where you can attach multiple pots at a time, and even a hanging grate.
This allows you to have a bunch of things cooking at the same time, making it a perfect setup for family camping trips.
This stand by Bruntmor is one of the best you can find on the market nowadays.
Rotisserie
If you're a meat lover, you'll probably love the idea of having a campfire rotisserie.
Whether you want to roast chicken, pork, lamb, or any other kind of meat – just stick it on the spit and let it rotate its way to crispy roasted perfection.
Put a cooking grate underneath with a pan to collect the juices. It probably isn't good for your arteries, but there are few things in life better than a piece of bread dipped in the drippings from roast meat.
Alternatively, you can add a bit of flour and water to them to make a delicious gravy to go with your roast dinner.
Our favorite camping rotisserie is this model by Kanka.
Cooking Utensils
Of course, you're going to need some utensils.
A wooden spoon, a spatula and a sharp knife are the basics.
On top of that, it's a great idea to pack some tongs as well. These will definitely come in handy when you want to flip your food over the hot coals in the fire pit without getting your hands too close.
This multi-utensil set by Full Windsor has everything you need.
Can Opener
Don't forget about bringing a can opener if you are going to be bringing along any canned goods.
Can openers are a staple around your house, but are often forgotten when preparing your camping list.
Forgot your can opener? No problem, you can still open a can EVEN if you don't have one.
Dutch Oven Lid Stand
Now, as you know, when you're outdoor cooking in the wild you haven't got your nice, clean countertops beside you. So, when you need to take your lid off your pot to give it a stir, you haven't got anywhere to put it except for the dirty ground.
That is, unless you have a lid stand. We love this simple yet effective design by Lodge.
Of course, you can also use it as a utensil holder, so it's a really useful tool that can help you keep your camp kitchen organized while you cook.
Gloves
And finally, whatever you do, don't forget to pack some heat resistant gloves!
It won't come as a shock that everything that you put over the campfire is going to get really, really hot. So you definitely won't be able to take your dutch oven off the fire with your bare hands, unless you want to end up with 3rd degree burns.
So, make sure to equip yourself with some gloves, so you can take things off the fire without injuring yourself in the process.
Our top choice for termal protection gloves is this model by Fireside Outdoor.
How Should Camping Food Be Stored?
In order to enjoy your favorite dishes while camping in the wilderness, you need to prevent the food from going bad by storing it properly.
Obviously, a cooler is the best option for food that spoils quickly, such as meat, eggs and dairy. Make sure meat is stored in double bags, so that it doesn't leak onto other content of the cooler. Fill it with ice packs to keep your food cool for as long as possible.
You can store fruits and veggies in shady areas around the campsite, as long as they're stored in proper canisters.
If you're camping in bear country, a bear-proof container is a must. You don't want to attract unwanted visitors that will eat everything in the cooler, and possibly anything they find around your campsite.
What's Next?
Campfire cooking goes so much further than just s'mores and hot dogs.
If you've got the right campfire cooking tools, you can cook up a serious feast.
So, pick up a few of these awesome pieces of outdoor cooking equipment to build your ultimate campfire cooking kit and unleash your inner chef. Your camping buddies will love you for it.
For tips on building a great campfire, check out our step by step guide.