I can't tell you how many times I've gone camping in the winter, and end up bringing a whole suitcase of layers just so I won't freeze my butt off. All of that extra weight makes the hike to the campsite a lot more exhausting (as my knees can attest to).
But, is there a better option?
Lately, I just bring a portable heater with me. Simple! It's so much easier than bringing all those clothes.
Now, as to which heater you should bring? I highly recommend the Mr. Heater Buddy!
But all of the Mr. Heater Buddy heaters are great for different things:
Mr. Heater Buddy (In A Nutshell)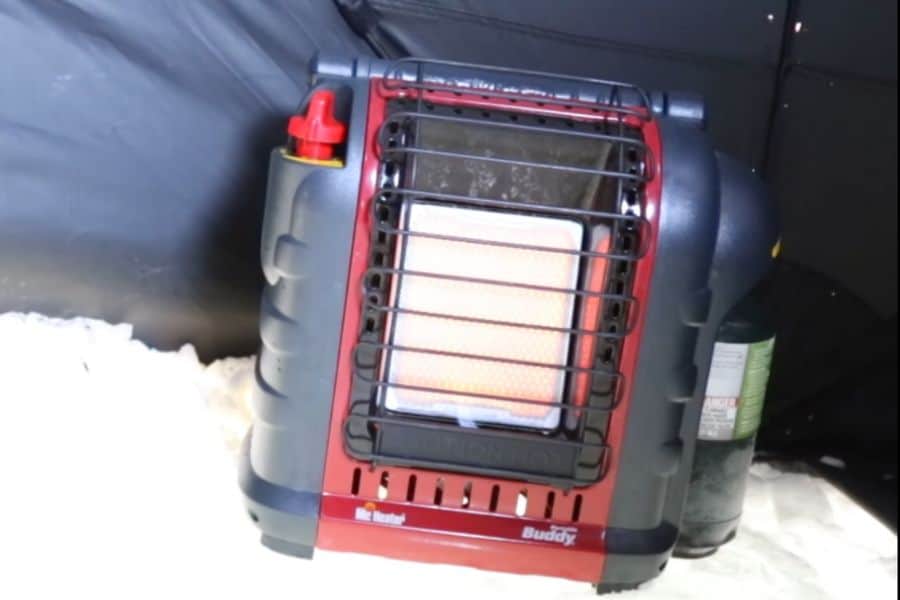 Type: Propane | BTUs: 9000 | Weight: 9 lbs | Heats Up To (Sq Ft): 225 | Indoor Safe: Yes | Safety Features: Low Oxygen Shutdown, Overheat Safety Shutdown, Wind Guard
Mr. Heater Buddy is one of the highest-rated portable heaters currently on the market and a model that I've personally used on countless trips. It can pack a punch with as much heat as 9,000 BTU and manages to bring that much power while being almost 100% efficient.
The manufacturers say that it can handle warming an area of up to 225 square feet. However, I haven't run into any problems even when trying to warm up a 300 square-foot room. I'm also a big fan of its safety features — they really give dads like me precious peace of mind.
Pros:
9,000 BTU
Near 100% efficiency
Comprehensive coverage (225+ square feet)
Safety features
Foldable handle
Cons:
Lower thermal output compared to Mr. Heater Hunting Buddy and Big Buddy
Less portable than Mr. Heater Little Buddy
Size, price, and power may be excessive for lighter applications
Key Features and Benefits
Safety Features
One of the reasons that Mr. Heater is such a famous brand for beginner and veteran campers is that their products always put safety first. There are multiple scenarios in which these heaters will automatically shut off.
For instance, all Mr. Heater products turn themselves off if they're tipped over. This may not seem like crucial technology, but it could literally save your butt. Heaters can get knocked over and catch your tent on fire, so keep this feature in mind to avoid possibly fatal situations.
As an additional safety measure, the heater will also turn off if it detects low oxygen levels. Anyone who's not a fan of suffocating in their sleep will agree that this feature dramatically benefits consumers.
The final safety point is that the heater can recognize when the pilot light goes out and cease operating. Without this, the propane would continue to build up inside your tent until you next try and light the heater—one word: boom.
Portability
When you buy a portable heater, it's essential to make sure it's, you know, portable! You'll be glad to know that this particular model comes in at an easily manageable nine pounds. That's lighter than many Coleman tents.
Weight isn't the only factor in play, though. Other things should be considered when gauging the portability of an item — such as handle quality. The handle on this heater is foldable. This is great for a couple of reasons.
First of all, it'll make the unit a whole lot easier to carry. Secondly, storage will be completely stress-free. Once you get back from your trip and wanna store the heater at home, then all you have to do is fold the handle down to minimize the amount of space it takes up.
Essentially, it's always there when you need it but easy to tuck away when you don't. Sure, one could argue that there are lighter models out there — and that IS true — but the weight isn't unwieldy, and the ergonomics make carrying it a breeze.
Efficiency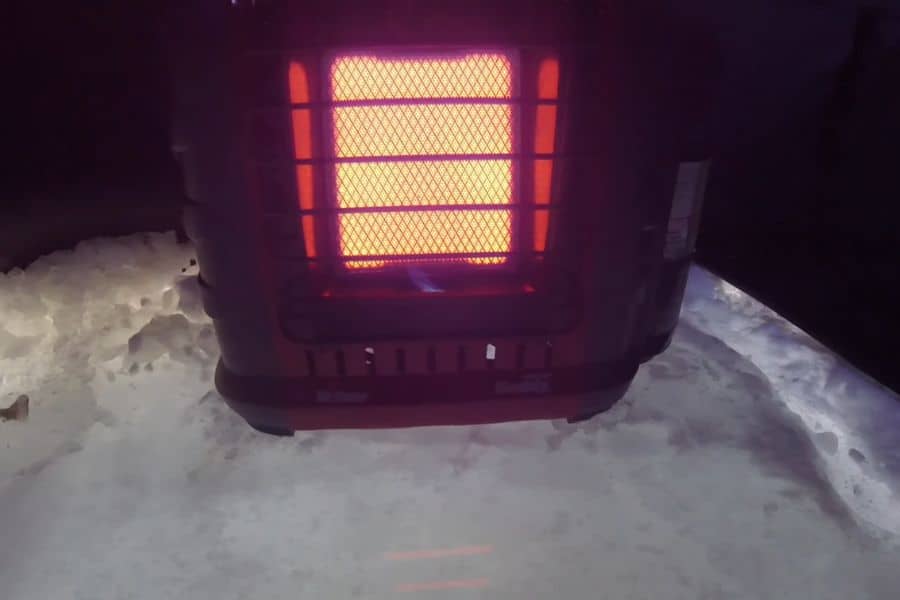 While heaters are often touted for their raw thermal power, efficiency is arguably just as crucial in the grand scheme of things.
This specific product from Mr. Heater is just short of being 100% efficient. If you're sick of propane-chugging units, then this could be a good alternative for you.
Even at the maximum 9,000 BTU setting, the heater will only consume less than 0.1 gallons of propane per hour. This drops by more than half if you use the low setting of 4,000 BTU. The efficiency ensures that you get a lengthy runtime even at high heat levels.
You'll also save some money on fuel since each tank will last you longer. Over time, the propane savings can offset the upfront cost of the heater.
Finance aside, efficient heaters can lighten your loadout as well. Since an efficient unit won't use up fuel as fast as some thirstier alternatives, you won't have to bring as many propane tanks. This leaves more room in your pack for other gear pieces that you may want to include in your wilderness loadout.
User Experience
The user experience of this heater is well thought out. It's ready to go right out of the box and generally easy to operate. There's no painful setup process to go through, unlike with some other models that are less intuitive.
All you have to do is screw a propane tank in, push the pilot down, and watch in awe as Jack Frost flees. Thanks to the 9,000 BTU capability, you should be able to remove your coat within five minutes — or quicker if you use the highest setting — of turning it on.
The safety sensor that triggers when the unit tips over can often activate even with slight movements. You shouldn't run into any issues if you leave the heater be after turning it on, though.
In contrast to some smaller models, this portable heater lets you adjust its output. This makes it possible to conserve fuel when the natural temperature rises. Hence, you have enough propane in stock for sudden dips.
Additional Buddy Heaters From Mr. Heater
Little Buddy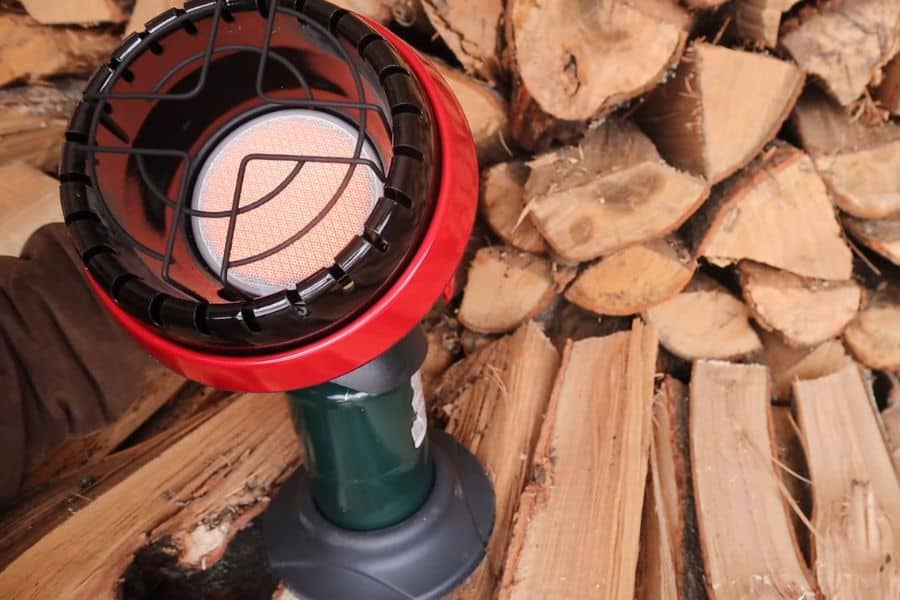 Type: Propane | BTUs: 3800 | Weight: 5 lbs | Heats Up To (Sq Ft): 95 | Indoor Safe: Yes | Safety Features: Low Oxygen Shutdown, Overheat Safety Shutdown, Wind Guard
The Little Buddy is both cheaper and more portable than its big brother. But, the tradeoff is that it provides lower thermal output. Its max sits at only 3,800 BTU, which is weaker than the minimum 4,000 BTU setting of most Mr. Heater products.
Due to the lower output, it also has a smaller coverage area. 95 square-foot range is what the manufacturer specifies, which is decent. But you could probably go a bit bigger if temperatures aren't too close to sub-zero.
Mr. Heater Little Buddy:
3,800 BTU (single setting)
95 square-foot range
5 lbs
Mr. Heater Buddy:
4,000-9,000 BTU (adjustable)
225 square-foot range
9 lbs
Best for: Campers in warmer areas or those with smaller tents.
Mr. Heater Hunting Buddy

Type: Propane | BTUs: 12000 | Weight: 14 lbs | Heats Up To (Sq Ft): 300 | Indoor Safe: Yes | Safety Features: Low Oxygen Shutdown, Overheat Safety Shutdown, Wind Guard
The Mr. Heater Buddy unit isn't enough for you? Take the next model on the manufacturer's product ladder with the Hunting Buddy. It has a 30% higher heating capacity with a maximum output of 12,000 BTU. It also has a broader coverage area with a manufacturer-specified 300 square feet.
Despite providing more performance, the Hunting Buddy weighs in at an equal nine pounds. The main drawback is that the price is over 50% higher for a 30% power increase. That smells like diminishing returns but with the punch this product packs, who cares?
Mr. Heater Hunting Buddy:
12,000 BTU (adjustable)
300 square-foot range
14 lbs
Mr. Heater Buddy:
4,000-9,000 BTU (adjustable)
225 square-foot range
9 lbs
Best for: Campers who need output one level above the regular Mr. Heater Buddy. Or hunters who want their heater to match their stand (camo).
Check Price on Sportsman's Warehouse
BigBuddy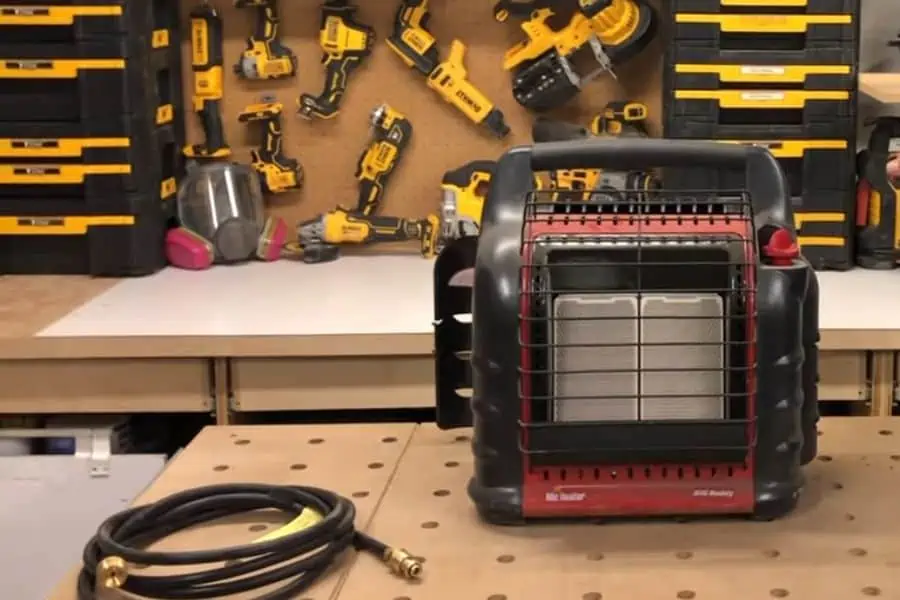 Type: Propane | BTUs: 18000 | Weight: 14.4 lbs | Heats Up To (Sq Ft): 450 | Indoor Safe: Yes | Safety Features: Low Oxygen Shutdown, Overheat Safety Shutdown, Wind Guard
For performance junkies (such as myself) who want an absolute beast of a portable heater, there's no question that the Big Buddy is at the top of the food chain. A maximum thermal output of 18,000 BTU with a coverage area of up to 450 square feet is nothing to scoff at.
Of course, all this peak performance comes with a tradeoff in the portability department. This behemoth weighs almost 17 pounds, which is close to double of the Mr. Heater Buddy model. When camping in the chilliest glacial locales, the Big Buddy will keep you nice and toasty.
Mr. Heater Big Buddy:
18,000 BTU (adjustable)
450 square-foot range
14.4 pounds
Mr. Heater Buddy:
4,000-9,000 BTU (adjustable)
95 square-foot range
9 pounds
Best for: Those traversing the coldest tundras while using the biggest tents.
Check Price on Sportsman's Guide
Mr. Heater Buddy Products – Compared
Things to Consider Before Buying a Heater
Warmth can make your camping trips a lot more enjoyable and help you focus on the memories you're forging with family instead of struggling to survive. Still, bringing a tent heater with you on trips isn't the right approach for everybody.
Suppose you generally camp in the summer or only visit warmer regions. In that case, there's no need to shell out the cash for a portable heater. Some hikers also like to travel light when covering long distances so, if your route isn't too frigid, you may not need one.
Finally, if you regularly camp at high elevation, then you'll want to find an alternative source of warmth. That's because most portable heaters shut off at certain altitudes.
The Heat Buddy, for instance, will power down at around 7,000 ft. above sea level. Here in Colorado, I need to keep an eye on where I'm camping to see if my heater will work.
However, if you love exploring nature in the cold, then getting a portable heater can enhance the adventure experience. This also applies to campers who choose sites close to their car since the added weight won't be too noticeable over short distances.
Be sure to find a heater that's easy to transport (to avoid straining your back) and within your budget, so you don't break the bank. Don't forget to account for the weight of the propane tank you'll need to fuel it. Lastly, make sure it's powerful enough to overcome the icy temperatures of your chosen environment.
Our Verdict
As you can see, there's no reason to bog yourself down with a pile of parkas when industry-leading portable heaters are available from Mr. Heater. It's safe, affordable, mobile, and performs really well for its size.
That said, if Mr. Heater's Buddy model is too strong/weak for you, just buy one of its brothers in a higher or lower weight class. Either way, Mr. Heater will be your friend for life!