If you're a serious hiker, you probably eat your lunch on the trail because you're still on the trail at lunchtime.
And if that's the case, having lunch ideas for hikes is essential; otherwise, you're eating the same old thing, which can get boring.
Packing lunches for hikes is hard because of the elements you might be getting into.
You don't have a refrigerator with you, and taking extra ice packs and insulated containers will only put more weight on your back.
But we've all got to eat. I started coming up with lunch ideas for hikes because I was sick of eating the same pack of beef jerky and trail bar every single time I went for a day hike.
At times, I noticed I would skip eating them because I was sick of them. That can be dangerous because you need food and snacks to fuel yourself up for your hike.
Lucky for you, there are plenty of great ideas out there for taking lunch with you on your day hiking adventure, and today, we will cover 17 of them.
What should I pack for lunch on a hike?
You can't take a refrigerator on your hike. Sure, you could take insulated containers with ice packs or heaters if it's cold, but all that will mean extra weight on your back.
So, it's best to pack the kind of lunch items that will be okay without cold or heat requirements.
Don't pack items that will require refrigeration. This would include frozen foods, potato salad, large amounts of meat, milk, ice cream, and dips.
Try to pack items that don't require refrigeration. For sauces and dips, get the ones in individual packets, such as mayonnaise or ranch packets.
Take dehydrated foods. If you must pack something that needs to be cold, use lightweight ice packs in smaller, airtight containers.
A word of warning about taking food that needs to be cooled. If you take some items and they become uncooled, they can spoil quickly.
Spoiled food can make you sick, which could be hazardous while on the trail, especially if you are farther away from emergency assistance.
If some food warms up, it may also become uneatable or even melt in its container.
You're better off bringing food items that can withstand no required cooling.
17 Hiking Lunch Ideas for Day Hikes
Here are 17 lunch ideas for day hikes.
Note that a few require you to bring an ice pack to keep some ingredients cool.
If you're not a meat eater, you can typically replace the meat items with something else to make it good.
I've tried to include a variety of lunch ideas for hikes to give everywhere an option and an idea.
1 – Ramen Bomb
Ramen Bombs are popular among day hikers and even thru-hikers.
A simple pack of Ramen noodles is delicious but doesn't provide much in terms of the fuel and carbs you need to keep pushing for your hike.
To fix that, you add something to it that adds carbs and fuel.
A Ramen bomb is simple to make – you use a pack of Ramen noodles and instant mashed potatoes.
You'll need to boil water to make this meal, so it's ideal for carrying a pocket rocket stove or something similar.
Some hikers even suggest eating the Ramen bomb cold, although it typically takes a few hours to prepare.
You can add something to it to give more carbs and taste. I like to add beef jerky to mine.
Some people add spam and other snacks.
2 – Nutella and PB Wrap
Nutella and peanut butter wraps make for a perfect day hiking lunch.
They're simple to make and easy to store without being cooled.
They taste good, and they're packed with carbs and fuel to help keep you going on your hike.
You can bring a banana to add to the wrap to make it even better.
The banana will help with cramping issues you might be experiencing, too.
3 – Tuna or Chicken Ranch Wraps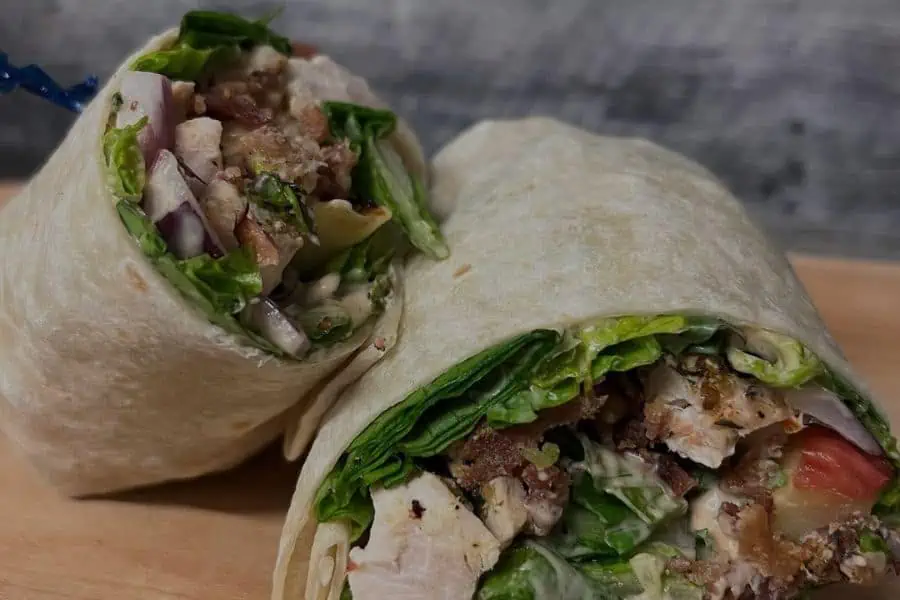 These wraps consist of three ingredients. A tuna or chicken pouch (no refrigeration required), ranch seasoning, and tortilla wraps.
You spread the tuna or chicken onto the wrap and add the ranch seasoning.
It's quick to make, easy, and delicious, and contains plenty of carbs to help fuel your hike.
You can even make these before your hike, but you're better off making them during the hike so the wraps don't get soggy.
4 – PB & J
The classic peanut butter and jelly sandwich or wrap makes for a wonderful and quick lunch while on the trail.
A tortilla shell is best for this kind of lunch since bread is harder to carry without getting smashed or soggy.
Add honey or syrup to the wrap to enhance the flavor and make eating much easier.
You can also add extra nuts to add more carbs to the snack.
5 – Dehydrated Meals
Many different companies create dehydrated meals made for hiking.
You typically add boiling water to the meal pouch, seal it, and it will be ready to eat in a few minutes.
Most of these meals are packed with carbs and the fuel you need to keep hiking.
There are many different options for vegans and others.
My favorite brands include Mountain House, RightOnTrek, and Outdoor Pantry.
6 – DIY Dehydrated Meals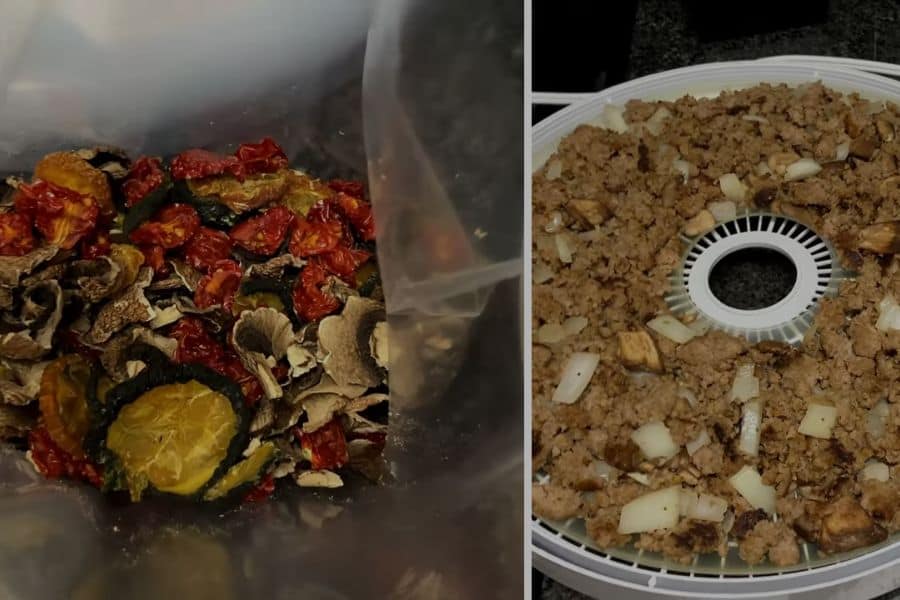 Buy a dehydrator and make your own dehydrated hiking meals.
I recently bought one myself, and I can add fruits and veggies to every hiking meal because of it.
Getting already-made dehydrated meals from companies like Mountain House is convenient, but making it yourself means you can eat the ingredients you want.
You can have a lot of fun dehydrating your own hiking meals.
7 – Homemade Trail Mix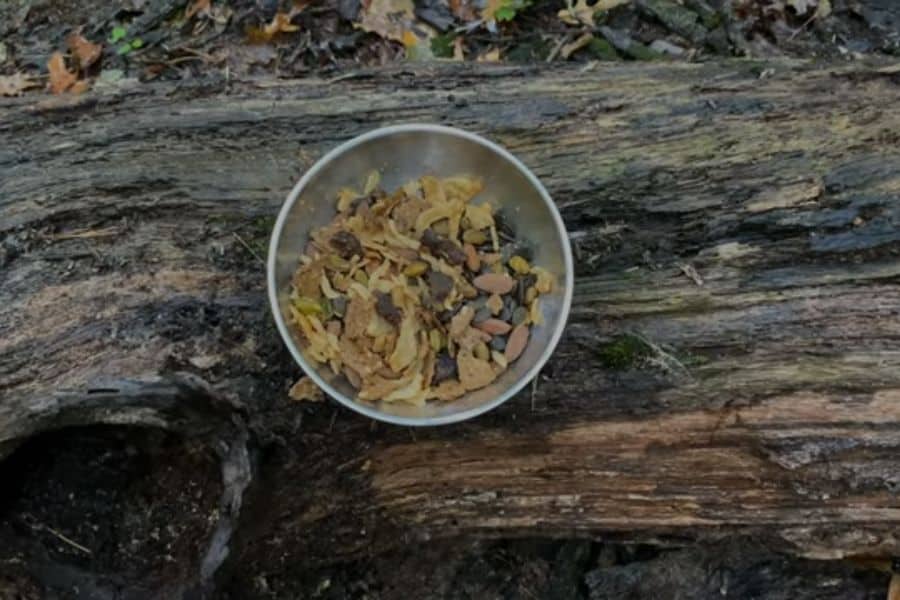 Trail mix makes for a wonderful snack item to take hiking with you.
Sometimes you don't want a full lunch; a snack is all you need.
You can use your imagination to create the trail mix of your dreams.
I would use salt and sugar in mine as a seasoning, along with some roasted almonds, pecans, M&Ms, peanuts, potato chips, chocolate chips, and pretzels.
What sort of things would you mix into your trail mix?
8 – Pasta Salad
This requires an ice pack. Make pasta salad the night before your hike and stick it in the refrigerator.
Pack it with an ice pack, making it a great lunch option on your day hike.
Pasta is loaded with carbs which equals fuel for your hike.
I'm a cyclist, and I use pasta to fuel myself before I go on big rides. It works great with hiking, too.
9 – Italian Bread Sandwich
This requires an ice pack.
Bring Italian bread (12 inches or 6 inches, depending on how much you want to eat), lunch meat and cheese in a container with the ice pack, and any sauce or seasoning packets you want to add.
I like adding mustard to mine.
The larger Italian bread adds carbs to help fuel your hike more, and the meat and cheese also help.
If you bring a 12', cut it in half to make it pack easier.
10 – Hummus and Cucumber Wrap
You'll need an ice pack to keep the hummus cool while carrying it in your hiking pack.
You can buy hummus in individual packets or personal containers.
You can bring a whole or half of a cucumber with you and some tortilla shells.
When you add all of this together into a wrap, you have a delicious meal ready to help fuel the rest of your day's hike.
11 – Pinwheels
Pinwheels are an amazing little snack option.
You'll want to make them at home before your hike and pack them with an ice pack in an airtight container for the best results.
Making these are simple. Put your meat or alternative on top of a sauce or seasoning.
You can add cheese. You can add veggies or some dehydrated veggies.
Then you wrap them up and cut them into pinwheels.
They're delicious, easy to eat on the trail, and will help fuel your hike.
12 – Egg and Vegetable Salad
The ingredients for this hiking lunch include hard-boiled eggs, veggies of your choice, and a salad dressing.
Finding a dressing in the individual packets you can use once is best.
When eating, add your egg to a container with your veggies, and then add your dressing.
You have a nice salad meal to help refresh your energy to keep going on with your hike.
13 – Trail Bars and Beef Jerky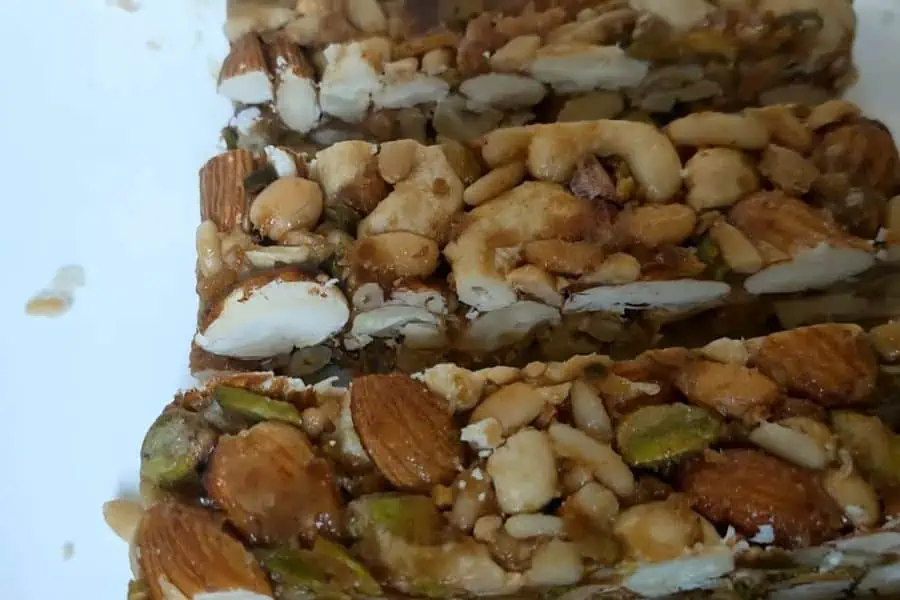 Most days, I rely on trail bars and beef jerky as my meal option, especially when the hikes are not too long.
They make a wide range of trail bars, from simple snacks to full meal replacements.
Many of them are made with dates that will help give you a lot of fuel to help you with your hike.
There are also many options for jerky and even vegan jerky.
You can usually eat this stuff while you hike rather than have to stop and prepare a meal.
14 – Mixed Veggies
Sometimes a container of mixed vegetables or fruits makes for a great hiking lunch option.
You can also bring a pack, seasoning, or sauce packet to add to the flavor.
You can typically eat this while you hike as it normally doesn't need to be prepared.
I like to bring cherry tomatoes, broccoli, celery, and blueberries when I'm in the mood for fresh fruit and veggies.
15 – Overnight Oats
Overnight oats are a no-cooking required option for oatmeal.
You let your oats soak overnight at home in milk or another alternative to milk.
Overnight the oats and milk will infuse with one another and create something similar to the oatmeal you're used to eating from the stovetop; only these oats are often served cold.
To be safe, if using milk, you might consider cooling with an ice pack as you hike to your eating destination.
16 – Wilderness Charcuterie
This is a fun meal but also a delicious one. Bring jerky or summer sausage-type meat that doesn't need to be cooled.
Add cheese, olives, grapes, nuts, and other finger foods.
Top it off with some of your favorite seasonings to add extra flavor.
Bring crackers to eat it with. It's like a fancy meal to eat while you're hiking.
17 – Soup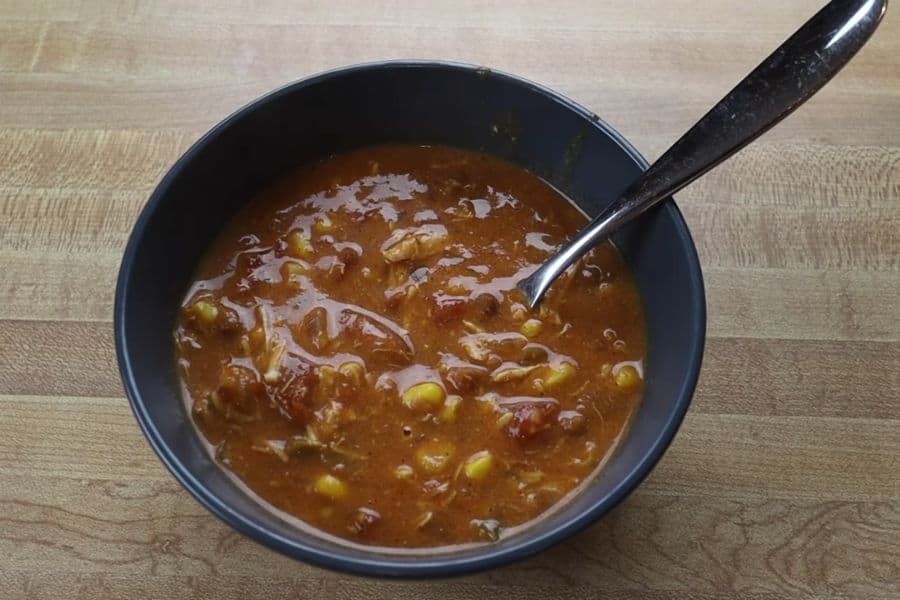 There are multiple options to bring soup with you on your hike.
You can bring a small thermos to have hot soup ready when you decide it is time to eat.
You can also bring soup packets that require boiling water to make.
There are many different soup options and flavors available, too.
Soup is a great type of lunch for the trail.
Bring some bread or crackers to add more carbs to your meal to help fuel you for your hike.
How Do You Pack a Lunch for Hiking?
It's important to pack your hiking lunch the right way.
Packing incorrectly can ruin food, which might be dangerous on longer hikes.
Eating is important to help give you fuel for your return trip.
Let's review some of the best ways to pack a lunch for hiking:
Choose the Right Container
When choosing a container for hiking meals, look at functionality before considering the product's looks.
The best container for carrying food will be lightweight and have an airtight enclosure.
You might need to consider the container size to add an ice pack.
There are many great options for food containers to take while hiking, and they're relatively affordable, too.
Pack with a Purpose: Minimize Waste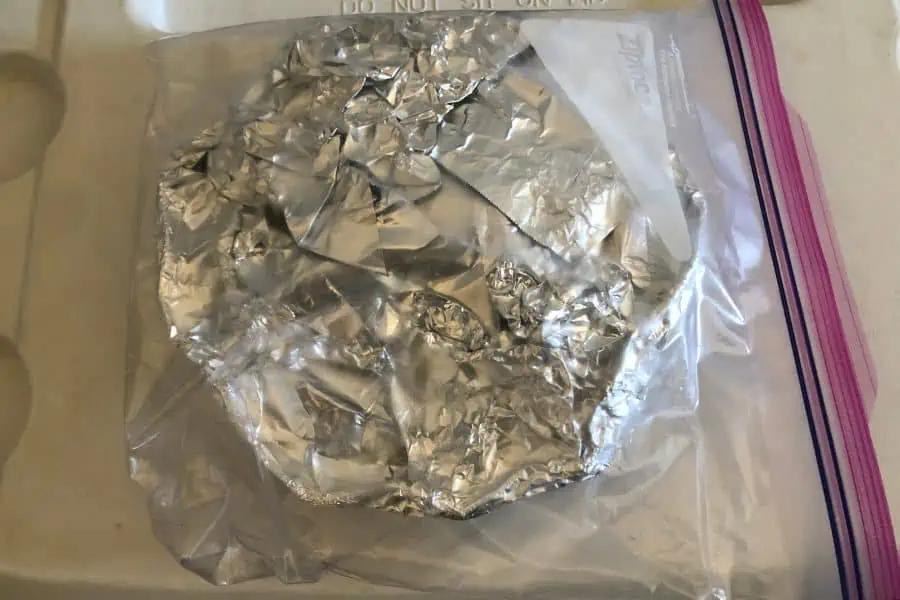 When packing your food items, reduce waste before going onto the trail.
Don't take packaging materials that might get left behind.
Don't take more food than you'll need for your day hiking lunch.
The idea is to minimize waste or items that could harm the ecosystem if left behind, even by accident.
You can always get a container that separates ingredients. That way, you can remove the packaging before your hike.
Keep Foods at Safe Temperatures
It's important to consider the temperature requirements of food items you take on the hiking trail.
Some items must be cooled to be safe to eat.
If you can find an alternative that doesn't require cooling, I recommend you do it that way.
But if you must take it, consider adding an ice pack with an insulated container to keep it at the right temperature.
Consider Portion Control and Appetite
Only bring the amount you plan to eat in a single setting on your day hike.
Only bringing the amount you plan to eat allows you to use a smaller container since you only need so much food.
It is recommended to bring extra food with you in case you have to stay overnight in the woods, but in that case, I typically rely on trail bars and beef jerky for emergency food.
Organize Your Backpack for Easy Access
Make sure you organize your backpack for easy access to your food items.
Depending on where you are, you may need to store your food in a bear-proof container.
These containers are often large and awkwardly shaped, making them difficult for a bear to take off with.
Pack your bear container or food container at the top of your back, along with any required outdoor kitchen items you'll need.
Use Reusable Containers and Utensils
Try to use containers and utensils that can be reused again and again.
One-time containers can create waste that might be left behind.
It's also better for the environment to use containers and utensils that can be used repeatedly.
You should also try to use fewer containers on your hike.
If you want to drink coffee before eating, drink it from the container you plan to eat with. This will help reduce waste and weight.
Pack Snacks and Hydration Alongside Your Lunch
One way to help control the amount of lunch you take or to portion it better is to snack and hydrate along the way.
Take snacks such as trail bars, trail mix, nuts, and jerky. Eat the snacks along the way.
Make sure you continue to hydrate, too.
This will help keep you fuller and fueled while you hike and not require a big lunch.
Label Your Containers and Foods
Keep your food items organized for quick reference by labeling the containers used to store them.
This will also help you save containers for food items for future trips.
One thing I like to do is use empty and cleaned-out smaller pill bottles for spices, salt, and pepper.
Most of the time, I mix it all together to create one seasoning.
Consider the Weather and Trail Conditions
Before packing your hiking lunch, contemplate what the weather will be like and the conditions of the trail.
I wouldn't want to try eating a sandwich using big Italian bread while heavy rain falls on me.
The bread would get soaked, and my meal would be ruined.
I'd rather eat some fruits and veggies that I didn't mind getting wet as I ate.
Know what the conditions are so you can pack the appropriate food items for the conditions.
Keep it Simple and Enjoyable.
Bring something that you'll enjoy eating while hiking. But try to bring items that won't take a long time to prepare.
Keep your lunch simple to make, prepare, and simple to eat while on the trail.
Sometimes bringing extra seasoning or sauce packets is all you need to make the meal even more delicious versus bringing so many ingredients to make it the way you want.
Trail Etiquette: How to Leave No Trace With Your Lunch Waste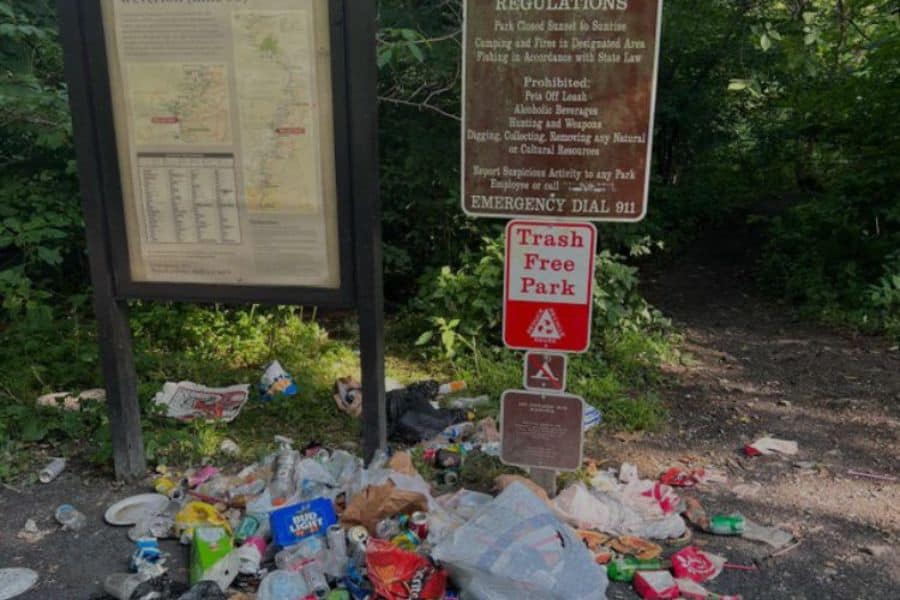 Leave No Trace doesn't just apply to litter. It applies to discarded food items, too.
Have you ever seen something leave an apple core or orange peelings behind on the trail? It violates Leave No Trace, and it's not good to do.
Leaving discarded food behind can damage an ecosystem of certain wildlife. Animals are not used to eating foods that we humans prepare and eat.
You should always take your leftover food items and discard them outside the natural area you'll be hiking in.
Never throw it on the ground, assuming it will degrade quickly.
It violates Leave No Trace and its improper trail etiquette.
FAQs
How can I incorporate fruits and vegetables into my hiking lunch?
Dehydrating fruits and vegetables is the best way to incorporate them into your hiking meal. They will not spoil easily when carrying them on hikes.
How can I keep my lunch cool on a hot day hike?
You can freeze your lunch overnight to help keep it cool while you hike.
You can also pack an ice pack in an airtight container with your lunch.
An insulated container also helps, but it will be heavier to carry.
How can I pack a lightweight lunch that is easy to carry on a hike?
Only take the amount that you will need to eat for yourself.
Focus on food that doesn't require temperature control, and use a small, lightweight container.
Are there any foods I should avoid packing for a hike, such as those that spoil easily or are too heavy?
Don't bring food that requires refrigeration or that can spoil quickly.
These foods require thicker containers and ice packs, which can weigh you down.
Stay away from junk food that is nothing but sugar. You need to bring food packed with carbs to help fuel your hike.
Are there any dietary considerations I should consider when planning a hiking lunch, such as gluten-free or low-sugar options?
You should customize your food options to reflect your dietary needs.
Sometimes it might be best to consult your dietician or doctor before choosing what food items to take on your hike.
If you're vegan, there are also many great alternatives and vegan foods to bring while hiking.
What are some important safety tips to follow when handling and preparing food for a hike?
Research where you will be hiking. Bring a bear-proof container to store your food in if wild animals like bears and mountain lions exist.
If you must cook your food, consider a fuel that can source fire versus a fire ring.
Making a fire can be dangerous and needs to be cold to touch before you abandon it.
It will require you to stay longer versus using a fuel-can cooking system.
How can I balance my need for energy and hydration with my desire for a satisfying lunch on a hike?
My strategy is this: I open a trail bar and eat a quarter of it every thirty minutes to an hour.
I then take three big swigs of my hydration, typically water with electrolyte powder.
This keeps me fueled and hydrated throughout my hike.
It also allows me to pack a smaller lunch since I won't be as hungry because I snack along the way.
Conclusion
In conclusion, taking lunch with you on your day hike is a great idea.
It will help you stay fueled to hike without getting tired or suffering.
But it's important to consider the conditions and types of food you want to take before your hike.
You may need to prepare everything beforehand to keep it simple on the trail.
There are a lot of great options for hiking food.
What are your favorite foods to take with you from the 17 meals listed above?
More From Shawn: