Think a vegan diet limits you to eating boring food while you're backpacking?
Think again!
There are loads of delicious and healthy vegan snacks and meals you can make out on the trail. All you need is a little bit of preparation and imagination.
If you're stuck for exciting vegan food ideas, don't worry. From ingredients to recipes, this article covers everything you need to know about vegan backpacking food.
Ready to get inspired?
Let's dive straight in!
Choosing The Best Foods For Backpacking
Ideally, the foods you choose should be lightweight, calorie-dense, and easy to prepare.
When backpacking, you are carrying all your stuff on your back, so you don't want to load yourself up like a mule.
Cans are a definite no-no trail food.
Why?
Well, they are heavy and after using them you'll have to carry the empty cans with you. So, I suggest not relying too much on canned foods.
Instead, here is a list of foods that have all the properties I mentioned above:
Nuts (almonds, walnuts, hazelnuts…)
Seeds (chia seeds, sunflower, watermelon…)
Avocados
Oils (coconut, olive…)
Dark chocolate
Dates
Nut butter (peanut, sesame, almond…)
Dried fruit (banana, strawberries, cranberries…)
Vegan jerky
Oats
Protein bars
Grains (rice, quinoa, pasta, couscous, lentils…)
Noodles/ramen
I'll go over vegan meal ideas and recipes for each part of the day in greater detail below.
Yes, you can prepare them while on your trip; however, some things you can prepare ahead in the comfort of your home.
This way, if you get hungry while backpacking, you'll have snacks on hand for a quick energy boost.
Another factor to consider is the location of your trip. You can sometimes find fresh fruit and vegetables in nature, so you don't have to bring them with you.
So, make sure to research the area you're heading to, because it may be able to feed you on its own.
Breakfast Time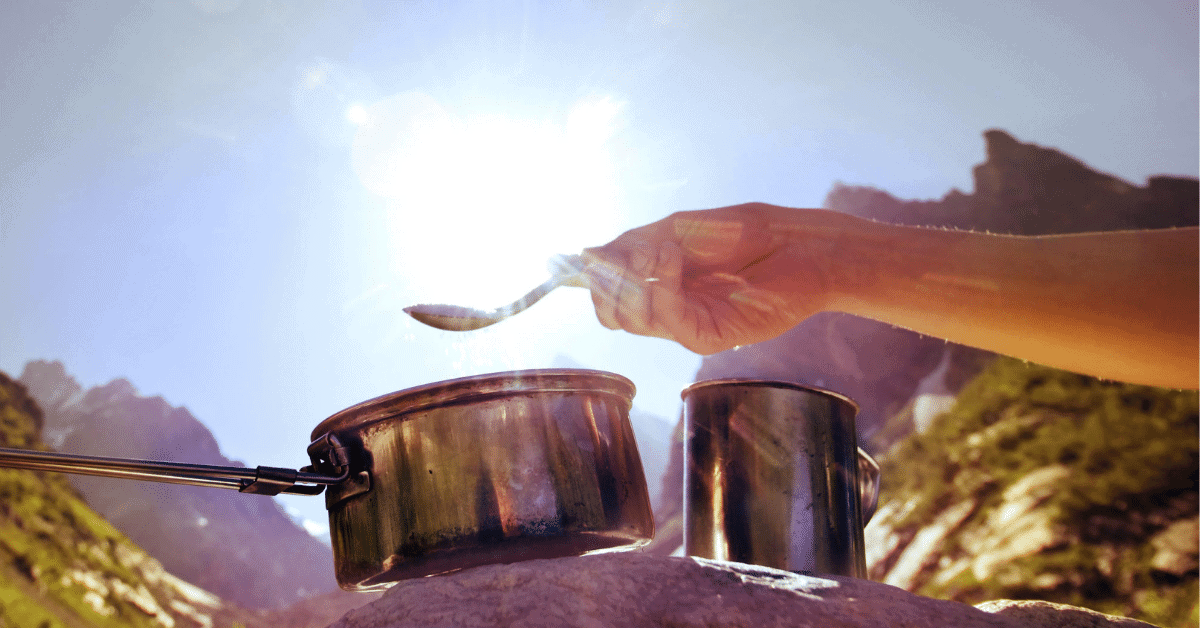 We've all heard that breakfast is the most important meal of the day.
But have you ever stopped to wonder why?
Well, what we eat first thing in the morning kickstarts our organ systems and generates energy in our bodies that we will need throughout the day.
When backpacking, we require more calories – roughly 3000-4000 a day. So, to fuel your body with energy, prepare a tasty and hearty breakfast in the morning.
Porridge
Porridge (oatmeal) is always a good idea for breakfast.
My favorite part about it is that you can get creative and mix it up with different ingredients each time.
To make porridge you'll need oats and plant based milk (since you are camping, you can go for powdered milk).
These are the basic ingredients.
Then, to your liking, you can add extras like fresh or dried fruit, nuts, seeds, condiments, maybe even vegan cheese…
My personal favorite recipe is:
1 cup of oatmeal
1 1/2 cups of almond milk
1/2 a cup of water
1 Teaspoon of cinnamon
1 Teaspoon of chia seeds
3 strawberries
1 kiwi
5 pieces of dried banana
3-5 hazelnuts
1 tablespoon of walnut butter
Cook the oatmeal with water and almond milk, then add 1 teaspoon of cinnamon and chia seeds. Stir it all together on low heat until it boils.
Then leave it to cool off a bit, while you chop the strawberries and kiwi.
When you are done, add the fruits into your bowl, then add the dried banana and hazelnuts, and put a tablespoon of walnut butter (or other nut butter) on top.
Yummy!
Breakfast Sandwiches
Another great idea to start your morning with are sandwiches.
It's up to you whether you'll bring bread, or crackers that will serve as a substitute for it.
What's great about sandwiches is that there are numerous versions you can make.
The basic ingredient is obviously bread or crackers.
Now:
You can go for a peanut butter sandwich with dried fruits and nuts on top.
Or spread some home-made hummus and put slices of avocado on top. Again, you can add dried fruits and nuts to your liking.
To make it even more rich in fat, you can always add a splash of olive oil to your sandwiches.
Use your imagination when making your sandwiches. This way you can discover a nutritional, original sandwich that you can later treat your friends and family with.
If you're not feeling creative, don't worry.
In the lunch section you'll find a link with awesome recipes for sandwiches.
Lunch On The Trail
Your backpacking lunch meals depend on whether you're hiking at that moment of the day or you're cozy at your campsite.
If you are on the go, then easy and quickly prepared or pre-prepared baguettes, wraps and sandwiches are a great way to boost yourself quickly.
Here are a few ideas for some quick and juicy sandwich fillings:
Hummus, veggies, smoked tofu, avocado, nuts, dried cranberries
Tahini, pepper, walnuts, smoked tofu, kiwi
Peanut butter, nuts, banana
Basically, what's beautiful about this vegan backpacking meal is that there are various ways in which you can combine your preferences. So, let your imagination loose and try out different combos.
Or check out some of these options for inspiration.
On the other hand, if you're chilling at your campsite, you have the time and space to cook a meal.
Any of these ingredients can be a great basis for lunch:
Rice
Pasta
Quinoa
Bulgur
Couscous
Next, it's up to you what you'll add for a more fulfilling taste.
Roasted or fresh veggies, mushrooms, avocado, nuts
Chili sauce, olive oil, mustard, maple syrup
Salt, pepper, curry, turmeric
The options are endless.
However, if you're too tired to come up with your own combinations, you'll find a few recipes below to get you going:
Quinoa, Lentil & Kale Stew from Trail Recipes
Crunchy Bulgur Salad from BBC Good Food
Vegan Backpacking Curry Rice from Bear Plate
Dinner – Think Outside The Bun
Having dinner in the wild usually revolves around a campfire. Which means you can relax and take your time to prepare a warm and delicious meal.
The basic ingredients that I mentioned in the lunch section can be served for dinner as well.
For me, when it comes to an evening in the wild, vegetable soup as a starter is an excellent option. It hydrates and warms you up just enough.
Ramen noodles are another great idea for dinner. OK, so they might not be very exciting on their own. But, they serve as a great base, and you can easily jazz them up by adding a few extra ingredients, like in this curried ramen noodle bowl from Trail Recipes.
You can throw in any kind of fresh or dehydrated veggies, herbs and condiments you like, to get a delicious meal that comes together in a snap.
Depending on how hungry you are, you can combine your supper meal.
Vegetable soup or jazzed up ramen noodles with a small sandwich or salad on the side sounds delicious. Throw in a dessert and it's starting to sound like eating in a 5-star restaurant.
Or, if you're hungry and you want something more filling, how about this irresistible vegan lemon pasta dish from Veggie Vagbonds?
We'll get to the desserts a little bit further down.
Snack Ideas
While hiking, snacks are a great way to boost your energy between meals.
Whenever I'm going hiking I always prepare a trail mix of nuts, seeds, and dried fruit. These ingredients are nutritious, easy to eat on the go and even easier to prepare.
My favorite combo is walnuts, almonds, a few cashew nuts, sunflower and pumpkin seeds, dried strawberries, bananas, and cranberries. I just put them in a small zip bag and the snack is ready!
Again, you can adjust the combinations of your trail mixes to your liking.
Guess what another great, delicious snack is?
Dark chocolate.
It's highly nutritious and a powerful source of antioxidants. Science says it's great for the brain and can even protect your skin from the sun.
Want to know the best part?
There is nothing you need to prepare, you can just grab a row and eat it while walking. Also, needless to say, we all know how delicious dark chocolate is.
Another champ snack are protein bars.
You can prepare them at home ahead of your trip with these recipes:
Vegan Protein Bars from Feel Good Foodie
No Bake Protein Balls from The Conscious Plant Kitchen
Vegan Protein Bars from Rhian's Recipes
If you don't feel like making them or don't have the time, you can order them from Larabar.
Sometimes you'll be up for something more salty.
In that case, you can go for vegan jerky, or you can make this easy and quick prepared snack described below.
You need:
Bread
Olive oil
Salt
Tomato (optional)
On a plate or small bowl, pour a bit of olive oil, add a pinch of salt and dip your bread in.
Sea salt supports your adrenal glands, which will give you a nice little boost in energy as well.
Tomato will definitely enrich this snack, you can chop it and place it in your olive oil bowl or on your bread. Another way is to eat it like an apple.
Easy peasy!
Desserts – Good Mood Food
Unfortunately, a lot of classic camping desserts aren't vegan friendly. But that doesn't mean you can't enjoy a delicious dessert that'll elevate your mood for sure.
Let me share with you my absolute favorite juicy dessert meal that is easy and quick to make.
Ingredients:
Pears or apples
Dark chocolate
Coconut oil
Plant milk or powdered plant milk
Cashews, walnuts or almonds
Chop the pears or apples into slices. Put them on a pan or grill to roast for a few minutes.
Put 1 tbsp of coconut oil, a splash of plant milk and dark chocolate all together on the fire and let the chocolate melt. If you add more milk, it will be thinner. Less milk will make it thicker. I like it somewhere in between.
Place your roasted fruit slices on a plate, add cashews (my favorite), walnuts and almonds are also delicious. Then pour your chocolate topping over them.
Voila!
These delicious vegan energy balls are another great snack to satisfy your sweet tooth. They'll give you a good energy boost for your hike, too.
Condiments & Superfoods
Using the same base ingredients doesn't mean your meals should all taste the same.
The solution to this problem is condiments!
It is entirely up to you which condiments you will use, as everyone's taste preferences differ.
However, here's a list of basic condiments that can spice up your meals and make the same ingredients taste different:
Salt
Pepper
Garlic powder
Curry
Turmeric
Cumin
Oregano
Parsley
Cayenne pepper
Coriander
Cinnamon
Vinegar
Soy sauce
Chili sauce
Mustard
Vegan pesto
Aside from condiments, you should consider carrying superfoods. They can boost your vitamin intake and make your meals more nutritious.
Here is a list of some of my favorites:
Nutritional yeast
Chlorella
Spirulina
Turmeric
Cacao
Moringa
Superfood blends
Protein powder
Nutritional yeast is full of vitamins, fibers and protein and it tastes like parmesan in a way. So adding 1 tablespoon to your meals will definitely make them more nutritious and tasty.
Chlorella on the other hand is a great detoxifying and immune boosting superfood. It also contains many beneficial vitamins, fibers and plenty of protein. You can add it into your meal, or you can drink it in a cup of water just like cacao.
Let me explain:
Superfoods are foods with an extremely high nutritional density. This means that they are high in nutrients while being low in calories.
This is why it is great to add them to a regular meal as they will make it nutritionally richer but not highly caloric.
Yes, I know I said that while backpacking your calorie intake should be higher than usual. And this might now sound a bit confusing.
However, the point is that you don't want to fill yourself up with empty calories. As in just high calorie food that isn't nutritionally rich. Superfoods are a great addition to your meal, but not a replacement.
Backpacking Cooking Equipment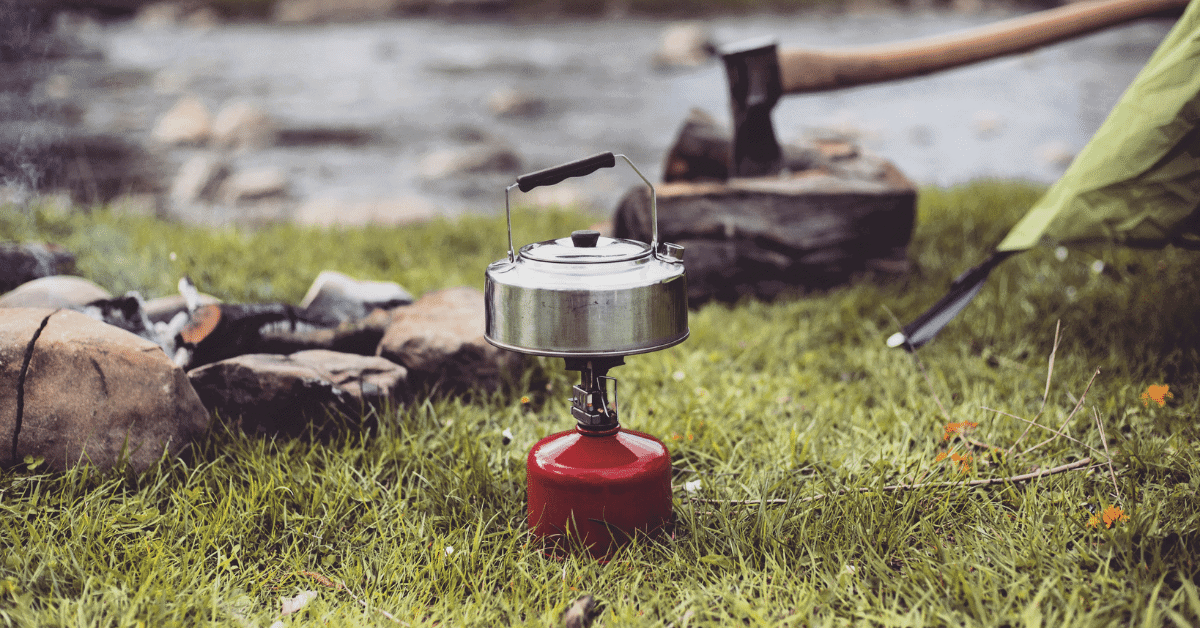 To cook, prepare, and joyfully eat all of the delicious meals I've written about, you'll need the right equipment.
You don't want to find yourself in a situation where you've prepared a delicious meal and don't have the cutlery to eat it with.
Or having leftovers but not having anywhere to store them.
Don't worry.
The solution for that is simple – preparing well ahead of time.
So, I've gathered a list of things to keep in mind when packing for your trip:
A bowl and a plate
Reusable cups
Cutlery, a chopping knife and something to serve/stir food with
Cooking pots and pans
A backpacking stove, gas and a lighter
Lots of Ziploc bags
Tupperware for storing leftover food
Since you want to keep your load as light and compact as possible, a mess kit is a good way to go. They usually include everything you need to make and eat a backpacking meal on the trail.
Another thing you should definitely bring with you – as they'll come in handy in many situations – are baby wipes!
Cooking and eating can be messy, so having baby wipes on hand will make it much easier to stay nice and clean throughout your trip.
Let's Wrap It Up
What's the bottom line?
While hiking and camping your calorie intake should be higher than in your regular everyday life.
However, you don't need to limit yourself.
Lunch ideas can become dinner meals and vice versa.
Snacks can be your lunch.
Desserts can be a part of breakfast.
Get creative and fulfill your day with vegan backpacking food that will give you energy and keep you healthy while tasting delicious.
Eat well – feel well.