A special thanks to Matt at GlamperGear for writing this post for us. GlamperGear covers everything and anything you want to know about glamping to help you to have a memorable and comfortable time glamping – even on a budget!  
Camping is a great way to spend time with loved ones, enjoy the outdoors, and for some people, it's an inexpensive vacation. But what about the glampers? How about those that love some comfort and class with their camping? It doesn't have to be an expensive endeavor for them either!
Here are some tips on how you can glamp on a budget. If you're looking for an easy way to get out into nature without breaking the bank, this is for you.
Skip the resorts, find less expensive alternatives.
Lodging is by far the most considerable expense. You'll spend a small fortune between the traveling and the luxurious accommodations. Sure, you can stay in some of the finest glamping sites, such as the Terramor Outdoor Resort or Under Canvas, but other options are better suited for those on a budget.
You only have to look in your backyard.
Glamping in your backyard.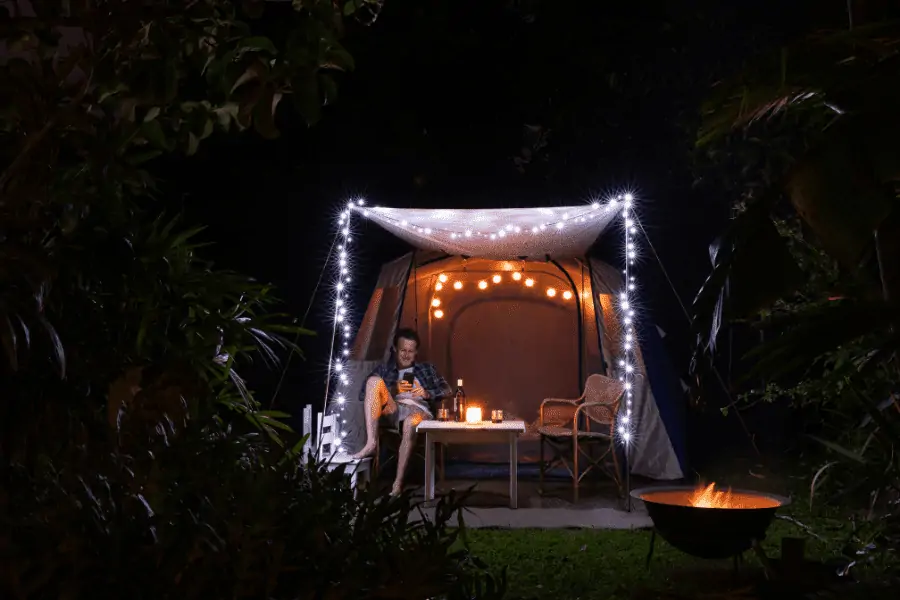 Even if you only have a couple of hundred square feet of lawn, you can glamp in your backyard. Best of all, you can stay as long as you want.
Find a suitable flat spot and pitch a tent. It's essential to set up flat and level somewhere as pitching a tent on uneven ground can be problematic and, worst of all, uncomfortable. You'll need to find a spot where you don't have too much incline.
If you're going glamping in your backyard, you can go all out with setting up camp. Spread out a huge blanket on the ground, build a fire pit, gather some chairs around it for relaxing after a long day, and set up romantic string lighting.
There are inexpensive/free campgrounds.
You may want to get away, and that's completely understandable. There are also places, perhaps near you, that you can glamp on a budget.
Federal land is excellent for those looking to camp without spending anything at all. For example, you can glamp anywhere on BLM land and not spend a penny. National forests, for the most part, are open to glamping.
Just as you would in your backyard, find a spot, set up, and relax. However, when you're done relaxing and enjoying nature, be sure to clean up after yourself.
Purchase your own canvas tent
If you love glamping, but don't want to pay the hefty fees every time, consider investing in a canvas tent.
Sure they are more costly than standard nylon tents, but canvas beats nylon tents in almost every other area – plus they will last you a lifetime.
So while not on the surface, a low budget strategy, investing in a tent that will literally last you a lifetime, starts to make a lot more sense.
Glamp with what you have already.
At this point, you've decided on where you're going to glamp. Whether it is a lush patch of grass on your lawn or a secluded and magical spot in a national forest, it's time to pack up. But what do you bring?
Make a place to stay.
The first thing you'll need is somewhere to lay your head at night. While most have visions of glamorous bell tents, yurts, or treehouses when they think of glamping, those are not necessary. Some bell tents cost thousands of dollars, and if you're trying to glamp on a budget, you can't afford to do that; but other options are even more fun.
Skip the glamping tents and go with a simple tarp or bed sheet, which you can set up to create your makeshift tent. This won't be the most luxurious accommodations, but it'll do the trick. Of course, you'll have to be aware of the weather throughout your trip.
Comfort on a budget.
Comfort is the essence of glamping, and everyone has some comfort items lying around they can bring on the trip.
Grab those old camping chairs from your back porch and place them around the fire pit to create a place to relax and toast some marshmallows.
That comforter you brought to go in your tent is also perfect for snuggling under when you're enjoying a glass of wine next to the fire.
You can easily find things you already have to make your glamping destination as comfortable as possible:
Candles and Lanterns
Battery Operated Fairy and String Lighting
Portable Heaters
Portable Air Conditioners
Pillows and more pillows
Blankets and more blankets
Fresh flowers
Rugs
Wine
Bluetooth Speaker
And more
Simple, inexpensive, fun.
It wouldn't be a glamping trip without something to keep you entertained, and chances are you already have everything you need.
Bring that frisbee from your garage for fun during the day, or get that book you've wanted to dive into. Before your trip, do a quick search and check out the local trails or sights in the area. You'd be amazed at some of the hidden gems in national forests.
When you're hanging out by the campfire, break out a deck of cards or a game like Scattergories (which is fun around a campfire). You probably have a closet full of games that would make for a good time at the glampsite.
Final thoughts.
While glamping may sound like it's an expensive variant of camping, it's not. It's merely camping with the finer and more comfortable things in life, and you don't have to break the bank doing so.
With a bit of planning, looking around the house, and an open mind, you have made a wonderful and memorable glamping experience.
Click here if you are interested in more alternatives to tent camping. When you get creative, there is truly no stopping you.