In a rush? After extensive research, we found that the best heavy-duty chair is ALPS Mountaineering King Kong Chair.
If you're trying to enjoy the wilderness in comfort, a quality chair is probably the most important item to have.
After all, there's nothing like sitting down in a comfortable, sturdy chair, cracking open a can of cold beer, and enjoying everything that nature has to offer.
That is…if you choose the right chair.
If you chose poorly, you'll be "rewarded" with a stiff neck, creaky joints, and aching back pain. On top of that, your chair might even break if you place it on a surface that isn't perfectly even. This goes doubly if you're a big guy or a girl.
Nobody wants that, so let me show you how we chose the best heavy-duty camping chair on the market today. Here are our top picks:
Best Heavy Duty Camping Chair: Our Top Recommendations
ALPS Mountaineering King Kong Chair

Weight Capacity: 800 lbs | Item Weight: 13 lbs | Seat Material(s): 600D polyester | Folded Dimensions: 7 x 41 in
Starting out our list we have an absolute beast of a chair.
With strong polyester fabric, sturdy steel frames, and large dimensions, this chair will satisfy even the most demanding of campers.
I'll immediately warn you: this is not a chair you'll take hiking. Weighing in at 13 pounds, it's hefty. , However, it also provides plenty of space and support which most of us desperately need. For example, its seat is over 24 inches wide and feels more like a lazy boy chair than a camping one.
Tired of the creaking sounds you hear every time you sit in a chair? You can breathe a sigh of relief – the ALPS King Kong chair has a weight capacity of 800 lbs. and certainly lives up to its name. Even a gorilla could sit in this chair and it wouldn't make a squeak.
Now, no product is without flaws. When it comes to this one, several people have complained that the middle of the seat is too low, which can put pressure on the back of your legs. However, this can be easily fixed with several homemade solutions, so don't consider it a deal-breaker.
Pros:
Incredible 800 lbs. carrying capacity
Several pockets & cup holders for easy storage
24.5" seat provides plenty of room to get comfortable
The canvas is high quality and designed for comfort
It comes with its own sturdy carry bag for easier transport
Cons:
Prolonged sitting can put slight pressure on your legs
Best for: people looking for the overall best heavy duty chair on the market today.
Kijaro Dual Lock Portable Camping and Sports Chair

Weight Capacity: 300 lbs | Item Weight: 9.4 lbs | Seat Material(s): Diamond Ripstop Polyester | Folded Dimensions: 6.9 x 4.7 x 45.7 in
Sometimes you don't need a lot of bells and whistles to make a good product. Sometimes you just need to do a few things right. This chair is a testament to that statement.
The first thing you'll notice is the breathable mesh. This is a welcomed addition that will make all the difference during those hot summer days. But the design improvements don't stop there.
The Kijaro chair also sports a dual lock system, which allows you to quickly assemble and disassemble the chair with a simple push of a button. This is perfect if you don't want to mess around and just want to sit down and have a cold drink.
I must mention that at 45.7 inches, this chair is a bit higher than most other chairs. This can be great if you're a taller person, but if you're short it could be slightly uncomfortable.
You can check out our video review here:
Pros:
Breathable mesh is heaven-sent on hot summer days
The dual lock mechanism allows quick setup and fold-up
The seat doesn't sag, which leads to a much more comfortable experience
Shoulder strap makes it easy to move the chair around
They sit higher than most other chairs, which can be great for taller people
Cons:
Not as many accessories as other chairs mentioned here
Best for: people who want an easy-to-assemble camping chair.
GCI Outdoor Freestyle Rocker XL™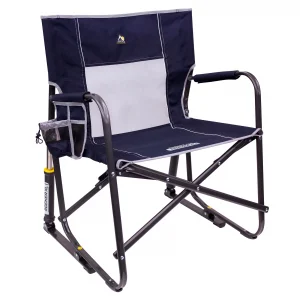 Weight Capacity (lbs): 400 lbs | Item Weight (lbs): 13.4 lbs | Seat Material(s): Nylon | Folded Dimensions: 34.8 x 25 x 4.9 in
When I first saw these camping chairs, I wondered what the additional pieces of metal were for on the back.
Then I saw campers rocking back in forth with them and I had my ah-hah moment. Here is how it works:
The GCI Outdoor Freestyle Rocker XL, not only does this chair hold up to 400 lbs, but it rocks with their Spring-Action Rocking Technology™. Amazing!
The Freestyle Rocker XL also has a smaller counterpart in the Freestyle Rocker that holds up to 250 lbs, plus another version with a side table.
Pros:
Rocks with Spring-Action Rocking Technology™
Holds up 400 lbs – basically as sturdy as you can get
Limited Lifetime Warranty
All the bells and whistles
Cons:
Doesn't fold up as small as some of the other chairs
Best for: Car campers who have extra space to haul a slightly larger foldable chair.
GCI Outdoor Kickback Rocker™
Weight Capacity (lbs): 250 lbs | Item Weight (lbs): 10.6 lbs | Seat Material(s): Ripstop Polyester | Folded Dimensions: 39 x 7.9 x 5.9 in
Another great chair from GCI Outdoor is their Kickback Rocker.
Similar to their Freestyle, this is another great rocking chair that uses their proprietary Spring-Action Rocking Technology™.
But this one is slightly ligher on the budget and features a slightly lower seat at 17.1 inches.
Not only that, but it collapses down smaller than the Freestyle, making this a premium choice for all campers.
Also be sure to check out our review of the GCI Outdoor RoadTrip Rocker.
Pros:
Rocks with Spring-Action Rocking Technology™
Weighs only 10.6 lbs
Supports up to 250 lbs
Collapses down better than the Freestyle
Cons:
Are there any cons? We're not sure.
Best for: Campers who want an affordable outdoor rocker.
Coleman Portable Camping Quad Chair with 4-Can Cooler
Weight Capacity: 325 lbs | Item Weight: 9.4 lbs | Seat Material(s): Polyester | Folded Dimensions: 6 x 6.5 x 38 in
Ah, Coleman.
One of the best outdoor brands out there, Coleman is known for its affordable, quality products – and this chair is no exception.
It's comfortable, durable, and affordable – everything you can expect from a Coleman product. But how does it compare to the other heavy duty chairs?
Compared to the ALPS chair, this chair is both lighter and has a smaller capacity. Weighing in at 7.75 lbs, it's almost half the weight of the King Kong chair. Of course, that does mean it has a much smaller weight capacity (around 325 lbs). Between the two, I'd suggest Coleman if you intend on going on hikes, and ALPS if you plan on going car camping.
It also comes with a cooler, which I thought was a really useful addition. The cooler can store up to 4 cans, so you'll have a fresh, icy drink ready to go anytime.
Pros:
The cooler pouch can keep up to 4 cans chilled at a time
Quite affordable – great value for the price
Fairly light (7.75 lbs.) given its robust construction
Adjustable armrests allow for even greater comfort
Cons:
It only supports up to 325 lbs. which is less than other chairs on this list
Best for: people looking for an affordable, yet comfortable camping chair.
YETI Trailhead Collapsible Camp Chair

Weight Capacity (lbs): 500 lbs | Item Weight (lbs): 13.3 lbs | Seat Material(s): FlexGrid Fabric | Folded Dimensions: 10.2 x 8.3 x 43.3 in
That's right! This is a YETI chair — NOT A COOLER. I repeat, this is not a cooler.
But using their award-winning premium technology, the YETI Trailhead Collapsible Camp Chair is sturdy and tough.
Not only can it hold up to 500 lbs, but its FlexGrid Fabric won't break down from UV rays.
This is the crème de la crème of heavy-duty camping chairs, something more akin to a high-end outdoor furniture.
It comes at a premium price, but you can rest assured that YETI knows how to build a high-quality product.
Pros:
Holds up to 500 lbs
The FlexGrid Fabric is both comfortable and tough on UV rays
The GroupGrip feet contour to the terrain
Easy set up and folds up nicely
Cons:
The most expensive chair on our list!
Best for: RVers and campers who want to invest in a high-quality chair that will last years.
KingCamp Camping Chair

Weight Capacity: 300 lbs | Item Weight: 10.4 lbs | Seat Material(s): 600D oxford fabric | Folded Dimensions: 34.6 x 9.1 x 7.9 in
Tired of boring, old chair designs? Then how about the one shaped like a moon saucer?
If you like to lounge, this chair will definitely be up your alley. It's padded all around so you'll fit in without a hitch. At over 33 inches wide, this chair will fit even the largest of outdoorsmen. It also comes with all the usual accessories – pockets, cup holders, and so on.
One interesting thing to note is that many people bought this chair for their dog. After all, most dogs won't like sitting on the cold ground for long, and this design makes it an ideal dog bed.
On the downside, it only comes in 3 colors so your options are kind of limited. Other than that, this is a great all-rounder that can have a place in any camper's equipment.
Pros:
Moon saucer design provides padded comfort all around
Large back pocket allows for easy and accessible storage
Surprisingly portable when packed
Easy setup and folding make packing and carrying it around a breeze
Can double as a dog bed if you so desire
Cons:
Only comes in 3 colors
Not as luxurious as it could be
Best for: if you want a slightly unorthodox camping chair that is still super comfortable.
ONIVA – Big Bear XXL Camp Chair

Weight Capacity: 500 lbs | Item Weight: 14 lbs | Seat Material(s): Polyester | Folded Dimensions: 42 x 12x 12 in
Let me be clear – this is not a camping chair.
This is a camping throne.
With measurements of 25 x 30.5 x 42 inches, you can see why I'm not exaggerating when I say this is a big boy (or girl…or bear) chair. After all, it can hold people weighing up to 500 lbs, so you know the manufacturers weren't messing around when they built this thing. The height also makes it easy to get out of the chair, which can be a problem sometimes.
On the negative side, the armrests could use more padding, and it only comes in one color scheme, but other than that Big Bear XXL chair is a great choice for big people/bears.
Pros:
Has a very respectable 500 lbs. weight capacity
Larger than other chairs – that means you can easily get up without any problems
Detachable cooler bag & retractable cup holder are great accessories
Has a lifetime guarantee (which you almost certainly won't need)
Cons:
A bit pricier than other chairs mentioned in this article
The armrests could use a bit more padding
Heavy – at 14 pounds it can be a pain to carry around
Best for: big guys & girls who want a sturdy chair that won't fail them.
How To Choose A Heavy Duty Camping Chair: A Primer
This probably won't come as a huge shock to you, but not all chairs are created equal.
There are cheap, plastic ones at sale at Walmart – but those are not suitable for anyone over 12 years old.
Then come the standard folding chairs, which are fine, but have a limited weight capacity (usually around 200 or 300 lbs.) That might be ok for some, but they are not suitable for heavier people.
And then we have the heavy duty camping chairs. These are larger, sturdier, and a lot more comfortable than the previous options. They are also a bit pricier, but the added support and comfort are well worth the price.
They do offer a lot of bells and whistles, so here are a few ways you can decide on choosing the best one for yourself.
Types of Camping Chairs
Before you set your mind on a specific model, let's cover some basics – what type of camping chairs are there?
And while we could divide them into countless categories, I think this basic one gives you a good overview of different types on the market.
Traditional Camping Chair

This is exactly the type of chair everyone thinks of first when it comes to camping chairs. They have a straight back, flat canvas seat, and four legs – that's mainly about it. Because it's so basic, this type of camping chair is rather affordable.
This type of chair is foldable, so you can pack it into your trunk and take it to the campsite. However, it's rather bulky and doesn't come with a carry bag. And given it's also typically somewhat heavy, it only works if you drive up to your campsite.
Portable Camping Chair
These camping chairs are lighter and pack down more compactly compared to traditional camping chairs, which earned them the name "portable."
When it comes to comfort, they're not exactly on the same level as traditional chairs, but some models definitely come pretty close.
However, they're designed to take quite a bit of wear and tear, so they're more suitable for long-term use outdoors.
Hybrid Camping Chair
As the name suggests, hybrid camping chairs fall somewhere in between. They're designed to be portable and lightweight, but they're not as durable as classic camping chairs.
Hybrid camping chairs can feature different bells and whistles depending on the model, ranging from a headrest to a cup holder. In this case, the one we've pictured above is a pod-style chair similar to something you'd imagine finding in a college dorm room. Comfy and portable!
Comfort
Let's face it – comfort is probably the most important deciding factor when it comes to purchasing a chair.
This is especially true for camping chairs since you'll be spending a lot of time in them, and you want them to be as cushy and cozy as possible.
Several factors decide how comfortable a camping chair is. For one, the amount of padding it has – the more the better. Luckily, most of the high-quality heavy camping chairs come with a ton of padding already, so you're covered there.
Additionally, armrests and back support play a critical role in deciding how you'll feel after several hours of sitting in that chair. Look for chairs that are designed with back and neck support in mind – they usually mention it in their product descriptions quite prominently.
Maximum Capacity
In all honesty, this should probably be the first thing you look at.
After all, it doesn't matter how comfortable the chair is if it can't support your weight effortlessly.
Most heavy-duty chairs have a minimum of 300 lbs. capacity – that's for starters. Some overachievers (like the ALPS King Kong chair) boast an impressive 800 lbs. capacity, while most other chairs are somewhere in the middle.
If you're in doubt, always choose a chair with a higher weight capacity since it can support you AND anything else you decide to have with you while sitting down.
Durability
Normal camping chairs are made out of cheap materials and you'll be lucky if they last one summer.
Heavy-duty chairs, on the other hand, are built to last for ages.
With a reinforced frame and durable fabric, most of these chairs can easily hold people weighing 300+ pounds without even creaking once.
Now, this sturdy design does come with a cost, which is the added weight. This leads perfectly into the next section.
Size & Weight
As I said above, one downside of these types of chairs is that they are fairly heavy. After all, they have to be to support heavier individuals. When you add in all the other gear you have to carry – tents, camping tables, cooking utensils, and so on, it can add up.
Luckily, most people who are interested in this type of camping are usually car campers so it shouldn't be too much of an issue – but it's still worth pointing out.
Looking on the bright side, added weight means these chairs are also larger sizes. That means they can comfortably fit even the heaviest of individuals with ease.
Extra Features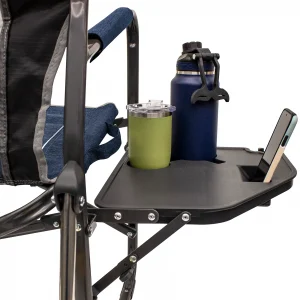 And lastly, we come to any additional features these chairs might offer.
These include (but are not limited to):
Cup holders
Storage pockets & pouches
Mini coolers
Carry bags
Adjustable armrests
Side Tables
And many others
Now, the inclusion or absence of these features shouldn't be a dealbreaker. But, an added perk (like a cooler) can be the cherry on top that turns a good chair into a great chair.
FAQs
Which material is the most durable for camping chairs?
When it comes to seat material, polyester and coated rip-stop nylon are the best options since they are durable, water-resistant, and most importantly, comfy.
As for the frame, steel is the most durable option.
How much weight can a heavy-duty camping chair hold?
That depends on the model, but they should hold over 250 pounds. Some models, like the ALPS Mountaineering King Kong Chair, can hold as much as 800 pounds.
How do you clean mold off camping chairs?
Yes, you can, with a bit of white vinegar. Spray vinegar onto the mold and let it sit for an hour. Rinse with warm water then reapply vinegar. Let that dry out without rinsing it.
How do you know if a camping chair is good quality?
Pay attention to the joints, whether they're secured or wobbly. Examine the fabric as well – it should be breathable yet sturdy enough to withstand your weight. Make sure that the seat isn't loose in any part, as that's a clear sign of bad craftsmanship.
Our Verdict
Whew, that was a lot of information! Time to sit down…
In case you need a quick recap – we found that the ALPS King Kong chair is the best heavy duty camping chair available today.
With an incredible 800 lbs. weight capacity and 24.5" seat width, it will fit even the heaviest of individuals.
It also has a lot of easily accessible storage pockets and cup holders, which will make it easier to enjoy nature with a cool drink in your hand.
Lastly, it folds effortlessly and comes with a carry bag for easy packaging. If you're someone who likes to enjoy the wilderness in comfort, you need to check out this chair.
Also see: The Best Lightweight Camping Chairs (Ultralight Stools, Legless, & High Back)