This is a review of the Outdoor Vitals Summit sleeping bag. 
Unquestionably, a sleeping bag is one of your most important pieces of camping equipment. Nights can get really cold, especially during the winter, but with a proper sleeping bag, you'll sleep like a baby.
The Summit series from Outdoor Vitals is a spectacular choice. With a range of temperature ratings available, there's a Summit sleeping bag for every camping occasion.
This sleeping bag is ultralight, water-resistant, down-filled and incredibly soft to the touch.
In this article, I'll go into detail about the different features of this bag. We'll go over what's great about it, as well as what could use some improvement. To find out if the Outdoor Vitals Summit bag is the perfect choice for you, keep on reading.
Outdoor Vitals Sleeping Bag Review – A Detailed Feature Overview
The Summit sleeping bag is made of high-quality materials and depending on the temperature rating you go for, it can be suitable for all seasons. There are two sizes available: regular for people under 6', and long for those who are taller.
Outdoor Vitals products have become somewhat more expensive over the years. This is because at a certain stage, the company shifted their focus from keeping costs low to providing the best possible quality. Having used some of the older Summit models, I can definitely tell you that the sleeping bags they make today are of a much higher quality.
It's also worth mentioning that Outdoor Vitals provides a lifetime warranty for their sleeping bags that covers any defects. That warranty also covers their refurbished gear, although it's limited to 90 days from the date of purchase.
These are all important details, but what makes this winter sleeping bag really stand out from the crowd? Without further ado, let's get into a detailed overview of the Summit's unique features.
Buy Direct from Outdoor Vitals
Temperature Rating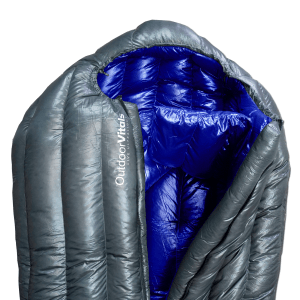 This sleeping bag is available in four different temperature ratings: 30°, 15°, 0°, and -15°F. What differs in these models is the amount of fill. So for example, a -15° model has approximately twice as much fill as a 30° model.
Basically, if you use a -15° model during a warm night with temperatures reaching 20°F, trust me, you'll wake up in a pool of your own sweat.
All the bags are rated in accordance with EN 13537, which is a rating standard used for sleeping bags. This standard consists of 3 ratings: comfort, lower comfort, and survival range. Outdoor Vitals bags follow the industry standard, which is the lower comfort range.
This means that the temperature rating shows the lowest recommended temperature at which the average 25-year-old should be able to sleep comfortably.
Outdoor Vitals made it easy to differentiate these models by having a different color of lining for each temperature rating. So, in case you own a 15° and a -15° model, you won't get them mixed up by accident, because one has blue and the other has a black liner.
The Mummy Shape
Outdoor Vitals Summit comes in a classic, mummy shape which follows the body's outline and tapers towards the feet. We all know that this type of sleeping bag traps warmth in, which makes it suitable for cold temperatures. The obvious drawback of this shape is less freedom of movement. If you're a tosser and turner like me, being forced to sleep in such a stiff position can be somewhat awkward.
However, the Summit is not exactly a typical mummy bag, as it gives you a bit more room around the shoulders. The regular model has a 62-inch shoulder girth, while the long version is 68 inches wide. In this bag, you won't feel like you're wearing a straitjacket. There's enough space to move your hands while you're sleeping, so you won't wake up with numb arms.
Now, I know that mummy bags aren't usually used for hammock camping, but it's actually quite practical. If you are using yours in a hammock, a sleeping pad is a must, since you'll be using the mummy bag upside down.
What does that mean?
Basically, you get in the hammock and then you tuck your legs inside the sleeping bag with the hood on top. As you crawl your way inside, tuck the bag well inside the hammock, then use the hood to cover your face. I know that this might sound odd, but trust me it can work well, especially when it's not too cold outside.
Center Zipper
The Summit features a center zip, which makes it easy to get in and out of the bag. This is a great update from previous versions, which used to have a side zip. Most sleeping bags have a zipper on the side, and the reason for that is to prevent heat loss.
What Outdoor Vitals did to deal with heat loss is they added boxed baffles on both sides of the zipper. These baffles make sure there are no cold spots around the zipped area, and they're almost a perfect solution.
Why "almost"? OV uses YKK zippers, which are known for their durability. Well, there's one thing that happens that can get quite irritating. That's right, I'm talking about the zipper snagging the material around those boxed baffles. This can be really annoying when trying to get out of the bag in the middle of the night to "answer the call of nature."
Here's what I do like about the center zipper. I'm a side sleeper who doesn't 100% of the time sleep on only the left or right side. With a regular side-zipped bag, this means that the zipper often ends up behind me, which is annoying, to say the least. Sleeping in a center zip bag, the zipper is always close at hand.
The zipper itself is double-sided, which is great. We all know how important it is to be able to get out of a sleeping bag quickly. There's also a bottom zipper, which only opens on the outside. This can be unzipped to serve as an air and temperature regulation system.
Another thing you'll notice about this sleeping bag is that the zipper doesn't go all the way down. It goes down to around knee-level, and let's be real, that's more than enough for you to easily get in and out. Reason for the zip being shorter? Less zipper – less weight, and this sleeping bag is all about ease of portability.
Buy Direct from Outdoor Vitals
Hybrid Direction Baffles
The Summit bag also features hybrid direction baffles. If you look at the bag, you'll realize that the upper part features vertical baffles, while the foot box features horizontal ones.
The older version of the Summit used to only have horizontal baffles. So, if you'd roll in your sleep even a little bit, gravity would do its thing, and the down fill around your chest would shift to your back. With vertical baffles, that's something you don't have to worry about.
These vertical baffles only go down to your knee area. Around your feet, the bag features horizontal baffles that are filled with extra down. We all know that warm feet are the key to a good night's sleep. The foot box is square-shaped, and the stitches on the corners don't allow the insulation fill to move around too much and leave your feet cold on one side.
Shoulder Baffles
Typically, mummy sleeping bags have a draft collar. This seals the bag around your neck and prevents warmth from escaping when you move around while sleeping. The Outdoor Vitals Summit doesn't feature a draft collar. Instead, it comes with two shoulder baffles.
At a first glance, these baffles seem a bit wonky. There's Velcro tape on each baffle which allows you to attach them together, thus preventing heat from escaping. Surprisingly, these shoulder baffles actually do their job very well. You can have the bag wide open around your mouth and nose for proper breathing, yet cold air won't get inside it.
I do wish, however, that they had used snaps or buttons instead of Velcro tape, simply because your clothes can get stuck on it, which can be annoying. The same goes for long hair or beards. But, besides that, there are no complaints about the way the shoulder baffles function.
The Material
The Outdoor Vitals Summit bag is made of 10D Ripstop Polyester. This fabric is water-resistant and breathable at the same time. It's also ultralight, which makes it a great material for a backpacking sleeping bag.
This sounds like a perfect combination, and you might be wondering why anyone would even make sleeping bags out of any other fabric? Well, there's a catch, of course.
Such a fine material like 10D Ripstop isn't as durable as some other types of polyester. Now, this doesn't mean it'll tear up whenever you use it, but it's not as negligence-forgiving as some other fabrics used for sleeping bags.
In other words, this probably isn't a bag I'd buy for kids as their first sleeping bag. Actually, I wouldn't buy it for my older brother either, since he carries the title "the lord of clumsiness." However, if you take solid care of your equipment, there's no reason not to buy this sleeping bag.
There's another thing you should keep in mind – the material is great, but not magical. Even though the 10D Ripstop is made with a high-quality formula, its water-resistance deteriorates over time. You'll need to get one of those spray-on DWR treatments after a while if you want to make sure you're protected.
Fill Power
Each baffle on the Summit bag is filled with StormLoft™ 800+ IDFL certified down. But what does that mean?
Down is great for insulation. It traps heat effectively while at the same time allowing your skin to breathe. However, we all know that down loses its insulating ability once it gets wet.
Well, Outdoor Vitals StormLoft™ down has been DWR (durable water repellent coating) treated. This doesn't mean it's 100% waterproof, but it holds up better in moist environments than a regular down.
Obviously, no sleeping bag is suitable for wet weather, but a slight drizzle won't utterly destroy your camping trip with this Summit bag.
800+ fill-power down basically means that one ounce of down fills over 800 cubic inches of space. IDFL certification assures you that the fill power has been tested and is true to the manufacturer's claims.
While researching Outdoor Vitals, I've learned that they make sure their down is RDS – responsibly sourced. This means that the down they're using isn't taken from live pluckings. Instead, it's taken from waterfowl that is already being used for meat. It's always good to know that the product you're buying doesn't come from a company that subjects animals to unnecessary cruelty.
Portability
The Summit sleeping bag is a great choice for long-distance backpacking, not just because it's featherweight, but also because it can be so compactly packed. That's the case with down sleeping bags in general, and the Summit is no exception.
You get a stuff sack along with the purchase, which allows you to pack the bag in a way that takes up very little space. If you want it to be even more compact, you can buy a compression bag that gets it down to an even smaller size.
There are already too many things you need to take with you when you go backpacking. It's good to know that you don't have to worry about a heavy, bulky sleeping bag weighing you down.
I do want to point out that a down-filled sleeping bag shouldn't be left in a stuff sack once you come home from your camping trip. When compressed for long periods of time, down can lose its effectiveness. Ideally, you could hang it in your closet, but if you're short on storage space at home, like me, keeping it laying flat under the bed will also work just fine.
Buy Direct from Outdoor Vitals
Our Verdict
Camping in cold weather can be comfortable and enjoyable, as long as you have the proper equipment. The main piece of gear that makes or breaks that experience is a sleeping bag.
When it comes to the Outdoor Vitals Summit sleeping bag, I believe that it's a great addition to your camping gear. It's ultralight and easy to transport, yet also comfortable and warm even during harsh weather. It has great insulation and it's amazing value for money.
Sure, there are a few things that can be improved, but let's not nitpick. For the price it retails at, this is a great sleeping bag, and I assure you, it's worth every cent.