If you've been looking for a one person tent, you've probably stumbled upon a few bivy-style tents. These tents are commonly used in survival or military applications. Due to their versatility, they've recently risen in popularity among solo hikers and campers.
Among bivy-style tents, the most popular option is hands down the Ionosphere from Snugpak.
In this Snugpak Ionosphere review, I'll dissect every aspect of this tent and see if it's really the best bivy-style tent available. I'll also help you decide if a bivy-style tent is a smart option for you.
Before we begin, let's answer the question…
What Is A Bivy-Style Tent?
Bivy-style tents are characterized by their shape.
Most larger tents are characterized by their dome or cabin shape. Bivy tents, on the other hand, are built more like a cocoon.
Their design is made to be sleek and compact, with just enough space to squeeze you in. This makes them lightweight, simple, and covert.
However, don't confuse bivy-style tents with emergency bivy sacks. Big difference.
Bivy sacks are more of an SHTF tool. Usually carried in bug-out bags, these sacks are thick, stretchable garbage bags that retain heat like crazy. They're super efficient for staying warm and can be used instead of a sleeping bag.
But, bivy sacks won't protect you from rain or weather like a tent will.
What Makes A Great Bivy-Style Tent?
Now that you know what a bivy-style tent is, let's explore what to look for in one. There are a ton on the market, and it might be hard to see which one is best.
Here's what you want to examine…
Size
The last thing you want is to feel claustrophobic inside your tent.
So, double-check the inner tent dimensions and make sure it's large enough to give you sufficient legroom.
Also, consider how much space your gear takes up since you'll want your stuff in the tent in case of rain.
Weight
Once you've found a tent that's the right size, make sure it doesn't weigh too much.
Tent manufacturers commonly try to beef up their tents with the latest bells and whistles. Although I appreciate the effort, sometimes they end up adding too much weight to their tents.
This should be a high priority if you plan on trekking long distances or staying out in the wilderness for extended periods.
On the other hand, cold weather campers don't want a tent that's so light it'll fold under the force of a few snowflakes. Consider the conditions of your camping trip before choosing your tent.
Optimal Price
Lastly, make sure you find a tent that's not going to break the bank.
Having a quality tent is essential, yes, but in most cases, there's no reason to spend an excessive amount of money on a tent. Unless you plan on heading into war, you don't need to get a tent made with supremo kevlar materials or whatever.
But, much like other factors, there is a balancing act going on. You don't want a tent that's so expensive you need to take out a second mortgage, but you also don't want a tent that's so cheap it may as well be made out of used grocery bags.
Snugpak Ionosphere: Pros
Great, you're equipped with the knowledge to examine a 1 person tent. Let's dive in and take a look at what makes the Snugpak Ionosphere tent so great.
Design
First things first, let's take a look at how the Ionosphere is built.
Right out the gate, you'll notice that it is super long. The inner tent length is 7'10". That's enough to fit Shaquille O'Neal, so I think you and your gear should have ample room.
Next, we see that it only uses two tent poles. This cross-pole design minimizes condensation as well as pack weight.
Let me tell you – this thing is tiny (in the right way). The two poles allow it to pack tight and light.
Its trail weight is 2.64 lbs, and its pack weight is 3.34. That's less than a large water bottle.
It's safe to say you can easily pack this tent for any excursion you're going on.
Materials
As I suggested, it's always essential to check out the materials that the tent is made out of. Fortunately, the Snugpak Ionosphere does not disappoint.
The poles? They're made out of a solid DAC Featherlite NSL aluminum, making them light and resistant to snapping. They're also constructed with pressfit connectors for rapid setup.
The seams? Yep, they're sealed taped seams, so don't worry about any leaks.
The rainfly? It's made of lightweight 210T polyester ripstop with a 5000mm waterproof polyurethane coating that will keep even the most torrential rain out.
Lastly, the mosquito net is made out of No-See-Um mesh. This is some of the best mesh available on the market today. I even considered picking some up to add to my patio, it's that good.
If these materials end up having issues, that won't be an issue. This tent comes with a complete repair kit so you can patch any hole up in seconds. You'll also get extra tent stakes in case any get damaged or go missing.
Weather Resistance
By now you know that the Snugpak Ionosphere is made of super weather-resistant materials, but how well does it actually fare?
The answer is that this is one of the best tents there is for fighting off the elements. Not only does its material stand up to rain and wind, but its design is also built to withstand the worst inclement weather.
You'll notice that it's low to the ground and rounded. This is by design. It limits the amount of material needed (decreasing your pack weight) while also minimizing the surface area that wind can attack you on.
Also, this is a non-freestanding tent. That means you'll have to stake it down for it to be propped up correctly.
While some campers might get annoyed by the staking process, I'm a big fan because of the stability it gives you. Once your tent is staked into the ground, it's hard for anything to topple it over. Sure, it takes an extra step, but that work goes a long way.
Bang for the Buck
Finally, I think this tent provides excellent value. You might see the price and think "whoa!" but take a second and consider how long this tent will last you.
It's highly unlikely you'll have to replace this tent for years. Unless you're living in it in the Sahara desert, I doubt you'll have to replace it anytime soon.
Considering that this tent provides top-of-the-line weather protection, the price is totally reasonable.
That being said, this tent might be out of your price range if you don't plan on using it much. Families who go camping together frequently would be much better off buying a larger tent that can fit the whole gang. You'll get much more use out of something everyone can use.
Snugpak Ionosphere: Cons
Before you start thinking I'm some Snugpak operative here to talk up the tent, let's go over some of its negatives.
Low Profile
As I mentioned, this is a bivy-style tent. It is designed to be stout.
Some people might not like that. Some people want a tent that allows them to sit up, read a book, and enjoy the sights and sounds of the great outdoors. If that's you, this tent won't be an ideal option.
Stakes
I love steaks. All of them, including ribeyes, filet mignon, and even tent stakes.
This is not a freestanding tent, so you will have to stake it down to sleep in it.
That might not sound like the best news if you're camping on rugged mountains or deep in the snow. However, the stakes are very sturdy and should work no matter where you are.
Set-Up
You'll note that this is not an instant-pitch tent. It does require a little bit of effort to set up.
That being said, it's really not that difficult.
Do a few test runs in your backyard, and you'll master the setup in a jiffy. Here's a YouTube video that'll show you how to do it properly:
If you're still on the fence, here are the official instructions from Snugpak themselves in nifty PDF format. Read through and see if you still think it's complicated.
Either way, I think it's pretty easy. But, if you're looking for a tent that doesn't require any setting up, you might want to consider a pop-up tent instead.
Battle Royale
All that sounds good and well, but how does the Snugpak Ionosphere compare to other 1 person tents?
Let's take a detailed look and put the Ionosphere head-to-head against other popular tents.
Snugpak Ionosphere Vs. ALPS Lynx 1
I've previously written about how the ALPS Mountaineering Lynx 1 is one of my all-time favorite tents. To be frank, it ties with the Ionosphere.
The big difference is in the design.
The ALPS Lynx 1 is a regular dome-shaped tent design. This means you'll have more vertical space to sit up in, as well as some horizontal leeway to stretch your legs and body.
It also has a charming outdoor vestibule that you can use to store your gear.
However, this added space means that it weighs more.
The Lynx and the Ionosphere have similar prices, so at the end of the day, it comes down to personal preference.
If you want a dome-style solo tent, the Lynx is an excellent choice. If you do a lot of backpacking and weight is your top priority, pick up the Ionosphere.
Snugpak Ionosphere Vs. Snugpak Stratosphere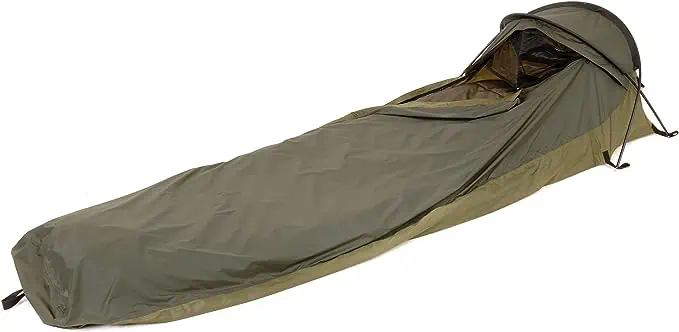 Also made by Snugpak, the Stratosphere is the Ionosphere's little brother.
The most significant difference is that the Stratosphere doesn't have as much of a frame as the Ionosphere. It only has one pole that goes around to keep the tent off your head.
This makes the Stratosphere lighter and more affordable than the Ionosphere, but only by a pinch.
I'd recommend the Stratosphere if you're really eager to save money or cut down a little pack weight. But, the Ionosphere is still a great choice either way.
Snugpak Ionosphere Vs. Eureka! Solitaire 1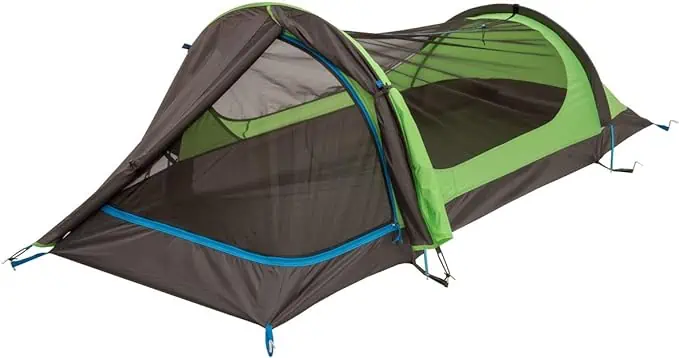 I'm including the Eureka! Solitaire 1 only because it's so popular right now.
Despite a lot of people buying it, I am not a fan. It is built remarkably similar to the Ionosphere, but its construction is much, much cheaper.
If you're really strapped for cash, the Solitaire 1 will do fine. But, there is no way it will last you as long as the Ionosphere.
Our Verdict
To pack things up, the Ionosphere really is the best bivy-style tent available. It'll suit you well if you're a solo camper looking to defend yourself from the weather elements without breaking the bank.
It's a lightweight tent and its weather protection is truly top-notch. The quality of its materials are the best in the business, and this one man tent will last you for years.
At the end of the day, the Snugpak Ionosphere will serve you well no matter where your adventures lead you.