If you're in a rush, the best dog backpack for hiking is the K9 Sport Sack.
Have you ever been on a hike with your dog where they run out of energy halfway through, leaving you to carry them?
Or maybe you went on a hike where you wanted to bring your dog, but just didn't think it was a good idea?
The struggle is real. In fact, I know the struggle all too well. That's why I'm a huge fan of dog backpack carriers. They make this problem a thing of the past.
Read on to learn more about my favorite dog carrier backpacks.
Want to compare side-by-side? Check out our Dog Backpack Carrier Comparison Table
Best Dog Backpack Carrier For Hiking: Our Top Picks
K9 – Sport Sack Plus 2

Size(s): S, M, L | Fits Dog Up To: 20-23 in | Product Weight: Up to 1.3 lbs | Materials: Cordura fabric
The K9 Sport Sack is a veterinarian-approved way to carry your dog on long hikes. While most backpack carriers cater to small dogs, K9 does a great job of including larger dogs, too. This bag is available in all kinds of sizes. Whenever you're going hiking or camping with your dog, this is a stellar choice.
This dog hiking backpack has several features that make it easy for you and your dog. The mesh sides allow for ventilation, and the padding on the back and straps help distribute the weight evenly. Both you and your dog will be comfortable on long hikes with this pet carrier backpack, no matter how hot the weather is.
Pros:
This backpack carrier is not just for small breeds – it comes in a variety of sizes that promise to fit almost any kind of dog
There are mesh areas on the sides of this backpack carrier that aid in ventilation and help keep you and your pooch from getting too hot
Trust that your dog will remain calm and comfortable, thanks to their exclusive veterinarian approval
The padded straps and back make carrying your dog comfortable, no matter what size they are
This backpack pet carrier comes in a variety of colors, so you have plenty of options when you check out
Cons:
While this is a great bag, the zippers are not the best
Pocket options are limited, so this might not be your all-in-one bag
Best for: dog lovers who want their pet relaxed in an easy-to-carry bag.
PetAmi – Deluxe Pet Carrier Backpack for Small Cats and Dogs

Size(s): One size | Fits Dog Up To: 18 pounds | Product Weight: 3.57 lbs | Materials: Polyester
The PetAmi Deluxe Pet Carrier Backpack for Small Cats and Dogs is a great way to take your dog on adventures in the great outdoors. With mesh windows on all three sides of the backpacker carrier, your pet can look out and get plenty of air to cool off.
The best part about this pet carrier backpack is that there are features that make it extra secure. Things like a small leash attached to the inside of the carrier and safety buckles on the zippers make sure your pet stays in place for the entire trip.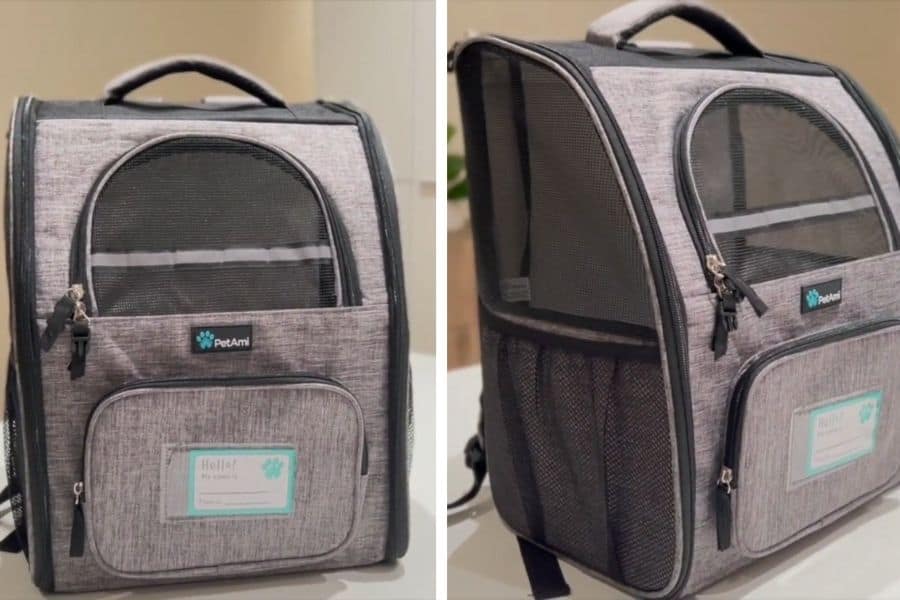 Pros:
The bag's safety buckles lock the zippers shut, keeping your pet secure
The inside leash also prevents any escape artist pets from running off
This backpack carrier comes with an area to place your pet's ID for safe travels, as well as a convenient clip-on collapsible travel bowl
Multiple mesh windows give your dog excellent airflow to cool off, as well as the ability to peer around
The back and shoulder straps have extra paddings, and there's a chest strap and hip belt to make carrying your dog easier on your back
There are extra pockets on this backpack carrier for you to put your pet's water, food, and treats
Cons:
The cardboard bottom is kind of sharp and could irritate your back on long hikes
Support isn't that great, so larger dogs might make the backpack sag after a while
Best for: owners who want to guarantee that their dog will be safe and secure within their bag.
Petsfit – Soft Pet Backpack Carrier for Hiking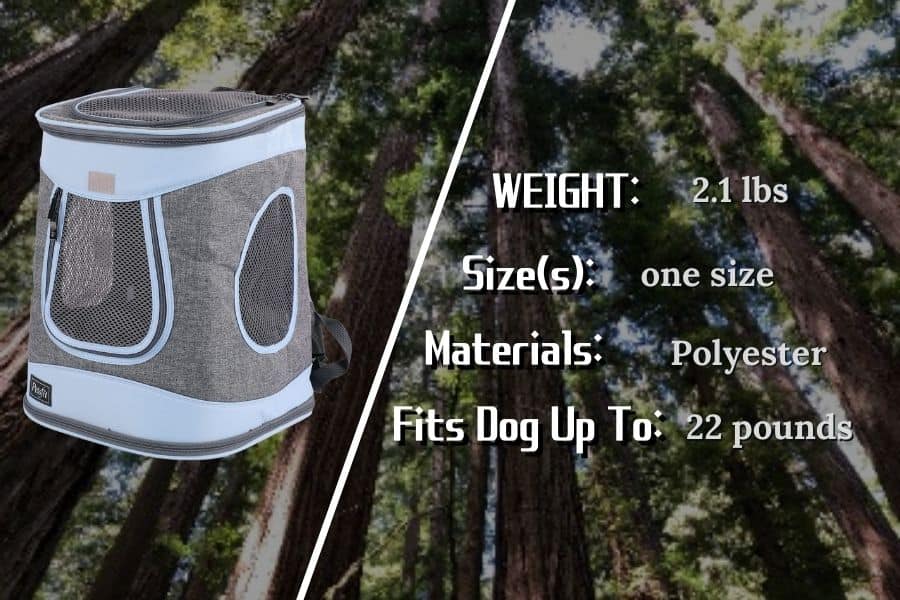 Size(s): One size | Fits Dog Up To: 22 pounds | Product Weight: 2.1 lbs | Materials: Polyester
The Petsfit Soft Pet Backpack Carrier for Hiking is a great backpack carrier for taking dogs up to 15 lbs. on hikes and trips. The sturdy bottom supports the dog's weight while the mesh siding allows them to get nice and comfy while looking out.
This Petsfit backpack comes with two buckles that strap against your chest and waist for extra comfort. Not to mention, to make sure your pet is safe and secure, there is a safety strap to make sure they don't get far, even if the windows are open.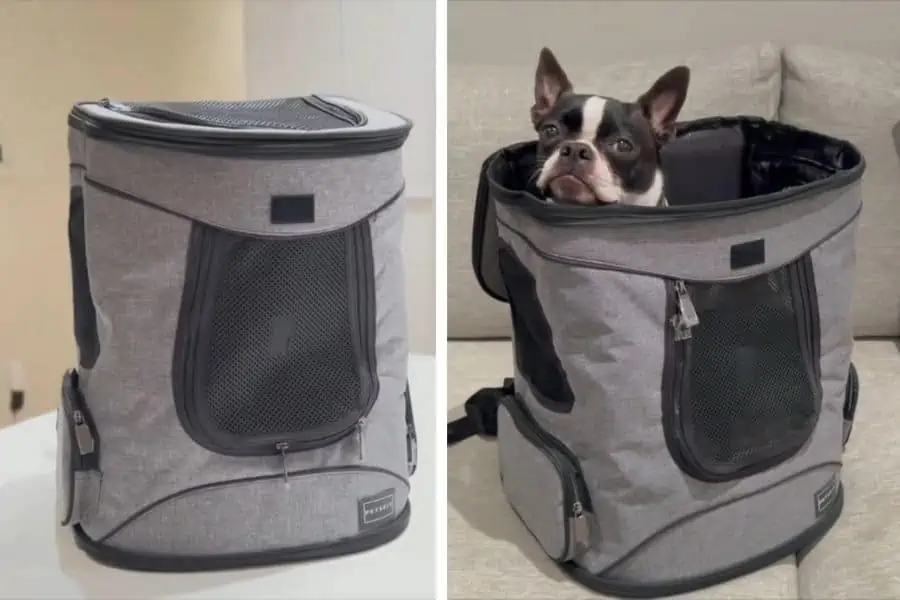 Pros:
This backpack carrier includes padding along the back and the straps that make carrying your dog on your back much more comfortable
This backpack also has waist and chest buckles that take some of the load off of your back
With four mesh windows – 2 of which can be opened – your dog will have plenty of fresh air and room to look around
The safety strap on the inside will keep your pet dog safely inside, even when the windows are open
This backpack carrier is mesh except for a sturdy, flat bottom that supports dogs up to 15 pounds
Cons:
The bottom of this carrier is not the most comfortable on this list
The zipper isn't exactly military-grade, so some sneaky dogs might be able to slide them open
Best for: small dog owners who want their dog to feel like they're poking their head out the window of a car.
NICREW – Legs Out Front Dog Carrier

Size(s): S, M, L, XL | Fits Dog Up To: 15 lbs | Product Weight: 0.5 lbs | Materials: Cotton
The NICREW Legs Out Front Dog Carrier allows you to comfortably tote your dog on the front of your body while hiking. This is a stellar option for small dogs, as well as anxious dogs that need the added comfort of the bag fitting snugly around them.
Many dogs seem to love this option because it allows them to see what you see and gives you more chances to interact with them while you are hiking. It is easy to place them in and get them out of and is very secure, so you don't have to worry about them falling out.
Pros:
Some users have reported that the snug fit of this carrier has a calming effect on their nervous or anxious dogs and helps them stay calm in public
This carrier was designed to carry your dog snuggly against the front of your body so they can see what you see and you can interact with them better
The bag's breathable mesh material helps your dog stay nice and cool
It's easy to get your dog in and out of this carrier – NICREW's zipper and velcro design are top-notch
There is padding all along the straps to make carrying your pooch much more comfortable
Cons:
Even though this carrier backpack comes in a variety of sizes, the XL size of this carrier does not hold a dog over 25 pounds
Best for: small dog owners who want to pet their fur baby while hiking a trail.
Kurgo Dog Carrier Backpack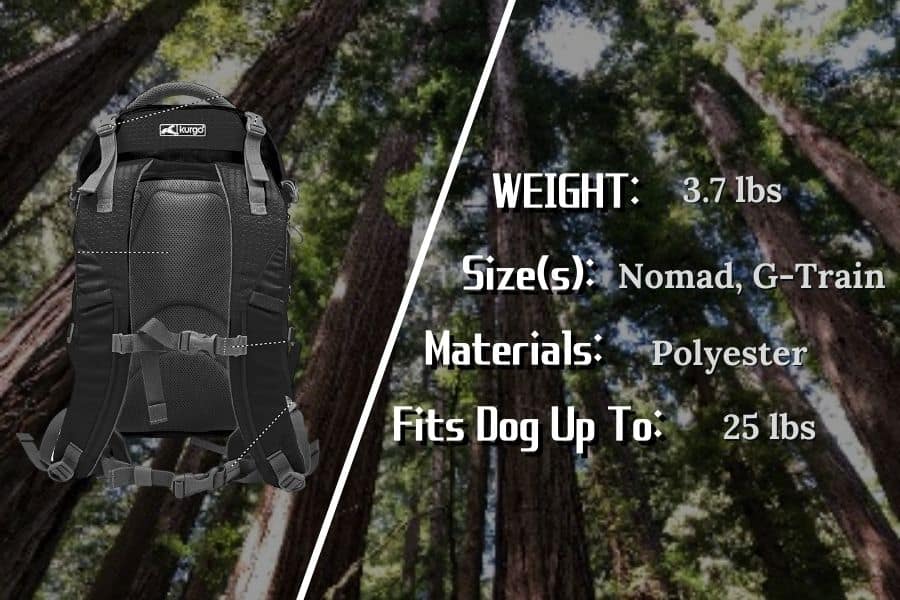 Size(s): Nomad, G-Train | Fits Dog Up To: 25 lbs | Product Weight: 3.7 lbs | Materials: Polyester
The best thing about this dog carrier backpack from Kurgo is that you can wear it 2 ways. You can wear it on your back like a traditional backpack, or you can wear it as a front pack if you'd rather have your dog in front of you.
This is great for 2 reasons. First of all, it lets you switch from back to front so that you can give your back a rest from time to time. Secondly, carrying your dog up front is a good way for anxious dogs who might not be keen on the idea of a carrier to get used to riding in backpacks.
This backpack is suitable for dogs up to 25 lbs., and it's airline and TSA approved, so you can take your furry friend with you literally everywhere you go.
It's also got loads of pockets and compartments for carrying extra stuff, and a hip belt and sternum strap to help make your load feel lighter.
Pros:
Can be worn as both a backpack and a front pack
Airline and TSA approved, so your dog can travel with you in style
Hip belt, sternum strap and ventilated back panel make it super comfortable to wear
Waterproof bottom and removable, machine-washable interior pad mean any small accidents your dog has won't be a major disaster
Loads of storage options for all of your and your dog's stuff
Cons:
The zippers don't come with locks
Best for: hikers looking for a versatile carrier backpack that can be worn 2 ways.
Pecute Pet Carrier Backpack
Size(s): one size | Fits Dog Up To: 18 lbs | Product Weight: 4.34 lbs | Materials: 300D Oxford cloth
This pet carrier backpack is pretty roomy to begin with, but get a load of this. When you take the backpack off your back, it can be expanded to give your pup even more space to move around.
If there's ever a situation where your doggo has to be in the carrier, but you're not actually carrying it on your back, you can expand it to make it more comfortable for them to spend time inside. A good example of this is if you're waiting to board a plane.
It can hold dogs that weigh up to 18 lbs., and it has a sternum and waist strap that'll make it a lot easier on you to carry your best friend around on your back.
There's also a retractable safety belt and lockable zippers, so you won't have to worry about your pup escaping and getting hurt.
Pros:
Expandable design means you can create a roomier enclosed space for your dog
Plenty of mesh windows provide great airflow
Features zippers with a lock and a retractable safety belt to make sure your pup doesn't fall out of the backpack
Comes with a removable bottom that has a different material on both sides, so that your dog is nice and comfy no matter what the weather is like outside
Includes a sternum strap and hip belt, to make carrying the backpack easier on you
Cons:
The acrylic plate on the front of the backpack might make the space inside stuffy and hot for your dog on a warm day
Best for: hikers who also travel frequently by plane with their dog.
Morpilot Dog Backpack Carrier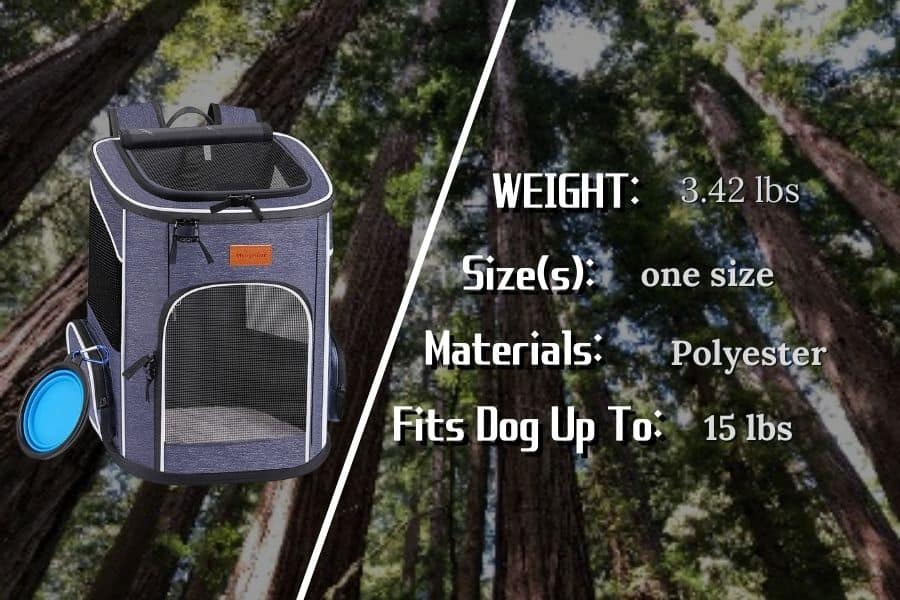 Size(s): one size | Fits Dog Up To: 15 lbs | Product Weight: 3.42 lbs | Materials: Polyester
So, you want to get a backpack carrier for your dog, but you're not so excited about the idea of having to carry it around for the entire hike, even when your dog doesn't need it?
This Morpilot dog backpack could be the solution you're looking for.
It folds completely flat when empty, making it super compact and easy to carry.
Another great thing about this dog backpack is that it's really well ventilated. There are 4 massive mesh windows, so your pup won't feel stuffy or overheat while they're inside.
It can carry a dog up to 15 lbs., and it's secure thanks to its lockable zippers and safety strap.
It's also made of eco-friendly polyester, which is great news for the environment.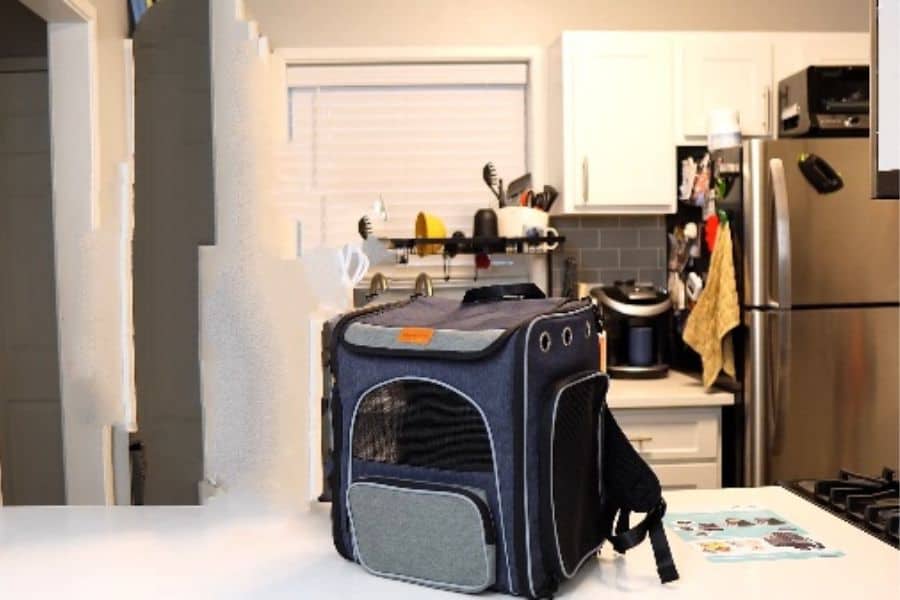 Pros:
4 large mesh windows provide excellent ventilation to give your dog plenty of fresh air
Features a strap and hip belt to help lighten your load and make the backpack easier to carry
Safety strap and lockable zippers will prevent your canine companion from falling out of the pack
Folds flat when not in use for easy portability and storage
Made of eco-friendly polyester, making it environmentally sustainable
Cons:
Some users have reported that the backpack dug into their lower back while they walked, causing discomfort
Isn't airline and TSA-approved, so you might not be able to take it on all flights
Best for: hikers that are worried about their furry friend being too hot and not having enough airflow.
What Backpack Carrier for Dogs Is Right for Your Pup?
What to Look For When Buying a Dog Backpack Carrier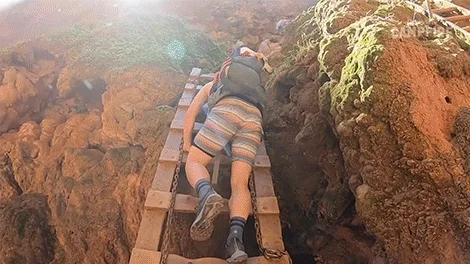 When you decide to buy a dog backpack carrier to make traveling with your furry friends more manageable, it can be hard to figure out what your dog needs.
To make choosing the best dog backpack carrier easier for you, read up on these crucial aspects to look for to tailor your choice to your dog.
Size
The first and maybe most important aspect you should look for in a dog backpack carrier is the size.
Naturally, you want to get the right size for your hiking dog's breed. Getting a backpack carrier that is too small can make traveling hard on both you and your dog.
And while getting one that is on the larger side will give them extra room, you don't want them to have so much space that they can't poke their head out the top.
Do some research and double-check your dog's measurements.
To avoid injury, you should only plan on purchasing a dog carrier if your dog weighs less than 20% of your body weight. 
If your dog weighs 40 lbs and you weigh 100 lbs, well you have no shot of carrying your dog. At 40% of your body weight, you won't be able to make it very far before overtaxing yourself and putting yourself in an unsafe situation.
Type of Carrier
The next thing to consider is the design of the backpack carrier.
You obviously want there to be plenty of ventilation for your pet to breathe and cool off, but do you want one where your dog can see all around? Or are they too excited if they have a lot to look at and need fewer windows to calm them down?
Classic Backpack
Front Pack
Dog backpack carriers come in a variety of designs and have varying amounts of window space.
You know your dog's limits the best, so make sure to choose one with a build that fits their personality.
Dog Comfort
Nothing could be worse than purchasing a dog backpack carrier only to find out that your dog isn't comfortable.
Most dog backpack carriers come with the following:
Dog Compartment
Dog Base
Collar Enclosure
Leg Holes
Once you've sized your dog appropriately, then it is time to test out your purchase and ensure that your dog is comfortable long before you hit the trail.
I find that the best thing to do is to prime your dog with treats. Use a treat to get them into the carrier and every so often to reinforce their good behavior in the backpack as well.
Once you have your dog acclimated to the pack, you should cary them around in your house and your neighborhood before you get them out on the trail. The more you test, the better off you and your dog will be.
Human Comfort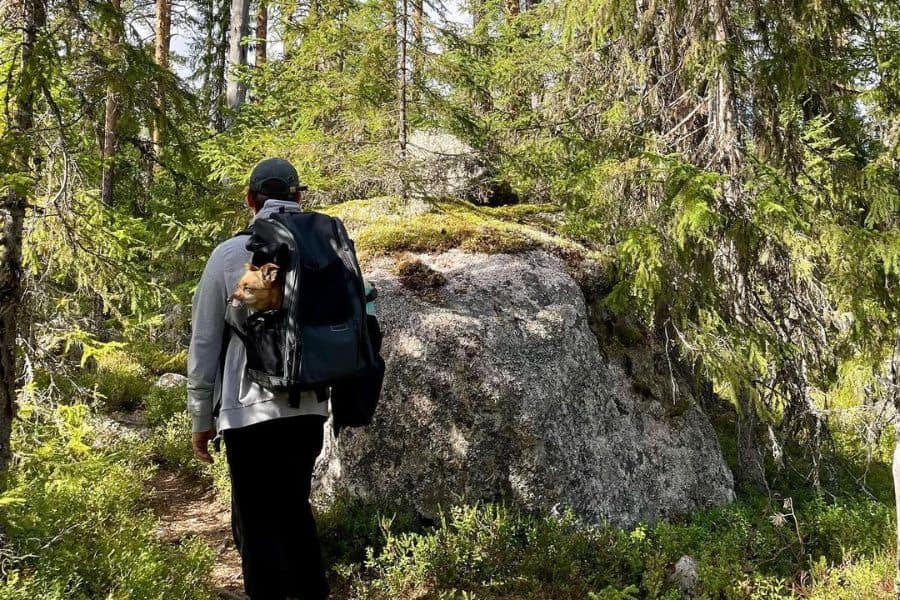 This also goes for you, the owner as well. When testing carrying around your dog, ensure that you are comfortable as well.
If you aren't comfortable carrying your dog, then do not head out on the trail.
Again, the only way to test this is to put your dog into the carrier and take a few walks around your neighborhood or house.
Make sure that the product works for you AND your dog.
Materials and Durability
Breathable fabrics are a critical component of any dog carrier backpack.
We want our dog to be acclimated to the pack, but we also want them to be as comfortable as possible. And that means avoiding overheating your dog.
So make sure that the carrier you choose is breathable for your dog and also durable enough to cary them for a long period of time.
Carriers that come with solid dog bases and materials that are weather resistant and easy to clean will be best.
Features
The last thing to look for when buying a dog backpack carrier is any additional features. Some carriers have extra features that can make traveling with your dog safer and more straightforward.
This includes lockable zippers, safety leashes, ID tags, pockets, or even collapsible travel bowls.
Take these bonuses into consideration when buying a dog backpack carrier.
How do you measure your dog for a backpack?
In order to figure out which size backpack you need, there are 3 things you have to take into account:
How much your dog weighs
The length of your dog's body
The girth of your dog's chest
If you don't have a large scale like the one at your vet's office, you can easily weigh your dog at home using your bathroom scales. Just stand on the scales with the dog, and then without the dog. Subtract your weight from the weight of you and your dog together, and there you have it.
To measure the length of your dog's body, use a tape measure to measure the distance between the neck (where the dog's collar sits) and the point where his or her tail begins.
Finally, use a tape measure to measure the girth of the dog's chest at the point where it's the widest.
Why You Should Buy a Dog Backpack Carrier
If you travel with your dog often, a dog backpack carrier can make things a lot easier on both you and your dog.
For instance, if your dog pulls on the leash when walking, this can become very tedious on long hikes.
Save yourself the frustration by picking up a backpack carrier. This'll allow you to take them on the trip while cutting out the hassle of leash pulling.
Not to mention, smaller dogs take longer to cover more ground than bigger dogs. Long hikes can be very tiresome to them, so having a backpack carrier to throw them in is always great in case they give out halfway down the trail.
Last but not least is to aid in your dog's health problems. As dogs age and start having trouble with their back or hips, it can be rough going out on long hikes.
However, this doesn't mean they don't want to go on adventures with you! A dog backpack carrier can make this a non-issue and allow you both to enjoy trips.
FAQ
Now, if you haven't used a dog backpack before, you've probably got a few questions.
Here are the answers to some of the most common questions people asked:
When should you use a dog backpack?
Dog backpacks are great, but there's definitely a time and place for them.
Ever since Paris Hilton made carrying small dogs around popular, a lot of people have been carrying their pooches around far more often than they should.
This might seem cute, but at the end of the day, it just isn't good for the dog.
That being said, there are certain situations when putting your dog in a carrier backpack can be useful, and even necessary.
If you're out on a hike and your four-legged friend is exhausted, putting them in a carrier backpack and carrying them a short distance is a great way to give them a little break. This gives your dog a chance to rest and recharge, so they can continue walking with you.
Coming across rough terrain on your hike is another situation where your carrier backpack will come in great use.
If you're crossing a stream, or you have to climb something your dog can't climb on its own, putting them in a carrier backpack is a great way to carry them over that difficult part of the trail, while still having your hands free, in case you need them.
What are the different types of dog carrier backpacks out there?
Basically, there are 2 main types of dog carrier backpacks: classic backpacks that you carry on your back, and front packs where you carry the dog in front of your body.
Most models on the market fall into the first category.
These are great for most dogs, but if your dog is particularly anxious, you might find that they feel more comfortable in a front pack.
Are Dog Backpacks Comfortable?
As long as you make sure to properly measure and fit your dog for a dog backpack, dog backpacks are comfortable for both dogs and humans.
Of course, the heavier your dog, the harder you will have to work on the trail or when carrying your dog.
Most backpackers abide by the belief that a full pack shouldn't weigh more than 20% of your body weight. This should go for carrying your dog in a dog backpack as well.
Do not exceed this limit, or you'll end up pushing your body and end up in an unsafe hiking situation.
Are Dog Backpacks Safe for Dogs?
Dog backpacks are safe for dogs, so long as they fit your dog properly.
Your dog should be able to sit upright in the carrier and the carrier should have breathable material to ensure that your dog can prevent being overheated.
I'd recommend taking your dog out of the carrier every so often to let them run around and cool down. On the trail, breaks are paramount for dogs AND their owners.
Our Verdict
A dog backpack carrier can make hiking with your dog more comfortable than ever before. It's great not to have to worry about your pet when hiking, while still enjoying their company.
The best dog backpack carrier for hiking is the K9 Sport Sack. It is very versatile and has options for breeds small and large. Not to mention, it is veterinarian-approved, so you can rest assured that it will be comfy for your dog and that they will enjoy their trip.