We all know airlines have very strict rules when it comes to luggage, so it's no surprise you're wondering what you can or cannot bring with you.
What's more, the weight limit forces you to be very selective about your equipment.
I've been in your shoes, and I know how stressful this situation can be.
For that reason, this article will cover everything you need to know – from flying with camping gear to alternative ways of getting your stuff to your camp spot.
So, without further ado, let's get to the point!
How To Pack Light
Whether you're going on a backpacking trip or a family camping adventure, when you're traveling by plane it's essential to pack as light as you possibly can.
The trick to packing light is to plan ahead. Start by making a checklist of all the stuff you need for the trip.
Then, divide them into two categories – things you need to bring and things you can buy/rent once you get there.
For instance, there's no need to pack food if you can get it at a local store near your campground. On the other hand, your boots and clothes will be in the "to bring" category.
It's Never Too Early To Start Packing
After you've finished the camping checklist, start packing.
Do this a couple of days prior to your trip.
If you're anything like me, you'll overestimate the amount of space you have for all the necessities. In my case, half the things from the checklist turn out to be unnecessary.
Start by packing your check-in bag. Here you'll place all the bulky stuff too large for your backpack, as well as things that aren't allowed in the cabin. Since a checked bag has weight restrictions, you should always have a luggage scale close at hand.
If possible, go for a soft bag. Those hard shell bags only look sturdy, but can easily crack when thrown onto the carousel. A duffel bag is an ideal choice for air travel. It has plenty of room for a small tent, a sleeping bag and other camping necessities.
Always use compression bags and packing cubes in both your checked bag and your backpack, to save as much space as possible.
Go Minimal And Versatile
Traveling light doesn't simply mean packing less, but packing smart. You don't need 10 different shirts. Instead, go for quick-drying clothes. That way, if you get caught in the rain, you'll be dry in no time.
If the weather allows it, the best way to bring your bulky clothes is to wear them while traveling. You can wear your puffy and tie a sweater around your waist.
The same goes for shoes. While taking off boots at the terminal might be annoying, you're saving a lot of space and weight by wearing them instead of packing.
Multipurpose biodegradable soap is another necessity. You can use it for everything, from bathing to cleaning your clothes and dishes. Why pack all of your toiletries when a single camping item can do the job just as well?
When it comes to camping equipment, opt for a small, lightweight tent. This is certainly not the right time to show off your 8-person tent that weighs 20 pounds!
In fact, as an alternative to tent camping, consider sleeping in a hammock. They're lightweight, compact and simple to use. Plus, it'll leave you lots of space for packing other things you can't imagine camping without.
Why should you pack your check-in luggage first?
Because most domestic airlines have no weight restrictions for carry-on bags. This means that you can use your hand luggage to carry all the things that you ruled out as too heavy for your check-in bag, like shoes or a cooking pot.
Packing Order Matters
Finally, pack things in order you're going to use them. This will make it a lot easier to stay organized throughout your trip.
For instance, you won't be needing a tent before you reach the campground, so it should be at the bottom of the bag.
On the other hand, a neck pillow or backpacking pillow should probably be packed last, so that you can use it when needed.
What You Can't Pack
Before you go all ham packing for your trip, know that there are pieces of camping equipment that aren't allowed on the plane.
The Transportation Security Administration (TSA) decides on these regulations. They update these rules frequently, so make sure you always check their website before traveling.
Keep in mind though that regardless of what the website might say, the TSA officer has the final say on whether an item is allowed or not. For this reason, never bring things you're not prepared to give up. Like that Zippo your dad gave you.
But that's not all!
Individual airlines can also have their own regulations. That's why you should do thorough research to see what you can bring on the plane.
With that being said, here are the things you surely can't fly with:
Camp stove fuel
Bear spray
Torch lighter
Flares
The reason why these things aren't allowed is obvious. You wouldn't want to blow the whole thing up, would you?
What You Can Pack
You can bring most of your camping gear on the plane. But, not everything can be brought inside the cabin. Some things have to be packed in your check-in luggage.
Stuff like trekking poles, tent stakes and knives aren't allowed in a carry-on bag, as they're considered a weapon. They take security very seriously at airports.
Even liquids have specific regulations. You can only carry them in bottles under 3.4 ounces, all placed in a zip-top bag. Most food is allowed if wrapped or in a container.
When it comes to medication in both liquid and solid form, you can keep them at hand in your carry-on bag. But, you must inform the TSA officer about them at the start of the screening. Otherwise, they might think you're up to something shady.
As I said, stove fuel is not allowed on the plane. The camping stove itself is. And actually, it's better to have it in your carry-on bag. First, because these things are fragile, and second, the TSA officer will want to inspect them for possible camping fuel residue.
Interestingly enough, lithium batteries are only allowed in your hand luggage. But, only if you keep them either in the device they're powering, or in their original packaging.
Finally, you can bring your water bottle, but only if it's empty. Once you pass security, you can fill it at the drinking fountain.
Checked Baggage/Hand Luggage
Every airline has its own luggage weight and size restrictions. This makes sense. Imagine if everyone packed everything they wanted – the plane would be too heavy to take off!
Suitcases come in different shapes, so most airlines use linear inches to define the size limits. This measurement is actually a sum of your bag's length, width and height.
For instance, a suitcase with dimensions of 30x20x9 inches is a 59 linear inch bag.
Most US airlines allow a maximum size of 62 linear inches for your checked luggage. There's also a weight limit, which is typically 50 pounds.
But these numbers can vary, so it's important to check your airline regulations before the flight. Otherwise, a bag that's too big can hurt your wallet. Overweight and oversized luggage can cost you as much as the plane ticket itself!
Hand luggage typically doesn't have weight restrictions, but the size matters.
The standard size of a carry-on bag is 22x14x9 inches. This limit assures your luggage can fit into the overhead bin.
Protecting Your Backpack
Sometimes, backpacks can be quite a nuisance to carry around the airport, especially when switching flights. That's why many people choose to check them.
But if you do so, there are a few things you should know:
Backpacks aren't designed to be tossed onto the carousel, because of all those straps that can get caught and ripped. And besides, the handling crew is not known to be gentle with luggage.
But there's a way to protect your backpack. First, make sure there are no loose straps that can get stuck in the luggage carousel. Then, tighten the shoulder straps as much as you can, and tie them together.
If your hiking backpack has a hip belt, buckle it backward, around the front side of it. Secure the zippers as well, by tucking them under the hangover liner.
For compartments with double zippers, push them all the way to one side, to prevent them from being pulled open.
You could also wrap your backpack in plastic wrap for an extra layer of protection. Pretty much every airport provides a wrapping service.
One thing I like to do with my luggage is to wrap a vividly colored ribbon around the handle. This way, I can spot it from afar at the baggage claim.
There's little chance someone else did the same thing with a ribbon of the exact same color, right?
Finally, take a photo of your backpack.
Why? Because sometimes luggage simply gets lost. If this happens to you, show the photo to the staff for a better chance of finding it.
Renting Your Gear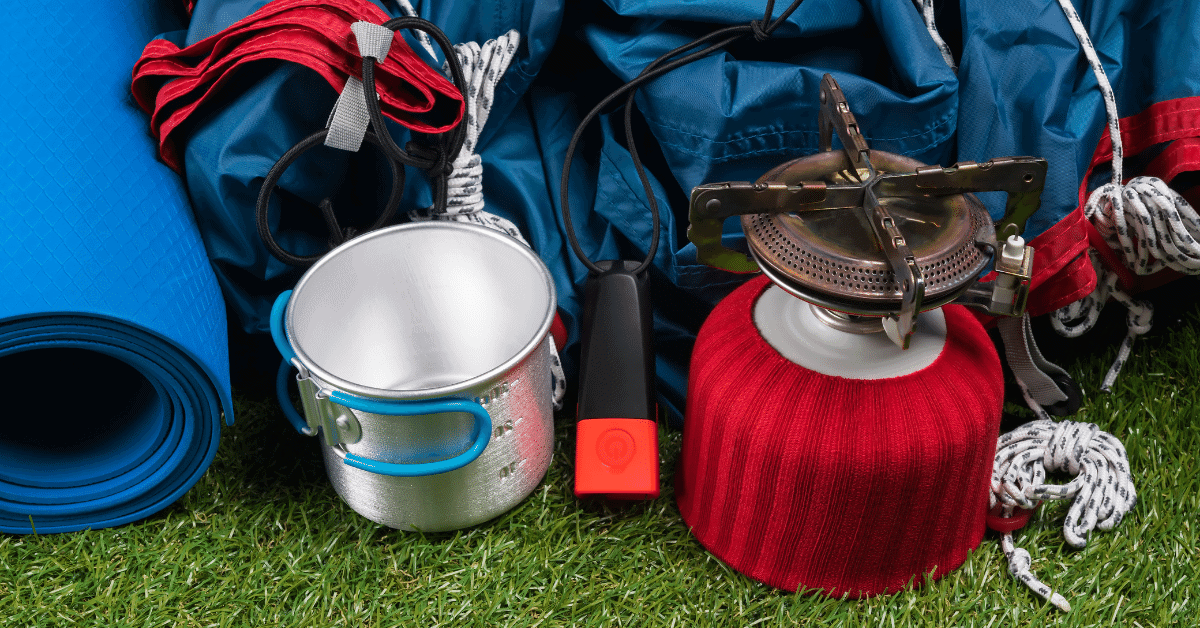 So you need more things for your camping trip than you can take on a plane with you?
Well, renting is an option.
In fact, you could rent bulky things like a tent or a sleeping bag, and make more room in your luggage for other essential stuff.
Luckily for you, there are a lot of renting companies that allow you to use their equipment for a certain fee.
And I'm not just talking about the essentials. You can rent anything from a hard-sided cooler to a headlamp!
Plus, you can have it shipped to nearly any location you need.
Renting can save you both money and storage space. But it's also a great way of trying out a new piece of equipment before deciding whether it's worth buying or not.
Shipping Your Gear
There's a way you can bring your outdoor gear to the campground without carrying it all on your back – by shipping it.
This calls for some planning, but it's a great way to bypass all the silly airport restrictions.
If you decide on this method of gear transport, the first thing you need is – someone to ship the gear to.
You've got a few options:
Shipping it to a friend or relative
Shipping it to your hotel
Shipping it to the campground
Asking a local outdoor shop
If you have a friend or a relative living nearby, that's a piece of cake.
But if that's not the case, you need a backup option.
If you're staying at a hotel before venturing into the wild, they'll probably be happy to receive your stuff before your arrival.
In case you're going straight to the campground as soon as you arrive, check if they'd receive and hold the shipment until you get there.
If none of these options work out, you can always try contacting local outdoor shops. After all, you'll pay them a visit to buy stove fuel, canned food and whatnot. So why not kill two birds with one stone?
If you decide on shipping your gear, make sure you bubble wrap and duct tape everything to prevent possible damage.
And don't forget to ship your equipment in a timely manner so that it doesn't arrive late. The last thing you'd want is to get to your camping destination and not have anywhere to sleep.
That's All Folks
Flying with camping gear can be stressful. There are so many rules, from what you can and cannot bring, to how big your luggage is allowed to be…
But you can't let these restrictions ruin your trip, can you?
Here's a simple rule – pack only the bare necessities. Everything else can be shipped, rented or even bought when you arrive.
Plus, once you set up a camp, you'll be laughing that packing got you so stressed in the first place.