If you're in a rush and just want to know what the best dog sleeping bag is, we recommend the RUFFWEAR Highlands Dog Sleeping Bag 
as our #1 pick.
There's no better way to spend quality time with your canine companion than to enjoy the great outdoors together. But most dogs aren't exactly used to sleeping out in the cold, harsh ground.
Every dog should be warm and cozy while sleeping. That's why you should definitely invest in a dog sleeping bag when taking your dog camping. But with so many models on the market, it's hard to make the cut.
I've been in your shoes, and it took quite some research to find the best dog sleeping bag out there. So today, I'll share with you my top pick, as well as its close follow-up. Let's jump straight in!
Here are the best dog sleeping bags for 2022:
Still confused? Check out our full dog sleeping bag comparison table. 
Best Dog Sleeping Bags – Our Top Picks
RUFFWEAR Highlands Dog Sleeping Bag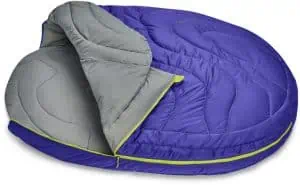 Sizes: Medium, Large | Fits Dogs: Small to Large | Dimensions: 25.2 x 33.5 in, 28.3 x 43.3 in | Weight (lbs): 1.6 lbs, 2.3 lbs | Shell: 75-denier polyester | Insulation Type: synthetic down | Lining: 40-denier nylon
When it comes to outdoor pet gear, seeing a product by Ruffwear at the top of the list is no surprise. After all, the brand is focused on designing high-quality gear for our four-legged outdoor adventurers.
The Highlands sleeping bag does a great job of keeping your dog warm and comfortable. It's filled with synthetic down, which mimics the softness and warmth of real down, but keeps those abilities even when wet. But since the outer layer is made of DRW-coated polyester, water can't get inside anyways.
Another feature that makes this sleeping bag stand out is the neck baffle that minimizes the draft. And if you want your pooch to be extra comfortable, the bag also features an integrated sleeve. This allows you to attach a Highlands pad that you can buy separately.
This sleeping bag comes in two sizes: medium and large. The former is designed for small to medium dogs, while the latter is suitable for even the largest of pups.
Pros:
The insulated neck baffle keeps the wind out
Comes in two sizes, medium and large
Can be washed in the machine on a gentle cycle
Comes with compression sack, for easy portability
Cons:
Best for: year-round camping.
Outrav Dog Sleeping Bag

Sizes: One-size | Fits Dogs: Small to Medium | Dimensions: 26 x 36 in | Weight (lbs): 0.64 lbs | Shell: Durable polyester shell | Lining: Soft and comfortable interior
The round shape makes this sleeping bag great for dogs that love to burrow underneath the sheets at night. It only comes in one size, and it's suitable for dogs up to 30 pounds.
The sleeping bag is made of durable yet lightweight polyester that will keep your dog warm and cozy at night. It features a DRW coating, so it ensures your pet stays dry even with the sleeping bag on wet ground.
Even though it appears to be thin, the material is pretty rugged. What's also great about this sleeping bag is the ease of maintenance. Just throw it in the washing machine on a cold, gentle cycle, and it will come out as new.
Weighing less than a pound, this dog sleeping bag is suitable for hiking and trekking trips. It packs pretty compactly, so you can easily fit it in your backpack or attach it to tie-out loops.
Pros:
Very affordable
Lightweight and compact
One side zipper allows you to adjust the bag according to your dog's sleeping behavior
36″ in length and 26″ wide – it's perfect for smaller dogs
Cons:
Not suitable for very cold weather
Comes in only one size
Best for: small dogs.
CHEERHUNTING Dog Sleeping Bag

Sizes: One-size | Fits Dogs: Medium to Large | Dimensions: 27.7 x 43.3 in | Weight (lbs): 1.98 lbs | Shell: Oxford cloth | Lining: Fleece
This model by Cheerhunting is the perfect proof that you can find an affordable dog sleeping bag with cool features usually found on more expensive products. This universal-sized sleeping bag offers the best bang for your buck.
With 43 inches x 27 inches in dimensions, this sleeping bag can fit a large pooch, such as a Rottweiler or a Labrador. And since it features a side zipper, you can expand it to be up to 58 inches in width.
The shell is made of waterproof polyester, while the inner layer is made of fleece-like material. It's soft and warm, so you can rest assured that your pooch will sleep like a baby. For extra warmth, there's a drawstring around the head area that prevents air from leaving the sleeping bag.
A Velcro zipper cover is quite a nice touch. It prevents your dog's fur from getting stuck, and it keeps it from unzipping by accident.
Pros:
Suitable for dogs of all sizes
Drawstring prevents hot air from dissipating
Velcro cover hides away the zipper
Packs up small
Cons:
When unpacked it can have a weird smell, but it goes away with washing
Best for: dogs that sleep stretched.
Hurtta Outback Dreamer ECO Dog Sleeping Bag
Sizes: Small, Medium, Large | Fits Dogs: Small to Large | Dimensions: 22 to 35 in diameter | Weight (lbs): 0.5 lbs to 1.5 lbs | Shell: 100% Recycled PES 100D surface fabric | Insulation Type: 120g recycled wadding | Lining: 50% recycled PES, 50% PES technical 180g knitted lining, with a heat-reflecting aluminum foil pattern
If you're willing to spend a little extra on a dog sleeping bag, you can't go wrong by choosing Hurtta. But the quality of the products really justifies their high price.
Take this dog sleeping bag for example. It packs compactly, but once you unfold it, it turns out to be a suite spacious sleeping bag. It's round-shaped, but it features a large opening in the middle that allows your dog to get inside.
The sleeping bag is made of recycled 100D polyester. This material is commonly used for jackets and outer shells since it's breathable and water-resistant. The bottom part of the sleeping bag has an additional layer of wadding between the fabric and the inner lining for insulation.
Speaking of inner lining, it's made of tightly knitted fabric with an innovative foil pattern. The foil reflects the dog's body heat, which further warms up the sleeping bag. So even though it appears thin, rest assured your pooch is feeling cozy inside.
Pros:
Comes in three sizes
Reflecting foil pattern for added warmth
An additional bottom insulation layer
Very spacious
Cons:
Quite expensive for a dog sleeping bag
Best for: backpacking.
Alcott Adventure Sleeping Bag

Sizes: Small, Medium, Large | Fits Dogs: Medium to Large | Dimensions: 20 x 32 in to 28 x 42 in | Weight (lbs): 0.8 to 1 lbs | Shell: Nylon | Insulation Type: Polyester | Lining: Polyester
If the nights get really cold, you'll have to pack some pretty warm sleeping bags for you and your canine companion. Dog sleeping bags don't have a temperature rating, but what we can say about this bag by Alcott for sure is that will keep your pooch warm when the temperature approaches zero.
Rugged polyester on the outside and warm flannel on the inside make this sleeping bag great for cold nights in the woods. The waterproof base assures your dog stays dry even when sleeping on the wet ground.
During warmer months, it can get quite hot inside this sleeping bag. But you can unzip the top part for your dog to use the sleeping bag as a pad instead. This practically makes this product suitable for year-round camping.
For optimal warmth, it's always best to go for a snug fit. Luckily, this model comes in three sizes, so you can choose the one that's closest to your dog's size.
Pros:
The flannel inner lining adds more warmth
Unzipped, it can be used as a sleeping pad
Quite affordable
Three sizes to choose from
Cons:
Best for: winter camping.
Arcadia Trail™ Cozy Sleeping Bag for Dogs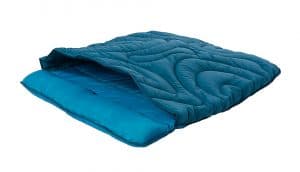 Sizes: One-size | Fits Dogs: Large | Dimensions: 30 x 38 in | Weight (lbs): 1 lbs | Shell: Nylon | Lining: Soft Lining
Even dogs love pillows…I know mine certainly does! The Arcadia Trail Sleeping Bag gives your dog just that.
On top of the comfortable pillow, it's soft lining is comfortable and dog friendly.
Made with a nylon exterior, this sleeping bag is 30 x 38 inches, meaning it  will be perfect for your mid-size dog.
Pros:
Built-in pillow for added comfort
Packable into a small stuff bag
Flame Retardent
Very affordable
Cons:
Best for: dogs who love to sleep on pillows.
Backcountry x Petco The Sleeping Bag
Sizes: Small/Medium, Large/X-Large | Fits Dogs: Small to X-Large | Dimensions: 27 x 38 in, 35 x 50 in | Weight (lbs): 1 lbs | Shell: Polyester | Insulation Type: Polyester | Lining: Polyester
Backcountry and Petco both got together to make this great dog sleeping bag.
With a thermal reflective liner, it reflects heat and returns it back to the dog for a cozy sleeping space.
Easy to unzip and compress down with into a small stuff sack, this sleeping bag expands to 35 x 50 inches for larger dogs (or there is a smaller version for mid-size dogs as well).
It is machine washable on gentle cycle and will keep your dog warm on any camping trip.
Pros:
Thermal reflective liner
Packable into a small stuff bag
Water-resistant fabric
Unzippable to turn into a large sleeping bag
Cons:
Slightly pricier than some of the alternatives
Best for: larger dogs.
iEnergy™ JUL – Dog Blanket Sleeping Bag

Sizes: One-size | Fits Dogs: Medium to Large | Dimensions: 29.5 x 41.3 in | Weight (lbs): 0.8 lbs | Shell: Polyester | Insulation Type: Polyester | Lining: Polyester
Owners of large dogs, like Great Danes or St. Bernards, know how hard it is to find suitable dog gear. And then you also need to pay a large sum for a product of that size. Well, that's not always the case. This sleeping bag by iEnergy is both big and affordable, a dream come true for a large dog owner.
With dimensions of 41 x 30 inches, this sleeping bag is great for big pooches, as well as those that love to sleep stretched out. But even though it's big when unfolded, this sleeping bag packs down pretty compactly. You can easily store it amongst your other gear.
The sleeping bag is also pretty lightweight. It weighs a little under 1 pound, which is amazing for such a large product. Thanks to polyester lining and filling, this bag stays light and warm. The material is water-resistant as well as quick-drying, so you don't have to worry about your dog getting wet.
Pros:
Rather affordable
Suitable for very large dogs
Lightweight and compact
Quick-drying fabric
Cons:
Not as warm as some other models on this list
Best for: large dogs.
Check Price at Creative Pet Alliance
Best Dog Sleeping Bag – Comparison Chart
Do Dogs Really Need Sleeping Bags?
That depends on the dog. Some dogs are cold when the temperature hits 50, while others can sleep buried in the snow.
Even so, I'd still say that you should at least give your dog an option to sleep in a dog sleeping bag.
Especially if it already sleeps in a nice and cozy bed at home. Why should camping with your dog be any different?
A sleeping bag doesn't just keep the dog warm, but also away from wet ground and harsh terrain.
You will also want to invest in a great travel dog bed for camping.
What To Look For In Dog Sleeping Bags?
Buying camping gear for us is a piece of cake compared to dog gear. That's logical, given there are so many different breeds out there.
But there are a few things you should look for when choosing a model for your pooch.
Size
Some models only come in one size, but there are many that offer several options.
One thing that affects your size choice is how your dog sleeps. If your Fido curls up, then you should get a sleeping bag that's slightly bigger than your dog.
On the other hand, if your dog sleeps with legs all up in the air, then you might need to go a size larger.
In any case, you need to find a model that's at least 6 inches bigger so your dog can move around in it.
Insulation
Sleeping bags are usually insulated with either synthetic or down.
When it comes to dog gear, down is not a great choice. That's mainly because it takes a long time to dry. Now if you're sleeping inside a car or a cabin, for instance, insulation doesn't matter.
But if you're out in the wild, polyester is a better form of insulation. That's the insulation most models on the market have. Not only do they dry fast, but they're easy to clean and lightweight.
Weather Resistance
A wet dog sleeping bag is as good as no sleeping bag at all.
When you're out in the wild, you can always expect weather changes.
For that reason, you want to find a sleeping bag that's at least water-resistant.
In most cases, dog sleeping bags are coated with a DRW finish, which wicks water away but keeps the material breathable.
Closure System
While sleeping bags without a closure system mean that a dog can easily get in and out of them without your help, that also means they let some warm air out.
Certain sleeping bags might come with a drawstring. Others close with a zipper.
Which one is better for your dog depends on its behavior. A chewer, for instance, might find the drawstring appealing. A zipper, on the other hand, can easily get stuck in long fur.
Weight
If you're hiking with your dog, backpacking, or even carrying your dog in a backpack carrier, you want to stay as light as possible.
And unless your dog is carrying its own gear, it's up to you to carry it to the campsite, along with the rest of your gear.
In most cases, dog sleeping bags weigh between 1 and 2 pounds, but there are models that are designed with hikers in mind.
Different Types Of Dog Sleeping Bags
Not all dog sleeping bags are the same. But the majority of them are either rectangular or round-shaped.
And which one is more suitable for your dog depends on how your dog likes to sleep.
Round
A round sleeping bag is perfect for dogs that love to sleep curled up.
These bags usually allow the dog to hide inside all covered up, but some of them might have a large head opening around the mid part.
These sleeping bags usually offer more space, but the large opening will allow some heat to escape.
Rectangular
This type resembles human sleeping bags.
It's great for dogs that sleep stretched out on their sides.
In most cases, they have some kind of draft protection that keeps your pooch warm and cozy at night.
Dog Sleeping Bag FAQs
How Do I Get My Dog To Use The Sleeping Bag?
Getting your dog used to the sleeping bag can take some time, so you should practice at home well before your trip. Start by placing the sleeping bag on the floor and letting your dog sniff and inspect it.
Praise your dog every time it reacts positively to the sleeping bag. You can also use toys or treats as an incentive.
What Size Sleeping Bag Should I Get For My Dog?
The best way to figure out what size you should buy is to measure the size of your dog in the sleeping position.
Then, add at least 6 inches on all sizes of the sleeping bag, so that there's enough room for the dog to move around.
What If My Dog Won't Use The Sleeping Bag?
If for whatever reason, your dog rejects to use the sleeping bag you bought, you'll have to find another way to keep your pet warm.
Depending on the fur length, your dog might be fine with just sleeping inside the tent, but having a good insulating layer from the ground is crucial.
You can use extra blankets and warm water bottles to keep your dog warm. Of course, cuddling can't hurt.
To Sum Things Up
There are tons of dog sleeping bags on the market, but only a few really stand out.
Among those, it's the Ruffwear Highlands dog sleeping bag that deserves the number one spot.
It's warm, waterproof and quite durable. It also comes in two sizes, so you can choose a snug fit for your pooch.