Pressed for time? Our top pick for the best kids hiking backpack is the Osprey Ace 38 Kids' Backpacking Backpack.
Hiking is a great way to teach your kids to appreciate nature. However, if you want a family hiking trip to be enjoyable, you need to plan everything, from activities to snacks and meals to making sure you have all the necessary equipment.
This is the perfect chance for kids to feel like a part of the team. You should let them carry their own stuff, like their favorite blanket, a rain jacket or water bottle. That also means they'll need a bag, but not just any bag will do. What they need is a proper kids' hiking backpack.
Finding a suitable hiking backpack for your kid can be overwhelming. There's plenty of choices with different features, and it's hard to figure out what the best option is for your young hiker. 
I went through the same thing picking out a backpack for my little trekking buddy. That's why I did a lot of research on different kids backpacks. I compared their features and picked out five bags that have got everything a little adventurer might need while hiking. 
So, ready to find the perfect pack for your kid? Let's get started!
Best Kids' Hiking Backpack: Our Top 5 Choices 
Osprey Ace 38 Kids' Backpacking Backpack
The Osprey Ace 38 has all the necessary features of a well-designed kids' backpack. It's very adjustable, so as your child is growing, they won't outgrow the pack. 
The Airspeed technology back panel allows air to flow through and keeps the air off the child's back. It also helps with proper weight distribution. The shoulder harness has 4 inches of adjustability, so you won't have to get your kid a new hiking backpack whenever they have a growth spurt. 
The LightWire frame transfers weight from the shoulders to the waist, creating balance. Fit-on-the-fly technology also makes the belt expandable by a few inches. 
This pack has plenty of storage options. Alongside the huge main compartment, there are three exterior mesh pockets perfect for separating clothes and such. There's also a stretch mesh hip belt pocket that's great for storing pinecones and other things kids encounter on the trail.
Another neat thing about this backpack is that it allows kids to carry their own camping equipment. There's a zippered bottom pocket for a kids sleeping bag, as well as removable sleeping pad straps. Daisy chains on both sides are great for attaching even more gear. At the bottom, there's a zip pocket with an integrated rain cover.
Finally, the inside of the pack features written principles of Leave No Trace, which is invaluable for every novice adventurer. 
Pros:
Harness suspension with 4 inches of adjustability

Lots of external storage options

Storage space for a sleeping bag and pad

Quality level is on par with adult backpacks 
Cons:
A bit heavier than some kids' backpacks
Best for: little adventurers going on a multi-day backpacking trip
REI Co-op Tarn 18 Pack – Kids'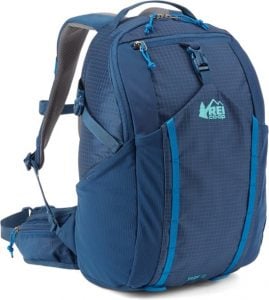 This kids' hiking backpack from REI is all about pockets. A stretchy mesh front pocket is great for storing larger pieces of equipment, such as a hat or a rain jacket. Two side mesh pockets can fit a large water bottle. There are also daisy chains alongside the front pocket, which are handy for attaching extra hiking gear with a carabiner. 
Zipper pulls are one of those things you don't know you need until you try them. I love that these pulls also double as reflective details, which provide more nighttime visibility. 
The buckle on the chest strap doubles as a whistle, for emergency situations. The strap itself can be moved up and down, which allows the kids to place it where it's most comfortable for them.
When you open the pack, you'll see a name tag located at the back, above the water reservoir compartment. On the other side, there's a handy packing checklist of items your youngster could possibly take on a hike. This is a great feature, as it helps little adventurers learn to pack for themselves. 
This 12-Liter pack is meant for children aged 8 to 12, but the bag's shape actually makes it suitable even for kids under 8 years old. It comes in two vivid colors that kids will love: dark red and indigo. 
Pros:
Reflective details improve nighttime visibility

Plenty of storage options

The height of the sternum strap can be adjusted

Very affordable
Cons:
The shoulder straps might be a bit uncomfortable around the neck for some kids
Best for: kids who need a backpack for a variety of purposes, not just for hiking
Osprey Ace 50 Kid's Backpacking Backpack
You might be thinking – why is the Osprey Ace backpack mentioned twice here? Well, the Ace 50 is the larger version that has everything the Ace 38 has, plus some extra features. 
The Ace 50 is designed with 5 inches of torso adjustability, and it's intended for children aged 9 to 14. You can choose from two bright colors: Blue Hills and Orange Sunset.
This travel backpack features zippered waist belt pockets that offer even more storage space than the mesh pockets found on the Ace 38. These are large enough to hold sunglasses or a flashlight.
The Ace 50 has adjustable pole loops as well as dual side compression straps. These are great for fishing rods as well as trekking poles. Under the lid of the main compartment, there's also a zippered mesh pocket which is great for storing things you need more often.
So, why is the Ace 50 in 3rd place, while the Ace 38 takes 1st place on this list? The main reason lies in its weight. The Ace 50 is almost a full pound heavier than the smaller version, and since it's a kid's backpack, every ounce matters. 
It's quite a large backpack for a child, but if your youngster is in middle school and about to embark on a serious multi-day hike, go for this pack. Otherwise, the Ace 38 is a much better option for those who don't need a huge amount of storage space.
Pros:
5-inch torso adjustment makes it suitable for kids aged 9-14

Large hip belt pockets for things needed close at hand

Adjustable loops allow your kid to carry trekking poles or a fishing rod

Comes with an additional inner pocket for gear you want quick access to
Cons:
More expensive than other backpacks on this list
Best for: older kids who need plenty of storage space
Osprey HydraJet 12 Kids' Hydration Backpack
The HydraJet 12 is a great backpack that works well for both hiking and everyday use. It weighs only 0.84 pounds, but there's enough room for all the hiking essentials a young adventurer needs on hand. 
Its size makes it great for kids starting from 4 all the way through to 12 years old. There are two colors to choose from – Cosmic Red and Wave Blue.
The pack features a wide-mouth bucket-style main compartment opening. This makes it easy for a child to access and organize their equipment. Externally, it has a stretchy mesh pocket on each side and a large one on the front. These are great for storing things your kid needs close at hand. 
The shoulder straps are fleece-lined, which makes them very comfortable. The hip belt, on the other hand, isn't padded, but considering your kid won't be carrying heavy equipment, that's not really a big deal. 
What's unique about this pack is that it features an external hydration bladder sleeve. The HydraJet 12 even comes with a hydration bladder, so that's one thing less you have to worry about getting for your kid. 
Pros:
The narrow shape makes it suitable for kids aged 4-12 

For such a small pack, it has plenty of storage options

Comes with a hydration reservoir

The back panel and shoulder straps are well padded
Cons:
The hip belt isn't padded
Best for: the youngest little hikers and bigger kids who need a smaller pack for day hikes
Deuter Junior Kids' Backpack
The first thing that stands out about this pack from Deuter is the large variety of color choices. We're all well aware that kids can be picky with colors, so this brand made sure to have an option for everyone's taste. Green, pink, blue… you name it.
This bag is made specifically for mountaineering, so comfort is a priority. The adjustable S-shaped Soft-Edge shoulder straps are designed in such a way that they prevent neck straining. 
The sternum strap prevents the backpack from sliding down the shoulders. 
This pack doesn't have a waist belt, but considering how lightweight it is, it doesn't really need one. Still, on longer hikes, a hip belt might have made it even more comfortable.
The Airstripes back system has two contoured, air-channeled pieces of foam covered with mesh. The channel between them provides great airflow.
When it comes to storage options, for an 18-liter backpack, the Junior has plenty of choices. Alongside the main compartment, there are two front zip pockets and two mesh side pockets. That's more than enough room for everything a young hiker might need.
Even though the Junior is designed as a hiking backpack, its shape makes it a great option for school too. The main compartment has plenty of space for school books and even a lunch box.
Pros:
Ultralight, making it perfect for kids aged 5 and above to take on day hikes

Airstripes back system provides great ventilation and comfort

Plenty of color options to choose from

Can double as a school bag
Cons:
No hip belt or hydration bladder sleeve
Best for: younger children and day hiking kiddos who need a bit more space
How To Shop For A Kids' Hiking Backpack – A Comprehensive Guide
Hiking with the family is an unforgettable experience. In order for it to be a pleasant one, preparation is key. Getting your child a proper backpack is equally as important as getting them a good pair of hiking shoes.
An inadequate pack can slide off your kids' shoulders or strain their muscles. Worst case scenario – you'll end up carrying it along with your own stuff. See how that can quickly take the enjoyment out of your hiking trip?
In order to not make such a mistake, here are some common kids' hiking backpack features you should take into consideration when shopping for the perfect one. 
Volume / Size
When buying a backpack for your child, always keep in mind how much stuff they'll be carrying. You don't want hiking gear sticking out of every pocket, but you also don't want them carrying a floppy, half-empty bag around. 
Ideally, you'll want a hiking backpack to be relatively full. That way, it keeps its shape and sits comfortably on the back. However, an 18L and a 50L full backpack are nowhere near the same. So what's the ideal volume?
Well, this depends on the length of the hikes your kid will be going on. If you're starting out with family day hikes, your kid will only need a small backpack for snacks, a water bottle and maybe a few other necessities (like that plastic dinosaur they take everywhere).
Age and body type are also important factors in choosing the right product. A 40 to 50-Liter backpack is ideal for older kids and teenagers going on longer hiking trips. They won't outgrow it anytime soon, and there's enough storage space to carry all of their own camping equipment. 
Weight
A heavy bag sucks the joy out of a fun hiking trip. It's difficult to enjoy the beauty of the nature you're passing through when you're exhausted from carrying a heavy load. That's why the pack itself should be as light as possible. This is even more true when it comes to our kids. 
Torso Length
Kids grow up faster than the speed of light. One day you buy them shoes, the next day those shoes are already too small for them to fit half a foot in. While a backpack isn't as size-specific as shoes are, there's still such a thing as the right fit. 
Some hiking backpacks, like some of those on our list, come with an adjustable torso length. This feature allows the pack to grow with your child, meaning you don't have to buy them a new one every single year. 
Hydration Reservoir Compatibility
Proper hydration is crucial when you're taking part in any physical activity. This is even more true for children, because by the time they announce they're thirsty, they're already dehydrated. That's why they should drink fluids at regular intervals.
However, that's easier said than done. Water bottles are bulky and kids chug them down in a minute when they're thirsty. But there's a solution to this problem – a hydration pack. These are great as they allow you to drink without taking the bag off your back, and they have a much larger capacity than water bottles.
Most backpacks are compatible with a hydration reservoir system. This means that they have a designated compartment for the hydration sack, as well as an opening for the sip tube. The reservoirs themselves are usually sold separately, although a few backpacks do come with one included. 
Padded Shoulder Straps
Since kids are growing so fast, they shouldn't carry more than 10-15% of their own weight. But even with lightweight gear, you should get them a pack with properly padded straps that will provide your child with extra comfort and support while hiking. 
Ideally, the shoulder strap should rest on the meeting point between the shoulder blade and the middle trapezius muscle. That way, they keep the shoulders straight without straining any of the muscles. 
Mesh Side Pockets
Side pockets are great for a variety of things. If a hiking backpack doesn't come with a hydration pack compartment, this is where you'd keep a water bottle. These pockets are also suitable for carrying sandals or a hat. They're also great for storing pinecones, pebbles or anything else kids might collect along the way on the trail.
Rain Cover
There aren't many waterproof backpacks on the market. A typical hiking backpack is made of a polyester or nylon material which is then treated with a DWR (durable water repellent) coating to make it water-resistant. 
But what if the rain catches you off guard? 
Some backpacks come with a rain cover included that makes them 100% waterproof. Usually, they're stored in a designated pocket at the bottom of the backpack, and you take them out when needed. If the hiking bag you end up going for doesn't come with a rain cover, you can always buy one separately. It's a small investment that's well worth the extra expense. 
Hip Belt
People tend to underestimate how useful a hip belt can be. A traveler with a waist belt flapping and dangling around their waist unbuckled is such a common sight. Many people see them as unflattering and inconvenient, but the reality is just the opposite.
The hip belt is designed to transfer your backpack's weight from your shoulders to your waist. That way, your leg muscles are the ones doing most of the heavy lifting, not your shoulders.
The Verdict
With so many kids' hiking backpacks on the market, the choice isn't easy. Many factors affect the choice, such as the child's age and constitution, as well as the intended purpose of the pack. 
I've narrowed it down to five backpacks that I believe are the best on the market today. The Osprey Ace 38 Kids' backpack has everything that a young adventurer might need – comfortable straps, plenty of storage options and a rain cover. Another neat feature is the list of Leave No Trace principles that teach kids how to enjoy the outdoors without disrupting nature.
When buying a backpack, keep in mind that it's important that your child likes the one you want to get them, otherwise your purchase might be in vain. 
More Hiking Gear