If you're in a rush, I'll save you some time by recommending the Suunto MC-2G. It's incredibly reliable and my personal daily driver.
Going hiking? Then you NEED a compass. There's no ifs, ands, or buts about it!
Your trusty compass will get you out of a pinch when your phone or GPS device dies. Or, when you get lost and don't know which way to point the map. In dozens of situations, this tool could be a literal life-saver, and it costs about the same as a six-pack of beer.
But, how do you find the best compass for hiking?
That's where I come in…
Best Compass For Hiking: Our Top Recommendations
Suunto MC-2G Compass

Suppose you've already read my hiking watch buying guide. In that case, you're likely already familiar with the benefits of Suunto products. Despite not having the flashiest aesthetic, the Suunto MC 2G is the compass I use most often for a few reasons.
First off, the compass' card-like shape makes it super portable since you can easily fit it into even the tightest of pockets. I'm not one to wear skinny jeans often, but if I were, I'd pick the MC-2G.
Another less-fashionable reason to go for this compass is that it's precise no matter where you are in the world. Why? Because its declination adjustment tool (more on that later) gives you accurate directions everywhere.
Finally, its luminous rotating bezel (otherwise known as an azimuth ring) also makes this compass a breeze to read in the dead of night.
The extra sighting hole is handy too, but it isn't a massive determinant for casual campers who need it for everyday use.
Lastly, it's not a game-changer, but the built-in strap helps me carry it without any fuss.
All these factors put together make this my #1 pick.
Pros:
Portable card-like form
Reliable even under magnetic variation
Luminous rotating bezel for nighttime use
Extra sighting hole
Built-in strap
Cons:
Aesthetic isn't as flashy as other products
Best for: campers looking for a reliable compass that don't mind basic designs.
Eyeskey Compass

If the Suunto MC 2G is your performance-centric OnePlus Nord, then this survival compass from Eyeskey is the Samsung Galaxy Note20 Ultra. You know, the type of product that tells you form and function aren't mutually exclusive.
It comes in both green and black, which realistically covers most color preferences in the hiking world. I'm not sure about you, but I can't recall the last time I saw a purple hatchet being used anyway.
Aside from the aesthetics, the construction of this lensatic compass is absolutely on point with the aluminum alloy chassis.
It's also waterproof, so you could keep this in your pocket while wading through the waters without having to worry about any damage occurring.
The dial is luminous, and the bezel rotates freely. Therefore, the reading experience is obviously top of the line with this survival compass (commonly referred to as a military compass).
While it's not exactly a con, you should note that the phosphorescent material on the bezel takes a while to charge before it glows. Don't expect the compass to shine bright if it's spent the entire day inside your backpack, since it hasn't been exposed to enough light.
Pros:
Great design
Two color options
Aluminum alloy chassis for maximum durability
Waterproof
Luminous rotating bezel
Cons:
Some buyers have had issues with magnetic declination
Best for: campers who need a lensatic compass that can take a beating and still look good as new.
TruArc 3 Compass

If you've just come from my hatchet breakdown article, you know that we love products that are made in the USA. The TruArc 3 is our recommendation for patriots trying to keep their shopping domestic.
Besides being made in the USA, why would you want this compass? For one, its bare-bones design makes it a good pick for beginners looking to build up their navigation skills without being overwhelmed by a more complex interface. Some newbies even use this as a learner compass before upgrading to a more advanced compass like the Eyeskey or something similar.
Despite being "born in the USA," the TruArc 3 is still friendly to foreigners as it has both inch and centimeter scales. This feature slipped under my radar until my friend from London came along on a camping trip. We got to joke about the metric/US measurement systems and had a good laugh.
Beyond its versatility, I'm a big fan of the form that this compass sports. It weighs just over a single ounce and has absolutely minuscule dimensions of 2.5″ x 3.5″ — almost equal to a standard credit card.
Pros:
American-made
Simple design makes it easy to use and a good learner compass
Imperial and metric scales
The size of a credit card
Cons:
No cardinal directions on top of the bezel
Best for: rookie navigators who want something small and straightforward to get them in the groove.
Coghlan's Map Compass

Next up, we have the map compass from Coghlan's.
This particular model is well known for being an affordable compass option. I'll tell you right now that most campers don't use this as their main compass. It's generally more of a backup that they carry around.
It might seem excessive to own a second compass, but there's no real downside since they cost so little, and weigh even less. If you lose or break your primary compass, then having a contingency plan ensures you won't get lost.
The entire base is see-through, making it the perfect compass for map reading since it doesn't obstruct any information. Couple the semi-transparent chassis with the magnifying lens, and you're all set.
Its pointer is luminous too, which means that navigating at night won't be an issue. If your current compass doesn't glow in the dark, then assigning the Coghlan's as your nocturnal navigator would be wise.
However, this model is pretty susceptible to interference from ferrous objects, so take note of that.
Pros:
Very cheap compass
Semi-transparent chassis and magnifying lens help you read maps
Serves as an excellent backup compass or nocturnal navigator
Comes with a nylon cord for easy carrying
Cons:
Vulnerable to interference from ferrous metals
Best for: campers looking for an affordable secondary compass.
Check Price at Sportman's Warehouse
SUUNTO A-10 Compass

We started this article off with a Suunto compass, so it seems only fitting that we close off with one too. This baseplate compass comes in an even more compact package since it doesn't have a plastic shroud with a sighting mirror on top, yet still retains the card shape of the MC-2G.
Despite its spartan aesthetic, the construction of this compass is actually quite impressive. The magnetized needle is made out of high-grade steel. It has a high-quality jewel bearing, so you won't have to worry about it not being durable enough. It's essentially the iPhone 20-XR-z (does that exist yet?) of compasses.
Its snap-lock lanyard attachment point is a subtle feature, no doubt, but one that I like a lot. This makes it so easy to pop the strap off when you want to use the compass to read your map.
Another small feature I liked is that unlike other liquid-filled compasses, this one had no bubbles. This is a nice touch, giving me confidence in its accuracy.
The main drawback is that this isn't a global compass like the first Suunto model we looked at. It's only balanced in the Northern Hemisphere, so those south of the equator may want to look for another compass.
Pros:
Even more compact than the Suunto MC-25
Durable components
Has a snap-lock lanyard attachment point
Bubble-free
Cons:
Not suitable for use in the Southern Hemisphere
Best for: north-of-the-equator campers looking for a durable, compact compass.
How To Choose The Right Compass For You
Head to any outdoor store, and you're bound to find dozens of compasses available to you. Even in this article, there are five fantastic compasses that you have to choose from. So, how do you make that choice?
If you're still on the fence, let's go through a few factors that just might help you make up your mind.
Glowing Indicators
If you're like me and start your hikes early (to catch the beautiful sunrise), then investing in a glowing compass could be worthwhile.
On the other hand, I hear many nature enthusiasts complain that these phosphorescent compasses don't glow bright enough. Their criticism is valid, but I have a quick workaround.
When my compass needs an extra charge to start lighting my way, I usually shine a high lumen flashlight on it for a few seconds, which does the trick. This method might be crude, but it gets my compass bright enough for me to read the directions in a snap.
Durability
When you spend money on any piece of hiking equipment, it should ideally have the durability to last you years. This is even more key when the item in question is responsible for safely getting you back to your campsite.
The A-10 NH from Suunto is a concrete example of reliable construction thanks to its jewel bearing and high-grade steel needle. The extra money you spend on buying something well-built is nothing compared to the hassle and risks of getting lost in the woods.
Liquid Freezing Point
Compasses that contain liquid are genuinely more accurate, but you have to be wary of its freezing point. Some liquid compasses are more susceptible to freezing, and this is absolutely unacceptable. A quality compass should read accurately, even in the most frigid temperatures.
So, check your compass' freezing point before heading out to explore the tremendous Alaskan tundra or somewhere similarly cold.
I've personally experienced some fantastic trips that I would've never gone on if I avoided colder environments. Having gear that can stare low temperatures in the face without batting an eye gives you the freedom to explore further than you'd otherwise be able to.
Global Needles
Campers who only traverse a single hemisphere may not see the need for a so-called global needle. However, seasoned travelers and orienteering enthusiasts who travel all around the world will want the versatility of a worldwide compass.
There's nothing wrong with products tailored to land navigation in the northern or southern hemisphere, as long as you know what you're getting into. I also know some hikers who prefer to have two compasses — one for each hemisphere. Either way, be prepared and informed, and you'll be fine with whatever setup you choose.
Adjustable Declination
Adjustable declination is a feature that only matters if you need precise compass navigation.
What is declination?
Put simply, it's a calibration factor used to adjust for the difference between magnetic north and true north. For beginner travelers, this shouldn't be too crucial. Still, rough and ready explorers should have this to keep their navigation precise.
For a detailed explanation, check out my ultimate guide on how to use a compass.
Compass Best Practices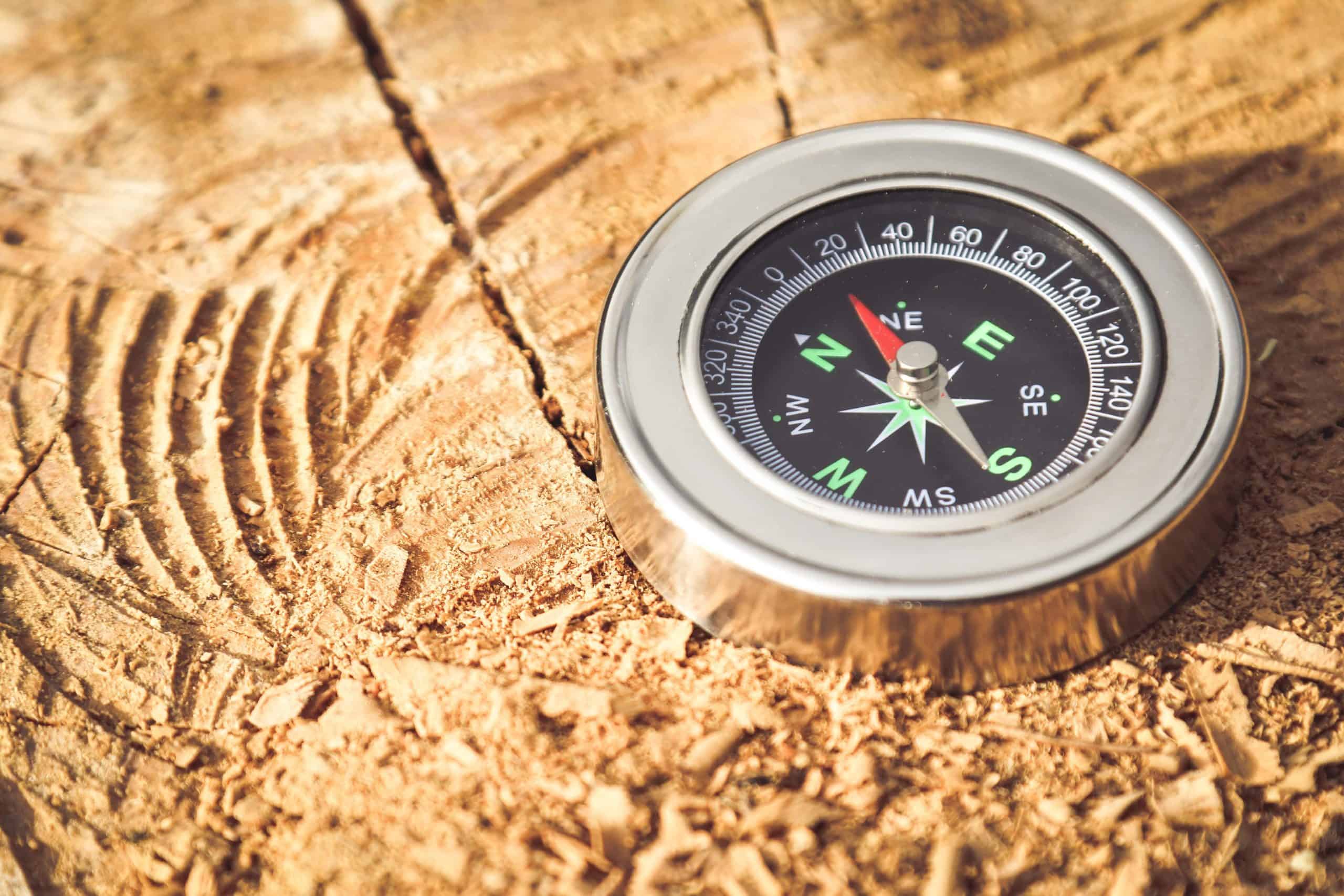 Here are a couple of things to bear in mind once you own a compass:
Cautious Carrying
Be mindful of where you carry your compass. I'd advise against storing it in the same bag as electronic devices and metal tools to ensure it doesn't get miscalibrated.
Using neck lanyards or keeping it in an exterior pocket is usually a safer bet.
Testing Alignments
You shouldn't wait until you're in the middle of a jungle to check if your compass readings are still accurate.
Test the calibration from time to time to see if your compass needs to be adjusted or even replaced. This will save you from getting into sticky situations.
Check For Bubbles
As I mentioned earlier, some compasses with liquid could have bubbles trapped inside the lens. This can impede the free movement of the compass needle, thus leading to inaccurate readings.
It's best to return any unit with this problem and get a replacement from the seller.
Cleaning & Maintenance
Wiping down your compass after a stressful day of use can really extend its lifespan.
Get as much dirt and sand off the baseplate to keep all the measurements easily readable.
It only takes a minute or two to maintain your compass, but it'll pay off in the long run.
Our Verdict
We've looked at some truly impressive compasses throughout this article. I genuinely believe that there's something for everyone when you look at all the options above. If you ask me personally, I'd say that the Suunto MC-2G is the best pick.
It's portable, easy to use at night, and can stand up to magnetic interference without breaking a sweat.
There's a reason it's been in my EDC pack for years. It's even Suunto's longest-running model, which just goes to show how effective it's been at serving consumers.
Ultimately, the MC-2G ticks most of the boxes, so there's no reason not to get it.
Be sure to give your compass of choice some TLC to keep it in near-mint condition for years, or even decades to come.
Well, that's all for now folks. Stay healthy, and keep hiking!