This is our review of the Coleman 2-Person Pop Up Tent.
If you're looking for a lightning-fast and budget-friendly tent, then look no further.
The Coleman 2-Person Pop Up Tent can be set up in seconds and tied down in another minute. It really is that simple and effective!
Taking it down can be more challenging, but once you get it down, it is quite easy as well.
Regardless this tent is perfect for budget solo adventurers or couples looking for a hassle-free and inexpensive tent.
Read on for the full review!
Coleman 2-Person Pop Up Tent: Key Features
Tent Size: 2 person | Seasons: 3-season | Weight: 6.4 lbs | Inside Height: 35 in | Floor: 7.5 x 4.4 ft (33 sq ft) | Setup Time: 2 min
Overall, we give the Coleman 2-Person Pop Up Tent a rating of 6.8 out of 10.
Is it the best tent out there? No. In fact, it's not even the best pop up tent available…but it is the most budget-friendly pop up tent on the market today.
So we'll go over the various pros and cons as well that we discovered as we tested and reviewed this tent.
Space & Comfort
The Coleman 2-Person Pop Up Tent features a decent-sized 33 sq ft interior that can accommodate up to two people.
It is very much in line with other 2-person tents which range between 25 to 35 sq ft on average.
At 33 sq ft, you're in the upper bound of that range of square footage, but the downside with this particular tent is that you don't get a ton of headroom at only 35 inches.
If you're on the smaller side, you can sit up in it, but it is certainly on the tighter side.
Clearly, this isn't the most comfortable tent, but it is certainly workable for solo campers or couples who don't mind the lack of additional space.
Quality & Durability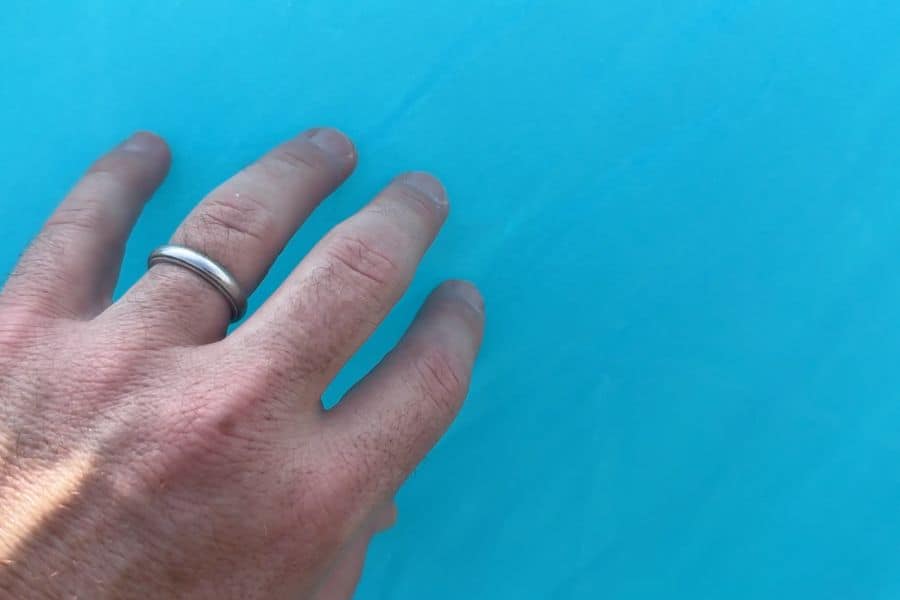 Okay, this is where we begin to run into problems.
Coleman doesn't disclose the tent material, but it's pretty thin considering the rainfly isn't full coverage and is mostly operating as a single-walled tent.
The taped floor seams fare okay, but it has been known to cause leaks and in extreme weather, you're going to get wet.
Another quality issue is the pop up tent poles themselves. If anything breaks outside of the warranty period, there is no way to repair the tent poles. However, this is a pop up tent issue more than a Coleman tent issue.
Value
Even though there are some potential quality and weather resistance issues, the overall value for a tent that is currently $55 on Amazon is unquestioned.
BUUUUT keep in mind that it's not even one of the best cheap tents on the market today.
Of the many cheap budget tents out there, we much prefer the Coleman Sundome Tent to the Pop Up version.
Even though the Sundome takes a bit more time to set up, you can easily repair any broken tent poles, it comes with tub floor, and the biggest reason to purchase is that you get much more headroom at 48 inches for the same 33 square feet.
So, yes, the Pop Up tent still has good value, but there are better value buys out there in this price range.
Weather Resistance
Probably the biggest con to this tent is going to be its performance in heavy rain.
Unfortunately, you get what you pay for.
The polyester fly is small and doesn't fully cover the tent.
You can and should spray this tent with a tent waterproofing spray.
That will help give it better longevity and weather resistance.
Ease of Use
The Coleman 2-Person Pop Up Tent is clearly designed for simplicity and ease of use.
It really does go up so very nice and easily – and frankly that is the biggest and most important selling point.
If you want to set up a tent in 2 seconds, this is the tent for you.
To set it up, you simply remove the tent from the bag, pull off the strap, and let the tent pop up and out. Peg it down, and you're done! That's it!
However, when it's time to pack up, that is when you will begin to run into issues.
My first time with a pop up tent it took me 10 tries to get it right. This tent was no different.
It takes a bit of practice to get it right, but once you do finally get it down it becomes much easier.
Intangibles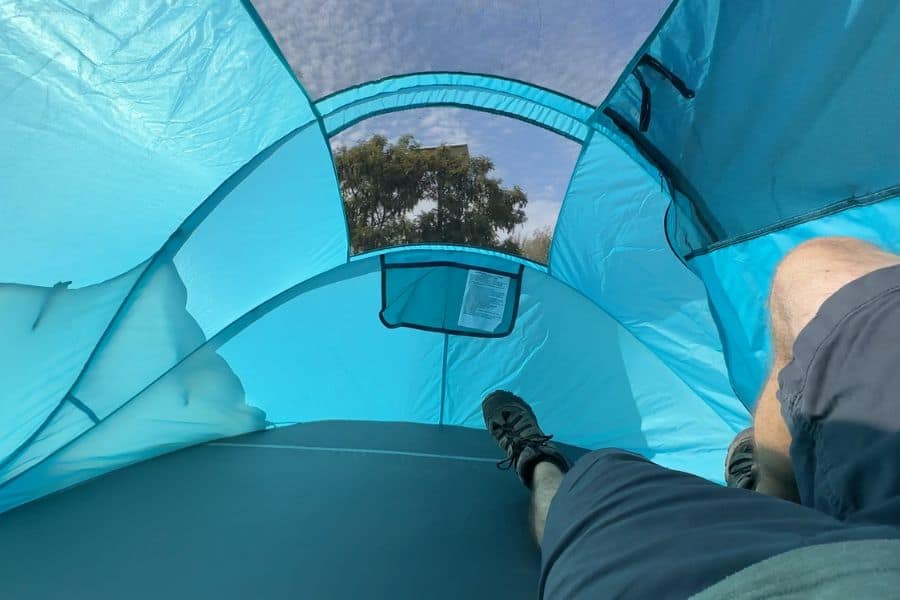 There aren't too many additional features for this tent.
You get a couple of gear pockets and a window, but that is it.
However, the removable rainfly allows for stargazing on clear nights, which has to count for something.
It is super easy to unclip and re-clip making it easily adjustable compared to most other tents.
Warranty
All Coleman tents come with a 1-year Limited Warranty
Additional Sizes
The Coleman Pop Up Tent also comes in a 4 Person size, though it also comes at twice the price.
There is also a blackout version of this tent with Coleman's proprietary Dark Room technology.
While we like the technology, we aren't sure if it is worth the extra $50-60 that it adds to the price.
Both of the non-Dark Room versions come in either a natural bright green, or an aqua blue.
I went with the aqua-blue color and I really like it, but the green color will certainly blend into your surroundings a bit better.
Pros, Cons, & Best Uses
Now let's go over the basics for this tent…
Pros:
Redesigned poles and guy-out triangles that help keep the tent in place
With only 6.4 pounds of weight, this tent is nice and lightweight
A zipper cuff and inverted seams prevent the rain from leaking in
There are two storage pockets to help you organize your gear
A removable rain fly helps provide better ventilation
Cons:
The material and quality are lacking
Best Uses:
Beach or Lake Days
Day Trips
Solo Camping
Budget Couples Camping
Are Coleman Pop Up Tents Worth It?
Ultimately, that question is only up to you.
If you desire a simple and easy-to-set-up tent to bring camping, then this is your tent.
But if you're going to face harsh weather and high winds, then you'll want to look at other budget tent options with better weather performance and longevity.
Is the Coleman Pop Up Tent Waterproof?
It is not fully waterproof. The rainfly only offers partial coverage, and the single-wall fabric is a bit thin.
We recommend spraying it with a tent waterproofing spray to help bolster the tent's water resistance.
While most new tents don't need to be waterproofed, spraying a tent like the Coleman Pop Up Tent will help provide an added backup layer of protection.
How Do You Set Up a Coleman Pop Up tent?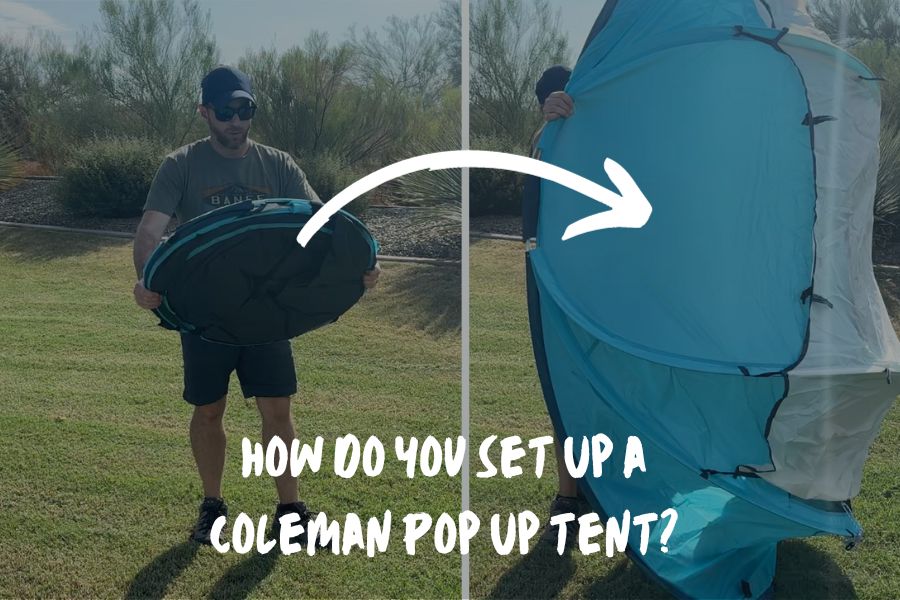 Setting up this tent couldn't be simpler.
Here's how:
Unzip the carry bag and remove the tent from the bag
Pull off the strap that holds the tent together.

The tent will rapidly explode into place
Be sure to toss the tent outward or you'll find yourself getting hit in the face

Reposition the tent to where you'd like it to be
Peg down the tent using the pre-existing tent loops around the base of the tent which will prevent any surprise takeoffs in strong winds.
Secure the rain-fly using the guylines.

If the rainfly is for some reason not securely attached, you can re-attach using the clips.
That's it. You can check out our set up and take down video here.
How Do You Take Down a Coleman Pop Up Tent?
Taking down a Coleman Pop Up Tent can be a bit tricky.
Like those pesky car sun shields, they can be nearly impossible to fold up if you don't do it exactly right.
Here's how:
Open the door to allow for airflow
Detach the tent stakes and release any additional guylines, clips, or attachments
Fold the tent in half like a taco
Then hold it upright
Push it down from the top far end of the tent, so that it collapses and folds into itself twice to form three loops

Note: if you only have two tent loops, you've done it wrong. I had this happen to me numerous times even though I thought I was coming at it from the proper angle

Make sure to get a knee or some body weight on it once it folds down so that it doesn't pop back open
Put the strap back in place around the tent and slide the tent into the carry bag
The bottom line is that this tent takes some practice to take down.
However, as you get the hang of it, you can take down a pop-up tent nearly as quickly as you can set it up. Like any tent, it just takes some practice.
But make sure to get your practice in at home, so you don't feel too stressed at the campsite.
What Are Some Comparable Pop Up Tents?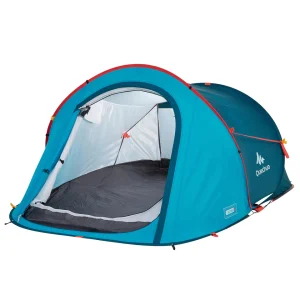 Comparable pop up tents in the same price range to the Coleman 2-Person Pop Up Tent include the ABCO Pop Up Beach Tent, and the Wakeman Pop Up Tent.
But to be frank, we prefer the Decathlon Quechua 2-Person Pop Up Tent, at $65 (current price), it is a far superior pop up tent.
Our Verdict
The Coleman 2 Person Pop Up Tent is not our favorite tent.
But it serves its purpose and is one of the cheapest and quickest to set up tents around.
While we like the Decathlon Quechua 2-Person Pop Up Tent, we wouldn't fault you for purchasing this budget tent.
More on Coleman Tents: