If you're in a rush, the best tent air conditioner is the BLACK+DECKER Portable Air Conditioner.
You probably enjoy camping because it's a break from your everyday routine. However, certain creature comforts would make camping much more enjoyable. The first one that comes to mind is… air conditioning!
Thankfully, going camping doesn't mean you have to give up the AC. Tent air conditioners make it easier to relax and, more importantly, get some sleep. Especially if you are tent camping during the summer months, a tent air conditioner can be a godsend.
We also recommend bringing a tent fan as well for those warm summer nights!
The goal of this article is to review the best tent air conditioners on the market right now:
Still Confused? Compare all of the Best Tent Air Conditioners for Camping
Best Tent Air Conditioners for Camping: Our Top Picks
BLACK+DECKER Portable Air Conditioner
Cools Up To (Sq Ft): 150 | BTUs: 8000 | Sound Level: <53 dB | Weight: 52.9 lbs | Dimensions: 16.5 x 11.5 x 26 in | Power Source: Corded electric
This Black+Decker AC has an output of 8,000 BTUs, which allows it to quickly cool down a room up to 150 square feet in size. This means your tent will be chilly in a matter of minutes.
There are three fan levels to choose from – low, medium, and high. There's also an auto-fan setting, that adjusts the fan speed as the temperature changes. This is a great option to use while asleep, as it guarantees that the heat from the rising sun doesn't wake you up too soon.
Besides cooling, this AC also dehumidifies the space. This way, it prevents bacteria from growing in an otherwise hot and steamy tent.
It also features an LED control panel that allows you to set the desired temperature. It goes as low as 65°F.
But, what if you're already snuggled up and want to change the temperature? Don't worry, just use the remote control it comes with.
Pros:
Auto-fan mode controls the air temperature while you're asleep
Noise levels don't go above 53dB even on the highest settings
The power cord is 83 inches long
The brand offers a 1-year warranty on parts and 5-year on the compressor part
Control panel lights are subtle, so they won't light up your tent at night
Cons:
On the pricier side, and is very heavy
Best for: campers who want an AC that automatically adjusts depending on the temperature.
EcoFlow Wave 2 Portable Air Conditioner
Cools Up To (Sq Ft): 150 | BTUs: 5100 | Sound Level: <44 dB | Weight: 32 lbs | Dimensions: 12.2 x 13 x 21 in | Power Source: Corded electric, 1008Wh Add On Battery, Solar Adaptable
New from EcoFlow is the ultra-premium and supercharged EcoFlow Wave 2 Portable Air Conditioner, which is an upgrade to last year's EcoFlow Wave Portable Air Conditioner
This amazing piece of craftsmanship is not only slightly lighter than most other units at 32 lbs but comes with all the stops – WiFi remote control via the EcoFlow app, Bluetooth, and the ability to purchase an add-on battery pack that provides 7-14 hours of cooling.
Though it is rated at only 5100 BTUs, it packs a cool punch, and can easily cool down medium-sized tents and RVs.
The add-on battery pack can also be charged by solar power, making this the most versatile portable air conditioner on the market. You can also simply use any power station or EcoFlow's own Delta 2.
The best part of this unit though, might be its water evaporation tech. Excess water sprays on the condenser, and doesn't require drainage if humidity is less than 70%.
Pros:
WiFi and Bluetooth enabled
5100 BTUs that can easily cool a medium-sized tent
Corded electric, Battery, or Solar Powered Charging
No maintenance required
Cons:
Best for: RVers and those who want a premium product with superb performance and tech.
ZERO BREEZE Mark 2

Cools Up To (Sq Ft): 40 | BTUs: 2,300 | Sound Level (dB): <52 dB | Weight: 16.5 | Dimensions: 20 x 8.6 x 2.3 in | Power Source: Corded Electric, Battery
The ZERO BREEZE Mark 2 is specifically designed with outdoor use and portability in mind.
This compact and lightweight unit offers portable cooling performance, and at 16 lbs, it's easy to tote around, even with additional add-on batteries.
Similar to the EcoFlow Wave 2, you can purchase ZERO BREEZE's add-on batteries, use a power station, or simply plug it into the wall.
With easy-to-use controls, and adjustable temperature settings, this makes a nice unit to purchase for on-the-go situations.
However it has limited cooling capabilities, with just 2,300 BTUs, it can only cool a small tent up to 40 square feet.
Pros:
The Mark 2 is highly portable at 16 lbs (and a nice handle), making it easy to carry and transport
Quiet Operation at only 52 decibels
With adjustable temperature controls and a nice interface
Sleek design and versatile ways to power
Cons:
Very expensive
Only can cool a tent up to 40 square feet
Best for: portability – picnics and beach trips and daily RV use
SereneLife Portable Air Conditioner
Cools Up To (Sq Ft): 215 | BTUs: 8000 | Sound Level: <57 dB | Weight: 46.3 lbs | Dimensions: 14.6 x 13.8 x 27.2 in | Power Source: Corded electric
This brand makes portable tent air conditioner units with BTU ratings ranging from 8,000 to 12,000. This mode has 8,000 BTUs, and for a tent, that's more than enough to keep the air cool.
Plus, this model is a bit smaller and lighter than those with higher BTU ratings, and there's only so much space in a tent.
By light, I mean it weighs only 46 pounds, which is amazing for an AC. When it comes to camping, we want our equipment to be as light and compact as possible.
It comes with a remote control that allows you to adjust the mode, timer, temperature and fan speed settings with a few button clicks.
This portable AC unit has 3 modes – cooling, fan mode and dehumidifier.
The last one is important – it reduces humidity levels inside your tent and makes it less hospitable to annoying fungi like mold and mildew.
Another neat function is the unit selector. The AC can show the temperature in either Celsius or Fahrenheit, which is especially handy when you're camping with friends from all over the world.
Pros:
Since it weighs 47 pounds, you can easily move it around
The unit selector function allows you to choose between Celsius and Fahrenheit
It does a great job at removing moisture from the air
It's capable of cooling up to 215 square feet, which is way more than you actually need
The remote control allows you to change all the settings from a distance
Cons:
The power cable is only 4.3 feet long
Best for: campers with older tents that are prone to mildew build-up.
MIDEA Window Air Conditioner
Cools Up To (Sq Ft): 150 | BTUs: 5000 | Sound Level: <54 dB | Weight: 42.3 lbs | Dimensions: 15.98 x 15.35 x 12.05 in | Power Source: Corded electric
Weighing in at only 42 pounds, this window air conditioner is one of the lightest on our list.
That means that you can let your teenage kid carry it from your car to the campsite, while you're trying to take your bulky grill out of the trunk. Great teamwork!
This model has 5,000 BTUs. If you don't think that's enough to cool your tent during hot summer nights, other models from this series go all the way up to 12,000 BTUs.
However, for the majority of campers, this model will do the job.
There are 7 temperature settings and 2 air direction options to choose from. It's very energy-efficient, which is important in case your campground charges electricity per usage instead of a flat fee.
To make sure your air is always clean, this AC uses removable and reusable air filters.
These filters absorb the bacteria and other airborne particles inside your tent. Cleaning them is a piece of cake – just rinse it in the sink once a week, and send the dirt down the drain.
Pros:
This light and compact window AC can fit into the smallest of tents
The 5,000 BTU model is the most affordable one on this list
It's very energy-efficient – its Energy Efficiency Ratio (EER) is 12
You can choose from seven different temperature settings
The manufacturer provides a limited 1-year warranty
Cons:
The controls are mechanical and it doesn't come with a remote
Best for: camping enthusiasts with small tents.
COSTWAY Portable Air Conditioner
Cools Up To (Sq Ft): 230 | BTUs: 8000 | Sound Level: <56 dB | Weight: 46 lbs | Dimensions: 13 x 12 x 24.5 in | Power Source: Corded electric
This 8,000 BTU portable air conditioner is one of the lightest portable air conditioners on this list.
While it has caster wheels, chances are the terrain at the campground won't be smooth enough for you to be able to push it around.. That's why it's good to know that this Costway model weighs only 47 pounds.
There are three modes available – fan, cooling and dehumidifier mode.
Fan mode allows you to choose low or high fan speed. This is especially important for small tents. A fan set on high speed will send the dust, dirt and even other lightweight things airborne around your tent like confetti.
This portable air conditioner has a temperature range from 64°F to 86°F.
It features a sleeping mode that lowers the noise level down to 56 decibels.
Plus, since no one wants to babysit an AC, there's a 24-hour timer that allows you to program it to your liking.
The AC contains several air filters that collect all the dust and dirt you bring inside your tent.
Once they fill up, slide them out to remove and wash them under a faucet. That's it – you don't even need soap to make them clean.
Pros:
It's so lightweight and portable, even a kid can carry it around
Depending on the size of your tent, you can choose either a low or high fan speed
It can reach temperatures as low as 64°F
Caster wheels allow you to lock it in place
A water indicator light shows when the internal bucket is full
Cons:
Even on sleep mode, it's somewhat loud
Best for: campers who love to sleep in a very cold tent.
TCL Window Air Conditioner
Cools Up To (Sq Ft): 250 | BTUs: 6000 | Sound Level: <50 dB | Weight: 37.7 lbs | Dimensions: 15.2 x 15.98 x 12.52 in | Power Source: Corded electric
This 6,000 BTU-powered air conditioner features 3 fan speeds with 8 cooling directions.
This is especially great for those family tents with several rooms. One AC can keep all of you cool at the same time.
With a noise level as low as 50 dB, this AC is quieter than most air conditioners on this list.
It's almost as quiet as light rainfall, so you can rest assured you won't hear it at night. However, when everyone starts snoring around you, maybe you'll wish it was a bit louder.
Like most window ACs, this model has a 24-hour timer that allows you to set it and forget about it.
If there's a power outage at your campground, don't worry. The AC will restart automatically when the power is restored, so you won't wake up in a puddle of your own sweat in the morning.
Besides basic AC options, this Energy Star certified window air conditioner has two modes that help you save energy. Use sleep mode at night and eco-mode during the day to keep your bills at the campground as low as possible.
Pros:
8-way cooling allows you to customize the direction of airflow
It has a noise level of 50 dB, similar to the sound of light rain
It weighs only 46 pounds
Auto-restart option will turn it back on automatically after a power outage
Cons:
Removing the air filter is a bit tedious
Best for: campers who want to cool down a 12-person tent.
TOSOT Portable Air Conditioner
Cools Up To (Sq Ft): 300 | BTUs: 8000 | Sound Level: <49 dB | Weight: 65 lbs | Dimensions: 11.8 x 15.4 x 30.4 in | Power Source: Corded electric
This portable air conditioner has a modern and sleek design that makes it look like it costs a pretty penny.
However, its price tag is on par with other models on this list, and what you get is an AC beast with an 8,000 BTU rating.
This is not just an air conditioner. It's a fan and dehumidifier that removes up to 2.3 pints of water per hour. Dry air inside your tent will keep you cooler than humid air would, and it makes your AC work even better.
At low fan speed this AC's noise level peaks at 49 decibels, which will make you feel like you're sleeping inside a quiet library.
And if the light on the control panel disturbs your sleep, activating the night mode function will turn it off.
If you're camping with little kids, you'll love the child lock function. To activate it, press and hold the + and – buttons for 3 seconds. After that, your kids can press the control panel all they want, but they won't make any changes until you reverse the child lock function.
Pros:
It's the quietest AC on this list
Child lock function prevents your kids from accidentally turning the AC off
The brand offers a 1-year warranty that covers manufacturing and material defects
During night mode, light on the LED panel are turned off so that you can sleep peacefully
It does a great job at dehumidifying a tent
Cons:
A bit heavy for a portable air conditioner
Best for: campers who are light sleepers, looking for a quiet AC.
Portable Tent Air Conditioners for Camping Compared
How To Camp With An Air Conditioner
Now that you've seen my favorite air conditioning units, let me show you step-by-step how to camp with an air conditioner.
Prioritize Power
If you want to take an air conditioner camping, you first need to find out if your campground offers electricity hookups. After all, the air conditioner needs to run off something.
Most campgrounds nowadays will offer electricity. However, if you are camping off the grid, you probably won't have electrical hookups.
If you don't have access to an electrical hookup, you will need to find an alternate source of electricity to run your air conditioner. Options include:
Choosing a battery-powered AC unit
Hooking your air conditioning unit up to your car's outlet
Picking up an extra car battery specifically for your account
Using a portable generator
Matches Your Tent
After you figure out the power source for your tent air conditioner, you can then figure out what kind of air conditioner will suit you best.
There are a variety of tent air conditioners available. Not only should you choose one based on your power source, but you should also find one that suits your tent.
Your tent might already have an area that will work well for the air conditioner's ventilation system. Or you may need to alter your tent a bit to get one to work.
You should also keep your packing situation in mind. You don't want to be lugging a heavy air conditioner around if you're traveling far or have a ton of gear.
What Should You Look For In a Tent Air Conditioner?
Tent air conditioners have many different variations, and shopping for one can be very overwhelming. So how do you know which one is right for you and your camping trips?
The answer depends on several different factors, including:
Power Levels (BTU)
British Thermal Units (BTUs) measure the amount of heat an AC unit can remove from a room in 1 hour. Or, in other words, the unit's cooling capacity.
The higher the BTU rating, the quicker it'll be able to regulate the temperature inside your tent.
For a small tent, you should look at getting an AC with a BTU rating of at least 5,000. For a large tent, you'll want something with a bit more cooling power. I suggest you look at getting an air conditioner unit with a BTU rating of at least 10,000 for a larger tent.
Tent Size & Air Conditioner Cooling Capacity
Every tent air conditioner is made to cool an area of a certain size. Make sure that the air conditioner you choose fits the square footage of your tent.
Most portable air conditioners cool between 150 to 300 square feet.
So depending on the air conditioner, you will be able to effectively cool down a tent ranging from a smaller 2-person tent, to a larger family tent and everything in between.
Keep in mind how many people will be staying in your tent. The more people that are in there, the harder it will be to cool it down.
Noise
Depending on its power source and features, your air conditioner could get pretty loud.
While most portable air conditioners come in a safe range of 49-60 decibels (dB), any noise above 70 dB for a prolonged period can potentially damage your hearing.
Beyond that though, you may not be comfortable sleeping with a 60 dB tent air conditioner. You may want to shoot for the lower end, the ones that come in between 49-55 dB just to be safe.
Make sure to read the reviews and understand what makes your air conditioner tick, so you don't get caught off guard when you go to sleep while camping.
Weight & Space
Next up is the weight of the unit. Yes, these units are portable. But some of them are HEAVY.
Ranging between 37.7 lbs and 65 lbs, yes you may be able to cool down your tent better, but it may be too heavy for you to easily lift.
So keep the weight, and the dimensions in mind. Make sure you have room to pack your AC unit into your truck or car. I know that we already have capacity limits when we camp, so adding an air conditioner is going to make it that much tighter!
Ventilation
Ventilation is vital as improper ventilation could be a legit health risk. Battery-powered air conditioners don't require special ventilation.
However, any other type of air conditioner will need ventilation.
Most units come with the proper tubes and hoses, but you may need to create a ventilation hole in your tent for it to work.
AC Types
Before you go all ham on buying an AC for your tent, you need to know what types of air conditioners exist to see which type best suits your needs.
Here's a brief explanation of each type and how well they perform in tents:
Evaporative coolers
As the name suggests, this isn't really an air conditioner.
An evaporative cooler (also known as a swamp cooler) is just a fan that cools the air by evaporating water. They're light and cheap, but they don't do much. The only reason they're mentioned here is because you'll see a lot of campers using them.
Trust me on this – while they're cheap, they won't do a very good job at cooling your tent down.
And, all the vapor that comes out of this cooler will still be inside your tent. Remember the greenhouse effect?
Portable air conditioners
Portable air conditioners are a bit bulky, but they're usually not too heavy, so you can easily bring them on your camping trip.
The BTU ratings of these kinds of ACs range anywhere from 3,000 to 15,000.
Most models you can find on the market nowadays require power access. This is not a problem if you're going to a campground, but it won't work if you're planning on camping in the woods, unless you have a strong power generator.
There are some cordless models, but keep in mind that these are way more expensive as they require strong batteries. In the end, you'll end up spending more on the batteries than you would on a power bill at a campground.
Window-mounted air conditioners
This option probably caught you by surprise. But, camping aficionados swear that window-mounted air conditioners offer the best cooling ability at a low price tag.
Their BTU ratings go anywhere from 5,000 to 12,000, which is more than enough to feel like you're inside an igloo.
Of course, there's a catch. To make this type of AC work for camping, you need to adapt your tent, or simply get one with an air conditioner port.
Another thing to keep in mind is that there are no battery-powered window ACs, so this can only work at campgrounds, or with a power generator.
Additional Reading: How To Quiet A Generator For Camping And Enjoy The Sound Of Nature
FAQ
Since using an air conditioner inside a tent is a novelty to you, there are probably a million questions going through your mind. Here are the answers to some dilemmas you might be having.
How do you fit an air conditioner into a camping tent?
If you own a portable AC, simply place it inside the tent, while keeping the exhaust hose out.
To use a window AC, you either need to own a tent with an AC port, or to adapt it and make that port yourself.
What kind of maintenance does a tent AC unit require?
Most of these air conditioners have air filters that collect airborne particles like dust and other allergens.
Usually, these filters are reusable and washable, but in case they're not, you'll have to buy replacements. Depending on how dirty the area where you're camping is, you should clean the filters every one to two weeks.
What is the best type of air conditioner for camping?
There's no single answer to this question. It depends on your camping location and equipment.
If you have a tent with an AC port, a window air conditioner is a great option. These are usually more affordable and energy-efficient.
However, if you're struggling with allergies, portable ACs generally have removable and reusable air filters.
What are the best features to look for on a camping air conditioner?
In general, you want your camping AC to be light and compact, so you can easily carry it around.
The BTU rating, power consumption, and noise levels are all equally important.
Most models also have a 24h timer that allows you to turn your AC on and off even when you're not physically present. If you hate being near a working AC but you love the cold, then this is a must feature.
Additionally, for a slightly higher price tag, you can get an AC that also dehumidifies the air. Why is this a good feature? Well, the humidifier dries the air around you. And dry air is cooler than humid air. You do the math.
And finally, you should always look for a good deal and spend only as much as you actually need to on a decent AC. That way, you can invest in other camping equipment with the money you save.
What are the benefits of a tent air conditioner?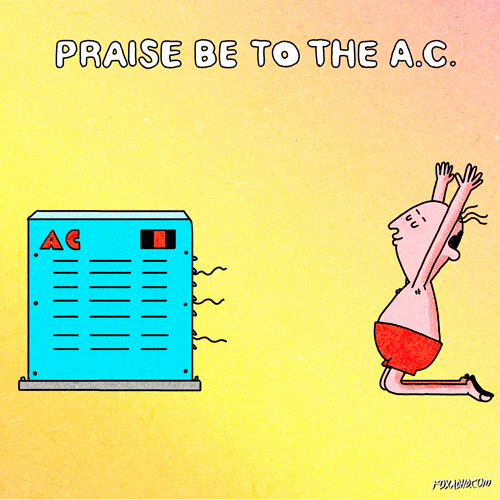 The first benefit is the obvious one – they reduce the temperature inside your tent.
Tents can easily get hot as hell during summer camping trips. The last thing you want is to wake up in a puddle of your own sweat.
However, another important benefit of a tent AC is that it cleans the air.
These ACs contain filters that suck all the dirt in and away from your breathing air. With that being said, to perform well, you need to clean these filters regularly.
Can you use a window air conditioner in a tent?
Yes, you can!
However, you'll need to make a few adjustments.
This type of AC lets the air out through the back end, meaning only the front should be facing inside your tent. That's why, unless your tent has an AC port, you'll need to make one.
What BTU rating should a tent air conditioner have?
This depends on a lot of factors, including the weather outside and the size and material of your tent.
However, here's a formula that can give you a general idea: you need one ton of cooling, which is 12,000 BTUs, for every 150 square feet of space you wish to cool.
How much does it cost to air condition a tent?
If you're on a tight budget, you might be worried about the cost of air conditioning your tent.
The cost of air conditioning a tent and a 150-square-foot room are basically the same.
Your main expense is buying the AC. The power you spend cooling your tent down will probably be roughly the same as what you'd spend air conditioning your bedroom.
Our Verdict
Tent air conditioners can completely change the way you camp (for the better). Imagine getting rid of all the heat that builds up in your tent during the summer.
Wouldn't it be nice to be able to plop down right in front of the AC as soon as you get back from a hike? That can all be yours with a tent air conditioner!
The best tent air conditioner is the BLACK+DECKER Portable Air Conditioner.
This tent air conditioner has everything you need for camping. Plus, it can be powered in several different ways, so it works great on any kind of camping trip you might go on. I can confidently say this tent air conditioner will completely change the way you camp in hot weather.