There are so many great bloggers, YouTubers, podcasters, and photographers out there creating amazing outdoor content on a daily basis.
Not only did I want to personally get to know them better, but I also wanted to explore outdoor influences and passion for nature.
Thus, we've launched the I Love The Outdoors Interview Series.
If are interested in participating in the series, please contact us and let us know!
Brian Akerson
1. Tell us a little about yourself. How old are you? Where are you from? Where do you live now? Are you married? Kids? 
Thank you for allowing me to participate in the Outdoors Interview Series!
My name is Brian Akerson, and I am a professional waterfall photographer. I am 41 years old and originally from California.
We left the hustle and bustle of California and now call Tennessee our home. My family currently resides outside of Memphis.
I am married to a beautiful naval officer, Lena, and we have one awesome daughter, Madeline.
2. What is your favorite outdoor activity?
By far, my most favorite outdoor activity is hiking to waterfalls.
A close second would be camping. Ok, "glamping," since it is usually with my RV.
3. Where is your favorite trail?
My favorite trail? Well, that is difficult to say. There are just so many!
If I had to narrow it down, I would consider a certain private property trail that I cannot disclose the one I love most.
However, one that is very public and extremely accessible are upper and lower trails at Cascades Falls in Virginia.
4. Where is your favorite camping spot?
My favorite camping spot, so far, has been Devil's Backbone Basecamp in Virginia.
It is so close to a ton of Blue Ridge waterfalls and other sweet spots nearby.
5. What was your first outdoor memory as a kid?
My very first true outdoor memory as a kid was my parents taking my brother and me up to Yosemite National Park in California.
I vaguely remember some camping trips in a pup tent but do not recall much in terms of details.
However, the trip to Yosemite was something that would stick in my head for years and still remains my favorite National Park out of all that I have been to.
It instilled in me the true value of our Parks and that we must strive to maintain them. They are true national treasures!
6. Who was your biggest outdoor influence?
As a child, my father was my biggest outdoor influence as he, my brother, and I camped a lot growing up.
Outside of family, my inspiration comes from the likes of John Muir, Ansel Adams, and many more.
Another person who has influenced me greatly is Steve Roley. He has mentored me and also taken me on some wild hiking adventures to various waterfalls in and around Hocking Hills, Ohio.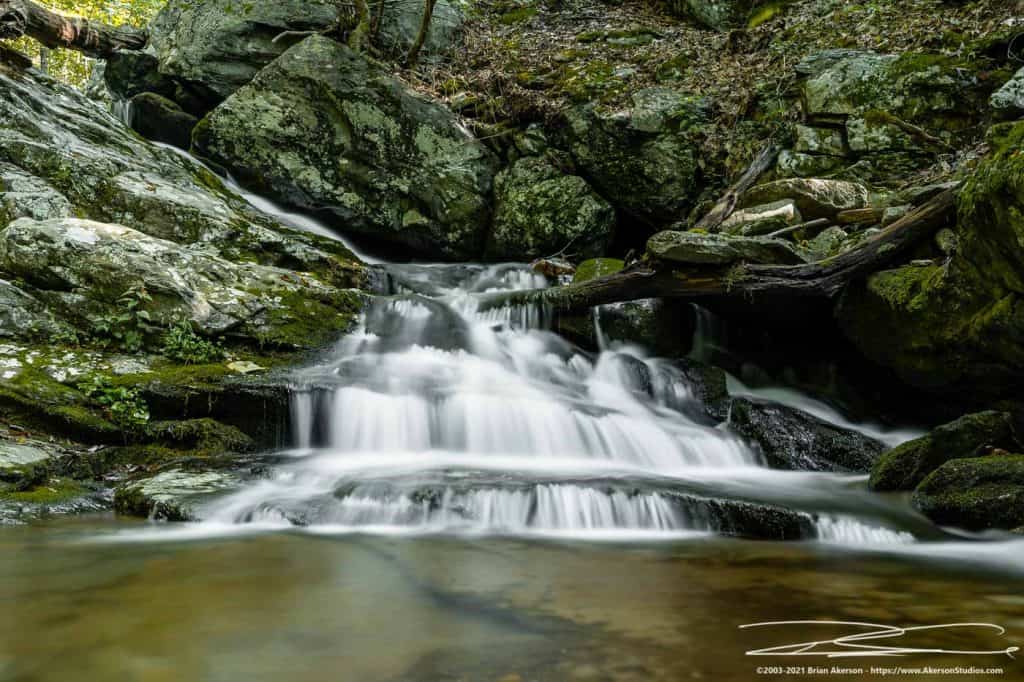 7. What was your all-time best camping or hiking experience?
My all-time best camping AND hiking experiences go back to my favorite spot to camp.
A couple of seasons ago, my daughter and I took our RV out to Devil's Backbone Basecamp for a week and hiked a bunch of waterfalls and had the best daddy/daughter time ever.
The bonding over campfires and hiking with Madeline was absolutely the best!
8. Who is your favorite person to camp or hike with?
My favorite person to camp and hike with is my daughter, Madeline. She is a trooper and will keep up on even the toughest of hikes.
It is always wonderful to see her eyes light up like mine when we get to waterfalls. I do not think for a second that I did not pass that love down to her.
9. What is your favorite piece of gear and why?
I do not have a specific piece of my gear because more than one comes into play to accomplish my passion of waterfall photography.
Cameras and lenses aside, there are three critical pieces of gear that are integral which are my PolarPro variable neutral density filters, PolarPro Summit Landscape filter system, and my MIOPS Smart+ remote camera trigger.
Without those pieces of gear, getting it right in the camera is difficult to achieve.
10. What do you love about the outdoors?
What I love most about the outdoors is being in nature, absorbing the energy of the trees, waterfalls, and other features.
The serotonin release that I have is unmatched by just about any other activity in life that I have experienced.
Whenever I need to reset myself, the outdoors have always done the job!
11. What outdoor places are on your bucket list?
There are so many bucket list spots in the United States and abroad that I would absolutely love to visit.
In the United States, the spots I have on my list include Yellowstone, Grand Tetons, and more of Olympic National Park.
Outside of the United States, seeing the Northern Lights from anywhere up North have always intrigued me.
Also, seeing the dam open and turn a trickling waterfall into a raging beauty is Cascate del Serio waterfall in northern Italy.
12. What is your goal as an outdoor content creator? How can we support you and where can we find your content?
My goal as an outdoor content creator is to show people nature's beauty and also use what influence I can to preserve them.
It can be difficult to see damage that people do to all kinds of natural areas and it makes me sick.
Encouraging the best practices, such as "Take nothing but photos, leave nothing but footprints," is important to me. Preserving what nature we have left in our world is paramount.
For my latest work, you can find me on Instagram @BrianAkerson and Twitter at @BrianAkerson.
My website is due for an update but has a lot of my oldest to relatively recent work at https://www.AkersonStudios.com.
I hope that everyone enjoys my work and that it encourages people to get outside and experience what I do!
Brian – thanks for the great interview and participating in the second ever I Love The Outdoors Interview!
If are interested in participating and sharing your story, please contact us and let us know!
More Interviews: