There are so many great bloggers, YouTubers, podcasters, and photographers out there creating amazing outdoor content on a daily basis.
Not only did I want to personally get to know them better, but I also wanted to explore outdoor influences and passion for nature.
Thus, we've launched the I Love The Outdoors Interview Series.
If are interested in participating in the series, please contact us and let us know!
Stefanie Payne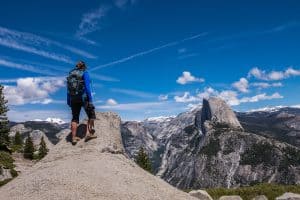 1. Tell us a little about yourself. How old are you? Where are you from? Where do you live now? Are you married? Kids? 
I'm 42 years old and was born and raised in a suburb of Seattle. I support NASA Human Spaceflight at the agency's headquarters in Washington, D.C.
When not telling the story of human exploration in space, I document and photograph national parks and other areas I travel in the U.S. and abroad, sharing those stories in books I've written and in digital publications.
After finishing high school I lived in LA for five years, moved back to Seattle, and started traveling a lot both internationally and in the outdoors as a way to satisfy my appetite for adventure and to fulfill my curiosity of the world.
In 2006 I relocated to Washington DC where I lived for 12 years before moving to Golden, Colorado – where I happily live now!
I married my long time love in December 2021, on an iceberg in Antarctica — with penguins and a Weddell seal as witnesses! It was a perfect reflection of the wild life we have together.
We do not have children but we have a dog daughter named Rainier, a long hair German Shepherd, named after the destination of the first big backpacking trip we took together.
2. What is your favorite outdoor activity?
That's tough but if I had to choose – hiking, paddling, backpacking and camping would top the list. And taking pictures while doing any of them!
I love trying things that I suck at (ice-climbing in Wrangell St-Elias is a great example) — even if it isn't your sweet spot it is always fun to challenge yourself to see what you're made of.
3. Where is your favorite trail?
I'll have to name a couple here. These are some of trails that left me euphoric and wanting more:
The Subway in the Kolob Canyons area of Utah's Zion National Park;
A network in Yosemite: 4 Mile Trail to the Panorama Trail (overlooking Glacier Point) to Mist Falls then to the valley floor;
any trail in the Hoh Rainforest in Olympic National Park in Washington!
4. Where is your favorite camping spot?
For RV/trailer: I loved the National Park Service Sentinel Campground at the bottom of King's Canyon National Park in California – there are frequent wildlife sightings there, it's close to a lot of great areas of where to explore, and the surroundings nestled in old-growth forests just feels really great!
Also the Gilbert Ray Campground in Saguaro in Arizona. That scenery is amazing (and best during off season – fewer rattlesnakes!)
I've camped thousands of nights, both backpacking and drive-up car camping, and could go on for days!
Some of my favorite places could be the Savage River Campground in Denali (Alaska); any of the front country campgrounds in Montana's Glacier National Park; the Cougar Rock Campground in Mount Rainier, Washington is a life-long favorite…
Want me to go on? 🙂 Was just thinking that backcountry camping isn't just about mountainous regions, it can also be at sea – such as in the Everglades in Florida where you can paddle your gear from island to island and park it on the beach to sleep beneath the stars!
5. What was your first outdoor memory as a kid?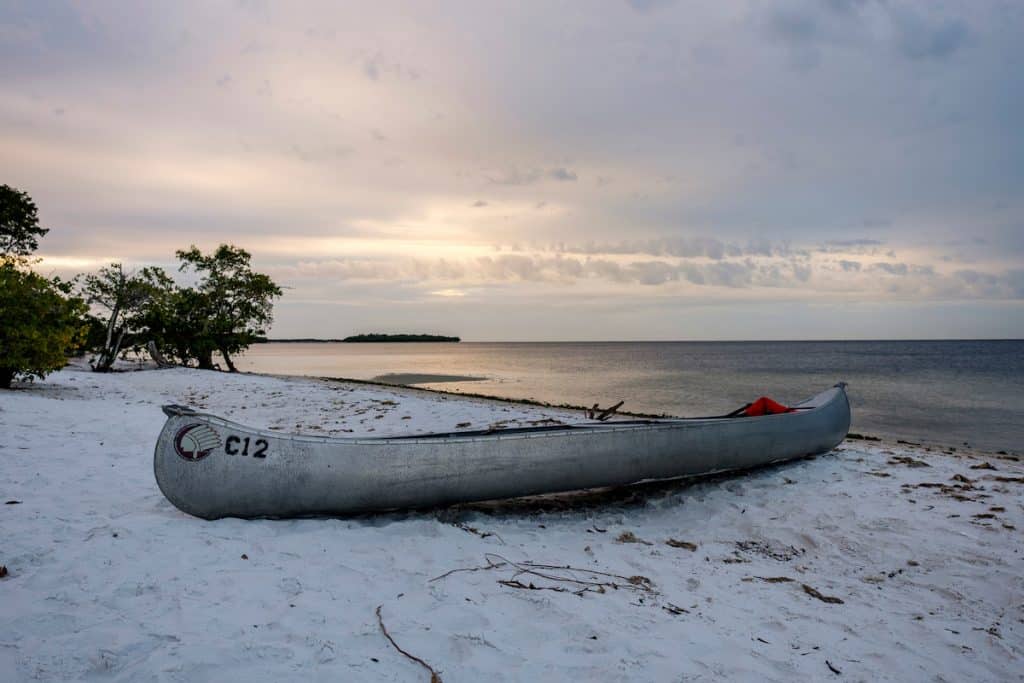 I have a lot of outside memories just from growing up in a place surrounded by wilderness and playing outside every day, but the two that gave me a forever itch for the outdoors are trips with my dad and siblings to Everglades National Park in Florida and Volcanoes National Park in Hawai'i.
It was then that I realized that the world is wild and bizarre and I wanted to be out there in it!
6. Who is your biggest outdoor influence?
Everyone I see out there doing cool things influences me all the time; at home in Colorado where everyone is hopped up on endorphins, and while on trips immersing in outdoor environments that are new or different to me.
I have plenty of historical and current outdoor heroes, but the real influence for me comes from learning through others' activities and stories that I read about online and in magazines (I still buy outdoor mags for sure!!)
7. What was your all-time best camping or hiking experience?
That's too hard! I've dedicated a lot of my adult life to camping and hiking but I'll give it a try… 🙂
Hiking ten days to Machu Picchu through the Salcantay Range in Peru is a standout.
Hiked Torres Del Paine National Park trails in Patagonia last year and the terrain is challenging and the scenery incredible!
Stateside, it may be hiking and backpacking across national parks in Alaska that stay close to my heart—there's an element of fear with the wildlife and unpredictable weather systems, you must test your wilderness know-how and pay attention to everything… it was a very contemplative time spent for me. And the scenery is just so intensely gorgeous and varied throughout the state. I love the wilderness there.
8. Who is your favorite person to camp or hike with?
Jonathan Irish! My partner in life, now husband, with whom I've had some of the greatest adventures I could ever dream of, including a year living on the road together exploring every national park in America.
We have so much fun capturing stories from our time out in the wild, and just being together. I love hiking with my family and friends too. 🙂
It's been increasingly challenging to get together, but hitting a trail is usually a fun way for everyone to come together in a healthy and exciting way that feeds our nature itch. Most people in my life love nature at least a little bit (and more commonly, a lot!)
9. What is your favorite piece of gear and why?
I love my Danner Hiking Boots because they've been with me through it all; Hot Hands self activating warmers which I often put in my pockets to warm up with when I'm chilled.
Eno string up hammocks pack great and are lightweight and fun to have while camping and exploring.
Tents by Marmot and Mountain Hardwear.
And good lanterns! For the next, tent, resting sites… key to be able to see!
10. What do you love about the outdoors?
It's really hard to qualify – I just feel so much happier, healthier, more balanced, and inspired after spending time in the outdoors.
I truly would be wrecked without my time outside.
11. What outdoor places are on your bucket list?
I really want to do a multi-month thru hike, either the PCT (because the west is in my blood) or the Continental Divide Trail because you don't hear about it as often.
There are some others outside of the United States too but I'd like to start in my home country. 🙂
12. What is your goal as an outdoor content creator? How can we support you and where can we find your content?
Thanks for asking! I have a new book releasing this week called "The National Parks Journal" which provides background on the parks and workbook sections with info to help plan your trip, know what to pack, and with recording sections where you can jot down important things — like the location of your favorite trail network, or campsite!
The coolest thing for me about this book is that I wrote only part of it – the rest is for the holder to use for inspiration or to scribble on to their delight!
One thing I have learned spending so much time in the national parks is that I really want to revisit certain memories and places – this book is a perfect place to tuck such information.
It is available for purchase ($15.99) from your favorite booksellers here.
You can also follow me on Twitter and Instagram @iStefPayne.
Stefanie – thanks for the great interview and participating in the third ever I Love The Outdoors Interview!
If are interested in participating and sharing your story, please contact us and let us know!
More Interviews