There are so many great bloggers, YouTubers, podcasters, and photographers out there creating amazing outdoor content on a daily basis.
Not only did I want to personally get to know them better, but I also wanted to explore outdoor influences and passion for nature.
Thus, we've launched the I Love The Outdoors Interview Series.
If are interested in participating in the series, please contact us and let us know!
Kate @ She's Going Solo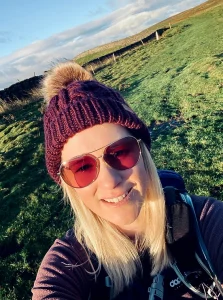 1. Tell us a little about yourself. How old are you? Where are you from? Where do you live now? Are you married? Kids?
I'm 43, and I was born in and still live in the county of Yorkshire in the UK.
I am married with a 13-year-old son. Apparently, I am 'embarrassing' to my son now, so I have some free time on my hands as he would rather be with his mates.
So, I have got back into the outdoors. I travelled quite a bit before he came along, but my priorities obviously then changed, so it all got postponed.
2. What is your favorite outdoor activity?
My favourite outdoor activities are solo hiking and wild camping.
3. Where is your favorite trail?
I did the Cumbria Way last year, which is 5 days across The Lake District (United Kingdom).
I absolutely loved it; in fact any hike in The Lakes is captivating. The landscape is just perfect; the big mountains, the little fells and the stunning lakes and tarns. It doesn't take long on a hike before you feel like you are the only one there, and there is so much to explore.
A couple of years back, I hiked the Mist Trail in Yosemite in 2018, which brought me to tears; what a place, the crowds you could do without, but you completely understand why it is so busy when you are there. But, yet, you get a feeling in Yosemite that I have found very hard to describe; it could almost be described as spiritual!
4. Where is your favorite camping spot?
My favourite camping spot is near Patterdale in The Lake District up near Angle Tarn.
You get the most fantastic view of the sun setting over St. Sundays Crag, Hart Crag, Fairfield and beyond. And in the morning, you can watch the sun come up over the tarn.
5. What was your first outdoor memory as a kid?
Camping as a kid by the River Wharfe in Appletreewick, it's a gorgeous valley right in the heart of the Yorkshire Dales National Park.
We played in our dinghies on the river, and we tried to catch fish with pepperoni and a paperclip; they were the best days.
6. Who is your biggest outdoor influence?
I know this is obvious, but it has to be Sir David Attenborough.
I have watched his programmes for as long as I can remember. I'll never forget the first time I watched him trekking with the gorillas in Rwanda, I was mesmerised to the point that when I went traveling around Africa in 2005, I followed in his footsteps and went to the volcanoes and did the trek. Hearing and seeing the gorillas in the wild was truly breathtaking.
I actually went back 2 years later and did it all again, It was that good.
7. What was your all-time best camping or hiking experience?
It had to be in Zambia when we were in South Luangwa National Park.
We stayed at a campsite by a river. Because of the wildlife, you had to sleep on tree platforms off the ground, and you didn't need a tent, just a mosquito net.
I woke up in the morning looking at the river, and a family of elephants were coming right toward me, crossing the river. I watched them for about 30 minutes before they wandered off; it's a memory that I will never forget.
8. Who is your favorite person to camp or hike with?
Now I almost always Hike and Wild Camp alone.
Firstly, I love that I can go when and where I want. I'm not beholden to anyone else.
It also means that I can go at my own pace, stop when I want, turn back when I wish, or stay out later. The freedom that this gives me is exhilarating.
However, the biggest reason is that it clears my mind. It is like one big mindfulness session. I listen to the birds and the sound of the water, I smell the fresh air, and I look at the incredible scenery.
9. What is your favorite piece of gear and why?
I love my MSR Hubba Hubba NX tent. It's only a 1 person tent, so it's a bit small, but I love it (also see our review of the MSR Hubba Hubba here).
It's freestanding, and you can sleep in it without the outer sheet on to watch the stars at night.
I also love my Rab down jacket. I wouldn't go anywhere without it; I could do with a new one, though, as it is a bit smelly and dirty now!
10. What do you love about the outdoors?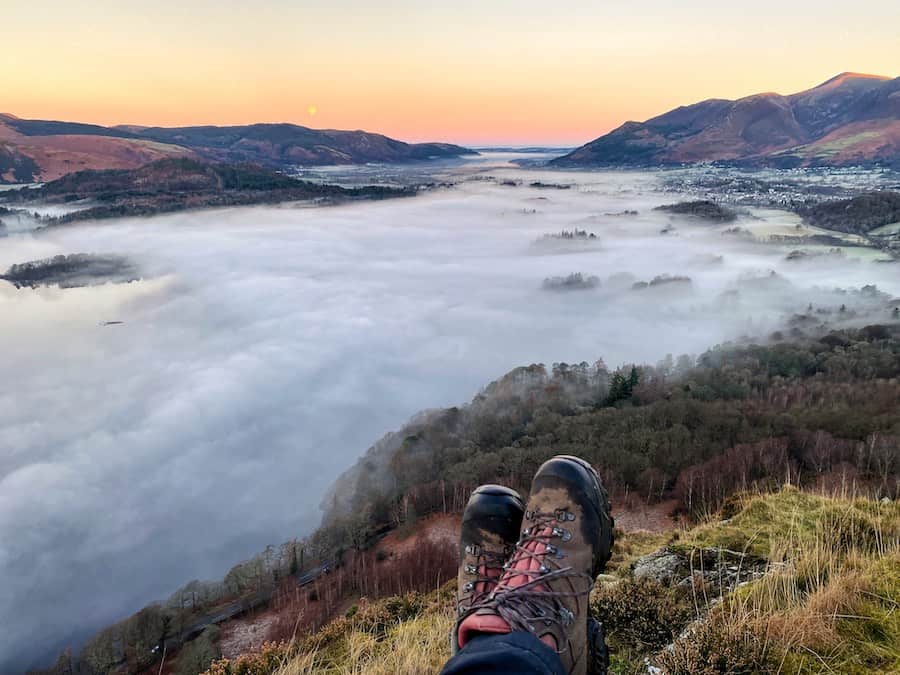 I like to be immersed in nature, and apart from the freedom element, like I mentioned before, it also helps my anxiety. On my days and nights out, this seems to disappear.
I'm more able to process my negative thoughts and put them aside; sometimes, it even enables me to forget them altogether.
It is like pressing a reset button, allowing me to cope better on my non-hiking and camping days.
Since I've been out exploring, I am more confident, my self-esteem has increased, and I know that I am a better person for it.
11. What outdoor places are on your bucket list?
I would love to go back to Africa to Tanzania and climb Kilimanjaro.
I would also love to go back to Yosemite and do more hiking there, maybe even the John Muir Trail one day.
12. What is your goal as an outdoor content creator? How can we support you and where can we find your content?
My goal is to share my adventures and hopefully inspire others to get outdoors. I also like to promote mental health because of what my experiences have done for me. So if I can inspire just one person to go outdoors and it helps their mental health, then I would be over the moon.
It all came about because of my Instagram page, which has grown at a phenomenal rate over the last year. I only started it so I had somewhere to put my photos, as I didn't want them to just sit on my phone.
Recently I started a blog, www.shesgoingsolo.co.uk, because I got so many people on Instagram asking me for advice about hiking and camping solo and advice on what gear to use. (The blog is new, so there is limited content for now, but I hope to grow it over the next month or so).
I have recently started on Twitter too, and I really like the community there; it's very engaging.
Kate– thanks for the great interview and participating in the third ever I Love The Outdoors Interview!
If are interested in participating and sharing your story, please contact us and let us know!
Previous Interviews