If you're in a rush, go ahead and get the Camp Chef Everest 2X stove. 
Camping stoves can take your outdoor cooking to the next level. By packing big flames into a small package, these tools bring the grill to the park. Instead of worrying about starting a campfire, opt for a cooking stove for consistent cooking performance.
In this article, you'll learn my top picks for the best camping stove. You'll also get crucial information that will help you choose the right one and everything else in between.
Let's go!
Best Camping Stove: Our Top 7 Choices
Camp Chef – Everest 2X Burner Stove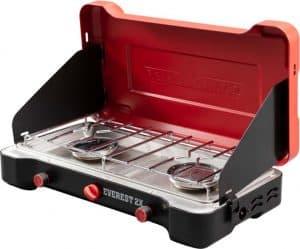 The name of this model isn't hyperbole. It's probably one of the few camping stoves in existence that could cook a meal while on Everest.
This is due to the 40,000 BTU output that it brings to the table. That output is brought to you by its two burners, which provide enough heat to cook any campfire recipe.
You'd struggle to light a match on Mount Everest, which is why this namesake camping stove features a matchless ignition system. This makes it easy to get things going even under the windiest of conditions.
The cooking grate is made out of steel and coated in nickel. The nickel coating is vital since rust has always been the arch-nemesis of steel. Nickel is highly corrosion-resistant, so the surface of this camping stove will keep the rust at bay.
There's also a carry handle that makes it far easier to transport this unit from your car to the campsite. It may seem trivial, but it'll make a world of difference when you're on a long hike.
This model is also surprisingly light considering the amount of power it puts out. 40,000 BTU for only 12 pounds is definitely a good deal. Ultimately, you really can't find a more powerful camping stove in this weight class.
Pros:
40,000 BTU – super powerful
Matchless ignition – easy operation
Nickel-coated steel grate – won't rust
Carry handle – comfy movement
Only 12 pounds – carries lightly
Cons:
A little pricey, but will last so long that you'll get your money's worth.
Best for: campers who want a lot of heat but are hesitant to lug a massive tool on their back.
Blackstone Tabletop Portable Grill 22″
After struggling with traditional camping grills for years, we switched to the Blackstone Tabletop Grill, and haven't looked back.
Not only is it easy to light (because the burners are tucked away), but it can cook everything from pancakes to hamburgers, pizza to scrambled eggs, breakfast burritos to steak.
Cleaning is a breeze too, you simply pour a little water on the grill and scrub off any debris.
The only con is that the flattop is quite heavy and bigger than some of the other camping stoves, but we still use this as our go-to.
Pros:
Easy lighting, even in windy conditions
High quality even cooking
Easy to wash off using just water and a towel
Cons:
Quite Heavy
Not really suited for boiling water or cooking with pots.
Best for: campers who want to cook on a flattop and want easy cleanup.
Coleman – Gas Stove

If the Everest 2 by Camp Chef is a bit out of your budget, then you should check out this gas stove by Coleman. While it doesn't have as much firepower with an official rating of 22,000 BTU, it should still be sufficient to cover most of your needs.
You know we love Coleman tents, and this stove is manufactured with the same quality we know and love.
The cheaper price point of this camping stove makes it more accessible to budget hobbyists or weekend warriors.
While it doesn't produce as much heat as the Everest 2, it tries to compensate for this with a sneaky feature: the wind block pan. This extra protection will make it easier for the camping stove to boil water or cook food even under windy conditions. If you're camping in a cold area, then the wind block pan will also ensure that the chilly breeze doesn't prolong the cooking time.
This is also one of the more convenient camping stoves to use due to the push-button ignition system and chrome-plated grate. The chrome makes the grill on this camping stove surprisingly easy to clean.
Pros:
More affordable than some of the other stoves
Wind block pan keeps your flame going strong, and won't interrupt cooking
Push-button ignition makes this stove so easy a caveman could operate it
The chrome-plated grate will stay clean for years
Cons:
Lower BTUs than other models (only 22,000)
Best for: campers who want to cook their meals in high winds without emptying their wallets.
MSR PocketRocket Deluxe Stove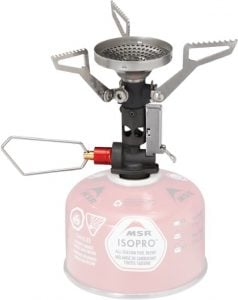 Small, but mighty, the MSR PocketRocket Deluxe Stove is all you really need for any camping trip.
It's light at only 2.9 oz and compact (fits inside a cup), runs on Isobutane for ultimate fuel efficiency, and can boil a pot of water in just over 3 minutes.
Though its made for backpackers, pairing the MSR PocketRocket with something like the Blackstone make for a powerhouse camp kitchen.
This is the best small stove that we've tested and starts easy peasy with the push-starting piezo ignition system.
Pros:
Easy lighting with the push-starting piezo ignition system
Boils a pot of water in 3 mins and 18 seconds.
Lightweight at only 2.9 oz, and small – it will fit inside of a cup
Quality construction and materials make this a durable, but tiny stove
Cons:
Might need to build a wind shield in windy conditions
Best for: backpackers who want a lightweight, well made and reliable stove.
Camp Chef – Explorer

The Explorer looks a bit different than the Everest 2, or any other camping stove for that matter. However, while it may appear a bit odd at first glance, you'll find that it's literally one of the hottest camping stoves out there with an output of 60,000 BTU.
One of the things that I found rather refreshing about this model is the fact that the legs can come off. This offers a high level of versatility since you can cook on pretty much any terrain, depending on whether or not you have the legs attached.
It also comes with a windscreen. This one is three-sided, offering superior protection from the gusts that are trying to keep your steak raw. Each 30,000 BTU burner is made out of cast-aluminum to ensure durability (essential when your stove is producing this much heat).
The temperature controls are also similar to what you'd see on household appliances making it easy to use even for beginners. Overall, you can't go wrong with this super-charged flamethrower camping stove.
Pros:
60,000 BTU – super-strong output
Detachable legs make portability a sinch
Three-sided windscreen ensures your food won't fly away
Cast-aluminum burners are rugged as any other
Intuitive temperature controls
Cons:
Not the most affordable, but well worth the price
Best for: campers who want BTU's…a lot of BTU's.
Check Price at Dick's Sporting Goods
GasOne – GS-3400P

Campers who crave versatility will love this model from GasOne.
While the name suggests otherwise, this camping stove actually has dual fuel capabilities. It can support both propane and butane. On top of that, it even comes with the converter and regulator.
The force is strong with this one since it'll ensure that you can cook a delicious and filling meal even if you leave your matches at home. Couple the reliable Piezo ignition with a customizable heat dial on this camping stove, and you'll find that it's effortless to use.
There's even a built-in safety mechanic that cuts off the gas flow and ejects the cartridge if any unusual pressure is detected. The fuel also won't flow until the flame is already ignited to ensure that you don't run into any sizzling surprises.
While this model only has one burner, that's not all bad since it makes the model more lightweight, compact, and thus easier to transport. The total weight of this camping stove from GasOne is a feather-light three pounds.
With an output of 8,000 BTU, it's hardly the hottest stove out there, but it's still enough to cover most of your needs. Lastly, the product comes with a one-year warranty. This serves as an assurance that the manufacturer trusts in the durability of this model.
Pros:
Dual fuel capabilities
Piezo ignition is the Ferrari of starters
Heat dial for controlling the flame
Safety features
Compact construction
Lightweight
One-year warranty
Cons:
Single burner, which might not be the best for groups, but is enough for camping.
Best for: campers looking for a safe-to-use single-burner stove.
Coleman – Classic Camp Stove

This is a more affordable stove that still sports some premium features.
While this isn't precisely the GS-3400P, it can still support both types of fuel with an aftermarket propane adapter. One thing that I liked about this camping stove is the fact that it comes with the connector — seeing as it can be hard to find the right one at times.
I highly recommend that you buy the appropriate Coleman carrying case if you go with this model. It'll make it far easier to transport the unit, and it even holds two propane bottles.
One of my chief complaints with this model is that sadly, the lid isn't removable.
This is by far one of the cheapest camping stoves that you'll ever see. It's not the hottest nor the coolest, but if affordability is your focus, then it's hard to beat this model from Coleman. However, it only comes in one color, so I hope you like green.
Pros:
Dual-fuel capability (if you buy an adapter)
Comes with connector for propane tank
Goes good with the carrying case
Seriously affordable
Cons:
The lid isn't removable
Not the most vigorous flame on this list
Best for: campers on a tight budget who want a low-priced stove that won't break on first use.
Check Price at Dick's Sporting Goods
What You Need to Know About Camping Stoves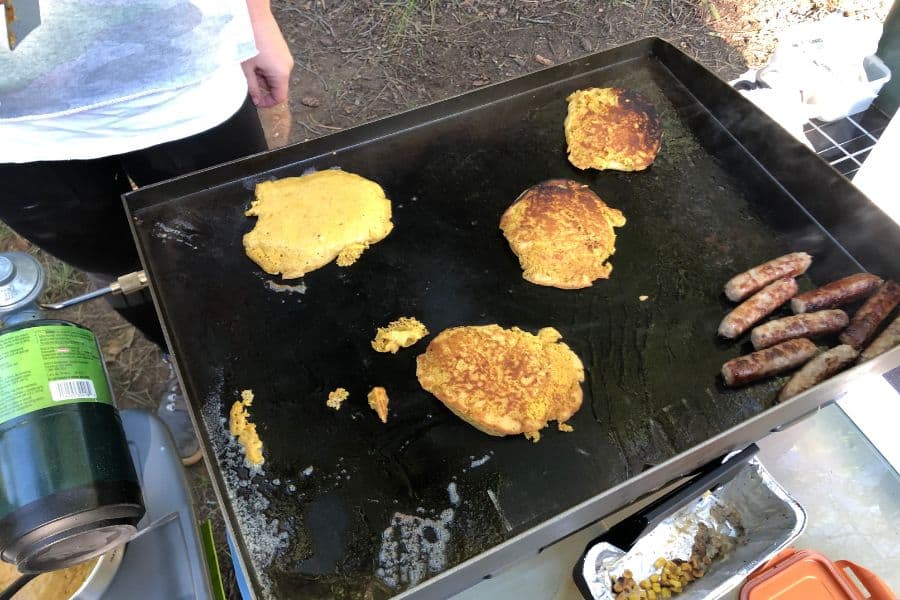 Stoves are a critical part of camping, but there's more that you need to learn about them than you might think. In this section, I'll cover all the critical details so that you can make an informed decision on which camping stove is right for you.
BTU
BTU is a pretty odd measurement. It's not nearly as popular as watts or volts. That being said, it's actually the most fitting one when you think about what it measures.
BTU stands for British Thermal Units. It's defined as the amount of energy that you need to cool or heat a pound of water by one degree on the Fahrenheit scale.
This is why you often find it as a measurement of power on stoves. The higher a stove's BTU rating is, the more heat it will be able to put out.
However, while BTU is the gold standard for measuring heat output, it isn't the only factor that comes into play when you're cooking. The size of the burners and design of the stove also affect the general performance.
Boiling Tests
If you have the opportunity to try out various units before buying one for yourself, then you should conduct some boiling tests. All you need to do is fill a pot with water then use the camping stove to heat the water up.
Set a stopwatch, start it when you turn the camping stove on, then stop it when the water starts boiling. The boiling time will vary based on your altitude, the temperature surrounding the stove, and how windy conditions are.
Consider borrowing stoves from your buddies to test different models. That way, you can see which one performs best under your specific conditions.
They say "a watched pot never boils," but you'll need to watch this pot if you want to gauge its performance. Then you can really ensure that you pick the right camping stove.
Ignition Method
There are various ignition methods that you'll run into when choosing between camping stoves. Most models in the lower price ranges will require that you light each burner manually with a live flame.
This can be a bit tricky if you're trying to cook in a windy spot as your matches will likely burn out, and a lighter might burn you. However, you'll find that manual lighting might be worth it since it tends to shave some dollars off the price tag of some models.
Camping stoves that feature a Piezo ignition system tend to be more expensive than those that you'd manually light. That's because Piezo uses an electric charge to ignite the fuel. Check out the GasONE stove for Piezo ignition.
Regardless of whether your stove has an ignition system or not, you should always carry a lighter as a backup.
Fuel
The type of fuel that your camping stove will run on is a critical component as well. Some fuels work better at certain altitudes and in cold than others.
For instance Isobutane doesn't perform as well in cold conditions as propane, but butane is a bit safer to use. The GasOne burner can use both propane and butane.
Most of the camping stoves we listed use propane as a fuel source, but many of the smaller stoves made for backpacking use isobutane as its lighter and comes in smaller containers than propane.
Weight
As with any piece of camping equipment, you should take note of the mass of your stove. The amount of weight that's considered acceptable will vary depending on how far away your camping spot is from your car.
If you are camping just a few yards from where you're parked, then a heavy-duty stove shouldn't be an issue. However, if your campsite is a long hike away, then go for something lighter to ensure that you don't strain your back on the way there.
You should also look at the shape of the camping stove to see how hard or easy it would be to transport. If it has a compact profile and folding legs, then you can stuff it into your pack without any hassle.
Size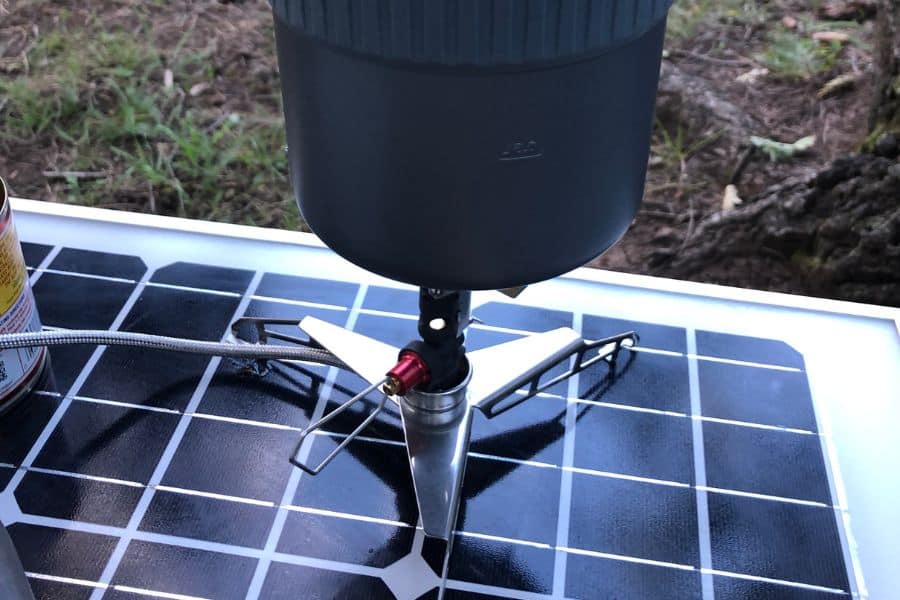 And lastly, you'll want to take into consideration the size.
If you're backpacking and space and weight will be a big issue, then the MSR PocketRocket Deluxe Stove is your best bet.
We love our Blackstone grill, but it takes up quite a bit of space and in that sense is problematic for us when we try to pack up our car for the camping trip.
So keep the size and space requirements in mind.
Our Verdict
After reviewing the five models above, factoring in the factors that matter and testing the various models, it's clear that the Everest 2x is the MVP.
40,000 BTU is more than enough to cover all your needs, and the matchless ignition is just a bonus at this point. The corrosion-resistant nickel coating is also a great feature of the Everest that will ensure you don't have to deal with rust anytime soon.
Lastly, its price is fair for the level of performance that the unit offers, and it comes in surprisingly light at only 12 pounds. If you want my expert opinion then get the Everest 2, I know you won't regret it.
That's all for now, but keep your eyes peeled for some of my upcoming pieces that will cover cutting-edge gear and help you fill all your camping needs.
Happy cooking!