This is our review of the EcoFlow DELTA 2 Power Station.

One of the biggest problems when you go camping is the lack of power availability, especially when going off-grid for a multi-day camping trip.
Will you have enough power to blow up your air mattresses, recharge your phones, power any portable coolers? Not likely.
Well, my family and I recently took the EcoFlow DELTA 2 out for a test drive in the Coconino National Forest…we were simply blown away by this power station's flexibility and longevity.
With a lightning-fast charge time, a 5-year warranty, and a multi-day capacity, this power station is truly worth the investment. I know we'll be using ours for years to come!
EcoFlow DELTA 2 – Power Station Review
EcoFlow DELTA 2 – Key Features and Materials
The newest iteration of the DELTA power station launched on September 16, 2022.
It is a huge upgrade from the original DELTA, especially when it comes to longevity (3000 cycles vs. 500 cycles), and an amazingly fast charge time (50 minutes to 80% capacity).
All of this is thanks to the switchover to LFP battery chemistry (from NCM with the previous version).
LFP is a significantly better battery product, with lower energy density and also being overall safer.
The switchover to the LFP, makes the DELTA 2 a lighter product, faster charging, and gives it an extremely long life.
You can pretty much rest assured that the battery will last you at least 10 years, but possibly more.
EcoFlow stands by its product so much, that they offer a 5 year warranty (previously was 2 years on other DELTA products).
As with all EcoFlow products, the DELTA 2 connects to your phone via Bluetooth and WiFi. You can manage battery life from your phone, or you can check on the LCD display screen.
The DELTA 2 charges up with normal AC power in 50-80 minutes, with Solar between 3-6 hours, or with your car's DC power.
EcoFlow DELTA 2 – Pros and Cons
Are there any cons? We're not really sure.
So far in our testing the DELTA 2 has proven to be an amazingly high quality power station that can be used for anything from car camping, to off the grid camping, to using it as an emergency backup power supply.
Pros
5 Year Warranty (up from 2 years on the DELTA)
1024Wh was enough to power our camping trip for 48 hours
Fast charges to 80% in 50 minutes (and full capacity in 80 mins)
Small enough to easily transport, we were able to squeeze this in the middle of our two bucket seats in our SUV
LFP battery chemistry makes the battery safer and last longer (3000 cycles to 80%)
At 27 lbs, it is easy enough to move around.
WiFi and Bluetooth enabled
EcoFlow App is extremely user friendly and easy to use
Cons
EcoFlow DELTA 2 – An In-Depth Review
We rated the EcoFlow DELTA 2 across five key categories:
Performance
Quality & Durability
Value
Ease of Use
Portability
Overall Score
After thoroughly testing the product, all of the above metrics are factored into our algorithm to create an Overall Score.
The EcoFlow DELTA 2 had great ratings across all of the categories and came in with an incredible 9.8 overall rating.
Performance
The DELTA 2 comes with 1024Wh of power storage, and charges in a lightning-fast 50 minutes to 80% capacity, and 100% in about 80 minutes.
15 outlets make powering literally anything a breeze.
We used the EcoFlow DELTA 2 with our home computers, portable refrigerators, phones, blowing up our air mattresses, and it just kept on going.
It lasts for days unless you don't go crazy and attach all 15 devices to it at one time.
For our camping trip, we primarily used the DELTA 2 to power our portable refrigerator. Leaving at around 9 am on a Saturday, the power station was able to power the portable refrigerator, our phones, and blow up our kids' air mattresses all while we dispersed camped in the middle of the for 48 hours.
It was a truly impressive performance.
You can rest assured that when using this power station as an emergency backup you'll be in safe hands and be able to assist you through any temporary emergency situation of 48 hours or less.
We gave the EcoFlow DELTA 2 a 10 out of 10 rating on Performance.
Quality and Durability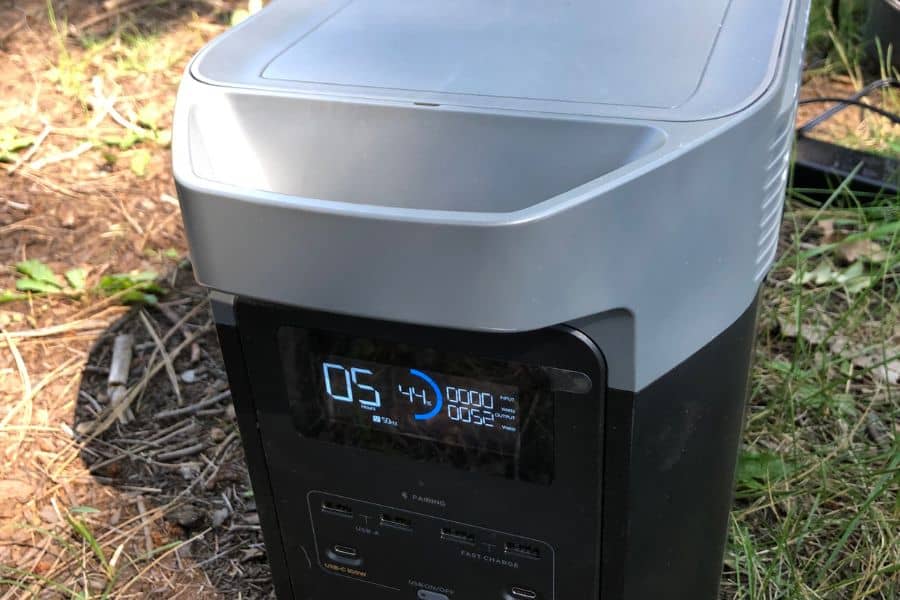 As with other EcoFlow products that we've tested, like the EcoFlow Wave, the DELTA 2 is a high quality product.
The minute you open the box, you realize that you are interacting with a spectacular piece of engineering and design.
In many ways the display screen and the mobile app, are so well integrated that the product feels more like a high end computer, than a power station.
Which by the way, we used the power station to power our computer for multiple hours without barely impacting battery life. Amazing.
We really couldn't be more impressed with the quality and durability of the unit.
This is the type of quality you should expend in a high end product.
We gave the EcoFlow DELTA 2 a 10 out of 10 rating on Quality and Durability.
Value
Again, another big win for the DELTA 2.
Compared to competitors like the Jackery Portable Power Station Explorer 1000, the DELTA 2 is priced even more competitively and has better features.
More outlets, a faster charge time, better battery chemistry. It has it all.
Even when comparing to other EcoFlow products, the DELTA has newer technology, faster charging time, and a more affordable cost.
We gave the EcoFlow DELTA 2 a 10 out of 10 rating on Value.
Ease of Use
I mean, I just feel like I am waxing poetically now. Yes, this product is easy to use, and yes, we highly recommend it.
The app integration, display screen – literally everything about this product is fast and easy.
We gave the EcoFlow DELTA 2 a 10 out of 10 rating on Ease of Use.
Portability
Finally portability. Possibly the one ding I have for this product.
While it is pretty small and compact (we were able to squeeze this into our SUV between seats), it is still fairly heavy.
While the original DELTA weighed 30.9 lbs, the DELTA 2 still weighs 27 lbs.
It's not hard to move, but it is still a fairly harder lift than you'd think looking at how small it is.
Like I said, this is the only very minor ding for an otherwise flawless product.
We gave the EcoFlow DELTA 2 a 9 out of 10 rating on Portability.
FAQs
How long will an EcoFlow DELTA 2 last?
We found that it powered our devices for nearly 48 hours.
With its 1024Wh capacity, it can handle 89 phone charges, or 16 laptop charges, or power small appliances like a car refrigerator for up 32 hours.
How long does it take to charge an EcoFlow Delta 2?
It really takes just over an hour to charge the EcoFlow Delta 2.
It powers up and makes a bit of noise while its charging, but then you can leave it be and wait until you need to use it.
Can I use EcoFlow while charging?
Absolutely, you can monitor all of the input/output activity of the EcoFlow devices using their very excellent mobile app.
Should I keep my EcoFlow Delta plugged in?
No. You should never keep batteries plugged in. Charge them to full capacity and do not charge them again until you've used them fully.
This way you don't cycle the battery more than necessary. The DELTA can only be cycled 500 times, whereas the DELTA 2 can be cycled an amazing 3000 times.
Our Verdict
If you're looking for a small, but mighty power station, look no further than the EcoFlow DELTA 2.
From a multi-day camping trip off grid to an emergency power supply, the DELTA 2 is long lasting and comes with a 5 year warranty to boot.
We were highly impressed with the product and will continue to buy and use EcoFlow products from here on out.