The REI Kingdom 8 has been discontinued. We aren't sure if and/or when REI will release a newer version of this tent (the Wonderland). See our REI Wonderland 6 Person Review Here. 
This is a review of the REI Co-op Kingdom 8 Tent.
I've been on a fair few camping trips and slept in many different tents and let me tell you straight off the bat, this one is something else.
I found the Kingdom 8 to be extraordinarily spacious and versatile. It provides maximum comfort and caters to everything you could possibly need in a 3-season tent. There's also a spectacular list of added features, including a vestibule, a rainfly, a meshed roof and accessory pockets.
In this article, I'll go over everything you need to know about the REI Kingdom 8. I've pointed out all the exciting features and provided information about all the different aspects you need to consider when looking at a tent.
So, if you want to know more about this tent, you've come to the right place.
At First Glance / Key Features
Every experienced camper is sure to be familiar with the name REI. With a longstanding history of making top quality outdoor and fitness gear, they've been a favorite among campers and athletes alike since 1938. You might not have heard the name REI Kingdom 8 yet, but after using this tent it's a name you'll never forget.
Let's start with the technical stuff:
Sleeping capacity: this tent sleeps 8+ people, making it large enough for the entire family.
Packaged weight: at 25 lbs. 4 oz., this tent compares will with other tents of a similar size when it comes to weight.
Packed size: when it's all packed up the tent's dimensions are 25.5" x 9.5"' x 20.5", making it compact and easy to carry around.
Floor area: this tent is fabulously spacious with a floor area measuring 104 sq ft.
Peak height: reaching a peak height of 75", this tent is tall enough for most people to be able to stand up straight inside. Even if you're really tall, you'll only have to crouch down a little bit.
Materials: the tent's canopy is made of 75-denier nylon taffeta, the floor is 150-denier coated polyester Oxford, the rainfly is 75-denier coated polyester taffeta and the poles are made of aluminium.
With specs like these and a whole bunch of practical features, this tent has a fine list of perks.
Pros:
Compact, spacious and comfortable – this tent has it all. A large capacity tent that folds down into an impressively small package, ready to take with you on any camping trip.
Practical – it's got plenty of features and accessories that make it easy to keep your camping experience neat and organized.
Portable – the Kingdom 8 includes a backpack carry bag that's got pockets for all the extra bits that come with it. This makes it incredibly easy to carry around from A to B.
Easy set-up – considering the size of the tent, you'll probably always have more than a couple of extra hands on deck to help you out. Nonetheless, it's good to know that you can set it up on your own if need be in under 30 minutes.
Ventilation – with bugproof mesh paneling and doors, you'll never have to worry about airflow in your Kingdom 8.
Rainfly – this tent comes with a waterproof rainfly included, helping you and your gear stay dry when it rains.
Cons:
Weather resistance – this is a 3-season tent, not a 4-season. If you're looking for a tent that will hold up in extreme weather conditions, this one isn't going to cut it.
Affordability – this tent costs a pretty penny, so if your pockets aren't deep enough you're going to have to look at some more budget-friendly options.
Weight, Size, Space, And Comfort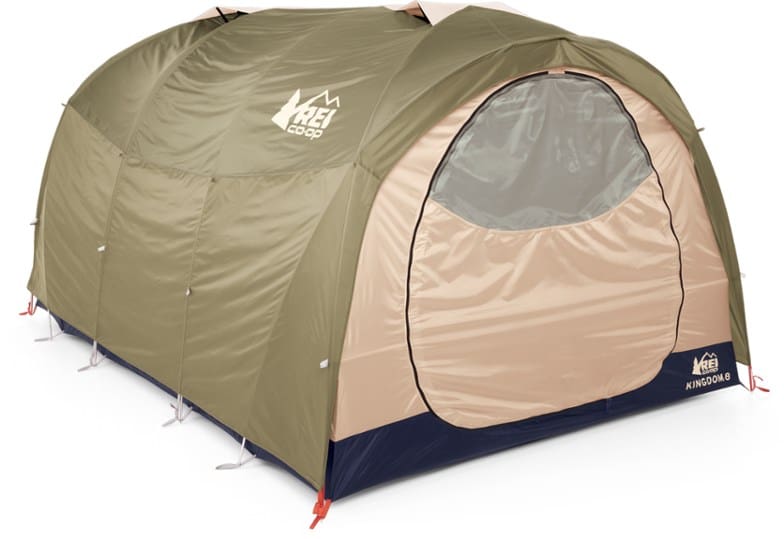 Let me just say, as much as I love camping, I also appreciate a certain level of comfort. I believe that you should be able to feel comfortable while you're spending time in your tent.
Like any other place you sleep, a good tent should be both spacious and cozy. With the Kingdom 8, you can have the best of both worlds.
It features a rectangular floor plan measuring just under 105 sq ft and a divider wall that lets you decide the size of your sleeping quarters. The versatile divider wall can be put up anywhere you like. This allows you to construct a custom space that suits your needs specifically.
Need more privacy? Just use the divider to create an extra room.
Want one room to be bigger than the other? You got it. The divider can be moved around in order to adjust the size of the room.
Feel like spreading out in one big open space? No problem. Just take the wall down and put it away, then get settled in and comfy in every nook and cranny of your incredibly spacious tent.
The Kingdom 8 makes it all possible.
It weighs in at just over 25 lbs and when it's packed up in its carry bag it measures 25.5" x 9.5" x 20.5". This makes it extremely convenient to carry around and it won't weigh you down too much when you're packing for your camping adventures.
With a peak height of 75", most people will be able to walk around comfortably inside. Again, if you're really tall you might still have to crouch over just a little bit. Still, I think you'll find that as far as camping tents go, this one is definitely on the roomier side.
Utility
Now, this is the part I like the most. The Kingdom 8 is packed with so many fantastic features and details, really doing justice to the REI name.
First of all, you've got two massive doors. This means you'll be free "to go" when nature calls anytime of the day or night, without waking up your fellow campers.
Another great feature is the vestibule on one of the doors. You can use it in two ways. Use it as a mudroom to store your shoes and some of your gear, or get some extra tarp poles and guylines and turn it into an awning. Either way, you'll definitely enjoy the extra space.
As for the interior, the Kingdom 8 comes with multiple built-in storage pockets. No matter what layout you go for, whether it's two rooms or a large open space, you'll have no problems staying organized. Believe me, these will drastically cut down the time you spend looking for things that seem to have been swallowed by your tent.
It also comes with 15 stakes included. These are just basic wire stakes though, so you might want to look into getting yourself some additional, higher-quality stakes.
All of this comes neatly packed in a practical and compact backpack carry bag. Additionally, the backpack features handy pockets to store the poles, stakes, guylines and pole repair tube that go with the tent.
Set-up
Preparing for a camping trip can be tedious. First, you have to get everything you need packed and loaded. Then you have to actually get to your campsite, which often entails hours of driving. By the time you reach your destination, all you want to do is crack open a cold one, sit back and chill.
By this stage it's getting close to sundown, so before you can unwind, you have to get your tent up. This is why you need a tent that can be set up as quickly as possible, so you can get right down to enjoying your trip without any delays.
When it comes to set-up and take-down, the Kingdom 8 shines again.
All the different parts are strategically color-coded. The components that go together share the same colored mark, making it easy to identify each part. This ensures you won't be wasting any time figuring out what goes where.
As long as you follow the instructions carefully, you'll have this tent up in no time.
Considering its size, you probably won't be taking the Kingdom 8 on any solo camping trips. More likely than not, you'll have plenty of people around to speed up the process by helping you set up. If for any reason you do need to set it up by yourself, don't worry. It's easy enough to do on your own in less than half an hour.
Ventilation
No matter how big your tent is, even four people can be a crowd, let alone eight. If you've ever shared a tent with that many people, you won't need me to tell you how stuffy and smelly it can get in there.
That's why ventilation is a super important factor when choosing a tent.
A good portion of the walls and the entire roof of the Kingdom 8 are meshed. This provides excellent airflow through the tent and keeps the interior fresh and breezy.
Another great thing about the meshed roof is that it gives you the opportunity to do some nice, relaxing stargazing on clear nights. Being able to admire the magnificent night sky from the comfort and warmth of your sleeping bag? Now that's my idea of a room with a view.
Weather Resistance
As far as protection from the elements goes, this tent comes with a waterproof rainfly to keep the inside of your tent dry in case of rain.
That being said, this is a 3-season tent. This means that although it's made of waterproof materials, you shouldn't expect it to perform well in severe weather conditions.
In strong winds and heavy storms, the poles can bend, letting water in and leaving the tent damaged. If you plan on camping in areas that are susceptible to extreme weather, I wouldn't recommend the Kingdom 8. You're best off going for a 4-season tent, specifically designed for rough weather conditions.
If you do end up using it in bad weather, I recommend getting some extra high-quality guylines and guying it out really well.
Affordability
If you're a seasoned camper, you won't have any trouble seeing that this tent is worth forking out some extra cash. You'll have a hard time finding a tent with this many perks and features at a better price.
Less experienced campers, dare I say newbies, might have trouble coming to terms with the price tag attached to the Kingdom 8. It can be tough to accept that you have to pay a small fortune for a tent, especially since you still have to roll out more dough for all your extras.
The Kingdom 8 doesn't include a footprint, so this is one of the things you're going to have to add to your shopping list. It's also a good idea to get yourself some extra guylines and stakes, just in case you end up needing them.
If you think it's not worth investing in the extra gear, think again. I always like to equip myself with good-quality guylines and stakes. The potential stress you'll save yourself from is definitely worth throwing in a few extra bucks.
That being said, it is kind of a bummer that on top of having to buy a footprint separately, it has to be the footprint that's made for this particular model. Unfortunately, it isn't compatible with any Kingdom footprints or accessories made in 2018 or earlier.
Our Verdict
All in all, if you're looking for refined features and accessories with plenty of attention to detail, the REI Kingdom 8 won't disappoint.
A fine balance between functionality and form makes it a great choice for any group camping trip. Whether you're looking for a tent to take on family vacations or adventures with your friends in the great outdoors, you can't go wrong with this one.
With the Kingdom 8, I can safely say that the positives far outweigh any negatives. Even the few points that aren't ideal can be easily solved if you're willing to invest just a little bit extra.
In return, you'll get coziness, comfort, durability and reliability like you've never experienced before. Now if that isn't worth investing in, I don't know what is.