This is our review of the new REI Skyward 6 tent.
I love to go camping with my kids. But nothing is worse than trying to squeeze into a 4-person tent with two rambunctious kids.
So I figured, given that 6-person tents sleep 3 people pretty comfortably, that we should give it a shot.
I also love REI's tents, and so after testing out the REI Wonderland 6 and loving it, we figured we wold give the REI Skyward a shot to see how it compares.
The new REI Co-op Skyward 6 Tent is the updated version of the REI Co-op Grand Hut that received rave reviews.
In this article, we'll review everything from the weight and dimensions to all the tiny little features that make this tent a great choice for taller campers.
REI Skyward 6 Review – Great for Taller Folks!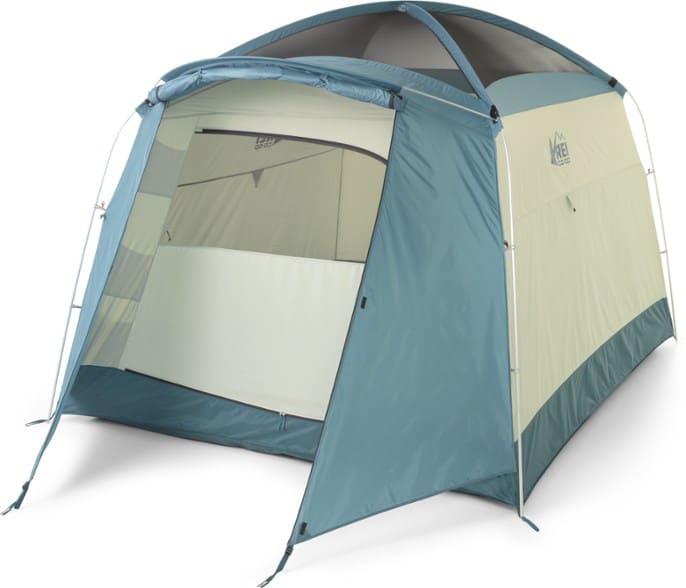 Type: Cabin | Seasons: 3-season | Setup Time: 10 mins | Weight: 15 lbs 7 oz | Inside Height: 78″ | Floor: 120 in x 100 in (83.3 sq ft) | Vestibule Area: 19.5 sq ft
The brand new for 2022, REI Co-op Skyward Tent, doesn't disappoint!
Have you had one of those camping experiences where you need to bend over to enter, exit, and hang out in the tent?
You are not going to have that problem with the Skyward 6!
With 78 inches of height or 6 feet and 6 inches there is so much room to stand and move about – it was built for tall people! The great part is that this is a huge improvement over the previous Grand Hut version (at 75″).
This tent is ideal for people seeking a more luxurious cabin tent shelter.
However, despite its size, it's still easy to set up and take down. We were able to accomplish this with two people in just around 10 minutes the first time around.
REI Skyward Tent – Key Features
Besides the excellent height that the Skyward offers, one of the key features to this tent is the oversized vestibule and awning.
The vestibule provides an additional 19.5 sq ft of gear storage and the awning creates a dry and drip free entry.
The pre-bent aluminum poles are an excellent addition and make setup and takedown a breeze.
And lastly, let's talk about its weight. Coming in at only 15 lbs 7 oz, this tent was lighter than the REI Wonderland 4 that we were testing at the same time.
Even though the fly doesn't offer full coverage, the material made of 75-denier coated polyester with a waterproof coating gets the job done.
The tent's bathtub floor is made from a 150-denier coated polyester as well.
Lastly, the tent clips were hugely helpful in allowing us to pitch the tent in no time.
Who is it for?
Given the smaller size at 83.3 square feet, we recommend this tent for couple camping, small families with one child, or for Dad's like me who want to bring their two sons camping.
This is more than enough room to easily fit three people, or even for camping with your dog.
Since it is lightweight it is small enough to be transported on a bicycle or even split up among backpackers (if the weather is OK).
REI Skyward 6 Pros and Cons
We found that even though there are some cons, the pros still significantly outweigh them!
Pros
Setup and Takedown – We had such an easy time setting this tent up. It took only 10 minutes and that was the first time around. Honestly, the hardest part was the stakes, because the ground was so dry. Even though the stuff sack is slightly smaller than we would like, we were also able to get the the tent rolled up and back in without any issues.
Height – A huge pro for us with the Skyward is the height. If you are under 6 foot, 6 inches, you will be able to walk around this tent without ducking, squatting or anything else. Highly recommend for taller people.
Privacy – Though the design is a bit older than we would like, the privacy that comes with this tent is pretty amazing. You can leave the rainfly off in good weather, see the stars, and yet not have to worry that snoopers are peaking into your tent.
Gear Storage – What we really love about this tent is the amount of gear storage options you get with the vestibules and awning. You can easily store your shoes and other gear outside of the tent without fear that they will get rained on (even with the awning open).
Materials/Construction – A huge pro for REI Co-op tents are their superior materials. With the Pre-bent Aluminum poles, the tough as nails fabric, the tent clips, and of course the sleeves make this a solid and heavy duty tent.
Lightweight – I can't tell you how many times I've had a huge tent taking up so much space in my car. This tent is surpassingly lightweight and a space saver. It is indeed packs down smaller than our 4 person REI Wonderland tent. Go figure.
Cons
Pricey – Look. You want to get this tent on sale. It's not cheap and was just released. From a price to value ratio, we definitely think that it could be a bit less expensive.
Lack of Views – If you are interested in more windows and views from your tent, this tent offers limited views from within the tent.
Only One Door – Only having one door helps with weather resistance, but makes the tent slightly harder to utilize.
Partial Coverage Fly – We wish the rainfly covered just a bit more of the tent. Because there are no windows on the sides, it isn't a huge issue, but this problem makes this tent less worthy of taking into a storm.
REI Skyward – An In-Depth Review
Space and Comfort
Quality and Durability
Value
Weather Resistance
Ease of Use
Intangibles (unique features and key selling points)
User Reviews
Depending upon what you are looking for in a tent, you'll want to pay more or less attention to each specific item.
Overall Score
All of the above metrics are factored into our algorithm to create an Overall Score. The Overall Score is going to be the best for tents that are top notch in every category accordingly.
The REI Co-op Skyward Tent had great ratings across all of the categories and came in with a 7.9 overall rating.
Space And Comfort
We found that the REI Co-Op Skyward 6 Tent, even though it has less space than some other 6 person tents, was more than adequate.
What you get in the additional overhead height, more than makes up for the loss in square footage.
Plus, you also get the added storage space from the vestibules which is huge.
And let's not forget about the gear pockets too: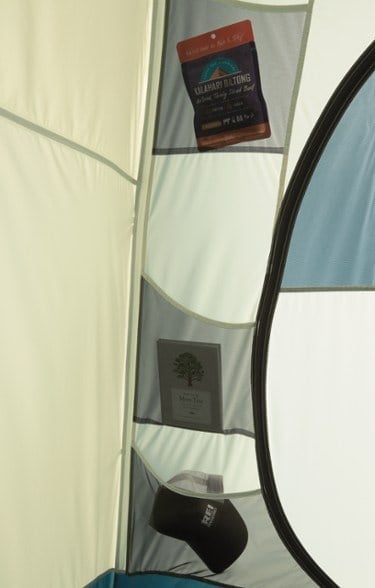 We gave the REI Skyward 6 Tent a 7 out of 10 for space and comfort.
Quality And Durability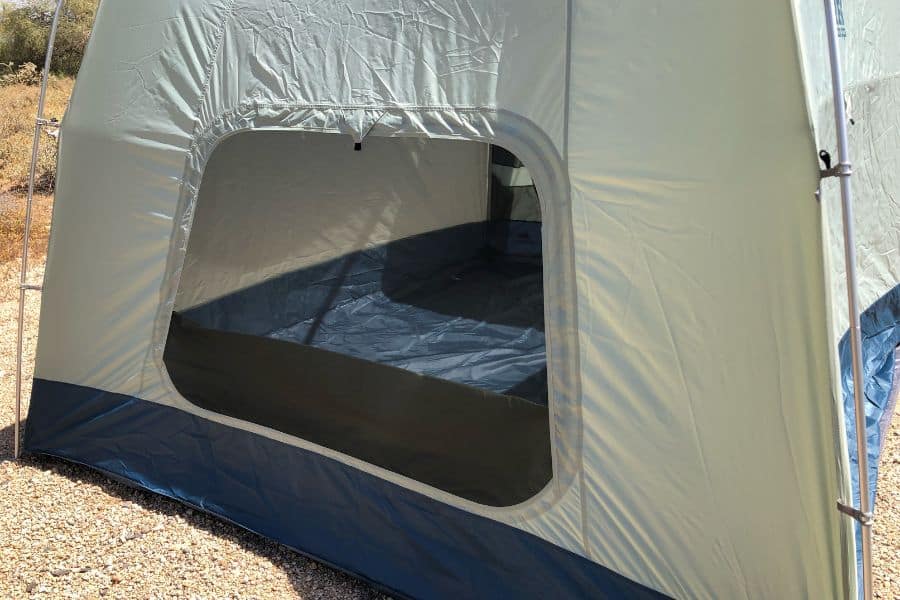 This metric is pretty straightforward. We rate the tents based on their actual materials and the quality of the construction.
We also get feedback from tent owners who put it their tents the test over a long period of time.
Many tents utilize a combination of the same polyester or nylon materials, but their construction can be just as important. This all gets factored into the quality and durability score.
For the REI Skyward, we have tested and prodded the tent and we like the results. REI makes a well constructed and durable tent!
We gave the REI Skyward 6 Tent an 8 out of 10 for quality and durability.
Value
All tents are not created equally, and not all tents are priced equally either. Coleman for instance produces a great budget tent, while Mountain Hardware produces a tent that can withstand the elements. These tents will not be priced anywhere close to each other.
REI comes somewhere in the middle. Like we said above, it is pricey and that is a con. But if you can snag this tent on sale, then the value you get is even better than our rating.
We gave the REI Skyward 6 Tent an 7 out of 10 for value.
Weather Resistance
Weather resistance is a simple metric.
Does the tent let in water, or does it not? Does the tent withstand high winds, or collapse onto itself? Does the tent have good ventilation during the summer months or does it get too hot and stuffy?
The rainfly not offering full coverage is a slight ding, combined with the fact that even the best cabin tents in general won't do great against wind.
Still the materials are excellent, and the construction is good. We didn't have any problems with this tent even in fairly windy weather.
We gave the REI Skyward 6 Tent a 7.5 out of 10 for weather resistance.
Ease of Use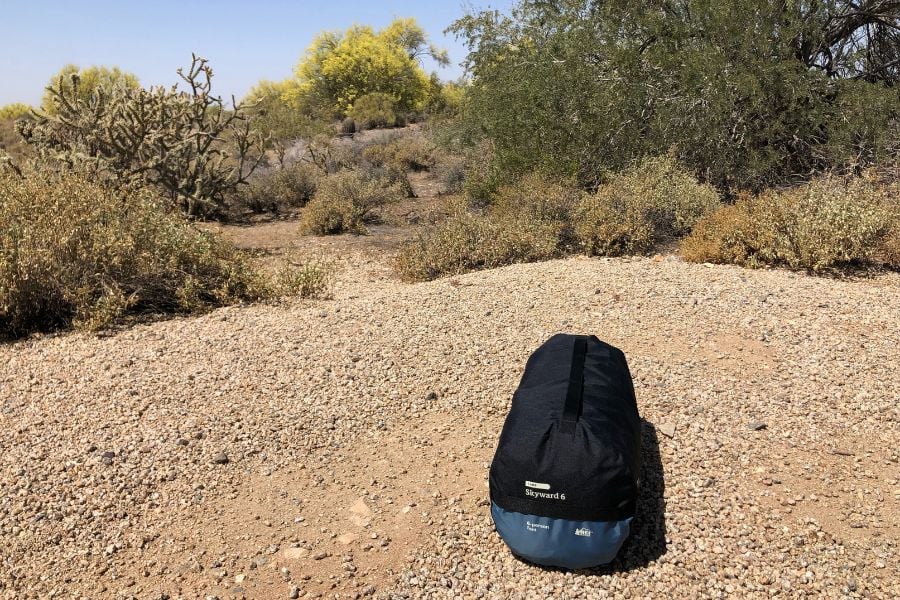 How fast can an average user pitch this tent? How easy it is to take down and/or utilize additional features?
Also, how much does the tent weigh? A tent weighing 70 lbs is going to score slightly lower than lightweight 6-person tent that weights 20 lbs total that can be pitched in the same amount of time.
The REI Skyward was pretty dang easy to setup and takedown. With the color coded rainfly clips, and the pre-bent aluminum poles, we were able to get this setup in 10 minutes flat.
While it was a bit tricky to get into the cary bag, we were able to do it on the first try.
We gave the REI Skyward 6 Tent an 8 out of 10 for weather resistance.
Intangibles
These are the unique features or selling points of each individual tent that give it a leg up on the competition.
Clearly, in this case, it is the HUGE vestibule, the privacy, and the awning capability.
We gave the REI Skyward 6 Tent an 8 out of 10 for intangibles.
User Ratings
Last, but not least are user reviews!
We can get a lot of great feedback from user reviews, but they aren't perfect. The average tent owner won't ever leave a review, so reviews are typically left by users who either have a really favorable or unfavorable experience.
Of course even that is still good information, because if 90% of tent owners leave a positive 5-star review, then that is really saying something. So we blend reviews together from various sources and come up with an average user rating score.
So how do we fix this? We go through and read all of the reviews. We read the good, we read the bad, and then we factor in the quantity of reviews and calculate all of into our final User Rating score.
We gave the REI Skyward 6 Tent an 9.5 out of 10 for user rating.
Accessories
REI Co-Op Skyward 6 Footprint
Last, but not least, if you do purchase this tent, you will want to pick up the footprint. Trust me, you can use a tarp, but a footprint is better IMO.
It just makes it much easier, so rather than trying to secure the exact right size tarp, or fold your tarp down, you are ready to go!
Skyward FAQ
Is The Skyward Tent The New Version of the Grand Hut?
Yes, the short answer is that the REI Co-op Skyward 6 Tent is the updated version of the Grand Hut 6 tent.
The specs are nearly identical, with the square footage being the same, but REI added 3 inches of height to the Skyward making it 78″ tall!
Are There Any Differences Between The Skyward And The Grand Hut Tent?
The big difference is in the height. The Grand Hut was 75″ and the Skyward comes in at 78."
Is The Skyward Tent It Worth The Price?
In our opinion, yes. Though it is pricey, the premium materials provide the quality and durability that hardcore car campers are looking for.
With a 10-minute setup, it is extremely easy to use and provides great weather resistance compared to less-expensive budget tents.
Does The Skyward Come In Any Additional Sizes?
Yes, the Skyward tent also comes in both the 6-person version and a 4-person version.
Will The Skyward Tent Come In An 8-Person Size?
We aren't sure. Never, say, never, but it seems that there is no 8-person version.
Skyward Compared to Other 6 Person Cabin Tents
Our Verdict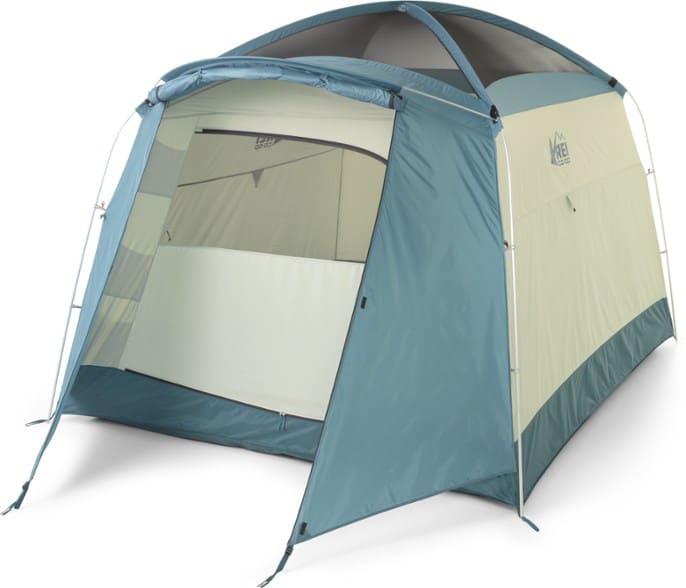 Type: Cabin | Seasons: 3-season | Setup Time: 10 mins | Weight: 15 lbs 7 oz | Inside Height: 78″ | Floor: 120 in x 100 in (83.3 sq ft) | Vestibule Area: 19.5 sq ft
The REI Co-op Skyward 6 Tent is an all-around great car camping tent.
Made for taller people in mind, the Skyward is going to be great for tall campers, camping couples, couples with a dog and more.
You can comfortably fit three people into this tent, or go all the way up to 6 if you really wanted to squeeze them in.
It is spacious and sturdy as can be. Not only that, but the amazing vestibule/awning system is a real delight for those looking for extra gear storage.
While this tent is costly, it is well worth every penny. It's a premium cabin tent and a valuable addition to your car camping equipment!