Let's face it – people have very different priorities when it comes to camping.
What I consider to be the ideal camping trip, might be a total nightmare to you or someone else.
But everyone can have a great time camping if they plan the right kind of trip. And, the first step is deciding which type or types of camping you're interested in.
This article covers 13 different types of camping. I've divided them into 4 categories:
Types of camping based on the kind of shelter used
Types of camping based on your campsite location
Types of camping based around a particular activity
Types of camping based on environmental conditions like terrain and weather
From hammock camping, to RV camping, to glamping – there's something for everyone.
Read on to see which of these camping styles tickles your fancy the most.
Types By Shelter
Let's start with the types of camping that are based on the kind of camping shelter used.
When you think of camping, sleeping in a tent is probably your first association. However, tents aren't the only option you've got when it comes to shelter.
You can also sleep in a hammock, or in a tent on your SUV rooftop or truck bed, or in an RV.
Here's some basic info about each of these camping styles and what they offer:
Tent Camping
If you're all about keeping it classic, you might not find any other type of camping shelter tempting enough to replace traditional tent camping.
Whether it's a short vacation or a long term camping trip, tent camping is by far the most popular type of camping there is. And the oldest, too. In fact, people have been sleeping in tents for tens of thousands of years.
So, why is tent camping still the most popular type of camping even today when there are so many new innovations in camping that have since hit the scene?
It's pretty simple…when it comes to variety – you can't beat tents.
They come in all shapes and sizes. And, they're suited to a multitude of different purposes – from casual family camping to full-blown expeditions at high altitudes in harsh weather conditions.
Nowadays, there are so many different types of tents on the market that everyone can easily find one to suit their needs. Whether you're a solo backpacker or a family of 12, or anything in between, there's sure to be a tent out there that's just right for you.
Hammock Camping
One type of camping that's becoming increasingly popular is hammock camping. And for good reason, too.
Hammocks are insanely comfortable. This might not be your initial impression after the first few nights of sleeping in one. But, once you figure out how to do it right, you'll sleep better than you do in your bed back home.
Don't believe me?
Studies have shown that sleeping in a hammock promotes deeper sleep and pressure point relief. Plus, it does a better job at protecting you from bugs than a tent does, since you're not on the ground.
Other than a good night's sleep, hammocks also give you a wider range of options when it comes to campsite selection. They provide you with the possibility of setting up camp in places where the vegetation on the ground is too thick for a tent.
While hammock camping doesn't require a flat surface like tent camping, it does require finding somewhere to tie your hammock up.
Don't worry, though – there are plenty of ways you can do this even if there aren't any trees around. Boulders, posts, your car and hammock stands are just a few of the things you can use you hang your hammock up
Overlanding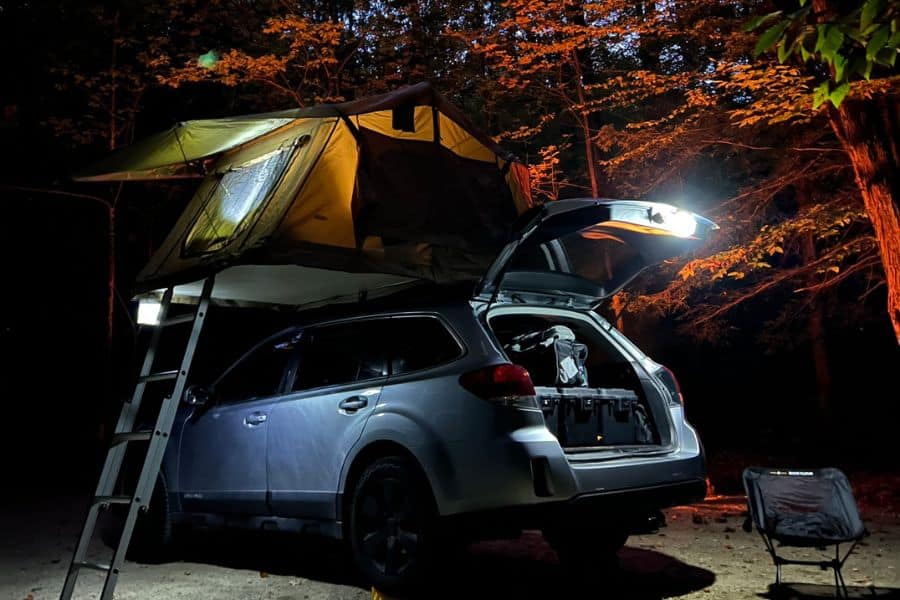 Do you drive an SUV or a pickup truck?
If the answer is yes, you're probably familiar with overlanding.
It's basically like off-trail hiking, except you're driving instead of walking.
But your car isn't just your main mode of transportation. It's also your bedroom.
How do you transform your vehicle into your sleeping quarters for the night?
Easy!
All you have to do is attach a rooftop tent or hatchback tent to your SUV, or a truck bed tent to your pickup truck.
This lets you sleep wherever you can park your car, which is super convenient because it means you don't have to plan your camping spots out precisely. You can kind of just wing it and see where you end up at the end of the day.
RV Camping
Morro Strand State Beach new campsites photos have just been added. Check out the 25 RV hookup campsites, as well as all the rest!https://t.co/vfxs66GGUz pic.twitter.com/6wbv6PRGSJ

— CampsitePhotos.com (@CampsitePhotos) March 6, 2019
Another type of camping that involves sleeping in your vehicle is RV camping.
This one's for campers who want to go road tripping in a legit portable home. I'm talking creature comforts like running water, electricity, and a kitchen.
If you're staying at a campsite that accommodates RVs, you'll be able to hook your vehicle up to all the amenities. With water, electric and sewer facilities, you'll be able to cook, bathe and use the toilet all from the privacy of your very own RV.
However, if you want to venture out to some remote locations with your RV, you also have the option of staying out in the wild.
RV camping outside of established campgrounds is called boondocking. You might also hear it referred to as "dry camping" or "dispersed camping". It's a great option for RV campers who want to get away from the crowds and do their own thing.
That said, you don't have to go out in the wild to go boondocking. It can be done in developed areas as well. You're allowed to park your RV and spend the night in certain parking lots, such as Walmart's.
Of course, if you're boondocking, you won't have any water or sewer facilities available. So, you'll have to use bottled water and do your business outside. Following Leave No Trace principles, of course.
You'll still have electricity, because of the backup generator in your RV. That means you'll still be able to use the fridge, cook, turn the lights on etc.
Types By Campsite Location
Next, let's take a look at some types of camping that are based on your campsite location.
Where you plan to go more or less dictates how you'll need to get there. Some places can only be reached by foot. On the other hand, with some destinations, it makes more sense to drive.
How does that relate to the type of camping trip you're going on?
Let me break it down for you:
If you're driving to your campsite, it's a car camping trip.
If you're carrying your gear from one campsite to another by foot, it's a backpacking trip.
If you're camping away from developed campgrounds in the backcountry, it's a wild camping trip, regardless of whether you arrive by foot or car.
Here's a little bit more about each of these types of camping:
Car Camping
If you plan on camping at campsites, and places in the wild that are fairly close to established roads, you've got the option of going car camping.
This basically involves packing all of your gear into your car, and setting up camp somewhere near your car so you don't have to carry all the gear too far.
Not having to worry about weight when you're packing means you can pack all of your favorite things from home. Great news for people who like taking their entire houses with them when they go camping!
Seriously though, you can set up a home away from home with everything you need. This makes car camping a great choice for people who plan on camping at the same campsite for multiple days in a row.
While car camping is popular among all types of campers, it's particularly popular for family camping trips. The aim of the game is relaxation and rest, rather than intense physical activity.
Backpacking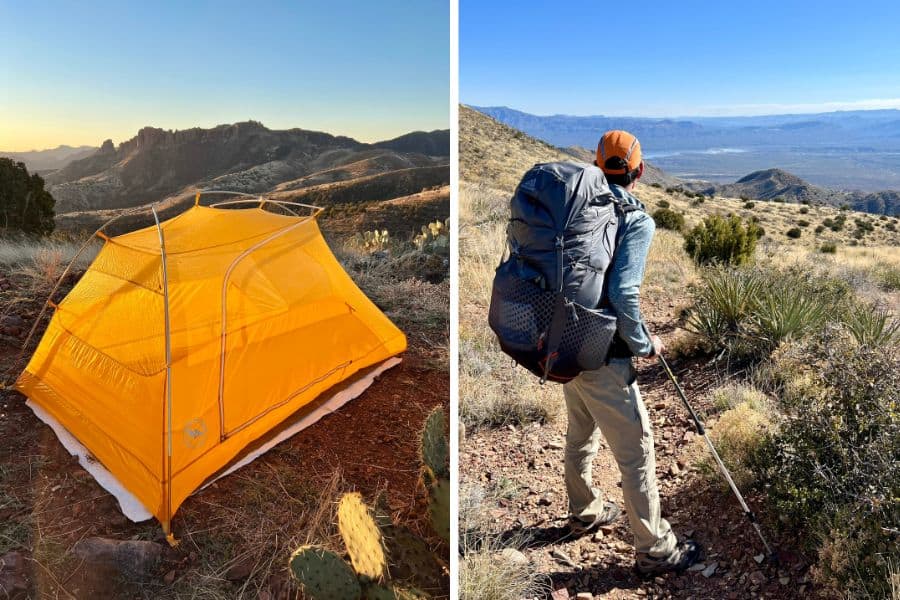 Now, if your camping trip is centered around hiking from one place to another and camping along the way, you're going on a backpacking trip.
Backpacking is really the only way to get off the beaten path and immerse yourself in nature completely. On foot, you have the freedom to go deep into nature, where cars can't go because there aren't any roads.
The locations you'll uncover will be incredibly rewarding, but it comes at a price:
You'll be carrying your campsite around with you everywhere you go on your back.
So, if you're a first time backpacker, the main piece of advice you should take on board is to keep your load as light as possible.
Only take what you absolutely need. No extra stuff is worth being uncomfortable all day long while you're hiking.
You've got traditional backpacking, lightweight backpacking and ultralight backpacking.
If your load weighs 30 lbs. or less, you're a traditional backpacker. If it's under 20 lbs., you're a lightweight backpacker. And, if it's under 10 lbs., you're an ultralight backpacker.
Of course, how light you manage to keep your load will also depend on how long your trip is going to be, and what kind of resources you have along the way.
Wild Camping
Whether you're backpacking or car camping, anytime you set up camp somewhere that isn't a designated campsite, you're on a wild camping trip.
Wild camping has always been way more appealing to me than staying at campgrounds. There are so many amazing places where you can set up camp far away from the hustle and bustle of civilization. And, don't worry, it's perfectly legal in most places in the US.
Finding a spot that's all yours in a beautiful location and getting to live there for a little while is the perfect way to reconnect with Mother Earth.
Be prepared, though – You're going to need to think a few things through ahead of time.
Things like going to the toilet and showering aren't going to be as straightforward as they would be at a campground. To make sure you handle these matters in a way that doesn't harm your surroundings, get acquainted with the Leave No Trace principles.
You also need to make sure you take enough food. You wouldn't want to run out of food in the middle of the forest with no shops around for miles. I strongly recommend planning all your meals out in advance, and taking some back up meals as well, just in case.
Also See: How to Shower When Camping (9 Ways to Get Clean)
Types By Activity
Some types of camping are based on a certain activity. In these cases, the activity is the main focus of the trip, and all the other logistics fall into place around it.
The activity can be anything from cycling or kayaking, to an extreme survivalist adventure or even a luxurious pamper fest.
Survivalist Camping
Brilliant overnighter in the bushcraft shelter ⛺️ pic.twitter.com/mrQy6sycaR

— William Macdonald 🏴󠁧󠁢󠁳󠁣󠁴󠁿🇺🇦 (@macdonald241) October 2, 2022
Why not start with survivalist camping?
This camping style is intriguing. But, I'll tell you right away – it definitely isn't for everyone.
Survivalist camping entails being dropped off in a remote location with nothing but a minimal survival kit. Inside you've got things like a limited supply of food and water, a first aid kit, a flashlight, a radio and a whistle.
There are 2 types of survival camping trips: base camp and walk out.
With base camp survivalist camping, you're dropped off at a location in the middle of nowhere. Your mission is to stay there, create a base camp, and survive until someone comes and picks you up at a date you agreed on.
Walk out survivalism is even more challenging. It involves being taken to a remote location and having to find your own way back with nothing but your survival kit.
Warning: as exciting as they might sound, keep in mind that both kinds of survivalist camping trips can be extremely dangerous.
Glamping
Dawn at Yurt #1 in Goblin Valley State Park.

via @IntrepidXJ #adventr #glamping #goblinvalley #utah #camping pic.twitter.com/rzRZW6zPBu

— Wilderness Times (@TimesWilderness) March 1, 2022
And, now for something completely different!
On the opposite end of the spectrum to survivalist camping, you've got glamping.
Glamping is basically the perfect solution for anyone who wants to spend time in nature, but doesn't want to have to give up any creature comforts.
Instead of roughing it and sleeping on the cold, hard ground, you get beautiful accommodation with a comfy bed and plenty of other extras, too. Some glamping huts even feature a hot tub.
Obviously, living it up in the lap of luxury while you're camping doesn't come cheap. Whether you're renting a glamping shelter or putting your own glamping setup together – it'll definitely be a far pricier venture than your average camping trip. Heck, you can still glamp on a budget, you just have to get a bit creative!
Kayak Or Canoe Camping
"The late afternoon light was looking nice in the canyon this evening." – @IntrepidXJ#LabyrinthCanyon #GreenRiver #KayakCamping #campsunset pic.twitter.com/MROx4gQFla

— Wilderness Times (@TimesWilderness) July 20, 2022
I don't know about you, but anything that involved being on the water grabs my attention right away. So, as you can imagine, kayak and canoe camping is something I got really excited about when I discovered it.
It's basically like backpacking, in the sense that you're on the move, carrying your camping gear with you as you go.
But, get this:
Canoe camping spares you of the main burden you're faced with when backpacking – the weight. Rather than carrying all your stuff on your back, you store it in your canoe.
That's not the only difference, though.
When you're backpacking on foot, you can move between high and low altitudes. Along the way, you'll get views from shifting perspectives, allowing you to see your surroundings from all angles.
With canoe camping, you don't have as much variation, because you're always on the water. That being said, the views you'll take in on a canoe camping trip are certainly no less spectacular than the views you get while hiking.
The main drawback of canoe camping in my opinion is that it can be difficult to keep your things completely dry throughout the duration of the trip.
Still, there are lots of things you can do to protect your gear. For instance, double bagging it, putting it in dry bags, waterproofing it and storing it in the waterproof hatch. Which, by the way, is far from waterproof – so don't ever rely on that alone.
Bicycle Camping
Bicycle camping is another fun alternative to backpacking.
You pack your gear in bags that you can attach to your bike, and cycle from one location to another, setting up camp at various points along the way.
This is wonderful in places with bike trails, or bike friendly terrain in general. Unfortunately, that's not always the case, and there are a lot of areas that are impossible to ride your bike through – both in the wild and in developed areas.
Motorcycle Camping
In a way, motorcycle camping is not much different from RV or car camping.
You're traveling on wheels and spending the night in a moto tent in the wilderness.
You ride your motorcycle during the day, and you camp in your tent at night.
That's all there is to it!
Types By Environment
Finally, you've got the types of camping that are specific to certain environmental conditions.
This could mean certain weather conditions, as is the case with winter camping. Or, it could be weather conditions in combination with a specific type of terrain, as is the case with beach camping.
Winter Camping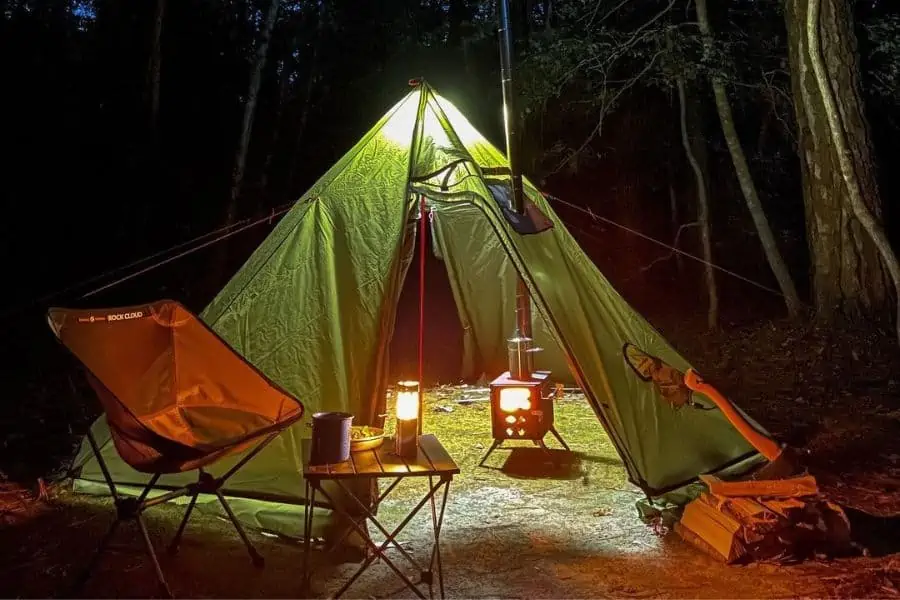 Winter camping is, needless to say, far less popular than camping in the summertime. Sleeping outside while it's snowing isn't something that a lot of people get excited about.
Nonetheless, some of the most breathtaking landscapes in the world are places where it's always cold. So, if that's something you want to experience, you might be tempted to brave the cold and venture off on a winter camping trip.
And anyway, if you've got the right gear, you'll be just fine. You'll need a good 4 season tent to begin with, plus a winter sleeping bag, a sleeping pad with a high r-value, and warm clothes.
You might even want to equip yourself with a tent heater, if you want to make extra sure you stay nice and toasty warm.
Download: Winter Camping Checklist (w/ Printable PDF)
Beach Camping
What better place to set up camp than on the beach?
The cool sea breeze blowing on your face at night.
The sound of the waves crashing on the shoreline lulling you to sleep.
The beautiful, crystal clear water just steps away from your bed.
Sleeping on the beach is a pretty unbeatable camping experience.
The most important thing to pay attention to when you're beach camping is that you have adequate protection from the sun.
If you don't have a special beach tent designed specifically for beach camping, make sure your tent provides enough protection from the sun's UV rays.
And, of course, if there's any natural shade nearby, make good use of it!
Over To You
So, what do you say?
Did any of these take your fancy?
I'm sure there has to be at least one that got you at least a little bit excited.
Well, go on then. What are you waiting for?
Grab the gear you need and give it a shot!
To find the best gear for the type of camping you're interested in, check out our gear reviews and buying guides.