In a hurry? After careful examination, I've concluded that the Mountain Summit Gear Roll Top Table is the best camping table on the market today.
Like camping in comfort?
So do I.
And while ultralight backpackers get by with the bare minimum, us car campers need a bit more. This is doubly true if you mainly go camping with your family or a large group of friends.
One of the must-haves for a pleasurable camping experience is a solid camping table.
Here's how to choose the best one.
Best Camping Table: Our Top 10 Picks
Mountain Summit Gear Roll Top Table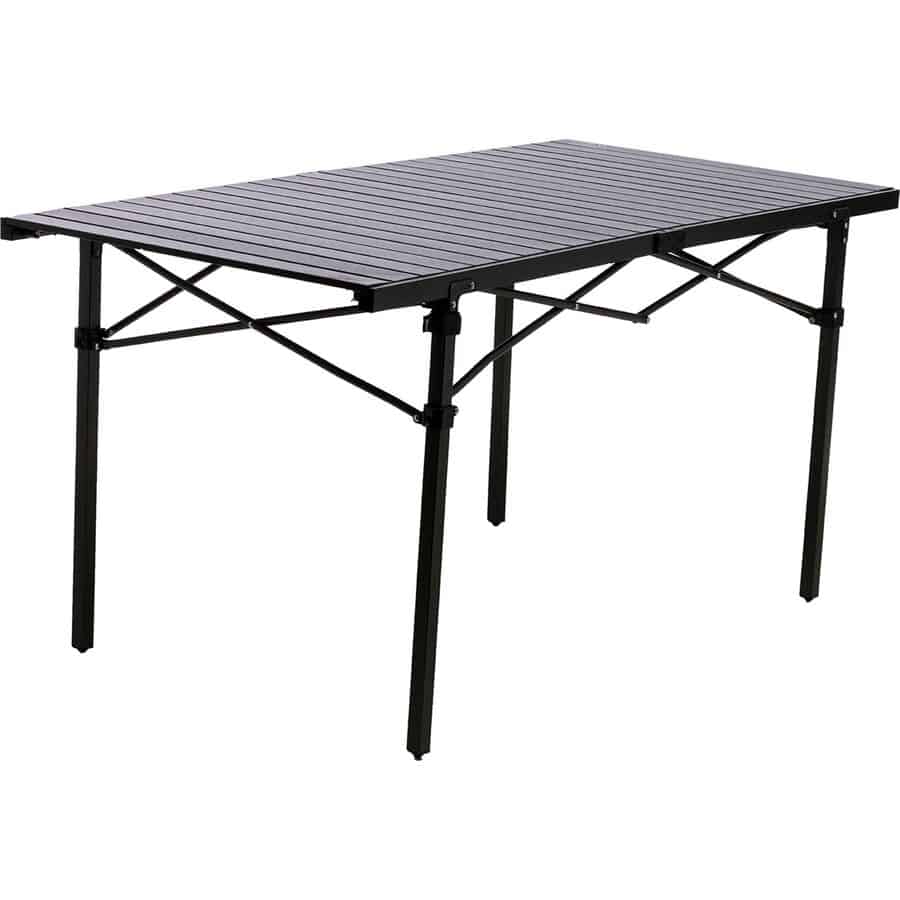 When it comes to camp dining tables, they don't get much better than this amazing table from Mountain Summit Gear.
It's made of aluminum and steel, making it durable and sturdy. It's got a lightweight and weather resistant frame, and it can hold up to 70 lbs., which is a fair amount of weight.
Setting this table up can be done in no time at all, and it comes in 2 large sizes to accommodate groups of any size.
It also has a convenient carrying bag that makes it super easy to carry from your car to the campsite.
One thing to watch out for is things sliding off the surface. An easy fix for this is throwing a tablecloth over the table, to make the surface less slippery.
Pros:
Lightweight and weather resistant frame
Sturdy and strong – able to hold up to 70 lbs.
Comes with a carrying bag making it easy to transport
Available in 2 different sizes – L and XL
Quick and easy set up – can be done in less than a minute
Cons:
Some users have reported that the surface is slippery, so things might slide off if the terrain underneath isn't level
Best for: camping groups looking for a great, solid campsite dining table.
Snow Peak Single Action Table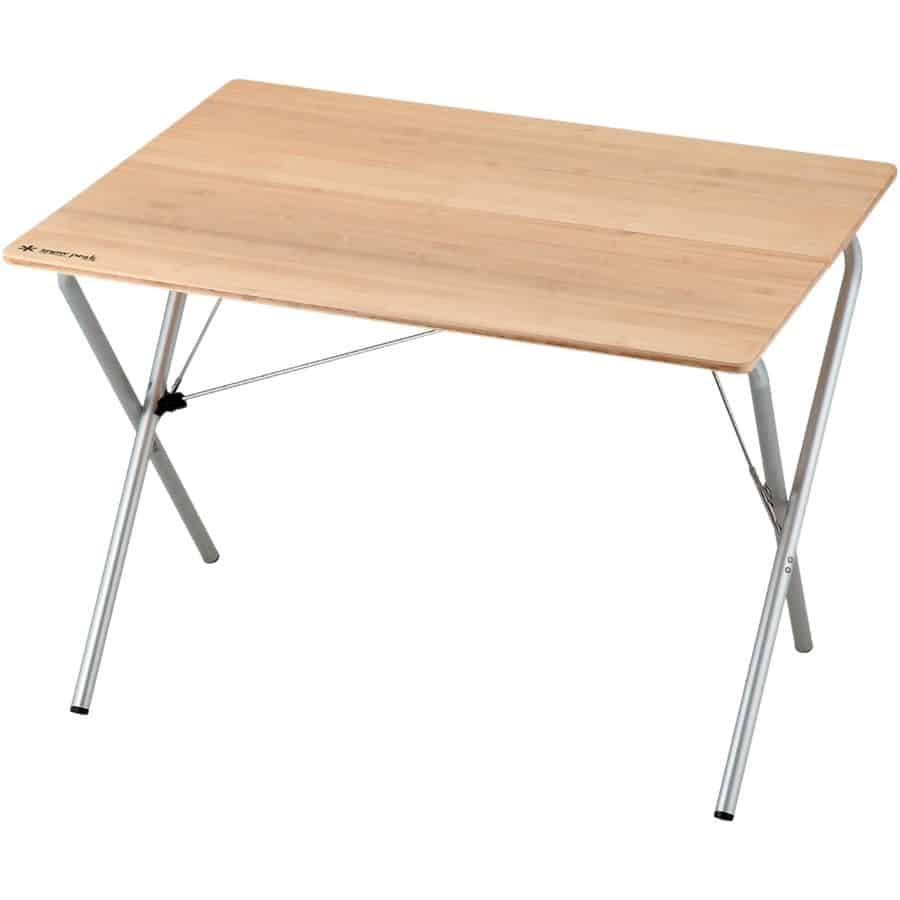 If you're looking for something that's a bit more fancy than your average camp dining table, check out this beautiful bamboo table from Snow Peak.
Its multilayered composite bamboo surface is incredibly tough, and it's even resistant to light rain. Plus, bamboo is an eco-friendly material, so you'd be doing the environment a favor if you go for this table.
What's really great about this Snow Peak table is that it's super stable. You won't have to worry about this table wobbling around underneath your dinner. It's even stable enough to use as a work desk with your laptop.
You can set it up and take it back down in seconds with 1 swift motion, and it comes with a carry bag making it easy to get it to and from the campsite.
Now, bamboo is an expensive material, so this table doesn't come cheap. But, as the saying goes, you get what you pay for – and that's definitely the case with this table. It might cost a pretty penny, but you'll know where your money went.
Pros:
Bamboo surface makes it durable, long-lasting and eco-friendly
Aluminum frame provides great weather resistance
Impressive stability – doesn't shake and wobble
Easy set-up and takedown – folds out and back up in seconds
Comes with a convenient storage bag for easy transportation
Available in 2 sizes – M and L
Cons:
Quite heavy, weighing 22 or 28 lbs., depending on the size
Definitely not a budget-friendly option
Best for: campers who don't mind paying a little bit extra for a top quality portable folding table.
Naturehike Folding Camping Table
When it comes to smaller camping tables, this Naturehike table is one of our absolute favorites.
Although it's a small side table, this little table actually has enough space for 2 people to sit down and enjoy a picnic lunch together.
It also features 2 drink holders, so you won't ever have to worry about your drinks spilling over.
It's got metal alloy legs, making it strong and stable, and a durable synthetic top.
Best of all, this table weighs next to nothing. At just over a pound, you won't have any trouble at all carrying this table anywhere you go.
It is a little bit on the pricey side, considering its relatively small size. Still, there aren't many tables out there light enough to carry on the trail.
Pros:
Ultralight, weighing in at just over a pound
Has 2 built-in drink holders to prevent spillages
Sturdy, thanks to metal alloy legs
Spacious enough for a dinner for 2, despite small size
Light enough to take backpacking
Cons:
Fabric tables aren't quite as steady and sturdy as others
Best for: backpackers and campers looking for a lightweight camping table.
Mountain Summit Gear Deluxe Roll Top Kitchen Table
This fold-up portable cooking station has enough space for a 2-burner camp stove, plus surfaces on either side for food prep. It's also got plenty of pantry space to store your non-perishable food, kitchenware and utensils, so you can literally have an entire kitchen that pops up in seconds.
With this deluxe cooking station, you'll be able to whip up all your camping meals with ease. Everything you need will be within arm's reach, and you'll have plenty of room for chopping, mixing, tossing and stirring your food.
Weighing just over 13 lbs., it's incredibly light for a table that gives you so much space. It also comes with its own carry bag, to make it easier to transport from A to B.
Pros:
Allows you to have a practical kitchen setup at your campsite
Has enough space for a 2-burner camping stove and food prep
Features a detachable pantry where you can store food items, as well as kitchenware and utensils
Great portability – thanks to the folding mechanism, carry bag and relatively low weight
Made of weather resistant, durable aluminum
Cons:
Might be a bit unstable and wobbly on uneven terrain
Best for: campers who plan to do a lot of cooking at the campsite.
Outry Lightweight Folding Table
If you haven't got a very big budget, don't worry. You can still find a great little portable camping table without breaking the bank.
Like this folding side table from Outry, for instance.
It's got aluminum legs and a ripstop nylon table top, so it's durable, lightweight and weather resistant.
In fact, at just over 2 and a half pounds, you can pretty much take this table with you anywhere. It's got its own carry bag and it folds down to a small size, making it super easy to cart around.
The thing we really liked about this table, though, is that it has 4 built in drink holders. Yes, 4! That's a lot of drink holders for a little side table. You and the crew will always have somewhere to put your drinks down with this table around.
Pros:
Durable table top made of ripstop nylon fabric stands up to wear and tear
Lightweight – weighs just over 2.5 lbs.
Very compact and easy to cart around thanks to the included carry bag
Folding design allows for quick and easy set-up
Features 4 cup holders, so there's plenty of room for everyone's drinks
Cons:
Some users have reported issues with the top popping off when the ground underneath is uneven
Best for: campers on a budget looking for a great side table.
ALPS Mountaineering Dining Table

The first thing you'll notice about this aluminum camping table is that it's large. With dimensions of 28″ W x 43″ L x 28″ H, it will provide plenty of space for a wide range of uses, from eating to storing gear. And that's just the regular size – it also comes in extra-large sizes and a square (mini) version.
Next, I love this table's super simple setup. With the fold-up top, there's no fiddling around. Just extend the legs, put on the top, and you're done. That leaves you extra time for gorging on BBQ and tossing the frisbee around.
Thanks to its aluminum construction, this table is both sturdy and lightweight. Additional stability is achieved by its X-frame legs, which prevent any wobbliness from ruining your meals.
Now, this table is not all sunshine and rainbows. While folding it back up is just as easy as folding it out, getting it back in its carry bag might not be such smooth sailing.
Pros:
Fairly large – (28″ W x 43″ L x 28″ H), so you'll have a lot of space for your food & gear
Super simple setup – the lightweight aluminum fold-up top will have you up and ready in seconds
Comes in three different sizes, so you can choose the best one for you
X-frame legs offer additional support and stability
The shoulder carry bag allows for easy transportation
Cons:
It might be a bit difficult getting it back into the carry bag
Best for: campers looking for a solid dining table that's neither cheap nor expensive.
Coleman Camping Table

Ah Coleman, the brand every outdoors enthusiast knows and loves.
And for good reason. They keep proving themselves over and over again, especially with this table.
This folding camping table can be used as a small dining table, or a side table.
It's incredibly light – with a weight of just under 9 pounds, you can easily carry it around without breaking a sweat. The fact that it comes with its own carry bag makes it even easier.
Despite that, it is incredibly durable. Some customers have stress-tested it by placing weight lifting plates on it, and it supposedly supported 100 lbs. evenly distributed. To be clear, I don't recommend you do this, but it goes to show how strong and durable it is.
Now, the main problem I have with this table is its size. While it says it can accommodate up to 4 people, the dimensions of 27.6" on each side make that unlikely. Well, maybe not unlikely, but you're definitely going to be cramped. I think that it would be ideal for two people max, so you can have some elbow room.
Pros:
Very affordable – a great option for campers on a budget
Lightweight – 8.9 pounds means you can carry it anywhere without straining yourself
Durable – able to hold up to 100 lbs. without breaking or falling over
Steel top makes cleaning the table a breeze
Cons:
Smaller size makes it unsuitable for larger groups
Best for: campers looking for a small table that's incredibly strong and sturdy.
Trekology Portable Camping Side Table

We love how light this side table from Trekology is. It comes in three sizes, but all of them weigh less than 3.2 lbs (with the smallest weighing in at 1.8 lbs). That is light. The tabletop size varies, but the largest one is 27'' x 18''.
This table is made out of aluminum, which means it's durable, waterproof, AND super easy to clean. In fact, this table is ideal for food prep or as a coffee table, but you can use it for other purposes as well.
Now, this table's greatest strength is also its greatest weakness. That is – its small size. The biggest issue here is the height – the medium and the large versions have a height of only 16 inches, while the small one has a size of only 13 inches. For a big fella like me, that's a problem.
Whether or not this presents a problem mostly depends on the height of your camping chair. Lounge-type chairs will fit perfectly with this type of table, but others might not so make sure you compare the measurements before you purchase your gear.
Pros:
Supremely lightweight – even the largest model weighs only 3.2 pounds
Portable – folds up and packs away in a convenient carry bag
The aluminum table top is both waterproof and easy to clean
Super easy to assemble and put away – it's up and ready in less than 60 seconds
Cons:
Max height of 16" might be a turn off for some people
Best for: campers looking for a lightweight, knee-height campsite coffee table.
Lifetime Height-Adjustable Camping Table

There's big… and then there's the Lifetime Height-Adjustable Camping Table.
With top dimensions of 48 x 24 inches, this table will provide you with plenty of space for any and all of your needs. As an added bonus, it also comes with three adjustable height settings of 24, 29, and 36 inches. This means that no matter your height or the occasion, anybody can comfortably use and be seated at this table.
But the convenience doesn't stop there. No, to top it off, this magnificent table also folds in half and can be carried like a briefcase. This allows for both an easy setup and takedown, leaving you more time for your other camping activities.
Unfortunately, due to its size, it's not the lightest foldable table around. Weighing in at a hefty 19 pounds, this table is definitely more suited for large groups of people who like to go car camping.
Pros:
Three adjustable heights – 24, 29, and 36 inches
Made out of powder-coated steel which means it's durable
Folds in half, allowing for easy storage and portability
Multi-purpose use – anywhere from campsites to parties to working from home
Cons:
Weighing in at 19 pounds, this table is pretty heavy
Best for: car campers who don't mind trading weight for durability.
Camp Chef Sherpa Camp Table & Organizer
As you can see, this Camp Chef Sherpa camping table is basically a portable kitchen packed into one convenient package.
It comes with 4 storage bags tucked inside of the table that can hold your entire kitchen (and then some). It also has side pouches that can store additional gear or kitchen utensils as needed, so you can always have the things you need on hand while cooking.
Tired of hunching over the table while you're preparing food? Then you'll love the fact that the Sherpa comes with extendable legs that make height adjustment a breeze.
Sure, it's bulkier (and pricier) than some of the other camping tables mentioned here. However, while other tables only give you a surface to put your food on, this provides a full-on storage and kitchen unit even Gordon Ramsay would be proud of.
Pros:
Four storage bags allow you to pack a lot of kitchen gear
Extendable legs mean you can adjust the height as you see fit
Side pouches provide even more storage space
Even though it's bulkier than most tables, at just under 13.5 lbs. it's still not that heavy
Cons:
It's a bit pricey, but you do get a lot of additional stuff for your money
Best for: outdoor chefs who want to bring a lot of kitchen gear on their camping trips.
Types Of Camping Tables
The only real criteria for a camping table is that it folds up. Lugging a table with fixed legs around on a camping trip would be incredibly impractical, so a folding camping table is really your only option.
Other than that, camping tables come in all shapes and sizes, for all kinds of purposes, just like any other type of table.
Almost all of the camping tables you'll come across can be sorted into 3 main categories:
Dining tables
Side tables
Cooking stations
Here's a little bit about each type of table.
Dining Tables
Dining tables, as the name suggests, are primarily used as a place where people gather and sit together to enjoy a meal.
A dining table will give you enough space to prepare food, serve delicious camping meals and even wash your dishes when you're done.
Of course, camp dining tables come in many different sizes. So, you can choose the size that suits you best, depending on how many people there are in your group.
Side Tables
I don't have to tell you how useful your coffee table at home is. Anytime you're using something and you need somewhere to put it down, chances are it'll end up on the coffee table.
It's not different when you're at the campsite.
Having a small table where you can put small items down to free your hands up is an extremely useful thing to have when you're camping out.
A lot of these tables even have built in drink holders, to avoid any drinks spilling over.
These aren't just great for drinks, though. You can also put other small items in the cup holders to make sure you don't lose them.
Cooking Stations
Finally, you've got cooking stations. These aren't your average table.
They're not the kind of table you sit around to enjoy a meal or a drink with your fellow campers.
These are highly functional tables specifically designed to act as an all-in-one portable outdoor kitchen.
A cooking station has multiple surfaces, with space for a camping stove and enough room to prepare food and store kitchenware and ingredients.
Having one of these makes cooking in the great outdoors a whole lot easier, because the layout feels more like an actual kitchen, which makes it easy to stay organized while cooking.
How To Choose The Best Camping Table For Your Buck
While there are many factors you have to consider when purchasing a table for camping, a few of them stand out, head and shoulders above the rest.
These are:
Ease of Setup
Sturdiness
Portability
Of course, there are others, such as affordability, design, and so on, but after careful analysis, I've found that most people don't need encyclopedias of data to make an informed decision – they just need a few clear tips regarding the most important factors.
With that said, let's discuss what you need to know before choosing your camping table.
Ease Of Setup
It doesn't matter if the table is cheap or extremely well-made – if you need a Ph.D. to assemble it, it's not a great choice.
This is especially true since it usually won't be the only thing you have to assemble – you have tents, beds, kitchens, and so on. The last thing you need is to spend another 20-30 minutes fiddling around, trying to figure out which screw goes where. And don't even get me started on tables that require two or more people to assemble – those are a real nightmare.
I kept that in mind while researching tables for this article, so all of them are easy to set up and take down.
For example, here's a quick video showing how to set up one of the tables mentioned here in our article:
Sturdiness
As you might have guessed already, a camping table needs to be sturdy and durable. After all, it has to endure having a lot of food & gear on it for an extended period of time (and possibly in treacherous environments).
The most important thing you need to look at when it comes to a table's durability is its materials. Most high-quality tables nowadays are made out of aluminum, which is both sturdy yet lightweight.
Some of them are made out of steel, which is a good second choice. While steel is more durable than aluminum, it's often not coated, which leaves it exposed to the elements. And it's a bit heavier, which is definitely something to take into consideration.
Bamboo is another great option, as it's tough and water resistant. Plus, it's even eco-friendly. It doesn't come cheap, though.
It's also worth looking at tables that have adjustable legs. This prevents wobbliness that often plagues smaller, lighter tables. There's nothing worse than a table that is always inches away from tipping over, so having one that has legs you can adjust and modify to fit the terrain is invaluable.
Portability
Let's be honest – if your table is clunky and heavy as lead, you're probably not going to be using it that much. That's why portability is one of the key factors to consider when buying a camping table.
The portability of any camping table depends on two primary factors:
Size
Weight
When it comes to size, that entirely depends on your particular situation. Are you going camping with your significant other and just need a simple, no-frills end-table to snack off? Or are you taking your entire extended family to feast in the woods?
Obviously, the bigger the table, the heavier it's going to be. But weight also depends on the materials used. Aluminum (which is the material a lot of great tables are made of) is fairly light, yet sturdy and durable. Steel is heavier, but there are still some camping tables with steel frames on our list that aren't too heavy.
Remember that if you're going car camping, the table's weight isn't going to be much of an issue, as you won't be carrying it long distances anyway.
Our Verdict
So, there you have it – a complete guide to camping tables and how to choose the best one.
While there are a lot of great choices out there, the Mountain Summit Gear Roll Top Table takes the cake.
It's both lightweight and durable. Large, yet easy to assemble. Its design allows for great stability, while 2 different sizes make it suitable for groups of all sizes. It is a bit pricey, for sure, but when you consider the value you're getting it's a no brainer.
Overall, it's a great choice if you want a quality, no-frills camping table that will last you for ages.