Have you ever needed to know what size tent fits a queen mattress best?
When you're looking for a more luxurious option for camping, bringing along an air mattress can be a great option.
While slightly bulkier than your average camping sleeping gear, a queen mattress can add to your comfort at the campsite.
If you're planning on bringing a queen-sized mattress on your next camping trip, you'll need at least a 3-person tent.
Although, I recommend using a 4-person tent and above to comfortably fit a queen mattress.
It's worth mentioning that the only mattresses we're referencing in this article are inflatable, portable mattresses.
Wilderness Times does not recommend using a household, cloth-based mattress for camping.
Tent Compatibility With A Queen Mattress
| | |
| --- | --- |
| Tent Size | Does It Fit a Queen-Sized Mattress? |
| 2-person | No |
| 3-person | Yes (with no additional room) |
| 4-person | Yes |
| 5-person | Yes |
| 6-person | Yes (potentially multiple) |
| 8-person (+) | Yes, Fits Two |
Basically, anything smaller than 4-person will be too snug or too small to fit the mattress itself.
If it is too small, you won't have any room to move within your tent.
Basics Of Tent Sizes
Standard Tent Sizes
Every tent size comes with a specific measurement that will be helpful in determining if a queen mattress will fit into it.
The following table will list the general nearest measurements of each tent size.
The measurements listed below are for the floor space specifically.
| | |
| --- | --- |
| Tent Size | Floor Measurements |
| 2-person | 7′ x 4′ |
| 3-person | 7′ x 7′ |
| 4-person | 9′ x 7′ |
| 5-person | 8′ x 10′ |
| 6-person | 10′ x 10′ |
| 8-person (+) | 10′ x 15′ |
Tent Peak Height & Floor Space
In addition to the standard size of the tent, it's important to take the tent's peak height into account.
The differences in height can make a huge difference in headroom above you when you're lying down.
In other words, how big a tent feels when you're in it can really depend on the height of its peak.
This especially comes into effect when you put a mattress in a tent, since the mattress itself will take up a good foot or so of tent height.
Designers use low peak heights because they are more stable in high winds and can be more easily insulated.
However, tents with low peak heights will not fit inflatable mattresses well because there will not be enough headroom to navigate the space.
Therefore, if you're looking for a tent with a tall peak height, look out for cabin tents.
This type of tent has the highest peak height and will accommodate additional headroom while still keeping you warm – even when there's a mattress on the floor.
Queen Mattress Dimensions
Size Of A Standard Queen Mattress
A standard queen mattress is 7′ x 5′, with about a foot of height.
When inflatable queen mattresses are deflated, they can be substantially smaller and easy to carry.
However, in all cases, inflatable mattresses are going to be bulky and usually require additional equipment to inflate.
For this reason, I recommend only using them on car camping trips, where you won't need to carry them for long periods of time.
Other Variations Of Queen Mattress Sizes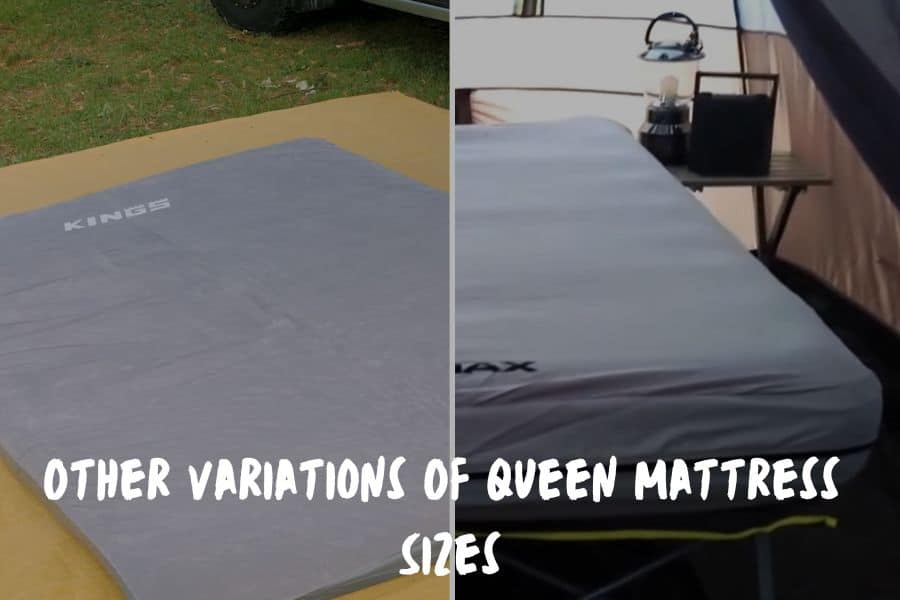 If you add a mattress pad to your sleeping set-up, it will likely take up more space in your tent.
On average, a mattress pad will add less than an inch or so on top of your mattress, and only a small layer around the sides of the mattress.
While this might not be a big deal if you're dealing with a larger, family tent.
However, if you're trying to squeeze your queen-sized mattress into a 3-person tent with a mattress pad on top of it, you may have a hard time fitting everything in the tent.
Factors To Consider
It's important to remember that putting a mattress in a tent will take up a substantial part of your tent space.
Because of this, it's important to choose a tent that has a high peak height so you still have space to sit up and move around the tent itself.
In addition, if you're looking to save space for gear storage, make sure that you pick a tent that has storage pockets designed on the walls, near the top, or outside of the tent in the vestibules.
If your tent's storage space is designed to be along the bottom edges of the tent, they might be covered up when you put the mattress into the tent.
Pros & Cons Of Using A Queen Mattress In A Tent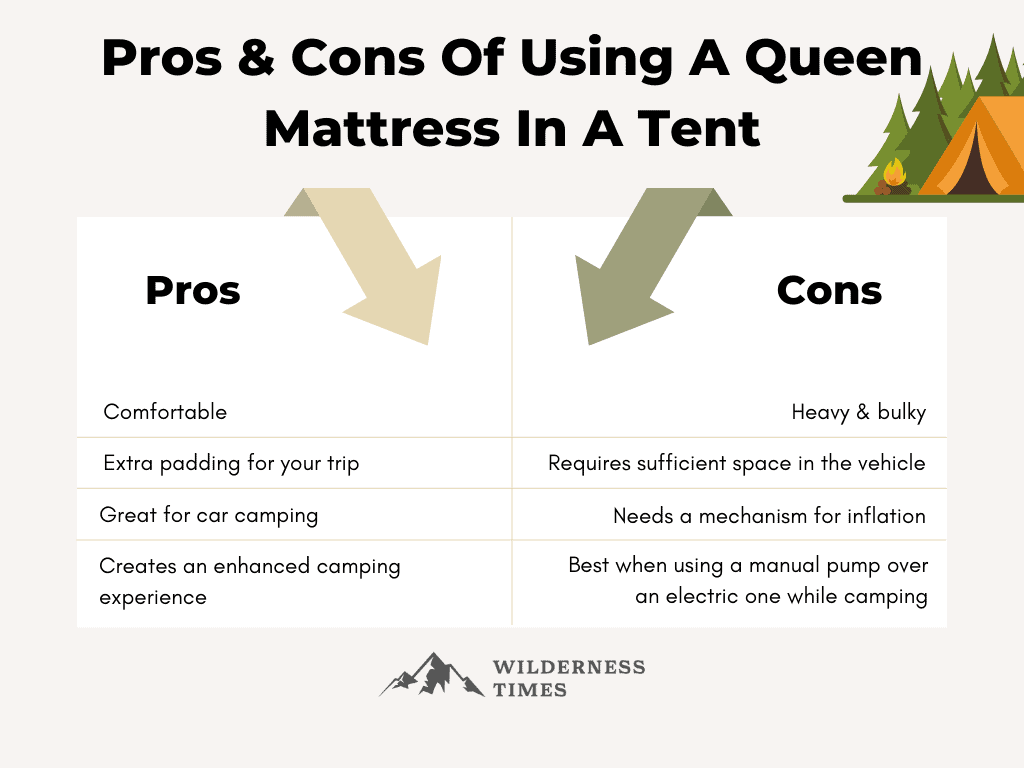 Pros
The main benefit of using a queen mattress in your tent is that it's comfortable!
If you're looking for a little extra padding during your trip, and you have the ability to pack a mattress in your car, it's definitely an option you can consider.
Cons
There are a few drawbacks to consider when you're thinking of bringing a mattress on your campout.
First, inflatable mattresses can be heavy and bulky, so if you're bringing one, you'll need both the space to get it there in your truck, as well as the ability to lift it from the car into the tent.
Next, inflatable mattresses will also require a mechanism for inflation.
If you're using your mattress for camping, I recommend that you choose a mattress with a manual pump rather than an electric one.
This way, you'll be able to inflate your mattress, even if you don't have a source of electricity at your campsite.
FAQs
Can Two Queen Mattresses Fit In A Tent?
It depends on the size of the tent. You can generally fit two queen-sized mattresses into a 6-person tent.
However, any tent size smaller than a 6-person will not fit more than one queen-sized mattress.
Is There A Significant Difference In Tent Stability When A Queen Mattress Is Used?
Adding a queen mattress to a tent will not negatively affect the tent stability.
If anything, adding an inflatable mattress (which can be fairly heavy when inflated) can supplement the stability of a tent by weighing it down.
Can You Use A Queen Mattress In A 4-Person Tent?
Yes, you can use a queen mattress in a 4-person tent.
Whether this feels cramped or not will depend on the peak height of the tent itself, or how tall the interior of the tent is.
If you're looking for more head space when camping with a mattress, choose a tent that has a cabin structure, or a high peak height.
How To Efficiently Pack & Transport A Queen Mattress For Camping?
The best way to efficiently pack and transport an inflatable mattress is by deflating and folding it.
Watch the video below to learn the best techniques for folding and packing your inflatable mattress.
Are There Inflatable Queen Mattresses Specially Designed For Camping?
Yes! There are quite a few inflatable mattresses specifically designed for camping.
These mattresses usually leverage water and dirt-resistant materials and can be manually inflated with a pump.
Examples of these mattresses include the Exped MegaMat Auto Mat, which is especially great for car camping, and the Big Agnes Goosenest Inflatable Cot.
Final Thoughts On Fitting A Queen Mattress In A Tent
If you're looking to use a queen-sized mattress in a tent, make sure that you're using a tent that will accommodate at least a 3- or 4-person tent.
If you want more room in your tent with the queen mattress inside, go for a 4-person tent or above.
I hope you have a great (and comfortable) time camping with your queen mattress!
More On Comfort Camping Below: