When you think of hiking clothes, cute might not be the first adjective that comes to mind.
It should be, though.
Spending time outdoors doesn't mean you have to sacrifice style. There are literally tons of super cute hiking clothes and accessories out there that you can use to create infinite looks.
If you're strapped for ideas, we're about to give you a whole bunch. They'll have you looking glamorous from top to toe, while still wearing clothes that are functional and comfortable.
Ready to find out what to wear on a hike and still look cute?
Keep reading.
Footwear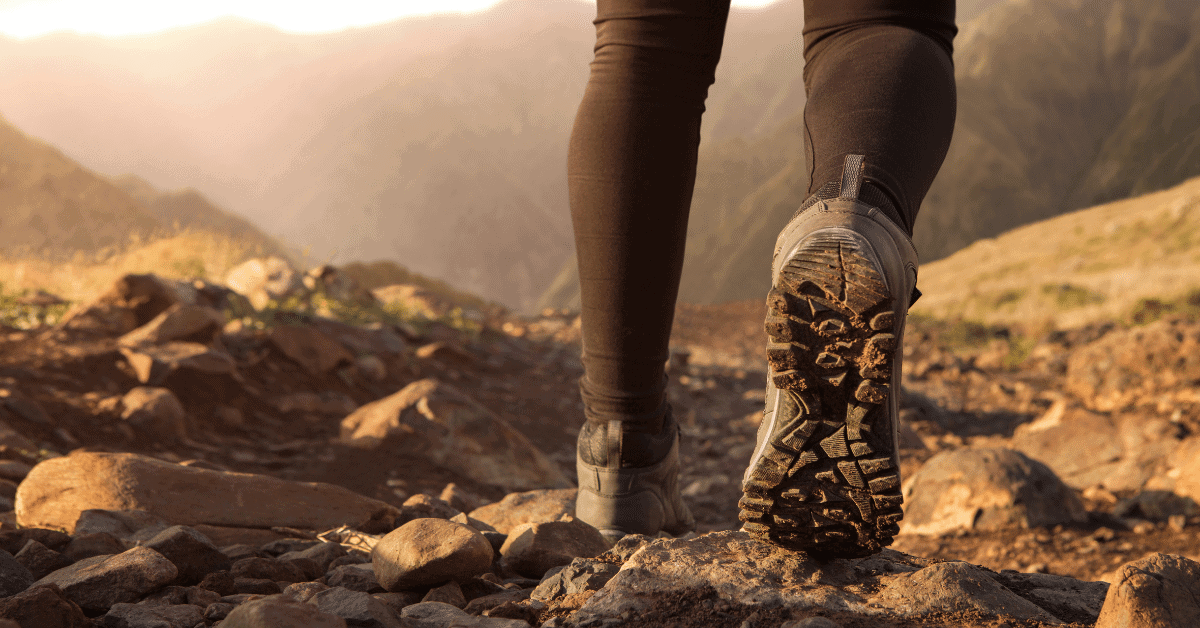 We'll start with shoes because, let's face it – shoes are everything.
OK, so I might be a tiny bit obsessed with shoes in general. But, believe me, when you're out hiking if there's one thing you want to get right it's definitely your footwear.
Having a good pair of hiking shoes will make a world of difference when you're navigating a trail.
It's super important that your footwear is comfortable and breathable, provides a lot of support and protection, and has great grip.
Hiking Boots
I personally prefer hiking boots, both in the summer and in the winter.
These Salomon Quest Prime GTX backpacking boots are the boots I've been wearing on all my hikes year round for just over 2 years now.
Honestly, I couldn't be happier with them. They look great and they were insanely comfortable from the very first time I put them on. Walking in them is like walking on air, I'm not even kidding.
That being said, they're an incredibly tough hiking boot. They're also waterproof, unless you submerge them in water completely – so try not to do that.
For stream crossings, they'll hold up just fine if the water is shallow. If it's deeper, I take them off and cross barefoot, to avoid having soggy boots for the rest of the hike.
These boots have amazingly good grip, so you'll be able to go down steep hills on your feet, instead of sliding down on your butt.
Another pair of boots that I think are super cute are these Columbia Newton Ridge Plus Waterproof Amped hiking boots.
They're super comfy, and they provide great support.
Like the Salomon Quest Prime GTXs, they don't require any breaking in, so you can wear them on a hike brand new. No more blisters and sore feet.
Best of all, they're not even that expensive.
Hiking Shoes 
If you'd rather go for a lighter, more sneaker-like hiking shoe, take a look at these Columbia Facet 45 Outdry hiking shoes. They're ultralight, they have excellent grip and they look more like a sweet pair of kicks than a hiking shoe.
One other good looking pair with rave reviews are these Salomon Vaya GTX hiking shoes. They have a cantaloupe colored gradient, which makes them look great out on the trail.
They're more than just their good looks, though. They have fantastic grip, and they hold up well in snowy conditions.
Bottoms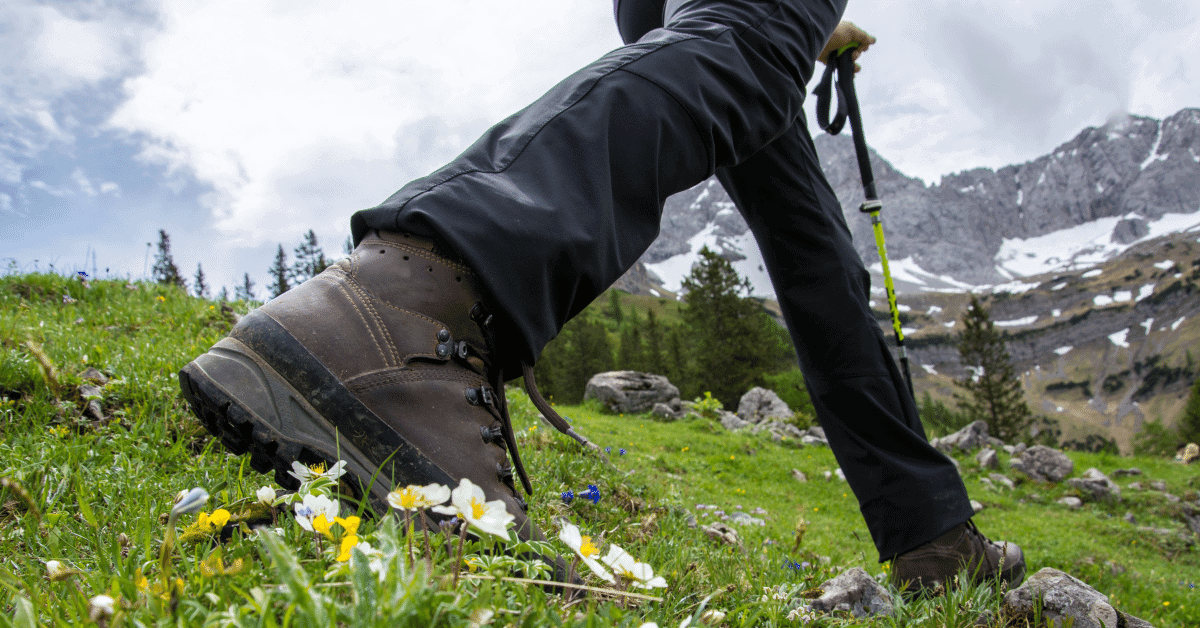 OK, so you've got your footwear sorted. Now, what are you going to wear down bottom?
While you can find hiking skirts on the market, I definitely wouldn't recommend it. Your movement is limited when you're wearing a skirt, and you definitely want to be able to move as freely as possible when you're on a hike.
For that reason, you've basically got 3 options:
What you decide on should be based on both the weather conditions you're expecting, and the type of terrain you'll be hiking through.
Shorts are a good choice in the summer, but only if the trail you'll be hiking is fairly clear. If you're going to be wading through knee-high vegetation, shorts will leave your legs vulnerable to scratches, cuts and poison ivy.
Pants
When it comes to hiking pants, there are loads of different styles to choose from.
You've got wide-legged and loose fitting pants, straight-legged and tight fitting pants, full-length pants, three-quarter-length pants, bell bottoms, the list goes on…
A nice, classic style might look something like these Fjallraven Keb trousers. They're lightweight, breathable, durable and waterproof.
They've also got a bunch of great pockets and they unzip at the sides in case things get too heated. They're a good looking pair of hiking pants, too, if I don't say so myself.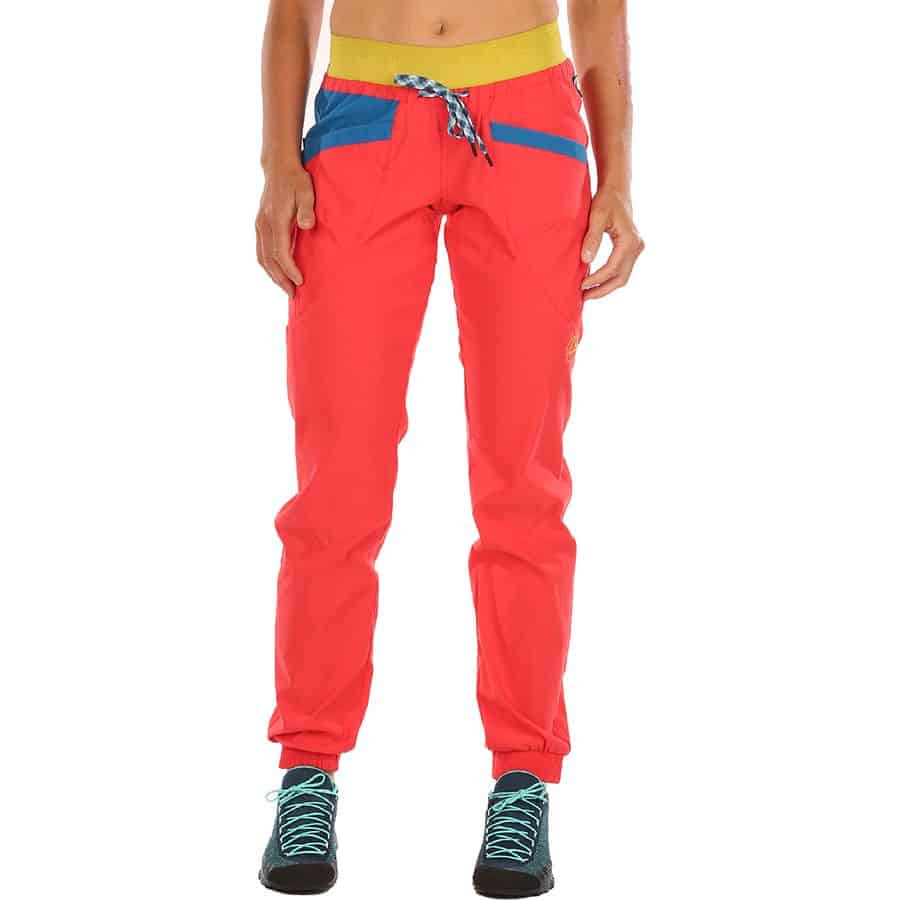 If you want something with a bit more pizzazz, how about these Mantra pants from La Sportiva?
They come in 3 fun color combinations. They all look amazing, but the Black & Hibiscus would have to be my first choice. They're stretchy, comfy and they look fabulous.
Then you've got these PrAna Summit pants that flare out more towards the bottom, for a different look entirely.
I find these hiking pants to be really elegant and feminine. At the same time, they're still functional, comfortable and water-resistant.
Leggings
Don't feel like wearing pants? How about a nice pair of booty hugging leggings?
These Mountain Hardwear Rock Intelligence tights fit beautifully and look stunning. They're durable and stretchy, so you can move freely in them, making them perfect for a day out hiking.
Or, if your budget will allow it, you might decide to treat yourself to these Fjallraven Abisko Trekking tights. These are pretty much the ultimate hiking tights, and don't they just look incredible?
These tights are stretchy, comfy and tough as nails. They're specifically built for trekking. So, no matter where you go, they'll always be up for the challenge.
If you prefer a shorter length, you might want to check out these Black Diamond Levitation capris. They're ideal for a hot summer day out on the trail.
Shorts
I'm a huge fan of these PrAna Arch shorts. As far as hiking shorts go, it doesn't get much cuter than these right here.
They're quick-drying and they feature a zip pocket and a drawcord around the waist that ensures they fit well.
Or, maybe you'd rather go for a tighter fit. These Backcountry Green Mountain Trail shorts are tight in both senses of the word.
They're also quick-drying, and they feature a stash pocket for storing smaller items.
Bike shorts like these are making a major comeback, so if you want to look stylish on your next hike, these are a stellar choice.
If these aren't exciting enough for you, and what you're looking for is something more colorful and playful, just look at these. These Mountain Hardwear Printed Chalkies shorts come in 2 pretty designs. Both look great, but the Zebra Tie Dye pattern takes the cake for me.
Aside from being quick drying, the coolest thing about these shorts is that they're made of recycled nylon. That means you can easily recycle them again once you've worn them out.
Tops
Bottoms = sorted.
Now, what about up top?
If it's summer, you're probably only going to need a shirt. Although, it's always a good idea to pack a sweater, just in case there's a change in the weather.
This is more common than you might think, especially in mountainous regions.
If it's winter, you'll definitely also need a sweater or two, and a nice, warm jacket.
Shirts
Shirts come in an endless number of styles. There are crop tops, tank tops, t-shirts, long sleeved shirts, button-up shirts and more.
Which style you select will depend on the weather. If you're expecting cold weather, or extremely hot weather, you'll want a shirt with long sleeves. Long sleeves will keep you warm in the winter, and they'll protect your skin from getting burnt in the summer.
If the weather is pleasant, you can wear a t-shirt, tank top or crop top.
This Janji Runterra t-shirt is a great example of a nice, basic t-shirt.
This might look like just your average t-shirt, but it's actually quite extraordinary. Its fibers are integrated with volcanic ash particles that help regulate your body temperature while you're hiking.
Janji is a great brand to support, because they donate part of their proceeds to non-profit organizations working on clean water solutions around the world.
Prefer tank tops?
I know I do.
And, let me tell you, I'm simply obsessed with this Spacedye Under Lock and Keyhole tank top from Beyond Yoga. The cut and color are so feminine and beautiful.
Most importantly, it's moisture-wicking and quick-drying, so you'll be comfortable all day long, no matter how many times you break a sweat.
While t-shirts are nice and tank tops are great, my absolute favorite kind of top to wear when it's pleasant out is the crop top.
Isn't this Vuori Rib crop tank top a beauty? It comes in 3 gorgeous colors and I literally couldn't decide which I like the most.
It has a really cute cross-strap detail on the back. The material feels really nice on your skin and it'll keep you cool and dry.
I live in tops like this one during the spring and summer – hikes included, of course.
What about long sleeves?
Don't worry, I haven't forgotten about them.
The neckline on this Vuori Lux performance long-sleeve t-shirt really makes it stand out from the crowd. It's simple yet classy, and it'll keep you dry throughout your hike.
There's also a small hidden pocket at the cuff, for stashing things like your keys or cash.
Sweaters
Like I said, it's always a good idea to pack a sweat, no matter what the weather is like outside.
It's just a matter of finding a style you like, while remembering to look for materials that are moisture-wicking and quick to dry.
Like this The North Face Basin Pullover, made of FlashDry-XD™ fabric. It's got zip pockets, which are really handy. The last thing you want to worry about while you're hiking is things falling out of your pockets.
I once had to do a 180 and hike 3 miles back in the direction I came from to find a necklace that had fallen out of my pocket on the trail. (Miraculously, I actually found it – in case you were wondering.)
If you're aiming for a more feminine aesthetic, look no further. I dare you to find a cuter woolen sweater than this Ovik knit sweater by Fjallraven. It's 100% wool so it's warm and soft, and it has such a pretty design.
If you're a hoodie rat, you won't be able to resist this REI Co-op Sahara Shade hoodie.
It's light, so you can actually even wear it in the summer as sun protection. Still, when it gets just a little bit chilly out, this hoodie will be exactly what you need.
It comes in 3 pretty pastel colors and the fabric feels amazing on your skin.
Jackets
For winter hiking, one of the most important things to have, next to a solid pair of boots, is a good jacket.
You definitely won't feel the cold in this Columbia Hexbreaker down jacket with 600-fill-power goose down.
It's a sleek, black thigh-length insulated jacket with a metallic lining. Not only will you be warm, you'll also look a million bucks on the trail in this jacket.
If you love bright colors, you'll adore this Cotopaxi Teca Calido hooded jacket. It's made of recycled polyester taffeta, it's reversible, and the colors are really fun.
Now, I've saved the best for last. Feast your eyes on this HOLDEN Asym Alpine jacket. When it comes to cold weather hiking gear, this jacket truly is the cream of the crop. The black and white tie dye design is lit.
That's not all, though. This jacket is waterproof, breathable and stuffed with PrimaLoft® Silver Eco insulation. It'll keep you warm wherever you go, even in the harshest weather conditions.
Accessories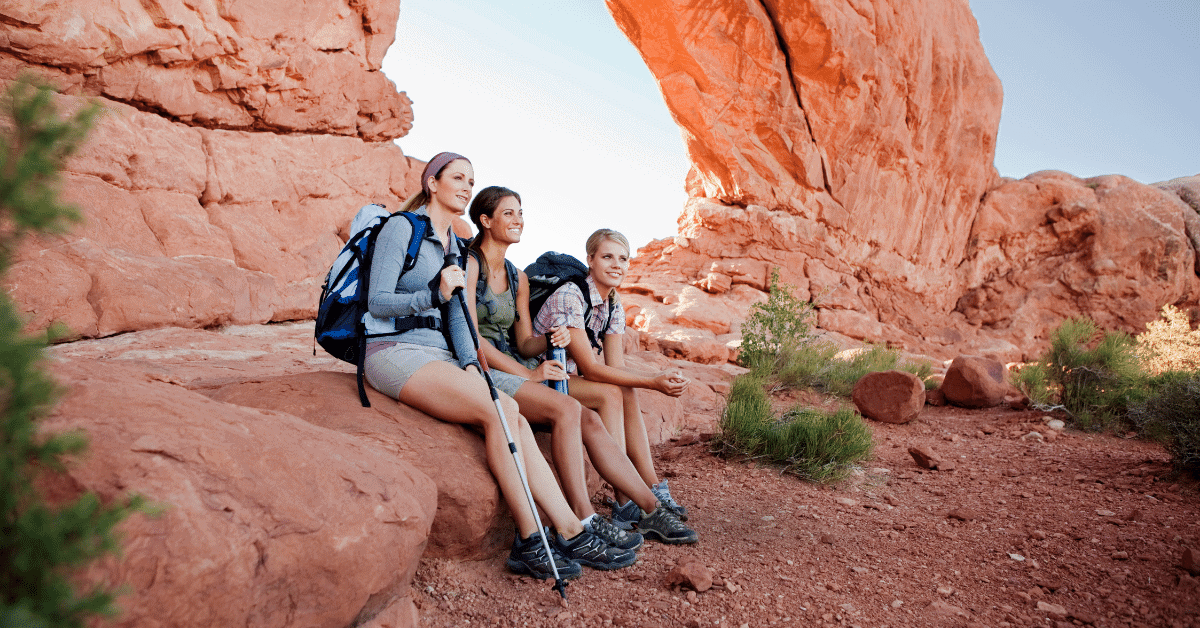 Time to accessorize!
You'll want to keep accessories that are purely decorative, such as necklaces, bracelets, rings and earrings to a minimum. The only accessories you need on a hike are functional accessories. These include:
Bags
Sunglasses
Hats
Scarves
Gaiters
Having the right kind of accessories is going to make your time on the trail a hell of a lot easier. It's also the perfect opportunity to tie your cute hiking outfit together by choosing accessories that are both functional and stylish.
Bags
When I go hiking, I usually wear a backpack and a waist pack.
In my backpack, I pack things like my water bottle, extra clothes and food. In my waist pack, I like to keep my phone, film, a lens or two, a pocket knife and lip balm.
Being able to have these personal items on hand without having to open your backpack means you don't have to stop every time you want to grab something.
Backpacks
If you're going on a short hike and all you need is a small backpack, one of my favorites is the classic Fjallraven Kanken backpack. Isn't it just the cutest little backpack ever?
It's got a capacity of 16L and it's durable and water-resistant. It also comes in a range of cute colors. There are so many pretty colors to choose from, it can be difficult to decide. But, I like the mint green.
There's also the Fjallraven Kanken totepack, which is slightly smaller at 14L, but can be worn as both a backpack, and across your shoulder.
If you want a backpack that's a little bit larger than the Fjallraven bags, you might want to look at something more like the Aurora pack from The North Face.
At 22L, it's somewhat larger, but not huge by any means. It has a sleek, minimalistic design, but still features a bunch of handy pockets and compartments.
You've also got this slightly larger Patagonia Black Hole travel pack that I'm in love with. It looks great, has a capacity of 23L and a sternum strap for added support.
What's really cool about this bag is that it's made of recycled polyester ripstop, making it both durable and environmentally sustainable.
If you're heading off on a more serious hike and you need a larger backpack, I'd recommend the Osprey Eja 38 backpack. It's got loads of space for all your stuff and it's packed with amazing features like a hip belt, sternum strap and external loops for attaching extra gear.
Waist Packs
How cute is this Fjallraven High Coast hip pack? It's perfect for keeping all of your personal items in, and it's waterproof so you won't have to worry about them getting wet.
Another one that's really cute is this Pendleton waist pack. It's got a gorgeous print, which makes it an accessory that's both functional and fashionable.
If waist packs aren't your thing, Pendleton also does a really cute crossbody purse. It has a similar print to the one on their waist pack, with a different color scheme.
Sunglasses
What better way to bring a great outfit together than with a killer pair of shades?
These Ray Ban RB2180 sunglasses are a classic that never goes out of style. They're feminine and chic, and they complement literally any and every outfit.
If you're going for a more alternative look, check out these sweet Julbo Vermont Classic Glacier sunglasses.
Or, you could go for a retro cyber aesthetic with these Smith Flywheel Chromapop sunglasses.
Hats 
Wearing a hat is essential if you want to protect yourself from the sun's harsh rays beating down on your head.
Lucky for us, a hat can also be a stunning accessory.
There are a few different styles to choose from:
Caps
Wide brimmed hats
Beanies
If it's summer, you'll want to have a cap or wide brimmed hat on your head while you're out hiking. In the winter, a nice, snug beanie is the key to keeping your head cozy and warm.
Caps
If you're rocking a sporty look, topping it off with a cap is the way to go.
This Fjallraven 1960 Logo Langtradarkeps trucker hat is an excellent choice. The mesh back provides great ventilation, which is perfect when you're hiking on a hot day.
If you want even better ventilation, how about this Trailrunner hat from KAVU? With breathable mesh panels, it'll keep your head cool while still protecting you from the sun and light rain.
Wide Brimmed Hats 
If you're in the mood to look like a lady, a wide brimmed hat is a great option for keeping it classy.
Not only do they look more elegant, wide brimmed hats provide protection for your neck as well as your face.
The NorCal Open Road outdoor hat from Conner Hats is another really pretty wide brimmed hat that's perfect for a hike. The neutral beige color goes well with so many different things. And, it even has an adjustable inner band and a drawstring, to make sure it stays on your head.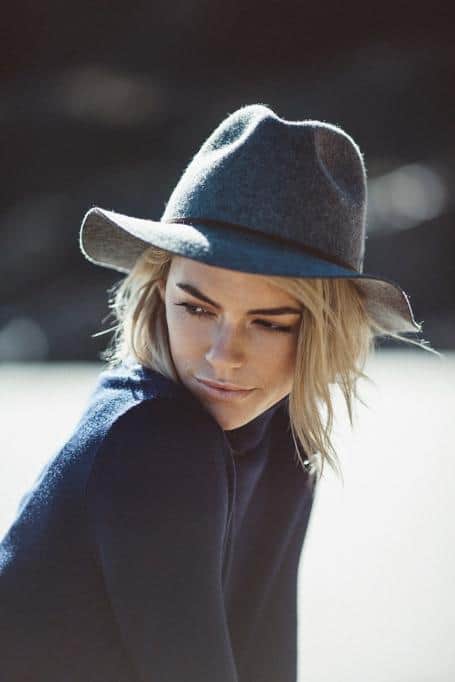 If you prefer a floppy brim, Conner Hats also have this beautiful Rockaway Beach wool hat on offer. It's made of 100% Australian wool, and it also features an inner band that you can tighten and loosen, so that it fits perfectly.
Now, if you want to get really fancy, get ready because we're about to.
If this Stetson Gage hat doesn't bring out the glamorous adventurer in you, I don't know what will.
It features a moisture-wicking Dri-Lex sweat band to keep you dry, and the cute feather detail really makes it an eye-catching piece.
Beanies
If you're going on a winter hike, you'll need a nice, warm beanie on your head.
Like, for example, this Structure beanie from Fjallraven. The color and knit structure are really cute, and it's made of a wool blend to keep your head nice and cozy.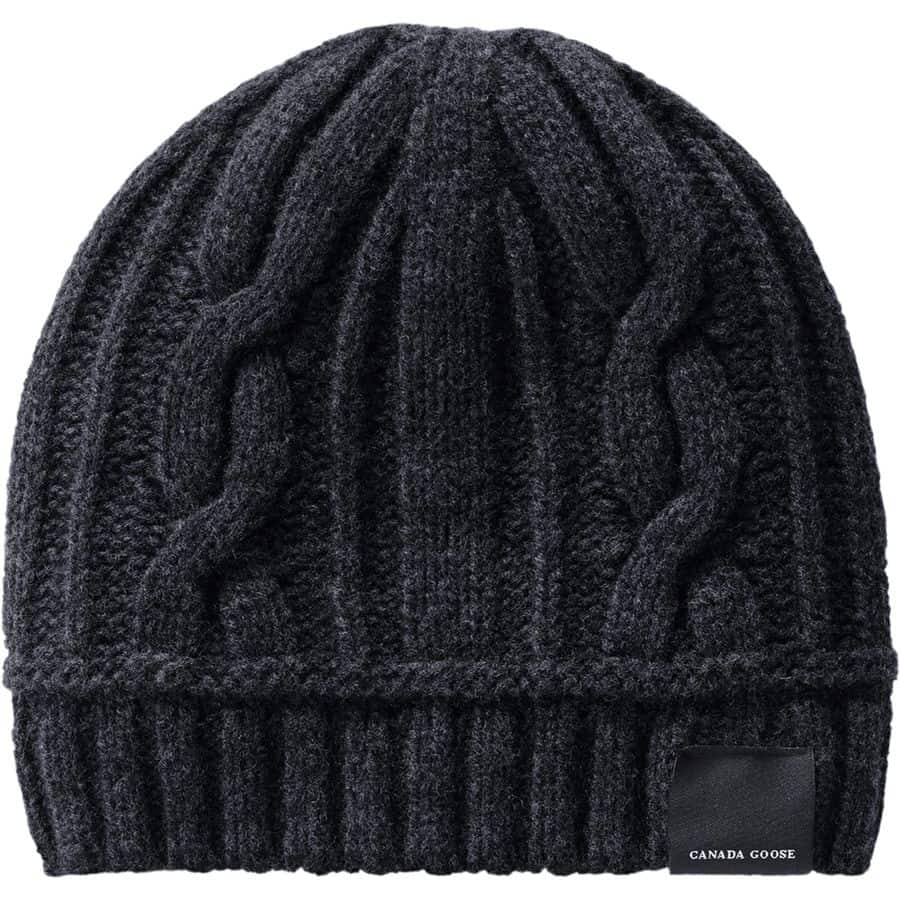 Or, you might prefer this Canada Goose Cable Toque beanie. It's a little on the pricey side, but you'll know why when you feel the softness and warmth of that 100% Merino wool.
Because it's completely natural, this beanie will smell fresh and clean no matter how much you sweat in it, which makes it perfect for winter hiking.
Scarves
While we're on the topic of winter hikes, let's talk about scarves.
Anytime you step out into nature during the winter, you definitely want to make sure you have a nice, soft, cuddly scarf wrapped around your neck to keep you warm.
A shining example is this Smartwool Snowline Point Texture scarf, made with Merino wool. It's soft, warm, durable and stylish. What more could you want?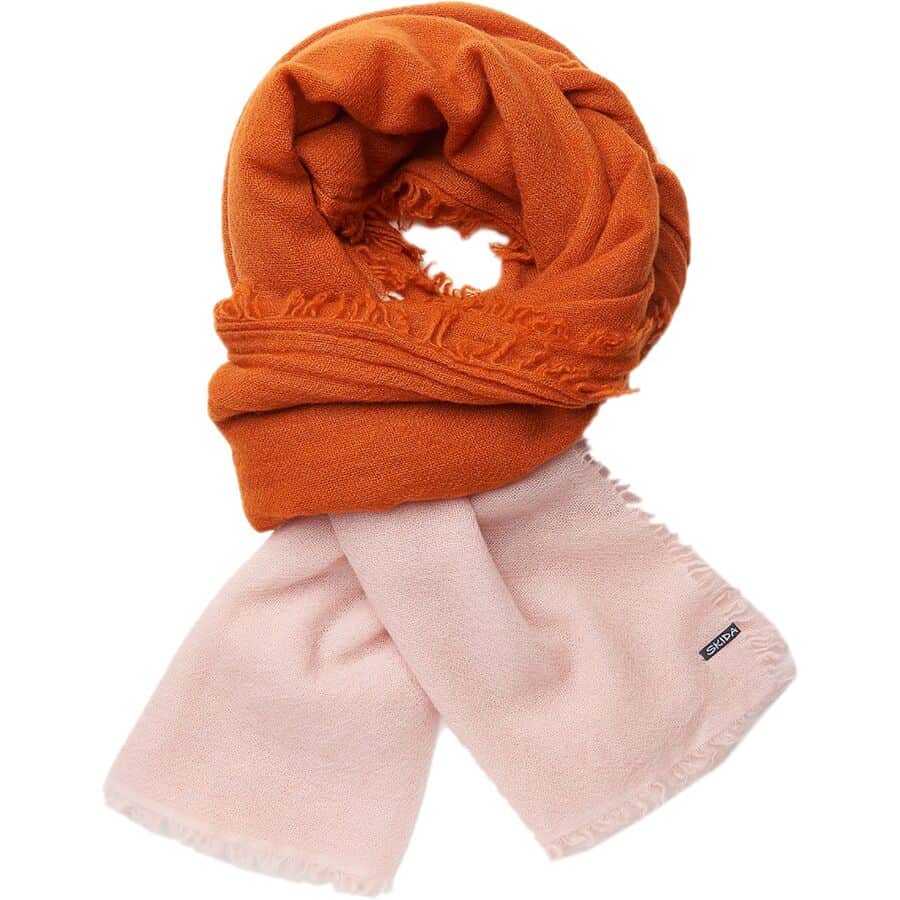 If you're looking for something with a more luxurious feel to it, you might be tempted by this Skida Dip-Dyed Cashmere Shawl. The pure cashmere fabric will be a real treat for your skin, and the dip-dyed gradient
And last, but most certainly not least, you can go for something along the lines of this Eden Topper Cashmere Scarf, also from Skida. This one is more like a cross between a scarf and a poncho, and throwing it over your hiking outfit will add a whole new level of class to your look.
Besides looking gorge, this scarf is also amazingly soft and warm, as it's made of a cashmere and wool blend.
Gloves
One more thing you'll need for winter hiking is a good pair of gloves, so that your fingers don't freeze.
These Outdoor Research Melody Sensor Gloves might just be the perfect pair. Look at how cute they are.
They're also touch-screen compatible, so you can use your phone without having to take them off. This is an incredibly useful feature, especially when you're out on the trail and you need to check your phone regularly to make sure you're on the right path.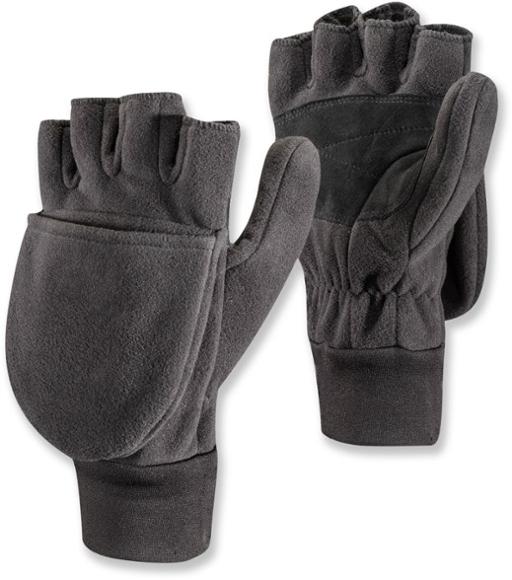 If you're more of a mittens kinda girl, you'll love these Black Diamond WindWeight Convertible Mittens.
They're made of Polartec® Windbloc-ACT® fleece that'll keep your hands warm even when the coldest winds are blowing.
What's really neat about them is that you can fold the mittens back easily whenever you need your fingers without taking the gloves off.
Neck Gaiters
One of my absolute favorite hiking accessories is the gaiter.
During the winter, you can swap a scarf for a warm fleece gaiter, like this woolen Buff Merino Wool Fleece neckwarmer. It's breathable, quick-drying and odor-resistant, plus it'll keep you warm even if it gets wet.
While wool is an excellent choice, it isn't your only option. This synthetic Cora Neck gaiter from Burton is made of DryRide Thermex fleece, and it's just as soft and warm as a woolen gaiter.
Neck gaiters aren't just for the winter, though. When you're hiking in hot weather, a gaiter is a must-have item to help you stay cool. You can wet your gaiter when it gets really hot, and it'll help regulate your body temperature while you're hiking.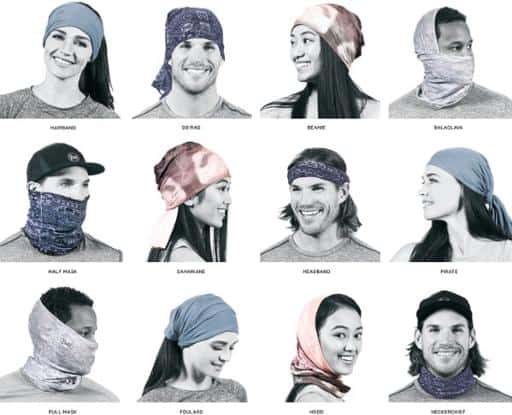 They can be worn in a whole bunch of different ways. You can wear it around your neck, as a headband, a do rag, a bandana, a balaclava, a face mask and more.
There are loads of different colors and patterns out there to choose from, so it's the perfect opportunity to spruce up your hiking outfit.
My personal favorite is this Buff CoolNet UV+ gaiter in the Camo White. Although, the Wild Multi version of the same gaiter is also stunning, if you prefer something more colorful.
Underwear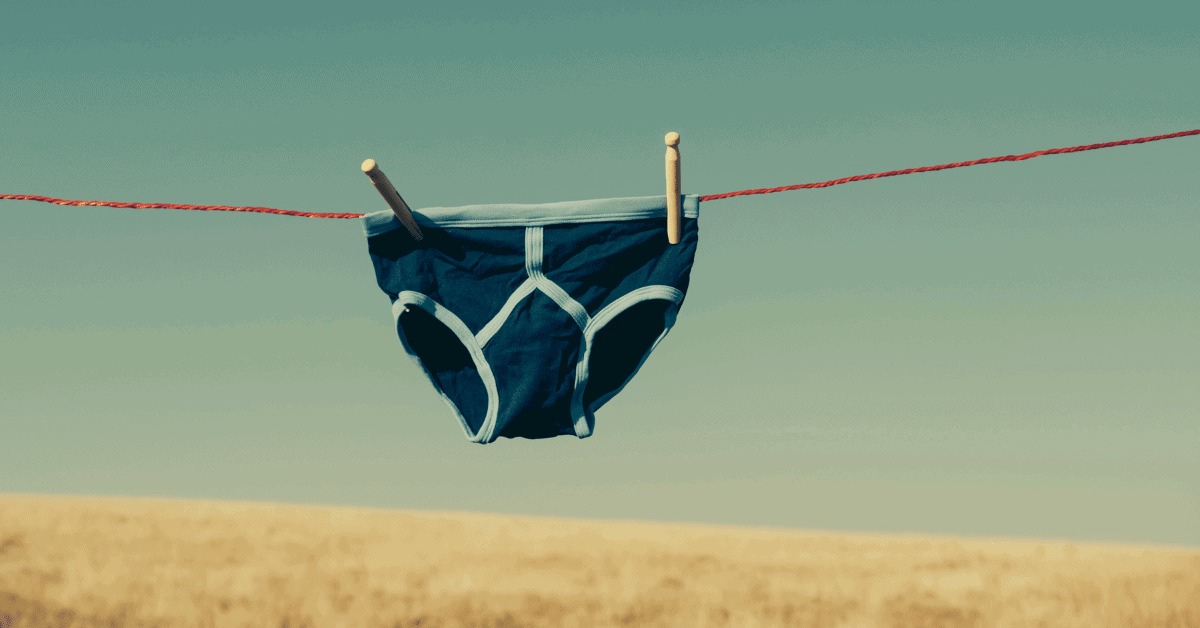 Of course, we mustn't forget about underwear. Having the right kind of underwear on when you're out hiking is just as important as having the right clothes, shoes and accessories.
Remember, chances are you're going to break a sweat every so often, so you want everything you have on to be moisture-wicking and quick-drying. That includes your bra, panties and socks.
Bras
I definitely recommend wearing a sports bra instead of a regular bra.
Sports bras are made of materials that are designed to dry quickly as you sweat. Plus, you'll be way more comfortable in a sports bra girl, trust me.
I personally find sports bras so comfortable that I've stopped wearing regular bras entirely. I love them because they can be worn as both a bra and a top. They're thick enough to give you coverage, but thin enough to wear under a shirt.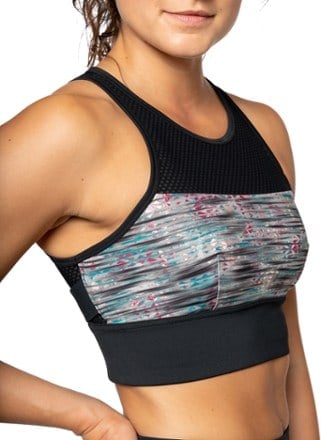 This GoLite ReBound Sport Top is a great example of a sports bra that can also be worn on its own.
It's moisture-wicking, breathable and exceptionally comfortable. And, it's made using recycled plastic bottles. How cool is that?
If you prefer a more minimalistic look, check out this Nike Swoosh Luxe Long Line sports bra.
I'm in love with this sports bra. It's tight yet breathable, provides great support and the straps on the back are really cute.
Another simple yet elegant sports bra is this Patagonia Switchback sports bra. It comes in 4 great colors, and it's super comfy and stylish.
Panties
No matter what style of panties you like to wear, finding a great pair of hiking panties to suit your tastes is easy.
Whether you're the kind of woman that likes to wear classic briefs, tomboy boxers or thongs, we've got you covered.
Let's start with briefs.
If you want to keep it simple and classic, you can't go wrong with these Icebreaker Siren Hipkini briefs. They're 83% Merino wool, so they're quick-drying, moisture-wicking and super comfy.
These Smartwool Merino 150 Lace Bikini briefs are 77% Merino wool. They help regulate your body temperature, and the color and lace detail are just really pretty.
If you're more of a thong kind of gal, Smartwool also has these lovely Merino 150 Lace thongs, which are a whopping 87% Merino wool. These are great if you're wearing tights, so as to avoid the dreaded visible panty line.
If you're not wearing tights and you prefer to wear boxers, you'll love these GoLite ReActive boy shorts. They come in a range of cute colors, they're incredibly comfortable and they're made using recycled plastic bottles. What's not to love?
Socks
When it comes to socks, there are 2 main things to consider: material and length.
Like with all hiking clothes, your hiking socks should be made of a quick-drying, moisture-wicking material.
If you're wearing boots, you should avoid ankle socks, because you could end up with blisters. Go for a longer pair of socks that are at least slightly higher than the top of your boots.
Like, for example, these Smartwool Performance Hike Light Cushion Mountain Print crew socks with Merino wool. They feature a gorgeous print in stunning pastel colors.
If you're wearing hiking shoes or sneakers, ankle socks will do just fine.
These Balega Ultraglide no-show socks are a fun choice with bright colors. They're made with Drynamix® technology that'll keep your feet cool and dry while you walk.
If you're going hiking in the winter, you might want to consider getting a knee-length pair of socks to keep your legs extra warm.
These Darn Tough mountaineering socks are an excellent example. They're also made of a Merino wool blend, so they'll keep your toes nice and toasty warm on cold days.
Over To You
Now that you've got a better idea of what to wear on a hike and still look cute, all that's left is to create the perfect outfit.
You can mix and match all your favorite garments to create drop dead gorgeous looks for a day out on the trail.
Just remember to stick to moisture-wicking materials that are breathable and quick to dry.
And, of course, the most important thing at the end of the day is that you feel good in what you're wearing. If you feel good, you'll look good, and that's the bottom line.