There are so many great bloggers, YouTubers, podcasters, and photographers out there creating amazing outdoor content on a daily basis.
Not only did I want to personally get to know them better, but I also wanted to explore outdoor influences and passion for nature.
Thus, we've launched the I Love The Outdoors Interview Series.
If you are interested in participating in the series, please contact us and let us know!
Anusha @ Taiwan Hikes
Tell us a little about yourself. Please include only details you are comfortable sharing – How old are you? Where are you from? Where do you live now? Are you married? Kids?
I'm a native Taiwanese female based in Taipei, Taiwan. I am 50 years old, have never gotten married, and I don't have kids.
I started hiking in early 2017 after impulsively signing up for a hiking trip in Norway. My beloved cat crossed the rainbow bridge in late 2016, and my heart shattered. I guess I had to do something to ease the pain. So, when I saw the trip, I signed up without thinking I hadn't done hiking for years.
Since then, I joined local hiking groups to get myself fit. Then, I fell in love with the mountains in Taiwan and became serious about hiking.
I start doing more solo hikes about two years ago, which enhances my hiking experience even more.
2. What is your favorite outdoor activity?
My favorite outdoor activity is hiking/trekking. I also enjoy camping.
3. Where is your favorite trail?
This is a difficult question because I just have so many favorite trails to pick one.
But if I must choose, I'll say the Mt. Dabajian trail. It's a high mountain hike ranging from 2,000m to 3,500m (6,562 ft to 11,483 ft).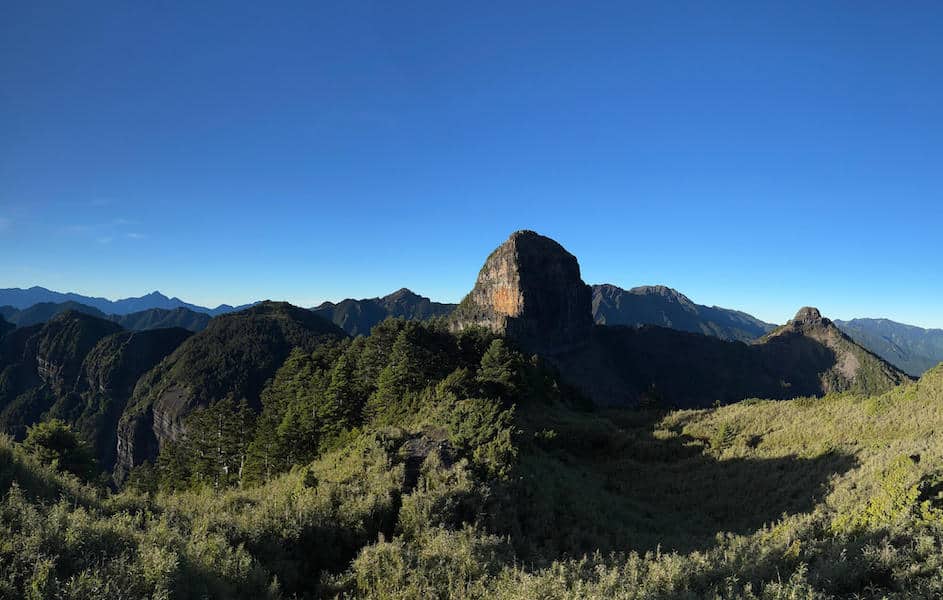 The views on the ridgeline are stunning, and hikers are surrounded by other famous high mountains in Taiwan, including the second highest one, Snow Mountain, 3,886m (12,749 ft).
If the weather is good, hikers can see an island 80km (49.7 miles) away in eastern Taiwan.
Mt. Dabajian is also the mountain depicted on our NT500 banknote.
So, you will see hikers take out their NT500 banknotes to take photos when they reach the best spot to see the mountain.
Besides Mt. Dabajian, two high mountains, Jade Mountain and Mt. Nanhu are also depicted on our banknotes.
Therefore, I dub them banknote mountains. I've done the Mt. Dabajian hike twice, and I'm sure I will do it again.
4. Where is your favorite camping spot?
My favorite camping spot is the campsite near Qicai Lake, 2,900m (9,514 ft) above sea level, in central Taiwan.
The campsite is not next to the lake because this lake is the indigenous Bunun people's sacred place.
To show our respect, we camped on the hill above the lake instead.
Just because we camped on the hill above the lake, we saw the most stunning sunrise with a sea of clouds around the lake.
We all sat quietly on the hill savoring the magical moment. I'd love to go back there someday.
5. What was your all-time best camping or hiking experience?
Seeing the starry sky. For people who live in a crowded city like me, it's not easy to see the starry sky. So, my only chance is to go to the remote mountains.
When I do multi-day hikes, I often wake up early. Then, after making myself a cup of coffee, I'll leave my tent to check out the sky.
This makes my hike even better when I see the starry sky after a long and treacherous hike.
6.Who is your favorite person to camp or hike with?
I either do solo hikes or group hikes with my favorite hiking group. So, I'd like to pick my favorite hiking group, LOHAS Taiwan Mountain LOHAS Association,
for this question. LOHAS' guides are well-trained and friendly. They have many free or paid hikes for hikers with different physical fitness.
Hiking with them, especially on those challenging trails, makes me feel safe, and I know I'm in a good hand if things happen.
7. What is your favorite piece of gear and why?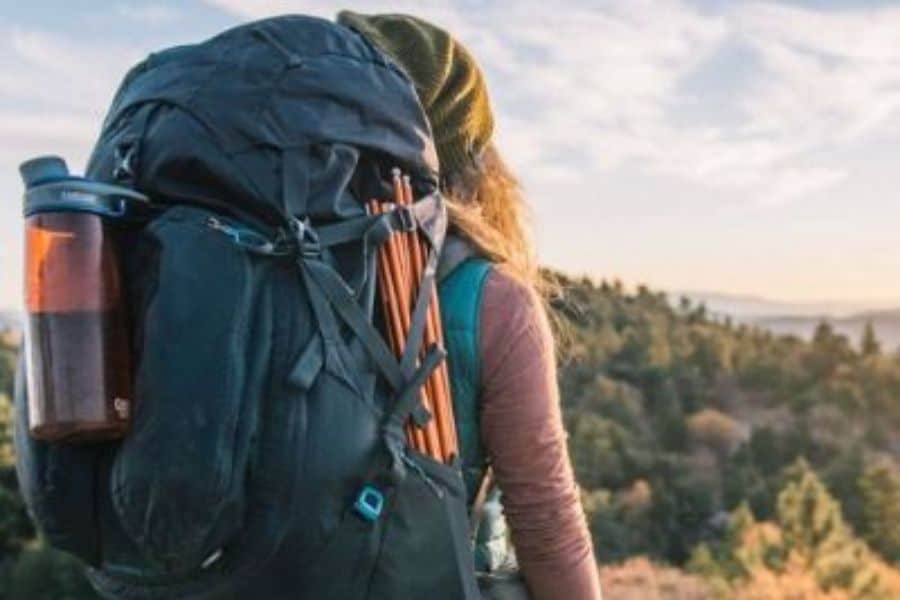 My favorite piece of gear is my backpack, Mystery Ranch Sphinx 60 Women's. I like the center-front zipper that lets me access my gear easily.
I'm 5'4″, and this backpack fits my body well. The torso length is adjustable.
In addition, this backpack distributes the weight nicely, so I feel comfortable when carrying a heavy load.
The most extended duration of my multi-day hike was a 5-day one, and I still had space left in my Mystery Ranch backpack.
8. What do you love about the outdoors?
My first intention was to hike for the views. Later, I discover the beauty of the various vegetation in Taiwan.
It's common to find boreal forest mixed with topical plants on the trails in Taiwan.
When I was hiking in Norway, our Norwegian guide shared his most memorable hiking story with us. He once camped in heavy rain in a forest.
It was messy, cold, and uncomfortable. Suddenly, he decided to strip off his clothes and ran out of his tent into the pouring rain.
He screamed at the sky for about 5 minutes and returned to his tent. At that time, I had just started hiking, and I didn't understand why it could be so special when the weather was terrible.
Aren't we all hoping for great weather during our hike? But then, I finally realized what he meant last month, July 2022.
I was doing a high mountain hike with LOHAS, and the weather was fine when we started. The weather forecast said we might have some minor thundershower at noon.
When we arrived at the campsite, it was more than a minor thundershower. It was down pouring, which made pitching our tents difficult.
Our guides quickly set up their tarp and asked me to sit with them. While doing there, I watched the rain making our ground sheet wet.
I was feeling miserable, cold, and uncomfortable. In contrast, our guides have experienced so many situations that they remained as cool as a cucumber.
Their demeanor helped me calm down, and I even began enjoying the weather. Later, I keep thinking about the time when I was sitting in the water.
This memory has transformed into something I remember fondly. Those moments, views, and surroundings on the trails make me love about the outdoors and keep doing it.
9. What outdoor places are on your bucket list?
Yosemite in California, U.S.,
Kilimanjaro in Tanzania,
Lofoten Islands in Norway,
Mt. Roraima in Venezuela/Brazil/Guyana,
West Highland Way in Scotland
Mt. Zhongyangjian in Taiwan.
10. What is your goal as an outdoor content creator? How can we support you and where can we find your content?
As an outdoor content creator, I aim to promote mountains, hiking, and local hiking groups in Taiwan. After doing keyword research, hiking in Taiwan is under most people's radar, which isn't a surprise.
I hope there will be more and more people to see the beauty of Taiwan mountains and nature.
Many expats in Taiwan also have discovered the hidden treasure in Taiwan nature and have written many great blogs to spread awareness of Taiwan trails, like Taiwan Trails and Tales.
But we don't have many English blogs from Taiwanese people's perspectives.
Although I am not an English native speaker and my English writing has room to improve, I still hope I can overcome the language barrier and introduce the trails and mountains to people who also love the outdoor around the world. The outdoor in Taiwan is a diamond in the rough.
I also hope to know more outdoor content creators from different countries and share our passions and experience.
My website is TaiwanHikes.com. My Twitter handle is @AnushaHiking, and I just set up a new Instagram @anusha.taiwanhikes. Thank you so much for having me.
Anusha – thanks for the great interview and participating in the I Love The Outdoors Interview!
If you are interested in participating and sharing your story, please contact us and let us know!
Previous Interviews