Are you looking for the best backpacking food ideas to keep you fueled on your next adventure?
Whether tackling a short day hike or a multi-day trek, having the right food to sustain you is essential.
Regarding backpacking food, it's important to consider how much weight you want to carry, how many calories you need, and what type of food will provide the nutrition you need.
In this post, we'll discuss the types of backpacking food you should bring, how much you need, and offer some tasty ideas to make your trip enjoyable.
Backpacking Food Ideas
Backpacking Breakfast Ideas
It is well-known that breakfast is the most important meal of the day.
Why is that? You need it to keep your body running and provide the energy you need throughout the day.
Your energy and stamina will be enhanced if you prepare a tasty and hearty backpacking breakfast in the morning.
A backpacker's breakfast can range from fast and basic to a lavish spread of pancakes, eggs, meats, and coffee.
However, choose a hot meal over a light snack for an added energy boost.
Other ideas for breakfast: cereal, oatmeal, or granola with dried fruit and nuts; pancakes, Pop-Tarts:
Instant Coffee
Tea
Bars (Larabar, Clif Bar, ProBar, Ivan Bar, Luna, Kind, Bobo's)
Pop-Tarts
Granola & Cereal
Powdered Milk
Breakfast Drink Mix Packets
Trail Mix
Nuts and Seeds (Almonds, peanuts, etc.)
Almond Butter Packets
Peanut Butter Packets
Instant Oatmeal
Backpacking Lunch Ideas
Some backpackers choose to have a light lunch on a rock near their pack to relax for a bit.
Some pack protein bars or trail mix and snack on that for the entire hike.
Having cold lunches avoids cooking and running out of gas.
Sandwiches with hard meats and cheese, however, bagels and tortillas are more resilient and make for a better source of dense, calorie-rich sustenance.
However, hard meats and cheese should be included only for trips taking place in cooler weather.
Furthermore, Peanut butter, jelly, honey, and foil packets of tuna or chicken can also be used.
Bagels or Tortillas (Thomas Bagels, Mission Tortillas)
Hard Meats – Salami, Summer Sausage, etc. (Applegate)
Hard Cheese – Parmesan, Romano, etc.
Almond Butter Packets
Peanut Butter Packets
Jelly or Honey
Tuna or Chicken in foil packets
Dried Pork Packets
Small Condiment Packets – Mayo, Mustard, Relish, Hot Sauce, etc.
Also See: Hiking Lunch Ideas (17 Delicious Lunch Ideas for Day Hikes)
Backpacking Dinner Ideas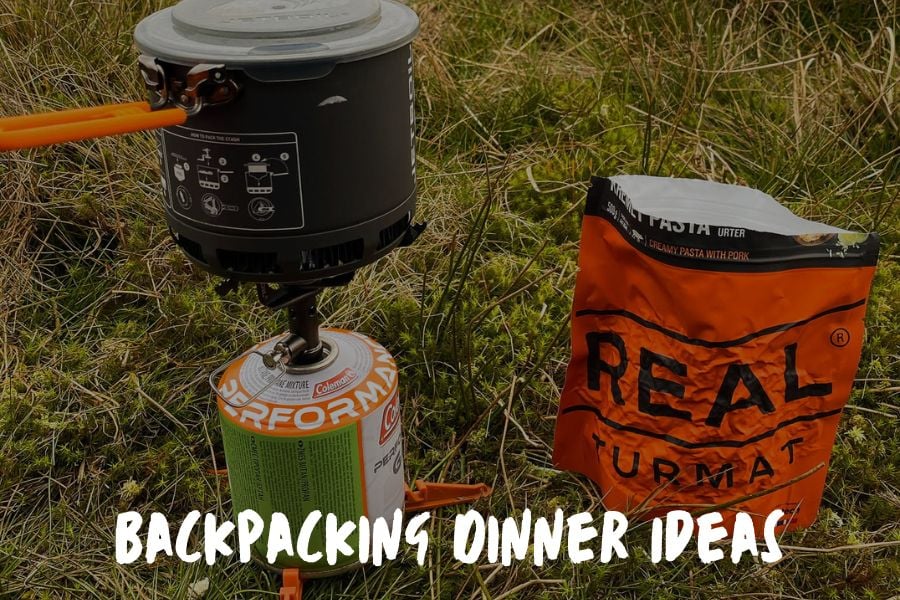 This is your reward after a long day, and for many backpacking enthusiasts, opting for the just-add-boiling-water convenience of prepackaged freeze-dried or dehydrated dishes or even something simple like pasta is the preferred choice.
These meals have so many different flavours, including vegan and vegetarian options.
Macaroni and cheese with tuna or bacon bits is an excellent backpacking dinner idea (also a great camping dinner idea too).
Dehydrated risotto and pasta; dehydrated vegetables with noodles, instant soups, dehydrated mashed potato, and beef jerky.
You can also assemble easy meals by choosing a starch such as instant rice, pasta or couscous; add fresh or dehydrated vegetables and spices and a protein, whether chicken, salmon or tuna.
Freeze Dried Dinners (Some of our faves: Chicken and Dumplings, Biscuits and Gravy, Beef Stroganoff, Chili Mac)
Instant Mashed Potatoes
Ramen
Instant Soups
Stuffing
Instant Mac & Cheese
Pasta and Rice Sides
Couscous
Chicken Packets
Tuna Packets
Dehydrated Vegetables
Backpacking Snack Ideas
If you plan to hike for an extended period and/or in a challenging area, pick slow-burning snacks.
Slow-burning energy snacks for hiking contain carbohydrates, fiber, and protein that can keep you full and help you meet your daily carbohydrate, protein, and calorie requirements.
In addition, a quick-acting snack containing simple carbohydrates (sugar) and sometimes electrolytes can help alleviate 'crashing out ', which can be an unpleasant experience.
Dried Fruit
Crackers/Breadsticks
Protein Bars
Trail Mix/ Nuts & Seeds
Fruit Strips
Meat Jerky
Confectionery/Chocolate
Also See: Hiking Snacks: The Best Hiking Snacks To Fuel Your Adventure
Backpacking Meal Planning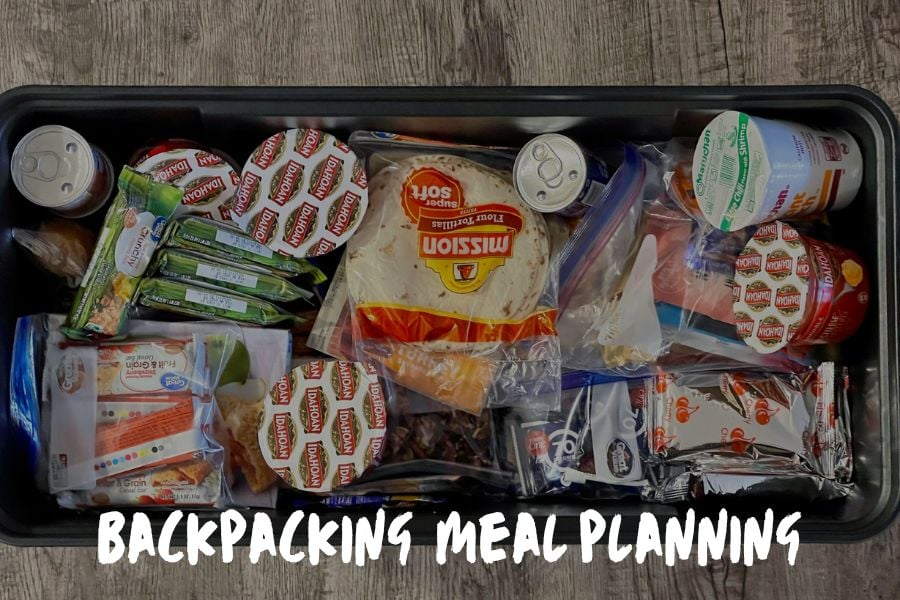 How many breakfasts, lunches, dinners, and snacks will you need?
Dividing your food into sandwich bags so you have one day's worth of food easily accessible will stop you from overeating and make sure you eat enough.
It's easy to carry too much food on a short hike and not enough on a long walk.
Ten days of food looks terrifying to shove into your backpack. It's even more alarming to pick that pack up and put it on your back.
Following your daily plan, with meals rationed out, is the best way to know whether you carry the correct amount of food.
Even if it's just a rough sketch, making a meal plan will help you plan your diet.
It can be as simple as creating a spreadsheet or as complicated as creating an entire meal plan
What are you going to eat, and when are you going to eat it.
When hiking, a simple dehydrated meal may suffice. You'll have more energy and time to prepare a meal when lazing around camp.
Sample 3-day Backpacking Trip Meal Plan
Planning meals for a backpacking trip can be challenging, especially when it comes to taking enough food for three days.
Backpackers must carefully select the items they bring, keeping weight and caloric content in mind.
But with a little bit of planning and some creative backpacking food ideas, you can keep yourself well-fed and energized for your adventure.
When packing for a three-day backpacking trip, think of the most essential ingredients you need to make meals and snacks that will help you stay fueled.
High-calorie items such as nuts, seeds, and dried fruit are great options that provide energy.
Additionally, bring items like oats, quinoa, and couscous that can act as the base of meals.
Protein-rich items like jerky, hard cheese, and tuna packets can also add fuel to your day.
Consider bringing a variety of flavors with you as well as condiments like spices or hot sauce to help add flavor to your meals.
And don't forget to pack plenty of water!
Here is a sample 3-day Backpacking Trip Meal Plan:
Breakfast
Day 1: Breakfast at the trailhead
Day 2: Oatmeal, instant coffee
Day 3: Granola, tea
Lunch
Day 1: Tortilla with tuna and cheese
Day 2: Crackers with cheese, salami
Day 3: Pitta bread with a foil pouch of chicken and mayonnaise
Snacks
Day 1: Dried fruit, pretzels
Day 2: Meat jerky, Chocolate, bread sticks
Day 3: Trail Mix, chocolate-covered nuts
Dinner
Day 1: Macaroni Cheese with tuna
Day 2: Chicken Ramen
Day 3: Pasta and sauce
Dessert
Day 1: Dried Fruit
Day 2: Chocolate spread pitta
Day 3: Chocolate bar
How To Organize Daily Backpacking Meals
Have a large plastic (reusable) bag for each day, and the meals are separated into smaller bags within the larger bag. This ensures there is enough food for each day.
Although some people prefer to throw it all in – however, you risk not eating enough or running out.
When packing fresh food, such as fruits and vegetables, make sure to eat them earlier in the trip to lighten your load and avoid food spoiling.
Also, pack easy freeze-dried or dehydrated food for the times you will be eating dinner when you are traveling a lot and are too tired to cook.
How Much Food Should You Take on a Backpacking Trip?
In addition to considering food in terms of calories, thru-hikers should also consider the weight and volume of backpacking food.
Trying to fit a week's worth of food into your backpack along with the rest of your gear is a challenge.
Most backpackers can rely on their fat reserves for backup power; however, on a thru-hike, these reserves will virtually disappear after a few weeks, requiring you to eat much more (much more) to cover the same amount of ground.
As a result, by the end of your thru-hike, your calorie consumption will have skyrocketed.
If you eat around 2,000 calories now, expect that to triple to 4,000-5,000 before you have finished your journey.
But if you are burning 4,000 calories a day for 4 days that will amount to 16,000 calories in total.
In typical thru-hikes, food is carried for five days (some remain on the trail longer).
Several factors will determine how much food you will need for a backpacking trip, including the intensity of your activity, weight, and height, and how many calories you burn.
For example, people who hike 10 miles along a strenuous trail with elevations up to 4,000 feet will burn more calories and need more food than those who hike a few miles along relatively flat trails.
Ok, so let's put this all together:
Aiming for 2,500 to 4,500 calories (or 1.5 to 2.5 pounds of food) per person, per day, is reasonable.
Most experienced thru-hikers will carry food in a 100-125 calorie range per ounce, ideally to reduce weight and space.
Overnight trips require an extra supply of food. Always carry more than you think you need. The key is not to overdo it.
One common mistake is to pack too much food, resulting in extra bulk and weight.
Depending on your experience, the amount of food you need will vary.
Recommended Backpacking Calories and Pounds of Food Per Day
Please find your nearest body weight (in pounds) to estimate the recommended calories and pounds of food you should carry per day of your trip:
*Assumptions are that 1 lb of food will yield 2,000 calories, and you will burn between 20-25 calories per pound of body weight.
Factors to Consider When Planning Meals for a Backpacking Trip
How many days will you be out?
What type of activities are you planning?
Is there anywhere to resupply?
Ensure you include the meal at the trailhead and after your trip when calculating how many days you'll spend away from home.
Whether you're backpacking alone or with others, you can simplify meal preparation by splitting the weight of food, fuel, and cookware.
More strenuous hiking and activity equals more food.
If you can do a full resupply after 3 days, you only need to carry 3 days worth of food!
What different types of backpacking meals are there?
Try to focus on portable, lightweight items that are manageable.
Luckily, you can bring your favourite backpacking meals whether you have made a homemade recipe at home, bought a dehydrated version, or created your own mix of fresh and dry ingredients.
Even though you leave refrigeration behind at the trailhead, you don't have to rely on dried or processed foods.
Fresh Foods and Produce
Instead, pack fresh foods like nuts and seeds, hard cheeses like parmesan and cured meats like salami into your backpacking menu if you don't mind some extra weight.
Fresh produce can also be brought: depending on the climate, most fresh foods will last one or two days inside your pack.
Eat foods that won't spoil quickly, such as carrots, broccoli, bell peppers, onions, kale, snap peas, apples, and oranges.
Bear in mind these types of food can be heavy.
Shelf-stable Foods
Macaroni cheese is a comfort food staple for lightweights; the pre-prepared versions work well in the backcountry.
Proteins such as tuna, salmon, Spam, and Chicken are available in vacuum-sealed pouches from most grocery stores.
The shelf-stable ones can also be found in individual packets, pouches and powdered forms, including instant rice, couscous, noodles, and pasta.
Ready-to-eat Meals (Ambient Meals)
There are also ready-to-eat meals you can buy that are precooked.
They can be eaten hot or cold.
This type of meal is also known as an ambient meal, as it does not need to be refrigerated and can last up to five years when packed in retort packaging.
They can be eaten straight from the bag, placed in hot water, poured into a pan, and heated normally.
Freeze-Dried or Dehydrated Meals
If money and time are not a concern, freeze-dried or dehydrated meals can offer a perfect way to get high-quality, balanced nutrition on the go.
Start with hot water and allow your food to rehydrate, and with many hearty, savoury, and nutritious options from around the world.
There are so many more companies making backcountry food nowadays that there are lots to suit all your tastes, including vegan and gluten-free options.
Backpacking Meal Tips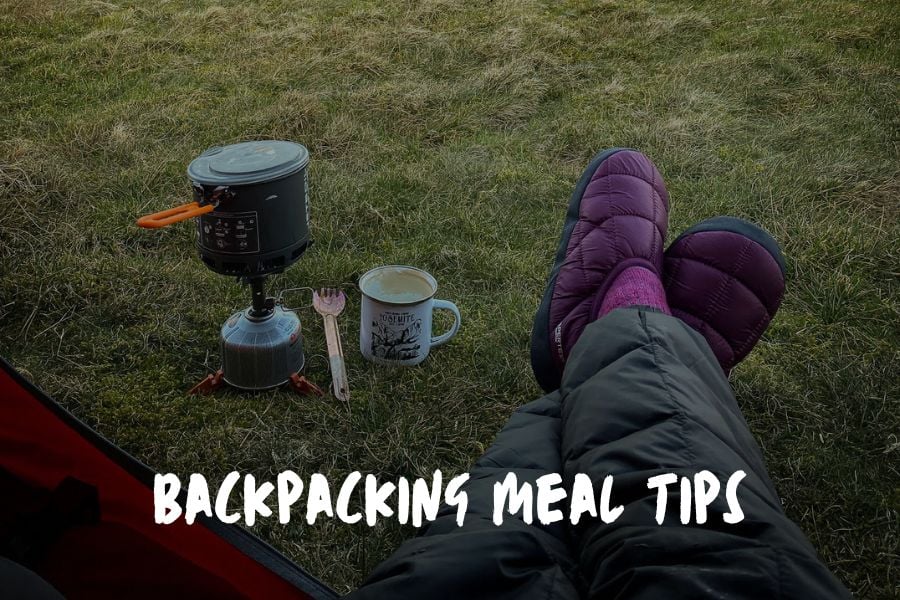 When planning your backpacking trip, you want to make sure that you are getting the right balance of nutrients, as well as choosing food that will keep you fuelled on your journey.
Here are some tips to help make sure you have the best backpacking food ideas for your adventure:
Don't Introduce New Foods
It would help if you didn't introduce new things to your taste buds in the wilderness.
Instead, when you've hiked for a long time, bring comfort foods you enjoy.
Balance Flavors and Textures
Furthermore, find an appropriate balance of flavours (salty, sour, sweet, spicy), textures (soft, crunchy, crumbly, crispy), and carbohydrates in your diet.
Bring Seasoning, Spices, and Electrolyte Tablets
Bring seasoning and spices, flavoured beverages, and powdered soups.
You can even buy flavoured electrolytes tablets and sachets, an easy way to replace all the lost minerals you need.
Pack Simple, Easy to Cook Meals
A camping trip is an excellent opportunity to cook over an open fire (depending on your local rules).
But on a hiking trail, you don't want your day to be consumed by food, therefore, finding a suitable spot and then firewood can be exhausting.
Also, pack backpacking meals that require little gas and are simple to make.
Dehydrated Meals Save Fuel
It's tempting to carry pasta in a pack, but it uses a lot of gas to boil water for so long.
Dehydrated meals, instant noodles, instant mashed potato and couscous, are great alternatives to keep the gas off.
Remove Unnecessary Packaging
Get rid of any unnecessary packaging and pack your food in lighter bags. Containers take up a lot of space.
That extra weight will mount up, so you can use Ziplock bags and lightweight dry bags for packaging and rationing your food.
If your leg gets injured or you get trapped by a storm or a river floods, you do not want to have to rush to town.
Stay prepared with an extra half-day or full-day food. The cause of a lot of accidents is rushing.
On popular trails, people often peer in horror as someone eats some bizarre creation they insist is delicious during mealtimes (and make notes for the next shop). Practice makes perfect, so go out there and find your ideal diet.
Don't forget about the amount of water needed to make the meals as well as for drinking.
How do you eat well while backpacking?
Eating well while backpacking can be a challenge, especially if you're limited in space and weight.
The key is to bring the right backpacking food with you so you have enough nutrition to sustain your energy levels and stay fueled throughout your hike.
Here are some tips on how to eat well while backpacking:
Choose nutrient-dense backpacking food
Look for foods that are rich in essential nutrients, such as complex carbohydrates, protein, and healthy fats. Examples include nuts, nut butters, granola bars, oatmeal, and dried fruits.
Pack light
Pack only what you need for the duration of your trip and no more.
This means packing light snacks like trail mix, jerky, energy bars, and peanut butter packets instead of heavier meals like cans of soup or boxed macaroni and cheese.
Bring foods that don't require refrigeration
Most backpacking trips involve camping in remote areas where it is difficult to keep food cold. Make sure all your backpacking food does not require refrigeration.
Choose portable foods
Look for foods that can be eaten quickly and on the go, such as energy bars, nuts, dried fruits, protein bars, and peanut butter packets.
Bring pre-cooked or dehydrated meals
If you want to prepare hot meals while backpacking, pre-cooked or dehydrated meals are the way to go.
These meals can be rehydrated by adding boiling water, making them convenient and lightweight options.
Don't forget to hydrate
Water is essential for backpacking nutrition; make sure to bring plenty of it along with electrolyte supplements or powdered sports drinks to help replenish lost nutrients during long hikes.
By following these tips, you can ensure that you are eating the right backpacking food and getting enough nutrients to fuel your outdoor adventures.
FAQs
What do you eat on a 5 day hike?
When you go on a 5-day backpacking trip, you need to plan your meals carefully.
To make sure you stay fueled throughout the entire trip, it is important to choose food that is high in energy and provides all of the essential nutrients for your body.
By packing the right kinds of food for your 5-day backpacking trip, you can ensure that you stay fueled and energized throughout your adventure.
With the right preparation and planning, you can enjoy a successful and enjoyable backpacking experience!
Questions to ask yourself:
Is there anywhere to resupply? (So you don't have to carry 5-day wroth)
What type of activities will you be doing in the five days? (The more strenuous, the more you will need)
How much do 3 days of backpacking food weigh?
An average backpacker will carry enough food for three days (some can go even longer).
Three days at 4,000 calories per day add up to 12,000 calories.
Experienced backpackers carry food with a higher calorie-to-ounce ratio than 125-150 calories/ounce, ideally 100-125 calories/ounce.
So for three days at 12,000 calories needed, you will be carrying between 80-120 ounces.
You don't need to do the math for each label, so a shortcut is to look for high-fat-to-water foods.
Fat clocks in at 225 calories per ounce, and water is a substance that weighs in at 2.2 pounds per liter.
Few thru-hikers carry more than what they need to make it to the next reliable water source, not to mention packaged food that won't be consumed for days.
What is the healthiest backpacking food?
Luckily, a lot of the food you can bring on a camping trip is also healthy and easy to carry, which makes it perfect for a backpacker.
Unfortunately, fresh produce is the healthiest food to take but they weigh far more than any other options.
Freeze-dried foods are especially popular among those who are short on time and space when packing.
These foods are lightweight and require no refrigeration since they have already been cooked and dehydrated.
Freeze-dried foods come in a variety of forms such as fruits, vegetables, grains, dairy products, beans, meat, and seafood.
They are also full of essential vitamins, minerals, macronutrients like protein, and carbohydrates/fats that will keep your energy levels high while out exploring.
Not only are they super lightweight but they are also incredibly simple to rehydrate with just water — some just need to be mixed in with hot water — making them great for cooking up delicious dinners in no time at all!
As well as being able to get freeze-dried foods pre-made from stores, there are lots of recipes online that allow you to make your own freeze-dried food at home.
Conclusion
Backpacking can be an enriching and fulfilling experience.
With the right backpacking food ideas, you can stay energized and have all the energy you need to make it through your adventure.
Planning ahead is vital, as is taking the right amount of food.
Consider your activity level, dietary restrictions, and the length of your journey when packing your meals.
With these tips in mind, you'll be well on your way to creating a memorable and enjoyable backpacking experience.
And remember, plenty of water! Dehydration can quickly become a problem while out on the trails, so always carry plenty of water as you never know where the next water source will be, and remember to replenish lost electrolytes.
Preparing hot meals while camping can also be a fun way to enjoy nature while refueling; dehydrated meals are easy to prepare and take up little space.
Finally, don't forget that many lightweight freeze-dried options are both nutritious and delicious. Just add boiling water for an instant meal!