I've been solo wild camping for a while now, and it's become a massive part of my life. I can't imagine life without it!
But, before I first started to solo backpack, most people told me I shouldn't do it, as it was dangerous, and I didn't have the skills to manage. It made me doubt if I could do it.
Perhaps you're considering taking your first solo backpacking trip because you want to get away from it all to be on your own and love nature? In that case, don't doubt yourself!
As long as you follow some key ways to keep yourself safe and have the right gear, it's an excellent idea!
Solo backpacking can be a great experience on the trail or in the backcountry.
However, before you head out there, research and preparation are so important, so your solo backpacking trip goes smoothly and safely.
Here are the essentials you need to know before heading out on your first solo backpacking trip—and some gear lists you can use when packing up!
Is Backpacking Alone Dangerous?
Backpacking alone is a wonderfully enjoyable way to connect with nature and yourself.
However, there is a misconception that camping alone is dangerous because of potential natural and human threats.
This guide will help dispel some myths about solo camping safety and equip you with the necessary gear and tips for your next solo adventure.
The most significant benefit of camping alone is creating an experience tailored precisely how you want it – from finding the perfect spot to where you decide to hike and explore.
You can go at your own pace, stop and take that photo when you want, and if you want to go home or stay out longer, it is your call.
Backpacking alone requires more planning than usual; it would be easier if we had someone else by our side 24/7, but where is the fun in that? So, at least now, you have this guide! Happy adventures!
How To Prepare for Solo Backpacking
Safety is an essential part of backpacking alone; in this section, we will discuss the importance of safety and provide tips on what gear to pack for safety purposes.
Whether planning a week-long trek or a single night, you must know how to prepare appropriately for any possible situation.
Picking a Campsite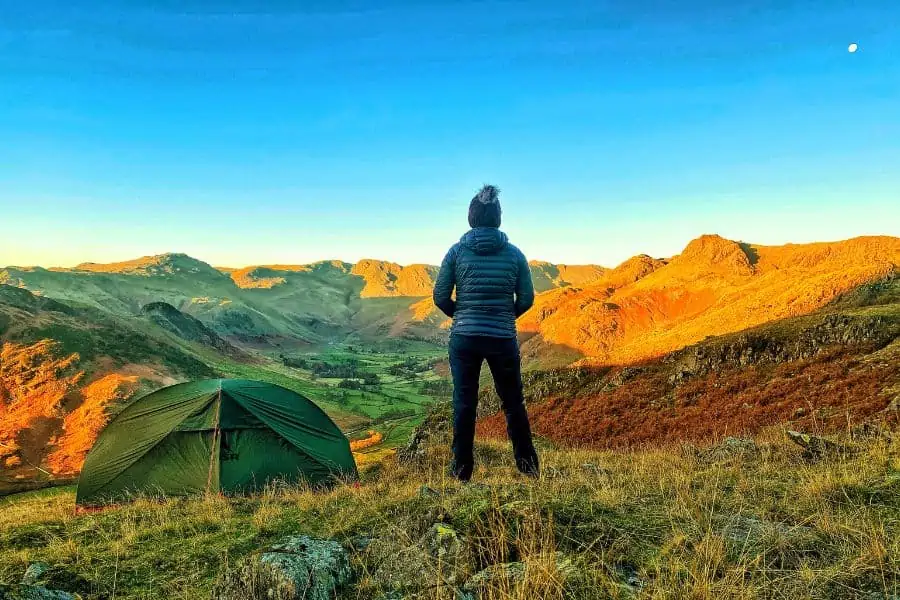 One of the most important parts of camping is picking the right camp spot. Some things to keep in mind when choosing a camp spot are:
Is there running water? Therefore, Will you need to carry your water?
How easy will it be for you to hike to? If something happens (e.g., an emergency), how easy will it be to get back to your car/civilisation?
How safe is the area? Are there any animals that you need to consider? Any unstable land surfaces, i.e. sink holes, mining holes, boggy ground etc.? How exposed is the site? Could it be impacted by sudden gusts of wind?
Research the area before you set off and ideally do a recce beforehand; find your camp spot on a hike first, so you know it's suitable.
Doing a recce will ease so many anxieties when you eventually head out on your own.
If this is your first time camping solo, try heading out on a camp at a campsite.
This will give you an accurate picture of how you feel about it and if you can manage going out in the wilds on your own.
Make Sure You Have Proper Gear
After you've found a good spot for your tent, it's time to set up camp and having the right gear is vital.
Unfortunately, as the old phrase goes, there is no such thing as lousy weather, just lousy gear!
This is where I could have done better on my first solo backpacking trip.
As soon as I had decided I wanted to go solo wild camping, I rushed out and bought everything I needed.
Unfortunately, I had not considered the weight of the gear I was buying; instead, I focused on getting the cheapest.
As a result, the packed bag weighed in at over 18kg; how I even got up the hill is a mystery!
You will find that the cheapest gear is usually the heaviest, so manage your budget and the weight of items accordingly.
Plan Your Route and Share
The one thing I always do before leaving to solo backpacking, is to leave a map of my exact route of where I intend to camp.
Then, I text when I've arrived in the car to say I'm heading off, text when I've arrived at my camp spot, and text when I'm leaving to return to the vehicle.
Suppose I have no signal, then I use my satellite device, a Garmin Mini, to always be contactable.
Furthermore, it logs my location and even has an SOS button in case I get into difficulty.
Moreover, it also means that if I don't return home, my loved one can see where I am and call mountain rescue etc.
Check the Weather
Another crucial thing to do is to CHECK THE WEATHER.
Is it safe to be out? If you are heading high, check that the winds will not destroy your tent or blow you over. Are there thunderstorms predicted or worse?
Know what weather conditions are safe or not, and ensure you have an up-to-date forecast before you head out; it's best to avoid heading out than to head out and get into difficulty.
Double Check Devices
You may have a phone, camera, satellite device, GPS watch, Kindle, etc., so make sure they are all charged up before you go.
Furthermore, carry a backup power unit in case one of them runs out and you need to use it for an emergency.
There are plenty on the market, and they can vary in weight and price.
I carry an Anker 30000 mah unit which can keep ALL my devices charged for at least 2 nights; if not longer, it weighs 342g, but this is a crucial bit of kit.
Reasons To Try Camping or Backpacking Alone
Solo camping and backpacking can be an incredibly refreshing and peaceful experience.
Solitude
A certain solitude comes with being alone on the trail and immersed in nature.
Many people prefer it over going on group trips because of the peace and quiet it provides – it's unparalleled peace and quiet.
One of the most complex parts of going on a backpacking trip alone is taking responsibility for everything.
There's no one to turn to for help if you make a mistake, no one else to blame, and it feels like it's always your fault when something goes wrong.
Build Self Reliance
Therefore self-resilience is key when solo camping.
In fact, being self-reliant will make any trip more enjoyable; you don't have to rely on others, you can go at your own pace, choose where you want to go, and get to set up camp how you want it.
Of course, before you go on a solo camp, you may think that this is something you don't have.
Still, I'm sure you will surprise yourself, and even going just once, you will become more resilient; you will learn from your mistakes, which will make you stronger.
Be in Nature
Nature inspires us more than anything else in life.
Our natural habitat causes our primal instincts to surface, along with a deep desire for personal growth.
Natural environments provoke our most basic human desires for freedom, joy and solitude.
In natural environments, we come closer to what truly makes us happy – allowing ourselves time away from those daily worries that invade our peace of mind.
Solo backpacking will enable us to experience this at its fullest.
Personal Growth
Personal growth is most definitely achievable through solo camping!
Joyful memories are not only formed from those blissful days outdoors but also from the personal growth achieved from facing our fears.
Allowing ourselves to be vulnerable takes courage and effort, but the rewards far outweigh the risk.
Once we push past our limitations, we see opportunities in our lives that were previously unknown.
We grow stronger as individuals and leave feeling refreshed and empowered – ready to take on anything life throws us.
Many people are okay with being alone in a possibly-threatening environment.
Still, once darkness falls, a storm rolls in, an insect flies in their tent, or they spot a moving shadow, it is easy for that person's comfort zone to become disrupted.
These situations may be unavoidable when you camp alone, so remember you only challenge yourself by facing your fears.
Each time you do, more confidence will be gained in all parts of your life.
Every experience, no matter how difficult, will make you stronger!
Improves Mental Health
One of the biggest reasons I go solo wild camping is that it dramatically helps my mental health.
I've suffered from anxiety all my life. However, solo camping allows me to press a reset button on life.
I go back to my daily life and manage the day-to-day struggles more easily.
Being out alone means I have time to process and reflect on any worries that I may have.
As a result, I always go home with a better state of mind and have more energy to deal with things.
Must Have Gear for a Solo Backpacking Trip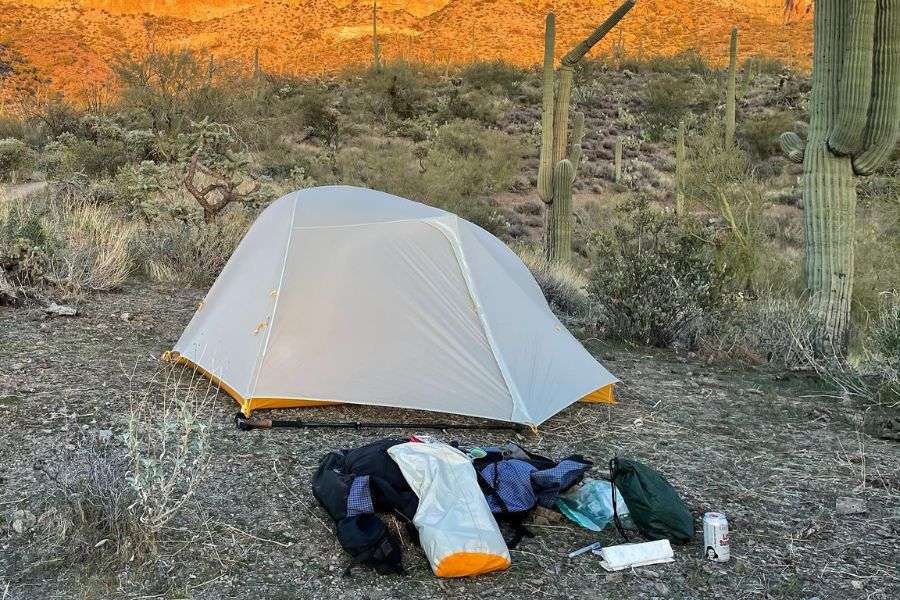 Here's an idea of the gear you may need before heading out into the wilderness or on the trail.
This is not a comprehensive list – but it's an excellent place to start.
Tent: How many seasons is it, and is it suitable for the weather you are going out in? Have you set it up before?
The last thing you need is to head out and figure out how to set up the tent. What size tent do you need?
If you want anything bigger than a 1 or 2 man-tent, remember you need to carry this weight.
Sleeping bag: Again, how many seasons is your bag? Is it going to keep you warm, too warm?
Sleeping Mat: There are so many to choose from, and again for me, this comes down to weight;
I have a lightweight summer one and a larger, heavier and warmer one for the winter months.
Lantern or headlight: Having a good light with you is vital, particularly if you have to head back due to an emergency in the middle of the night.
Please do not rely on your phone light; it will run out quickly.
Stove: You can't beat a hot meal when out in the wilds, even a freeze-dried meal and of course, nothing compares to that first-morning coffee, so make sure you have a good stove and container to boil the water.
Matches are not an ideal fire source, and lighters can be temperamental, so I carry a fire steel as this never runs out, even if it's wet.
First aid kit: Think necessities – plasters, headache tablets, blister plasters, sun and bug spray.
For anything more serious, you would need to get help.
Comfy footwear: Worn in good quality boots/shoes are vital; the last thing you need is wet feet and/or blisters.
Weather-appropriate clothing: I pack for all weather, but then I do live in The UK.
I always have my waterproof jacket and trousers, my down jacket, spare socks and a woolly hat! Check the forecast and pack appropriately.
Remember how cold it gets the higher you go up compared to sea level, even in summer, so ensure you will be warm enough at night if going high.
Food and Water: Make sure you have enough food and water for the time you are out there.
Suppose you will rely on natural water while out and, therefore, not carry it all due to weight.
In that case, you may need a water filter to ensure its safety. Regarding food, are you carrying enough calories?
Remembering that when hiking, you will be burning more calories than usual.
Toilet kit: Following the Leave No Trace principles means following it with your toilet habits too.
So take a trowel to bury any waste, and remember to pack out your toilet tissues.
I always carry spare sandwich bags just for this reason.
Cooking Ideas for Solo Backpacking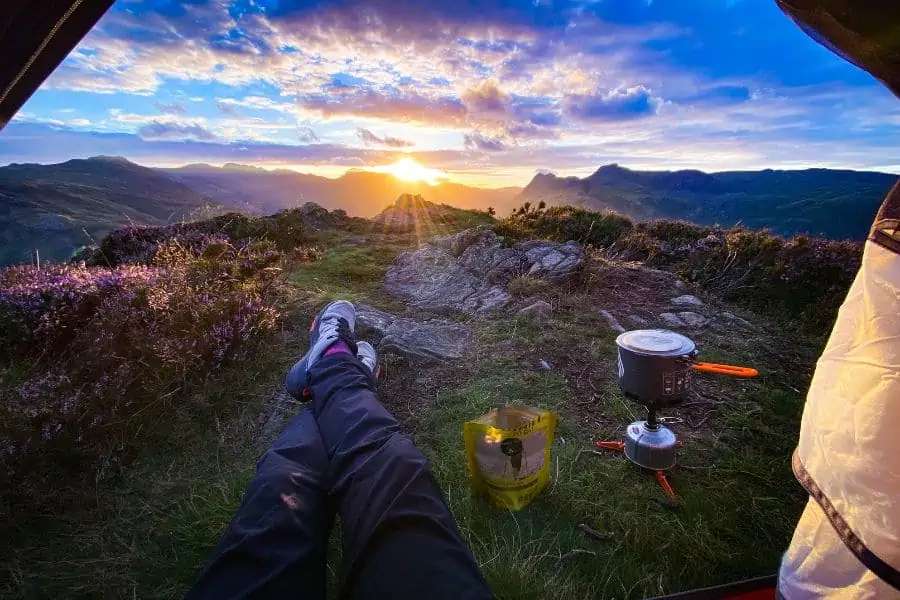 Gourmet camp food ideas for solo backpacking trips can be limited.
However, planning ahead can mean that your food choices don't have to be boring.
For example, you can pre-cook your favourite meals before leaving home or bring ready-to-eat options such as freeze-dried dinners with you on your trip.
For main meals:
Freeze-dried meals/ packet meals specifically for camping
Noodles/Ramen
Pasta and sauces, the packet type you can get in the supermarket
Couscous
Pre-cooked sausages such as pepperoni
Tuna
Wraps
Dried potato mash
Breakfast:
Porridge
Coffee
Powdered milk
Cereal bars
Breakfast camping meals
Snacks:
Dried fruit and nuts
Flapjack
Cakes, biscuits etc
Don't take anything that can go off and make you ill, such as raw meats and soft cheese.
Unfortunately, vegetables are too heavy and will not give you enough calories.
FAQs
Is it safe to go backpacking alone?
Following this guide is a good start, and remembering that you are probably the biggest danger out there.
Keeping yourself safe is the key. Make sure you look at the weather beforehand, have suitable gear, know your terrain and be able to make contact with the outside world if needed.
The chances of another human or animal being a threat is so small.
Your chances of being robbed or hurt in any way are the same whether you're by yourself or with someone else.
In fact, some people believe that solo travelers feel safer because they don't have anyone else to blame if something goes wrong – it's all on them!
How do I entertain myself solo camping?
I've never been out on a solo camp and got bored. Nature is your entertainment.
There is nothing better than watching the sun go down, watching the stars at night, and then watching the sun come back up.
Light entertainment could be the key in the winter months, with minimal daylight hours or when it's raining.
For example, having a film or audiobook on your phone or a book on a Kindle could be a great way to help you relax in your tent.
Is it weird to go camping alone?
If you think personal growth, self-resilience, being at one with nature and having a peaceful and relaxing time are boring? Then a solo wild camp is not for you!
What happens if you get lost backpacking alone?
If you use GPS on your phone/device, carry a map and compass, and know how to use them, there is no reason to get lost.
However, if you need help with navigation, you could book yourself on a course.
A day's navigation course can be a great skill to learn and help you feel more confident.
Conclusion
Camping alone is a great way to disconnect from the hectic pace of everyday life, reconnect with yourself, and spend some time in the wilderness.
But it's not without its challenges. So I hope you've enjoyed reading this and that it has given you some confidence in planning your next solo adventure!
Now you know how to camp alone and stay safe by following these guidelines for a solo backpacking trip.
Good luck out there!