As an experienced backpacker, I cannot stress the importance of having a thorough overnight backpacking checklist enough.
It not only ensures you have everything you need for a safe and enjoyable adventure but also ensures you don't have to stress about things once you're on the trail.
In this article, I will share with you our overnight backpacking checklist, along with some tips and hacks to make your trip successful.
Downloadable & Printable Checklist
Overnight Backpacking Checklist
Backpacking Gear
Backpack (with a rain cover)
Backpacking Tent (with stakes, guylines, etc.)
Sleeping Bag (with a stuff sack)
Sleeping Pad
Headlamp/Flashlight (with extra batteries)
Map & Compass
Whistle/Beacon
Lighter/Matches (in a waterproof container)
Fire Starter (for emergency survival fire)
Emergency Shelter
Two Itineraries: 1 left with friend + 1 under your car seat
Multi-tool/Knife
Optional Gear:
Backcountry Kitchen
Fuel (propane, gas, etc.)
Dishes/bowls
Eating Utensils
Mug/Cup
Biodegradable Soap
Quick-dry Towel
Collapsible Water Container
Bear Canister/Food Sack/Hang Bag + 50′ nylon cord
Food & Water

Water Bottles &/or Reservoir
Water Filter/Purifier or Chemical Treatment
Meals (see Backpacking Food Ideas)
Energy Food & Drinks (bars, gels, etc.)
Extra Day's Supply of Food
Clothing & Footwear
Moisture-wicking T-shirt
Quick-drying Pants/Shorts
Long-sleeve Shirt
Lightweight Fleece or Jacket
Hiking Boots or Suitable Shoes
Socks (synthetic or wool)
Extra Day's Clothes
Weather-dependent Options

Rainwear (jacket, pants, etc.)
Long Underwear
Warm, Insulated Jacket or Vest
Fleece Pants
Warm Hat
Personal Items
Health & Hygiene

Hand Sanitizer
Toothbrush & Toothpaste
Sanitation Towels
Toilet Paper/Wipes & Waste Baggies
Menstrual Products (if needed)
Prescription Medications
Prescription Glasses (if needed)

Sun Protection

Sunglasses (+ sunglass straps)
Sunscreen
SPF-rated Lip Balm
Sun Hat
Some Extras
Daypack (for day trips away from camp)
Camera (with extra memory cards)
Interpretive Field Guide(s)
Star Chart/Night-sky Identifier
Outdoor Journal with Pen/Pencil
Book/Reading Materials
Cards/Games
Downloadable & Printable Checklist
Tips & Hacks For An Overnight Backpacking Trip
What NOT To Bring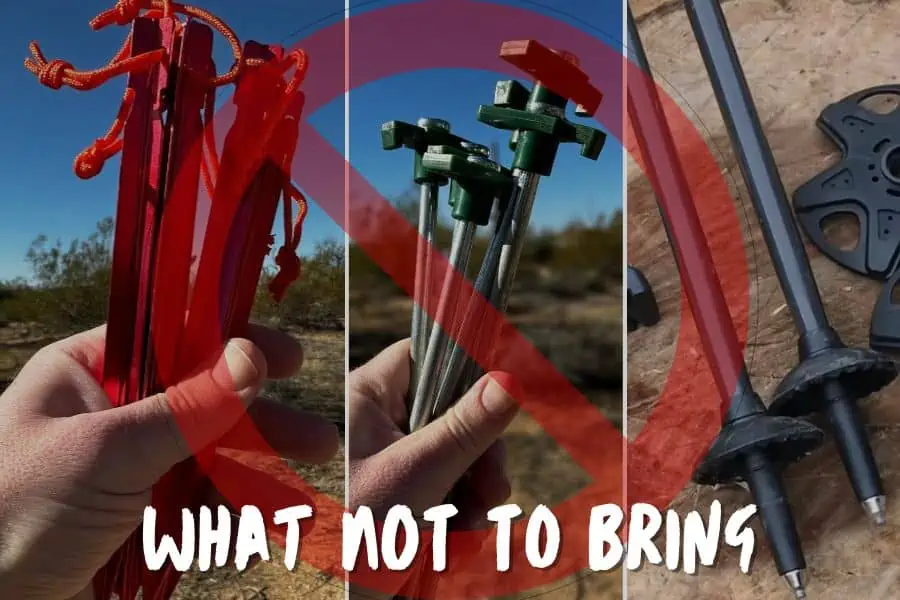 There are certain items that you should avoid bringing while backpacking.
For trips requiring air travel before the hike begins, remember that things like bear spray, camp stove fuel, and strike-anywhere matches are prohibited from all planes.
Knives, tent poles, tent stakes, and trekking poles are also prohibited in carry-on bags and must be checked in.
Regarding backpacking gear, you should avoid carrying unnecessary weight by packing only essential items.
If you aren't going to NEED it, don't bring it.
Try not to bring bulky items that take up too much space in your backpack.
You don't need to bring the extra-large cushy pillow from your bed.
Read: How Much Weight Should You Carry Backpacking?
Invest In Good Gear
Invest in a good-quality backpack. It should be comfortable, durable, and the right size for your needs.
Lower-quality backpacks that don't fit correctly will only make your trip and packing for it miserable.
You should also take the time to research and get the right sleeping bag, tent, clothing, etc.
Good quality gear generally lasts longer, and the more time you spend doing your research, the better the chance you'll find the perfect gear for your needs specifically.
Plan Ahead
Another tip is to plan your route and trip ahead of time.
This will help you estimate how much time you will need between stopping and how many days you will ultimately be on the trail.
Planning ahead like this may seem like overkill, but that will ultimately help you accurately determine how much water and food you will need to carry.
If you don't plan accordingly or accurately, you could risk carrying a lot of unnecessary resources or worse: not carrying enough.
Be Safe, Not Sorry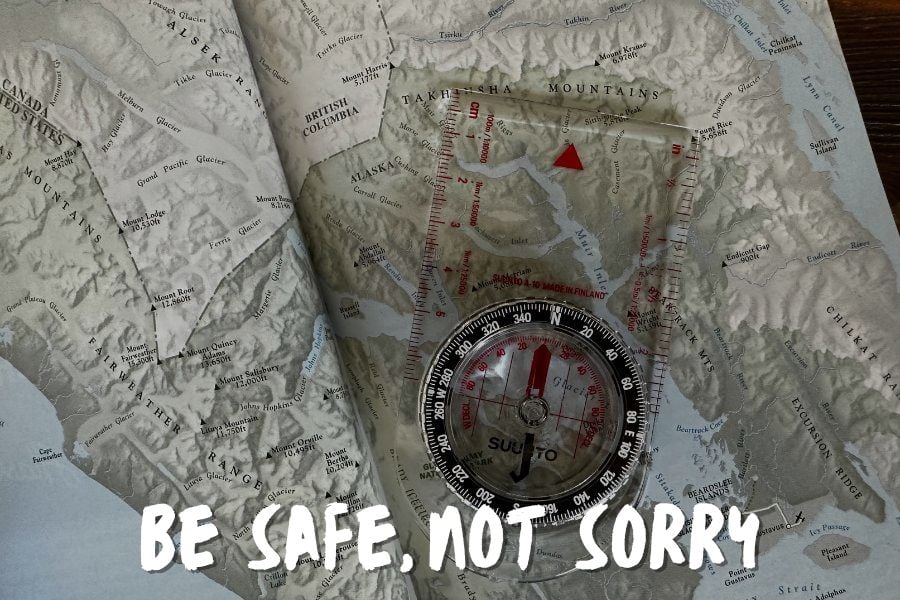 Lastly, always make sure you have a map and a compass – and that you know how to use them (and for that matter how to navigate without them).
It is also wise to let someone know where you are going and when you plan to return.
That way, they know where and when to go looking for your should the worst-case-scenario happen.
Read: How To Use A Compass (The ULTIMATE Guide)
Overnight Backpacking Meal Plan
Now, let's talk about food. When planning your meals, consider the weight and shelf-life of the food you are bringing.
Dehydrated meals are popular because they are lightweight and easy to prepare.
I recommend packing some nuts, trail mix, and energy bars for snacks.
Here is a sample meal plan for an overnight backpacking trip:
Breakfast: oatmeal with nuts & dried fruit
Snack 1: energy bar
Lunch: peanut butter sandwich
Snack 2: trail mix
Dinner: dehydrated pasta with vegetables & cheese
Dessert: hot chocolate & marshmallows
Read: Backpacking Food Ideas for Optimal Nutrition and Taste (A Comprehensive Guide)
FAQs
How Big Of A Backpack Do I Need For An Overnight Backpacking Trip?
The size of your backpack will depend on how much gear and food you need to carry.
A 30 to 40-liter backpack is usually sufficient for an overnight trip.
However, test the backpack before your trip to ensure it fits well and is comfortable.
When it comes to packing your backpack, make sure to distribute the weight evenly.
Pack the heaviest items close to your back and lighter items towards the outside.
Keep items you may need during the day, such as a map or rain gear, in an easily accessible pocket.
How Much Water Do I Need For An Overnight Backpacking Trip?
Water is essential for any outdoor adventure. Usually, you would need to drink at least two liters of water daily.
However, this amount must be increased when doing substantial exercise such as hiking.
If the weather is warm, you will need even more.
Try to account for half a liter of water for every hour of exercise/walking
As I'm sure you can work out, this can add up to a lot of water.
I recommend bringing a water filter or purification tablets to treat any water you collect along the way to reduce the amount of water you have to actually pack.
Also See: How To Purify Water In The Wild – A Survival Guide
What Do I Do At Night When Backpacking?
When backpacking, it's important to have a plan for the night.
You can set up a tent or hammock, build a fire (if allowed), cook your food, and enjoy the beautiful scenery.
If you're camping in a designated campsite, there may be amenities like restrooms, showers, and potable water.
You can also stargaze, read a book, or play games with fellow backpackers.
How Can I Sleep Comfortably While Backpacking?
Choose a good campsite and look for a flat surface to pitch your tent. Avoid areas with rocks, roots, or uneven terrain.
Invest in a good sleeping bag and sleeping pad.
Choose a sleeping bag that is appropriate for the weather conditions and a sleeping pad that provides enough cushioning and insulation.
Do not wear cotton and wear comfortable, loose-fitting clothes that are appropriate for all weather conditions.
Stay warm in colder weather. Make sure you have enough warm layers and a hat on to keep you warm at night.
If you're a light sleeper, I recommend using earplugs to block out potential noise (if you're in a noisy area).
What Is A Good Weight For A Backpacking Pack?
Carrying between 16% to 25% of your body weight while backpacking is recommended.
For comfortable overnight backpacking, carry no more than 20% of your body weight.
However, the weight you choose to carry should also depend on your daily hikes, physical fitness, age, and health.
Finding the weight that works for you is important to avoid discomfort and potential injuries while hiking.
How Do I Do An Overnight Backpacking Trip?
Choose an accessible destination close to home to get used to your kit and carry your equipment.
Furthermore, it is advisable to test any gear you have before venturing further afield; if you're not far from home, you can always go back.
You should also ensure that you have all the essential gear and clothing (listed above).
Start planning your trip by choosing a location and trail that suits your skill level and interests.
Next, research the trail and the surrounding areas.
You can use this research to help you plan stopping points to camp that are near water sources.
Once you've done those things, check the weather forecast and pack your backpack accordingly.
What Are The Dangers Of Overnight Backpacking?
Backpacking can involve some risks, such as getting lost, encountering wild animals or insects, and facing unpredictable weather conditions.
It's important to be prepared for emergencies by carrying first-aid kits, maps, and communication devices.
In addition to physical risks, backpacking can also be mentally challenging, especially if you're hiking alone for an extended period of time.
It's crucial to have a positive mindset, take breaks when needed, and stay hydrated and nourished.
Conclusion
In conclusion, an overnight backpacking trip can be a rewarding and memorable experience.
However, it is important to be prepared and have a checklist to ensure you have everything you need.
With the right gear, a solid plan, and some helpful tips, you can enjoy a safe and enjoyable adventure in the great outdoors.
So, don't leave home without your overnight backpacking checklist!
More on Backpacking