In a hurry? Our favorite Ozark Trail tent is the 12-Person, 3-Room instant cabin tent.
If you've been looking around at tents, you've probably stumbled upon Ozark Trail tents. You might be wondering, is this a good brand, and is it one that I should be considering? The answer is: yes, absolutely!
In this article, I'll review my favorite Ozark Trail tents, to help give you a better idea about what this brand can do for you.
For the sake of organization, I'll review these tents from smallest to largest. Let's get started!
More on how we tested and reviewed Ozark Trail tents here.
Best Ozark Tent: Our Top Choices
Ozark Trail 4-Person Triangle-Style Instant Tent
Type: A-Frame, Instant | Size: 4 person | Seasons: 2-season | Weight: 13 lbs | Inside Height: 52 in | Floor: 8 x 7 ft (56 sq ft) | Setup Time: 1 min
The first camping tent I'll review today is the Ozark Trail 4 person triangle-style instant tent. This basic A frame tent is a straightforward option designed for small groups (2-3 people). It only fits one queen size air mattress, so keep that in mind.
What's great about this one is that its instant tent design makes it easy to set up. There are no complicated steps or confusing curves that make this difficult. Instead, it comes with pre-installed poles, meaning setup takes less than a minute. Wow!
I also like that for a small tent, there's a ton of storage options. This is great for smaller tents that don't have a lot of extra space.
Pros:
The super-simple 30-second set up makes setting up this Ozark tent a cinch
Great storage pockets for a small tent, allowing you to make the most of your sleeping area
Excellent price tag considering the portability, instant-setup, and space
Fits a queen bed and still gives you room for your camping gear
Electrical cord flap (rare for a tent of this size)
Cons:
No porch or vestibule, but does have a little "welcome" mud mat to wipe your feet on
Doesn't come with a rain fly, so not the best choice for heavy rain
Best for: couples, solo campers, or scouts that want an easy-to-use, quick-pitch tent.
Ozark Trail 22-Piece Camping Tent Combo

Type: Dome | Size: 4 person | Seasons: 3-season | Weight: 7.6 lbs | Inside Height: 52″ in | Floor: 9 x 7 ft (63 sq ft) | Setup Time: 10 minutes
This right here is the perfect tent for beginner campers.
Not only is it the perfect tent, but it includes the 4-person dome tent, 2 sleeping bags, 2 pillows, 2 foam sleeping pads, 2 chairs, 2 dry bags, 1 lantern and 1 carry-all bag.
Sure, the chairs are a bit small, and the pillows are tiny camping pillows, but this deal is a steal for those without any gear.
Not only that, but the dome tent will keep you safe from the elements better than any cabin tent out there.
Pros:
Comes with not only a 63 sq ft tent, but 22 total items including 2 sleeping bags, 2 foam pads, 2 chairs and a lantern
With a 52″ height you wont be able to stand, but you'll still have pretty decent headroom in the center of the tent
Dome style tent will hold up strong to rain and wind
It will only take 5-10 minutes to pitch this tent.
Cons:
Not all items are the highest quality
Best for: Beginners who don't have any gear.
Ozark Trail 6-Person Dark Rest Instant Cabin Tent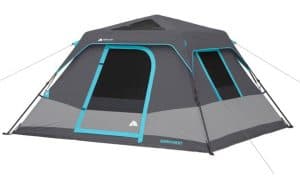 Type: Cabin, Instant | Size: 6 person | Seasons: 3-season | Weight: 16.81 lbs | Inside Height: 68 in | Floor: 10 x 9 ft (90 sq ft) | Setup Time: 1 min
To compete with the hugely popular Coleman Dark Room Tent, Ozark Trail has created their own proprietary Dark Rest technology.
This is perfect for campers who don't want to be woken up to the sun's rays at 5 in the morning on a nice camping trip.
Weighing only 16.81 lbs it is one of the lighter tents on this list, but will be one of the easiest to setup in just one minute.
Though it is a Cabin style tent, the slanted walls will give it more wind resistance than a typical cabin tent.
Pros:
Dark Rest technology will give you more time to sleep in
68 inside height gives you plenty of headroom compared to dome style tents
Plenty of room for queen air mattresses and gear thanks to the 10′ x 9′ frame
Instantly setups in 1 minute
Cons:
This tent is difficult to fit back into the bag after using
Best for: Campers who want to sleep in a bit.
Ozark Trail 8-Person Instant Cabin Tent with LED Lighted Poles and Bluetooth Speaker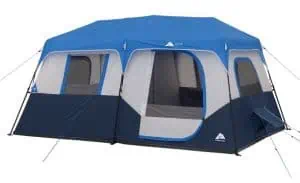 Type: Cabin, Instant, 2-room | Size: 8 person | Seasons: 3-season | Weight: 35 lbs | Inside Height: 72 in | Floor: 13 x 9 ft (117 sq ft) | Setup Time: 2 mins
Ozark Trail makes some of the best instant tents around, and certainly one of the most affordable.
This tent is not only an instant tent, but a 2-room tent that includes LED lighted poles and a bluetooth speaker.
Oozing features, this tent is not lacking in size and space. You can easily fit a small family in here with two queen air mattresses and room for your gear too.
And if this tent is too large, it also comes in a 6-person and 4-person version as well.
Pros:
Built in LED lighted pre-attached poles make it one less lantern you need to lug to the campsite
A room divider to create 2-rooms and makes for more privacy
72 inches of inside height means that even the tallest campers will still have some headroom
117 sq ft of room is enough for two queen air mattresses AND your gear
Cons:
As with any cabin tent, not going to withstand to extreme elements
Best for: Small Families or couples looking for a little extra space
Ozark Trail 8-Person Modified Dome Tent, with Rear Window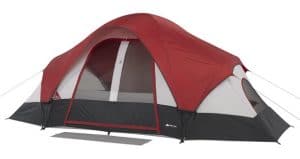 Type: Dome, 2-room | Size: 8 person | Seasons: 3-season | Weight: 17.6 lbs | Inside Height: 74 in | Floor: 16 x 8 (128 sq ft) | Setup Time: 20 minutes
If you are looking for a lighter weight family tent that can hold up better to the elements, then the 8-person modified dome tent will make sense for you.
At 128 sq ft, you'll have more than enough room for two queen air mattresses, plus gear, plus plenty of headroom with an inside height of 74 inches.
But at only 17.6 lbs this is one of the lighter tents that can fit an entire family. Setup may take a bit longer, but that's ok, you'll benefit from the extra space in your car.
Pros:
At only 17.6 lbs this is a lightweight 8 person tent
Withstands strong winds and rain with the dome design
Can fit two queen air mattresses in the 128 sq ft of space
Comes with a room divider to separate this tent into two rooms
Cons:
Users don't rate this as highly as other Ozark Trail tents
Ozark Trail 10-Person, 3-Room Tent
Type: Dome, 3-room | Size: 10 person | Seasons: 3-season | Weight: 27.6 lbs | Inside Height: 78 in | Floor: 20 x 10 ft (177.5 sq ft) | Setup Time: 20 mins
Now we're going to jump into the larger style. Ozark Trail makes tents of all sizes, but we've found larger family camping tents to be their forte.
This 10 person tent is a whopping 20' by 10' and splits into three rooms. It fits three queen size air mattresses inside. You also might be able to squeeze in another twin-sized bed if you want to pack more people in.
It's also got a center height of 7′ and has a T-style door on one side. I love this style of door. Although they're a little harder to use, they allow you to move bigger furniture in and out of the tent easily.
What I particularly like about this family tent is that although it's a large tent, it's more of a dome-style construction. Most of the larger tents are cabin-style, meaning they have walls that are angled straight up.
Cabin-style straight wall tent designs provide more lateral space, sure, but a dome tent is better against the wind. This tent is no exception. The rounded sides make this tent well suited to withstand strong winds.
Pros:
Lots of windows and simple design make this very breathable
Comes with an electrical cord outlet
Even though it's not an instant style tent, it's very easy to set up for its size
Provides a ton of space without the complications of rooms and hallways
Lightweight for a 10 person tent (22 lbs)
Cons:
Zippers aren't the best, there might be issues with wear and tear
Although breathable, this tent doesn't hold heat very well (better for summer vs. winter)
Best for: larger groups that want the size of a cabin tent with the aerodynamics of a dome tent.
Ozark Trail 10-Person Instant Cabin Tent
Type: Cabin, Instant, 2-room | Seasons: 3-season | Weight: 31.86 lbs | Inside Height: 78 in | Floor: 14 x 10 ft (140 sq ft) | Setup Time: 2 min
Ozark Trail makes an affordable quality family tent, and this 10-person instant cabin tent is no different.
With the large welcoming door you enter a huge 14′ x 10′ tent giving you 140 sq ft of living space. But even better, because you just pitched it in 2 minutes flat.
A center height of 78 inches makes this a great choice for taller people, as any good cabin tent should.
The pre-attached poles make this as hassle free and easy to use as anyone can ask for when you've got kids running around screaming.
Pros:
8 windows allowing for premium views from all angles and great ventilation
No assembly is needed – simply use the pre-attached poles and setup in under 2 minutes
140 sq ft of living room with 78 in ceilings make this a great choice for taller people
It's the most affordable tent on this list at $149 as of our last update
Splits into 2-rooms, giving you even more privacy
Cons:
Not going to be the most weather resistant tent on this list
Best for: A budget friendly, family camping tent that goes up quick.
Ozark Trail 11-Person, 3-Room Instant Cabin
Type: Cabin, Instant, 3-room | Size: 11 person | Seasons: 3-season | Weight: 38.37 lbs | Inside Height: 76 in | Floor: 8 x 14 ft + 6 x 8 ft (160 sq ft) | Setup Time: 5 mins
If the previous tent isn't your style, you might be itching for an Ozark Trail cabin tent. Cabin-style tents provide more headspace and allow you and your gang to walk around more.
This 11 person instant cabin tent is an excellent option for those who want a tent that's less like a hallway and more like a big room. The main area is huge, giving you and the family plenty of room to enjoy each other's company.
But, sometimes you want privacy, and this tent offers great room options. The main room has a divider down the middle, and then there's the pop-out room on the backside. This pop-out room is great to use as a kid's play area, a gear storage "garage," or just an adults-only sleeping room.
The design of this tent is a big rectangle, and it only has one door, but I haven't found this setup to be a problem. The front door is a massive T-style door, allowing you to move large gear in and out with ease.
Last but not least, this Ozark Trail camping tent is roomy. It can fit 3 queen air mattresses easily, but still sets up within minutes.
Pros:
Instant-cabin style means this tent sets up in less than 2 minutes – that's great for this size
Pop-out side rooms provide additional space without weighing you down too much
Excellent price for the amount of space & features you get with this tent
The front door is covered by a porch, which gives you a nice area to sit and enjoy the sights & sounds
Like most Ozark Trail tents, it comes with a port to run an electrical cord through
Cons:
Directions are not that straightforward – definitely set this one up in your backyard before trying it in the field
There's only one door, so not optimal if you expect lots of foot traffic
Best for: families or larger groups that want a spacious tent to fit everyone.
Ozark Trail 12-Person, 3-Room Instant Cabin

Type: Cabin, Instant, 3-room | Size: 12 person | Seasons: 3-season | Weight: 55.2 lbs | Inside Height: in | Floor: 8 x 8 ft + 8 x 8 ft + 8 x 8 ft (192 sq ft) | Setup Time: 5 mins
Now's the moment you've been waiting for. My favorite Ozark Trail tent, the 12 person, 3-room instant cabin tent.
What makes this my favorite? Simple – it's a feature-packed tent that provides all the benefits of a large tent while minimizing the negatives.
Let's start with the design.
The interior forms an L-shape. When combined with the porch, the tent's footprint is a square. This allows you to have a huge amount of tent space without taking up too much campground footage.
Onto the interior. You get 256 sq. ft. of space, all split into three distinct, equal-sized rooms, all of which can fit queen-sized air beds.
The best part of this camping tent is that the three rooms make sense. It doesn't feel like they just slapped some room dividers into the tent. Each room is its own distinct area.
You can easily use one room for sleeping, one as a "kitchen," and one as the kids' room. The possibilities are endless!
To put a bow on it, this tent is an instant cabin tent. That means it has pre attached poles, and setup can be completed within minutes.
Pros:
Adjustable ground vents allow you to choose how much airflow you want
Although priced as a premium tent, it still offers great value when compared to other 12 person tents
Excellent rain protection thanks to factory sealed seams
The T-style door allows you to inflate your air mattress outside of the tent before bringing it in
Electrical port, removable fly, and 7 windows add up to make this our top pick
Cons:
This is a heavy tent (61 lbs), so keep that in mind when planning your camping trip
Despite all the space, there are only two doors, making the third room kind of isolated
Best for: families that want an all-around quality tent with tons of space, rooms, and ventilation.
Ozark Trail 14-Person, 4-Room Tent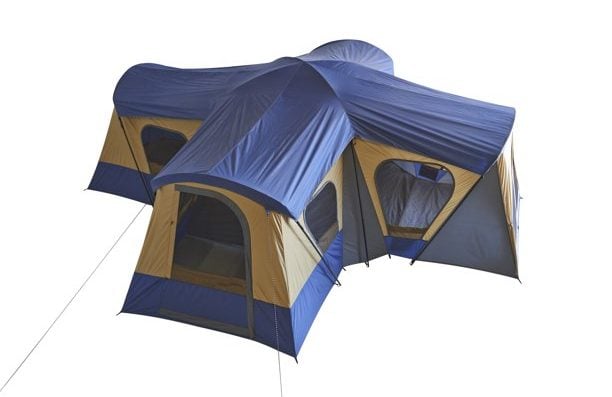 Type: Tunnel, 4-room | Size: 14 person | Seasons: 2 to 3-season | Weight: 47.4 lbs | Inside Height: 78 in | Floor: 20 x 20 ft (235 sq ft) | Setup Time: 20 mins
The final tent I'll review today is Ozark Trail's largest – their 14 person, 4-room tent.
Overall, this tent is a monster. Take a look at the floor plan, it's actually got five rooms if you count the center room. This tent is for groups or families that want to travel with the entire squad, but don't want to have to sleep next to each other.
The four bedrooms allow you and your spouse to have privacy, while also allowing each kid to have their own room. You could even squeeze in a living room or kitchen. Crazy! Check it out:
You might be wondering what's it like to set up this tent. Since it's so big, it's gotta be difficult, right? Not so fast.
Setting up this tent is similar to the tent above. It's not an instant tent, but it's designed for a quick setup. It shouldn't take more than 15 minutes, which is great for this size.
Like the 12 person tent, it also comes with a T-style door, so you can move camping gear and furniture without having to fangle it through a small, D-style door.
This tent is heavy (near 50 lbs), but for all of its size, it's not that bad.
Of course, like every Ozark Trail tent, it comes with electrical ports so you can charge your phones at night.
Pros:
Four rooms plus a center room mean you can have a bedroom, kitchen, living room, whatever you want!
Removable rain fly and mesh roof mean all of your rooms can stargaze, or opt-in for rain protection
Each room has its own entrance, making night time bathroom breaks a quiet affair
Excellent price point considering it's the size of four of five regular tents
Despite the massive size, this tent folds down relatively easily and packs up quickly
Cons:
The color scheme is pretty ugly – this tent won't be winning any beauty contests anytime soon
Despite having four rooms, there's only one lantern hook in the center room – this makes it hard to have light in all the rooms at night
Best for: extra-large groups who need an extra-large tent, and aren't scared to carry a castle to the campground.
What To Look For In An Ozark Trail Tent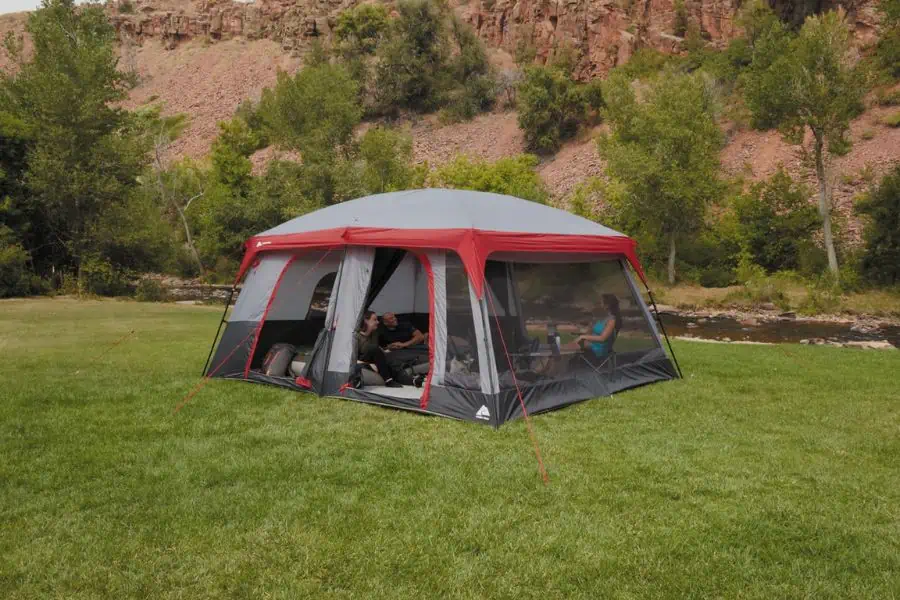 At this point, you can tell that Ozark Trail makes a variety of solid and affordable tents.
But, maybe you're wondering, what makes a great tent brand? In that case, here's your answer.
Space
When shopping for tents, the first thing to consider is size. How many people do you want to go camping with?
Certain brands are tailored towards certain camping styles, depending on how many people you want to bring. Although Ozark Trail offers tents in the two to five-person sizes, their bread & butter are the larger sizes. If you find a brand that specializes in the size you want, you're likely to end up with a great product.
Then, make sure the space is organized in a way that suits you.
As you can see from the larger tents above, they come in all kinds of different arrangements. Tunnel tent, five room, L-shaped, the list goes on and on. Pick what kind of shape you want your tent in, Ozark Trails will have it.
Our favorite, is the biggest, but it also rates well – the Ozark Trail 14-Person, 4-Room Tent
Easy Setup
A super important factor when considering tents is the setup.
I've found that in general, there are some brands that set up easily and some that don't. I don't know why, but some manufacturers just don't seem to have user experience in mind when designing their tents – and you end up with complicated instructions that require a PhD to decipher. We don't want that!
Certain tent brands make easy setup a priority, and Ozark Trail is definitely one of them. Ozark Trail instant tents set up within seconds, and even the regular models won't give you a headache. Our favorite for easy setup is the Ozark Trail 8-Person Instant Cabin Tent with LED Lighted Poles and Bluetooth Speaker.
Weather Protection
Similar to easy setup, some tent brands are just flat-out better at weather protection than others.
Tent brands usually make the same decisions across all their tents. They form the corners the same way and attach everything the same way, too. If they get it right with one tent, it's likely all of their tents have great weather protection.
That's why I like Ozark Trail – their tents provide strong protection against wind, rain and sun across the board. Certainly it's not the best weather protection money can buy, but for summer campers and those will be avoiding bad storms, they will hold up just fine.
For example, many of their tents come with factory sealed seams. This allows you to have great water resistance right out the door without having to seal the seams yourself.
Bang For The Buck
Of course, everyone's favorite topic: money. The tent has to provide good bang for the buck. Meaning, you get every dollar's worth out of what you buy.
You may think that the more expensive a tent is, the better it will be. While this may be true in some cases, the price of a tent isn't always a reflection of its performance.
There are some tent brands that charge an arm and a leg, but still provide a poor camping experience. On the other hand, there are more affordable tents that will go a long, long way for you.
Great news if you're on a budget: I've found Ozark Trail to be in the latter group – a brand that you won't be disappointed in buying.
In fact, the best deal we've seen to date is with the Ozark Trail 22-Piece Camping Tent Combo.

FAQ
What is the best Ozark Trail Tent?
In our opinion, the best Ozark Trail tent is the 8-Person Instant Cabin Tent with LED Lighted Poles and a Bluetooth Speaker.
It has a tremendous amount of features and can easily be set up by one person in just a few minutes.
Are Ozark Trail Tents Good?
For the ultra-low budget price point, Ozark Trails are a solid purchase.
Ozark Trail tents are competitive with CORE and Coleman Tents, but in our opinion ultimately fall a little short of both brands in quality and consistency.
Who makes Ozark Trail camping tents?
Ozark Trail is a Walmart private-label brand. Similar to Costco's Kirkland brand, Ozark Trail tents are Walmart's house-branded tent.
This gives them a competitive advantage to be able to price tents lower than the competition while retaining better profit margins.
Are Ozark Trail tents waterproof?
Like any brand, Ozark Trail tent's waterproof resistance and performance will depend on each tent's design, the tent material, and factory flaws.
We found the best Ozark Trail tent on weather performance is the 4-person Dome that comes in the 22-piece tent combo. This is largely due to the tent's design, as dome tents overall perform better in bad weather than cabin tents.
The Final Verdict
After spending a lot of time with Ozark Trail tents, my final verdict is that they're excellent budget-friendly tents.
They might not be great for winter camping, and they're not rated for hurricane-force rains, but they will give you a great camping experience in fairer weather.
On top of that, all of their tents are affordable, come with an electrical cord port, and set up in minutes.
Compared to competitors like Core and Coleman, Ozark Trail's weather protection isn't as solid.
But, they make up for it in size (their tents are huge) and configuration options (did you see the four-room tent?). Ozark Trail is also a bit more affordable.
My personal favorite Ozark Trail tent is the 12-person, 3-room instant cabin tent. It provides a ton of space in an easy-to-carry package that sets up in minutes AND provides three rooms that give the entire gang loads of space to spread out.
In conclusion, Ozark Trail gets the Wilderness Times stamp of approval.