Want to enjoy the great outdoors without too much hassle?
With car camping, you can pack all your favorite gear, sit in your vehicle and ride away.
But if you're doing it for the first time, you might be wondering what to pack.
Well, you've come to the right place, because I have a list of car camping essentials to share with you so you don't forget about anything important.
So sit back and read on!
Downloadable Car Camping Checklist
What Exactly Is Car Camping?
In simple terms, car camping means driving up to the campsite and unloading your gear.
No need to worry about the weight and size of your car camping gear, as long as it fits in your car. This means you can bring all of the luxuries that will make your camping trip even more comfortable and enjoyable.
Personally, I find it to be a great way for beginners to get into camping.
Backpacking requires some skill. You need to pack only the bare necessities. But when car camping, there's no need to wonder if a specific item is important or not. If there's room, pack it, just in case.
Car Camping Checklist
You don't want to head off to the campsite, only to realize that you forgot an essential item!
Of course some items will change based on your location and time of year, so please adapt accordingly.  And let us know if we missed anything!
Specific Items for Car Camping
Sleeping
Camping Gear
Camp Kitchen
Food & Beverages
Clothing & Footwear
Toiletries
Entertainment
Additional Items
Missing Anything? Let us know!
Printable Car Camping Checklist
Sleeping Gear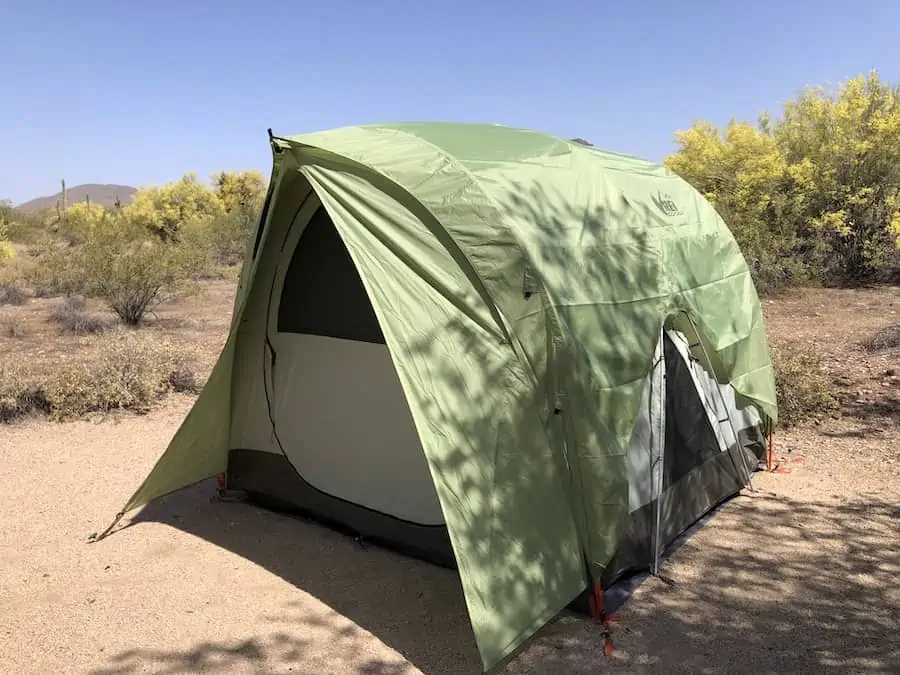 Let's start with the basics.
A good night's sleep is essential, as you need to gather your energy for all the fun outdoor activities tomorrow will bring.
Tents
When car camping, your sleeping options are endless.
Tents come in different shapes and sizes, but what's great is that you're not limited to the ground!
Aside from classic tents, nowadays you can find SUV, rooftop and truck bed tents.
Standard Tents
The basics of car camping are driving up to your location and setting up a tent.
And since you're not carrying all your stuff on your back, it's the perfect time to try out that spacious 4-person tent you've just bought.
SUV Tents
An SUV or hatchback tent can be attached to the back of your SUV with straps and bands. It's basically an extension of the space in your car's trunk.
You can sleep inside the tent, and have instant access to the trunk that's used for storage.
Or, it can be the other way around – sleeping in the trunk and using the tent as a storage and living area.
Rooftop Tents
Rooftop tents are mounted on your car's roof, as the name suggests. You mount them by attaching them to the racks on the roof of your car (check out the Yakima SkyRise Rooftop Tent for a great example) .
Once you're done setting up, you can access the tent with a ladder. This type of tent is great if you want to stay as far away from snakes as you can.
But, to install a rooftop tent, you need some darn strong racks since these bad boys weigh over 100 pounds. And if you have a panoramic sunroof, forget about this option.
Plus, you're losing on rooftop storage space.
Truck Bed Tents
Finally, truck owners have an additional option.
This type of tent sits in the empty bed of a truck, mimicking a ground tent, but raised from the ground.
Sleeping Bags
When it comes to comfort and warmth during the night, a sleeping bag is your best friend.
Outdoors, the difference between the temperature during the day and at night can be huge. So even if you're wearing a tank top during the day, don't be surprised if the nights are chilly.
I'd suggest getting a sleeping bag with a temperature rating at least 15 degrees lower than the temperature you're expecting during your trip.
And since you're car camping, you can always pack an extra blanket, in case it gets really cold in the evening.
If the nights turn out to be rather warm, simply unzip your sleeping bag and use it as a blanket. And you can always use the old hack of sticking one leg out to further cool down.
Cots, Pads And Mattresses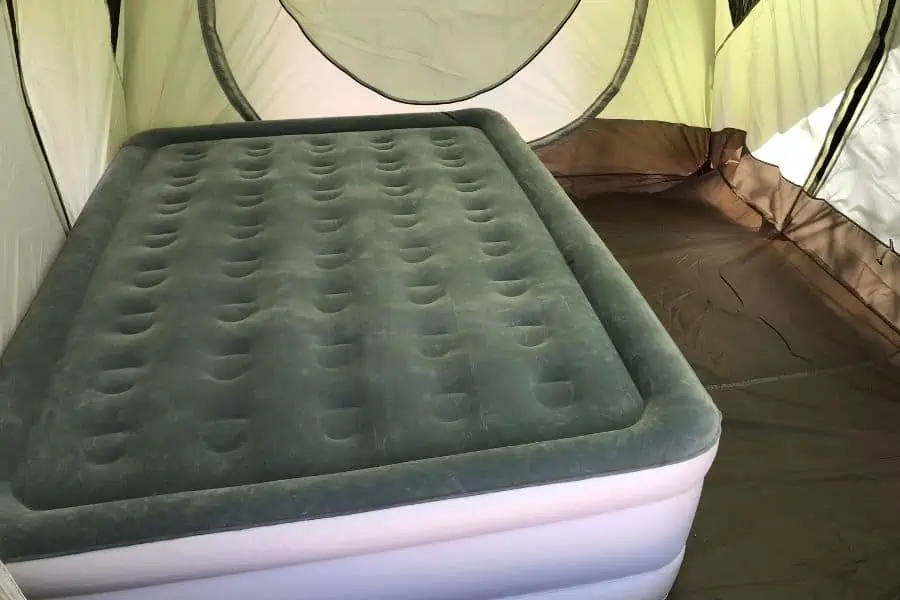 Whether you're sleeping in a car or a tent, you need something to sleep on.
You have three options – a sleeping pad, a cot, or an air mattress.
A cot is ideal if you want to sleep on an elevated surface, away from pesky insects. You can also store stuff underneath it. But it's a bit bulky, and its lack of isolation makes it less ideal for colder weather.
A pad provides good insulation, so it's a better option if you're sleeping in a tent.
On the other hand, an air mattress will work better inside your car. You can even find models specially designed to fit into trunks and back seats.
Air mattresses aren't as good at insulating, but it doesn't matter when you're in a car because you're raised from the ground. Plus, you can close the windows and turn up the heat if needed.
Pillows & Blankets
Since you can afford some extra storage space, there's no reason not to pack the pillow you sleep on at home.
Call me single-minded, but there's no way you can convince me that camp pillows come anywhere close to regular pillows in terms of comfort.
This also goes for blankets. If you can fit them, bring them! You can never be too warm, but you can be too cold.
Other Camp Furniture
Since you have all that storage space, there's no reason not to enjoy your camping trip to the fullest. This especially means staying comfortable.
Here are a few other pieces of camping gear I like packing on my car camping trips.
Camping Chairs
After an active day in nature, you just want to sit around a campfire and chill. And since you're car camping, you can bring your comfy camping chair, too.
They're lightweight and pack down small, taking up very little trunk space.
But the best thing about camping chairs is a cup holder.
You don't have to hold your drink the whole time?
Sign me up!
If you ask me, regular armchairs at home should come with this feature.
Camping Tables
We can't forget about camping tables either.
You'll need a surface to prepare food, eat it or even play cards with your camping buddies.
And you don't have to sacrifice precious storage space to have a large surface area. When folded, camping tables take almost no space in your trunk.
Hammocks
To this day, I still haven't met a person that doesn't like hammocks.
Whether you want to lounge in and enjoy a good book, or watch the starry sky, hammocks are great for such activities.
In fact, if the weather allows it, you can ditch the tent and sleep in a hammock instead.
Camp Kitchen Gear
The best thing about car camping is you can bring everything you need for some tasty camping meals.
Camping Stove And Fuel
Even though you're out in the wild, you can enjoy gourmet food just like you would at home, thanks to a wide range of camping stoves on the market.
For car camping, a two-burner propane camp stove is ideal. The fuel is cheap, and you can buy or refill a propane tank at any gas station.
While gas stoves range from one to multiple burners, a two-burner stove is more than enough for any camping trip. It allows you to set up two different heat zones, so you can cook basically anything.
Cooler
Why resort to granola bars and sandwiches when you can make a fancy meal you'd make at home?
But, to have a steak for dinner, you need to store it properly, or else it will go bad rather quickly.
And not just for food, you'd want a cooler for drinks, too. There's nothing better than a cold glass of juice after a long day of outdoor activities.
There are different cooler options on the market, from soft to hard shell. And since you're traveling with a car, you can also get an electric cooler that can be charged via a cigarette lighter socket.
If you're camping in bear country, you absolutely need a bear-proof cooler. The last thing you need is a grizzly following a food scent that leads straight to your campsite.
Water Storage
Outside of campgrounds, you're not always going to have access to drinking water. That's why you'll need to stock up.
Remember, most men need to drink around a gallon of water per day, and women should be drinking about 0.7 gallons. So do your math, but always pack more, just to be safe.
To store water, get containers that can hold up to 5 gallons or more, and restock whenever you have the chance.
Keeping Your Personal Hygiene In Check
Maintaining your personal hygiene in nature is just as important as in the city.
But, with less resources, it's not as simple.
The personal hygiene items you pack will depend a lot on the amount of water you have. What you pack when you're staying at a developed campground will differ from what you pack when you're going backcountry camping.
Showering
If you're at a campground with shower facilities, you can pack your favorite body wash and shampoo.
But if not, wet wipes can substitute showering for a day or two. For longer trips, you need to get creative.
If you're free camping, a portable shower is a great thing to have. If you add a shower tent to the equation, you can basically enjoy showering as you would at home.
But if you do so, make sure to use a biodegradable soap, since it gets decomposed by organic soil.
Plus, it's versatile. You can use it to wash anything, from your body and hair to dishes and laundry.
One thing to note though: even though it's biodegradable, that doesn't mean it causes absolutely no impact on the environment. You should never pour soapy water into rivers and lakes, as it can cause harm to the ecosystem.
Instead, dig a hole at least 200 feet away from any body of water, and pour that wastewater in.
Also See: How To Stay Clean While Camping & Everything You Need To Know
Toilet Supplies
No bathroom?
No problem.
Pack up toilet paper, zip bags and a trowel. We're going diggin'!
By that, I mean making a cathole for your number two. It should be 6 to 8 inches deep and 4 to 6 inches round.
Once you're done, bury your business.
I can tell you from experience that it is both exhilarating and hard to number two outdoors. But most campsites these days are well equipped and this shouldn't be an issue unless you are going primitive or dispersed camping.
And what about the toilet paper? Well, those ziplock bags are for packing it out. In dry soil it can take a very long time for toilet paper to decompose, even if it's biodegradable.
Bug Spray
Never go into the wilderness without bug spray.
A swarm of insects can easily destroy an otherwise perfect trip.
No one likes being covered in bug bites all over their body, right?
Microfiber Towels
Leave your cotton towels at home.
Not only do they take forever to dry, but they also smell funky when wet.
Microfiber towels are great for camping. They absorb well and dry rather fast. Plus, they take up less space than regular towels.
What About Clothing?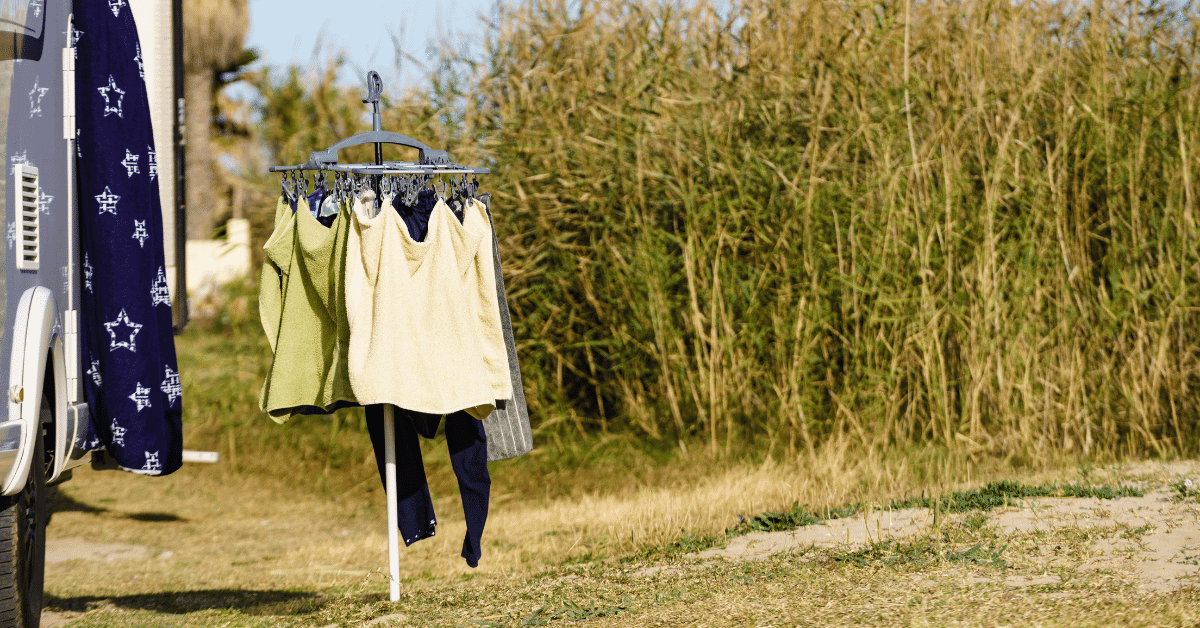 Since storage space is limited, you'll need to plan every outfit carefully.
It's always best to dress in layers, and simply take things off as the temperature rises.
For sleeping, I'd recommend merino wool tops and bottoms. Not only are they comfy, they're warm and breathable. Plus, they're odor resistant, so you can wear them several times without getting smelly.
Merino socks are great, too. I'm sure there's no need to remind you how important it is to have warm feet. You might not need them during the day, but it's good to have them around during the night, in case it gets really cold.
For walks and hikes, you'll need hiking boots, obviously.
But during warmer months, these aren't something you'd want to wear around the campsite. Instead, pack sandals and let your feet breathe.
Tools And Safety Gear
Accidents happen, and when you're out in a remote area, you don't have the luxury of having someone to help you right away.
You need to be well-equipped.
Tools And Repair Kit
One thing you should always have in your car is a tool set.
A hammer, screwdrivers, pliers, ratchets…
These things could prove to be useful around your campsite, but also for fixing your car.
Another thing you'll need is a tire repair kit. No one expects a flat tire, but you need to be prepared to fix it if it happens to you. Since you're in nature, road assistance might be miles and miles away.
Hatchet and Gloves
If there aren't any fire restrictions and you can camp with a fire, then you'll want to bring along a hatchet and some working gloves.
Hatchets work better than axes when camping (and are safer) to chop small logs into kindling and get your fire started.
Working gloves, simply keep your hands safe from splinters, bugs, and any mistakes you might make when using your hatchet.
Camping Shovel
A camping shovel is possibly one of the more important and versatile tools that you can bring to the camping.
For one, it can save you if you get into a bind driving on muddy or snowy forest roads.
Secondly, having a camp shovel helps you to stir your campfire, dig a cathole for number twos, hammering in stakes, and even chopping wood.
You can never have enough tool options when you're camping.
Multi-Tool
One tool to rule them all!
From cutting paracords to opening beer, you can use it in countless ways.
I've even seen one with a built-in compass!
They can fit in any pocket, so you can always have one close at hand.
Duct Tape
Just like at home, duct tape is a temporary fix while you're out in the open too.
Ripped tent, camping chair or a sleeping bag?
Just tear off a piece and cover the rip. It will hold until you get home and are able to fix it properly.
First Aid Kit
Sometimes, even the tiniest cuts won't stop bleeding, which is pretty annoying.
And when you're out in the open, there are plenty of ways you can get hurt.
Considering that the nearest hospital is probably quite a few miles away, you absolutely need to have a first aid kit with you.
Extra Outdoor Gear That Will Come In Handy
Wait!
We're not quite done yet.
We've covered almost everything, but there are just a few more things you might want to pack when going car camping.
Lanterns
Once the sun goes down and the fire goes out, you'll find yourself in the need of some lanterns.
They are especially useful for lighting your tent up to change and get ready for the night, as well as reading or playing games before going to sleep.
Don't leave without them!
LED Headlamp
Sure, a headlamp might make you look like a miner, but practicality comes before looks when you're out in the wilderness.
Whether you're answering nature's call or searching for things at night, it's always great to have both hands free.
Roof Rack
More storage?
Where do I sign?
If you don't plan on using a rooftop tent, you can use the racks on your car to bring some more camping equipment with you.
Like that kayak that's been sitting in your garage for a while.
Portable Chargers
We might not touch our phones while enjoying the great outdoors, but it's always good to have them charged, at least in case of an emergency.
Since phone batteries don't last that long, you should get a portable charger.
These are useful not only for charging phones, but laptops, fans, cameras… You name it.
And the best thing is you can charge them in your car outlet while you're driving from one campsite to another.
Bear Spray
If you're out in bear country, having some bear spray on hand is an absolute must.
Without it, there's not much you can do to shoo a bear away in case of a close encounter. It's just too risky going without it.
Also See: Bear Necessities: The Ultimate Guide to Camping in Bear Country
Wrapping It Up
Camping takes a little bit of organization, but with these car camping essentials in mind, packing for your trip shouldn't be hard.
The best thing about car camping is that, after you pack all the essentials, you can use leftover space for packing all the fun stuff!
Bring your photography kit, a badminton set or a movie projector, and enjoy the car camping trip with your friends to the fullest.
More Camping Checklists