Camping off the grid?
Fun! But have you thought about waste disposal?
Carrying around trash bags isn't practical. They can leak and rip, causing a mess. Instead, consider a camping trash can.
Luckily, there's no need for an in-depth online research, as we've already reviewed and tested them all.
In this article, I'll share with you everything there is to know about collapsible trash cans for camping.
Let's dive right in, here are the best trash cans for camping today…
Best Collapsible Trash Can for Car Camping:
Best Collapsible Trash Can for Backpacking:
Best Camping Trash Cans
Coghlan's Pop-Up Recycle Bin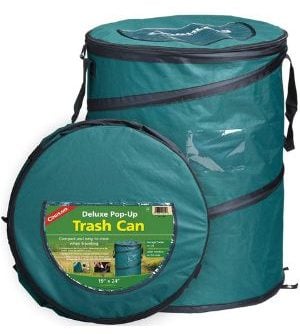 Capacity (Liters): 111 | Dimensions: 19 x 24 in | Weight: 1.8 lbs
A portable trash can should be a staple in camping gear, but it shouldn't cost as much as your sleeping bag, for instance.
Well, you'd be happy to hear this model by Coghlan is quite affordable – yet also durable.
With two sizes to choose from, 14 and 29.5 gallons, you can find a trash can suitable for your camping group size.
Additionally, there's the Deluxe model that features additional material reinforcement for extra durability.
It also comes with handles that make it easier for you to move the can around.
Designed as a pop-up bin, this product takes no more than three seconds to be set up.
Thanks to the sturdy steel coil frame, it stays in place and won't sag even when filled to the brim.
And with a zippered lid, your trash won't get blown out of the trash can by the wind.
This trash can is made of polyethylene plastic, a material that makes it heavy-duty but also extremely lightweight.
But it also features grommets around the bottom edge that allow you to stake the bin to the ground. This will keep it in place even while empty.
Pros:
Features a zippered lid that prevents trash from being blown away
In wind, you can secure the trash can in place by staking it through the grommets on the bottom
Two sizes to choose from
A sturdy steel coil frame keeps the bin from sagging when filled
Cons:
Can't be zipped when used with a trash bag
Best for: Campers on a budget
Sea to Summit Trash Dry Sack
Capacity (Liters): 10 | Dimensions: 16 x 24 in | Weight: 3.5 oz
This trash sack by Sea to Summit wins a well-deserved first spot on this list, for several reasons: it's lightweight, durable, easy to clean as well as easy to transport.
And, most importantly, it doesn't cost an arm and a leg.
Made of nylon and coated with polyurethane, this trash sack is completely waterproof.
Not only any spilled liquid inside can leak through, but you can also keep it in the rain without getting it soaked.
The material choice also makes this bag rather lightweight. At the same time, it allows it to take quite a bit of beating.
My favorite thing about this sack is the closure. It features not only a zipper but also a buckle, and you actually roll the top before securing it.
Closed this way, you basically can have a whole sack filled with liquid, and nothing would come out of it.
The design makes this trash sack ideal for long-distance trips.
It features daisy chains on both sides, which allow you to securely attach the sack to your backpack, bike, kayak, etc.
As for the loop at the top, this is where you can put the rope through to hang your trash from a branch.
Pros:
The lightweight design makes this bag great for backpacking
Daisy chains along the sides allow you to attach the sack onto your gear or vehicle
Hypalon roll-top closure and PU coating make this trash sack leakproof
Can be lined with a regular trash bag for easier cleaning
Cons:
With a volume of only 2.6 gallons, this sack can't hold too much trash
Best for: campers traveling with bikes, kayaks, canoes, etc.
Stansport Collapsible Trash Can
Capacity (Liters): 111 | Dimensions: 19 x 24 in | Weight: 2 lbs
When camping with your family or a group of friends, there's surely going to be a lot of waste.
And instead of bringing a bunch of small trash cans, you can just get one that's large enough for your group, yet lightweight and compact, like this one by Stansport.
This trash can is made of polyethylene, the same material used for anything from containers and pipes to toys and appliances.
This is surely a good enough indicator that this product can take quite a bit of wear and tear. What's more, it can easily withstand harsh weather elements.
PE is a waterproof material, so you don't have to worry about anything spilling out of the trash can.
At the same time, this means you can also use it to store wet and dirty gear when packing back home.
The spring steel construction allows you to pack the trash can down to just three inches, making it easy to fit between your gear.
And when you need it, you can just pop it open in a second. The spring allows it to remain the shape whether it's filled or not.
Pros:
Made with polyethylene, which is a lightweight but quite durable material
With a volume of 33 gallons, this bin is capable of holding days' worth of trash
The zippered closure prevents your trash from being blown away
Spring design allows you to compress the bin down to just three inches for easier storage
Cons:
The handles don't have the padding, so carrying a full trash can around can be harsh on your hands
Best for: families and larger camping groups.
Kelty Litter G'tter Trash Can
Capacity (Liters): 30 | Dimensions: 23.5 x 19 x 7 in | Weight: 7 oz
If your trash can rips as soon as it's halfway filled with garbage, then it's good for nothing. But with the Litter G'tter by Kelty, there's no way that can happen.
Made with 600D polyester, this trash bin can take quite a bit of wear and tear.
And thanks to the 1000 mm polyurethane backing, the material is also rather easy to clean.
Basically, you can rinse it with water, then leave it to air dry.
The trash can is also treated with DWR coating, which prevents it from getting soaked.
Instead of seeping through, water drops simply bead up on the surface and slide off.
The roll-up closure does a great job at keeping the trash can content inside.
It features both a zipper and a buckle and it requires twisting, so not even liquid can get out.
Buckling up also creates a handle which makes it easier for you to carry the trash.
With a volume of 8 gallons, the trash can should be emptied relatively often.
This makes it more suitable for solo campers and pairs than families. But since it weighs only 7 ounces, this model is great for backpacking.
Pros:
The PU coating makes the trash can water-repellent and easy to clean
Roll-up closure and taped seams prevent the content from getting spilled
With 7 ounces of weight, this trash can is great for backpacking
Can withstand harsh weather conditions
Cons:
Not suitable for larger groups
Best for: camping in bad weather.
Sea to Summit Folding Bucket – 10 Liters
Capacity (Liters): 10 | Dimensions: 4.25 x 4.25 x 1.5 in | Weight: 2.8 oz
If you're solo camping, you probably won't have too much garbage to carry around.
And instead of dragging an unnecessarily huge trash can with you, this Sea to Summit folding bucket allows you to pack everything and carry it on your shoulder.
This product is designed to be multifunctional. Aside from holding trash, you can also use it to grab water from a local source and bring it back to the campsite.
The bucket is made of BPA- and PVC-free, food-grade nylon, with an additional layer of waterproof coat.
The bottom of the bucket is additionally reinforced to resist abrasion from harsh surfaces.
This also allows you to place a filled bucket onto a flat surface without getting tipped over.
This bucket has a rather smart design. A long dual-welded handle allows you to carry it on the shoulder.
Then, there's a grab handle on the bottom of the bag that helps you pour water without spilling.
With a weight of just 2.8 ounces, this is arguably one of the lightest camping trash cans you can find on the market.
When not needed, it fits into a small little pouch that can fit into your backpack pocket.
Pros:
Lightweight and compact, this trash can is suitable for backpacking
Can be used for carrying water as well
A reinforced bottom provides a stable base on flat surfaces
Features a shoulder handle for easier transport
Cons:
With a volume of just 2.6 gallons, it's not suitable for larger groups
Doesn't have a lid
Best for: solo campers and backpackers.
Kelty Trash Pak
Capacity (Liters): 85 | Dimensions: 20 x 21 x 14 in | Weight: 3.25 lbs
If you're car camping, there's no need to keep your garbage inside the truck and enjoy the smell during the entire ride to the first trash dump.
Instead, attach a trash pack, like this model by Kelty, to your truck door or spare tire.
With 22 gallons of volume, this trash pack is capable of collecting a weekend's worth of garbage.
It features a semi-universal mounting system with 6 steel accessory hooks, which allows you to attach it to the trunk, van doors, spare tire, etc.
Thanks to the foam-padded back, there's no way the trash pack can scratch your vehicle.
The trash pack is made of 600D polyester, the same material used for making backpacks and camping chairs.
This type of polyester is water and UV-resistant, so you don't have to worry about leaving it exposed to weather elements.
The trash pack features three front pockets where you can keep extra bags and other stuff.
Inside the pack, there are three loops to hang waste bags onto to keep them in place.
The interior is additionally protected with a layer of vinyl coating, which is easy to clean in the case of spillage.
Pros:
Can be attached to the back side of your vehicle
Durable enough to withstand weather elements
Features three front pockets for additional storage
Vinyl coating makes the interior sturdy enough for carrying firewood as well
Cons:
With a weight of over 3 pounds, this model is not suitable for backpacking
Best for: campers traveling with cars or RVs.
Fiskars 30 Gallon HardShell Bottom Kangaroo Garden Bag
Capacity (Liters): 113 | Dimensions: 2.5 x 23.5 x 23.0 | Weight: 4.6 lbs
Sometimes, the largest "trash" around the camp is those twigs and leaves laying around that can damage your tent.
In that case, a sturdy trash bag like this one by Fiskars can be quite handy.
Made from tear and mildew-resistant polyester, this trash bag is designed to perform well out in the wilderness.
Be it summer or winter, you can rest assured that weather elements can't damage it.
What's more, you don't have to worry about twigs and branches piercing it through either.
Thanks to the vinyl coating on the inside walls, you don't have to worry about anything spilling around the campsite.
Once you take the trash out, you can easily clean the bin with nothing more than a wet wipe.
The bin packs down to the thickness of just three inches when not in use. And thanks to the spring design, it pops up open in a second.
The bottom of the trash can is additionally reinforced, making it stable even when full. The two sturdy handles allow you to easily move the bin around the campsite.
Pros:
The hard-shelled bottom makes the trash bin stable regardless of the amount of garbage inside
Sturdy enough to be used for collecting twigs and branches
Packs down compactly for easy storage
The water-repellent coating prevents anything from spilling outside
Cons:
Doesn't have a lid, allowing the wind to blow out the trash
Best for: a variety of uses, including collecting firewood.
Collapsible Trash Cans for Camping – Compared
Considerations Before Choosing a Camping Trash Can
Before you make your pick, you need to know exactly what you're looking for. Here are all the things you need to take into consideration before choosing the model.
Portability
Are you going backpacking, car camping or maybe thru-hiking? The choice of a trash can depends a lot on the type of your camping trip.
If you plan on walking long distances with just a backpack, you don't want to carry around a heavy bin with bulky packaging.
As you've seen from the list, camping trash cans come in all sizes and shapes.
If storage space is not the issue, you can go with any model you want.
But if you need to stay light, choose a model made of durable yet lightweight material that packs compactly.
Size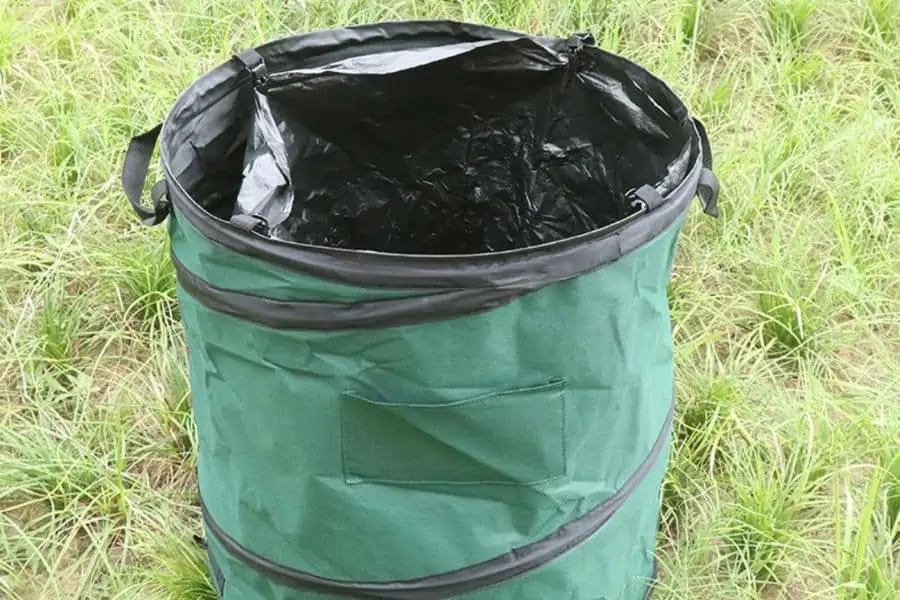 Logically, the more people your group has, the larger your trash production will be. The same goes for the length of your stay.
When choosing the size of the trash bin, you need to take both factors into consideration.
Most camping trash bins on the market have a volume between 2 and 30 gallons.
Durability
A camping trash can should be able to withstand the weight of the garbage. If it rips as soon as you grab it by the handle, the bin is as good as the trash inside, no?
Pay attention to the material used for making a trash bin. Nylon and polyester are both strong materials, with decent puncture resistance.
Of course, the thicker the material, the better it holds.
A reinforced bin bottom is also a good feature to have.
This not only assures the trash can doesn't rip when pushed by the weight of the trash, but it allows it to stand straight when placed on the ground.
Ease of Cleaning
Since it's a trash can, it's obviously going to get dirty at some point.
And no matter how meticulously you try to keep it tidy, something will eventually leak through.
When that happens, you want to be able to clean it up without much hassle.
Look for models made of sturdy water-repellent materials like vinyl or nylon, which can be easily wiped down with a paper towel or damp cloth.
Made From Eco-Friendly Materials
If you want to lessen your environmental impact, consider getting a trash can made from eco-friendly materials.
Today, most models are made with different types of plastic, as it's lightweight, durable and easy to clean.
If you go with a plastic trash can, make sure it's free of BPA and other substances harmful to nature.
When choosing, take into consideration the recyclability of the material used. Nylon, polyester and thermoplastic composites are pretty easy to recycle.
Price
You can find collapsible trash cans at any price range. Personally, find it a bit ridiculous to spend too much on something you'll use for storing trash.
And not just that, but you'll only use it periodically. For a good amount of time, it will remain stored with the rest of your camping gear.
While paying a lot for a camping trash can doesn't make much sense, neither does choosing the most affordable option available.
In this case, you get what you pay for, and the product with a price tag of a few bucks will probably rip before you utter "collapsible trash can."
Benefits of Using a Pop Up Trash Can
What's so special about using a pop-up trash can? Its benefits are pretty obvious:
It's freestanding, compared to a trash can that has to be hanged
Comes in different sizes, so you can choose the one that's suitable for your camping group
Doesn't have to cost an arm and a leg
Can be packed compactly and stored without taking up too much space
Drawbacks of Using a Pop Up Trash Can
Of course, not everything's coming up roses. A pop-up trash can has its drawbacks as well:
Most of them aren't sturdy enough to remain standing in high winds without additional reinforcement
No matter how sturdy the trash can might be, the bottom will wear down quickly if you drag it across the ground
You can't use it for food waste, as it may attract wildlife
Ways to Reduce Camping Trash
Of course, just because you have a trash can doesn't mean you have to always fill it up to the brim.
There are a few tricks you can implement to lower the amount of waste you create.
Use Reusable Bottles
When camping, you might be far away from a safe-to-drink water source. This means you'll have to pack enough water for the entire trip.
But instead of buying water bottles in the required amount, consider using reusable bottles instead.
Of course, this might not be possible if you're backpacking, as these bottles are usually made of heavier materials.
Avoid Using Disposable Camp Utensils
There's no real reason why you should ever use disposable utensils.
Nowadays, you can find camp utensils made with extremely lightweight materials, but they'll also last you a very long time.
Instead of Paper Towel, Use Reusable Rags
Paper towels account for a good amount of camping waste. Consider bringing reusable rags that you can even wash right there on the campsite.
For that, bring a small bowl that you'll fill with water and a bit of biodegradable detergent.
Soak the rags for a bit, then scrub them with your hands before rinsing them with fresh water. For best results, always boil water before soaking in the rags.
Prepare a Meal Plan
Plan your meals ahead, prior to leaving home for your trip. Once you know exactly what you'll be eating, you know what ingredients to bring.
Plus, you can chop your veggies and marinade your meat a day earlier to prevent creating a mess at a campsite.
Organize Your Trash
Consider bringing an additional trash can or keep one trash bag designated for recycling.
Did you know that only about 30% of waste actually gets recycled? So why not reduce your trash and give your modest contribution to the environment by keeping it separated?
Some campgrounds have designated recycling bins, but if there aren't any at your location, you can always pack the trash up to drop at the recycling facility yourself.
FAQs
Should I bring a trash can for my camping trip?
While most campgrounds have garbage bins, it's always better to have one at your campsite as well, where it's close at hand.
A trash can is also handy because it's freestanding, while a trash bag has to be hung.
Furthermore, a quality trash bin keeps your garbage safe from spillage as well as weather elements.
How does a pop up trash can work?
A pop up trash can features a spring skeleton that packs down to almost flat. But once you open it up, it stays expanded.
How do you clean a collapsible trash can?
Most collapsible trash cans are coated on the inside with either vinyl or similar plastic coating.
This makes it easy to clean, with just a wet wipe or damp cloth.
How do you keep trash away from bears?
You should always make sure no food scraps end up in your trash can, as it will attract bears.
These animals have a very strong sense of smell – about 2100 times better than ours.
You should also keep the trash can away from the tent, in case the unwanted visitor does come.
To Sum Things Up
A pop up trash can is a great tool for keeping your campsite clean and tidy. Just pop it open and empty it out once you reach the garbage disposal site.
Then, you can easily clean it with a paper towel or wet wipe.
In our opinion, the Sea to Summit Trash Dry Sack is one of the best models on the market.
It's light enough to carry around yet durable to withstand wear and tear. Thanks to the PU coating, no liquid can get in or out of the sack.