If you're in a rush, get yourself the Adler German Axes Rheinland Hatchet.
Hatchets are sort of like a Swiss army knife – at quick glance, a simple tool. But under close inspection, an invaluable companion for outdoor enthusiasts. Your trusty hatchet can be used to cut firewood, drive tent stakes, or even dig holes if needed.
Most campers should bring a hatchet with them, but how do you decide which one is right for you? Today I'll give you several excellent options of every shape & size.
Best Hatchet: Our Top 9 Recommendations
Adler German Axes Rheinland Hatchet
If you're looking for the craftsmanship and quality that comes from a company that's been in the business for generations, look no further. This fine little hatchet is made in Germany by the Adler factory, which was founded all the way back in 1919.
A really cool fact about the Adler factory is that it runs on energy generated by the wood waste from production. You've got to hand it to the Germans, they sure do an outstanding job when it comes to sustainability.
Weighing in at just under 2 lbs., this little hatchet is light enough to take with you anywhere you go. Whether you're car camping or backpacking, it's got you covered.
It also comes with a cotton storage bag and a heavy duty leather sheath, so you can store it away safely when you're not using it.
Now, the blade is pretty sharp, but not quite sharp enough for carving and shaving. So, if that's what you intend to use it for, you're going to need to sharpen it additionally. You can read more about how to do that below in our FAQ section.
Pros:
Ergonomic hickory handle with anti-slip paint
German Rheinland curved blade
Lightweight – weighs just under 2 lbs.
Cotton storage bag and heavy duty leather sheath
Made in Germany – so you know it's a premium quality product
Cons:
Factory edge not the sharpest
Best for: campers and backpackers looking for a reliable, lightweight hatchet.
Fiskars Norden N12 19″ Axe with Sheath
This beauty right here is a modern take on traditional Nordic axe-making.
It features a 19" long hickory wood shaft, and a carbon steel blade that's perfect for splitting logs up to 8" in diameter.
It comes with a sheath – made of recycled Italian leather – for protection when it's not in use.
The fact that this axe comes with a full lifetime warranty is a reflection of its impeccable quality and reliability. The Fiskars Norden N12 is a shining example of the kind of quality Scandinavian countries are famous for.
It's far from the cheapest axe out there, but it's definitely not the most expensive one either. All in all, it'll give you an excellent bang for your buck.
Pros:
Recycled Italian leather sheath
Splits logs with a diameter of up to 8"
Long hickory wood shaft
Scandinavian quality – made in Finland
Full lifetime warranty
Cons:
Best for: campers looking for a proper splitting axe to chop larger wood logs.
Hults Bruk Kisa Axe
When it comes to splitting axes, the Kisa axe from Hults Bruk is the crème de la crème.
Hults Bruk have been mastering the craft of axe making for generations, and you can clearly see that when looking at this axe.
The axe head is hand-forged in a foundry in Sweden that's been operating since 1697.
It's got a 26" long curved hickory wood handle and the blade has a tempered zone, which holds a terrifyingly sharp edge, even after it's been sharpened many times.
It comes with its own storage box and a traditional leather sheath, which features Swedish decorative embellishments.
Best of all, it weighs less than 3 lbs., so it's light enough to pack on any car camping trip you go on.
Of course, it has a price tag to match, so it might not be within everyone's price range. But, for those who can afford it, it's a premium quality tool.
Pros:
Long, curved hickory wood handle
Comes with a storage box and traditional leather sheath
Hand forged axe head
Tempered zone holds a very sharp edge
Lightweight for its size
Cons:
More expensive than most of the other axes on this list
Best for: campers who don't mind paying a little bit extra for a top quality axe.
Moosejaw x Motor City Axe Collab Hatchet
This hatchet goes to prove that the saying is true – two heads are always better than one. It's a genius collaboration between two brilliant brands, Moosejaw and Motor City Axe.
Many of the steps in the process of making this hatchet are done by hand, which means you end up with a premium quality product.
The forged steel head is sharpened by hand, the American hickory wood handle is painted by hand, and the protective leather sheath it comes with is also hand crafted.
The hatchet's handle is coated in boiled linseed oil, giving it a stunning finish and ensuring you don't end up with any splinters.
It's made right here in the US, and although it might cost a pretty penny, it's a top quality axe that is sure to withstand the test of time.
Pros:
Hand sharpened forged steel head
Hand painted hickory wood handle
Hand crafted leather sheath
Boiled linseed oil head coating
Made in the USA
Cons:
Definitely on the higher end of the price scale
Slightly heavier than some of the other hatchets on this list
Best for: campers with a higher budget looking for a premium quality hatchet.
Gerber Pack Hatchet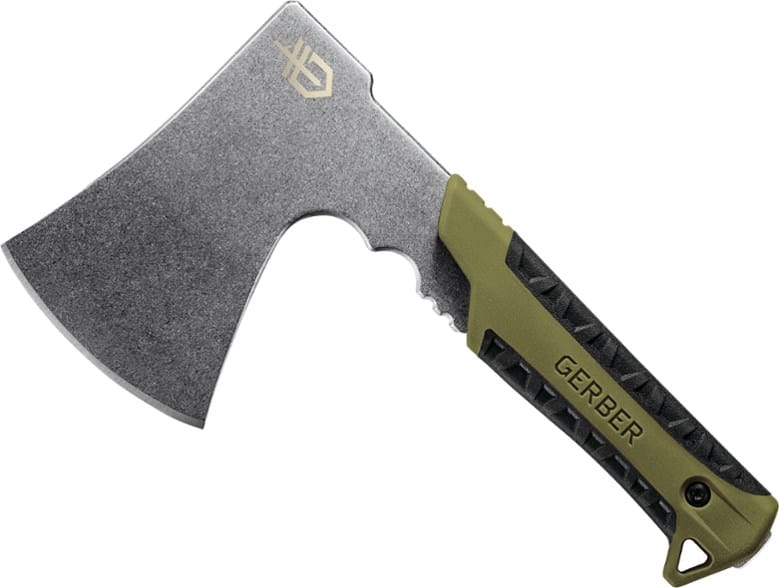 The main thing about the Gerber pack hatchet is that it's light. I mean, really light. It weighs in at just over a pound, making it the lightest hatchet on our list.
Now, this is both a good thing and a bad thing.
You see, the fact that it's lightweight is great in terms of portability. Even backpackers can manage adding this tool to their load.
However, because it's so lightweight you'll have a harder time chopping wood with this hatchet than you would if you were using a heavier tool.
This hatchet is better suited to chopping smaller, pre-chopped pieces of firewood, or for performing other smaller tasks on your journey.
It's got a very sturdy, full-tang construction and the blade is made of tough stainless steel.
Plus, it's sharp. Really sharp. Don't worry though – there's a sheath included to cover it when it isn't being used.
So, if you're looking for a small hatchet for smaller tasks, this one is an excellent option.
Pros:
Very lightweight – weighs just over a pound
Rubber overmold handle
Full-tang construction
Durable stainless steel blade
Tall grind provides optimal sharpness
Cons:
Not great for chopping firewood, as it isn't heavy enough
Best for: campers and backpackers looking for a hatchet that's lightweight and compact.
Fiskars X7 Hatchet

I've always been a Fiskars fan, and this model, in particular, just knocks it out of the park. The weight is perfectly balanced, which makes it extremely easy to swing.
I often play baseball with my sons, and the swing balance on this hatchet reminds me of high-end aluminum bats. The head also never gets stuck in wood thanks to the low-friction coating on the blade. This is a big selling point for me since stuck hatchets are such a nuisance.
Fiskar's proprietary grinding technique provides unmatched sharpness that gets you a deep chop with every swing. The FiberComp handle is also very ergonomic, not to mention durable. Finally, the lifetime warranty shows you that Fiskars has full confidence in this product.
Pros:
Balanced weight
Low-friction blade coating
Very sharp
Ergonomic, durable FiberComp handle
Lifetime warranty
Cons:
Might get blunt faster than average, but regular sharpening negates that
Best for: campers looking for a hatchet with a sharp blade and good power-to-weight ratio.
Estwing Sportsman's Axe

If you're looking for a top-shelf American-made hatchet, then Estwing's Sportsman's Axe might just be the product for you. It's crafted in Rockford, IL using locally-sourced steel and is forged from a single piece meaning its durability is outstanding.
The edge is hand-sharpened, so you know it'll be good to shave with right out of the box. Plus, the genuine leather grip adds a nice vintage touch to the whole hatchet. The nylon sheath that comes with it is high-quality and protects that razor edge no matter what.
Those who don't mind paying extra can get the special edition variant that comes with a black coating on the blade and adds a lacquer finish to the handle. The only thing to be wary of is that some people have complained about chipping on the coat. My unit is fine, though.
Pros:
American-made with local steel
Single-piece construction
Hand-sharpened edge
Genuine leather grip
Comes with a well-made nylon sheath
Cons:
Some units may be prone to chipping
Best for: American campers who prefer hatchets manufactured on local soil.
Schrade SCAXE5 Hatchet

Campers yearning for that tactical look will go nuts for this hatchet from Schrade. Durability-wise, everything is up to par with the high-carbon steel blade and nylon fiber handle. So, you don't have to worry about this thing breaking on you.
I'm generally skeptical when I see any fancy coating on axes. Still, the black powder coat on this hatchet has survived a beating, so it gets my seal of approval. The spike pommel on the back is also really useful as a pry bar and nail pull, so that's an added bonus for those who need it.
My biggest gripe with these is that they're pretty blunt out of the box. That said, it's not a massive deal, especially if sharpening blades is like calming therapy for you. In fact, the above-average price point may be a more considerable deterrent to buyers than the mandatory sharpening.
Pros:
Tactical aesthetic
SK-5 high-carbon steel
Nylon fiber handle
Resilient powder coat
Multi-use spike pommel
Cons:
Requires sharpening before use
Pricier than competitors
Best for: campers who want a durable hatchet with a tactical look — and don't mind sharpening it
Gransfors Bruks Wildlife Hatchet

This Swedish-made hatchet may not be as flashy as some of the other products on this list. But, it definitely pulls its weight in the performance department. Some people even like the rugged, barebones aesthetic that Gransfors Bruks goes for on their axes.
I'd also recommend this hatchet to beginners. That's because it comes with "The Axe Book," an instruction manual with a lot of useful info that can fast-track the learning curve of newbies.
This tool's maintenance is also a breeze since it sharpens fast and holds up to a lot of torture.
If there's one thing that would make me think twice about buying this hatchet, it's the customer service at Gransfors Bruks. Sure, they make some great axes, but if you're unfortunate enough to end up with a lemon, you'll have a tough time getting the help you need.
Pros:
Swedish quality
Comes with an informative book
Takes on a honed edge quickly
Durable blade
Cons:
Lackluster aesthetic
Subpar customer service
Best for: campers with a "function-over-form" mindset.
Different Types Of Hatchets & Axes
While it might seem like there are thousands of different types of axes or hatchets out there, most of them can easily be categorized into one of the following groups:
Double bit axes
Splitting axes
Splitting hatchets
Camping hatchets
Tomahawks
Let's dive in and discuss each one in a bit more detail, shall we?
Double Bit Axe
A double bit axe is used for cutting, chopping and splitting wood.
You've got 2 blades, so you can have 2 different degrees of sharpness for different purposes.
One blade is usually razor sharp for chopping, while the other is more blunt so it can be used for felling and splitting.
Splitting Axe
A splitting axe is your classic axe, used for chopping wood.
It's heavy, large, and it has a long, thick handle.
These axes can be used to chop large logs and pieces of wood into smaller pieces of firewood.
Splitting Hatchet
Splitting hatchets are thicker and heavier than other types of hatchets, and their primary purpose is chopping firewood.
They're shaped just like an axe, except they're a lot smaller.
They've got a longer handle than other types of hatchets, so that you can use them with 2 hands.
Camping Hatchet
A camping hatchet can also be referred to as a survival hatchet.
Hatchets are made with versatility in mind. They're lightweight and can be used with only 1 hand.
When it comes to wood, these axes can only chop smaller pieces of wood. For larger logs, you'll need a splitting hatchet or axe.
Tomahawk
Tomahawks are named after a weapon once used by Native American tribes.
They're super lightweight, which makes them really easy to carry around. However, their weight also means you've got to swing a lot harder than you would a heavier hatchet or axe.
The blade tends to be shorter, and the back of the blade usually has a spike.
Tomahawks aren't ideal for chopping firewood. They're more of a tactical tool that can be used along the way on various outdoor expeditions.
How To Pick The Right Hatchet
Above, I've given you five gold standard options to choose from. But, maybe you're still on the fence choosing the right one for you. In that case, consider these four metrics: weight, sharpness, handle length, and maintenance.
While this isn't the authoritative list of everything in the buying process, it should serve as a solid foundation for making up your mind.
Weight
The first thing you should consider when picking out a hatchet is which weight class is ideal for you. Some extremists will tell you that only the beefiest axes are worthwhile. On the other end of the spectrum, diehard lightweights swear by nimble hatchets. Both have merits, and I land somewhere in the middle.
Lightweight enthusiasts argue that proper technique allows you to cut wood without a heavy axe. They say that axe weight can often be used to compensate for lack of skill. There is merit to this, but more axe weight could come in handy for beginners & pros alike when faced with thick wood.
If you're new to wood-cutting, I'd recommend a light axe since the agile weight will make it easier to get the hang of the technique. Larger axes can help you split high volumes of wood without getting exhausted since you won't have to put as much power into each swing. But, it's unlikely that beginners need that kind of firepower.
It really comes down to your use case, how experienced you are, and your physical fitness. I'd recommend you try a few axes out to see which one is most comfortable for you if you're not quite sure.
Sharpness
Next, think about your sharpness requirements.
Rookies should try to find an axe that's totally sharpened before it leaves the manufacturer. This will cut down on the amount of work needed to get it game-ready. With a pre-sharpened blade, you can get right to chopping wood and practicing your swing instead of spending hours watching YouTube tutorials for sharpening a hatchet.
On the other hand, veterans can get away with buying a blunt blade since their years of experience will help them sharpen it in no time.
Your selection also depends on the type of work you'll be doing with the hatchet. If you're felling trees, then you want something as sharp as possible to get that pine down in the minimum number of swings. Same goes for carving and shaving wood – it's got to be razor sharp. In contrast, working with small pieces of firewood is less demanding.
Ultimately, blade durability is usually more important than blade sharpness. The reason is that you can always re-sharpen the blade if necessary, so I recommend focusing more on robustness.
Handle Length
The length of the handle is another factor you should consider when you're picking out a hatchet. Longer handles allow you to put more force into each swing, but that comes at the cost of control and pack size.
If you have a hatchet with a really long handle, then you can swing it with a lot of power, but that won't be of much use if you're not able to aim correctly. Of course, the inverse is also true when you grab a hatchet with a short handle for optimal control but can't put enough "oomph" into it.
It's all about finding that right balance. When you get a hatchet in the Goldilocks Zone of handle length, the user experience will be "just right." Finding the sweet spot between power and accuracy may take a while, so beginners should start with a shorter handle while they learn.
Maintenance
Different types of hatchets will require varying levels of maintenance. Look at the blades from Gransfors Bruks as an example. Despite being robust and of excellent quality overall, the steel isn't stainless, so you could end up dealing with rust if you're not careful.
Not only will rust be detrimental to the finish of the hatchet, but it can also shorten the blade's lifespan. That doesn't mean you shouldn't go for old school axe heads, but it serves as a reminder to not leave your hatchet damp for extended periods.
Wiping off excess moisture can go a long way if you want your hatchet to last you a lifetime. Oiling up the blade after each use can also help. Boiled linseed oil works wonders for those trying to maintain the finish of their handle too.
Be sure to use boiled linseed oil rather than the raw variant. Why? Because raw linseed oil won't dry, it'll just make your handle sticky. Trust me, that's a lesson I had to learn the hard way. Finally, linseed-soaked rags are flammable, so tread carefully.
FAQ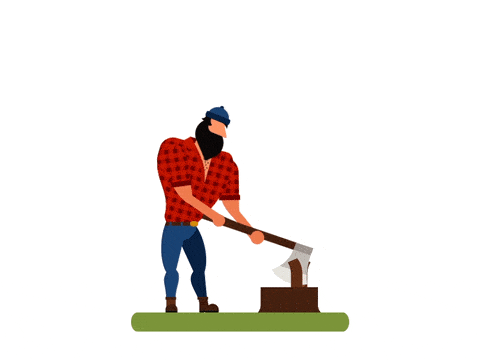 Still got some questions?
You might find your answers here.
We answered some of the most commonly asked questions about hatchets and axes.
Here they are:
What's the difference between a hatchet and an axe?
The main difference between a hatchet and an axe is their size. An axe is larger, while a hatchet is essentially a smaller version of the same tool.
Axes are designed to be used with both hands, while hatchets are designed to be used with 1 hand.
If you're doing any serious wood chopping, you're going to want to equip yourself with an axe.
For camping purposes, however, a hatchet is generally the way to go. They're easier to pack and perfectly adequate for chopping your firewood for the campfire.
How do you use a hatchet or axe safely?
If you want to play it safe, it's a good idea to kneel down on the ground when you're using an axe or a hatchet to chop wood.
When you're standing up, you run the risk of missing and chopping yourself in the legs. Fun image, right?
Well, if you're kneeling down on the ground you can avoid that risk altogether. From a kneeling position, if you miss, you'll hit the ground instead of yourself.
It's also important to make sure there aren't any people or things in your way that you could hit when you swing the axe.
Are wooden or composite handles better?
At the end of the day, it really comes down to personal preference.
Composite handles are stronger, however, it's worth noting that if they do break, you'll have a much harder time replacing it than you would with a wooden handle.
Wooden handles don't flex as much as composite, either. That means the axe is less likely to stick when you're pulling it out of the wood.
All in all, if you ask me – wood is the way to go. When it comes down to it, the look and feel of wood is just so much nicer in my opinion.
How do you sharpen a hatchet or axe?
Whether it's an axe, a hatchet, a kitchen knife or even just a pocket knife, you've always got a variety of options when you want to sharpen a blade.
To sharpen a hatchet or axe, you can use a whetstone or a file, or you can use power tools like a dremel tool, a belt sander or an angle grinder.
Be careful, though. You can damage your axe if you try to sharpen it using power tools incorrectly. Unless you're experienced, I'd recommend keeping it old school and sticking to a stone or a file.
How do you store and care for a hatchet or axe?
It's important to give your axe or hatchet a good thorough clean after every use. Wipe away any dirt and tree sap on the blade and handle.
Make sure to dry it thoroughly before you pack it away, especially if the handle is made of wood. This prevents the blade from rusting, and ensures the handle doesn't warp over time.
Finally, make sure that you don't store your axe or hatchet anywhere too dry, as this could result in damage to the axe head.
Our Verdict
When you consider the factors we've gone over above, it's clear that the Adler German Axes Rheinland Hatchet is unrivaled any way you look at it. It dominates in design, materials, maintenance, and weight.
I would feel like I've forgotten something if I go on a camping trip without taking it with me. After a lot of strenuous use, it still continues to do everything I need it to.
Sure, there might be flashier, cheaper, or bigger options out on the market. But, none of that will sway me away from the performance and ergonomics that Adler brings to the table. There's no question that the Rheinland hatchet is the obvious winner for me, but that doesn't mean you can't pick another option.
Every hatchet on this list provides value in its own unique way, so there's no wrong answer in this scenario. If you have friends with a hatchet collection, then you might want to consider borrowing a few just to see which style feels the best in your hand.