If you've never been camping before, the prospect of heading off on your first camping adventure may seem daunting.
You might be asking yourself questions like…
Well, you're about to get all the answers.
In this guide to camping for beginners, we cover every topic you need to know about. Buckle up!
What Kind Of Camping Trip Should You Go On?
The first thing you'll need to decide on is exactly what kind of camping trip you'd like to pop your cherry with.
Here are some of the different options you might want to consider.
Tent Camping
Classic tent camping is the most common option, but there are many ways to camp too!
If you want to go tent camping, you've got 3 options to choose from – camping at a campground, wild camping and backpacking.
At A Campground
For beginners, camping at a campground is probably the best way to go.
Campground complexes feature amenities such as flush toilets, showers, fire pits and garbage cans. Most of the time there's even a convenience store.
All of these things will greatly reduce the amount of preparation and knowledge needed for a successful camping trip.
In The Wild
If you opt to go wild camping, you'll need to figure all of these things out for yourself. This means you'll need to be well prepared, because once you're out in the middle of nowhere with nothing and nobody around for miles, it's too late.
My advice is to stick to campgrounds for your first 3 or 4 trips. Once you've figured out all the details, you can head out into the wild. Patience is a virtue.
On A Backpacking Tour
Finally, there's backpacking. This involves hiking with all of your gear on your back, and setting up camp at a different location each evening.
When backpacking, you can alternate between campgrounds and wild camping, depending on your route.
This is definitely something I wouldn't recommend for beginners, unless you're going with someone more experienced.
Don't worry, though. It only takes a couple of camping trips to get into the groove of things. So, if backpacking is your goal, you'll get there soon enough.
Hammock Camping
An interesting alternative that's becoming more and more popular is hammock camping.
Hammock camping is pretty much the same as tent camping, in the sense that it can be done at a campground, in the wild or on a backpacking tour.
The only difference is that instead of sleeping in a tent, you sleep in a hammock.
You can also get a hammock tarp to put over your hammock, which is essentially a tent without a floor. This will protect you from the elements while you're asleep in your hammock.
Car Camping
If you've got a big enough trunk, you can even go camping and sleep in the back of your car.
Car camping is a convenient option because you won't have to worry about setting up camp and packing away. You can literally just park your car, put some bedding down and you're good to go.
This is great for beginners, as you don't have to worry about learning how to pitch a tent.
Like with tent and hammock camping, car camping can be done at a campground or in the wild. You'll still need to be better organized if you're not staying at a campground, though.
RV Camping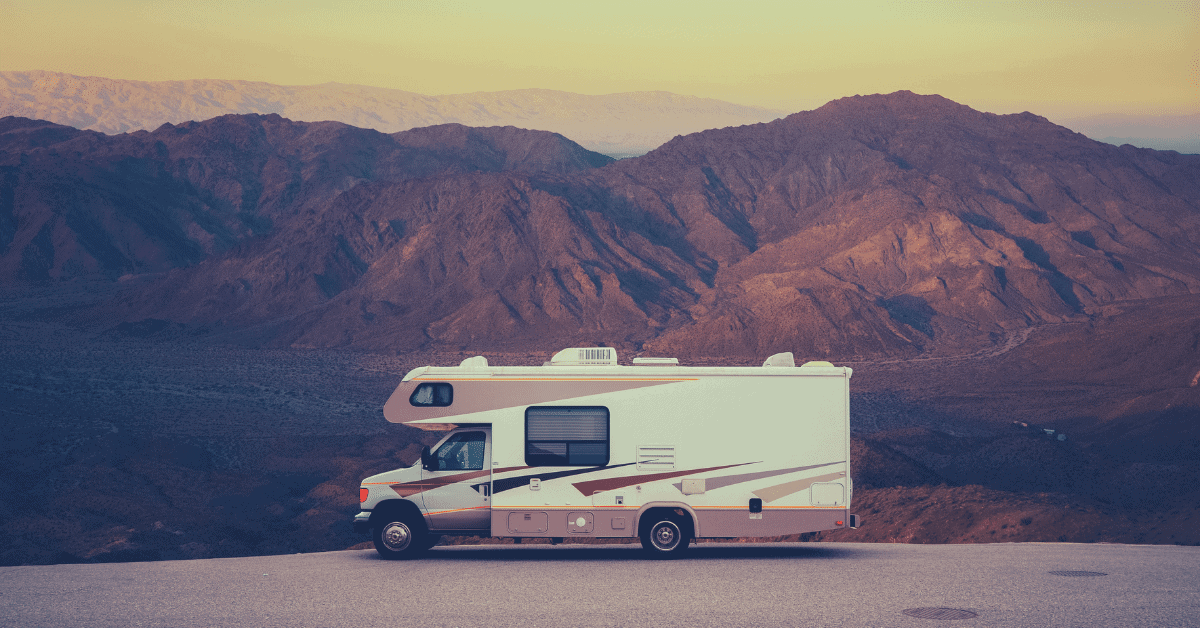 Cruising around in an RV is a great way to go camping and road-tripping all in one.
RV camping is an excellent choice for beginners because an RV is equipped with a lot of the amenities you need, like a stove, a fridge, a shower and a toilet.
You can park your RV just about anywhere you like. And there you have it, an instant RV campsite.
Parking your RV in places other than a campground is commonly known as boondocking.
When my best friend and I went on a week-long RV road trip from San Francisco to Las Vegas, we did just that. We were boondocking everywhere from a Safeway parking lot to the middle of the Mojave desert. Neither of us had much experience camping at the time, and we did just fine.
Keep in mind though that in order to hook your RV up to utilities such as electricity, water and sewage, you will need to be parked at a campground.
There's a generator for electricity when you're not hooked up, so don't worry. You'll still be able to use things like the fridge, microwave and stove even if you're boondocking or driving between campsites.
Pro tip: if you're boondocking for longer than a couple of days and you've run out of water for showering, shower at a gas station.
Gas stations on the highway have excellent shower facilities at a very affordable price. I was super skeptical about this, and my friend had a pretty hard time convincing me to do it when we were on our trip. To my amazement, it turns out they're actually really nice and clean, I swear.
Glamping
If you want to go camping without giving up any creature comforts, glamping is the answer.
Every other kind of camping is about getting back to nature and taking nothing but the bare essentials with you.
But, for some people, this isn't a very attractive prospect.
For those who don't fancy roughing it, there's glamping. It's a great way to experience the beauty and serenity of the outdoors, without having to sacrifice the comfort of man-made luxuries.
Of course, luxury doesn't come cheap. Not even luxury camping. So, if you've got your heart set on glamping, be prepared to spend a pretty penny on a canvas tent (the tent most commonly used for glamping)and much, much more, unless you are willing to get creative to glamp on a budget.
Eco Camping
No matter how you camp, you'll want to consider the impact on the environment that you are making. And this is where eco camping comes into play.
The last thing you want to do when camping is ruin the environment and leave the campsite in a worse place than it started.
Eco camping is all about embracing sustainable practices to leave no trace and minimize your impact on the environment.
From camping in the offseason, to borrowing or renting gear, there are many ways that you can do your best to help keep nature the way that you found it.
Where Should You Go?
OK, so you've decided what kind of camping trip you want to go on. Now, where are you going?
With camping, the possibilities are endless.
Do some research and find an area that you want to explore. Go with whatever catches your eye, whether it's a breathtaking canyon, a beautiful forest or a vast desert landscape. Nature never fails to impress, so you really can't go wrong.
A lot of national parks have great campsites, so it's definitely worth checking those out. There are also lots of private campsites scattered across the country. So, wherever it is you're headed, you should be able to find a campsite close by.
If you're wild camping, all you have to do is explore the area and find a spot you like.
That's another reason I'd recommend campsites for first timers, though. Finding a camping spot in the wild sounds easy enough, but it doesn't always happen as quickly as you think it will.
Setting up camp for the first time is challenging enough. Doing it after dark is a whole other level of challenging.
This is something you don't have to worry about if you're going RV camping. Boondocking is much easier for a beginner camper than wild camping. While campsites will make things a bit easier, first time RV campers can definitely get away with wild camping.
One thing you should definitely take into account when choosing your destination is the weather. This is true for any kind of camping, but especially tent and hammock camping. Here's more on that in the next section.
When Is The Best Time To Go Camping?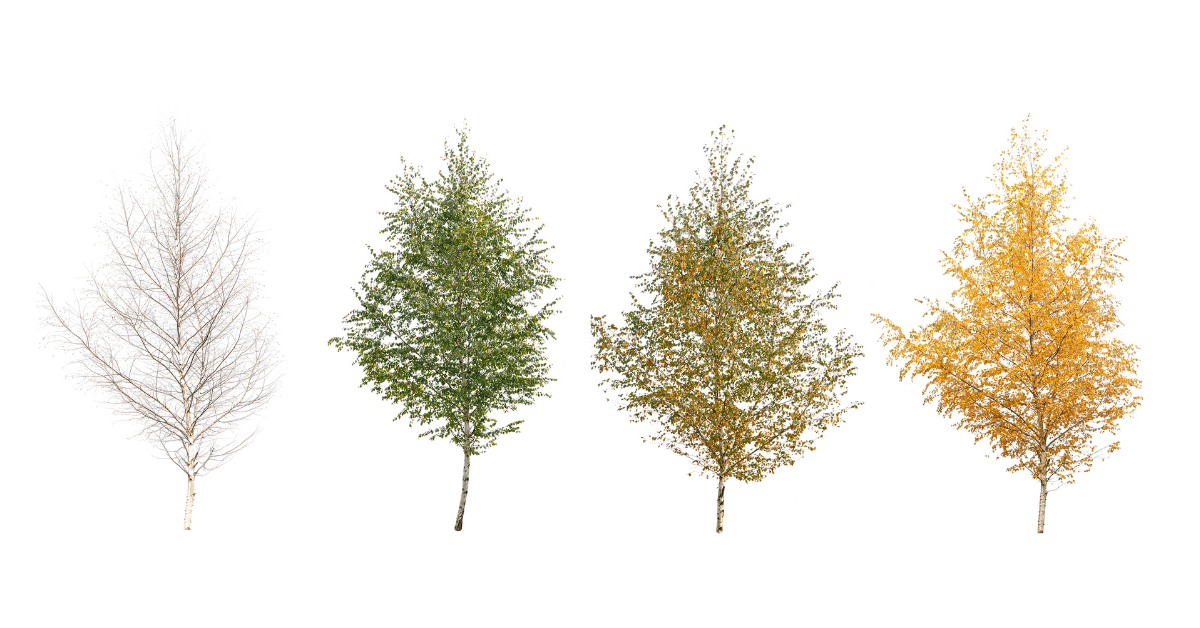 Nothing makes camping more difficult than bad weather. On your first camping trip, you definitely want to have the weather on your side.
Of course, the weather can be unpredictable, especially in certain places, such as in the mountains. Still, you should always try to go at a time of the year when you're most likely to have pleasant weather and sunshine for as much of your trip as possible.
This period will vary depending on where you're headed.
If you're camping in the mountains, the best time to go would be when the weather is warmer. In most places, this will be anywhere between late spring and early fall.
Some locations will have more rainfall during certain periods, so it's worth checking the annual weather reports of the place you've chosen.
If you're going camping in the desert, you probably won't want to go in the middle of summer. Especially not if you're a newbie camper.
I went RV camping near Furnace Creek in Death Valley, the hottest place on Earth, in early January. The weather was pleasant the entire time I was there. There were a few days where you needed a coat, but a lot of time you could get around in a T-shirt during the day.
I imagine it would get quite chilly at night if you're in a tent, though. So, you'd need to make sure you had the right gear. But, we'll get into that in just a moment…
Also See: Best Time to Go Camping (For EVERY State)
What Kind Of Gear Will You Need?
When it comes to gear, you want to make sure you've got everything you need. On the other hand, you also don't want to overpack.
It's a good idea to make a camping checklist before you start packing, so you don't miss anything important or pack anything that isn't necessary.
What exactly and how much you pack will also depend on the type of camping you'll be doing, and the weather conditions you're expecting.
Here's a list of all the camping essentials you need no matter what kind of camping trip you're going on, followed by specific gear for each kind of camping.
Basic Camping Gear
These are some things that every camper should have with them, whether they're sleeping in a tent, a hammock, an RV or their car:
Additional Gear For Tent Camping
If you're going camping in a tent, here's the rest of the gear you'll need:
Additional Gear For Hammock Camping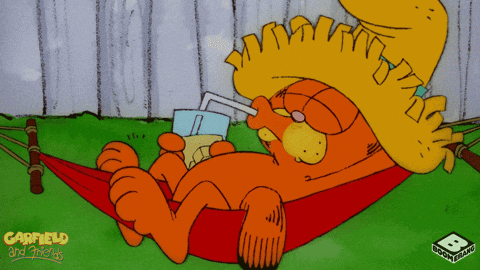 If you're going camping in a hammock, this is what you'll need to take with you:
A hammock
A hammock tarp
Rope or webbing to hang your hammock
Carabiners
A camping stove & gas (unless you plan on doing your cooking on the campfire, which is also a possibility)
Additional Gear For Car Camping
Campers who plan on sleeping in their car will need to have the following gear:
An air mattress or a sleeping pad (and a pump, if you go for an air mattress)
An emergency flat tire repair kit
Additional Gear For RV Camping
If you're going camping in an RV, this is what you'll need in addition:
An emergency flat tire repair kit
RV-friendly toilet paper
Toilet chemicals
Battery jumper cables
Extra motor oil and transmission fluid
Extra cotter pins
Tire pressure gauge
Leveling blocks
Drinking water hose
Water pressure regulator
Surge protector
Additional Gear For Wild Camping
As I mentioned earlier, you'll need a few more things if you opt for wild camping. Here's what you mustn't forget to pack:
Some type of container to dispose of your trash
A trowel for digging a hole when you need to go to the toilet
Sealable bags for used toilet paper
Additional Gear For Camping In Bear Country
If you happen to be camping in an area where there are bears, you'll want to be prepared. Bears have an incredible sense of smell, and your food smells delicious.
Here's what you need to have on you to stay safe:
A bear canister
Odor-proof bags
What Kind Of Clothes Should You Pack?
The kind of clothing you need to pack obviously depends on the kind of weather you're expecting. If it's cold, you'll need a lot more clothing to keep you warm.
If it's warm, you should still take some warm clothes just in case the temperature drops. Believe me, you don't want to learn this the hard way.
Now, I never go on any hike without a rain poncho in my backpack, no matter what the weather is like. If it rains while you're camping or out hiking, a poncho will be a lifesaver.
You'll need enough underwear and socks, obviously.
You'll definitely want to make sure you've got a good pair of shoes or hiking boots that fit well. It's also a good idea to take a pair of flip flops.
I recommend taking a pair of pants, a pair of shorts, a few t-shirts and a warm sweater. If you're expecting cooler weather, you should also definitely pack a warm jacket.
Don't forget to pack your pajamas. If you're sleeping in regular clothes, just make sure they're not the same ones you wore while you were cooking dinner. Going to bed in those will turn you into bear bait.
What Are You Going To Eat?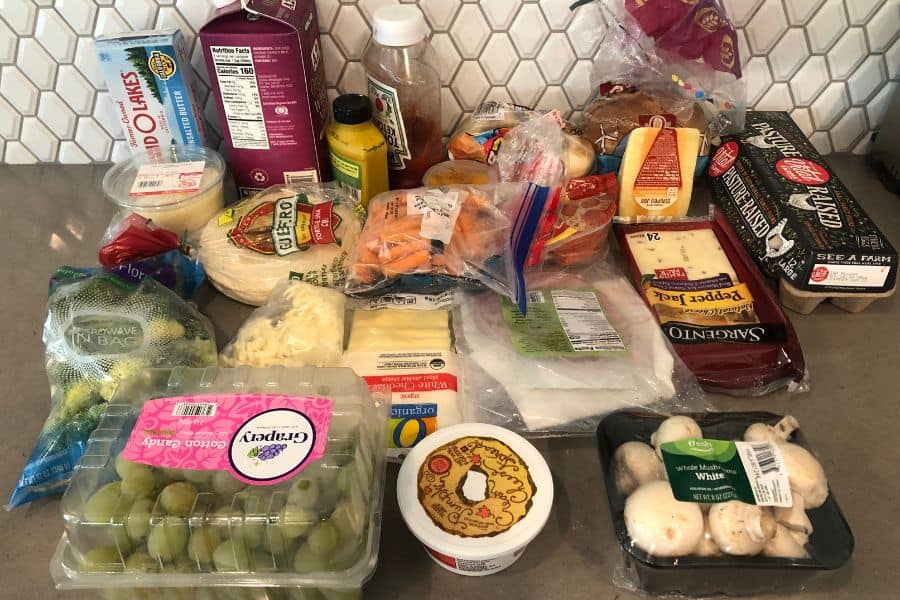 OK, so this part is really important.
The last thing you want is to go hungry.
So, how do you make sure that doesn't happen?
Well, the first thing you need to do is consider what kind of gear you have at your disposal.
If you're going camping without a cooler or a stove, then you'll be limited to non-perishables that don't require cooking.
If you are taking a cooler and a stove, your options are much wider. If you're taking perishables, especially meat, you should use them up within the first few days so that they don't go off.
There are a few things you can do to make your meat last longer. For example, cooked meat won't go off as quickly as raw meat. If you want to cook your meat at the campsite, I recommend freezing the raw meat before you head off. This will also buy you some extra time before it goes bad.
If you're taking a cooler, but no stove, you can use the campfire to cook your meals.
How much food should you take?
Well, this can be a bit tricky, I'll admit.
You don't want to run out of food before the end of your trip. On the other hand, if you take too much food with you, you might end up having to throw it away.
That's why it's always a good idea to plan all of your meals out before you take off. That way, you'll know exactly how much of what you need to take.
If you're on a special diet, don't be discouraged. You can still keep your diet up away from home without any trouble. If you're on a keto diet, check out our guide to keto camping. It's full of great tips and recipe ideas.
How Will You Keep Your Personal Hygiene In Check?
Another thing you don't want to overlook is personal hygiene.
If you're staying at a campsite, showering shouldn't be an issue. If you're not, consider getting a solar shower bag and a shower tent.
Some things you can take with you to make sure you stay clean and fresh include:
Soap
A toothbrush and toothpaste
Shampoo and conditioner
Hand sanitizer
Wet wipes
I suggest getting one of those little plastic boxes to keep a bar of soap in.
Just make sure you don't shower using soaps or shampoos near any lakes, rivers, or other bodies of water. This can be harmful to local ecosystems.
In the next section, we'll go into more detail about what you can do to protect the environment around you while you're camping.
Also See: How To Stay Clean While Camping & Everything You Need To Know
What Can You Do To Respect Your Surroundings?
It should go without saying that when we're out in nature, we should always do our best to preserve our surroundings. We should leave everything in the same state it was in before we came, as much as possible.
But, sometimes we can do harm without even being aware of it.
For instance, did you know that tying a hammock to a tree the wrong way can do serious damage to the tree?
To avoid doing any unintentional harm, the best thing you can do is get acquainted with Leave No Trace principles.
From selecting a campsite, to building a campfire, to answering the call of nature – these principles will guide you every step of the way and help you minimize your impact.
Bonus Tips For Beginner Campers
We've covered all the main concerns a first time camper usually has. But, there are still a couple more things you need to know before you hit the road.
Pitching A Tent
If you're going tent camping, you'll need to know how to set up a tent. Now, this can be a little bit tricky if you haven't done it before. But, I assure you that once you've done it a couple of times, it'll become a piece of cake.
One thing you can do to avoid drama at the campsite is figure it out while you're still at home. Set it up and take it down a couple of times in your backyard or living room, and you'll be a pro by the time you get to your destination.
Building A Campfire
Another skill you'll want to have under your belt is building a campfire. But it's important to brush up on campfire safety first to avoid your fire getting out of hand.
A lot of campsites provide designated fire pits, which is really helpful for beginners. Still, it's not always guaranteed and if you have to build one yourself from scratch, you'll want to make sure you're prepared.
You need to have the right kind of firewood, as well as some matches, or a lighter, or a fire starter. If you haven't got anything that you can use to light your fire, you can use friction by rubbing sticks together a certain way to create a flame.
It's also a good idea to use a fire ring, for added precaution.
Follow this easy step by step guide on how to build a campfire, and you'll have a roaring fire going at your campsite in no time.
Protecting Your Skin
Finally, you'll want to make sure that your skin is protected.
From what?
Well, two main things: the sun and bug bites.
If you're camping in the middle of summer and you're not careful, you could end up with a nasty sunburn. We all know that this can lead to melanoma in the long run, so you definitely want to try and avoid it as much as possible.
Make sure to bring plenty of sunscreen and apply it regularly. It's also a good idea to wear clothing that covers your shoulders, and a hat that covers your neck, especially if you're going to be out hiking in the heat.
The other thing you need to protect your skin from is insects. If there's one thing that can put a damper on a beautiful evening in nature like no other, it's a swarm of mosquitoes trying to suck your blood.
Don't forget to pack some insect repellent, or you could wake up covered in bites from top to toe.
You can also take some mosquito coils along and burn them around your campsite to keep the little vampires away.
Over To You
Remember, the most important thing for a successful camping trip, whether you're a first-timer or a seasoned pro, is planning!
If you plan everything right, you'll be ready for every possible scenario, and your trip will be smooth sailing.
If you want more camping tips and advice, check out some of our other guides, like this article on the most comfortable way to sleep in a tent. They're packed full of useful information and clever hacks for your next camping adventure.
You'll also want to read up on how to set up a campsite to be able to really hit the ground running!
Good luck and happy camping!