Let's face it – there are a TON of tent brands out there. And, it can be overwhelming trying to figure out which ones are the best.
Without considering the brand, looking for a tent is hard enough. Between all the features, bells and whistles, and even color schemes, it's easy to get "analysis paralysis."
To help make the process easier, I suggest narrowing down your search by choosing a solid tent brand first.
Is it a reputable company? Do they have a track record of reliable performance?
Once you find your favorite brand, it's much easier to choose a tent.
In this article, we'll be sharing our opinion on what the best tent brands are. We'll also share some of our favorite tents from these companies along the way. Let's go!
Best Budget Tent Brands:
Best Value Tent Brands:
Best Variety of Tent Types:
Best Specialty Tent Brands:
Best Backpacking Tent Brands:
Best Lifetime Warranty Tent Brands:
Still Confused? Check out our full tent brands comparison table here.
Here are our picks for the best tent brands and why!
Best Budget Tent Brands
Coleman
Known For: Budget Tents | Price: $ | Tent Sizes: 2 to 12 | Warranty: 1 Year (Limited)
Our winner for the best budget tent brand is Coleman. Since starting production in 1900, Coleman has embedded itself as a landmark camping brand, and for good reason.
Coleman gets criticized online for being sold in big box stores like Bass Pro Shops and Target, but I don't see it that way. In reality, these stores put in painstaking effort to choose the best tent brands, so I view it as a positive that they sell Coleman.
There are tons of great options when it comes to Coleman tents. My personal favorite is the Dark Room Sundome tent (plus see our full Sundome Dark Room review here).
This is a quick-pitch camping tent, meaning it can be set up in minutes. It also comes with a dense rainfly and a thick ceiling. The materials it's made of block 90% of sunlight and cool your tent by 12%, which Coleman calls "Dark Room technology".
On top of that, it's got a big screen room and a small price, making this my chosen Coleman tent.
Pros:
Wide variety of tents to fulfill everyone's camping desires
Modern technology like WeatherTec, DarkRoom, and FastPitch bring new takes to classic designs
Unparalleled customer service – a reputable brand since 1900
Affordable for any camper or family, yet created with skillful craftsmanship
All tents come with perks like electrical outlets, ventilation flaps, and storage pockets
Cons:
Few options for ultralight backpackers or extreme weather tents, but great options nonetheless
Best for: people looking for an overall great tent brand that is surprisingly affordable.
CORE Equipment
Known For: Family Tents | Price: $ | Tent Sizes: 4 to 12 | Warranty: 1 Year (Limited)
Not long ago, a group of buddies quit their big-name outdoor brand jobs and set out to do more for the camping world. That's how Core Equipment was born.
Today, their small team of camping enthusiasts makes gear that everyone can enjoy at a great price point.
Core's tents vary in design, but their specialty is in larger, cabin-style tents for families. If you're camping with 6 or more people, Core is the brand for you. Their sizes go from 6-person tents all the way up to twelve!
Of course, when tent manufacturers say a tent fits 6 people, that's 6 people sleeping within inches of each other. Remember to always size up 2 people. So, camping with 10 people calls for a 12-person tent.
Out of all their tent options, our favorite is the 9-person instant cabin tent. It's an affordable tent with tons of space that sets up within minutes. Highly recommend.
You can check out our reviews of the best core tents here.
Pros:
Affordably priced, but long-lasting
Lots of options – size, color, instant/traditional, screen room/porch
All tents have great ventilation thanks to many doors, windows and vents
Most tents come with a port for electrical cords, great for charging your kids' devices
Mostly large tents, but optimized for lighter weight and faster setup
Cons:
Floors are not very thick, so I recommend using a tarp underneath
Best for: families who don't need extreme weather protection, but want lots of space at a great price.
Ozark Trail
Known For: Extra Large Tents | Price: $ | Tent Sizes: 4 to 15+ | Warranty: 6 months
Ozark Trail is a private-label tent brand owned by Walmart.
They make affordable budget-friendly tents of all sizes ranging from 3 to 15+ people.
We've reviewed many of the best Ozark Trail tents here.
While they do have smaller tents, most of their highest rated tents that we reviewed have been their 9 Person Instant Cabin, and their 14-person, 4-room behemoth.
Ozark Trail tents aren't the best for weather resistance, but that is fine, since they make huge family friendly tents for camping season.
Pros:
A wide range of tent sizes from 4 to 15+
Great multi-room tents, 2-room, 3-room tents, and even up to 4-room tents
Comfortable and easy to use
Extremely budget friendly
Cons:
Weather resistance and durability are the main downsides
Best Value Tent Brands
ALPS Mountaineering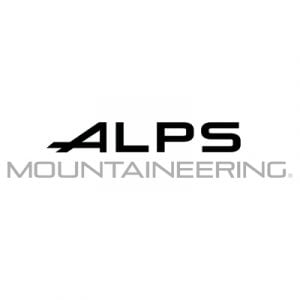 Known For: Affordable Backpacking Tents | Price: $$ | Tent Sizes: 1 to 8 | Warranty: Lifetime (Limited)
Launched in 1993, ALPS Mountaineering was birthed by ex-Kelty Outdoors executive Dennis Brune. After working on Kelty's outdoors gear for 14 years, Dennis left to do more for camping. Brune's mission statement is to make "premium outdoor products whose performance exceeds the expectations of their price points."
In our opinion, they've done a great job of achieving that goal.
ALPS trademark is their freestanding, aluminum two-pole design. This style means less weight and easier setup, which are both great to have in a tent.
This structure is used in their 1-person tents all the way up to their 6-person model, so ALPS has a freestanding tent for camping groups of every size.
When it comes to ALPS Mountaineering's tents, our pick of the litter is the 2-person Lynx model.
Pros:
The simple design is easy to carry and even easier to set up
Two pole construction gives you a strong frame without having to lug around hefty poles
Despite smaller sizes, many ALPS tents come with plenty of vestibule space
Lifetime warranty gives you unparalleled support that ensures this tent will last for years
Factory-sealed seams and strong #8 zippers keep the rain out like a champ
Cons:
No tents are available in super-large configurations – largest tent sleeps 6 people
Best for: backpackers who want to save on weight, but don't want to splurge on MSR's premium weatherproof tents.
ALPS Mountaineering Tents on Amazon
ALPS Mountaineering Tents at REI
Buy Direct from ALPS Mountaineering
Kelty

Known For: Affordable Dome Tents | Price: $$ | Tent Sizes: 1 to 6 | Warranty: Limited
Kelty entered the market back in 1952, as a brand specializing in backpacks. But it wasn't long before it expanded its range of products with other types of outdoor gear, like tents and sleeping bags.
Kelty is focused on making sturdy but affordable small tents, and they know well what to splurge on and what to save on.
So for instance, the tent material of choice is polyester. It's thicker and heavier than most other materials, but also extremely sturdy and weather-resistant. So basically, you're sacrificing a bit of weight for durability, while staying budget-friendly.
The brand specializes in dome-style tents, customized for different situations. More headroom, storage space, rainfly coverage – whichever feature you're looking for, there's a model for your needs.
All models combine the classic X-pole construction and extended pole sleeves, making it possible to solo pitch the tent. The whole process is straightforward and won't take you more than a few minutes.
If you're the type of person to stargaze at night, then Kelty tents might be for you. All of their models are double-walled, with mesh reaching up to the tent floor. So during a hot summer night, you can just remove the fly and enjoy the starry sky.
Pros:
High-quality tents that are sold at a rather affordable price
Made of polyester, Kelty tents offer good weather protection
All tents are easy to set up, even just by yourself
Excellent airflow thanks to mesh body and large D doors
Cons:
Some models are too heavy for backpacking
TETON Sports
Known For: Affordable Small & Canvas Tents | Price: $$$ | Tent Sizes: 1 to 4 | Warranty: Lifetime
As a brand, Teton Sports is dedicated to making durable yet affordable camping equipment.
You can often find these outdoor products even in supermarkets such as Target or Walmart, and they're certainly some of the best models available in such stores.
The brand has a pretty limited line of tents available, but canvas tents or a nice 1-person tent is what you're after, then you're in luck. There are several models to choose from, each suitable for different situations.
Teton Sports tents are lightweight, waterproof and easy to set up. In fact, the new Vista Quick tent practically sets itself up. Just pull the drawstring, and the whole construction will pop up instantly and lock in place.
Even though Teton Sports tents are pretty inexpensive, they're by no means low quality.
Most tents use polyester taffeta, a thin and cheap but durable and waterproof fabric. As for poles, they switched fiberglass for a lighter and sturdier option – aluminum.
These tents might not have all the bells and whistles like those by high-end brands, but they offer everything you need in such a product, such as gear pockets, built-in ventilation system and reinforced rainfly.
Pros:
High-quality products sold at a rather wallet-friendly price
All tents are lightweight, easy to pitch and waterproof
There are several 1-person tents to choose from, depending on your your preference
A limited lifetime warranty assures the product you buy is free from manufacturing defects
They also make two high quality canvas tents
Cons:
Rather limited line of tents available
Best Variety Tent Brands (Backpacking & Camping)
NEMO Equipment

Known For: Waterproof Tents | Price: $$$$ | Tent Sizes: 1 to 8 | Warranty: Lifetime
Nemo Equipment makes some of the lightest tents out there. These so-called ultralight models weigh about a pound and are perfect for fast packing.
Ultralight tents aren't known for spaciousness, but Nemo models are surprisingly roomy.
Instead of sacrificing comfort, Nemo uses poly-nylon ripstop fabric as an alternative to traditional materials which are thicker and less resistant to weather elements.
The Dragonfly is probably the brand's most popular type of tent. It has a rather unusual shape, but don't let the looks fool you.
This tent has quite a bit of headspace, as well as slightly more room in width compared to similar type of tents.
Aside from the material, Nemo tents rely on geometry and tautness to keep you safe from weather elements. When pitched properly, the shape of these tents sends both wind and rain away.
All Nemo tent models are pretty easy and quick to set up. Of course, color-coded poles and matched webbings are mainly responsible for making pitching as straightforward as possible.
As of this year, Nemo Equipment has become Climate Neutral Certified.
This means not only keeping gas emissions as low as possible, but also compensating for any remaining emission output by supporting similar environmental projects.
Pros:
By switching to a thinner but more durable material, Nemo tents offer the perfect balance between weight and comfort
Most tent models offer lots of gear storage options, including gear loft and side pockets
Quick and straightforward pitching, thanks to color-coded poles and matched webbings
Low profile and sloped sides keep you protected from both rain and wind
Lifetime Warranty
Cons:
The majority of tent models are sized 1-3-person
REI Co-op

Known For: High Quality & Variety | Price: $$$ | Tent Sizes: 1 to 6 | Warranty: None
If you are looking for the best mix between affordability and durability, then turn to REI Co-op Tents.
With everything from small 2 person tents, to larger family tents like the REI Co-op Wonderland 6 Tent, REI Co-op has it all, and at a relatively affordable price.
REI Co-op tents are typically made for 3-seasons and last for years to come.
For this reason, we have plenty of REI Co-op tents ranked as the best-in-class.
Pros:
Wide variety of tents to meet various size group's needs
Made for outdoorsman by outdoorsman
Unparalleled customer service since 1938
70% of profits are invested back into the outdoor community through dividends to REI Members
Cons:
You have to be a Co-op member to receive certain discounts
Footprint sometimes sold separately
The North Face

Known For: Variety | Price: $$$ | Tent Sizes: 1 to 6 | Warranty: Lifetime (Limited)
Founded as a climbing equipment retail store back in 1968, The North Face quickly became one of the leading manufacturers of outdoor equipment.
Today, the brand's name is a synonym for high-quality alpine expedition gear.
The North Face is constantly working on improving their products to make them more durable, lightweight and weather-resistant.
At the same time, the company is focused on keeping the manufacturing process sustainable.
In fact, The North Face has set a goal to switch 100% to responsibly-sourced fabrics for apparel by 2025, and gear by 2030.
They have also committed to eliminating single-use plastic product packaging, by switching to paper materials.
Aside from quality craftsmanship, another thing the North Face tents have in common is weather resistance. They achieve this with dome shape, crossed-pole design and a waterproof fly.
But while all North Pole tents are designed for tough weather, the majority of them is perfectly suitable for any time of the year.
All 3-season tents are double-walled, with large mesh walls and doors. As far as price tags go, there's something for everyone's wallet. But regardless the cost, you can expect to get high-quality product.
Pros:
All tents are designed to withstand adverse weather conditions
The brand is focused on switching to renewable and recycled fabrics and packaging
Both 3 and 4-season tents have excellent airflow thanks to mesh walls and doors, as well as high-low ventilations
Regardless of the size, all North Face tents are pretty straightforward and quick to setup
Cons:
Buy Direct from The North Face
Best Backpacking Tent Brands
Big Agnes

Known For: Ultralight Tents | Price: $$$$ | Tent Sizes: 1 to 8 | Warranty: Lifetime (Limited)
Big Agnes offers a full lineup of high-quality tents for different types of camping trips. Casual, car camping, mountaineering – you name it.
But what the brand is truly specialized at is ultralight tents. With thin-walled aluminum poles and light parachute fabric, the award winning Fly Creek HV tent weighs as little as a pound.
But at the same time, this featherweight tent is very durable and weather-resistant.
Big Agnes car camping tents, on the other hand, are designed with luxury in mind.
When weight is not an issue, there's no reason to sacrifice comfort. With tent sizes ranging from 4 to 8-person, you can find a shelter large enough for the whole crew.
The brand has continuously worker on implementing sustainable practices into the manufacturing and sourcing.
In 2021, they introduced a line of Solution-Dyed Fabric tents, colored with a method that uses up to 90% less water and energy than the traditional batch-dying process.
Not going to lie, Big Agnes tents aren't the most affordable option out there. But if you're looking for a perfect balance of quality, weight and comfort, you'll hardly find a better tent.
Pros:
The brand offers a wide variety of models specialized for different types of camping activities
All tents are designed to withstand harsh weather conditions
The Crazylight tent line features some of the most lightweight tents on the market
The company is implementing sustainable manufacturing initiatives to reduce impact on the environment
Cons:
Marmot
Known For: Backpacking/Mountaineering Tents | Price: $$$$ | Tent Sizes: 1 to 6 | Warranty: Lifetime
Marmot was founded more than 50 years ago, by two college students who started making their own parkas and sleeping bags in the dorm.
Interestingly enough, the big break happened only a week after, when they received a custom order to make parkas for a Clint Eastwood's movie. The rest – is history.
The brand is well-known for using cut-edge technology to further improve the design of outdoor clothing and equipment.
Marmot was the first to use GORE-TEX, MemBrain, WarmCube and Polartec to make its gear suitable for a wide range of outdoor activities.
Marmot tents are characterized by high-quality workmanship and mid-range price tag. They offer a wide range of camping, backpacking and mountaineering tents.
Whether you're hitting the trail alone or with a whole family, there's a suitable tent for a group of any size.
Then, depending on your needs, you can be more nitpicky about the details. But what most models have in common is they're roomy, easy to pitch and offer good weather protection.
One thing we especially love about Marmot is their commitment to sustainability. The brand is Bluesign certified, meaning the entire manufacturing process is safe for both workers and the environment.
Pros:
High-quality products sold at a mid-range price
Offer a wide range of camping, backpacking and mountaineering tents
All products are warranted for life against manufacturing and material defects
The products are Bluesign certified, meaning they're safe both consumers and the environment
Cons:
Limited selection of 4+ person tents
MSR Gear
Known For: Backpacking | Price: $$$ | Tent Sizes: 1 to 6 | Warranty: 3 Years (Limited)
MSR, also known as Mountain Safety Research, has been making quality camping gear since 1969.
MSR specializes in lightweight backpacking tents. To do this, they've absorbed other tent brands like Moss, Walrus, and Armadillo. This lets them use other brands' tech to improve their own tents.
Recently, MSR celebrated its fiftieth anniversary, but don't think you "can't teach an old dog new tricks." As mentioned, MSR is known for its ultralight tent models. These tents might cost a premium, but you'll be glad you made the investment when you're carrying less weight on your back.
Our favorite MSR tent is the Hubba Hubba 2-person model. It's super light (less than 3 lbs), extremely weatherproof, and doesn't come with an insane price tag.
Pros:
50 years of experience makes MSR gear super high quality
Heavily involved in philanthropic efforts through their Global Health initiatives, making the world a better place while also making great gear
Ultralight tents that are so light you can carry them in your backpack with no issues
Xtreme Shield Waterproofing lasts three times longer than standard coatings
Made out of cutting-edge aerospace composite materials, MSR's Syclone Poles are near impossible for wind to snap
Cons:
Not priced for beginners
Large options (six people and above) are limited
Best for: experienced backpackers who want a lightweight tent with premium features.
Mountain Hardwear
Known For: Winter/Mountaineering Tents | Price: $$$$ | Tent Sizes: 2 to 15 | Warranty: Lifetime
Thirty years ago, proper gear for high alpine pursuits was practically impossible to be found. But that all changed in 1993, when a group of outdoor athletes founded what was soon to become the industry leader when it comes to mountaineering equipment.
Making a good mountaineering tent is a tough task for the brands. Such a tent needs to withstand extreme weather conditions while providing good breathability.
To achieve that, Mountain Hardwear has partnered with different brands to develop materials and technology to enhance the performance of their products, such as Gore-Tex and Dyneema.
The iconic Space Station tent is a perfect example of the brand's innovative design.
Shaped like a geodesic dome, this 20-person tent provides a perfect shelter against extreme weather on alpine expeditions. If any tent can keep you safe and warm on a K2 summit, it's this one.
Aside from a wide range of mountaineering tents, the brand also offers a fair amount of fast-packing tents.
These tents are ultra-lightweight, but at the same time roomy and durable. With a full-mesh body and a waterproof fly, these tents provide a proper shelter in different weather conditions.
Pros:
Very durable tents that can withstand extreme weather conditions
The fast-packing line offers some of the most lightweight models out there
All tents are fairly straightforward and quick to assemble
Bluesign certification guarantees that each product was manufactured with minimal impact on people and the environment
All tents come with a lifetime warranty
Cons:
Very expensive, especially the 4-season line of tents
Buy Direct from Mountain Hardwear
Mountain Hardwear Tents at REI
Best Specialty Tent Brands
Napier
Known For: Truck & SUV Tents | Price: $$ | Tent Sizes: 2 to 6 | Warranty: 1 Year
Napier is one of the leading brands when it comes to vehicle tents. For over 30 years now, they've been combining automotive and camping industries, reshaping the way we perceive outdoor activities.
The idea of attaching a tent onto the vehicle is a game changer when it comes to comfort and convenience.
Suffering from severe allergies, the company founder Roman Napieraj decided on switching sleeping in a tent to sleeping in a car.
With wooden beams, a tarp and an air mattress, he transformed the back of his truck into a tent. Seeing other campers quickly copying him, Roman knew he was on the verge of something revolutionary.
Today, Napier offers a range of both truck and rooftop tents. Not only do they keep you away from the cold ground, critters and bugs, these tents keep you safe from weather elements.
Made of polyester taffeta and polyethylene, they're waterproof and UV-resistant, but at the same time breathable.
Through a partnership with Trees for the Future, Navier plants a tree for each sold Backroadz Tent. That's a really nice way to make every purchase count.
Pros:
There's a wide range of both truck and rooftop tents available, so there's something for everyone
Tents are made of polyester taffeta and polyethylene, which is a weatherproof and breathable material
The brand plants a tree for each sold Backroadz Tent
There's a tent model for everyone's wallet
Cons:
Just a 1-year limited warranty on defects in craftsmanship
Napier Outdoors Tents on Amazon
SpringBar
Known For: Made in USA Tents | Price: $$$$ | Tent Sizes: 2 to 6 | Warranty: Lifetime
Next, I have to mention this canvas tent brand. I'm a pretty big fan of canvas tents for their durability, breathability, and awesome aesthetics.
Be forewarned: canvas tents are very different to synthetic tents. They require a slightly higher level of care but provide a significantly higher level experience (kind of like a cast-iron pan).
The main difference between SpringBar tents and standard nylon tents is (obviously) the material. SpringBar's 100% duck canvas is a much nicer material to sleep in thanks to how well the cotton airs out. At the same time, this canvas tent is epic for the winter because it holds heat and is thick enough not to fold under falling snow.
If you haven't already, check out our article on tent materials to learn more.
SpringBar's tent options only differ in their size. I recommend the SpringBar 6-person tent because if you're going to buy a canvas tent that you'll have for years, you want one large enough to fit the whole gang.
Pros:
Breathable, insulating canvas material means you'll stay warm in the winter and cool in the summer
Enables you to use a wood-burning stove inside your tent (never recommended in nylon tents)
Heavyweight duck canvas provides protection from high winds, harsh weather, and heavy snowfall
Cabin-style design (with straight walls) provides tons of room, and tall center heights mean anyone can walk around inside
Lifetime warranty offered by SpringBar makes sure you're covered against damage
Cons:
Although these tents will last decades, the upfront investment is more than with other tents
Canvas tents are much heavier than nylon tents and should not be used for backpacking
Best for: car camping families who want to buy an all-season camping tent they can pass down to their kids.
White Duck Outdoors
Known For: Canvas Tents | Price: $$$$ | Tent Sizes: 2 to 15+ | Warranty: Lifetime
White Duck Outdoors creates top-notch canvas tents that will last a lifetime.
White Duck's tents are sustainably manufactured using proprietary DYNADUCK fabric that is 100% double-fill army duck cotton canvas.
Their tent fabric, is treated with a PFC-free, fire water repellent, mold & UV resistant finish making it the most comfortable and durable tent fabric on the market today.
White Duck tents come in many different shapes and sizes, including bell tents, wall tents, and cabin tents. Many also have a pre-cut stove jack for hot tenting.
Ranging from 8′ to 12′ x 14′ White Duck tents will accommodate anywhere from 3 to 15 people.
We love the White Duck Prota Deluxe which provides excellent ceiling height throughout and plenty of room for our entire family.
Pros:
Poles, angle kits, frame and a toolkit are included with every tent
Tents are equipped with a stove jack, windows, and bug mesh where applicable
DYNADUCK canvas tent fabric is more durable and water repellent than other tent fabrics
This tent if properly maintained will last a lifetime and tents come with a Lifetime Warranty
Sustainable manufacturing processes and materials are great for the environment
Cons:
Canvas tents do require more maintenance
White Duck tents come at a premium price
Best for: glamping – and those looking for an extremely durable tent that will last a lifetime.
Top Tent Brands – Compared by Price, Warranty, and Sizes
| | | | | |
| --- | --- | --- | --- | --- |
| | | | | |
| | | | | |
| | | | | |
| | | | | |
| | Affordable Backpacking Tents | | | |
| | | | | |
| | | | | |
| | | | | |
| | | | | |
| | Affordable Small & Canvas Tents | | | |
| | | | | |
| | | | | |
| | Backpacking/Mountaineering Tents | | | |
| | Winter/Mountaineering Tents | | | |
| | | | | |
| | | | | |
| | | | | |
What To Look For
Now that we've shown you the best tent brands, let's talk about what you should look for when selecting at a tent brand.
As you know by now, different camping tent brands have different strengths and weaknesses. Similarly, every camper has different wants and needs. There is no one, singular "best tent brand."
So, the goal of this section is to help you find the "best tent brand" that matches you.
Style (Backpacking vs. Car Camping)
The first thing to decide is what style camper you are.
Are you a family of 6 who needs a tent to match the mini-van? Then you're a car camper.
Are you a solo explorer whose goal is to trek the whole Appalachian Trail? Then you're a backpacker and you need a lightweight backpacking tent.
Once you decide what style of camping suits you, you can better explore your tent options and weed out the tents that don't fit you.
A backpacking tent prioritizes weight over everything. There's no need for a backpacker to fit 8 people in their tent if that means carrying an extra 20 lbs on his or her back.
On the other hand, car campers prioritize size over everything. A super weather-resistant tent is worthless if it's too small, and little Timmy has to sleep outside.
Choose your style of camping, then filter for tent brands that specialize in that style.
Also, note that there are tents for your truck-bed that might suit you better if you happen to drive a pick-up truck.
Size
Now that you've chosen your camping style, pick what size you want.
This will easily help you narrow down your choices. Many of the ultralight brands (like MSR) do not offer large options.
Instead, look to the family-oriented tent brands like Core Equipment, Ozark, Coleman, or White Duck. Both White Duck and Ozark Trail make tents for up to 15 people.
You'll want to refer back to this chart to see the range of tents offered by each brand.
But also keep in mind that if you want additional room for gear and comfort, you may want to go up as much as double the amount of people you plan on sleeping.
So for instance, if you are going to sleep a family of four comfortably, you likely will want to look at 8-10 person sized tents.
Seasonality
You've picked your style and your size, now it's time to get into the details. Determine where (and when) you'll be camping, and you can narrow down your search quickly.
Campers looking to brave the winter months and sleep out in the cold should consider brands like MSR or SpringBar. Their 4 season tents are built to give top-notch snow shelter.
If you're camping in hot and humid climates, you want to look at a 3 season tent. Consider brands like Coleman that focus on breathability and ventilation.
Lastly, even if you buy a waterproof tent, you can never be too sure. It's always a good idea to treat your tent with a waterproofing spray to make sure you stay dry if it rains during your trip.
Specifics
At this point, you're probably looking at only a handful of tent brands. Now it's time to look at the specifics of the tents and see if you can find one that matches you.
Here are some of the details to consider.
Tent poles – what are they made out of? Aluminum poles are stronger than carbon composite or fiberglass poles but are more expensive and heavier
Tent fabric – canvas is a lot heavier than nylon but is definitely stronger and more breathable
Rainfly – how big is it, is it integrated, or does it not come with one at all?
Bells & whistles – is it an instant tent, does it have electrical ports, a vestibule, a gear loft, or extra doors?
The above factors are more so up to personal preference. Choose which ones matter most to you, and select a tent that has what you need.
Quality & Durability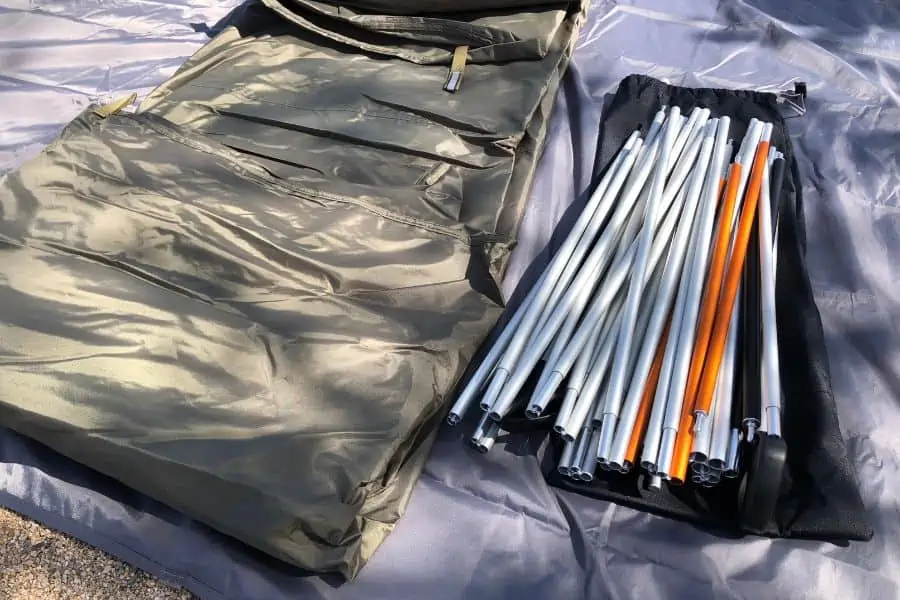 When using any outdoor gear, it's crucial that you consider the quality of the gear's construction.
Outdoor gear is used… well, outside, and unlike office gear like desks, chairs, or computers, these items need to be able to withstand rain, sun, wind, and snow!
Unfortunately, it's kind of hard to judge the construction of a product, especially when you're checking it out on the internet.
But there are ways to assess the quality of the poles, tent fabric, rainfly, and overall construction.
For instance aluminum tent poles are of higher quality than fiberglass tent poles.
Canvas beats out nylon, though nylon does have its advantages on weight and price.
But even reputable brands making high quality tents, can make mistakes or have quality control issues.
Be sure to check out the online reviews for each tent. You'll quickly be able to tell if the tent is well made by reading other people's experiences.
Warranty
Alongside the quality and durability of a tent, you'll also want to look at the warranty.
There are many brands that offer Lifetime warranties for their tents. They are:
Marmot
Mountain Hardwear
NEMO Equipment
SpringBar
TETON Sports
White Duck Outdoors
But there are also many other companies that offer Limited Lifetime warranties.
Most budget tent brands will offer between 6-12 month limited warranties.
REI Co-op offers no warranty, but their tents are returnable for up to a year if there are any problems.
Value For Money
Last but not least is everyone's favorite topic: price. You don't want to buy a tent that breaks the bank, but you also don't want to buy something that's gonna fall apart the first time you use it.
For this article, I tried to choose only the brands that were worth their salt.
That means the affordable tents won't fail under pressure, and the premium tents will be well worth the investment (if you make it).
The last thing we'd want is for you to waste your money on an overpriced tent that provides a poor camping experience. No matter which tent brand you end up pledging allegiance to, I know you'll be satisfied with our recommendations.
FAQ
What factors contribute to a tent brand's reputation for quality and reliability in the outdoor industry?
Durability, above all else, will prove a brand's quality and reliability.
Generally, the best brands' products will serve you well for years to come with only regular maintenance and care.
More recently, sustainability has become an increasingly important factor in establishing a brand's reputation for quality materials.
How do the best tent brands ensure their products are durable, weather resistant, and suitable for various camping scenarios?
Brands make sure their products are durable, weather resistant, and versatile by using high-quality materials produced through sophisticated technological means.
By this, we mean ultra-lightweight aluminum or composite tent poles that can withstand high winds without breaking.
And tent fabrics like Dyneema are up to 30 percent lighter than nylon and 15 times stronger than steel.
These materials are typically on the more expensive side, but the increase in price is well justified.
Are there specific tent brands that specialize in certain types of tents, such as family tents, backpacking tents, or expedition tents?
While most brands make a wide variety of tents, some brands are most known for a specific type or design.
Core Equipment, for instance, is known for its family tents, while Napier Outdoors is popular for its SUV-compatible tents, and MSR is known for its backpacking tents.
You can see our entire list of tent brands and what they are known for here.
What kind of warranty or after-sales support can I expect from the best tent brands?
Most high-end tent brands will offer at least a limited lifetime warranty, which will cover defects in manufacturing.
With this warranty, you can rest assured you'll get your money's worth (or your money back) if you're not pleased with a tent you've purchased
What are some of the most popular and highly recommended tent models from the top tent brands?
Some of the most popular tents from top brands are the Big Agnes Copper Spur HV UL2 Tent, NEMO Wagontop, MSR Hubba Hubba, REI Co-op Half Dome, and White Duck Prota Deluxe.
All of these tents come highly recommended by Wilderness Times!
Are there any tent brands that prioritize eco-friendly or sustainable materials and manufacturing practices?
A few brands, including NEMO Equipment, The North Face, Mountain Hardwear, and Big Agnes, prioritize sustainability and eco practices in manufacturing.
Our Verdict
To sum things up, with so much variety in styles and types of camping, we can't pick a "best" tent brand.
While Coleman has a budget tent for every size, style, or season, there are specialty tents that will beat them out depending on what you are looking for.
For example, Big Agnes, Marmot, and MSR will knock Coleman out of the park when it comes to portable backpacking tents.
White Duck Outdoors crushes the competition with amazing Canvas Tents, while NEMO Equipment makes tents that can withstand even the wettest of conditions.
And if you are looking for a quality, affordable family tent, then Core may be the best option for you.
So you see, it all depends! Figure out what matters most to you, and the amount of time you'll be spending tent camping, and go from there!