In a hurry? We found that the Kamp-Rite oversize tent cot is the best tent cot available today.
Believe it or not, camping requires much more than a tent!
There's a laundry list of gear that the wife, kids and I love taking along for our camping trips. One of the most essential items for happy campers is a cot.
However, not all cots are created equal. In this article, we'll be discussing tent cots. These are cots that come with a built-in tent.
This means you have less to carry to the campsite, yet still have the comfort of a cot and the protection of a tent.
After trying out a bunch of tent cots, these were some of the best options when it comes to durability and space.
Ready? Let's dive in!
Best 1-Person Tent Cots:
Best 2-Person Tent Cots:
Still confused? Jump down and compare all of our recommended tent cots. 
Best Tent Cot: Our Top Recommendations
The Kamp-Rite Oversize Tent Cot
Size: 1 person | Supports Up To: 350 lbs | Weight: 32 lbs | Bed Size: 90 x 32 in | Maximum Height: 47″
For sleeping in style during your camping trip, the Kamp-Rite tent cot is the answer.
It's comfortable, durable, and easy to set up. Made from strong materials, it's stood up well to several camping trips. We've even used this one at home when we needed a mattress for a guest.
On top of that, you can also use this cot as a chair or table, too. With a few adjustments, your bed becomes a chair in the blink of an eye.
This tent cot is one of the best ones on the market if you want to take the comfort of your bed at home to the campsite.
Pros:
Tons of space – definitely "oversize"
Sets up and tears down in minutes, without fumbling with poles and screws
Slightly higher than other camping cots, lifting you 11" off the ground – this is great from keeping crawling critters from bugging you
It's resistant to all types of weather conditions, and can stand up to pretty heavy rain with the added rain fly
Side door can be propped up to be used as a mini-porch to give even more space
Very affordable, considering everything that you get
Cons:
The first set-up might take a little longer, especially if you've never used a cot before
Best for: larger campers who want a full-tent experience from their cot, or people who want more space to stretch out.
Check Price at Dick's Sporting Goods
TANGKULA Tent Cot 1-Person
Size: 1 person | Supports Up To: 300 lbs | Weight: 30 lbs | Bed Size: 76 x 31 in | Maximum Height: 63″
This 1-person tent cot from TANGULA is another fantastic option.
It's completely waterproof when you attach the rain fly that comes included. You won't ever have to worry about rain seeping in while you sleep.
It's also impressively sturdy. No matter the weather, this tent cot will stay standing strong.
Setting it up couldn't be any easier. You can do it in under 10 minutes, leaving you plenty of time to kick back and relax.
If you're looking for portable comfort that'll last you for years to come, this cot won't disappoint.
Pros:
It's made from only the most durable materials, and it's completely waterproof with the rain fly attached
It can be set up in under ten minutes, and it's great for a quick solo camping trip
It anchors well and it's unlikely to fall over, even in strong winds
This tent cot is 12" off the ground, separating you from snakes, bugs and rising water
Simple construction and quality materials mean this one will last for years
Cons:
Not as much space as some other tent cots
Best for: cold weather campers who are OK sacrificing extra space for weather protection.
Outsunny 1 Person Camping Cot Tent Combo Set
Size: 1 person | Supports Up To: 225 lbs | Weight: 19.4 lbs | Bed Size: 76 x 30.25 in | Maximum Height: 46.5″
If all you're after is a simple tent cot, this combo set from Outsunny might just be what you're looking for.
It might not have all the bells and whistles, but it's got everything you need for a comfortable night's sleep.
Like, for instance, weather resistant fabric that'll block out UV rays and light rain.
It holds up to 225 lbs., so it's sturdy enough for most people.
It also compares well to other tent cots in the weight department. It weighs just over 19 lbs., so you won't have any trouble getting it to and from your campsite.
Plus, setting it up is so quick and easy, you can do it in just a few minutes.
The main problem I have with this tent cot is that it doesn't come with a rain fly. In heavy rain, water will leak through the tent, so it's a good idea to have a tarp ready in case you encounter any bad weather.
Pros:
Weather resistant fabric keeps you warm and dry in light rain
Quick and easy set-up, leaving you more time to enjoy your trip
Very strong and sturdy – can hold up to 225 lbs. of weight
Fairly lightweight for a cot, weighing in at just over 19 lbs.
It's 78" long, so unless you're a professional basketball player, you'll have plenty of room to stretch out
Cons:
Not fully waterproof – requires a rain fly in heavy rain (not included)
Best for: a solo camper looking for a great product that won't break the bank.
Therm-a-Rest Cot Tent + Luxurylite Cot Tent Combo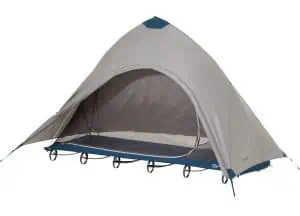 Size: 1 person | Supports Up To: 325 lbs | Weight: 6 lbs 3 oz | Bed Size: 72 x 24 in | Maximum Height: 55″
If you are looking for a lightweight backpacking cot, look no further. This is actually two separate products that you can get as a tent cot combo: the Therm-a-Rest Cot Tent and the Luxurylite Cot.
Both are individually lightweight – the tent is 2.63 lbs and the cot itself ranged between 3 lbs 9 oz and 4 lbs 7 oz depending on the size. Combined they make the perfect tent cot for backpackers.
Not only is it lightweight, but the Luxerylite Cot supports up to 325 lbs. That is a marvel of engineering right there!
Pros:
The lightest tent cot at 6 lbs and 3 oz total for the regular size
A peak height of 55″ means more headroom than other 1-person tent cots
Works with other full-size cots (great if you already have one).
Cons:
Have to purchase the tent and cot separately
Best for: Backpackers or those who don't want to lug 33 lbs.
Kamp-Rite Original Tent Cot 

Size: 1 person | Supports Up To: 300 lbs | Weight: 26.6 lbs | Bed Size: 84 x 28 in | Maximum Height: 35″
At this point, you know we're big fans of Kamp-Rite's reliable tents. We have several of them in our camping gear collection, and the original tent cot is one.
Although we prefer the oversized tent cot, the original is a great option for those who want to spend less money, and don't mind having a little less space. On the upside, less space equals less weight – so this model is lighter.
If you're looking for a durable 1 person tent cot that doesn't take long to set up, and is somewhere in between comfort and bare-bones camping, this tent cot is the perfect solution.
Pros:
Kamp-Rite products are made really well and from good material – this one's nylon cot fabric makes it resistant to weather
It elevates 11" above the ground, more than enough of a distance to keep you away from any bugs that are crawling around
This tent cot is pretty light, which means that even the kids can carry it and set it up – just make sure they're careful not to pinch their fingers unfolding it
Converts into a lounge chair in case you want to sit around and take in the views
All the reliability of the Kamp-Rite oversize in a smaller package
Cons:
It's durable, but a little harder to set up than you would think if you've never done it before
Not as much space as the oversized Kamp-Rite tent cot, but more affordable
Best for: smaller people who want the quality of a Kamp-Rite but don't need all the extra space of the oversized model.
Kamp-Rite Double Tent Cot
Size: 2 person | Supports Up To: 500 lbs | Weight: 54.4 lbs | Bed Size: 84 x 53 in | Maximum Height: 51″
Looking to snuggle up with a significant other? Look no further.
This double camping cot from Kamp-Rite is an outstanding camping bed that's large enough to fit 2 adults – with room to spare.
It can hold up to 500 lbs., too. That's strong enough to support 2 adults and a small child or two.
Plus, it comes with a rain fly included, so you can rest easy knowing you'll stay bone dry even if a storm hits.
You won't have any issues setting it up. One person can put it together in about 5-10 minutes.
Want to know the best part?
This tent cot converts into a large, comfortable lounge chair, so you can have a comfy place to lounge around the campsite during the day. Pretty cool, huh?
Pros:
Spacious enough for 2 people, with enough room for kids or pets
Can hold up to 500 lbs. of weight – now, that's what I call sturdy
Made of durable heavy duty 190T Nylon, making it highly resistant to wear and tear
Set-up is straightforward – can be done quickly by 1 person
Converts to a lounge chair, so you'll always have a comfy place to chill at your campsite
Comes with a rain fly included to keep you dry no matter the weather
Cons:
Quite pricey, but then again most double tent cots are
Heavy – which is to be expected considering its size
Best for: camping couples looking for a double cot with enough space for the both of them – and then some.
Check Price at Dick's Sporting Goods
TETON Vista 2-Person Tent + 2x Universal Camp Tent Cot Combo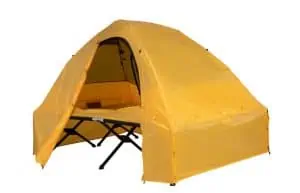 Size: 2 person | Supports Up To: 600 lbs | Weight: 57.4 lbs | Bed Size: 85 x 41 in | Maximum Height: 60″
Similar to the Therm-a-Rest Cot Tent, the TETON Vista 2-Person Quick Tent is both a separate tent, and cot system combined to work together as a cot tent combo.
Two TETON Universal Camp Cots are attached together and combined with the Vista Quick Tent and Rainfly to create this ultimate palace for couples.
With a 60 inch maximum height, this is the tallest of the tent cot options we have looked at, and with two 300 lb cots, you get up to 600 lbs of weight support.
Again, this is a fortress. Best of all TETON sells them all in a set that comes in either yellow or classic green.
Pros:
Sold as a complete set
Supports up to 600 lbs, the most of any of the options
A 60 inch maximum height gives you plenty of headroom compared to other tent cots
Comes in two different colors
Cons:
Have to be assembled individually.
Best for: Couples looking for more space and comfort.
Buy Green Color Direct from TETON
The Best Tent Cots – Compare Them All
How To Choose A Tent Cot: A Comprehensive Guide
Choosing a tent cot isn't as easy as just picking any old one off the shelf.
Of course, we've bought some lemons. Don't worry – none of those are listed here.
Here's how you can make sure that you locate the best possible tent cot for your needs and a comfortable camping trip.
Factors To Consider
When you're buying a camping cot, certain things matter a little more than others.
A great camping cot is:
Lightweight
Water and weather-proof
Made from high-quality materials
Easy enough to assemble and take down again when you're done
Extra features like a rain fly and inflatable mattresses, which only some tent cots come with, are another factor to consider.
Why Buy A Camping Cot?
Sleeping in a ground tent on a sleeping pad or air mattress can be great, but sleeping on a cot is even better.
Camping cots keep you off the ground and protected from the elements and other things like bugs and snakes.
A standard cot is usually raised a little bit off the ground for easy access to you, but not as easy access to the bugs crawling under you.
Many of them also isolate against weather conditions, too, or convert into camping tables and chairs as a multi-use camping cot.
A tent cot is a type of camping cot that takes this even further. By integrating the tent into the cot, a tent cot is truly the all-in-one solution for sleeping in the wild. Just add a blanket, and you're good to go.
Spotting The Lemons
All of the camping cots mentioned on this list are great choices – but they might not be great choices for you.
If you aren't too advanced when it comes to camping, don't choose advanced camping gear. Small steps apply to everything, including camping.
Start by choosing a tent cot with a sturdy frame. As long as the frame is strong (and all the tents above meet that qualification), the rest of the cot will probably get the job done.
What's The Best Way To Use A Tent Cot? 
If you're used to using a full tent, it might be confusing using your tent cot for the first time.
Tent cots are generally easy to set up, and the only thing you should remember is to place it in a level area. Some cots can stand on odd angles, but it's always best to be on a level surface, more or less.
If you aren't, one gust of wind can come along and blow your cot right over – and yes, this happened to me… twice.
Tent Cot Precautions 
Before you pitch your tent cot, take a few precautions to make sure your camping experience is A1.
First, decide where you're going to set up your camping cot. From there, be very sure it's set up in a level area.
Don't set it up under a tree. Yes, there's such a thing as falling snakes (or squirrels) in some parts, and where there aren't, you're risking a falling branch.
Set it up, anchor it well, and keep it away from the campfire – and you should be in the clear. Even if you've never done anything like this before, tent cots are fairly user-friendly.
Our Verdict
When you're in the market for a tent cot, some are better than others – and everyone has a personal preference.
The Kamp-Rite oversize tent cot is my favorite choice out of all five. The key to this tent's success lies in the word "oversize." If you're anything like me and like to wiggle around in your sleep, you'll appreciate the extra sleeping space.
It also comes with a few extras, including pegs to anchor it.
Plus, it's a multi-use camping cot that can easily convert into a chair or table with just a few small adjustments.
It's not hard to set up, and it's not heavy to carry.
We've taken the Kamp-Rite oversize tent cot along on a lot of camping trips and we've had a great sleeping experience every time.
Even at times when everything else didn't go as well as we planned it, this comfortable camping cot always came through for us.