Surely, one of the great philosophical questions of our time is, "How much should a backpacking tent weigh?"
As with all backpacking equipment, you are going to have to carry it.
And your backpacking tent's weight can really impact the quality of your hiking experience.
So, what is the ideal backpacking weight? The answer to this one can't just be, "As light as possible!" There are too many other factors that need to go into your decision.
Let's take a look at different tent weights and what the different sizes have to offer you on your next backpacking trip.
What Is A Good Weight For A Backpacking Tent?
I have spent a lot of time in tents. My parents took our family camping often when I was young.
We would drive from landlocked Uganda over 1,000 miles to the Kenyan coast and camp there for a month for our holidays.
Because of this, I know firsthand that choosing the right tent is one of the most important things you can do to prepare for a multi-day hike.
The weight of your tent can make the difference between misery and fun.
If you get the right tent, it will be your best friend, but it is really easy to get that choice wrong.
I definitely have chosen the wrong tent for the wrong situation, and then regretted it.
Generally speaking, your backpack should weigh no more than 20-25% of your body weight at most.
That can change depending on each person's ability to carry heavy weight. But because of this standard, the tent you carry should weigh 2.5-3 pounds per person.
For example, if it is a 2-person tent, it should weigh between 4-6 pounds.
Also, a pro-tip is to divide the tent parts among your group so not just one person has to carry all its weight.
Luckily, there are many options for tents that each offer different features in tandem with their weight.
Read: Best Budget Backpacking Tent
Backpacking Tent Weight Classes
You can roughly categorize tents into the following four weight brackets:
Heavy/Midweight (4.5 lbs+ / 2kg+)
Lightweight (3 to 4.5 lbs / 1.4 to 2kg)
Ultralight (2 to 3 lbs / 1.4kg to 900g)
Crazylight (Less than 2 lbs / 900g)
The heavier the tent, the more people it can house and the more features it can offer.
However, you don't always need those things, which is why some backpackers just prefer to go the lightest route.
When considering a backpacking tent's weight, you need to look at the full packed weight (not its trail weight) as that includes everything – the tent, guy ropes, poles and stakes/pegs.
Of course, you can adjust this when you are on the road, but it is good to know what your maximum is going to be.
Read: How Much Weight Should You Carry Backpacking?
Heavy/Midweight (4.5 lbs+ / 2kg+)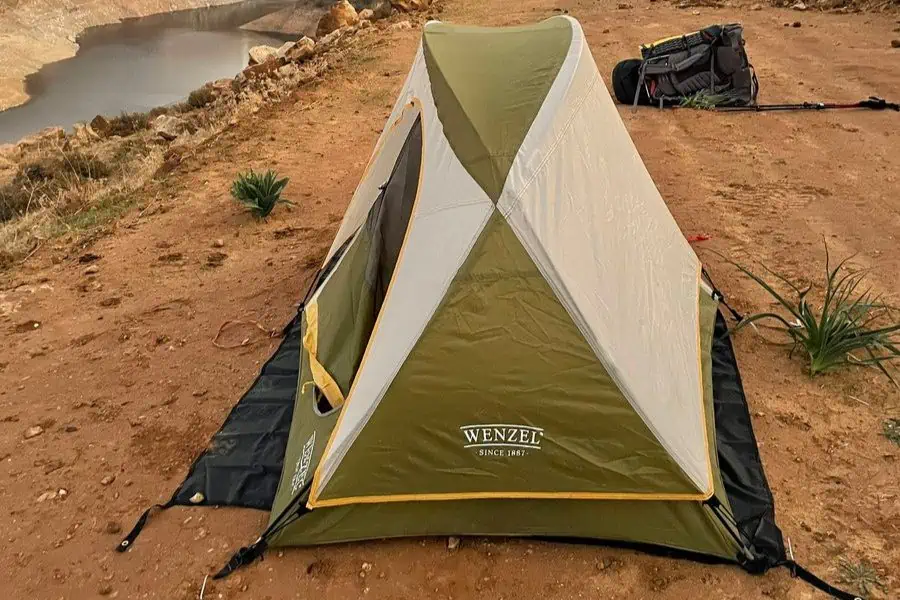 A heavier tent is typically signified by features like better weather protection (3 to 4 seasons), more space, more durability, and lower cost.
Many tents in this weight range and slightly above are also suitable for 2 people.
What I would expect from a tent at this weight is a good ground space and a variety of features to give you some extra comfort as well as the basics:
double-wall construction to give extra rain security and fight against humidity.
a tub construction or integrated ground sheet.
plenty of room to store gear (like a vestibule), and a selection of gear and light pockets.
2+ doors.
a form of vent

–

a skylight is the dream, so you can do some stargazing.
high-quality poles and stakes.
For a long, multi-day thru-hike I would go for this option, even if the weather is going to be good.
If you are on the trail for 30+ days, then you are going to need something that can withstand the elements and a tired hiker over that longer period of time.
It may seem counter-intuitive to pack more weight for a longer hike, but this is your key piece of equipment.
Details that can add exponentially to your comfort will really help you as the days wear on.
In winter conditions, I would use a heavier tent whatever the duration of the hike. Snow, rain, extreme cold and mud are the enemies of the lighter tent.
Without sounding too dramatic, there is a safety element involved. It is physically very debilitating to be constantly cold and wet and unable to sleep.
You are far more likely to have an accident if you are exhausted.
If you are doing some serious winter mountaineering then you are looking at adding quite a lot of extra weight.
Most people, though, will be doing this in pairs or groups so you can spread the load. You will almost certainly want to be sharing a tent for warmth.
You may well need to take extra stakes and a separate groundsheet as well, as the weather conditions are very likely to be extremely challenging.
The Mountain Hardwear Trango 3 only takes 2 climbers to set up, plus gear comes in at around 11.5 pounds.
Lightweight (3 to 4.5 lbs / 1.4 to 2kg)
This is my go-to tent. I do a lot of hiking in the Atlas Mountains and the lightweight works well except in deep winter.
I also hike in Scotland in the summer and use a lightweight for most adventures as it is adequate for keeping me dry.
There is a large element of personal preference but I think this kind of tent is excellent for medium-length hikes – up to 2 weeks and for three seasons.
You will also find a number of tents at this weight that can be used for either one or two people. Though, if it is for two people, you might be sacrificing your tent poles for walking poles, have a reduced fly sheet, or have a single-wall construction.
The tent at this weight will also probably be made from a less durable set of fabrics.
In a lightweight one-person tent, I would want to have:
a reasonably sized footprint (although, options like crafted corners for extra legroom are an option).
a double wall, as it reduces condensation and gives you temperature options when you are sleeping in if it is hot.
at least one pole to hang my tent on; using walking poles as your poles definitely saves weight but it also makes putting up the tent a bit more complex.
a separate ground sheet for camping in snowy or rainy weather.
Some models offer you a partial fly. The disadvantage with this is that if it rains and there is wind, you are not fully covered and water may come in.
But it does save weight!
The MSR Hubba Hubba 2 Tent is a 2-person tent that weighs about 2 pounds 14 ounces and provides you with plenty of room, airflow, vestibules, and weather protection.
If, like most of us, you aren't in a position to buy lots of different tents for different conditions, then I would plump for a lightweight tent as it is likely to be good for most conditions.
Ultralight (2 to 3 lbs / 1.4kg to 900g)
We are now getting into fast-hiking territory. This is a really light tent so don't expect too much of it.
Ultralight tents sacrifice durability and weather protection just like lightweight tents.
Fancy features tend to disappear when you are stripping the weight down like this:
These tents are typically made with similar fabrics as lightweight tents, but they mostly lose their weight by taking away floor space and headroom.
Ultralight tents generally look smaller due to their heavily sloped ceilings, smaller floor areas, and fewer doors (depending on the model).
They also tend to have very simple pole structure designs, which can mean fewer poles, but less stability.
That means ultralight tents can be less-than-ideal for rough terrain or harsh weather.
Additionally, this weight category is not great for multiple people since there is less space.
Some may be designed for larger groups, but know that you may be getting very close during the trip.
Ultralight tents are popular for backpackers who just want a lighter pack and who know their trip will not include bad weather.
While an ultralight tent will protect you and your things from most weather conditions, it will not be as comfortable or protective as heavier designs.
Both the MSR FreeLite 2 Tent and the Big Agnes Tiger Wall UL 2 Solution-Dyed Tent are spacious, 2-person options for an ultralight tent.
They both boast of decent space for a lightweight and decent cost.
If you scour tent information online like me, you will find people saying that they have used their ultralights for weeks on end from the Arctic to the Sahara.
I use mine on quickie treks (up to a week) and in good weather: no heavy rain or high winds in the forecast.
If bad weather happens, this level of tent will offer you and your gear protection.
I'd just take some extra care when pitching and packing, so I don't do any accidental damage.
There is little logic in taking such a lightweight tent and adding a ground sheet, so I would leave that at home and just pitch carefully.
At this weight, I would go for a single-walled version purely to give that extra strength in material while saving on the weight.
There are many options for using walking poles, but a single-pole version comes within the weight limit while still providing you with stability.
Read: How To Set Up A Tent
Crazylight (Less than 2 lbs / 900g)
You must be an ultra runner if you are down to this level, or just want to take a tent in case of emergency.
Realistically, you are looking at a tarp tent at this weight. Crazylight tents are just what they sound like: crazy light.
These tents are not made to last tons of use or withstand bad weather or harsh elements.
This is the kind of tent you use when speed is all that really matters and every ounce is going to adversely affect your performance.
If you are after an FKT and don't have a support crew to help, or if you are on a multi-day ultra race, then this is definitely the tent for you.
It will provide shelter and keep off the elements.
While space inside the tent can vary with the model, most are made with a single-wall design (no separate rainfly).
This basically means that there is far less breathability and separation from the elements. So, if it is raining or snowing outside, you'll feel it.
A crazylight tent is also usually non-freestanding, which means you have to stake it down.
This also means that you have to be extra careful with setting up to make sure it is sturdy enough.
Most of what you will get at this weight is a simple shelter to keep you from the elements overnight. It is not meant for rough areas or large groups.
Thru-hikers tend to gravitate towards this size because it saves space and weight, and they have to carry a lot over a long time.
However, if you don't have to save weight, this is not the tent for you.
Ultimately, this weight category is only recommended for backpackers who are most concerned about weight.
Hyperlite's Unbound 2P Tent is advertised for thru-hikers and for those just looking for a simple shelter.
Basically, if you just want to go for a yomp for a night or so and the forecast is dry and you foresee spending most of your time outside but want something to cover you in the night, this is a good option.
Other Shelter Options To Save Weight
You may not need a tent at all. There are other options to save you weight that will still allow you some comfort and coverage as you spend a night under the stars.
Bivouac Sacks or "Bivy" Shelters
Backpacking Tarp Shelters
Hammocks
Bivouac "Bivy" Sacks or Bivy Shelters
Bivy sacks are super lightweight – you can get them at 10.5 ounces / 300 grams.
They are basically waterproof bags that you insert yourself and your sleeping bag in to. Wiggle in, get comfy, zip the bag up and hey presto.
They will keep you dry in the rain and are a brilliant option if you are going out just for a night or two and want something 'just in case'.
The downside to a bivy sack is that they can feel a bit claustrophobic.
Bivy shelters are essentially a very small tent that will fit you and your sleeping bag inside it to keep out rain and bugs.
Both of these options are great for those who are looking to be able to set up anywhere and save on weight.
Backpacking Tarp Shelters
There are two basic types of tarp shelters: a flat tarp which you can use in lots of different ways, or a curved tarp that has been cut to reduce weight.
If you think of a tarp like a big umbrella you will get an idea of the protection it offers.
They are extremely light though – I found one at 7.3 ounces / 208 grams.
You can use them in conjunction with a bivy bag and a ground sheet for quite a nice set up.
Hammocks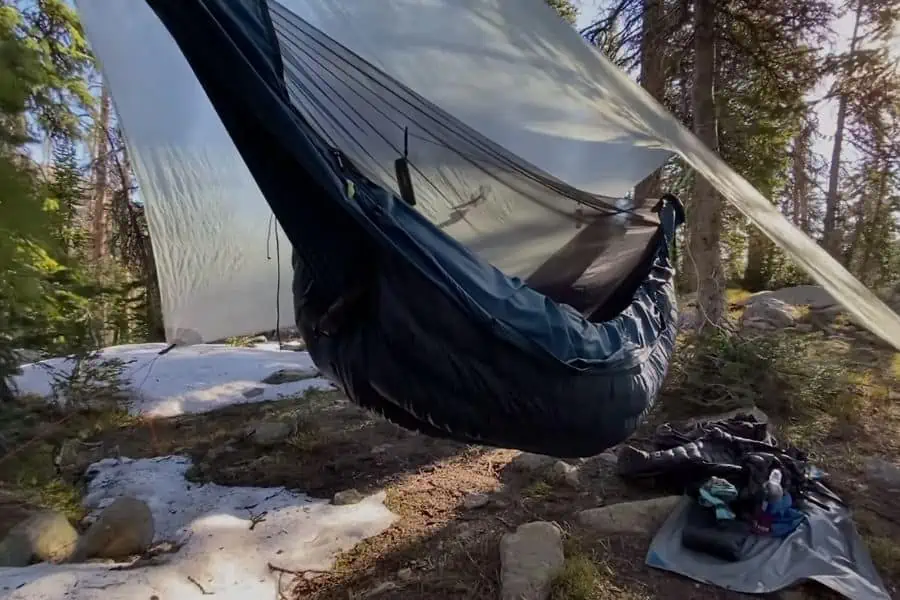 Living the dream. Who doesn't want to spend a night in a hammock in the forest?
The major plus of the hammock is that it keeps you off the ground.
It will protect you from all the ground reptiles and bugs (although many can climb trees they won't just stumble across you) and a damp forest floor.
They are light and easy to put up options are available and you could use in conjunction with a bivy bag.
Read: How To Hang A Hammock Without Trees
Backpacking Tent Set-Up
To freestand or not to freestand? That is the question.
Freestanding Tents
What is a freestanding tent? It is a tent which keeps its shape once you have put it up.
You can then pick it up and move it around camp if you have to, or just fancy a change of view.
It can be single or double-walled. It is the majority form for tents for hikers.
There are lots of pluses to these tents: they are comfortable, easier to put up and contain more features.
Non-Freestanding
These tents need to be staked out to maintain their form. When you are putting them up, you peg them out first and then you put the central pole in.
The big plus for these tents is that they are lighter and are often a favourite with experienced hikers who favour speed and less weight.
I actually used a non-freestanding tent for 7.5 months when I trekked across the whole of Morocco and the Sahara and it was brilliant.
However, a note of caution, it was a nomadic tent, and I had 6 camels and 3 Amazigh guides with me. The tent weighed about 40 pounds.
Every day, Brahim and I would lay it out with its iron pegs and then put the cast iron tent pole up which slotted into a huge stone roof support.
It was bomb-proof and survived the Saharan winds, but I wouldn't like to carry it!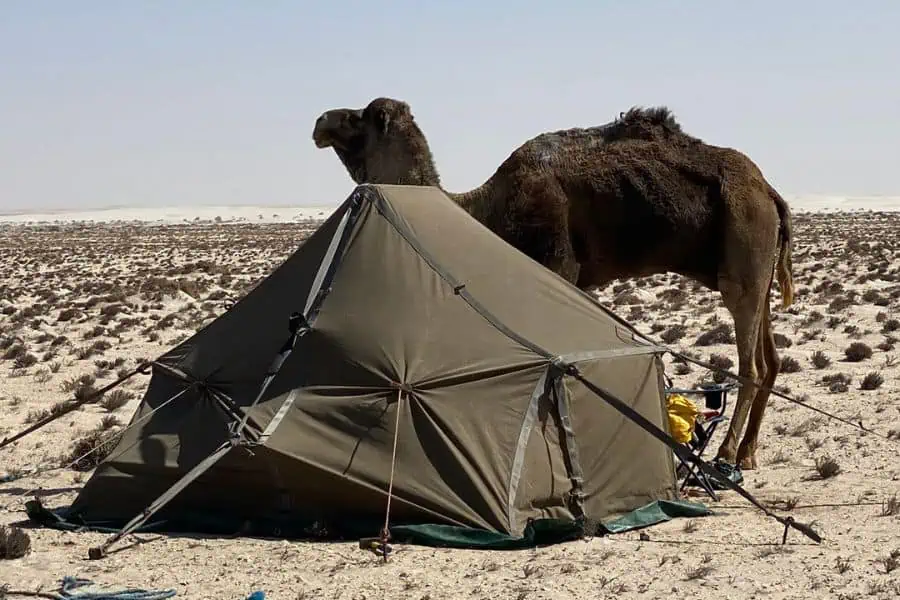 Other Factors To Consider When Choosing A Backpacking Tent Besides Weight
Weight really is just one of the factors to consider.
Here are some other things to think of that may sway you into a different weight category than you originally thought:
Size & Capacity
Consider how many people are going backpacking with you, how much gear you have, and how comfortable you want to be in your tent.
Durability & Material
You don't want your tent to rip or puncture, but you probably also don't want to carry something very heavy.
The midweight to lightweight options probably give you the best of both worlds.
But if you know you will be using it a lot in rough, mountainous areas, you may need to go heavier to have a more durable tent material.
Weather Resistance
None of us can predict the weather entirely, but we probably have a good idea of what kind of weather we will face when we go out at different times of the year.
So, you need to think about how many seasons and weather types your tent needs to withstand. Do you need a 4-season or a 3-season tent?
If you go with an ultralight or crazylight option, always seal your seams, so water can't seep in through the thinner fabric.
Ventilation
Condensation is a real bugbear when you are camping.
Choosing a tent with zip vents and a double walls will help.
It is not fun having to pack away your sleeping bag wet because you have been breathing on it all night – smells too.
Set-Up & Takedown
Don't kid yourself. You are almost never going to look forward to putting your tent up after a hard day on the trail, so do consider ease of set up.
If it is going to be super complicated, and you know ahead of time that isn't something you want to deal with, find the tent that sets up the easiest.
Packed Size
This and weight tend to go hand-in-hand. The smaller a tent can pack down, the better.
Like weight, the size your tent is when packed away will determine how much space you have left in your pack.
A thru-hiker may need more space for food and supplies in their pack, so they might go for the smallest packed size possible.
Read: Backpacking Food Ideas
Stakes
I am fanatical about stakes. This is because I have actually had a tent blow away with me in it in a sandstorm.
All ended happily but it was an embarrassing and unnerving experience.
I didn't have the right stakes. I am a V stake woman. They have the best holding power per ounce in my opinion.
FAQs
How Does The Design Of A Backpacking Tent Affect Its Weight?
Design is all-important in backpacking tents and there are a variety of absolutely beautifully designed tents on the market.
Every single detail of your tent will make a difference on your camping trip, from the type of fabric to the headspace, footprint, vents, poles, pockets, etc.
That is why you should really take your time and consider everything you can when choosing.
How Can I Determine The Right Backpacking Tent Weight For My Needs?
The biggest factor you should consider is probably weather. If you are mountaineering in winter, you will need a 4-season tent.
After that, you have much more choice. I would make a list of what is most important to you, and then base your choice on that.
Why Is The Weight Of A Backpacking Tent Important?
When you have to carry your entire world on your back, every ounce counts.
When your pack is too heavy, it can greatly impact your quality of experience.
You don't want to spend your entire trip miserable with an aching back, nor do you want to potentially injure yourself for months afterward.
What Are Some Common Mistakes To Avoid When Choosing A Backpacking Tent?
Probably the most common mistake is that people prioritize weight over everything else and sacrifice too much to get a really light tent.
Like the other factors I mentioned, there is more to a tent than just its weight. So, don't sacrifice important features just to lighten your load.
Conclusion – Don't Do As I Did!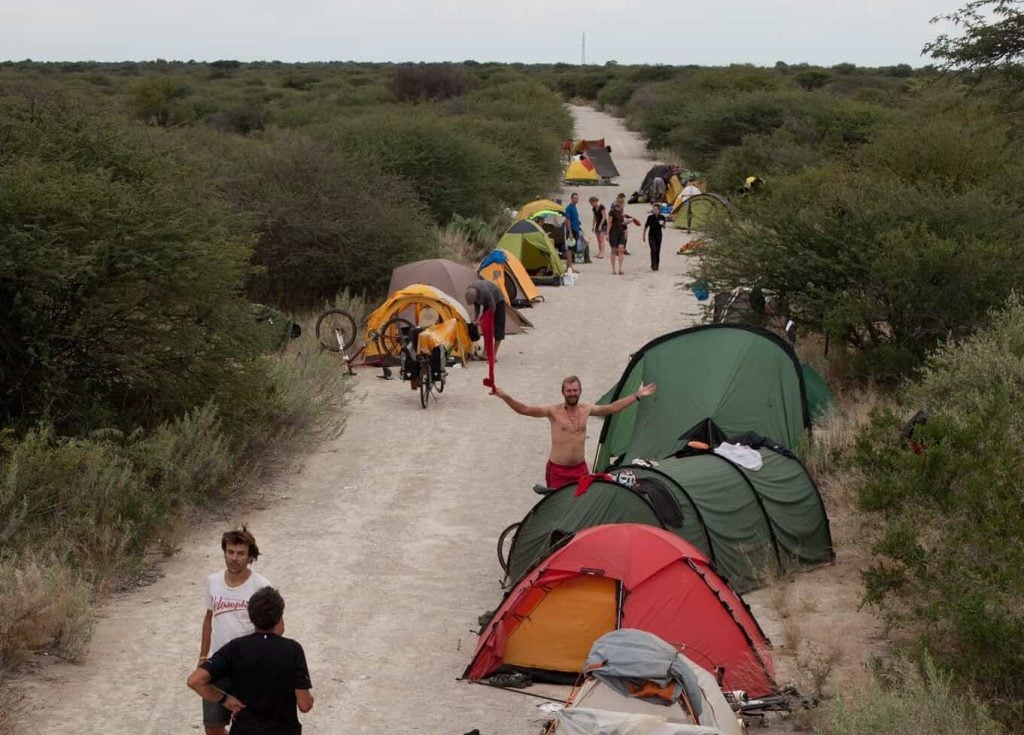 When I cycled from Cairo to Cape Town, I had my bike custom-built by one of my friends David Ward from Giant. Every detail was discussed.
When I bought my tent, I just went online to an excellent company – Terra Nova – and decided I would like one with good headspace because I knew I needed to write up my book notes every night. It was a disaster.
It took at least two people to put up – Thank you, Sam Guo! – and it was basically shaped like a sail, so it had a nasty habit of blowing away in the wind.
When I returned to the UK, I actually went to Terra Nova to complain, but they – quite rightly – bounced back with, "How long did you spend choosing it? Why did you choose that model? There is nothing wrong with the tent. You just chose the wrong one for the job."
They were right. I now use it for gentle car camping and it is brilliant. And, yes, I have learnt from my mistakes!
So, there are several important things to keep in mind when choosing the right backpacking tent for you.
Ultimately, a backpacking tent should weigh as little as possible while also satisfying all your other camping requirements.
Don't choose a light tent with poor weather protection if you know you're going to be camping in cold, wet, windy conditions with 7 people.
If you take your time, do your research, and find out your tent priorities, you'll be able to find the right backpacking tent.
Next up: Overnight Backpacking Checklist