This is our review of the MSR Hubba Hubba 2-Person Backpacking Tent.
Searching for the perfect backpacking tent that balances weight, durability, and livability?
Look no further than the MSR Hubba Hubba 2-Person Tent, the best-selling freestanding backpacking tent on the market.
Built with ultralight materials, it weighs in at only 2 lbs 14 oz and packs down small, making it ideal for backpackers who want to save on weight and space.
It takes just minutes to pitch, offers plenty of ceiling height, plus comes with two large vestibules for gear storage.
So, whether you're planning a weekend backpacking trip or a thru-hike on a long-distance trail, the MSR Hubba Hubba 2-Person Backpacking Tent is the perfect shelter to keep you comfortable and protected from the elements.
Read on for the full review!
MSR Hubba Hubba 2-Person Backpacking Tent: Key Features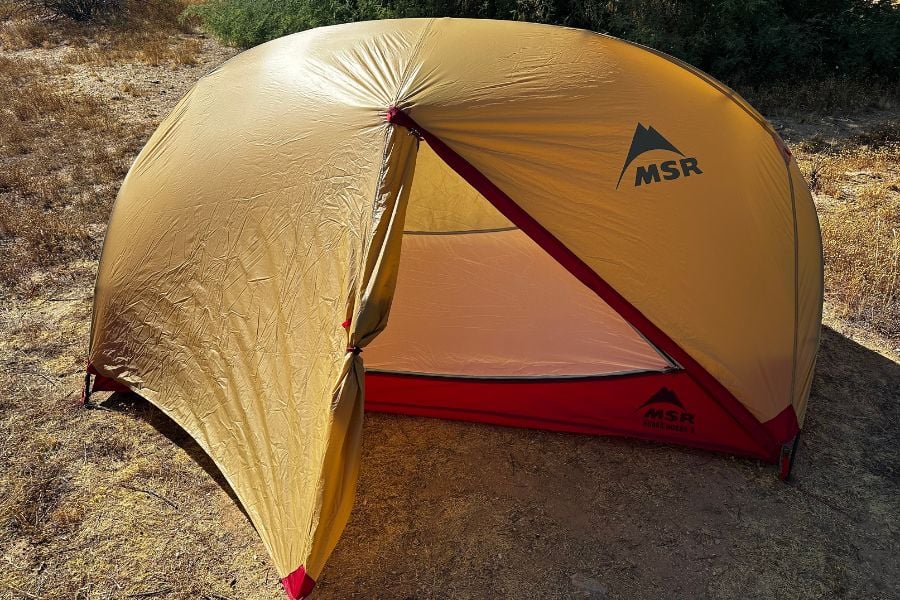 Seasons: 3-season | Weight: 2 lb 14 oz | Min Trail Weight: 2 lbs 14 oz | Inside Height: 40 in | Floor: 84 x 50 (29 sq ft) | Packed Size: 4.5 x 19 in | Vestibules: 15 sq ft | Setup Time: 5 mins
Overall, we rated the MSR Hubba Hubba Backpacking Tent a 7.9 out of 10.
Striking a great overall, balance, it is clearly one of the best overall 2-person backpacking tents on the market today.
Space & Comfort
At 29 sq ft, the tent is about average for 2-person tents, but with the tall vertical walls with an interior peak height of 40 inches, this tent is plenty comfortable.
I can comfortably sit up in the tent and move about, and the crossbar makes it so that the peak height holds up throughout the middle of the tent.
The tent's two doors and two 7.5 sq ft vestibules provide easy entry and exit, and ample space for gear storage.
For me personally, this is more than enough room for a backpacking tent. You don't feel too cramped at all even if squeezing two people in.
Quality & Durability
The MSR Hubba Hubba is both waterproof and strong with its unified hub-and-pole Easton Syclone pole system and its 20-denier ripstop nylon rainfly with a 1,200 mm DuraShield polyurethane/silicone coating.
From the minute I opened this tent, you can tell that it is oozing with the high-quality materials that MSR is known for.
I don't personally love the smell of the DuraShield coating (yes, many complain about this online), but after a few campouts, it should go away.
Making up for the funky smell is the quality of the materials and waterproofing itself.
The Easton Syclone poles don't suffer from the splintering that some users complain about.
While I can see how this could happen, I have to assume based on my personal experience setting up and packing up this tent multiple times, that this is an issue that Easton has resolved, or at least wasn't present in our tent poles.
Value
I think the value of this tent is probably the biggest ding and reflected in our 6 out of 10 rating.
When you pay $450-550 for a backpacking tent, you expect it to be perfect.
But this tent does have its drawbacks with limited ventilation and a slightly difficult rainfly setup.
Not to mention that it only comes with 4 stakes (where are the other 2 stakes?), and while they are high-quality ultralight stakes, there simply aren't enough given the high price point.
Frankly, I can see why the MSR Hubba Hubba gets such sub-par online reviews at times.
It is a value issue through and through: buyers expect a backpacking tent that has it all for $500.
That said, while it may not be the best overall value, weight matters more than anything else on the trail, and so it is worth it to me knowing that I overpaid slightly to have a tent that won't weigh me down.
Weather Resistance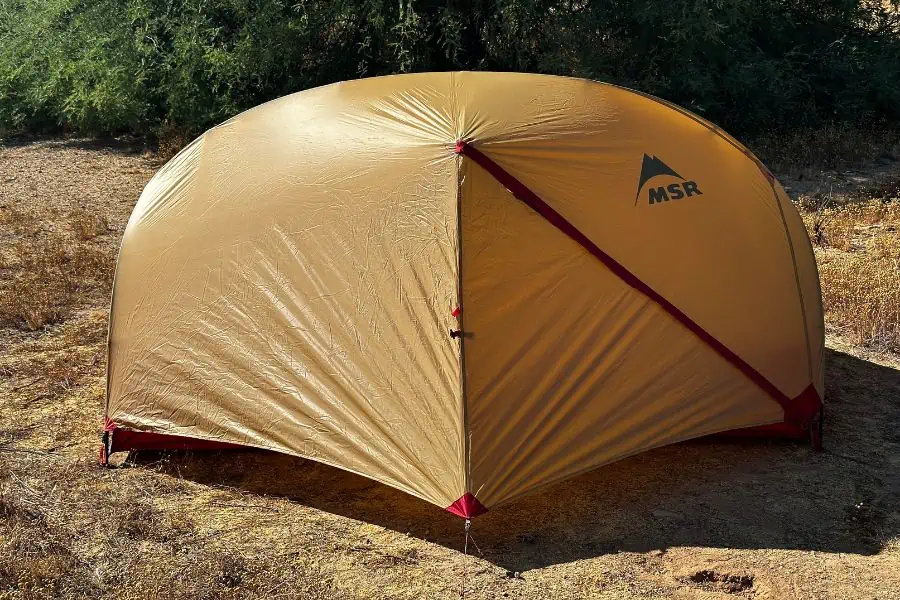 The MSR Hubba Hubba is clearly made to withstand high winds and rain.
The low-profile design, flexible poles, and ripstop fabric all do their job to provide the type of protection that you need when you're off the grid.
One ding to this tent on weather resistance is the floor. At only 20-denier, it is very thin. So while the tent itself only weighs 2 lbs 14 ounces, you will most certainly need a tent footprint to battle back against the elements or risk damaging the floor.
However, overall, the dome-style design and superior construction will hold up well to whatever mother earth throws at her.
Ease of Use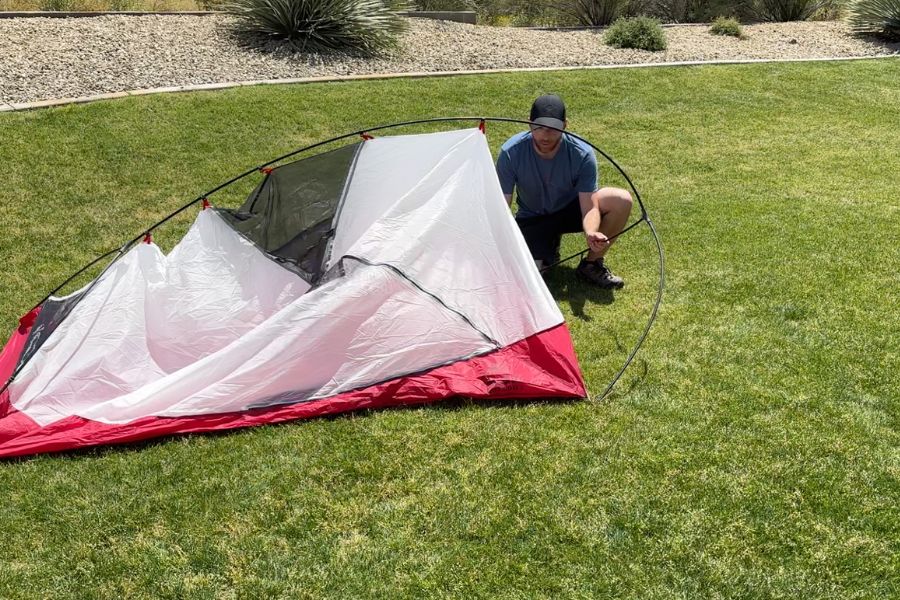 The unified hub-and-pole system and symmetrical design of the Hubba Hubba make setup super quick (you can see below, I had the tent set up in just under 5 minutes).
I would recommend being careful when first setting up the tent (and taking it down), as it does have quite a reflex kick to it, and when I first set it up smacked myself pretty badly in the face.
But once you get the hang of it, the tent goes up very quickly.
My biggest complaint is that the rainfly doesn't easily "fit" over the tent fully. I have yet to be fully satisfied with a correct and easy setup of the rainfly.
However, compared to bigger tents, this tent is a breeze, making the slight hassle well worth it.
Intangibles
With nice interior storage, 2 vestibules, 2 doors, and an extremely lightweight design, we've given this tent a high rating on intangibles.
While not exactly a stargazing tent, on nice nights, you can peel back the rainfly and stargaze through the mesh ceiling panels.
Warranty
MSR Tents come with a 3-year Limited Warranty
Additional Sizes
The MSR Hubba Hubba also comes in two additional sizes: 1 Person & 3 Person
While I personally enjoy the 2 person's advantages, the 1-person Hubba Hubba only weighs 2 lbs and 7 ounces, so solo backpackers looking to cut weight take note.
Meanwhile, the 3-person version is still extremely lightweight at 3 lbs, 7 ounces, and is a GREAT option for those looking for a bit more space (39.5 sq ft) who can take on the extra weight.
Pros, Cons, & Best Uses
Pros:
The tent is very lightweight at 2lbs 14 oz trail weight, making it easy to carry for miles without breaking a sweat
Nice interior height of 40 inches allowing you to easily sit up with plenty of headroom
Spacious for two people, and has plenty of sleeping space even for taller folks at 84 inches long!
Easy and intuitive setup with durable unified Easton Syclone pole system
Cons:
Hard to get the rainfly fully secured on both sides
Best Uses:
Is the MSR Hubba Hubba worth the money?
Absolutely. The MSR Hubba Hubba is a great mix of quality, weight, and performance.
While it is pretty expensive, it strikes a fine balance between ultralight and standard backpacking tents.
But given it weighs only 2 lbs 14 ounces, has an easy two-pole setup, and can withstand tough weather conditions, it makes it well worth the money.
What is the difference between the MSR Hubba Hubba and the NX?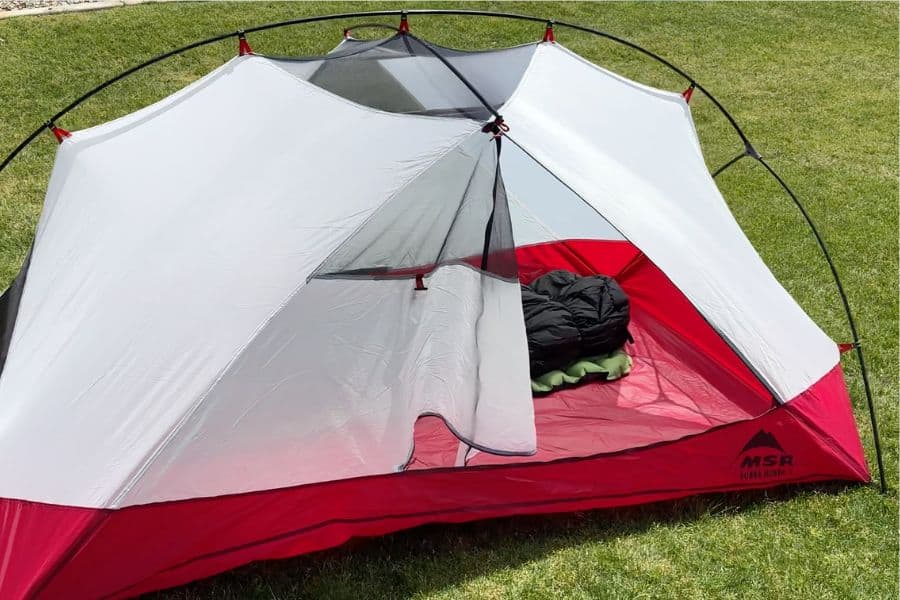 The NX Tent has been removed from MSR's lineup, and the new MSR Hubba Hubba Backpacking Tent has been updated to replace the NX tent.
The new MSR Hubba Hubba Tent is lightweight at only 2 lbs 14 ounces trail weight and uses the unified Easton Syclone pole system – exactly like the old NX!
How waterproof is the MSR Hubba Hubba?
It's very waterproof. With its dome-style design and its high-quality Easton Syclone poles and 20-denier ripstop rainfly it can withstand high winds and torrential rains.
The two 7.5 sq ft vestibules also provide additional gear storage and a potential cooking space if the weather makes it impossible to cook away from the tent.
Of course, no tent can handle certain intense situations or a breakdown in its waterproof coating, but out of the bo, the MSR Hubba Hubba has what it takes to provide excellent weather resistance.
What other backpacking tents should I consider?
There are many great backpacking tents to consider, but if you're looking to spend a bit less then we like the REI Co-op Half Dome SL 2+ Tent with Footprint.
It not only comes with a footprint, but only weighs a pound more, but with a nice upgrade to 40-denier ripstop nylon vs 20-denier with the MSR Hubba Hubba. So while the Half Dome's 40-denier weighs more, it will provide better overall weather protection.
Another great tent to consider is the NEMO Dragonfly OSMO 2P Tent. It's in a similar price range but weighs less at 3 lbs 2 oz. Every ounce counts when you're backpacking, so this is well worth consideration.
And finally, the Big Agnes Copper Spur UL2 is the lightest of them all at 2 lbs 11 oz, but comes with bigger 9 sq ft vestibules, and a similar peak height of 40 inches.
Frequently Asked Questions
Where are MSR tents made?
MSR tents are made in one of the company's two manufacturing facilities in either Seattle, Washington, or Cork, Ireland.
Why does the MSR Hubba Hubba have bad reviews?
The previous models of the MSR Hubba Hubba and Hubba Hubba NX had issues with splintering with the composite tent poles.
However, based on our field test, we found no such issues.
MSR has now upgraded the Hubba Hubba making it even lighter and more durable than the previous version.
Who is MSR Owned by?
MSR is owned by Cascade Designs and is located in Seattle, Washington.
Cascade Designs also owns several outdoor brands including Therm-a-Rest, Platypus, Sealine, PackTowl, and Varilite.
How long do MSR Tents last?
MSR Tents are made with high-quality materials and come with a limited 3-year warranty.
On average, we expect an MSR Tent to last between 5-10 years depending on its frequency of use and weather encountered.
If you plan on thru-hiking or putting this tent to the test long-term, it's not going to hold up as well as if you backpack less frequently.
Also see: How Long Do Tents Last? What To Expect from Your Tent's Lifespan
Our Verdict
The MSR Hubba Hubba 2-person Backpacking Tent is a great all-around tent that strikes an excellent balance between weight and space.
It is not only lightweight at 2 lbs and 14 ounces, but is easy to set up and provides excellent weather resistance.
I'd feel confident taking this tent on any backpacking adventure, and I know that you will too!