Whether I'm trekking up the mountainside or casually strolling along a well-kept path, the last thing I want to run into is a heavy rainstorm. No one likes getting soaked! Not only is it extremely uncomfortable, but wet clothes can become a health issue in colder weather.
Over the years, I've been through countless rain jackets and struggled to find one that checked off everything on my list. I finally found the North Face Venture 2 Jacket, and boy, do I wish I found this years ago. It would've made for much dryer and more leisurely hikes.
Why is this jacket so epic? Glad you asked…
What to Know Before Buying
Avid hikers, devout bikers, or just outdoors fanatics like me know that your rain jacket is an essential item to have in your wardrobe. Not only will it make for more accessible outdoor excursions, but you'll find that it's convenient to have for everyday use as well.
The Venture 2, specifically, will definitely keep rain from getting inside your clothes. If you're looking for a heavy-duty jacket to wear on longer hiking trips, the Venture 2 might not be exactly what you're looking for since it is a bit lightweight. However, unless you're a fisherman in the Atlantic Ocean, this jacket will probably fit your needs.
The North Face brand is well-known for being reliable and versatile, and this jacket is no exception. I can grab it when I'm expecting to be out in the rain or keep it in my desk for everyday use. It's functional and affordable yet possesses all the features I need in a rain jacket.
Before buying, consider what exactly you're looking for in a rain jacket and what features are most important to you.
What I Like About The North Face Venture 2
North Face is one of the most highly-regarded brands in the world of outdoor wear. Their jackets, which offer outstanding performance, are some of the best on the market. And let me tell you…the Venture 2 jacket lives up to these high expectations. With its waterproof and breathable technology, this jacket is made for my kind of adventure – no matter the weather.
The Venture 2 jacket is the latest predecessor of the North Face Venture jackets. Like most of The North Face's clothing, the Venture 2 Jacket is available in a wide variety of men's and women's sizes and colors.
Where This Jacket Shines
The waterproof outer layer protects from the rain no matter what
Breathable fabric lets air circulate, so you don't get sweaty
Pit zips give extra ventilation and airflow
Easily adjusts to fit every body type
Waterproof
The Venture 2 jacket is made with materials to keep you dry and protected. The waterproof laminate and seam ensure no rain will leak into it and get you wet.
Two main fabrics help with this: one layer of 100% recycled nylon, then five layers of their "DryVent membrane." This water-repellent finish causes the water to easily bead and roll off the jacket.
The DryVent membrane also gives you excellent wind protection. Since the jacket is designed to repel moisture, the fabric naturally stops the wind from reaching your body. Even after multiple washes, the waterproofing layer doesn't deteriorate.
This coating is a great feature but requires good maintenance and care over time. The waterproof capabilities also come from having a polyurethane layer on the outside of the jacket. This layer wicks water off the fabric's surface and prevents water from being absorbed into the materials.
Overall, this jacket does a superb job of preventing water absorption.
Breathability
The breathability rating on this jacket is 9/10. The jacket comes with two large armpit zipper vents, which do an excellent job releasing heat from your body. Opening the pit zips allows cold air in and lets the heat from your body out.
Since the jacket is so breathable, it quickly wicks away sweat. It keeps you dry while helping you maintain a steady core temperature. The Venture 2 does a great job of not overheating my body, as the pit zips and lightweight material ensure breathability.
On top of that, the hand pockets are lined with a breathable fabric. So, your paws will get some venting when you open those as well.
Packability
A standout perk of the Venture 2 jacket is that it is incredibly compressible. It conveniently packs into its own pocket, making it easy to store away without adding extra weight to your hiking luggage.
Once the jacket is folded into its pocket, you can clip it on to your backpack or bike using the attached two hooks. That way, it doesn't take up any valuable backpack space.
Because the jacket is so light in its weight, it doesn't feel too bulky or stiff on your body. This is especially important for lightweight backpackers or cyclists who just need something light to keep the rain off and away.
When unpacked, the jacket has two pockets, each large enough to comfortably fit a pair of binoculars. The inside lining of the jacket also has two pockets, which are slightly larger in length, suitable for a pocket knife or cell phone.
What I Don't Like

As with most products, "every rose has its thorn." Here are some cons of Venture 2.
Sizes run big, probably for performance reasons, but good to keep in mind
Too lightweight for super harsh climates
The hood could fit better; it can be a bit loose
FAQ's
Here are some common questions I've gotten regarding the Venture 2 jacket.
How Does It Fit?
The Venture 2 comes in a relaxed fit. Because of this, you're able to layer other clothes underneath the jacket with ease. The inside layer has a fleece lining as well, which adds to the jacket's comfort.
The wrist cuffs on the jacket are adjustable with velcro, so you can quickly customize the sleeves' fit. There is also a zip pull located on the hood, which is great if you're looking for a tighter fit around your face. The hood also has a three-point adjustment system, with two adjusters each in the front and back.
There is a press stud at the bottom of the main zip on the jacket to ensure the zipper's flap does not come open. This feature does an excellent job of keeping the wind and rain out of the coat.
To answer your question, it fits relaxed but has many options to allow you to customize it.
Is It Durable?
When I invest in a new rain jacket, the last things I want are rips or tears, or that it doesn't live up to my expectations. However, the Venture 2 jacket is made of durable materials and constructed to keep us dry and protected. I have not had any severe rips or tears (except that one time I slipped in the creek).
If you're familiar with The North Face already, you'll know their products are lightweight and breathable. They still maintain a durable construct at an affordable price. So, yes.
Is It Comfortable?
The hood on this jacket fits well, the material is lightweight and doesn't move around too much, and the zipper pulls are easy to operate. This jacket moves with you well and doesn't restrict any movement. Unlike many jackets with rain and wind protection, the Venture 2 jacket does not feel stiff.
This jacket makes it easy to layer clothes underneath, as it does run slightly large. This aspect comes in handy when the colder weather starts to come in. Because this is a rain jacket, it's warming capabilities are not as strong. It is essential to know that layering under this jacket in cold weather is a smart idea.
Another comfy feature of the Venture 2 is the brushed chin guard lining. This adds a soft and scratch-free touch when the jacket is zipped up to your chin. This is definitely used when the most rigid elements are thrown at you.
What Are The Alternatives?
Maybe you have a grudge against The North Face and want something else. No worries, here are some alternatives to the Venture 2 that are Wilderness Times approved.
Patagonia Torrentshell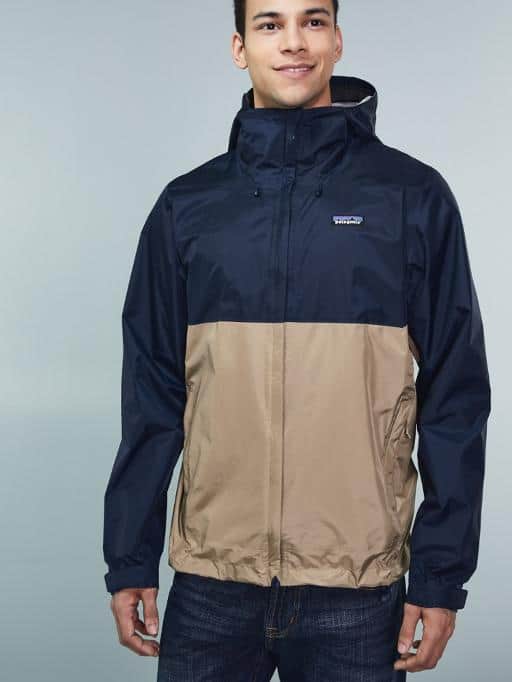 The Patagonia Torrentshell is another popular rain jacket on the market. As you can guess, this jacket breaks the bank more than the Venture 2 does (it is from Patagonia). However, this garment does tend to be a little more heavy-duty, which makes up for its price.
If you're looking for a jacket to carry with you through harsher climates or longer, more severe trips, the Torrentshell may be more fitting for you.
Comparison
Torrentshell pockets are 100% nylon, meaning your hands will get clammy faster
Venture 2 has breathable mesh pockets, for better breathability
Torrentshell is more durable and heavy-duty
Venture 2 is more comfortable to layer in cold climates thanks to its size and materials
Marmot PreClip Eco Jacket

The Marmot PreClip Eco Jacket is similarly priced to the Venture 2. It's a waterproof and versatile jacket made with eco-friendly materials, and overall it's a solid jacket.
Comparison
Marmot fabric cannot withstand harsh rains nearly as well
Venture 2 can keep the rain away for more extended periods due to its thicker exterior
Marmot is made with biodegradable fabrics
Venture 2 lasts longer over time since it's not as earth-friendly
Columbia Watertight II Jacket

The Columbia Watertight II Jacket is an entry-level rain jacket priced about half as much as the Venture 2. The downside is that it's not as rugged, so it might soak after an hour or so. However, Columbia works well as a budget option.
Comparison
Watertight is more affordable but with less protection
Venture 2 stands its ground through heavy rain
Watertight has incredible breathability since it's thinner
Venture 2 is slightly less breathable but with better rain protection
Our Verdict
The North Face Venture 2 Jacket fits a ton of features into a small price. This jacket is an excellent option for those who enjoy biking, hiking, and backpacking. It is lightweight and can be easily packed up. Because of its robust waterproofing features, this jacket can be worn in all sorts of climates.
I highly recommend this jacket, and I'm sure you'll find that it performs well too. It would be a useful piece to have in your closet, and it is an excellent value for all the features you're getting. It's light and packable enough to store in your bag but durable enough to keep you dry and protected from rain and wind.